Looking for inspiration to get that cat tree project started? These free blueprints can help you build the best DIY cat tree for your favorite feline. Best of all – they're quick and easy, too!
A cat tree with a walkway makes for a fun play space for your adorable kitty. Or perhaps, you can whip up a simple, yet darling cat tree in just 5 ridiculously easy steps! And of course, who wouldn't love a jaw-dropping cat condo that's perfect for a special pet?
Here are 23 DIY free cat tree plans – blueprints included – just for you. Take your pick, gather up your materials, and start building one today!
23. Cat Tree With Walkways
Cat Tree DIY Step-By-Step Tutorial: Ana White
Last but not least, this cat tree with walkways is simply outstanding! Kitties love checking out the rest of the world as it goes by while up high on their safe zone. So, this cat tree should be a hit for your dear furry pals.
Get ready to complete this project in a few hours and with basic tools and materials. In no time, your feline BFFs should be romping around their precious cat tree!
22. 5-Step DIY Cat Tree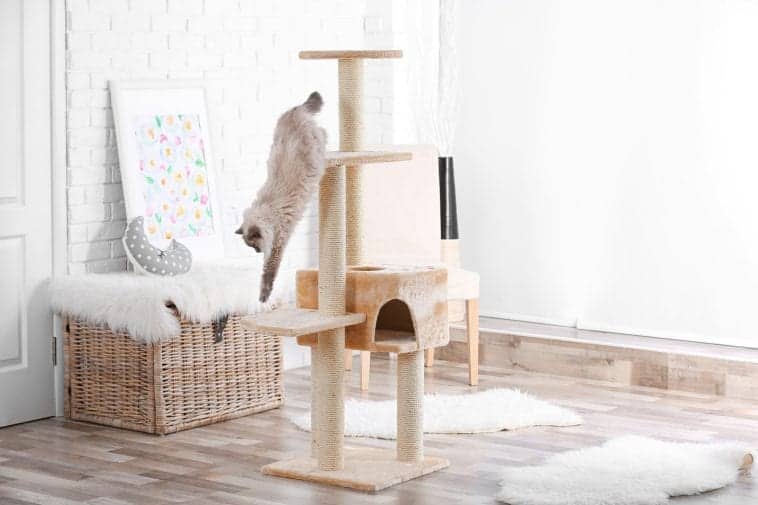 Cat Tree DIY Step-By-Step Tutorial: Cole and Marmalade
Store-bought cat trees are pretty expensive. So why buy when you can make one yourself? This 5-step cat tree is unbelievably simple and easy. You also need just a few materials, and pretty sure many of them are just lying around in your home.
Here's a fun project to do in just a couple of hours. You can even customize the design based on your kitty's needs, so that makes it ultra special.
21. Exquisite Cat Condo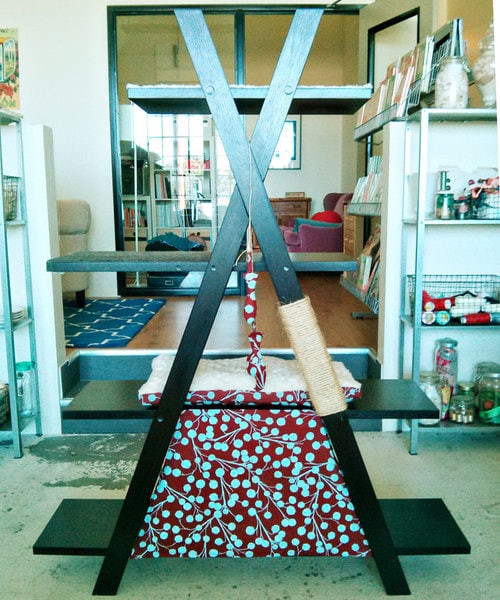 Cat Tree DIY Step-By-Step Tutorial: Kirsten's
Make your pet kitty her own gorgeous abode such as this cool cat condo. It features 4 platforms with a solid – and pretty – structure with just the right amount of scratching surfaces. And we have to admit – it looks adorable, too!
Follow the easy steps to get started on this project. It's crazy simple with step-by-step instructions, as well as visuals to guide you through from start to finish.
20. 21-Step DIY Cat Tree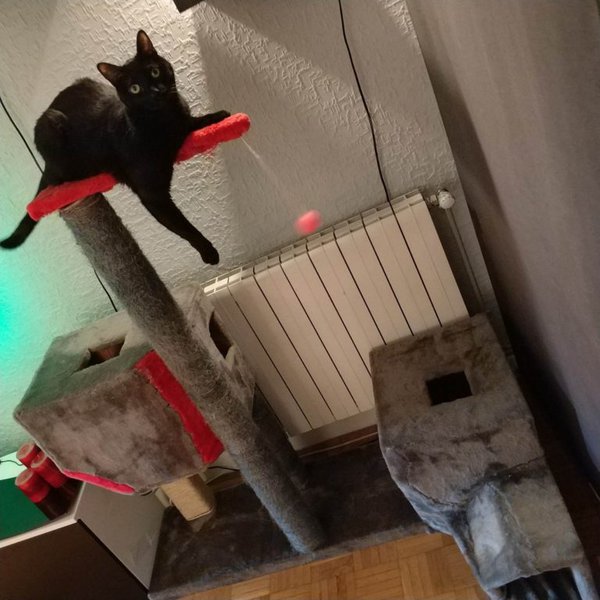 Cat Tree DIY Step-By-Step Tutorial: Instructables
Got a few materials lying around the yard? Put them to good use with this DIY cat tree. Made of reclaimed items, it's a great way to transform what seems like junk into a divine private space for your pet.
It's got multiple platforms, scratching posts, and cozy spots where your feline can nap undisturbed. This cat tree is a little on the bulky side, though. But if you've got extra space to spare, why not whip this one up?
19. Brilliant DIY Cat Tree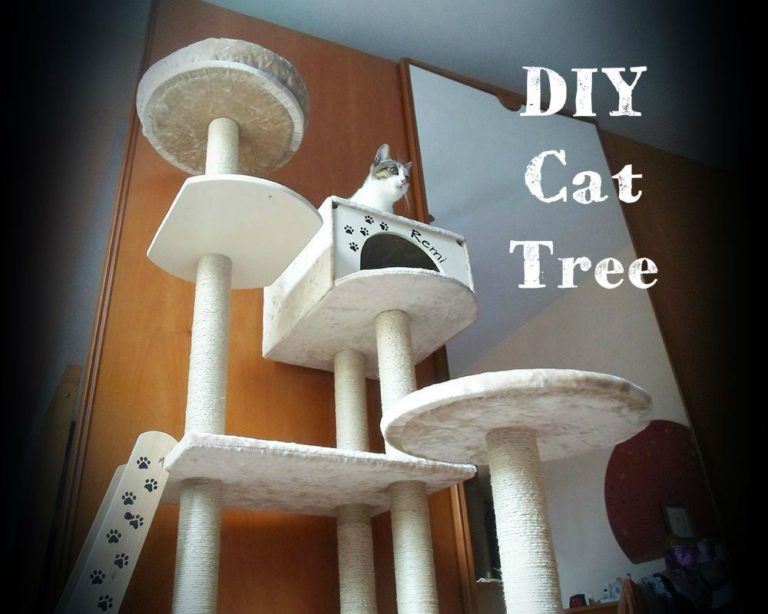 Cat Tree DIY Step-By-Step Tutorial: Instructables
Tired of your kitty turning your home into a huge playground? Make her this amazing DIY cat tree that's sure to become an instant hit for your pet. There are scratchy surfaces, countless platforms, and comfy nap spots she will adore.
As it's made of cardboard tubes and other simple materials, it should be quick to get started. Want to customize it? Feel free to change it up a bit for a personal touch.
18. Cat Tower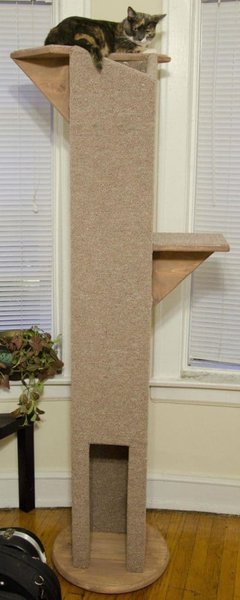 Cat Tree DIY Step-By-Step Tutorial: Imgur
This cat tower has got to be one of your biggest projects yet! Standing at 6 feet tall, this thing is massive. There are also 2 platforms where your feline can romp around to her heart's delight all day.
It is a bit challenging for beginners to build this tower. But it should not be impossible with a little help from friends!
17. Full Condo Cat Tree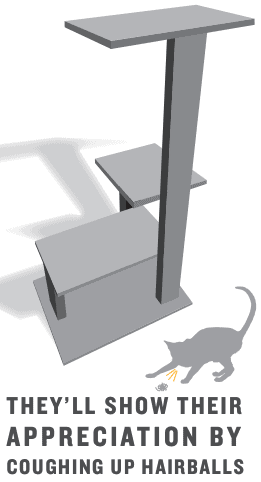 Cat Tree DIY Step-By-Step Tutorial: Dadand
Next up, we have this impressive full condo cat tree that will instantly become your feline's favorite spot. It has 4 platforms and 3 beams for support, which means it is stable and solid.
Setting you back for only under $25 for the materials, it's relatively cheap and worth the price. Plus, it only takes under two hours to build on average, so that's not too bad for a weekend DIY craft.
16. Experimental Home Large Cat Tree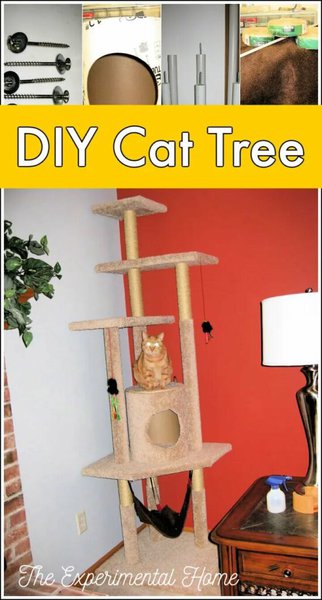 Cat Tree DIY Step-By-Step Tutorial: The Experimental Home
Spoil your furry friend with this huge cat tree that's got everything she will ever need. It's spacious enough to hold a nap spot, playground, and space for munching, hiding, and scratching. What else can your sweetheart feline ask for?
But just a little note – this cat tree is massive. So, be sure you have plenty of room to set it up that won't cramp your personal space.
15. Cat Tree Play Tower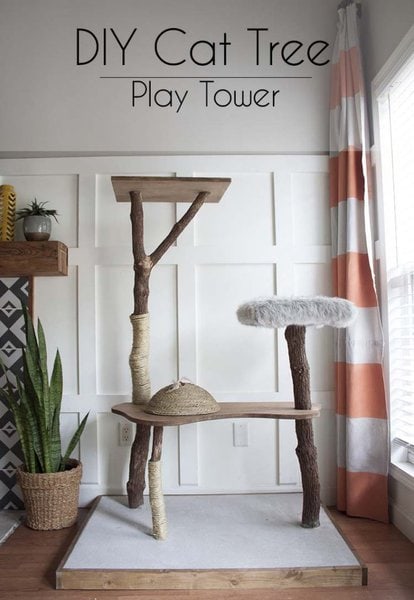 Cat Tree DIY Step-By-Step Tutorial: Southern Revivals
What about something minimalistic for a cat tree? This play tower for kitties is slim, sleek, and space-friendly. And with real branches added in, it gives the cat tree a natural feel to it.
Although it may seem a bit too streamlined for a cat tree, it does not fall short of its coolness factor. There are plenty of spaces for your pet to jump around, explore, and curl up into a ball for a nap. A perfect design for smaller homes and minimalist feline owners.
14. Epic DIY Cat Tree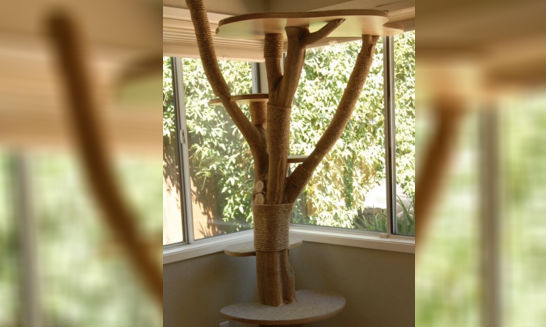 Cat Tree DIY Step-By-Step Tutorial: Boredom Therapy
Cat trees don't have to be expensive – and this epic DIY project proves it. You can use reclaimed items without any problem at all. And yes, you only need simple carpentry tools to build this beauty.
Another thing to love about this cat tree plan is how customizable it is. Whether you scale it up or down, it should turn out absolutely amazing.
13. Small DIY Cat Tree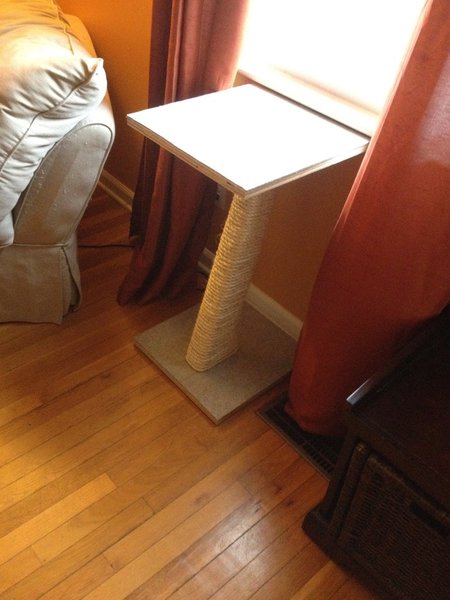 Cat Tree DIY Step-By-Step Tutorial: Instructables
No time to build an elaborate cat tree? Well, you don't have to, really. This small and super easy DIY cat tree only requires a simple gem right out of the garden, and it's good to go. Add a few embellishments here and there, and that's a cat tree right there!
Functioning as both a kitty playground and a home decor, this cutie adds a nice touch to your abode. What's not to enjoy about this project?
12. Cheap And Cheerful Cat Tree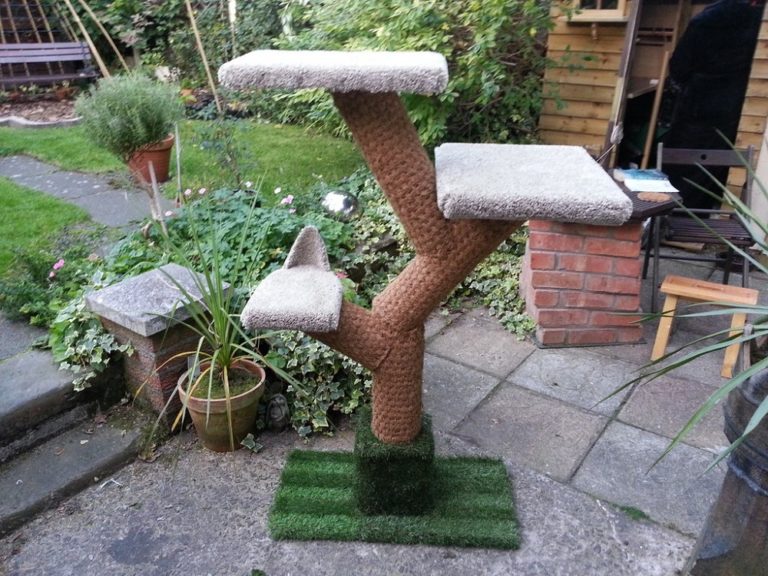 Cat Tree DIY Step-By-Step Tutorial: Instructables
Feline moms and dads on a budget, this easy cat tree plan is for you. It's cheap, easy, and such a darling. All you need are reclaimed materials, your creativity, and the free blueprint to get started.
Here is a simple project to help you get rid of clutter and transform it into something your cat will love. And you have to admit – it does give your home a cheery vibe, too.
11. Star Trek-Inspired Cat Tree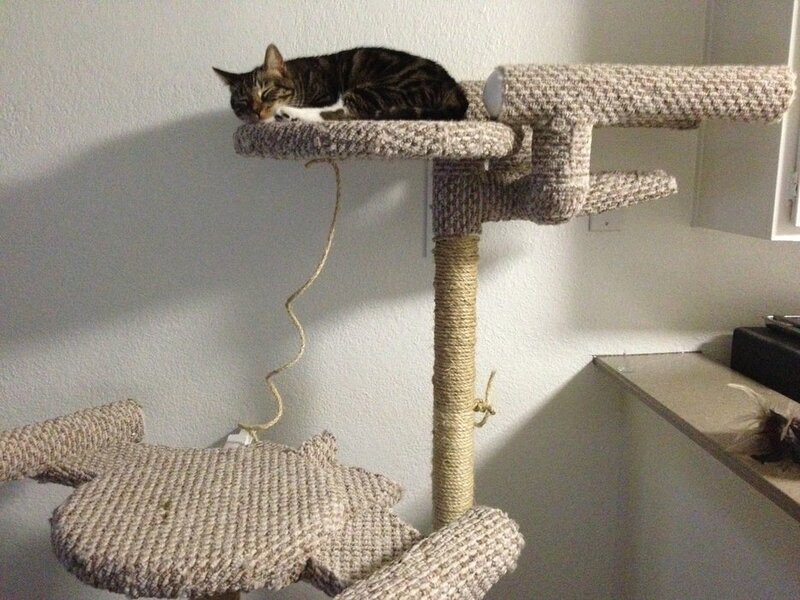 Cat Tree DIY Step-By-Step Tutorial: Instructables
For Star Trek-adoring fans, this impressive cat tree plan is for you! With just a few simple materials such as a PVC pipe, carpet, staple gun, plywood, and a couple more, you can get this project started. It may cost you about $150 from start to finish but with the aesthetics and functionality of this cat tree, it is absolutely worth it.
As it is completely bolted and secured to the wall, it is one highly stable cat tree. You also have the option to make it freestanding by keeping the base strong and sturdy. Either way, it's an exquisite craft that any woodworking enthusiast can complete.
10. 2-Wood Ladder Cat Tree
Cat Tree DIY Step-By-Step Tutorial: Hallmark Channel
Set aside an afternoon (or a few hours) for this easy cat tree project for your precious pet. It offers ample spots for playing, napping, and exploring for hours on end.
All you need are two wooden ladders, a few decorative pieces, and can easily nail this project out. Plus, it is cheap and simple, too. Absolutely beginner-friendly and easy on the budget.
9. Boho-Chic Cat Tree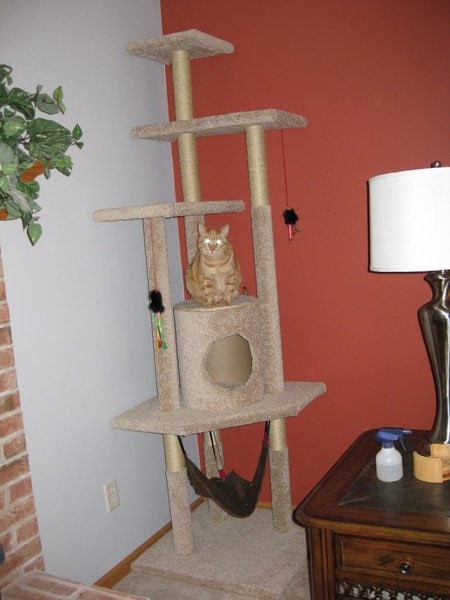 Cat Tree DIY Step-By-Step Tutorial: Pickle Perfect
Fans of everything boho will adore this cute and chic cat tree. It's got multiple perches, adorable hiding spots, and a comfy hammock for chilling out. As a bonus, there is a spacious section on the bottom for all your kitty's toys, too!
This cat tree is a little on the tall side. So, if space is not an issue for you, this should be a great project to start and finish on a weekend afternoon!
8. 15-Step Cat Tree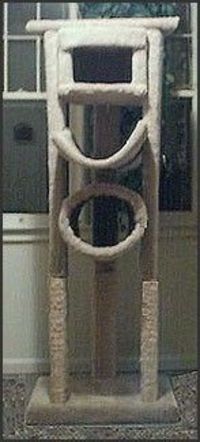 Cat Tree DIY Step-By-Step Tutorial: Show Cats Online
As the name implies, there are only 15 steps to building this cat tree – from start to finish. It features a cool platform, a spacious tube for exploring, and a soft and plush bed. And yes, all of these are in a fully carpeted spot.
This is an easy project to make – even for those with little carpentry skills. All the tools are pretty simple and basic, too.
7. Cactus Cat Tree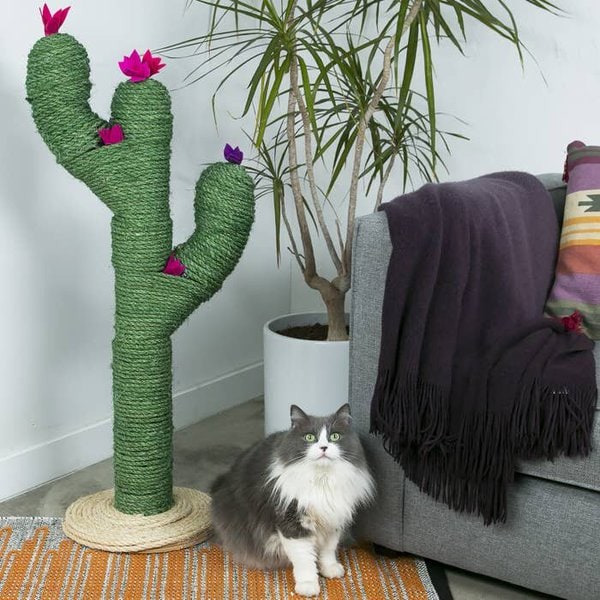 Cat Tree DIY Step-By-Step Tutorial: Buzzfeed
Is it a cat tree or is it part of the decor? Well, it's both! This cactus cat tree is a neat spot for your feline to play and perch, so that's hitting two birds with one stone.
This lovely cactus tree works not just like a feline play space – it's an awesome decorative piece for your abode, too. So, make your kitty happy and your home pretty with this cactus cat tree. The step-by-step directions are included and so easy to follow.
6. Ikea Hack Cat Walk

Cat Tree DIY Step-By-Step Tutorial: Brita Swiderski
The cat tree and the cat walk makes for a fantastic hang-out and play spot for your feline friend. This Ikea cat walk tree plan is super detailed and easy to do, making for an afternoon well-spent.
No fancy carpentry skills? That's not a problem with this beginner-friendly DIY cat tree friendly that you can nail (no pun intended)!
5. Labyrinth Cat Tree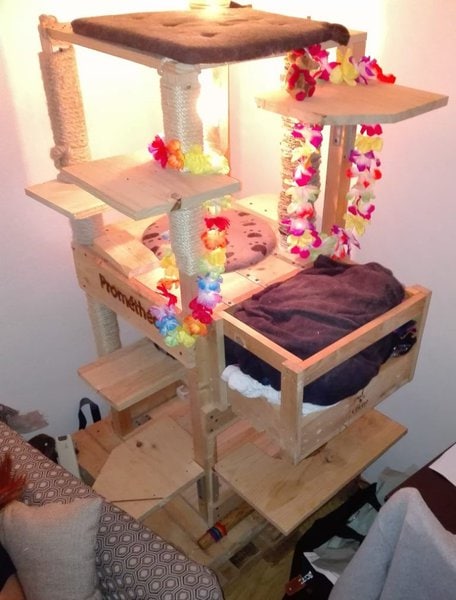 Cat Tree DIY Step-By-Step Tutorial: Instructables
Kitties love to explore – and this labyrinth cat tree gives them the pleasure of doing so. Made of pinewood, metal shelf brackets, light bulb, wooden crate. It's actually simpler than it sounds. This cat tree is also customizable, so make it as elaborate or as simple as you want.
Want to add a personal touch to it? Put up some cool stencils, sentimental photos of you and your furry pal, and what-not. Just cast a glance at this beauty to get you inspired and get started immediately.
4. Carpet And Sisal Cat Tree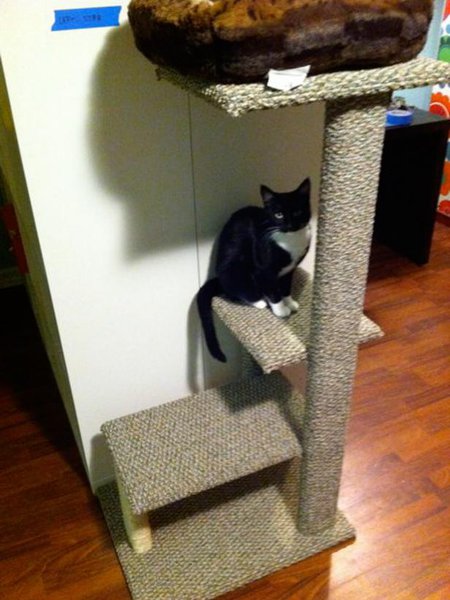 Cat Tree DIY Step-By-Step Tutorial: DIY Network
Your darling kitty deserves a space to play – and this carpet and sisal cat tree make it happen. This feline playground is spot on – a climbing area, a platform for napping, and scratching posts to keep those claws nice and sharp.
Got multiple cats? Add up more platforms, and you have yourself a kitty mansion for your fur babies. This whole thing is also easy to make and should be ready to use in a couple of hours.
3. Cat Tree Condo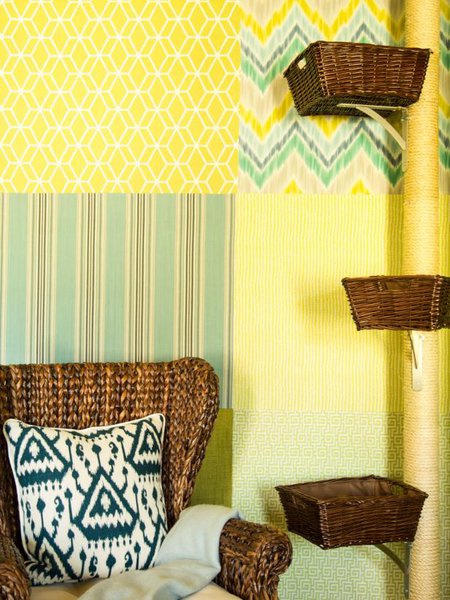 Cat Tree DIY Step-By-Step Tutorial: HGTV
It's mind-blowing but don't let the coolness intimidate you. This cat tree condo is easier to make than it appears. With a few baskets, PVC pipes, and some shelf brackets, you can whip up this kitty condo in an afternoon.
All the steps you need to take are in the free plan, so getting it set up is no sweat. And most importantly, your four-legged felines will LOVE you for it!
2. Cat Shelves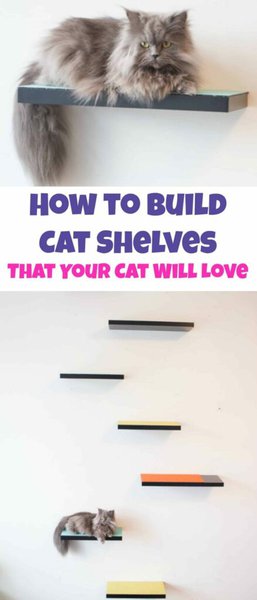 Cat Tree DIY Step-By-Step Tutorial: Brooklyn Farm Girl
Give your bookshelves a break from your feline friends and build them these cat shelves instead. This is the perfect exercise and playtime spot for your little furry ones. Let them jump around and explore to their heart's content.
What's great about these cat shelves is that they come with a minimalist design. It's an excellent choice for those looking to cater to their kitty's fancy for shelves without cluttering up the house.
1. Cat Tree Plan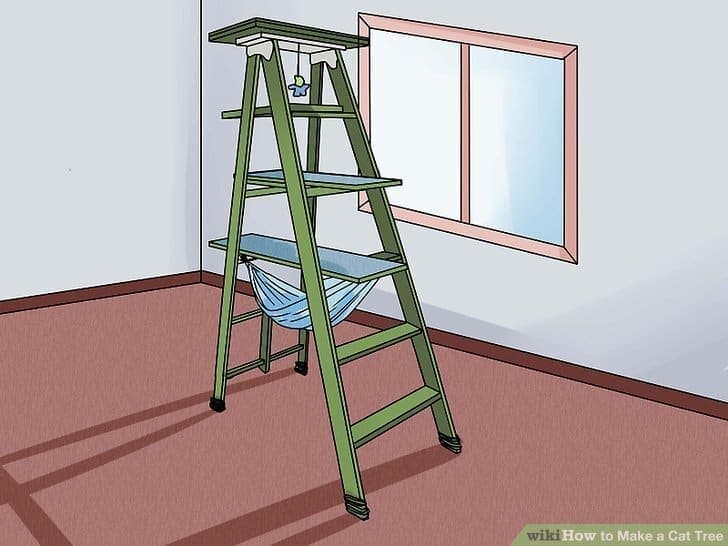 Cat Tree DIY Step-By-Step Tutorial: wikiHow
Newbies will have a ball at building this cute but super functional cat tree in just a couple of hours. Made of simple materials and beginner-friendly tools, this is the perfect cat tree stand for your four-legged friend.
Made up of 4 beams and 5 platforms, you can easily customize this cat tree plan according to your preference. It is scalable, too, so you can make it smaller, bigger, or with a unique twist as you please.
---
Related Questions
---
Do Cats Really Need A Cat Tree? Cats naturally enjoy climbing and exploring, and a cat tree offers a safe place for your feline friend to do all these. Cat trees also offer privacy to your pet and a feeling of security while perched on top of her own domain. So yes, a cat tree is a fine addition to your fur baby's life.
Is It Cheaper To Build Your Own Cat Tree? The cost of building a cat tree depends on many factors such as the size, materials, and complexity of the project. Generally, you can expect to shell out about $20 to $50 for a cat tree. However, you can make it cheaper by using reclaimed materials and basic tools.
How Tall Should My Cat Tree Be? A reasonable height for a cat tree should be 6 feet tall. It should offer ample climbing fun and enjoyment. But there are some cat trees that go as tall as 72 feet. It's definitely over the top, and you don't have to build one if it does not fit your home.