What better way to cool off and enjoy a well-deserved downtime than to hit the beach with your pooch! With plenty of dog-friendly beaches in the USA to choose from, you can easily find the perfect spot to catch the sun, sea, and sand with your furry pal. Here are our top picks!
The Dog Beach in Florida offers a 2-mile stretch of soft sand where your pooch can run around off-leash or splash in the water. Although Island Beach State Park and Jekyll Island require pups to be leashed while on the beach, these awesome spots are still worth it because of fun amenities and adventures that await you and your pup.
So if you're looking to be a beach bum for a day or two, check out these best dog friendly beaches in the USA for the perfect getaway to suit your fancy.
27. Kiptopeke State Park, Virginia
Located on the Eastern Shore of Virginia, along the Chesapeake Bay, the laid-back Kiptopeke State Park is a great place to explore with your pooch. Leashed dogs with their owners are welcome to romp around at the south beach. Fun activities include crabbing, boating, fishing, and swimming.
Do keep in mind that the park opens at 6 AM and closes at 10 PM. There's also an admission fee of $7 per car, which is pretty reasonable considering how clean and well-maintained the beach is.
26. Olympic National Park, Washington
The lovely Washington state is teeming with amazing outdoor activities for you and your pet to enjoy. One of these is the Olympic National Park, which is home to rugged but beautiful beaches, picnic areas, and scenic hiking trails to explore.
If you want to splurge a little after spending time outdoors, you can check out some of the park's hotels with dog-friendly policies and some fun freebies for dear Fido.
25. Coligny Beach Park, South Carolina
Another one of the finest dog friendly beaches in the USA is the Coligny Beach Park, situated in South Carolina. Your pooch can freely splash to their heart's delight in the rolling surf or run along the shoreline during park hours.
Speaking of which, the beach only provides access to pets after 5 PM and before 10 AM. But with free parking and cool amenities available, it's absolutely worth a visit.
24. Carmel Beach, California
California is famous for its beaches and among the most well-loved by paw parents is Carmel Beach. This is the perfect spot to let your pooch romp around off leash on the beach or in the waters.
If you wish to check out the Scenic Road Walkway for the breath-taking coastline views, you'll need to leash your dog up. After a day of exploration, you can treat yourself and your fur baby at nearby restaurants offering pooch-approved cuisine during the "Yappy Hours."
23. South Padre Island, Texas
With 34-mile long pristine sandy beaches and over 300 days of sun each year, the South Padre Island in Texas will spoil you and your pup plenty! This tropical island also boasts of crystal clear emerald waters to cool off after soaking up some sun.
There is, however, one caveat – your pooch needs to stay on-leash while on the beach. You'll also be required to present vaccination records that are up-to-date, so be sure to bring these documents with you.
22. Montrose Dog Beach, Illinois
If you happen to be in Chicago, then you definitely have to check out Montrose Dog Beach with your pooch. Four-legged pals can run around and swim leash-free, so that's a major plus. You can also rinse him off after hours of playtime just before you head back home.
MonDog, a volunteer organization, maintains this beach to keep it pristine and safe for visitors. It would be great to give a small donation to support what they do.
21. Keewaydin Island, Florida
Sandwiched between Marco and Naples Islands, Keewaydin is the only dog-friendly beach in the locale. Since it's mostly undeveloped, you can expect it to be quite clean. The island features an 8-mile stretch of soft white sand where your pooch can run around while on a leash.
Just take note that you need to ride a boat to get to this gorgeous island. The quick boat ride is completely worth it, though.
20. Huntington Dog Beach, California
Bask in the sun and sand at Huntington Dog Beach in Southern California. Whether you want to go on a picnic with your pup or explore the 1.5-mile shore, it's bound to be a fun experience overall!
It's open all year round from 5 AM until 10 PM, so be sure to pack you back and head over for a day of sunshine and frolic on the beach.
19. Assateague Island, Maryland
The rugged yet fascinating Assateague Island is another beach to check out with your furry best friend. There is a 37-mile pristine sandy beach where your pup can run around on a leash.
Pets are allowed only on the island's northern section in the Maryland portion. There is also an admission fee and a 6-foot leash for dogs is a requirement throughout the beach premises.
18. Surfside Beach, Massachusetts
Beach time is always perfect at the Surfside Beach in Massachusetts. It's among the few dog friendly beaches in the USA that offers cool amenities such as changing facilities, restaurants, and lifeguards.
Surfside Beach allows access to dogs but only after 5 PM or before 9 AM. They also need to be leashed at all times and it is best to avoid swimming further in the water because of the strong winds.
17. Nordhouse Dunes Wilderness Area, Michigan
From pristine beaches to exciting nature trails, the Nordhouse Dunes Wilderness Area in Michigan has so much to offer. Dogs are welcome to play in the sand and check out the 140-foot tall sand dunes, which is one of the highlights at the area.
Surrounding the dunes are freshwater ponds, which are also perfect for frolicking under the sun. Overall, it's a great place to be with so much to do and experience.
16. Crystal Coast Beach, North Carolina
Crystal Coast Beach in North Carolina houses several dog friendly beaches such as Atlantic Beach, Emerald Isle, and Pine Knoll Shores. Pups can play while leashed all year round and swim in the water but only in areas with lifeguards.
After a day of full sun, you can check out the bars and restaurants where you and your pooch can grab some snacks. There's even a dog-washing station nearby to give dear Fido some pamper time!
15. Galveston, Texas
Galveston is dotted with several dog friendly beaches in the USA. With 32 miles of sandy beaches, it is definitely the place to visit for families and their pets.
Pups must be leashed at all times, and they can walk along the 10-mile seawall for some gorgeous views. Local cafes are also all around; many of them welcome dogs to sit at the patio with their owners.
14. Fort Funston, California
Fascinating windswept beaches and off-leash dog parks await you and your pooch at Fort Funston, the southwest coast of San Francisco. You can bring your pup along and heave a leash ready, just in case.
If you want to see more, you can enter the National Recreation Area where there are trails and more beaches to explore. Fenced dog parks are also available for hours of romping around for your pooch.
13. Cape Cod National Seashore, Massachusetts
Massachusetts' Cape Cod National Seashore is open 365 days a year for on-leash pups with their owners. But during the summer months, they are off limits to lifeguarded beaches in the area.
As the park is open until midnight, that gives you and your pet plenty of time to explore. There is also a boutique hotel nearby that's worth a visit for some relaxation, which is pet-friendly, too.
12. Jennings Dog Beach, Connecticut
Marvel at the beauty of the Long Island Sound while at Jennings Dog Beach. This fantastic natural playground offers numerous amenities including picnic areas, beach volleyball, public washrooms, sailboat racks, and a long stretch of sand to walk your dog.
However, pups are only allowed to enter from October 1st to April 1st. So, it is best to keep this in mind before you visit.
11. Bald Head Island, North Carolina
Accessible by private boat or ferry, Bald Head Island offers a fantastic beach getaway for paw parents with their fur babies. Dogs can freely run off-leash almost all the time except on turtle nesting season, where they need to be leashed.
Otherwise, it is a great place for a picnic or to splash in the water after frolicking in the sand. With gorgeous views of the water and the serenity of it all, this is worth a trip.
10. Rosie's Dog Beach, California
Noted as the first beach in Los Angeles to allow dogs off-leash, Rosie's Dog Beach is a must-visit for fur moms and dads. Just be sure you check out their pet policy, which is one dog per visitor only. They also need to have collars, along with updated vaccination papers.
Just the same, it is a great vacation for the weary mind and body. The scenic views, soft sand, and cool waters offer relaxation to your and your beloved pooch.
9. Willard Beach, Maine
Among the few dog friendly beaches in the USA is Willard beach. It features a 4-acre stretch of sand and scenic views of sailboats in the harbor and the Spring Point Ledge Light.
Interestingly, there is a cool inn that offers a special pet package every October. During this month only dogs are allowed to swim in the pool! That's something worth checking out.
8. Wildwood Dog Beach, New Jersey
Wildwood Dog Beach is an outstanding place to visit for dog owners as pups are open all year round. There are off-leash sections for pups while some parts are for leashed dogs only. Plus, it is absolutely free of charge to go to this beach.
Umbrellas and beach chairs are also available for rent at the kiosks for your comfort and convenience. Then you can just sit back and enjoy the views while your pooch romp around and have the time of his life.
7. Double Bluff Beach, Washington
Bask in sheer relaxation while at Double Bluff Beach in Washington state. This lovely beach offers the finest views of downtown Seattle and majestic mountains all around. For pups, there is a spacious off-leash dog park for hours of playtime in the sand and the waters.
Many activities await you at the beach including rock collecting, seashell hunting, and swimming. It can get packed during the summer, so be sure to come early to secure the best spot.
6. Jupiter Dog Beach, Florida
Featuring a 2.5-mile sand, Jupiter Dog beach is another one of the few dog friendly beaches in the USA. Pups are allowed in the area just as long as they are well-managed by their owners. Also, jellyfish and sea lice are common in the waters, so it is best to remain cautious.
With volunteer beach cleanups done each month, you can expect the sand to stay clean and litter-free. Be sure to clean up after your pet and use the free waste bags available at the beach.
5. Fort De Soto Park, Florida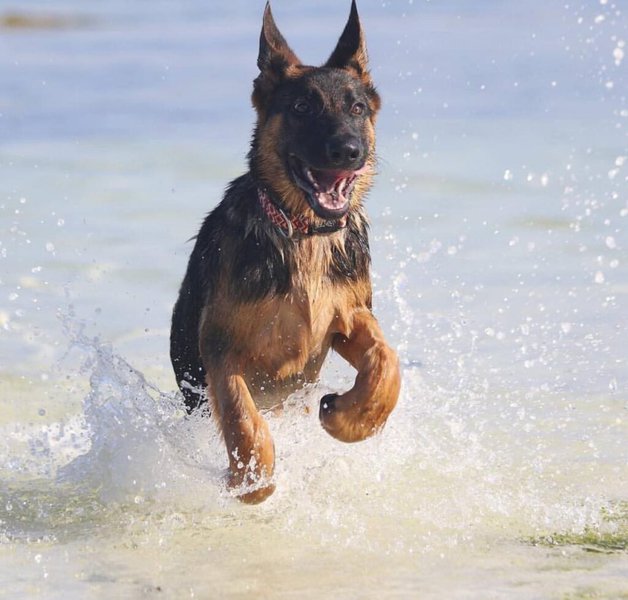 Fort De Soto Park in Florida is a dog-friendly beach that's worth checking out with your canine buddy. While pups need to be leashed, there is a section where they can play off-leash at the Paw Playground.
Another cool highlight of the place is a fenced-in private beach. There are separate sections for small and large pooches, including water fountains and showers specifically designed for dogs!
4. Cannon Beach, Oregon
Take your furry pal with you at Cannon Beach, and you won't regret it. This is a great place to check out the sand and surf, as well as the beautiful views all around.
If you happen to visit during Labor Day, there is a dog festival nearby that features fun activities for your pet. But no matter what time of the year, there's always something fun to do at the beach that will make your trip memorable.
3. Jekyll Island, Georgia
Located along Georgia's southern coast, Jekyll Island offers 10 miles of undeveloped beaches where your pup can frolic with minimal restrictions. For instance, they can splash in the water, as long as they are on a leash. Picnic areas and South Dunes also have some pet policies in place to check out.
Not too far is Driftwood Beach, which is a great place to visit in the morning. You can also get on the boat with your pup or check out the Trolley Ghost Tour at night for a thrilling experience.
2. Island Beach State Park, New Jersey
White sandy beaches and lovely coastal dunes await you at the Island Beach State Park in New Jersey. This scenic spot is open to your and your doggie pals where you can go birdwatching, swimming, and sunbathing.
A few trails are also available, which you can visit by bicycle or on foot. Then, end the day with a relaxing picnic with your beach buddy for a perfect close to the fun beach vacation.
1. Dog Beach, Florida
Dog Beach in Florida allows dogs to run free on the beach to enjoy the sand and clear waters. But once you take them to the restaurants nearby, be sure to leash them up. There is also a spa available to pamper you and your pooch.
With many places for your pooch to run leash-free, Dog Beach is definitely one of the finest nature getaways for your pup!
---
Related Questions
---
Can Dogs Get Fleas From The Beach? Absolutely! Sand fleas are found on the beach and can feast not only on your dog, but also on you. When they attack, they burrow deep into your dog's skin and feed on their blood and flesh. Salt can help to dehydrate fleas, so it can help to swim in the sea to kill these fleas. Just don't overdo it because saltwater can irritate your pet's skin.
Should I Wash My Dog After Swimming In The Ocean? Before heading back home, be sure to give your pup a rinse after swimming in the ocean. Salt water and build up of sand particles in the fur can cause irritation and itching. Long-haired canines may even need a full bath after a day of swimming and playing on the beach.
Can Dogs Get Sick From The Beach? Yes, dogs can get sick from eating sand on the beach. When they ingest too much sand, it can lead to a blockage in their intestines or fecal impaction. If you notice your pooch is vomiting, lethargic, and constipated after being in the beach, it is possible that it has ingested a good amount of sand. Medical attention is needed to help your pet.