Moving to San Francisco with your dog? Great, because there are a lot of cool things that you can enjoy with your dog, you can run an easy mile at Crissy Field or a little more challenge at Golden Gate Park. But if you and your canine buddy are up for a challenge, why not try the Twin Peaks.
One of the pressing concerns of pet parents is to find a good vet within the area. After all, a veterinarian is a person with whom pet parents like you would entrust the lives of their beloved pets, especially in times of need.
Quality veterinary care is one of the prime factors influencing people to settle down in San Francisco, California, a city of over 900,000 people. Choosing a vet whom one can completely trust, identifying the right vets with accreditations and years of experience, and familiarity with the services the vets offer, are vital for dog owners to have peace of mind in a city renowned for its Golden Gate Bridge.
Whether you're a new resident or an old-timer in San Francisco, we'd like to share with you vets based in San Francisco, CA, that you can consider when looking for the best vet for your pet. After all, you'll never know when your pet will have an emergency situation in the middle of the night.
22. San Francisco Pet Hospital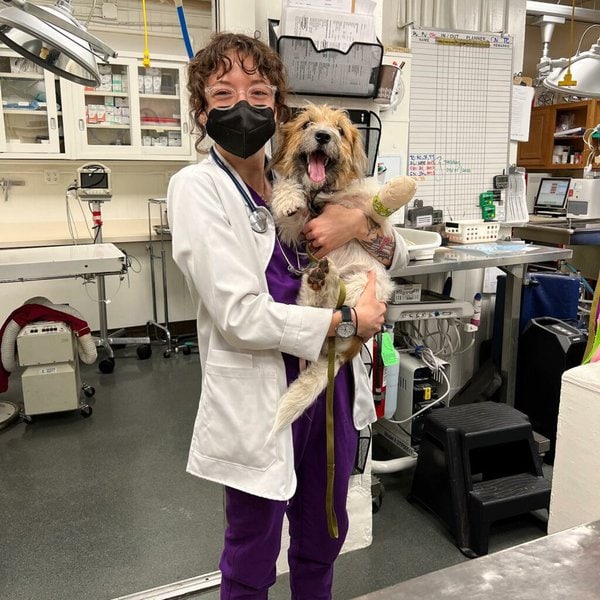 San Francisco Pet Hospital is one of the oldest veterinary hospitals in Northern California. It first opened in 1905 and catered to all types of animals, from farm horses to cows. The hospital was later on purchased by Dr. Lee Morris, and today, San Francisco Pet hospital focuses mainly on care treatment for cats and dogs.
The trusted team of veterinarians includes Dr. Caitlin Nordberg, whose areas of specialization cover treating skin ailments and internal medicine, and Dr. Phil Villard, an experienced veterinarian previously overseeing overnight veterinary care at Pets Unlimited, who is currently covering emergency medicine and surgery in the San Francisco Pet Hospital.
San Francisco Pet Hospital understands the financial burden of treating sick animals. They do not work directly with pet insurance, but they provide their patrons with medical records for insurance claims. Trupanion, ASPCA, Embrace, Nationwide, Lemonade, and Healthy Paws are some of the pet insurance companies that San Francisco Vet Hospital offers. They also welcome CareCredit as a payment option.
The hospital is strategically located in the NOPA neighborhood, just a few blocks away from the iconic Painted Ladies houses and Alamo Square Park. Online booking is open any time of the day. Simply key in details about your pet's age, breed, sex, preferred time, and date for a visit. You and your pet do not have to go through the hassle of waiting for your pet's turn. Plus, it reduces the pet's anxiety, which most fur parents know can cause unwanted and destructive behaviors.
Highlights
Online pharmacy for pet owners' convenience.
Accepts CareCredit for veterinary procedures.
Advanced booking is available online for pet owners' convenience.
The establishment provides nutrition and weight management counseling for pets, regardless of age, and this is extremely useful for first-time pet owners.
Services
Preventive Care

Annual or bi-annual physical and dental check-ups
Vaccinations
Parasite control
Preventive care for senior pets

Surgery

Spay and neuter services
Bladder stone removal
Tumor or lump removal
Intestinal blockage or foreign object removal
---
21. Mission Pet Hospital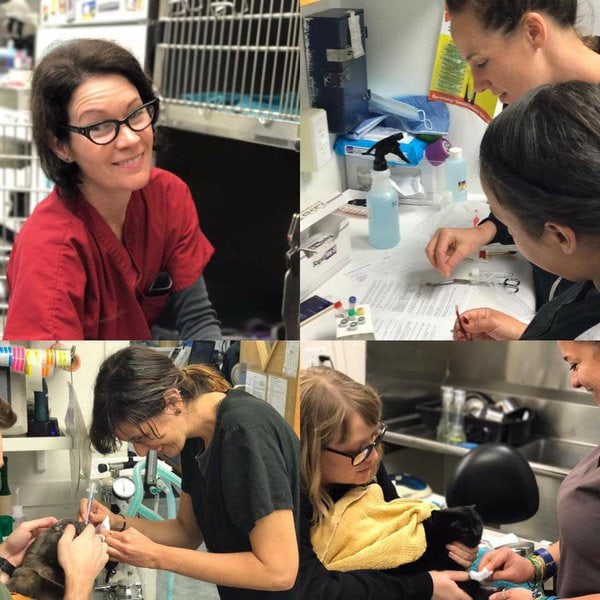 Mission Pet Hospital is one of the oldest, if not the oldest, pet hospitals in San Francisco. Its ownership had transferred to Dr. John Holden in 1981. His business partner, Dr. Curtis Press, completed an internship specializing in small animal medicine and surgery at Loomis Basin Veterinary Clinic.
The hospital advocates open communication with pet owners, informing them of their pet's health conditions, the appropriate treatment methods, and the possible outcomes of medical procedures. 24-hour medical care is also offered to pet patients in need of post-surgery care and pain management.
The establishment has also been awarded the Registered Veterinary Technician (RVT) certification in recognition of its commitment to continuous training and formal education of the staff, thereby providing unparalleled veterinary services of excellence to the community.
The team of technicians and veterinarians is also known for its coordinated approach system wherein they examine every part of the pets' bodies to determine the underlying cause of the illness. They are equipped to look at the whole picture focusing on different specialties within the same team.
Mission Pet Hospital has been voted for Best Veterinary Practice in San Francisco by SF Weekly, SF Guardian, Best of the Bay, Yahoo, The Bay Area Reporter, and San Francisco Magazine.
Highlights
24-hour medical care.
Online pharmacy.
24-hour appointment cancellation policy.
Can handle all types of surgical procedures.
Services
Dentistry

Cleaning of the crown
Dental X-ray
Oral surgery or extractions
A thorough inspection of teeth, gums, and underlying bone

Specialized Fields

Advanced pain management
Oncology
Abdominal and cardiac ultrasound
Advanced medicine and surgery
---
20. Urban Pet Hospital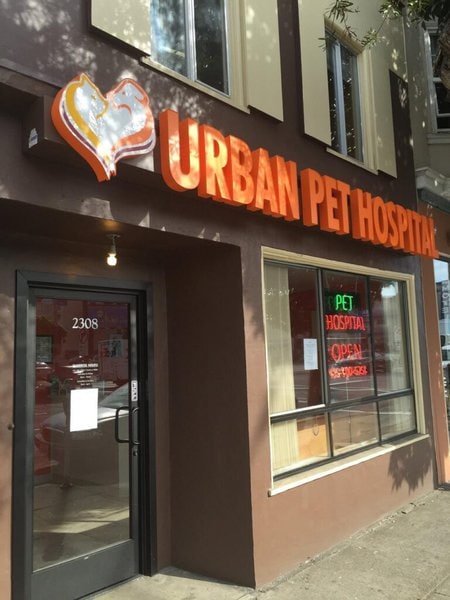 Opened in 2015, Urban Pet Hospital is one of the newest veterinary clinics in San Francisco. The establishment is owned and run by Dr. Garg, whose advocacies are client education and open communication with their patrons.
The establishment has modern and state-of-the-art facilities, allowing veterinarians to perform in-house medical procedures such as laboratory digital radiography, surgical procedures, and aggressive pain control dentistry. And, for faster and more convenient client transactions, downloadable forms for new client registration and surgical information packets are available online.
If you are planning on an interstate or an international journey with your pet, Urban Pet Hospital is able to assist you in compliance with flight travel requirements to secure a health certificate issued by a USDA-accredited veterinarian.
Driving to Urban Pet Hospital should not be a problem because of the hospital's proximity to Pierce Street Garage, as well as a 2-hour metered and unmetered street parking. Your visit to the hospital should not be stressful.
Highlights
Open on Sundays.
Has extended clinic hours to suit working pet owners' convenience.
Helps pet owners with all concerns pertaining to both interstate and international travels.
Appointments for all the hospital's services are available and can be scheduled online.
Services
Wellness Exams

Annual check-ups and vaccinations
Early disease detection like leukemia
Heartworm prevention
Dental care

Surgery

Anesthesia administration
Continuous surgical education
Ultrasound orthopedic and soft-tissue surgery
Neutering and spaying
---
19. Irving Pet Hospital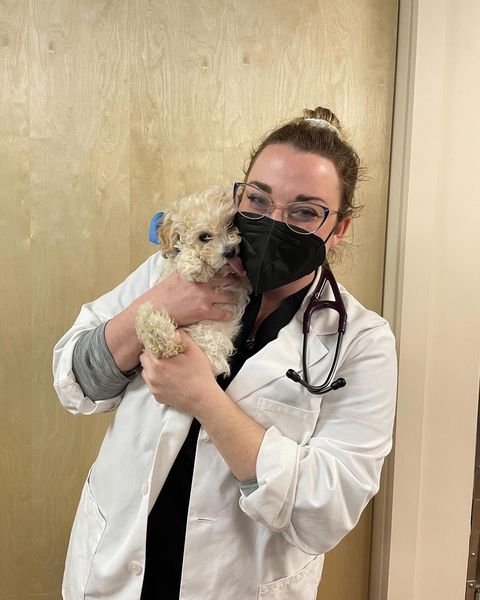 Irving Pet Hospital earns a spot on the shortlist of 12% to 15% of veterinary hospitals in the USA, including Canada, accredited by the American Animal Hospital Association (AAHA). This accreditation is a recognition of excellence for veterinary practices granted to vet hospitals that meet the standards in the areas of facility management, continuous team training, educational programs, and pet patient care.
The hospital has also been voted as one of the highest vet hospitals in San Francisco on Yelp. Pet owners' ratings were based on factors such as affordable pricing and compassionate hospital staff. Patrons also appreciate how the team went as far as responding to their emails even after office hours.
The establishment is strategically located near Golden Gate Park and is one of the remaining locally owned veterinary hospitals in the city. Irving Pet Hospital was established in 1964 by Dr. Roger Burr, and today, the hospital is being run by Dr. Joe Fong, a native of San Francisco, and other associate veterinarians.
The hospital is equipped with the latest surgical facilities and instruments that enable it to provide surgical services that include amputation, cystotomy, urinary obstruction, and cesarean birth-giving.
Urgent care is available for walk-in patrons six days a week with extended hours. For non-urgent cases, you can conveniently book an appointment through their online portal. Appointments with the technicians are also available for services, such as vaccine administration, nail trimming, and anal gland expression.
Highlights
Same-day appointment for urgent cases.
AAHA certified.
Can request a prescription refill online.
Guides pet owners with their pet's nutritional needs.
Services
Surgery

Removal of cherry eye
Tooth extractions
Wound repair
Sterilization surgery

Preventive Care

Parasite control
Skin and coat care
Behavioral evaluation
Preventive care for senior animals
---
18. Balboa Pet Hospital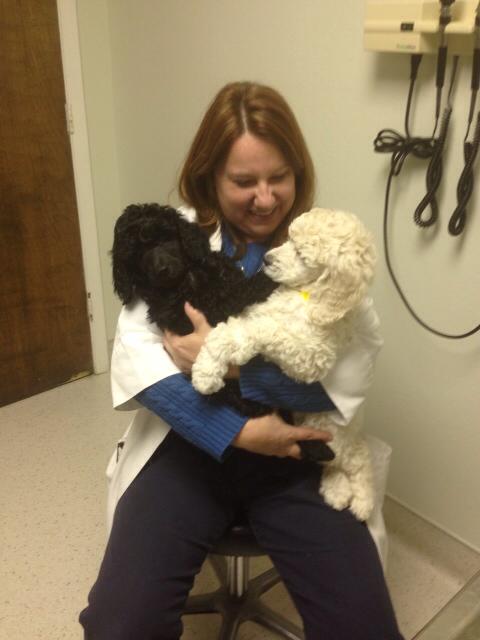 Balboa Pet Hospital opened its doors to pet lovers in San Francisco in 1948 and was later passed ownership to Dr. Paul D. Clary, who once held the top position at the San Francisco Veterinary Medical Association.
With the passing of Dr. Clary, the management of the hospital is now handled by his wife, Alice, who continues to provide care for animals, including dogs, cats, hamsters, guinea pigs, rabbits, birds, reptiles, and other exotic pets.
This is possible through the expertise of vets like Dr. Starfinder Stanley, whose specializations include pet acupuncture and the treatment of reptiles. Also onboard the team is Dr. Salumeh Mirzaeian, who focuses on internal medicine, surgery, and treating exotic animals.
While it is true that vet expenses can be costly, Balboa Pet Hospital provides pet owners with individualized care plans so that patrons can review the total cost of testing and treatment before the hospital proceeds to take the case of the pet.
Suppose you are searching for an alternative medical treatment for your senior pet or perhaps a pet that cannot tolerate pharmaceutical medicines. In that case, Balboa Pet Hospital offers pet acupuncture to treat lingering chronic and painful diseases. It is a form of integrative medicine that combines the Western veterinary approach and Traditional Chinese Veterinary Medicine.
It's also a bonus that Balboa Pet Hospital has an online pharmacy where you can have your pet's prescription medicines refilled at your convenient time.
Highlights
The establishment is AAHA-accredited.
Aside from dogs and cats, it takes on other animals and exotic pets.
Accepts daytime emergency medical care.
Comprehensive vet exams for pets of all ages. These exams include all the major parts of a pet's body to ensure that they are in good health.
Services
Pet Acupuncture

Dry needle technique
Electrostimulation
Aqua-acupuncture
A mix of Chinese and Western veterinary medicine

Pet Dental Exams

Dental cleaning
Screening for periodontal disease
Tooth extraction
Screening for resorptive lesions and bite misalignment
---
17. Animal Farm Pet Hospital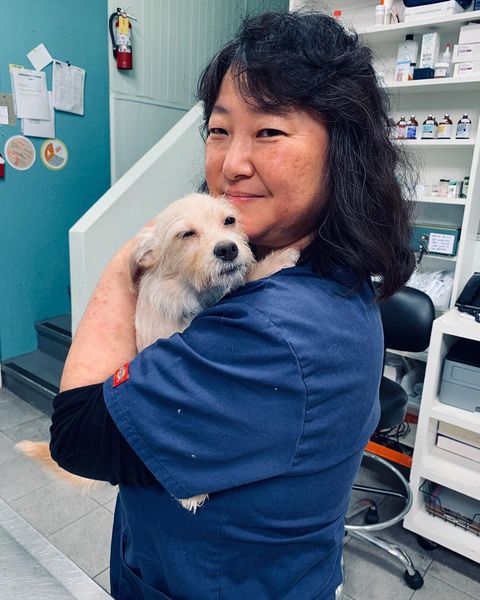 Do you have an emergency vet whom you can call when your pet needs urgent and emergency care, especially over the weekend? This is often a problem for pet owners, and if that happens, you can call Animal Farm Pet Hospital.
Their veterinary team can offer you life-saving advice over the phone, or if it's a more delicate case, the team can accommodate emergency procedures, treatments, or surgeries at an affordable cost. Emergency veterinary care does not have to be expensive. At Animal Farm Pet Hospital, they operate without hidden charges. They'd walk you through the cost and then workaround on your budget without sacrificing the quality of care.
The hospital is run by Dr. Varaparsad Guduri, who works hand-in-hand with Dr. Venkata Kiran Siddineni. As a full-service hospital, it is equipped with digital radiology, ultrasonography, digital on-site blood machines, and dental digital radiology that allows them to perform routine wellness, dental care, surgery, and emergency treatment.
The hospital has an in-house pharmacy and works with pet insurance companies like PetsBest, ASPCA, Pet Assure, Embrace, Trupanion, and Nationwide Pet Insurance. The facility also uses green energy, renewable energy that taps on solar power for electricity and hot water.
Highlights
Affordable pet care.
Accepts CareCredit payment option.
Can request an appointment online.
Offers wellness exams to check pets from head to paws, the purpose of which is to detect early signs of illness.
Services
Emergency Care

General treatment of poisoning
Abdominal bloat
Requiring immediate wound treatment or surgery in the case of car accidents
Removal of foreign object

Surgery

Spay and Neuter
Orthopedic surgery
Exploratory abdominal surgery
Bladder stone removal
---
16. Arguello Pet Hospital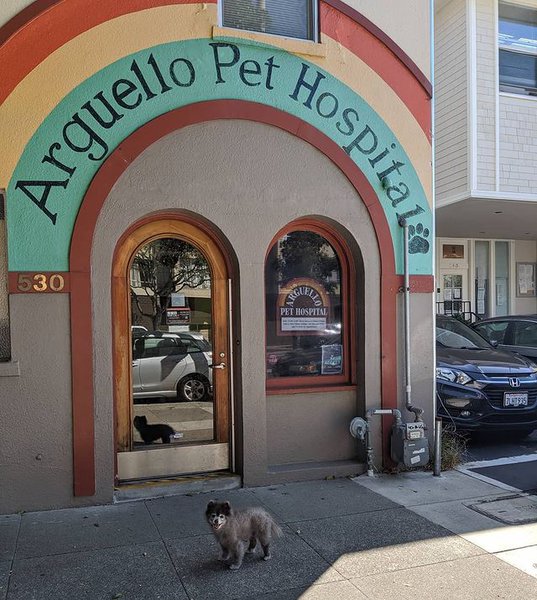 Arguello Pet Hospital was built in 1928, and since then, the hospital has had previous owners. In 1982, Dr. Michael Ina bought the hospital, and today, the hospital is being run by his daughter, Dr. Jamie Ina, alongside five female veterinarians, technicians, and office staff.
Aside from the yearly wellness checkups and dental care, the hospital also offers to board small dogs and cats. Unfortunately, Arguello Pet Hospital has limitations when it comes to surgical procedures because it lacks comprehensive oncological and surgical facilities.
But if you are traveling with your pet, the hospital has created a page specifically for all the travel requirements, such as the link to the website of USDA APHIS for the specific requirements of the country of your destination. The address, email address, and contact numbers are all written on that travel page.
For your convenience, the hospital has online forms for you and your pet. Simply click which form you want to download, fill in all the necessary information, and then email it back or take the form with you to your next appointment. The forms include a registration form, dental authorization, anesthesia consent form, diabetic pet drop-off form, surgery consent form, feline neuter authorization, and pre-anesthetic blood work information.
Highlights
Received an average of 4.6/5 Google and Yelp star ratings from patrons.
Offers senior pet care.
Online store for pet essentials like deworming and heartworm tablets.
Accepts all major credit cards, checks, and CareCredit.
Services
General Wellness

Annual vaccinations
Heartworm treatment
Full laboratory services
Microchipping

X-ray

Abdominal ultrasound
Thoracic ultrasounds
Digital whole body radiology
Digital dental radiograph
---
15. Sunset Veterinary Hospital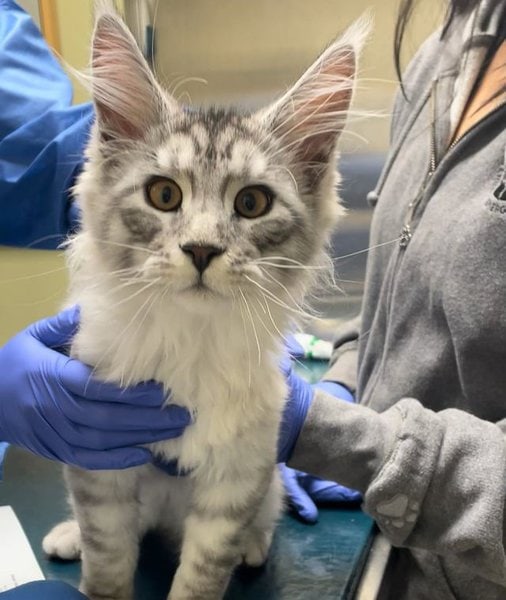 One of the pet hospitals that provide veterinary services to exotic pets like birds, ferrets, hamsters, guinea pigs, and other small exotic mammals, the hospital is run by two female veterinarians.
Dr. Chu, a native of San Francisco whose field of specialization is focused on oncology and animal internal medicine. She works with Dr. Chan, also a native of San Francisco, who has expertise in the field of exotic veterinary with a focus on exotic birds, rodents, reptiles, avian animals, cats, and dogs.
Sunset Veterinary Hospital is best for general medicine and surgery practice. The in-house veterinarians perform non-complicated surgeries like spaying, neutering, dental surgery, and tumor or mass removals.
For more complicated surgical cases, they collaborate with other specialists in the Bay Area who come to the hospital to perform complex surgical procedures. With this kind of arrangement, the hospital can arrange for testing and diagnostics and surgical treatment without their patrons having to travel to another city.
They also use the latest tool in pain management and inflammation. Laser therapy is a new science that is used to significantly lessen the pain, speed up the healing process, and shorten the length of treatment without any adverse side effects.
Highlights
Accepts exotic pets.
Offers laser therapy for pain management.
Easy check-in process.
Its website has how-to videos about pill administration, how to apply eye drops, and care guides for pets.
Services
Preventive And Wellness Care

Dental cleaning and extraction
Deworming
Dental care
Blood works and X-ray

Non-Illness Related Services

Anal gland expression
Nail trimming
Ear cleaning
Vaccinations
---
14. Presidio Way Veterinary Hospital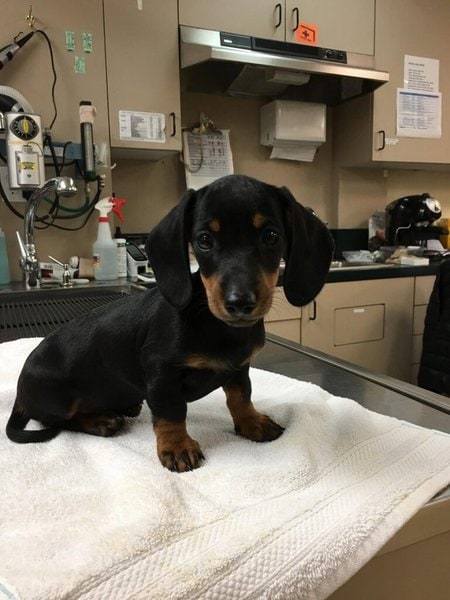 This is a fully equipped and an upscale veterinary hospital that has advanced tools in veterinary medicine including digital radiography that helps the vet doctors see what is wrong inside your pet's body through digital images. Another tool that the hospital uses is an ultrasound machine from which they can assess the health status of your pet's internal organs such as the heart, chest, and abdomen.
Presidio Way Veterinary Hospital started offering its services in 1979 and today, the hospital is manned by veterinarian staff who are all members of the American Veterinary Medicine Association and California Veterinary Medicine Association. Meet Dr. Elizabeth Newsom-Stewart whose special interests include ultrasonography, dentistry, and internal medicine. She works along with Dr. Kaila Helmer and is a registered veterinary technician.
And, if you have an aging pet, you will appreciate the special veterinary care that the hospital provides for senior pets. The senior pet wellness plan includes regular monitoring for diabetes, arthritis, liver, kidney, and heart problems. They'd also check if your senior pet has a thyroid problem or is hypertensive.
The hospital also has a full-service pharmacy from where you can get the prescribed medicines on the same day you request them. The forms of payment for all treatments and medicines are cash, checks, and all major credit cards.
Highlights
Offers nutritional counseling, especially for first-time owners.
Geriatric pet care for pets living their senior years.
Offers long operating hours throughout the week.
Has a pet memorial page dedicated to commemorate all beloved animal friends who have passed.
Services
Veterinary Surgery

Spay or neuter
Laceration repair
Tumor removal and chemotherapy
Orthopedic

Laboratory Tests

Fecal float
DTM culture
Urine dipstick
Platelet count
---
13. Nob Hill Cat Clinic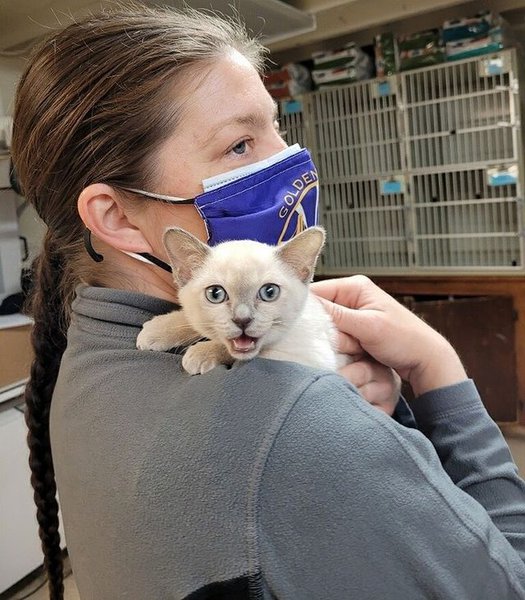 A clinic that focuses explicitly on feline pets, this is the place to visit if your cat is not happy mingling with canine friends. Nob Hill Cat Clinic has been offering comprehensive veterinary services for over 30 years.
Led by Dr. Grace Carter and Dr. Taylor Wallace, the clinic also caters to first-time cat owners, offering to counsel on the proper way to care for kittens. Vaccinations, flea prevention, and cat nutrition are just some of the information you can get from them.
If your cat needs to be neutered or spayed, or perhaps an orthopedic surgical procedure, vet doctors administer the safest anesthesia to prevent complications. And, if hospitalization is needed, the clinic provides hospital as well as home care for sick and recuperating animals.
You can also check out the resources section on the website for any information you want to learn about pets. Be it a list of a pet food recall, poisonous plants, and anything that pertains to cats, you can simply type in the topic and you'd get the answers in no time.
For your next visit, you can request an appointment online, and they'd confirm your schedule either through text or email.
Highlights
Its website includes many resources, including a how-to video and a blog useful for understanding care, treatment, and medication for cats, and a resource library.
Provides care consultation to help steer first-time cat owners in the right direction in caring for their kittens.
Online pharmacy and prescription refills.
Accepts CareCredit payment option.
Services
Laboratory Tests

Hematology
Urinalysis
Feline leukemia tests
Biochemistry profile

Dental Care

Teeth cleaning and polishing
Tooth extraction
Dental X-rays
Minor oral surgery
---
12. Bay Area Veterinary Housecall Associates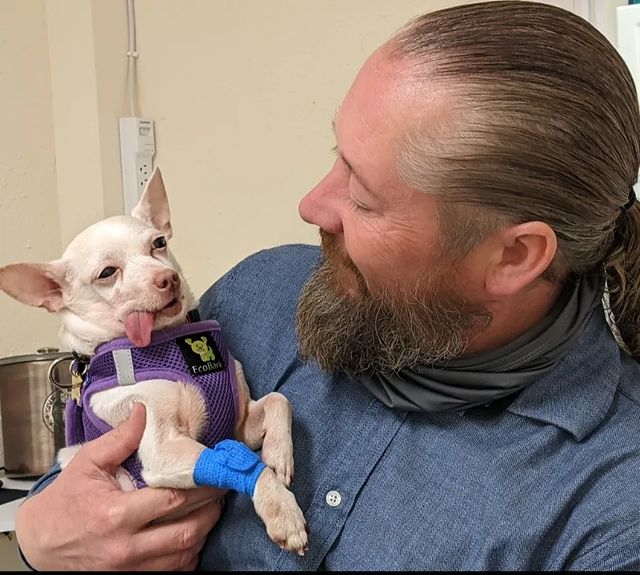 Finding a parking slot is a perennial problem in San Francisco, good thing you do not have to leave the comforts of your home to have your pet examined by a licensed veterinarian. Founded in 2010 by Dr. Brian VanHorn, he started accepting healthcare services for cats, dogs, and exotic animals. All you need to do is set an appointment at your most convenient time, and he will come to your home to perform a routine checkup and minor surgical procedures.
During a housecall, the staff personnel strongly advise pet owners to stay with their pets. If, however, the procedure involves the operation of open wounds, needles, and blood which may make pet owners uneasy, they are given the option of not staying with their pets. And, when the unexpected happens to your pet, they also accept emergency care even after hours, including on weekends.
They charge $300 for the 1st hour and an additional $50 for every ½ hour of service. A schedule should be made 24 hours in advance for non-urgent cases. If it's an emergency case, they charge an additional $75. For after office hours and weekends, an additional $100 for house calls between 6PM to 10PM. On weekends, they charge an additional $75.
Highlights
Provides housecall services for the convenience of both pets and their owners.
Exotic animal medicine.
Accepts emergency cases after hours and over the weekends.
Has a tie-up with Golden Gate Veterinary Home Hospice and Euthanasia to render better availability of the services.
Services
Wellness Care

Basic blood testing
Medical imaging
Chronic disease management
Home care after hospitalization and post-surgery care

Pet Travel Certificates

Provides certificates by a USDA-APHIS accredited veterinarian for domestic travels, except travels to Hawaii and Alaska
Laboratory tests required for pet travel
Certificates for intra-state travels
Titer testings
---
11. San Francisco SPCA Mission Hospital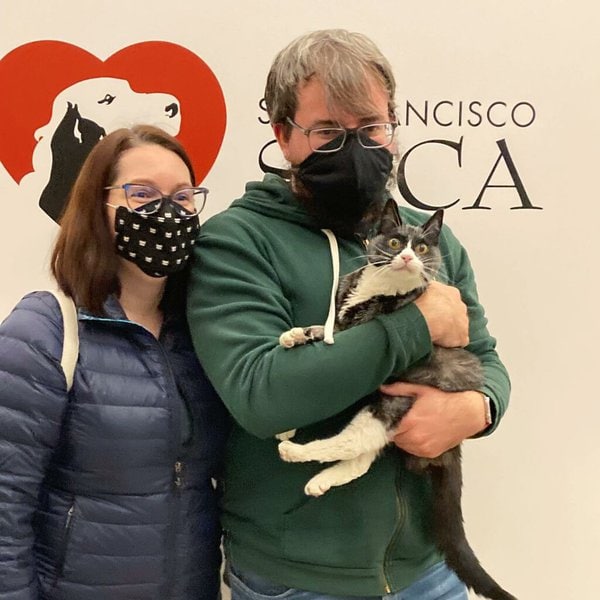 San Francisco SPCA has been providing various services that include adoption, shelter medicine, and veterinary care. Their veterinary hospital, which is named Leanne B. Roberts Animal Care Center, is a full-service hospital that offers annual or biannual routine check-ups, diagnostic testing, and dental works.
For emergency care services, you can call their number, and depending on how urgent the case of your pet is, the emergency team can set you up an appointment within 48 hours.
The other services include the issuance of travel certificates, both for domestic and international travel. They also have a behavior specialty clinic where veterinary behaviorists help pet owners understand and deal with the behavioral issues of their pets.
Dr. Nicolette Zarday is the current medical director of the Mission Campus hospital, whose fields of specialization are surgery, critical care, and ultrasound. Dr. Natahn Cote, a staff veterinarian, is focused on internal medicine, soft tissue surgery, ultrasound, and endoscopy.
To assist pet owners with their financial burdens, the hospital offers financial assistance only to verified residents of San Francisco. Some of the requirements to show are a homeless verification letter, SSI/SSDI, and food stamps.
Highlights
Pet behavioral consultations are offered to target abnormal behaviors in pets. The hospital has veterinary behaviorists whose expertise lies in understanding these behavioral issues and designing an intervention plan to help pet owners.
Online pharmacy for pet owners' convenience.
Financial assistance for the underprivileged.
Offers hospitalization with 24-hour care by a vet technician.
Services
Animal Diagnostics

Ultrasound
General and dental radiology
In-house diagnostic laboratories
Vimago high-definition volumetric imaging system

Wellness Services

Vaccinations
Deworming
Heartworm treatment
Dental care
---
10. Ocean Avenue Veterinary Hospital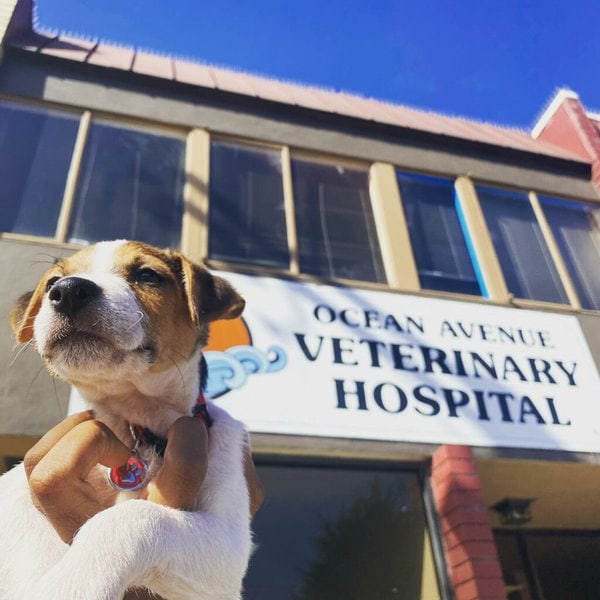 It is difficult to look for a pet hospital that has longer operating hours, including weekends. Sure, you have the option of homecare vet services, but it comes with a price. Ocean Avenue Veterinary Hospital, with its extended opening hours to 10pm, also provides its patrons a 7-day-week of emergency care services.
It is no wonder that this hospital has been getting nearly 500 reviews with an average rating of 4.3 stars. They admire the hospital's quick response to their questions and the courteous and friendly vets and hospital staff. Led by Dr. Singla, who is a part-owner of the hospital, it provides essential vet care services like immunization, spaying, and neutering.
The hospital also emphasizes the importance of senior pet care through their services like screening for diabetes, cancer, and ocular and heart diseases. The hospital is equipped with echocardiograms or heart ultrasounds to determine the type of cardiovascular disease that an animal has.
Patrons can get the proper education about pet nutrition. They provide a nutritional assessment as well as analyze if a pet's change in weight is a sign of an underlying health problem. Ocean Avenue Veterinary Hospital carries different brands of prescription diets and a variety of treats, including hypoallergenic, dental care, and weight management treats.
Payment plans are cash, credit, and debit cards. For emergency cases, the hospital makes special arrangements through the CareCredit program to allow pet owners to pay for the bill via installments with a 6-month tenure. Scratchpay is also available for huge veterinary bills.
Highlights
Pet care is also offered to pets living in their senior years.
Operates seven days a week with extended opening hours to 10pm.
A kid-friendly hospital environment.
Has five parking slots available, plus a nearby free street parking for two hours.
Services
Digital Radiography

Bone X-ray
Organ X-ray
Radiography for a chronic arthritis diagnosis
Spinal cord disease radiography

Surgery

Soft-tissue surgery
Mass removal
Belly surgery
Laryngeal paralysis surgery
---
9. SoMa Animal Hospital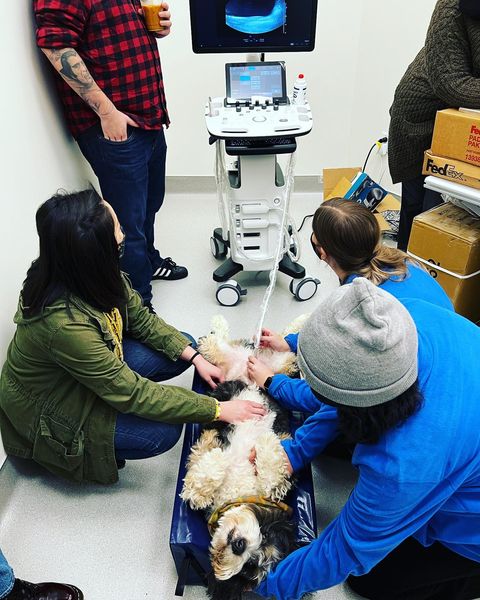 The hospital's slogan, "Simply better is the best," encapsulates what SoMa Animal Hospital provides to its patrons. This is achieved through a team of veterinary doctors led by their Medical Director, Dr. Jayson Johnston, whose expertise lies in surgery and internal medicine. Today, besides cats and dogs, he has expanded his scope to small animals like guinea pigs, rabbits, birds, fish, and reptiles.
Along with Dr. Johnston is a compassionate team of associate vet doctors like Dr. Ericka Carroll and Dr. Barbara Wood. Some of the best services they offer are wellness services that include routine checkups and laboratory testing.
Preventive services are annual vaccinations and parasite prevention. The hospital's specialty services include surgery and diagnostic tests like X-rays and ultrasound.
Pet microchipping is also done to identify lost animals. Pet owners will love the clean and refreshing ambiance of the hospital. Plus, you will appreciate the hospital's transparency regarding fees for common procedures, $39 for rabies vaccine, $70 for a heartworm test, and others.
For new clients, you can download the new client registration form at least 24 hours before the scheduled appointment. CareCredit is also accepted as a payment option.
Highlights
You can find the prevailing price list for common pet procedures, such as wellness and illness checkups, on the hospital's website.
Has an online pharmacy supplying medications and prescriptions, as well as pet supplies.
Open on Sundays.
Accepts other pets besides cats and dogs.
Services
Pet Dentistry Services

Annual dental cleanings
Dental radiographs
Tooth extractions
Pain management before and after a dental procedure

In-House Laboratory And Diagnostic Testing

Feline leukemia screening
Parvovirus testing
Stool testing
X-ray and ultrasound
---
8. Healthy Pets Veterinary Hospital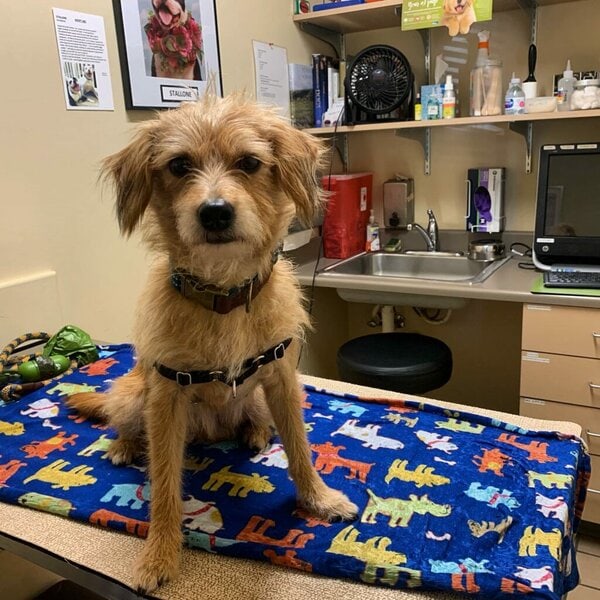 Healthy Pets Veterinary Hospital was founded by Dr. Adam Piaseczny in 2010, who decided to operate the veterinary hospital in his West Portal neighborhood. It offers not only traditional Western medicine but also incorporates holistic and alternative medicines such as acupuncture, nutrition, and the use of herbal medicines.
If you are open to the idea of trying acupuncture as a form of treatment for your pet, Dr. Piaseczny uses sterilized needles and places them into the targeted zones. This is done to release blockages and allow energy to flow in a balanced way. Acupuncture is safe and side effects are very rare.
Apart from acupuncture, laser therapy is another option where wavelengths of light are used for healing body ailments. The establishment also has an online pharmacy and delivers pet medications at your convenience. Not only that, but the website has a compilation of how-to-videos for home-based treatments like how to clean and administer ear and eye drops.
Metered street parking is available, and MUNI rail and bus lines pass right by the hospital's entrance. Forms of payment are cash, checks, debit and credit cards, and CareCredit. As a reminder to pet owners, the hospital requires cats to be placed in a carrier and dogs to be on a leash.
Highlights
Offers alternative medicine.
Practises open communication with pet owners for improved transparency.
An online and on-site pharmacy for pet owners' convenience.
To assist patrons during emergencies, pet owners can check the website for a list of hospitals accepting after-hours emergency care. These are all within close proximity to Healthy Pets Veterinary Hospital.
Services
Diet And Nutrition

Provides nutritious recipes
Education regarding the choice of ingredients
Age-specific diet plan
Assists in supplemental diet program

Surgical Services

Biopsy
Laceration repair
Abdominal surgery
Hernia repair
---
7. Park Animal Hospital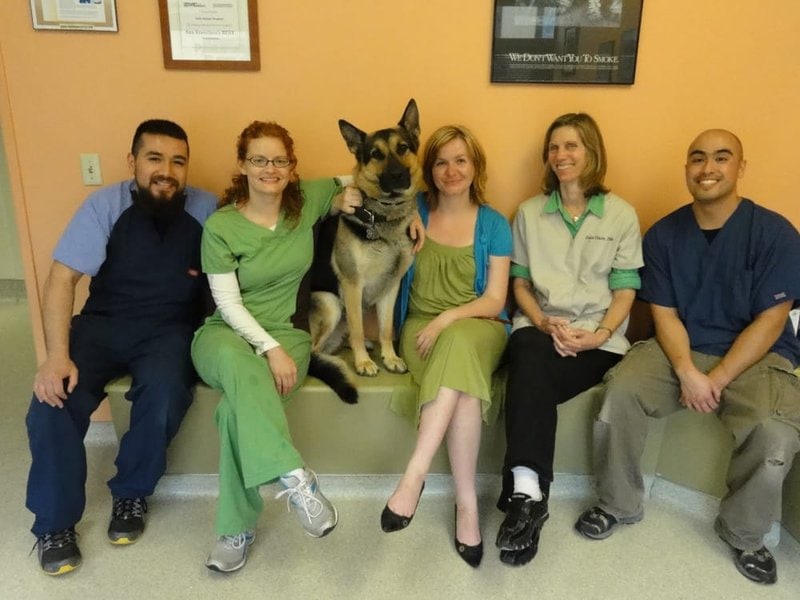 Voted as the best veterinary hospital by the San Francisco Examiner in 2004, the hospital has been providing excellent animal care services through the use of its state-of-the-art equipment like radiology. This tool assists veterinarians in diagnosing orthopedic issues like hip dysplasia. An ultrasound machine is also available in the hospital that allows for a safe and pain-free procedure to evaluate the animal's internal organs.
The veterinary team is headed by Dr. Robert Arrick, who is very much hands-on, from the conceptualization of the hospital's building to the purchase of the equipment. Surgery and internal medicine are two of his special interests. Working along with him is Dr. Allison Poindexter, whose line of interest includes geriatrics, dermatology, and solving behavioral problems of pets.
Park Animal Hospital is one of the places to go if you are looking for an alternative treatment plan for your pet. Acupuncture, an ancient Chinese medical way of reducing pain through the use of low-voltage electrical current, is a safe treatment alternative.
Prescription diets, vitamins, shampoos, and heartworm preventive medicines are available in the hospital's pharmacy. And, when the time comes when you are faced with the tough decision about letting go, the veterinary teams can assist you in sensitive matters that pertain to pet death. Park Animal Hospital also provides crematory services.
Highlights
Accepts ScratchPay and CareCredit payment options.
Offers veterinary acupuncture as an option of alternative treatment.
Offers home delivery of pet food, medication, and supplements via its online pharmacy.
Provides crematory services for end-of-life planning.
Services
Pet Wellness Services

Immunizations
Puppy and kitten care
Geriatric care
Diagnostic testing

Laser Therapy

Treatment for arthritis and degenerative joint disease
General pain management
Dental procedures
Fractures and wounds
---
6. Avenues Pet Hospital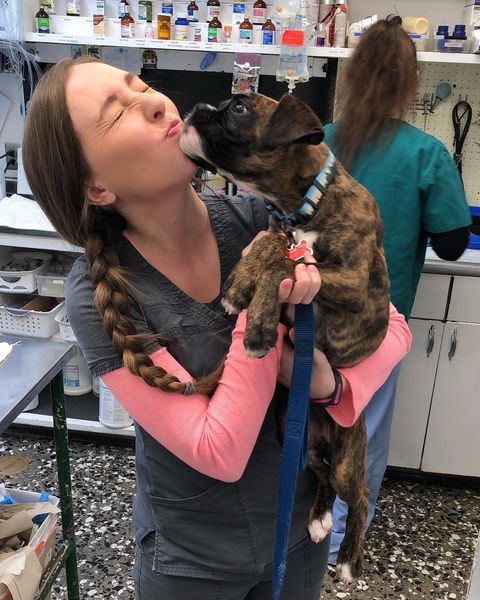 Rendering veterinary services as early as 1949, Avenues Pet Hospital has been accredited with AAHA since 1976. It is no surprise that it is given a high rating by its loyal patrons from Yelp and Google. If your pet is a new patient, you can download the new patient form online and submit it on the day of your appointment. This process is done for patrons to have a shorter time in the hospital's waiting room.
You'd meet Dr. Scott Anderson, who held the chairmanship position of the San Francisco Animal Control and Welfare Commission from 1981 to 1988. Dr. Rich Schwach, a business partner of Dr. Anderson, became board-qualified for the American College of Veterinary Surgery in 1977 and completed an orthopedic and general surgical residency.
Avenues Pet Hospital gives in-house surgical procedures that are closely monitored by the hospital's veterinary technicians. A planned anesthesia and pain control management are developed for each patient to ensure comfort and safety during and after the surgical procedure.
The hospital also has dermatological services for allergy testing, nail problems, and treatment of skin and ear infections.
Highlights
The establishment is AAHA-accredited.
Facilitates the issuance of travel certificates for interstate or international travel.
Offers the mandatory SPCA/ACC exams for newly adopted pets.
Services
Medical Services

Neurology
Internal medicine
Oncology
Ophthalmology
---
5. Seven Hills Veterinary Hospital
At Seven Hills Veterinary Hospital, the veterinarians are not only medical practitioners but educators too. They strongly advocate open communication, so feel free to ask them anything such as your pet's nutrition, how to increase your pet's life, and cancer medicine. That way, pet owners are enlightened with valuable information about the proper way to care for their pets.
Dr. Madeline Benjamin is one of the vets you'd meet at the hospital. She has a Doctorate degree in Veterinary Medicine and is an experienced vet in treating different kinds of wild animal species. Dr. Yuki Okada is currently completing her residency at the American College of Veterinary Internal Medicine at Veterinary Nutrition Specialty Service.
The hospital has included an area focusing on precision cancer medicine and genetic testing of cancer patients so as to determine the presence of cancerous mutations. Once the test results are available, it can then provide the patient with the precise amount of medicine for cancer treatment that can be administered at home.
In case your pet has some behavioral issues that you do not know how to deal with, pet behavioral consultation is also available at the hospital.
Highlights
Cancer treatment.
Longevity care for pets in their senior years.
Nutritional counseling for first-time pet owners to better understand their pets' nutritional needs.
On-site blood testing for bloodwork analysis.
Services
Veterinary Dentistry

SOPIX dental X-ray that can expose the disease below the gumline
Tooth extraction
Teeth cleaning
Treatment for gingivitis

Veterinary Diagnostics

Full-body X-ray
Microscopic assessment of lumps and skin disorders
Ultrasound
Blood test and urinalysis
---
4. BetterVet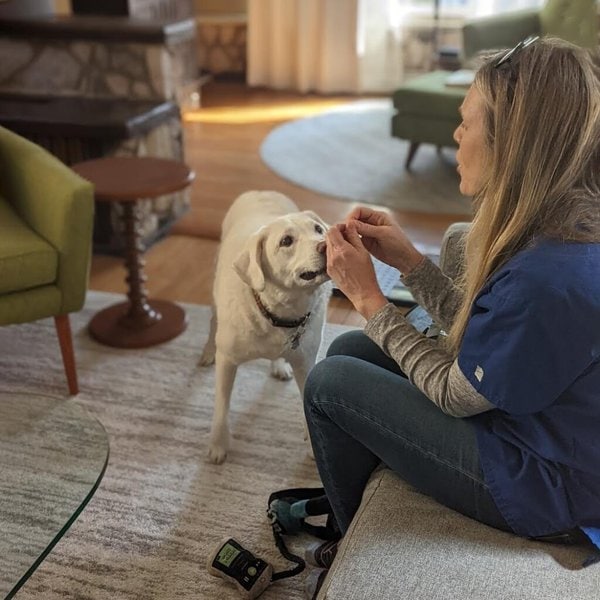 Now you do not have to leave the comforts of your place for your pet's medical needs. If it is not urgent care, you can schedule a telemedicine consultation for your pet at your most convenient time. If you prefer a vet home visit, just open the BetterVet app, or you can go to their website to schedule a vet to visit your pet at home.
Within the San Francisco team, Dr. Calvin Lum has vast experience in caring for small animals in Redwood City, CA. He moved back to San Francisco in 1998, and he is now focusing on housecall veterinary practice. Dr. Scott Perry specializes in giving veterinary care to pet owners through text, phone, and video calls. Dr. Perry has a decade-long experience in caring for and treating cats, dogs, reptiles, rodents, birds, and amphibians.
BetterVet mobile veterinary offers an ultrasound examination, a painless examination that can let them see the internal anatomy of sick pets. Blood Work can also be performed at your home to determine if your pet has heartworm disease or any type of tick-borne disease.
And, if you are out for an adventure with your pet, you may also request an interstate or international travel certificate.
Highlights
Telemedicine is practiced to reduce traveling during this pandemic situation.
Housecalls can be scheduled for your convenience.
Hassle-free and user-friendly scheduling, available on both desktop and mobile devices.
Wait time is minimized with BetterVet's scheduling features.
Services
Orthopedic And Neurological Examinations

Movement evaluation
Evaluate the pet's range of motion
Check for back pain
Testing of cranial nerves

Euthanasia

A pain-free and peaceful process
Transportation of deceased pet to the crematorium
Creates keepsakes of your pet like paw prints and plaques
Empathetic conversation with vet doctors
---
3. The Castro Animal Hospital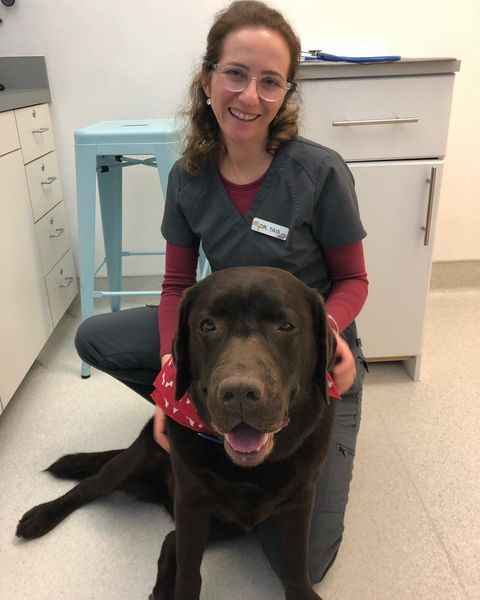 The Castro Animal Hospital is owned by Dr. Sarah Inman, who was born in Johannesburg, South Africa but grew up in Melbourne, Australia. She moved to San Francisco in 2016 and worked as an associate vet at Avenues Pet Hospital before she opened her animal hospital. Her areas of specialization include diagnostic imaging and surgery.
To avail of the hospital's services, you can book an appointment online. But if you prefer, the hospital also offers telemedicine, where you can consult your pet's health problems for 30 minutes. Take note that teleconsultation is only open for existing clients and non-urgent cases.
Drop-off appointments are also available. Once your pet is done with the procedure, you will be informed of the discharge instructions. Take note that the hospital has a cancellation policy; they charge $35 for appointments canceled within 24 hours before the scheduled appointment and $75 for vet procedures.
For dying pets, you can avail of their palliative care like euthanasia, private and communal cremation, or home burial.
Highlights
Assist with the issuance of pet travel certificates.
Online booking is hassle-free.
Online pharmacy services for your convenience.
Telemedicine is practiced to reduce the need for traveling during a pandemic situation.
Services
Internal Medicine

Endocrinology
Cardiology
Respiratory diseases
Hematology

Surgical Procedure

Spay and neuter surgery
Soft tissue surgery
Brachycephalic airway surgery
Emergency surgery
---
2. VCA All Pets Hospital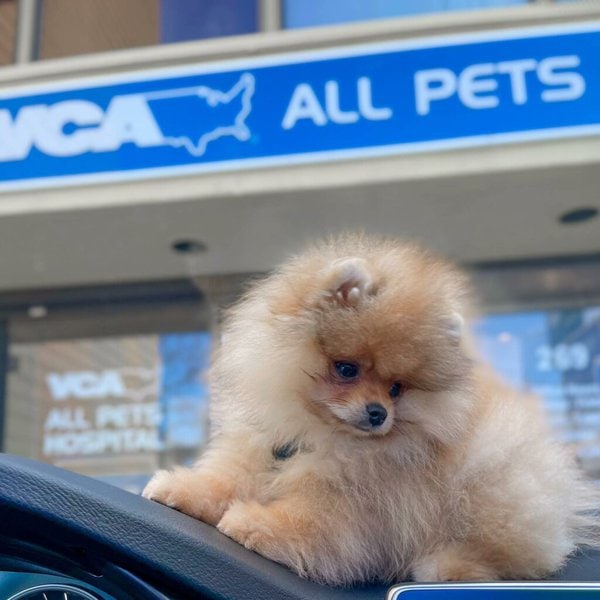 Apart from cats and dogs, VCA All Pets Hospital also caters to pet owners of small animals, including rabbits, avians, pocket pets, and reptiles. This service is known as ZooMed Animal Medicine and requires a delicate understanding because the anatomies and behaviors of these pets are entirely different from cats and dogs. The hospital staff is well-prepared to treat such pets with various health concerns.
If you are unsure if your cat or dog is diabetic, the hospital performs blood tests and other diagnostic procedures to assess the blood sugar glucose level of your pet.
And, to make it even easier for their clients, you can order prescription medicines, heartworm preventative meds, medications for chronic disease, anti-tick prevention, and prescription diets, and your orders will be delivered right to your doorstep.
If you are a new patron, you can download the VCA new client form and kindly bring your pet's hospital records or adoption records. Online booking for all patrons is done through the website, where pet owners must fill up a pre-questionnaire form to facilitate the booking of the hospital's services.
Highlights
Unique ZooMed animal care that covers several exotic pets.
DNA breed testing for the identification of genetic diseases.
In partnership with Vetsource, a veterinary pharmacy provider, your orders of pet supplies will be delivered straight to your doorstep. Shipping fees can be found on the hospital's website.
Hospice care is available for terminally-ill pet patients. Vets can be called upon for home service to administer pain medications, fluid therapy, and even counseling to the family members about dying pets and euthanasia.
Services
Primary Care

Dental care
Ear checks
Allergy and itch skin relief
Radiology

Advanced Care

Soft tissue surgery
PennHip evaluations
Echocardiography
EKG
---
1. Blue Cross Pet Hospital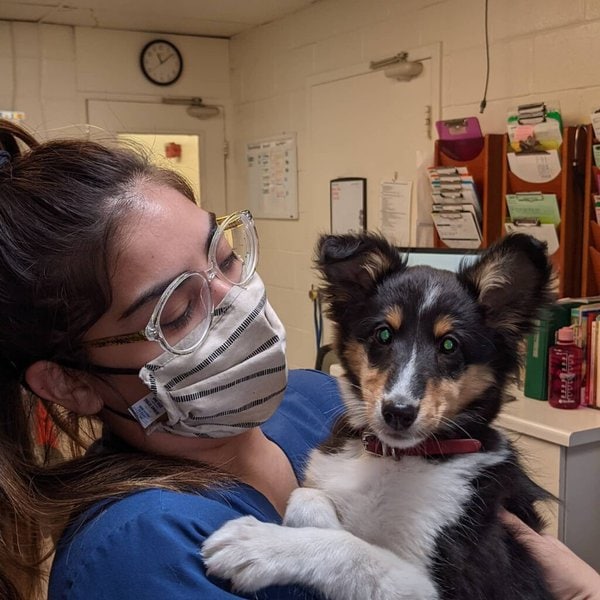 The hospital is manned by two veterinarians. Dr. Wonjan Lee has expertise in the field of preventive medicine, dentistry, dermatology, soft tissue surgery, and geriatric care. He is an active member of the American Veterinary Medical Association and California Veterinary Medical Association. He works side-by-side with Dr. Michelle Flores, whose expertise lies in dentistry, preventive care, and soft tissue surgery.
In light of the pandemic situation, their services are strictly by appointment, which has to be booked online. In the event of an emergency, you should call the hospital to see whether it can accommodate your pet's urgent needs.
Blue Cross Pet Hospital is very transparent in its hospital fees. Before the treatment, you can request an estimate of the possible partial or total fees. The payment options are cash, checks, credit and debit cards, and CareCredit.
Highlights
Online pharmacy where you can request refills and purchase prescription dog food and deworming tablets.
You can book any of the hospital's services online, but your schedule will only be held for 10 to 20 minutes. In case you have an emergency, you can call the hospital if there is an available vet to attend to your pet's immediate needs.
Microchip implanting services are available for quicker recovery of lost pets.
Outpatient anal gland expression services are provided and rendered by qualified vet technicians.
Services
Surgical Services

General surgery
Spay and neuter
Dental cleaning under general anesthesia
Mass removal

Diagnostic Testing

Blood screening
Fecal testing
Heartworm testing
Pet imaging service
---
Related Questions
---
Is It A Law To Neuter Your Dog In California? Yes, all dogs, even cats, over four months should be neutered or spayed in California. Exemptions are made for animals owned by city-licensed breeders and those whose health may be threatened by the procedure. The mandatory law was passed to minimize and eradicate the number of euthanization procedures in animal shelters every year.
How Much Does It Cost To Neuter A Dog In California? The cost of neutering or spaying a dog in California ranges from $50 to $500. The cost depends on the weight of the dog, your location, and the veterinarian you chose. There are several options you can find online and clinics that offer low-cost procedures. It is, however, advised not to base your decision on the price. The procedure can have complications, especially for adult and obese dogs that may need special care for your dog that is not available in some clinics.
How Much Does It Cost To Declaw A Cat In California? The average cost of declawing a cat in California is between $200 and $800. The cost also depends on your cat's age, the veterinarian's fee, the preoperative assessments, and the post-operation expenses needed. The practice of declawing cats is prohibited in some cities in California and is considered cruel by animal rights advocates.