A 12 year old student from Detroit is recuperating at home following a vicious attack by two Pitbull mixes, with most part of his leg covered in bandages. Sustaining injuries from the attack, both his parents and teachers are seeing him as a hero.
The victim, a sixth grader named Deacon Ashmore, was playing with his three siblings and some other kids outside their house on Monday, May 17th, 2021, when they noticed two dogs running towards them.
Recounting How It Happened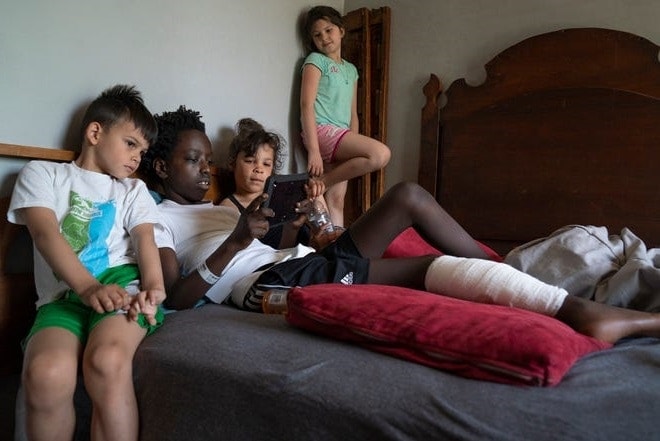 Speaking to the press on Wednesday, May 19th, 2021, Deacon said that as they were playing, he suddenly looked around, and there were two menacing dogs coming towards them.
On seeing the dogs, Deacon's siblings ran into the house. Deacon, on the other hand, decided to face the dogs and hold them off to buy time for his siblings to get to safety. Unfortunately, the dogs attacked Deacon.
One of the dogs clamped his mouth on Deacon's left calf. All this time, Deacon was screaming "Bad dog! Bad dog!" while hitting the canine until it finally let him go.
The attack left Deacon's leg with multiple puncture wounds. Blood was gushing out of the wounds, and Deacon's Mother, Elisabeth Ashmore, reported seeing bare bone on Deacon's leg. She quickly grabbed some bath towels and wrapped Deacon's leg, but the towels got drenched immediately.
Surprisingly, Deacon's mother did not call animal control, or even the police, following the attack. She says that in the area they live in, police only respond to cases where someone has been shot, so she didn't bother notifying them. Instead, she opted to rush Deacon to hospital to have his injuries treated. Fortunately, Deacon had not suffered any broken bones.
At the hospital, Deacon went into surgery immediately, where plastic surgeons got to work repairing the injured muscle, ligaments, and tendons. Deacon also received a rabies and tetanus shot. He remained at the hospital through the night, and was released the following day.
On The Road To Recovery
Deacon is currently walking on crutches, but his mother believes that he will make a full recovery. Still, she admits that this may take a couple of weeks.
Deacon's parents don't know what happened to the two dogs following the attack. The neighbor responsible for the dogs was very regretful about the attack, and offered to pay for the cost of Deacon's treatment.
Church members also set up a gofundme.com page where people can donate money for Deacon's treatment. They also encouraged people to pray for the boy.
Peter Ashmore, Deacon's father, noted that dogs had been a menace within the neighborhood, and it did not come as a surprise to him that an attack had happened. While he was unsure if there was a solution to the dog menace, he insisted that he did not want any other kid to go through what Deacon had experienced.
Deacon's parents and the teachers at school are hailing Deacon as a hero who put the safety of his siblings ahead of his own.