A new exhibit honoring the work of search and rescue dogs during the 9/11 rescue mission opened on September 1, 2021, at the American Kennel Club (AKC) Museum of the Dog in Manhattan, New York City. The exhibit titled "9/11 Remembered: Search and Rescue Dogs" would feature works of art depicting the efforts and participation of hundreds of dogs in the recovery effort after the terror attacks in New York City and the Pentagon.
The exhibit will also highlight several sculptures from AKC's DOGNY project that raised over $3.5 million for different rescue organizations whose dogs worked directly at the Twin Towers, as well as, paintings by renowned portraitist Ron Burns, author of the coffee table book entitled "The Dogs of Ron Burns: A Tribute To The Dogs Of 9/11".
Alan Fausel, Executive Director of the AKC Museum of the Dog, said, " Search and rescue dogs are some of the unsung heroes of 9/11." He added, " The work they did during the rescue and recovery efforts is truly extraordinary. All dogs have a job on this solemn anniversary, we honor those whose job it was to save us."
The Rescue Dogs Of 9/11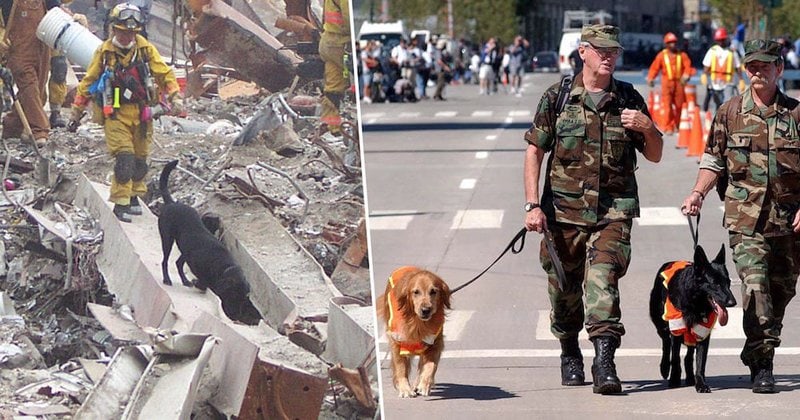 Among the dogs featured in the exhibit is Tracker, a German Shepherd Police Dog from Canada, who combed through the wreckage of the Twin Towers for two days then collapsed from exhaustion, burns, and smoke inhalation. He is credited for having played a role in one rescue.
Bretagne, a Golden Retriever, traveled with her handler Denise Corliss from Texas to help in the recovery efforts. They spent 10 days searching the rubble and brought comfort to rescuers and firefighters who would approach and pet her. She died in 2016 and was the last known living service dog to have served in the search effort.
Another dog was Ricky, a 17-inch tall Rat Terrier that was able to squeeze through tight spaces. Chris Selfridge, from Pennsylvania and who was Ricky's handler at the time, recalled the time they went to Ground Zero, "We went there expecting to find hundreds of people trapped, but we didn't find anyone alive".
Rescue Dogs As Inspiration
Although hundreds of dogs were used to track for survivors, only a few were rescued as a direct result of a dog's discovery. They were responsible though for the recovery of the two bodies of those who died, like the case of Riley, a then 4-year-old Golden Retriever, who explored deep into the debris and found the remains of several firefighters.
The devotion of the dogs to help serve as an inspiration to the emergency workers who witnessed the rescue efforts. Fausel said, "Although the search and rescue dogs didn't rescue a lot of people from the pile, I think they somewhat rescued the people who were searching."
The exhibit runs until January 2022 and a free virtual tour exhibit is also available on the website.