Resigned Governor Andrew Cuomo of New York moved out of his office on August 23, 2021, after scandalous accusations of sexual harassment were leveled against him. Moving vans were reportedly shipping out his belongings out of the Executive's Mansion in Albany the week before, but apparently, one important thing is being left out – his dog, Captain.
As of Saturday, August 21, 2021, Captain is still in the mansion while the governor has relocated to his sister's house in Westchester County in New York several days before.
It was reported that Cuomo asked his staff in the mansion several times if any one of them would be willing to take care of Captain. One of the staffers did but decided to give up on the dog after only several days because he found Captain to be quite a handful.
Captain is a 3½-year-old male mixed dog crossed among German Shepherd, Siberian Husky and Alaskan Malamute, whom Cuomo adopted in 2018 when it was 14 weeks old. The dog has been known to have nipped several state police members and staffers since its stay at the mansion, and the Governor would have just laughed his behavior off.
Denial From The Governor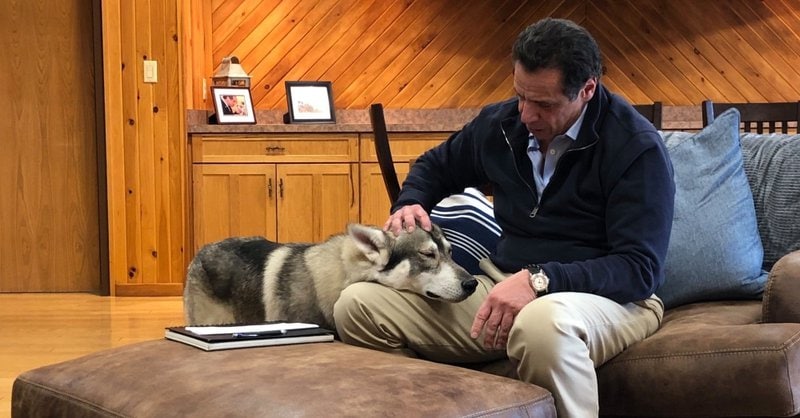 The Governor has denied that he has abandoned his dog, and stated on his Twitter account, "Some people just can't get the facts straight. Yes, I was downstate monitoring storm response for a few days, but Captain and I are a man and his dog. He is part of our family and that's the way it will always be."
His tweet came after the report on the Northeast Coast of the United States being battered by tropical storm Henri over the weekend of August 20, 2021, that brought strong winds and several inches of rainfall.
The statement was also accompanied by a picture of Cuomo and his 3 daughters with Captain. However, the snapshot was not a recent picture, but a People magazine profile was taken in 2020.
Cuomo's camp also vehemently denied the accusations of abandonment. Richard Azzopardi, senior adviser and spokesperson of the Governor said, "I can't believe that this is what I am dealing with right now when I'm dealing with a major storm."
The adviser also denied that the Governor was trying to give away Captain and stated that "someone offered to watch him for a few days while the transition was ongoing but for that to be weaponized and morph from a game of telephone into the press is absurd."
Short-Term Home For Captain
Azzopardi claims that the Governor is planning on taking only a short vacation after he leaves office and is trying to find a short-term home for his dog.
Libby Post, executive director of New York State Animal Protection Federation, has offered to take Captain in and to house him in one of their shelters.
She said, "shelters like Mohawk Hudson, Lollypop Farm in Rochester, and the SPCA Serving Erie County have excellent behavioral experts who can help Captain resolve his nipping issues and adopt him into a loving, forever home". She also added that, "Captain deserves better. He will be welcomed with open arms (and paws) into our shelters."