US President Joe Biden and First Lady Biden announced on June 19th, 2021, that their pet, German Shepherd, Champ, has died. He was 13 years old. "Our family lost our loving companion Champ today. I will miss him", the President wrote on his Twitter page. Champ died in the Biden's home in Delaware where they were spending the weekend.
"In our most joyful moments and in our most grief-stricken days, he was there for us, sensitive to our every unspoken feeling and emotion", the 46th President of the United States said.
German Shepherds are said to have an average lifespan of 12 to 14 years.
The Story Of Champ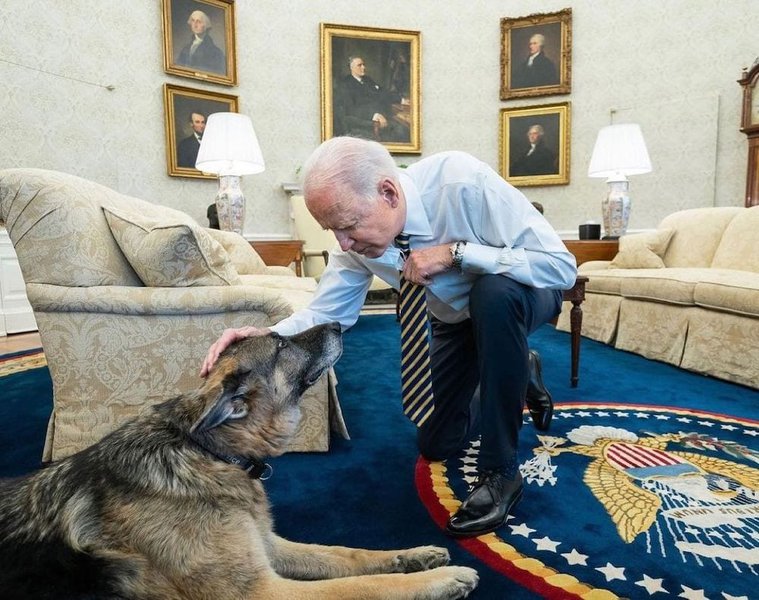 Champ was the older of the two German Shepherds which the First Family owns, along with Major, who was adopted in 2018. Champ was adopted as a puppy from a Pennsylvania breeder back in 2008 when the then Vice Presidential candidate Biden promised Jill that he would purchase if Barack Obama would win the 2008 Presidential race.
The dog was named by his granddaughters after Joe Biden's nickname which his father would always use to advise him, "Any time you get knocked down, champ, get up.
Champ was trained by a Delaware trainer, Mark Tobin, who taught the dog how to get used to the noises, crowds, and plane rides that a dog typically faces as a pet of a second-in-command of the United States. Tobin stated then that Champ had the right personality and demeanor for the job, and that he was great around people but also extremely attentive to the Vice President.
Champ was always seen running around Number One Observatory Circle, the then Vice President's official residence. The second family would also distribute stuffed toys that resemble Champ to children they meet. The President remembers that he "was happiest chasing golf balls on the front lawn of the Naval Observatory or racing to catch our grandchildren as they ran around our backyard in Delaware".
Presidential Pets In The Limelight
Champ was joined with Major, who was adopted from a Delaware Humane Association in 2018. The two became inseparable with Major keeping Champ on his toes. They were featured in the 2020 Christmas video message from the Bidens showing the contrast between the energetic Major and the elderly and stoic Champ.
The arrival of the two German Shepherds in the White House revived the tradition of First Families owning pets. During the presidential campaign of 2020, Champ and Major were seen in advertisements with the Bidens in sharp contrast to Donald Trump who never owned any pets.
Nearly all US Presidents owned pets during their tenure in the White House with Theodore Roosevelt having the highest number of pets and the Kennedys who similarly owned two German Shepherds.
In his last days, White House reporters noted the graying appearance and how unenergetic the pet had looked. President Biden wrote, "Even as Champ's strength waned in his last months when we came into the room, he would immediately pull himself up, his tail always wagging, and nuzzle us for an ear scratch or a belly rub. We love our sweet, good boy and will miss him always."