As much as you love cheese, you just feel like getting your dog in on this blissful snack as well, right? But you must be hesitant as to if it is okay to give your dog cheese?
Yes, you can give your dog a reasonable amount of cheese now and then. Cheese contains calcium, protein, fat, vitamin A, vitamin B-12, phosphorus, zinc, and riboflavin. Hence, cheese is regarded as an excellent source of nutrition and is perfect for your dog but not regularly.
According to research, dogs were fed white cheese consisting of Bifidobacterium longum for eight weeks, which improved the immune response. Similarly, cheese can also improve your dog's digestive system. However, as dogs get older, their ability to digest cheese reduces, so you should avoid feeding cheese to old dogs. Also, be certain that the type of cheese you provide to your pup is appropriate and if it should not contain harmful ingredients.
Moreover, we will be elaborating more on the types of cheese that are safe for dogs and those that are not safe. Plus, we will also give you some tips on feeding your pup cheese. So, without any further ado, let's dive right into it!
What Kind Of Cheese Can Dogs Eat?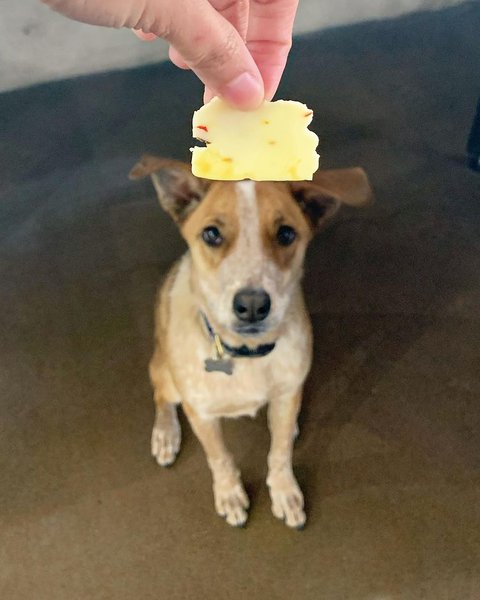 You can feed any type of cheese except blue cheese to dogs, but only in tiny bits. Mostly any cheese that doesn't have toxic ingredients for dogs will work well for your pup. But, it is better to give your dog low-fat and low-sodium cheese to avoid any inconvenience.
To give you a proper idea, here are some of the types of cheese that are safe to feed your dog.
Low-Sodium Cottage Cheese
If you get cottage cheese low in salt, then it will be a perfect addition to your dog's diet, but only in small amounts. The reason is that cottage cheese contains a significant amount of calcium, proteins, and vitamins.
Moreover, it also contains prebiotics, which effectively soothes dogs' upset stomach. In case you are concerned about your puppy getting overweight, you can get low-fat cottage cheese, which is readily available.
Plus, this cheese is low in lactose, so as compared to other cheeses, it won't risk your pup's health. And guess what? Cottage cheese has even less lactose than milk, so it is better suited for lactose intolerant dogs.
Plain, Low-Fat Cream Cheese
You mustn't be expecting cream cheese to be on this list, but yes, you can feed low-fat cream cheese to your dog. Low-fat cream cheese is a thousand times better than regular cream cheese as it is high in fat.
Moreover, avoid adding in extra stuff with the cheese that has a possibility of harming your pup. For instance, getting flavored cream cheese with the addition of garlic, onion, or chives to cheese can intoxicate your dog. So, stick to feeding your canine only small amounts of plain cheese once a week or two.
Soft Cheese
Any standard type of cheese typically found in every household is safe for dogs if given in moderation. However, soft cheeses are low in fat as compared to others. These cheeses include cheddar and mozzarella.
Still, if you want to feed your pup soft cheese, we recommend getting the low-fat variety of it. Plus, cheddar cheese is low in salt, so it is also comparatively better for dogs than other high sodium cheeses.
Pepper Jack Cheese
Another type of cheese that you didn't predict to make it to our list is the pepper jack cheese. This cheese is made with milk, jalapenos, salt, and enzymes, all of which make a perfect combo. It doesn't have any ingredients that will harm your dog if fed in moderation.
However, some dogs can be allergic to a few ingredients, such as peppers, leading to diarrhea, vomiting, or ingestion. Fortunately, none of these effects are permanent and can be treated if you get your pup to the vet right away.
To avoid all of this, you can give your dog a tiny bit of pepper cheese to see how it reacts. Once it shows slight signs of food poisoning, you should stop feeding it altogether. On the other hand, you can make homemade pepper cheese according to your dog's needs if you want.
Other Safe Cheeses
A few more cheeses are considered safe to give to dogs but only in tiny portions. All of the cheeses mentioned below are low in lactose and qualify as a healthy snack for dogs.
Monterey jack cheese
Edam cheese
Munster cheese
How Much Cheese Is Safe To Feed Dogs?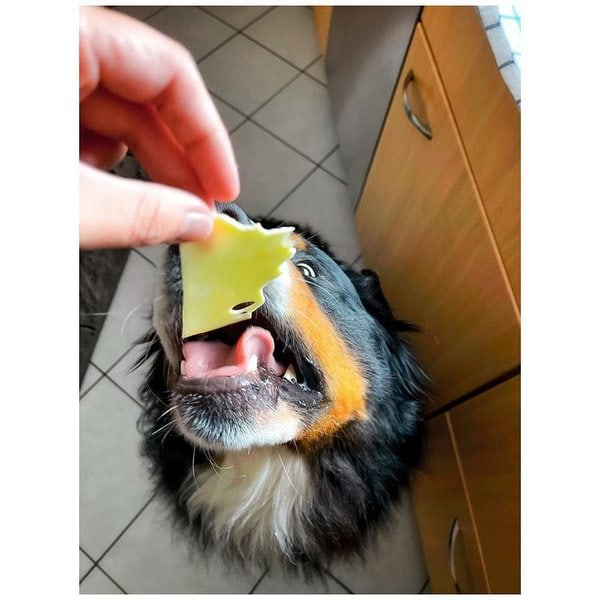 You can feed your dog small bits of low-fat cheese twice or thrice a week. It is better to start with small pieces if your dog is not used to eating cheese, as it will be hard for the pup to digest it.
Other than the amount of cheese, there are a few things you must take care of while feeding cheese to your dog.
Take Care Of Portion Size
Feeding cheese for the first time to your dog, you must start by giving him a small amount at intervals of a few days. This slow process of introducing new foods minimizes the risk of adverse side effects of having an upset stomach.
It is crucial to control the portion size of cheese to prevent unnecessary weight gain. So, tiny pieces of cheese will work perfectly as a delicious treat but occasionally only.
Get Low-Fat Varieties
It is better to stick to low-fat cheese as high-fat ones make your dog overconsume calories, leading to pancreatitis.
Also, the dog's cheese tolerance varies according to the breed and the quantity of salt, fat, and lactose the cheese contains. So, it is better to go for low-fat and low-salt cheese to avoid any complications.
Avoid Feeding Your Dog Cheese When On Antibiotics
If your dog is on antibiotics, then avoid feeding him any cheese or dairy products as it will affect the absorption of the antibiotics.
In case you want to use cheese as bait for your dog to take its pills, make sure to consult with your vet beforehand. Your vet will recommend a better alternative that won't risk the effectiveness of the medicine.
Is Cheese Bad For Dogs?
If dogs are fed cheese in moderation, then it is not bad at all. But, it also depends on the type of cheese you give to your dog. Feeding your dog any type of dairy product must be in a limited amount.
The recommended amount of cheese should be less than 10% of your dog's total calories to keep the diet balanced. You should also check the sodium levels of the cheese as excessive salt is not suitable for dogs with kidney diseases or blood pressure.
Although cheese is not bad for dogs if fed in small quantities and infrequently. However, if your dog has the following problems, it is best to avoid giving the pup cheese.
Lactose Intolerance 
Lactose is a sugar found in milk, which is obviously the main ingredient in cheese. This compound is further broken down by lactase, a vital enzyme that puppies have while feeding on their mother's milk.
However, after puppies are through with the milk feeding stage, the production of this enzyme reduces drastically. Without lactase, fully matured dogs usually are able to tolerate only a smaller amount of milk before gastrointestinal symptoms kick in.
Moreover, cheese is made of either cow or goat's milk which has higher levels of lactose than dog's milk. So, if your dog is highly lactose intolerant, then even a tiny bit of cheese can lead the dog to the following symptoms.
Diarrhea
Bloating
Abdominal pain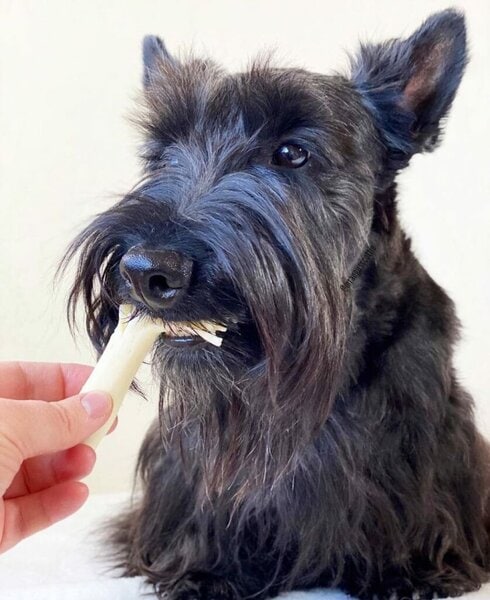 Upset Stomach 
If your dog is usually sensitive to a new food or any addition to his regular diet, then it is best to avoid giving him cheese. A dog with an already upset tummy can have adverse effects on cheese even if fed in a moderate amount.
Still, if you want to use cheese as a way to get your dog to take his pills, you should consult with your vet. He might come up with ways to adjust it within your dog's limited diet.
Overweight
You must avoid feeding not only cheese but any dairy products high in fat to your obese dog. It will boost your dog's ability to gain weight and even lead to severe diseases, including:
Diabetes
Cancer
Hypertension
Osteoarthritis
Heart diseases
If you want to use cheese as a treat for training, you can go for healthy alternatives like tuna or chicken.
Kidney Problems
If your dog has a history of kidney problems, it is crucial to avoid feeding him any type of cheese high in salt. A high intake of sodium will lead to kidney stones or even kidney failure. However, you can get low-sodium cottage cheese if you feel like you want to try feeding it once to your pup.
What Cheese Should Dogs Not Eat?
Dogs should not eat any cheese high in sodium or fat in large quantities. Also, you must not feed blue cheese to your dog as it can be toxic.
Here is why you should not feed your dog blue cheese.
Why Not Blue Cheese?
A fungus is used for preparing blue cheese like Stilton, which produces roquefortine C, a toxin to which dogs are volatile. Ingesting this substance results in the symptoms mentioned below.
Diarrhea
Lethargy
Rapid heart rate
Vomiting
Fever
Tachycardia
Panting
Seizures
The more blue cheese your dog consumes, the greater it will risk getting the symptoms we mentioned. Plus, the symptoms are similar for other types of blue cheese as well, including Gorgonzola and Roquefort. If you see your dog showing even the slightest signs, make sure to consult with your vet without any delay.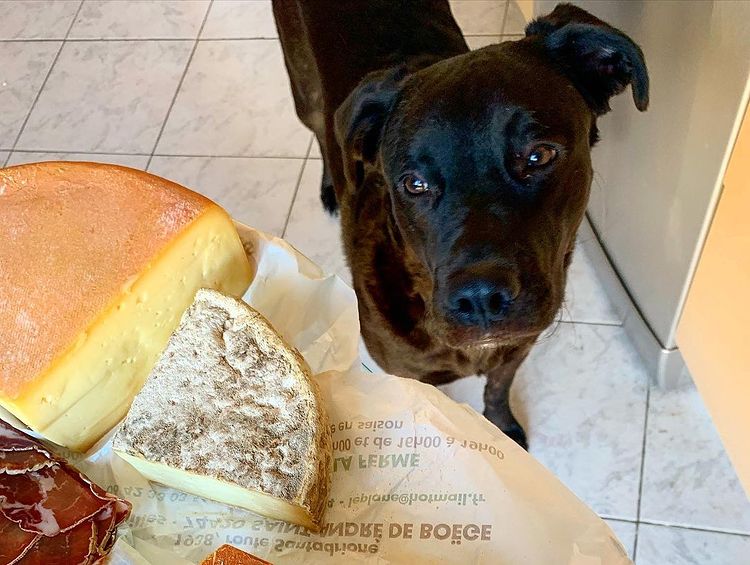 Other Cheeses That You Must Avoid Feeding Your Dog
Though blue cheese is toxic for apparent reasons, some other types of cheese can also harm your dog. Some of which are as follows.
Cheeses infused with herbs like garlic or raisins
Flavored cheese
Goat cheese
Feta
Brie
We have discussed the reason for not giving your dog flavored or herb-induced cheese previously in the article. But you shouldn't feed your dog goat cheese, feta, and brie due to their high content of saturated fats. A diet containing high levels of fat can cause pancreatitis in dogs, which can be fatal.
How Do I Give Cheese To My Dog?
You can use cheese to hide pills and deceive your dog into taking them, or you can also use it as a treat during training.
Let's look at the details of both ways of feeding cheese to your dog.
As A Treat During Training
Cheese is suitable for being used as a delicious reward during training. For this, you can use cheddar cheese cut into tiny cubes.
Cheese works like wonders for teaching your dog complex tricks like recall. Once your dog finds his way back and gets a tasty bit of cheese, the canine will understand that coming back is worth it.
Suppose you want to teach your dog to stay alone to prevent separation anxiety. In that case, you can add a thin layer of cream cheese inside a chewing toy to keep your pup busy. In this way, your dog won't be bored and stay engaged until he licks all the cheese off.
Concealing Medicines
If your dog makes a fuss while taking his medicines, then this is the best way of making him take them. For doing this, we recommend using cheddar cheese. You simply have to slice the cheese into tiny cubes and insert the pill in the middle of it. Once you offer it to your dog, he wouldn't blink twice before gulping it down.
However, as we have mentioned before, do not use this technique to conceal antibiotics. The calcium in cheese will bind to the antibiotics, making it unabsorbable by the intestines, thus making it ineffective.