Cat litter boxes don't have to be an eyesore in your home. With a little bit of creativity and resourcefulness, you can actually make it blend in with the rest of your interior decor. How does that work? Here are some amazing ideas coming your way!
A bench litter box doubles as a sitting area for humans and a kitty toilet for your feline. You can also install a cute built-in toilet in the bathroom for your pet. Or how about make the litter box match with your decorative elements in the house? It's all possible!
Here are all 46 clever ways to hide your cat litter box, which are a win-win for you and your pet. These are guaranteed to give your kitty more privacy while adding style in your home.
46. Bench Litter Box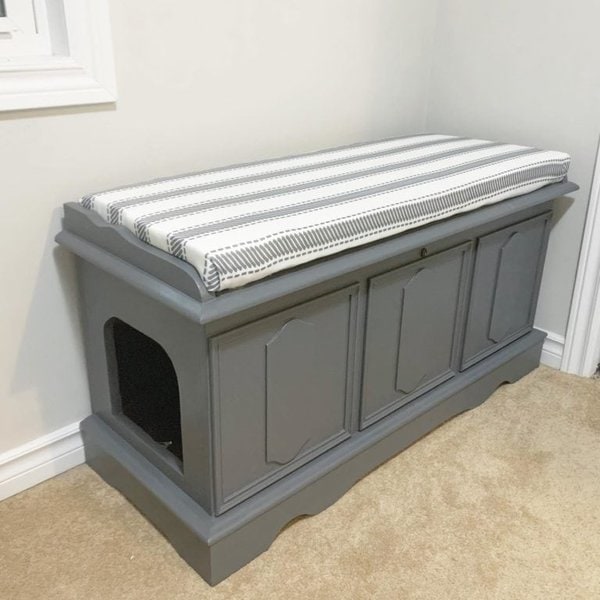 How about a bench and litter box for you and your kitty? There is a padding on the top, so it's nice and cushy to sit on, while the bottom has a hole for your cat to enter and do its business.
You can also decorate the exterior according to your preference. Make it as long or as wide as you wish – it's all up to you. That's a fun, dual-purpose piece of furniture for you and your pet.
45. Bathroom Litter Box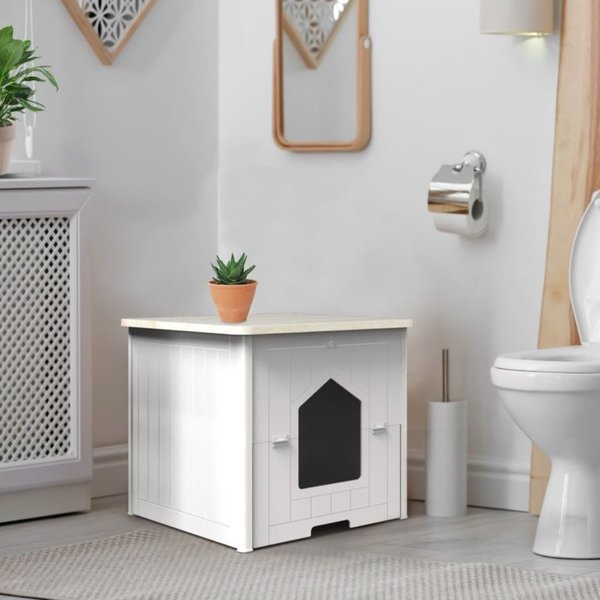 For avid DIY-ers, here is a fun weekend project to consider. This bathroom litter box is simply perfect right next to your throne while complementing the overall interior design.
Paint the exterior in a color that suits well with your bathroom interior, and it's good to go. And since it's covered, this keeps the kitty litter where it should be while making sure it stays nice and dry.
44. Litter Box In A Basket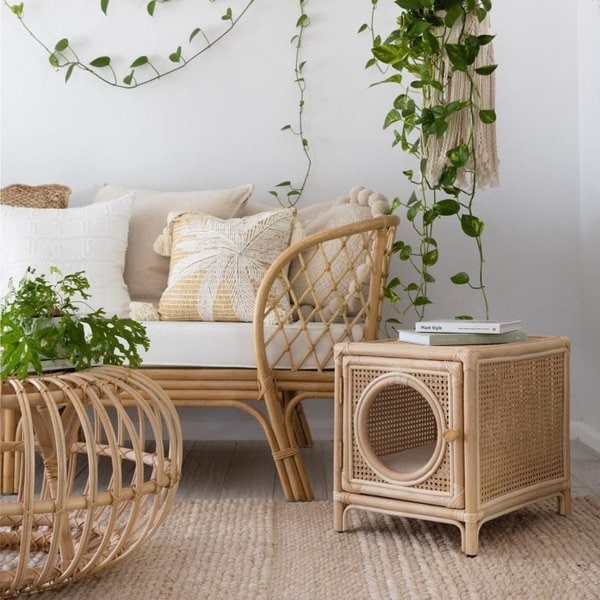 Owners agree that litter boxes can be quite an eyesore. But what if you can actually make it blend in with your interior design, such as this litter box in a basket?
If you have an empty wicker chest, that's an excellent enclosure for your cat's litter box. What's more, the enclosure has a light and airy feel to it while offering ventilation.
43. Corner Table Litter Box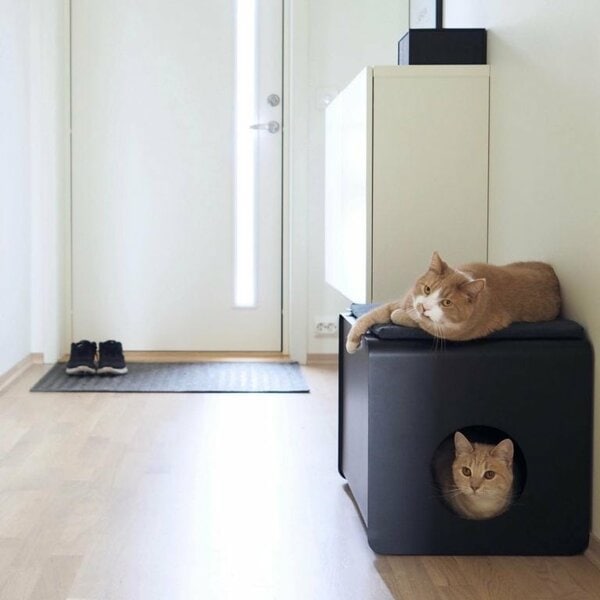 Got a few side tables at home? Perhaps you can choose the one that sits closer to the corner, which can also serve as a place to hide your cat's litter box. So, this gives the table a dual purpose while making sure the litter box is not in plain sight.
With a dedicated entrance and even a tiny door to easily pull the litter box out, your corner table litter box is good to go.
42. Glow House Litter Box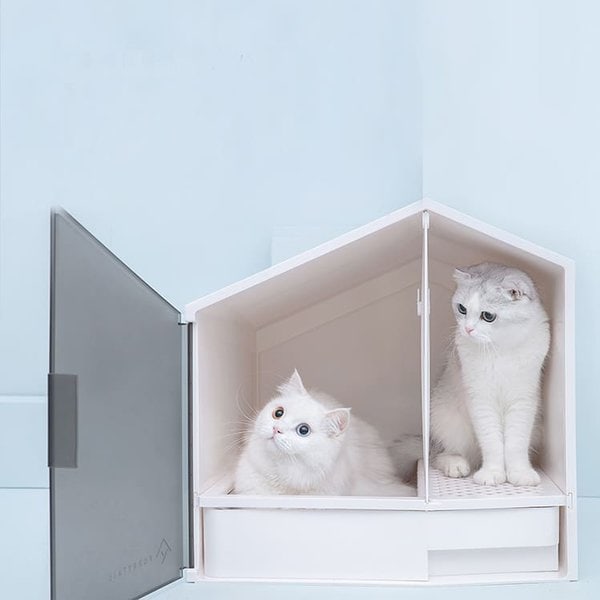 The Glow House Litter Box is cute and stylish, you wouldn't even think there is a litter box inside it! But that's the idea – to make the litter box a part of your interior decor. And the best part is that it is quite easy to make.
This is a fun way to update the ordinary look of your cat's litter enclosure, so it appears more like a part of your home decor.
41. Hinged Door Litter Box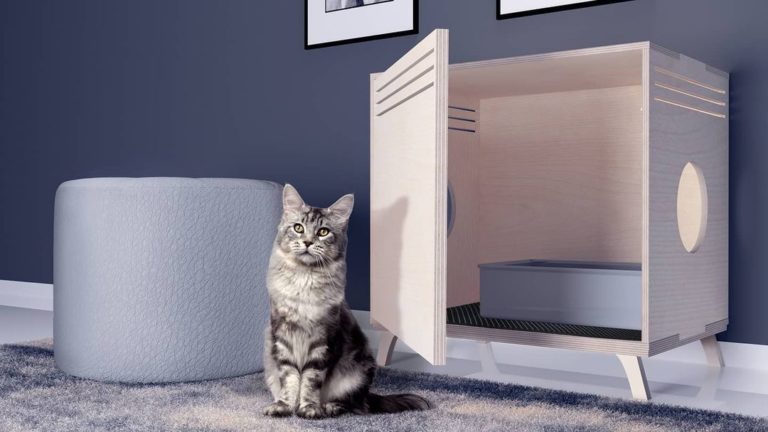 You can breathe new life into that outdated cabinet by giving it a new purpose and makeover. This hinged door litter box is essentially an old cabinet turned into a litter enclosure. Remove the drawers, add in a hinged door, and voila – it's now a cute kitty toilet for your pet!
If you wish, you can even repaint the exterior to make it blend in with your other pieces of furniture at home.
40. Laundry Sink Litter Box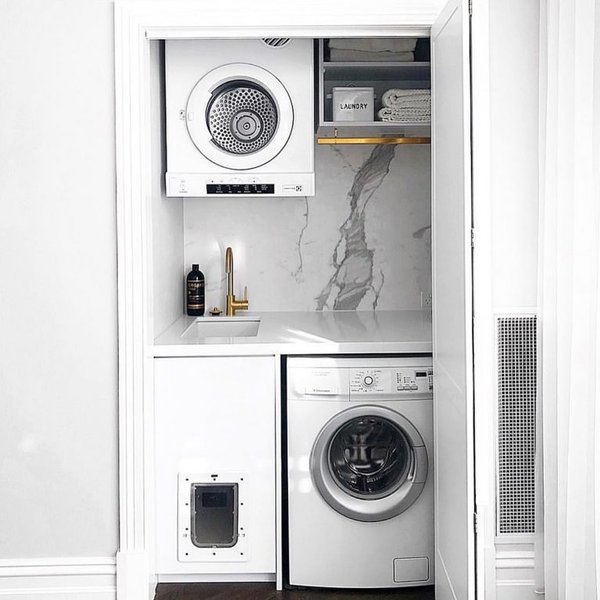 Turn that extra space in the laundry room into a litter enclosure for your pet. This smart way to hide your cat litter box keeps things nice and tidy while maximizing space in your home.
Dedicate a tiny space under your laundry sink for your kitty's litter box. You can even add a clear door, so your cat can check out the views while it does its business inside!
39. Bathroom Vanity Litter Box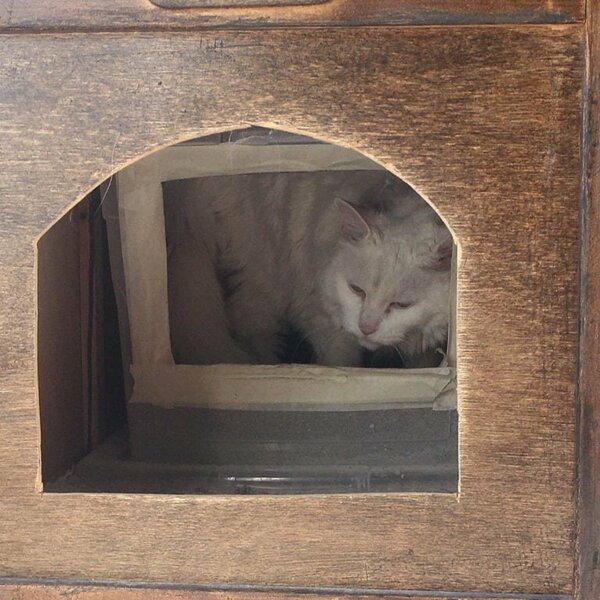 Most bathroom vanities have a ton of space underneath, which ends up being unutilized. If you have a kitty at home, this area serves as a great place to hide the litter box and keep it tucked away inside.
Try this under-the-sink litter box solution that's super easy and quick to do. You can even install some curtains to hide the box while providing more privacy to your feline.
38. Kitty Litter Cabinet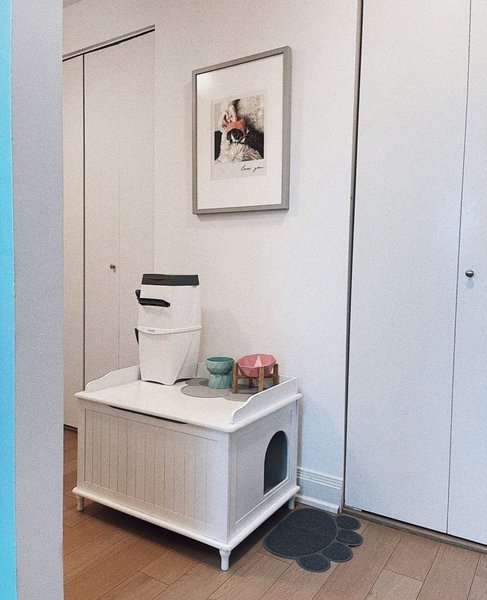 Is it a cat house or a litter box? It can actually be both! Conceal that unsightly litter box inside a tiny cabinet just like this one. It's more than enough space for your kitty while having the litter enclosure blend in nicely with your furniture.
For this kitty litter cabinet, you can use an old shoe cabinet or any tiny cabinet without drawers. Just cut a hole on one side that serves as an entry and exit point, and it's good to go.
37. Blue Cabinet Litter Box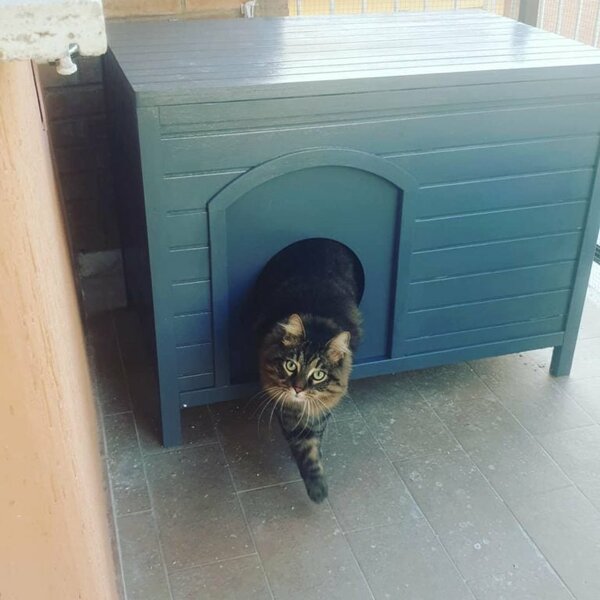 End tables offer a fantastic enclosure for your cat's litter box. This cute litter enclosure is clad in gorgeous teal paint, which should look nice in your home.
Make sure there is a decent size of a hole on the front, so your cat can quickly get in and out. With a hole cut out, it's totally fine even without a door. Just make sure there is a larger opening of some sort to slide the litter box in and out during cleanups.
36. Under The Bathroom Sink Litter Box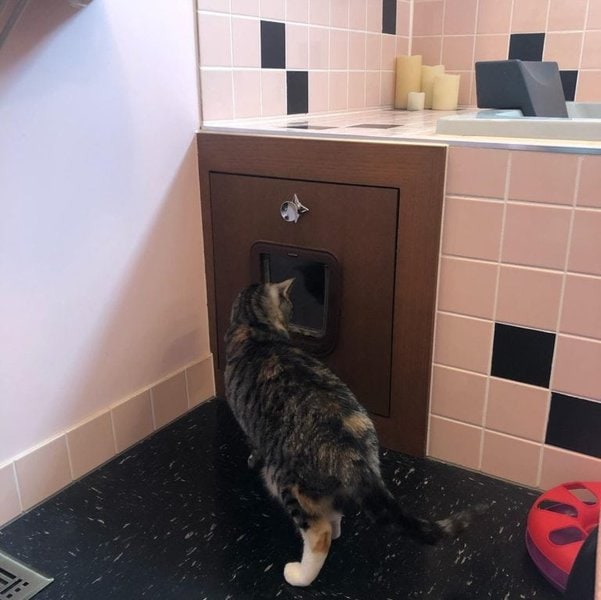 Add an extra space under the bathroom sink for your dear kitty. This under-the-bathroom sink litter enclosure comes with a door and a hole for your pet to get in easily.
If you already have a built-in cabinet under the sink, then all you need to do is to cut a hole. Then, it should be ready to use as your kitty's toilet. Easy-peasy!
35. Litter Box Cute Cover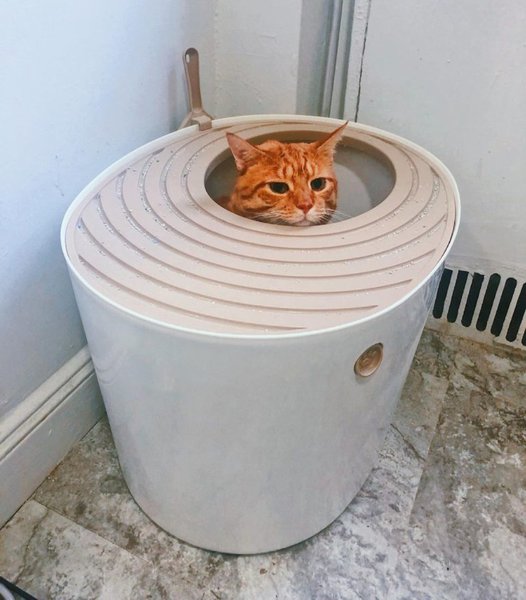 Add a matching cover for your cat's litter box such as the image above. It's a great way to give your pet some privacy while keeping the box away from view.
You can use a round plastic lid with a hole as a cover for the box. Then, simply repaint it to match the rest of the litter box, so it looks nice and sassy.
34. Corner Room Litter Box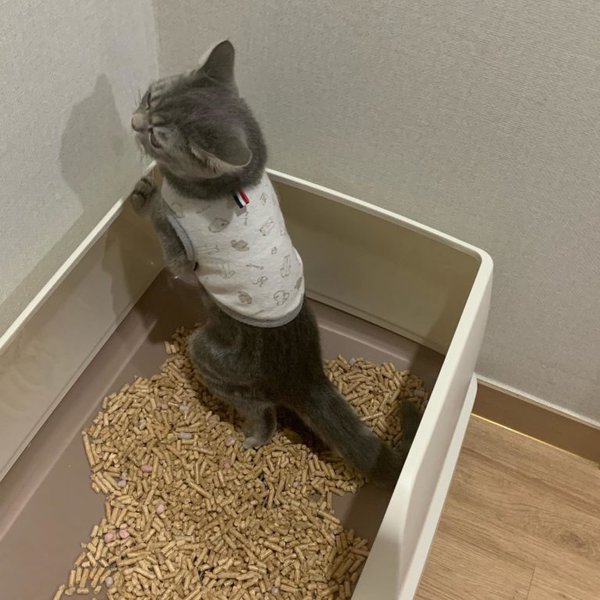 This clever way to hide your cat litter box is pretty straightforward. Simply place the box in one corner of the room and keep it out of plain sight – quick and easy!
It also helps if the box matches the wall color, so it does not stand out. Then, place a cover or lid on top of the box, which keeps it nice and neat – and so the smell won't simply waft across the room.
33. Hidden Litter Box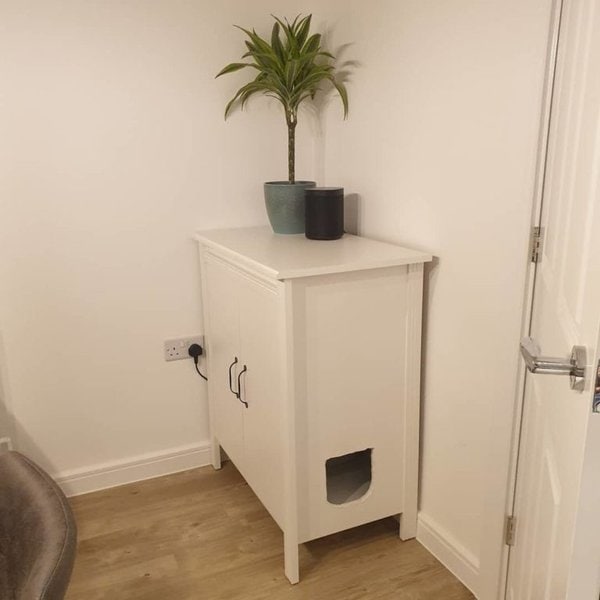 A quick and clever way to hide your cat litter box is by tweaking some underutilized pieces of furniture at home. For instance, you can use a regular cabinet with a door as a private toilet for your feline.
Cut a hole on the side for your cat's entrance, and you can use the door to easily grab the litter box when it's time to clean it up. It keeps the litter box out of sight while making sure the smell stays in there and not all over the house!
32. Cat Condo Litter Box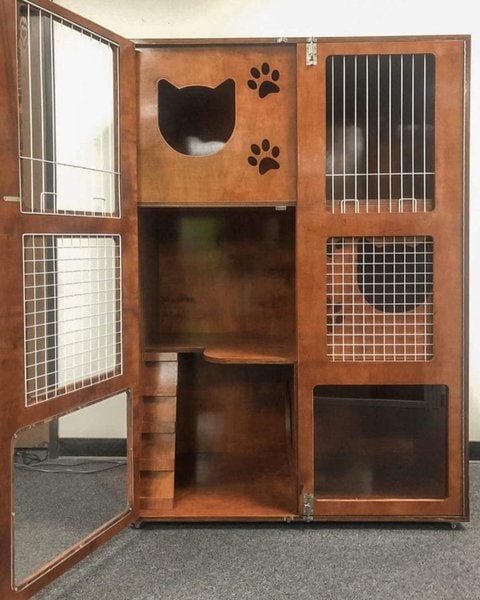 Pamper your dear Kitty with this cat condo equipped with a litter box. Complete with a scratching post and play area, this is the perfect spot to hide the litter box, as well.
Another pro tip is to make sure the litter box blends in perfectly with the rest of the colors in the cat condo. This gives a cohesive and chic look overall!
31. Shoe Cabinet Litter Box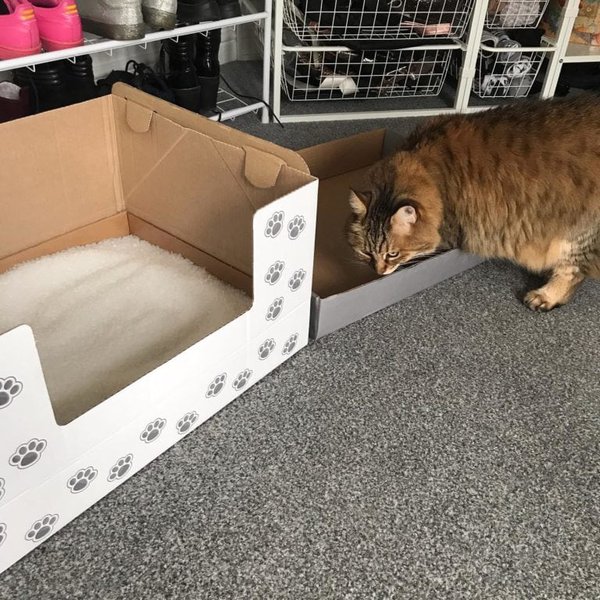 Here is a great idea to hide your kitty's litter box – and it's so simple too. If you have a shoe rack or shoe cabinet in the house, you can use the extra space to keep the litter box tucked away.
You can put a lid over the box or add some curtains for a quick and effortless enclosure. Either way, these quick solutions help to conceal the box while giving easy access to your pet.
30. De-Littering Cat Walk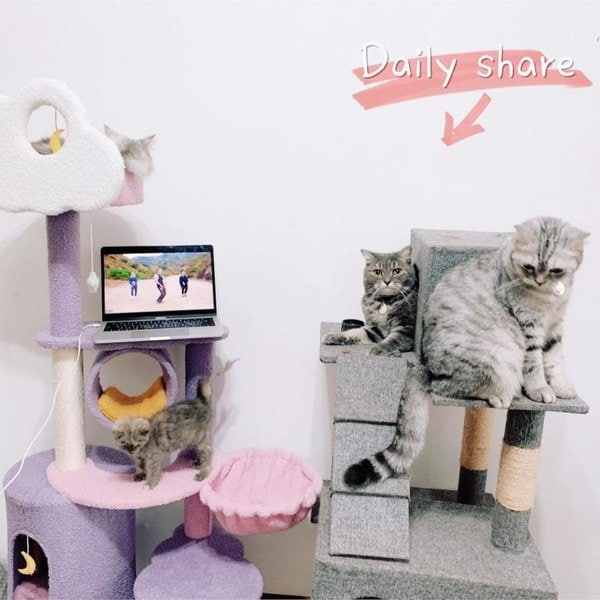 Having the cat litter box in plain view is one thing. But dealing with tons of litter all over the floor is another issue. This is why we love this de-littering cat walk. Not only does it hide the litter box but it also keeps your floor litter-free.
The mesh material for the cat walk collects litter stuck on your pet's paws. With this bright solution for your home, you don't have to worry about picking up litter all the time.
29. Three-Hole Litter Box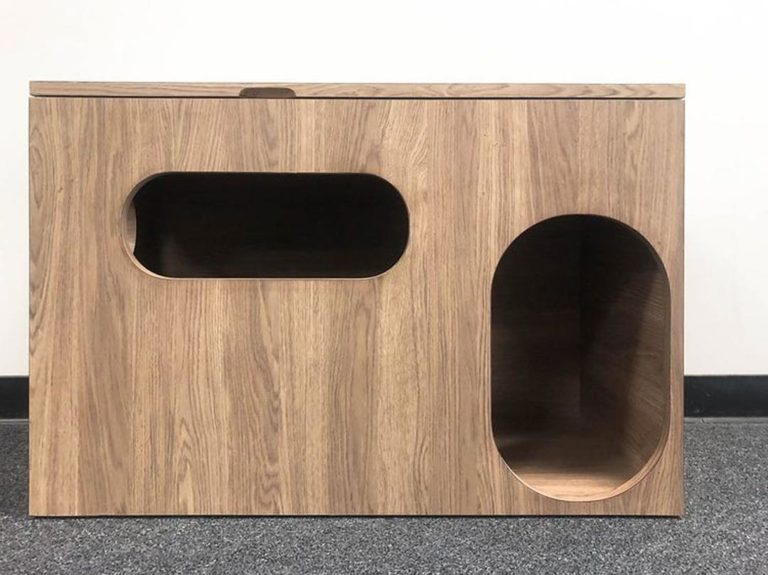 It's not just one but three holes – perfect for adding ventilation to the litter box while providing ample entry and exit access to your kitty. This is such an amazing idea to hide the box while adding some style to your home.
There's a hinged door at the top, allowing you to easily clean the box when need be. And as for the holes, these are wide enough for your cat – even for plump ones!
28. Litter Box With Walls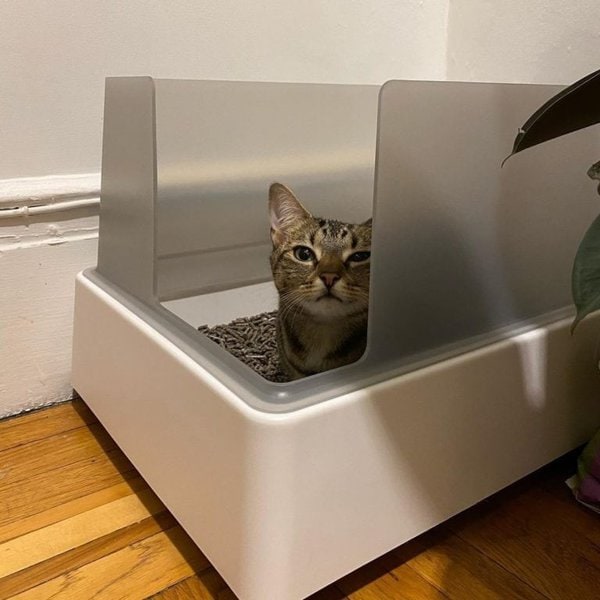 Sometimes, all you need to hide a litter box is by adding stylish walls to it. This awesome idea is so simple – with plastic translucent walls added to the sides of the litter box, it helps to give your kitty some privacy.
Make sure there's a spacious entryway on the front, so your cat can get in and out easily. Then, place the walled litter box in the corner of the room, so it's out of the way. Quick and easy solution!
27. Plant Stand Litter Box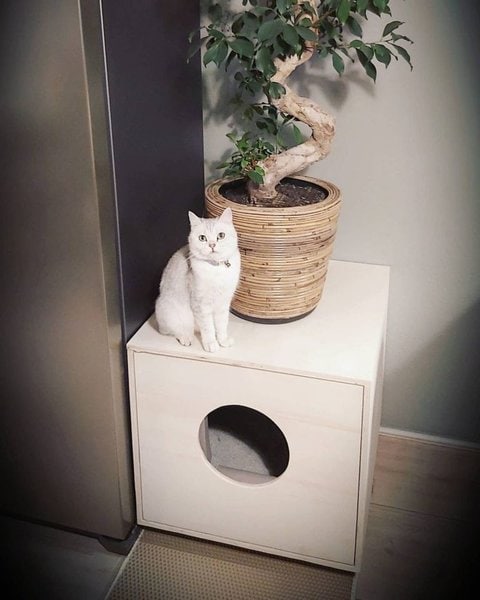 Litter boxes don't always look pretty but they're a necessity without a doubt. It's why we like this plant stand litter box idea. The litter enclosure is a repurposed old side table with a hole on the front, which also serves as a plant stand.
The table offers a space for your plant while giving privacy to your kitty. A brilliant idea, indeed!
26. Hidden In Plain Sight Litter Box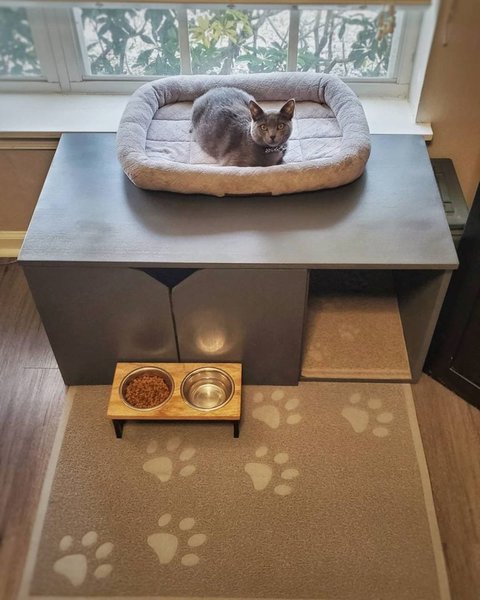 With a kitty bed on top of the litter box, this DIY litter enclosure is sure to become your pet's favorite hang-out spot at home.
Turn your old cabinet into a space for your cat's private toilet while setting up the bed on top. And to keep the floor free from pesky litter, set up a textured rug right outside the box. Problem solved.
25. Cabinet Litter Box With Drawer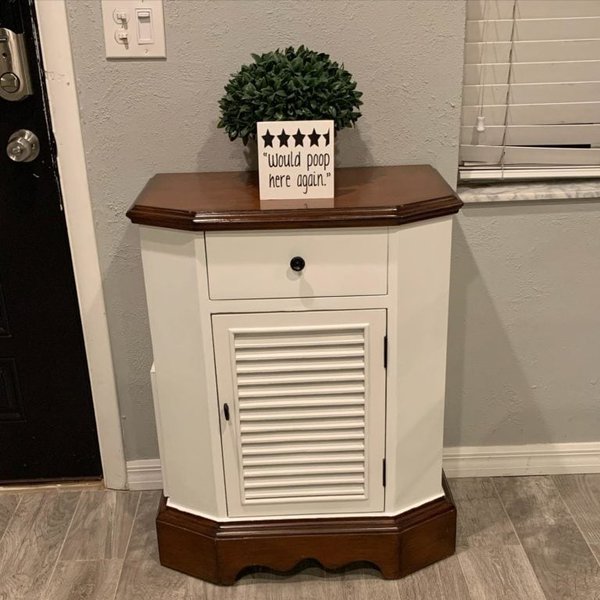 You'll be amazed at what your old drawer cabinet can be used for just when you think it's as good as trash. This decorative cabinet litter box is proof that even old pieces of furniture still serve a purpose!
Cut a decent hole on the side and use the doors to put the litter box inside. Got a drawer at the top? That's a great place to organize the shovel, wipes, and cleaning products, so everything is in one spot.
24. Hole In The Cabinet Litter Box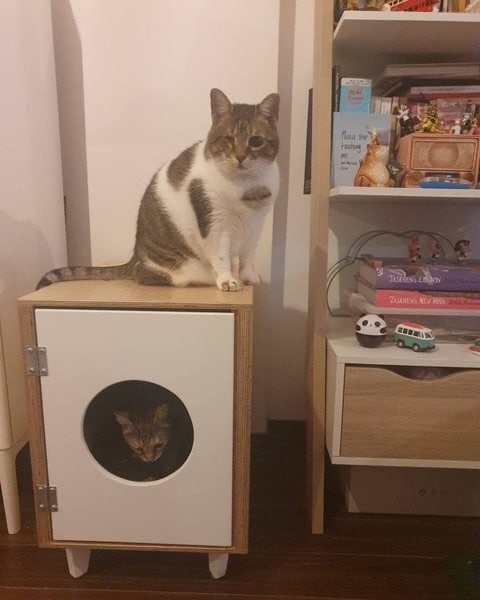 This custom-made litter box is perfect for hiding that unsightly box. It even blends well with the rest of the furniture, so it's decorative just as it is functional.
It's also space-saving and sleek. Just a tiny area for the box is all you need to hide it. And best of all, you can use an old cabinet for it or make one yourself.
23. Peek-A-Boo Litter Box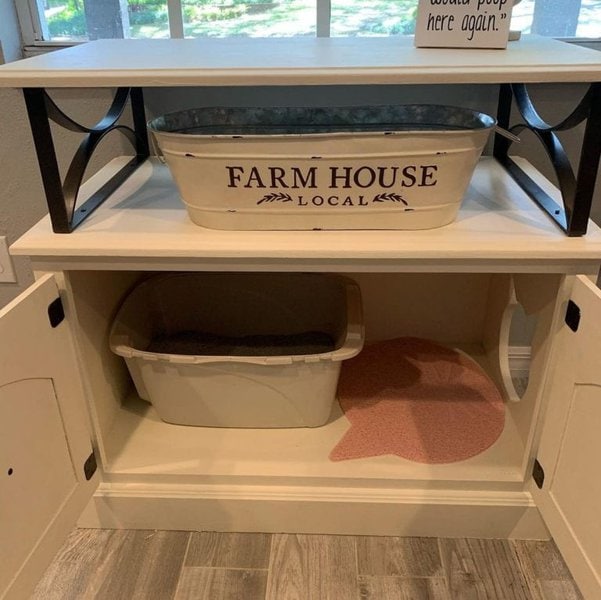 Discover a new way to use that old plastic storage by turning it into a cat litter enclosure. It does not take much to make it – just cut off the side, so your precious kitty can get in anytime.
And the coolest part about this litter box is how cheap it is to make. If you have pre-loved plastic storage at home just like in the photo above, that's pretty much all you need!
22. "Catty Corner" Litter Box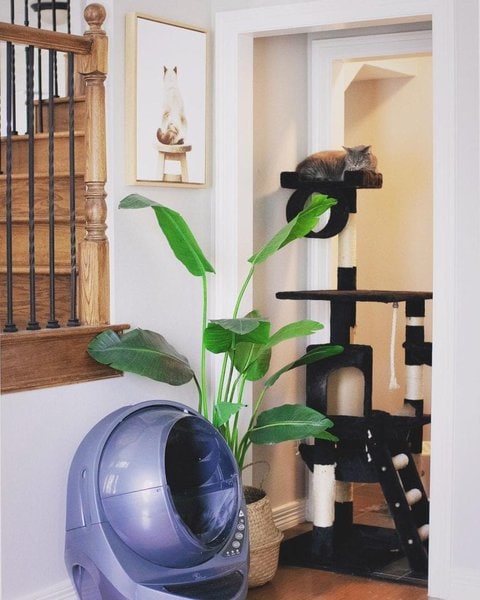 Cat litter boxes such as the one in the image are relatively easy to work with. They look nice as they are, so it is just a matter of picking the best place at home to hide them.
We like this idea because not only is the litter box out of the way. It also looks attractive with the plant right next to it – and notice the cute framed photo up top. Perfect!
21. Another Side Table Litter Box Idea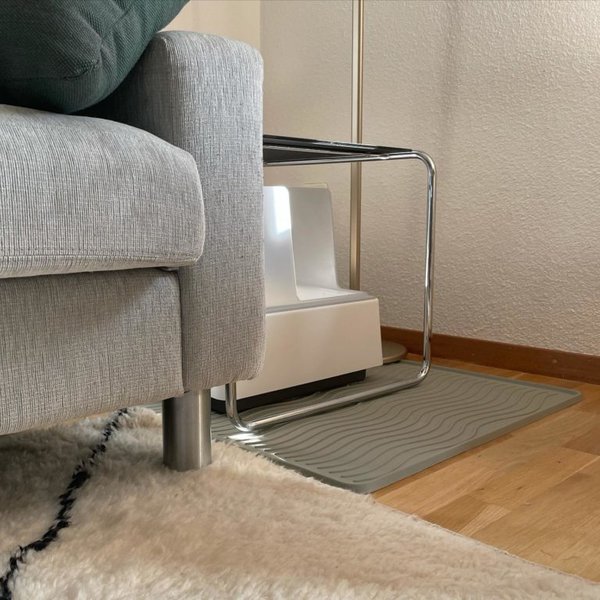 Side tables are always great litter enclosures. They are usually out of the way, so you can keep the clutter on top or underneath hidden.
For this side table litter enclosure, it's basically a stress-free solution you might like. Since the side table is completely open, you can put the box inside and keep it out of the way. And yes, no need to cut holes or anything like that.
20. Animal Special Corner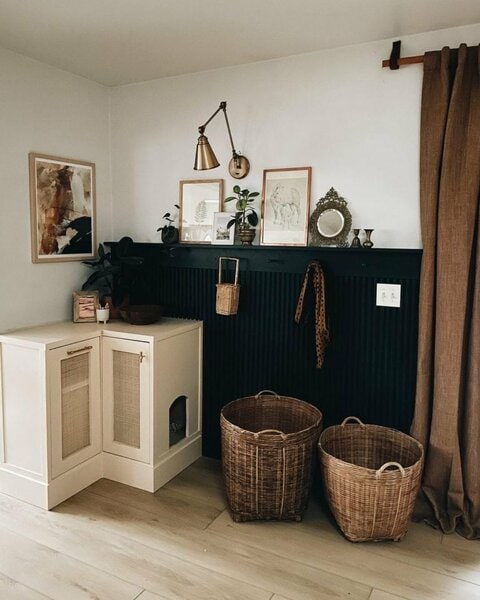 Give your beloved kitty a special corner at home for its litter box with this amazing idea. It's an old cabinet turned into a kitty toilet, which is hidden from plain sight.
Add in some wicker baskets in front of it and put some decorative items all around. Next thing you know, this litter box looks like the rest of your decor.
19. Spill-Proof Litter Box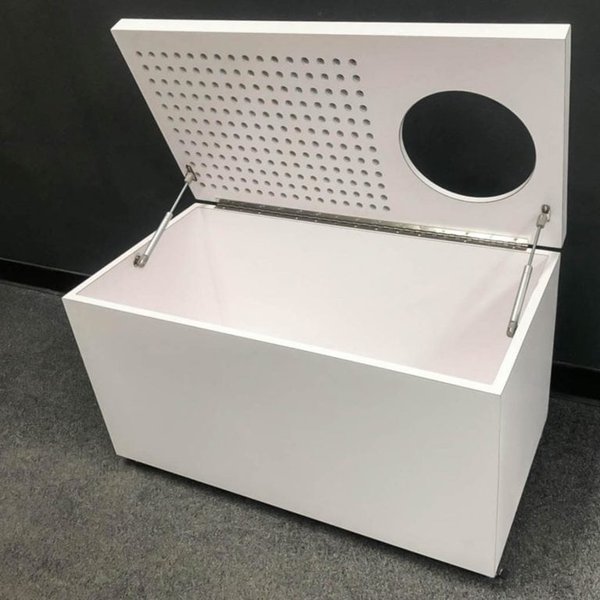 With this clever way to hide your litter box, you no longer have to deal with that unsightly box in your home. It is a spill-proof and functional box that lets your cat do its business while keeping litter off of your floor.
The large hole serves as the entry way for your pet while the several tiny, smaller holes are for shaking off the litter off its paws. There's also a hinged door on top for easy access to the box when it needs to be cleaned.
18. Discreet Litter Box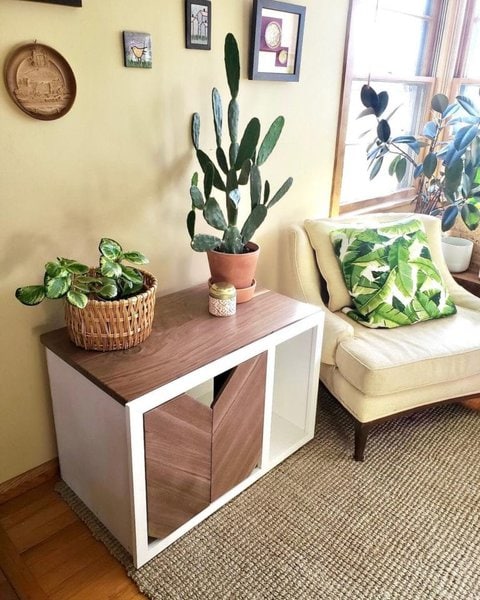 This cabinet and litter box in-one is what you need to keep things neat and tidy in your home. There are two doors and an open entrance, so your kitty can simply jump in and out.
You can also customize the paint and pattern for the cabinet depending on what matches your interior decor. Put some plants on top or some framed photos, and it looks more like a decorative piece than a litter enclosure!
17. Litter Enclosure With Sliding Door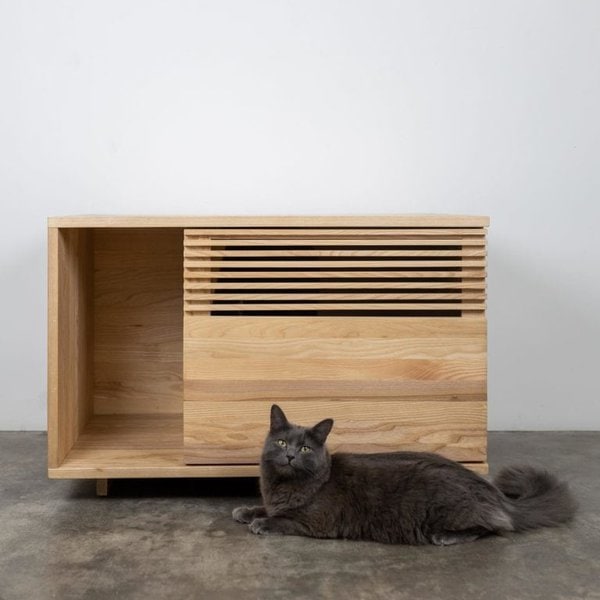 Woodworking aficionados and DIY enthusiasts can easily make this console table litter box in a snap. There is a sliding door that lets you pull the box out for cleaning or leave the smaller hole open for your kitty.
And with some slots on the door, this offers ample ventilation to keep the inside relatively fresh. The minimalist vibe to this litter enclosure looks stunning too!
16. Kitty Toilet With Doors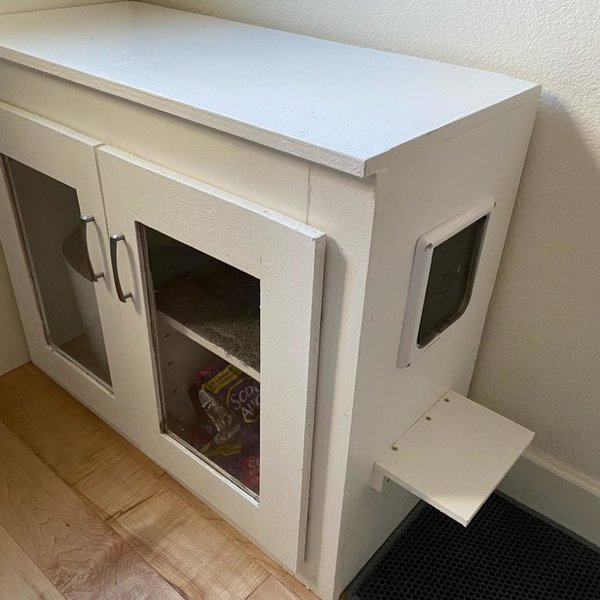 This two-level litter enclosure offers a way to keep your cat's toilet organized and hidden. The top level is where you put the box while the lower level is for the kitty litter, shovel, and what-not.
There are hinged doors and two holes on the side, so your cat can enter pretty quickly. As this is pretty much a cabinet, it also blends well with your furniture.
15. Storage Bin Litter Box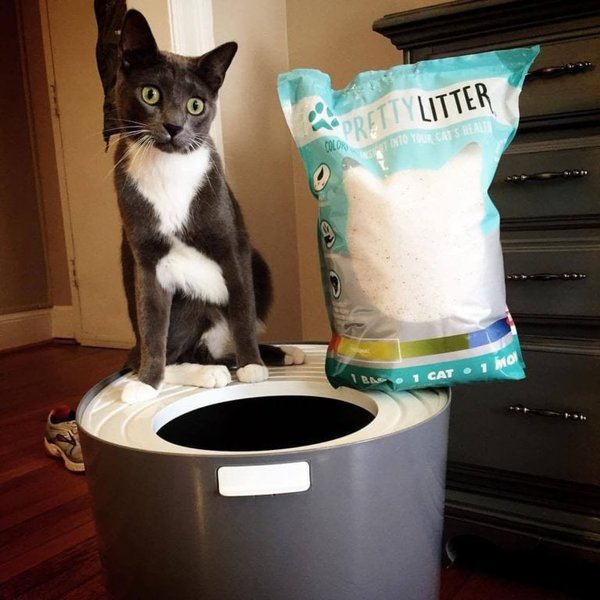 Functioning as a storage bin and as a litter box, this is definitely a great idea to hide your cat litter box. It's also quite cheap as you can simply repurpose your storage bin.
With all things said and done, this litter enclosure is hands down an inexpensive and quick way to hide the box and keep it from plain view.
14. Kitty Toilet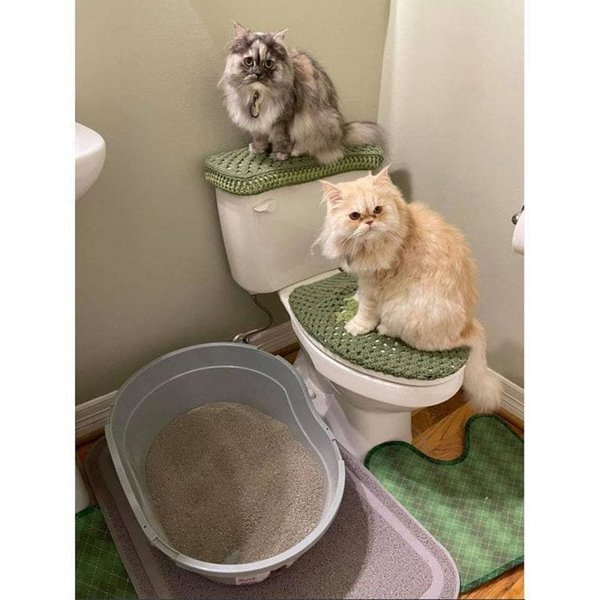 Placing your kitty's toilet in the bathroom is a quick way to hide the litter box. This is a great option for folks who don't have a lot of space in their living room or laundry area. And yes, you can contain the smell in one place too!
Just be sure to leave the bathroom door open, so your pet can go in as needed. Then, have a rug ready to wipe away all the nasty litter off of its paws.
13. Litter Box Enclosure
Here's another clever way to hide your cat litter box. If you have any rectangular storage just like this one, you can use it as your cat's portable toilet. Just cut a hole up top, and dedicate a space on the bottom for the litter.
It's also slim in profile, which makes it space-friendly and sleek. We recommend that you make the hole not too small, though, in case your kitty gets too plump to fit in a narrow opening.
12. Cat House Litter Box
This litter box that's shaped like a cat house is all you need to conceal that box. It has a nice white color to it, which should blend well with your interior decor. And the top looks like a roof, so that adds a nice touch to it.
Beyond the exterior and good looks, this litter box is also functional. There is a small opening to let your cat out easily. Another opening is in place, which comes in handy during cleaning the box.
11. DIY Litter Box Cabinet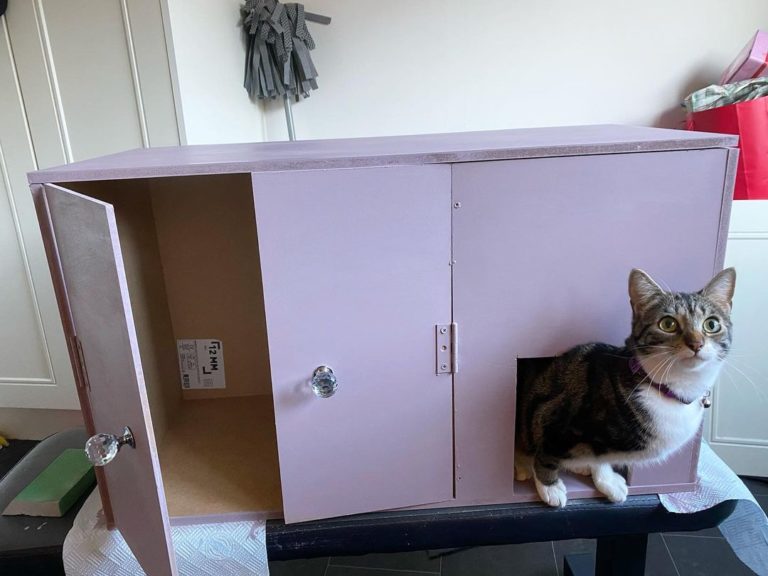 Even beginners in woodworking can easily make this DIY litter box cabinet. All you need are some plywood, hinges, and basic carpentry tools. It's that simple!
Customize the cabinet as you wish – make it wider, longer, or taller, depending on what looks good in your home. Got 2 kitties in the house? You can easily create a bigger litter enclosure for both whiskered pets.
10. Side Table Litter Box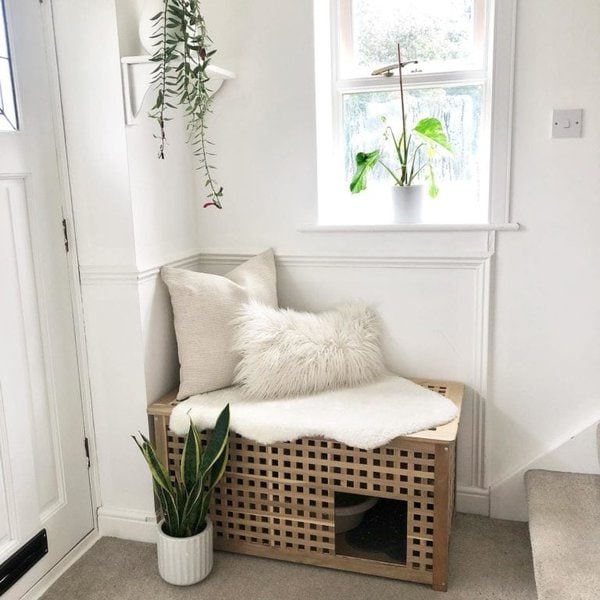 A seat, side table, and a litter box at the same time, there are simply so many things that this custom build has to offer. If you have a cramped space at home, this is absolutely perfect.
Also, there are tiny holes on the front, so there's ample ventilation for your kitty. These holes also add a nice touch to the enclosure, which keeps it stylish just as it is functional.
9. Custom Litter Box
This cat house-looking litter box is lightweight, portable, and absolutely beautiful. It has a minimalist feel to it, as well, which means space is never a problem with this thing in your home.
If you don't have a lot of floor space, you can definitely fit this litter box on top of a table. Just be sure to leave the sliding open for your cat's quick access.
8. Bottom Cabinet Litter Box
Maximize your indoor space with this sleek and slim litter enclosure design. It fits perfectly underneath your cabinet, so the little box is out of the way.
There's a hole on the front that's perfect for your cat to squeeze itself right in. And there is a door for grabbing the litter box quickly too. Seal it back after changing the litter, and it's all set.
7. "Blending In" Handcrafted Litter Box In Gray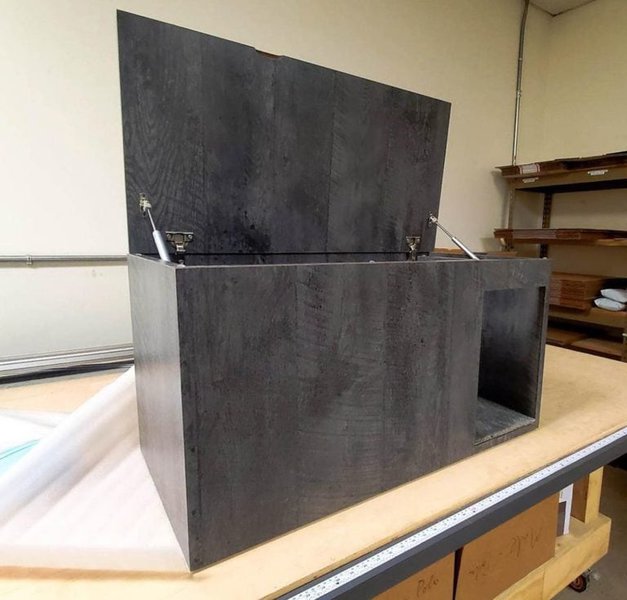 Litter enclosures don't have to be elaborate. In fact, this handcrafted litter box is simple while offering all the basic functionalities you want.
There's a hinged door on the top, allowing you to quickly pull the litter box out for cleanup sessions. But otherwise, keep the door closed and let your cat enter through the hole on the front. Whether you place this box on the floor or the table, it works either way.
6. Litter Box Under The Cupboard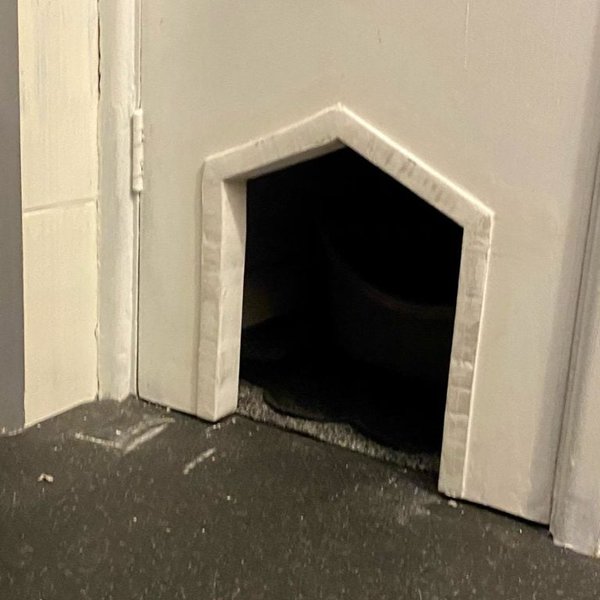 Make good use of that extra space under the cupboard and turn it into a litter enclosure. This photo should give you some inspiration on how to do it, and you'll find it relatively easy to recreate the look.
And the best thing about this design is it's customizable. Adjust the dimensions based on your cat's needs and the amount of space you've got under the cupboard.
5. Minimalist Litter Box Design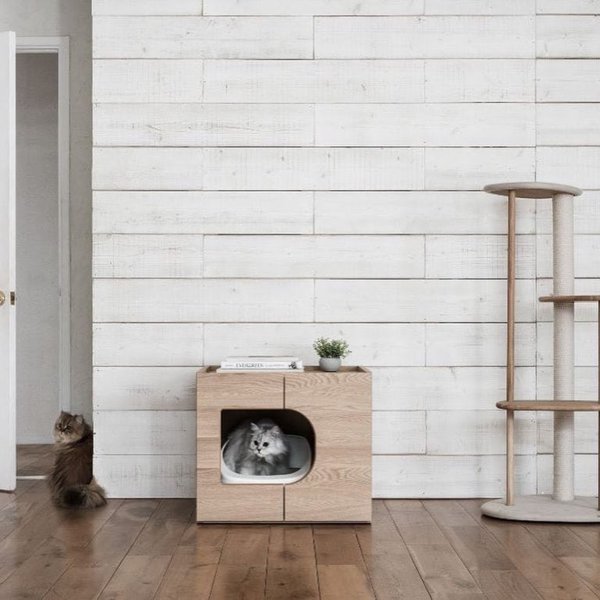 There's nothing fancy or over-the-top about this litter enclosure. It's compact, space-saving, and functional. And of course, it looks absolutely cute!
You can also use the extra space on top for your home decor such as indoor potted plants and magazines. Now that's one adorable litter enclosure.
4. Pet House And Litter Box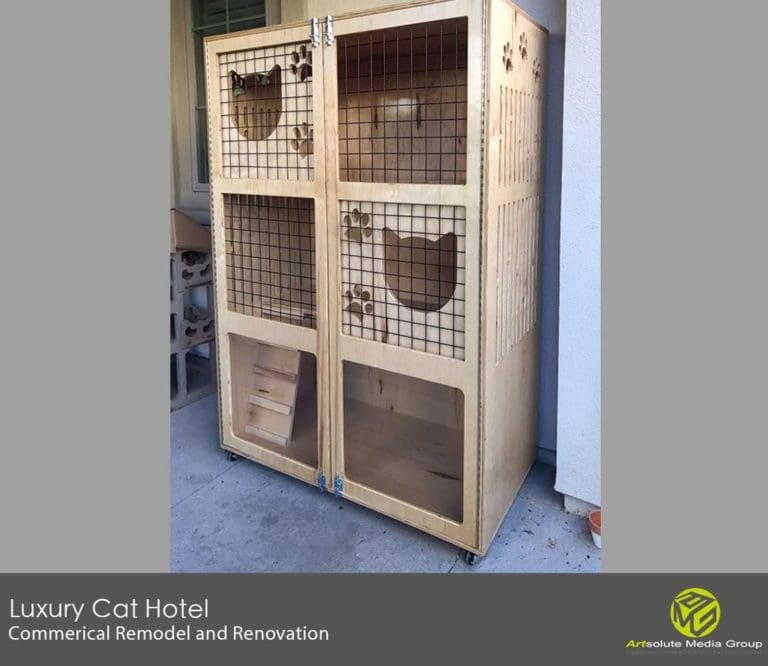 Spoil your kitty with this gorgeous house and litter enclosure all in one. There are three levels, with the top part serving as a sleeping space, the second level as the play area or hang-out spot, and the bottom is where you put the litter box.
It's a fantastic litter enclosure that should look perfectly adorable in any home. Just a heads up, though, this thing is quite bulky. So, it is suited more in bigger homes with plenty of floor space to spare.
3. Ornamental Litter Box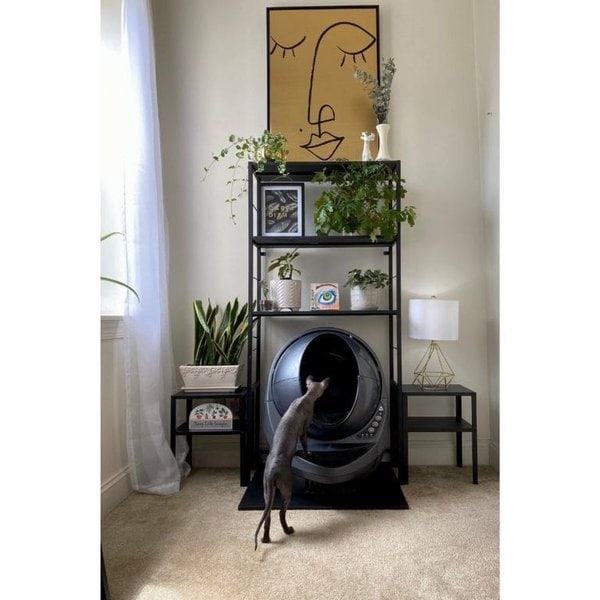 If your kitty has a litter box just like the one in the photo, then this is an excellent idea to keep it out of plain sight.
Set up the litter box at the bottom rack, which should basically get it out of the way. It would also be better if the rack and the litter box both have the same color, so it blends well and looks more like a decor item than a plain old kitty toilet.
2. Cat Toilet In The Bathroom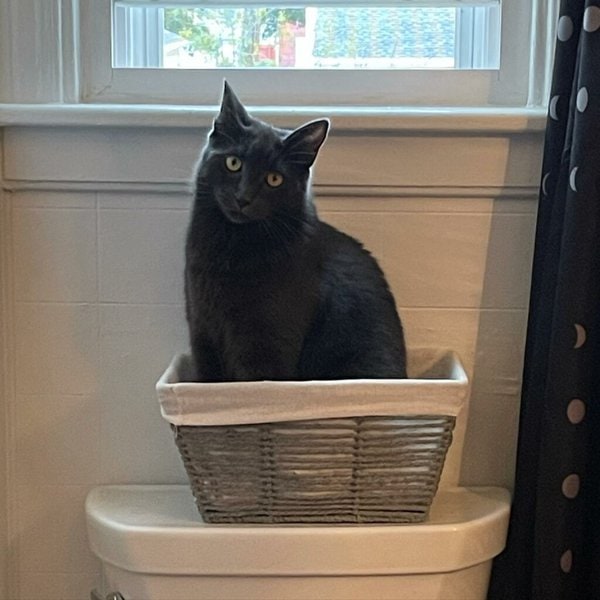 Why not put the kitty litter box right where it belongs… In the bathroom! It's a great way to keep the smell off of your indoor space, which is very important when you have guests in the house.
Add in some tiles around the litter box and make sure there's a roomy entrance to easily let your pet get in when nature calls.
1. Cabinet With Hidden Cat Litter Box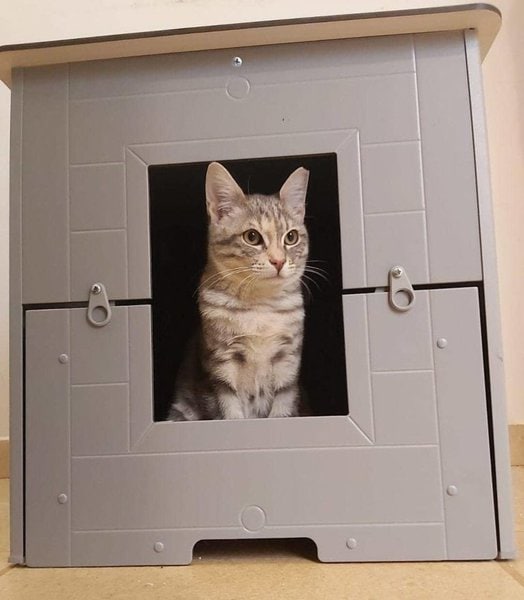 Is it a cabinet or a litter box? This cabinet with a litter box offers the best of both worlds – a space for your clutter and a private area for the kitty to do its business.
It's the perfect solution for cramped homes or to make sure the litter box is not simply out in the open for everyone to see (and smell!). Plus, it's quite easy to recreate this look with just very basic tools.
---
Related Questions
---
How Can I Hide My Litter Box Smell? A quick and easy way to hide the litter box smell is by mixing some baking soda into the kitty litter. This eliminates odor while keeping it fresh and clean. You should also scoop out the poop a few times a day instead of leaving it there in the box for too long.
Do Cats Prefer Covered Or Uncovered Litter Boxes? Generally, cats like uncovered litter boxes as they prefer to see any potential threats and quickly flee from them. While covered boxes help to contain odors, cats are just not in favor of this type of design compared to uncovered ones.
Is It OK To Flush Cat Poop Down The Toilet? Flushing cat poop down the toilet may seem like a practical and convenient thing to do but it is definitely not advisable and not okay. Flushing kitty litter down the toilet can cause damage to the pipes, septic system, and plumbing.