Authorities from Robeson County report that they found and rescued 12 emaciated dogs from a home in North Carolina on Monday 22 February, 2021, where the dogs were held inside filthy cages.
The Sheriff's office in Robeson County was alerted by a community member about dogs that were living under cruel conditions. The community member notified the authorities that there were several dogs which looked severely malnourished that were caged within the home. Here is a photo of some of the dogs on the day of the rescue.
Dogs Rescued In Time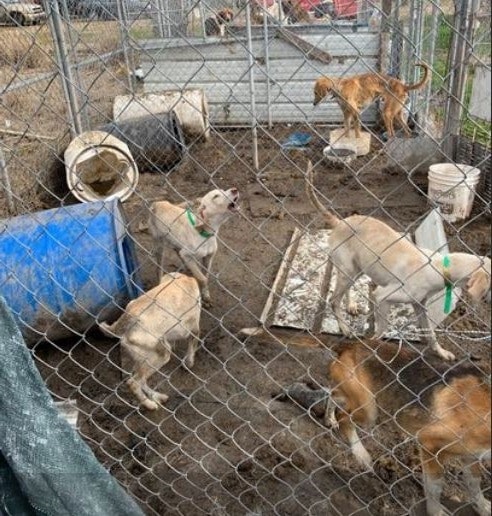 Responding to the alert, officers from the Robeson County Sheriff's Office stormed the home located on Ottmus Road in Pembroke. This is where they found the 12 dogs, many of them with collars on them. Photos taken at the time of the rescue show the dogs locked within a very dirty cage with equally dirty tanks and buckets. In the photos, some of the dogs look so thin that it would be possible to count their ribs.
Speaking to the press, Burnis Wilkins, the Robeson County Sheriff said the dogs looked like they had not been fed for days and were living in very poor conditions. According to photos shared by the Robeson County Sheriff's Office, the dogs looked so happy to be rescued.
Culprit Arrest Made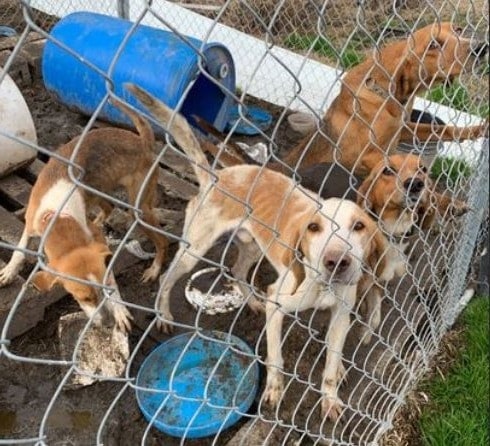 After rescuing the dogs, the officers took them to a local veterinary hospital, where they are undergoing treatment and care with hopes that they will recover to full health. The County Sheriff's officers have already arrested Nehemia Pate, the 25 year old owner of the home, who has been charged with 12 counts of cruelty to animals. After his arrest, Pate was held at the Robeson County Detention Center, before securing a $2,000 bond.
At the moment of his arrest, Pate did not have an attorney who would talk to the press on his behalf. If convicted of the crimes he is being charged with, Pate could be facing several months in jail.
According to North Carolina Animal Protection Laws, animal cruelty can be classified as a Class 1 misdemeanor, and in severe cases, it can be classified as a Class H felony. Class 1 misdemeanors carry a sentence of up to 120 days in jail, while Class H felonies carry a sentence of up to 30 months in jail.
According to County Sheriff Wilkins, there is no excuse for animal cruelty. Since animals do not have a voice that they can use to express their feelings, the County Sheriff said that community members must become their voice whenever they notice animals being abused. The Sheriff also termed the case as "horrific".
The Sheriff's Office is urging anyone who has more information about the Nehemia Pate case, or information about any other cases of animal cruelty within the county, to get in touch at (910) 671-3100 or (910) 671-3170 and share this information.