NASCAR has confirmed that they are going to be using specially trained dogs to screen for COVID-19 in the cup race that will be taking place at 3 pm on Sunday, 21st March 2021 at the Atlanta Motor Speedway.
According to NASCAR, the use of dogs to screen for COVID-19 at Sunday's event is a proof of concept that will see these dogs being used as a time-efficient method of screening competitors and guests for the virus at future events.
Sniffing Out The Infected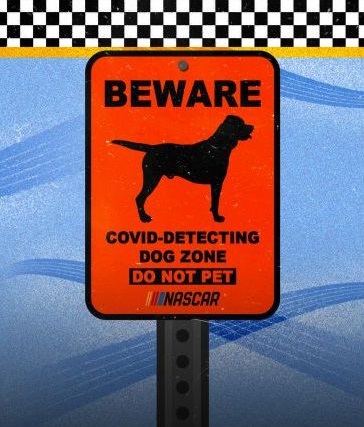 In Sunday's event, NASCAR will be working together with 360 K9 Group. Through its Bio Detection K9 operation, 360 K9 Group has trained dogs to detect people infected with the virus. According to the company, their specially trained can detect the COVID-19 virus in people with an accuracy rate of 98%.
The dogs are even capable of detecting early-stage infections that cannot be detected using molecular tests. Before using dogs to screen for COVID-19, 360 K9 Group previously trained dogs to detect citrus canker in plants.
During Sunday's race, the dogs will only be used to screen select personnel within the competition footprint – these include NASCAR officials, race teams, as well as any vendors that are going to be working inside the garage. All those undergoing the dog screening will also need to undergo an initial pre-entry screening, which involves self-reporting any symptoms and undergoing a temperature check.
Cup drivers, as well as fans attending the event will not undergo this kind of screening. However, if the proof of concept is found to be successful, the canine screening could be expanded to cover other areas on the track in future events.
Putting Dogs To Work
According to 360 K9 Group, their specially trained dogs are capable of detecting if a person has COVID-19 in less than 30 seconds. If the dogs detect the virus, they will alert their handlers. The person who has been identified as COVID-19 positive will be taken into isolation, where the NASCAR AMR Safety Team will take them through extensive secondary screening.
From the secondary screening, they will then establish if the person is negative and can be allowed into the garage area, or if they are indeed COVID-19 positive.
Speaking to the press, NASCAR managing director of racing operations Tom Bryant said that using the dogs to screen for COVID-19 will help NASCAR solve a challenge they've been facing since March 2020. Bryant also said that, based on what NASCAR are going to learn from Sunday's event, they'll figure out how to use bio-detection to ensure the safety of drivers, team members and fans during future events.
Tom Bryant also noted that, even with an effective solution in sight, NASCAR will remain on high alert for the virus and its variants, since their aim is to ensure maximum safety within the sport.
This is not the first time dogs have been used to screen for COVID-19 at professional sports events. Back in January, NBA's Miami Heat made the news when they used dogs to screen fans for COVID-19 infection before allowing them into the games.