Dog birthdays are a big deal, especially to every paw parent. After all, it's not every day that dear Fido gets to blow his birthday candle! So to make your pup's big day extra special, a celebration is in order for this time-honored tradition!
No pooch birthday will ever be complete without a cake! Bake it yourself or pick something up at a dog bakery to surprise your precious fur baby. You can also have him don the most adorable costume, so he'll look picture-perfect for his birthday photo shoot.
From pupcakes to treats and cool party games, we've gathered these 27 dog birthday party ideas just for you. Make it a day to remember with your fur baby, his pup squad, and your family and friends!
27. Pup-Friendly Birthday Cake
Your pup's birthday cake is definitely the event's highlight, so make it an awesome one! You want it to be dog-safe and yummy, of course.
Bake your own dog birthday cake or order one at a dog bakery. No matter which way you do it, keep it classy, sassy, and super tasty.
26. Costume
Let your puppy show off his style with a fun costume for his birthday. A lacy dress, hip shirt, a fancy bow tie, or whatever it is that rocks your boat!
Just make it a point that these costumes are comfy and well-made without buttons or anything loose that can come off as a choking hazard to your pup.
25. Tennis Balls For Every Pup
What pup doesn't like tennis balls? It's a universal favorite dog toy, so be sure you have a few lying around for your pup's dear pals to play with.
For safety reasons, you can dedicate an area for these balls where dog guests can play freely. You certainly don't want the balls to be rolling around anywhere in case human guests accidentally step on them.
24. Party Favors
Show your gratitude to your guests with some party favors for them to bring home. It does not have to be anything grand; anything that's practical and fun should be more than enough.
Cool paw party favors include some good ol' tennis balls, frisbees, chew toys, or maybe even a roll of poop baggies. Don't forget to add a little sticky note saying "Thank You For Coming," then maybe a picture of your pup on it.
23. Pup Pawty Theme
Think of a party theme for your dog's birthday. That makes it easier to decorate and come up with party favor and treat ideas. Plus, it adds more fun to this once-a-year event.
Awesome ideas for paw party themes include pirate, luau, cowboy, Hollywood glitz, and many more to choose from! Let your creativity flow, and you'll make this day something to remember.
22. Pup Squad Party
It's never a party without the whole pup squad! So, don't forget to invite your doggo's best buds to make it an even more fun birthday celebration.
For a fantastic pup squad party, you can set it up outside if the weather permits. A dog pool party is always a great idea, or you can just have it in the yard with plenty of decorations and treats. Either way, it will be an epic day!
21. Dog Birthday Card
Make your pooch a lovely birthday card for this ultra special event. You can either create it with art materials or use a template online, then jazz it up with your creative style.
Sure, your pup won't be able to read this card, but the thought you put in it counts! And, of course, a doggie birthday card looks good in the scrapbook.
20. Dog Park Party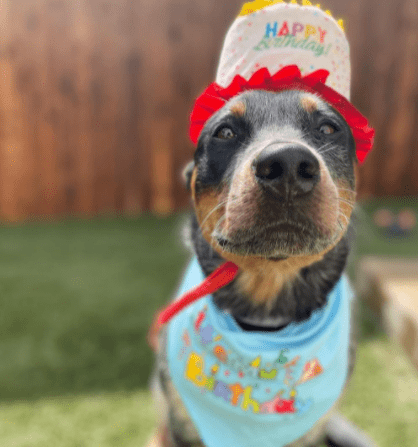 When it's nice and sunny outside, what better way to host a dog birthday party than at the dog park! It's a spacious and safe place for puppers to frolic and romp around for hours.
If you live near the beach, you can also have a party on the beach. Be sure that the location you have in mind is a dog-friendly beach so that you won't run into any problems with beach policies and what-not.
19. Birthday Bowl
For dear Fido's big day, he definitely needs an extra special birthday bowl! Customize the bowl to add some flair to it – your pup's photo, name, you get the idea.
Then, make sure he uses this bowl on his birthday. With a personalized design and your doggo's name on it, he'll feel like a million bucks with the fanciest food dish among his pals.
18. Doggie Toys Pit
Got an inflatable pool lying around somewhere? Or what about dozens of plastic balls you ordered online years back but never found any use for them? For your puppy's big day, you can put these random supplies to good use.
Inflate that kiddie pool and fill it up with tons of colorful plastic balls. Your pooch and its gang will each have a ball in the pool on its birthday. (No pun intended!)
17. Pup Hats
Hats are a must for doggie birthday parties. They're fun and cute, and you can make different designs to match every pup's personality.
Think of something fluffy and furry and a bit sparkly, too. Make your own, buy it at a dollar store, or whichever way you want to do it, we're pretty sure your pooch and the gang will rock these hats out.
16. Pup Cake Alternatives
Why have just one pup cake when you can have five or more other cakes for your beloved pooch on his birthday? But if your pet has dietary restrictions or food allergies, you can still work around these things by making the best alterna-cake!
It doesn't have to be fancy – pile up his favorite treats like a tower of puppy chows. Or, you can make it zero-calorie with a plush cake-shaped doggie toy.
15. Pup Game Day
Here is another one of the coolest dog birthday party ideas you should definitely consider. Keep your pooch and his friends engaged and entertained with a ton of games such as tug of war, frisbee, fetch, and hide & seek.
Sure, these are games, but they also serve as basic training sessions with a lot of fun thrown into the mix.
14. Goodie Bags For Humans
Don't let anyone leave the pawty empty-handed. Prepare some goodie bags for your human guests so they have something to remember this event by.
It doesn't have to be pricey. You can simply fill up a goodie bag with cool things like dog treats, tennis balls, and the like that they can play with their puppers.
13. Confetti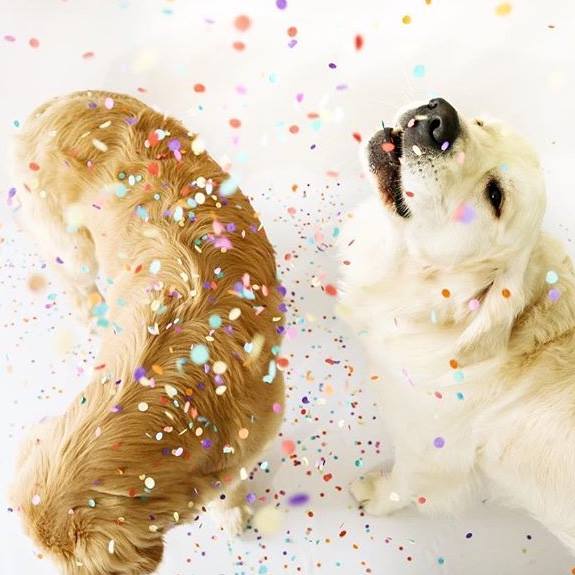 Confettis are always a must in every paw party. But if you're concerned about plastic, then you can use eco-friendly confetti instead of conventional ones.
What's even better is you can make your own. Make confetti out of dog treats, and watch these pups stick out their tongues to catch these goodies as you toss them.
12. Custom Chalkboard Art
Chalkboard art is always a trend during the first day of school. Why not make it a part of your pup's birthday party, too?
Simply write a sweet birthday message for your pooch – and you can do it yourself or have a pro whip this one up with fancy styles. Then, set it up at the door after you take a photo of your pet standing next to the chalkboard.
11. Pup Gift Basket For Pups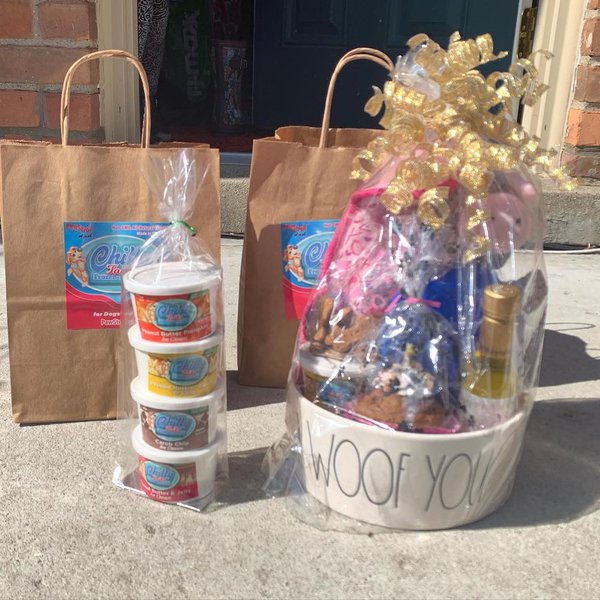 Every pup guest deserves a little something after the party. So, make sure you prepare some gift baskets with your dog's favorite things.
Great ideas for a pup gift basket include a new collar, treats, and maybe a cool toy that his puppy pals will enjoy.
10. Doggie Ice Cream
Beat the heat with a tasty and creamy doggie ice cream. It's a fun treat for the pups and will add to the chill vibe at the party.
But don't serve conventional ice cream for humans as it can irritate a dog's sensitive GI tract. Make your own by blending bananas, peanut butter, and some plain yogurt. Freeze overnight and serve the next day. Easy-peasy!
9. Table Decor
Another essential in dog birthday parties, your table decor, and centerpiece must be picture-perfect. It sets the vibe for the whole event, plus it's one of the most photographed sections in the party scene.
Set the table up with a nice letterboard sign, some balloons, banners, and the whole shebang. But make sure it matches the party theme, so it's extra perfect.
8. Pawty Invites
After you've organized all the details of the party – date, location, guest list – then you can send out invites. You can do it the old-fashioned way by sending out paper invites or creating a Facebook invitation for your upcoming pawty.
No matter how you do it, be sure not to leave out any guests behind. You may also want them to RSVP if you want to know how much food you'll serve at the event.
7. Pup Gifts
This is the best time to shower your pooch with gifts, so you can go all out! Toys are always a great choice, especially if your pup has been eyeing a fun toy each time you take him to the store.
Or, you can give your beloved fur baby some special jerky treats in a variety of flavors. Bully sticks are also a constant favorite, so that's another thing to add to the list.
6. Pup Photo Album
A dog birthday party is certainly a day to remember. Capture every shining moment in photos and compile them all in a personalized photo album for your pupper.
Be as creative as you can get for this album. You can even make it 3D or 2D and enclose some memorabilia and trinkets from the party.
5. Pup Treats
Have an abundance of pup treats for the party. Set a dedicated table where guests can grab some yummy treats for their pooch.
But don't make it just any treats. You want to be sure they're suitable for pups of all ages and dietary concerns. Natural is the best way to go, or even grain-free/gluten-free treats.
4. Doggie Spa Day
Pamper your pooch and his pals by turning his birthday party into a spa day! It's perfect for senior pups celebrating their birthdays and looking to get lots of TLC.
You can hire a massage therapist specifically trained to work with canines, or maybe even a professional groomer who can provide well-deserved "Me Time" to your dog and his furry friends.
3. Birthday Photoshoot
There's never a birthday party without a photoshoot! It's great for memories and a good excuse to have your pooch dress up in costumes.
Dedicate a spot for a photo booth and invite the guests and their pups to have their pictures taken. Then, be sure to give them copies – digital or not – for their keepsake.
2. Party Decor
Express how much you love your pup by going all out on the party decor! From the inside to the outside of your home or wherever your party venue is, make sure passersby know it's your beloved pet's big day.
Hang a catchy birthday banner, put up some streamers, or have some balloons. They all work! You can also play some fun music to set the vibe for this special event.
1. Dog-Themed Snacks For Humans
While this party is for your pooch, you'll definitely have some bipeds around. Make sure you reserve a table for refreshments to keep your human guests satisfied. It doesn't have to be anything fancy; think about the type of treats you would normally serve at a kiddie birthday party.
When it comes to dog-themed snacks, you can serve some muffins, candies, and jello-shaped like a pup to match this dog's birthday party. If you have a theme going, you can also match the design to it.
---
Related Questions
---
Can A Dog Get Drunk? Yes, a dog can get drunk. If your pooch drinks beer or alcoholic fluids, he can experience various symptoms, including vomiting, decreased coordination, diarrhea, and worst-case scenario, coma, or death. Thus, alcoholic drinks are not suitable or meant for dogs to consume.
Is Giving A Dog Beer Illegal? There are no specific laws against giving beer to a dog. However, depending on your location, this can violate laws within your state regarding animal abuse and cruelty.
Do Dogs Understand Birthdays? Unfortunately, not. Dogs don't really have a concept of time. They don't know what birthdays are, but it won't hurt to celebrate this big day with your pup! As for how often a dog's birthday is, it's just like with humans. We celebrate the day they were born, so it's worth it to make birthdays special and fun for your beloved pooch.