The best dog food for golden retrievers is Royal Canin Breed Health Nutrition Dry Dog Food.
The Golden Retriever is a family-friendly dog breed with a sweet and loving temperament, and its popularity makes it one of the most well-known dog breeds in the world. If you're looking for a companion that is eager to please and ready to learn, the Golden Retriever is a wonderful choice. They're also very loyal and make the best lifelong friends that a man or woman can wish for.
Since your golden retriever will spend all its years in constant devotion to you, it's only fitting that you provide it with good quality nutrition for a healthy life. After all, you want them around to make memories and share life's special moments for as long as possible.
A golden retriever's diet is one of the most important factors in maintaining their health, both physically and mentally.
In this article, let's do a deep dive into the best dog foods for golden retrievers.
#1 Royal Canin Breed Health Nutrition Dry Dog Food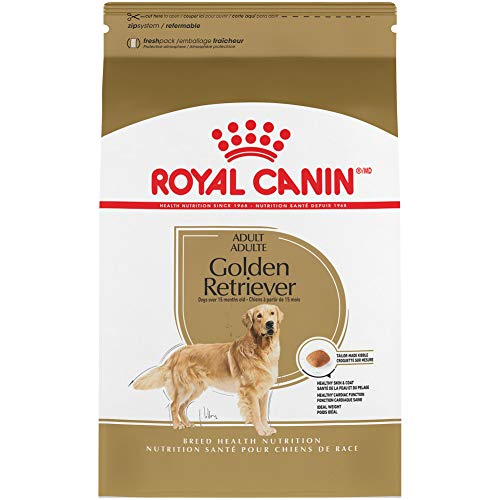 Royal Canin Golden Retriever Adult Dry Dog Food, 30 lb bag
FORMULATED FOR PUREBRED GOLDEN RETRIEVERS: Royal Canin Golden Retriever Adult Dry Dog Food is designed to meet the...
SPECIALIZED KIBBLE: Unique kibble is designed for a Golden Retriever's straight muzzle and scissor bite to encourage...
SKIN AND COAT: Reinforces the skin barrier with essential nutrients to support healthy skin and coat
We all know that Royal Canin is the bee's knees when it comes to pet health and nutrition. So it comes as no surprise that they've developed a dry dog food formula for golden retrievers, which is aimed at providing optimal nutrition to, specifically, support your golden retriever's development needs.
Each one-cup serving of this Royal Canin Golden Retriever Dry Dog Food comes with 276 calories which is much less than the other dog foods on this list. Also, unlike most other dog foods, the main ingredient in this pack is brown rice instead of protein.
This is intentional as Royal Canin wanted to create dog food catered for golden retrievers that have optimal levels of DHA and EPA to promote heart health and healthy skin. Just keep in mind that this Royal Canin dry food is formulated for adult golden retrievers aged 15 months and up. It's not suitable for golden retriever puppies.
The Royal Canin Dry Dog Food is specially formulated for growing golden retrievers and comes with all the nutrients that your golden retriever needs to realize its highest potential. Plus, the kibbles have a chew-friendly texture and shape that make it easy for goldies to enjoy their food without any hiccups.
Pros
---
Helps to maintain an ideal weight with the right amount of calories and fat content
Contains DHA, EPA, and Taurine to maintain heart health
Comes with essential nutrients to protect the skin barrier
#2 Rachael Ray Nutrish Natural Dry Dog Food
The Rachel Ray Nutrish Natural Dry Dog Food is well-known for being a clean and optimal source of nutrition for health-conscious pups. It's made with real ingredients like farm-raised chicken as well as natural prebiotics to promote healthy digestions.
The fact that it's flavorsome with an agreeable texture also helps, and it's all thanks to the ingredients and blend of flavors featured in the recipe. We expected no less from one of the world's most famous chefs – Rachel Ray. Rachel created this unique recipe for her dogs and decided to share it with other pet owners who're concerned about providing their dogs with superior nutrition and flavor.
You'll be glad to know that there are no added preservatives, wheat, wheat gluten, fillers, poultry by-product, meat meal, or artificial flavors in here. It's all made from 100% real natural food found in nature.
In fact, this dog food prides itself on being one of the best dog food formulas on the market because of the quality ingredients used as well as the high ratio of nutrients present in each serving.
The Nutrish Natural Dry Dog Food does what very few other food brands can. It provides nutritious dog food that's made with high-quality ingredients with all the flavor in the world but at an affordable price tag.
Pros
---
No artificial or harmful ingredients
Main ingredients are farm-raised beef and chicken which is 100% grown and produced in the US
No poultry by-product meal
#3 CANIDAE Grain Free PURE Dry Dog Food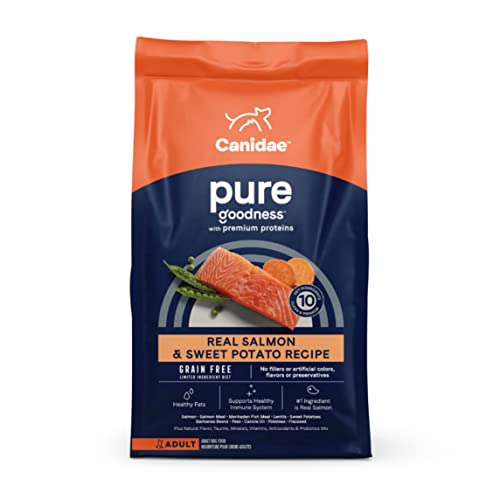 The CANIDAE Grain-Free Dry Dog Food is a simple yet highly nutritious recipe that can help your pet achieve optimal health levels. It's perfect for pups with sensitive tummies and only features nine primary ingredients – no additives, no preservatives, and certainly no chemicals or substitutes.
The main ingredient is chicken which represents the protein element of the dog food, while peas, potatoes, and lentils assist with healthy digestion. There's no soy, wheat, or corn so you won't have to worry about any possible allergies. To top it off, pups love this grain-free dog food for its superb flavor and taste which will satisfy even the pickiest of eaters.
The CANIDAE Grain-Free Dry Dog Food is available in different formulas to suit different tastes and preferences. Plus, your pup will be spoilt for choice with healthy, satisfying, and tasty ingredients that take care of all your pet's nutritional needs.
Pros
---
to reduce allergy complications
Comes with nine key ingredients
The main ingredient is chicken
#4 Blue Buffalo Wilderness High Protein Dry Dog Food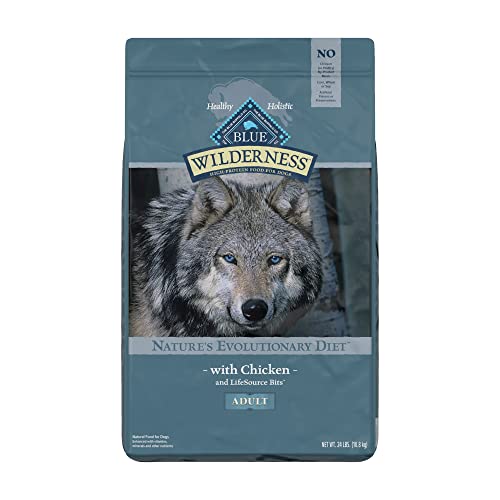 Blue Buffalo Wilderness High Protein, Natural Adult Dry Dog Food, Chicken 24-lb
PACKED WITH REAL CHICKEN: A recipe made to satisfy your dog's natural love for meat, this high protein dog food...
HEALTHY INGREDIENTS: BLUE Wilderness grain free dog food, made with healthy carbohydrates including sweet potatoes and...
ANTIOXIDANT-RICH LIFESOURCE BITS: A precise blend of antioxidants, vitamins and minerals carefully selected by holistic...
The Blue Buffalo Wilderness Grain-Free formula boasts high-quality protein as its main ingredient with no additional fillers or artificial ingredients. The meat featured in this recipe is real and natural.
Next on the ingredients list is a whole host of healthy carbs including sweet potatoes, peas, whole carrots, cranberries, and blueberries. This means your Golden Retriever is guaranteed to get a balanced meal with each serving of this formula.
To support proper bone growth and joint health, this dog food has a healthy supply of glucosamine and chondroitin. That's why it comes highly recommended for senior golden retriever dogs that suffer from conditions like hip/elbow dysplasia and arthritis.
Pros
---
The main ingredient is real meat
Offers a combination of vitamins, minerals, and antioxidants
No artificial flavors, colors or preservatives
Grain free
#5 Earthborn Holistic Coastal Catch Grain-Free Dry Dog Food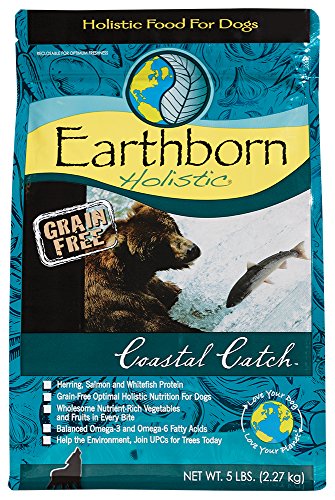 Earthborn Holistic Dry Dog Food - Coastal Catch, 5 lb.
Formulated without grain, gluten or potatoes, this special formula is ideal as a high-protein, grain-free alternative...
Herring meal, salmon meal and Pacific Whiting meal provide high-quality protein sources to help develop and sustain...
Antioxidant-rich vegetables and fruits, such as peas, blueberries, cranberries, apples, carrots and spinach are...
The main ingredient in this Earthborn Holistic Coastal Catch Grain-Free Dry Dog Food is whitefish, salmon, and herring. These are all fantastic sources of lean, heart-healthy protein. In addition, this recipe also offers natural fiber in the form of carrots, peas, spinach, blueberries, cranberries, blueberries, and apples. On top of keeping your golden retriever healthy, these ingredients are a great source of natural antioxidants, vitamins, and minerals.
The fact that there are no grains in this recipe means that this formula is suitable for allergy-prone pets and it's perfect for goldies on a grain-free diet. Plus, Earthborn uses advanced processing technology to preserve the nutrients and flavors in the ingredients so that it's easier for your pet to assimilate the nutrients.
This dry dog food formula is ideal for dogs on a grain-free diet and it's designed to condition the body through developing lean muscle mass. It's also a great source of energy thanks to the inclusion of L-carnitine, while the Omega 3 and 6 fatty acids help to promote healthy skin and coat.
Pros
---
Contains a good amount of Omega 3 and Omega 6 fatty acids
Designed to maintain good health and wellness
Grain-free formula
#6 Zignature Limited Ingredient Turkey Formula Dry Dog Food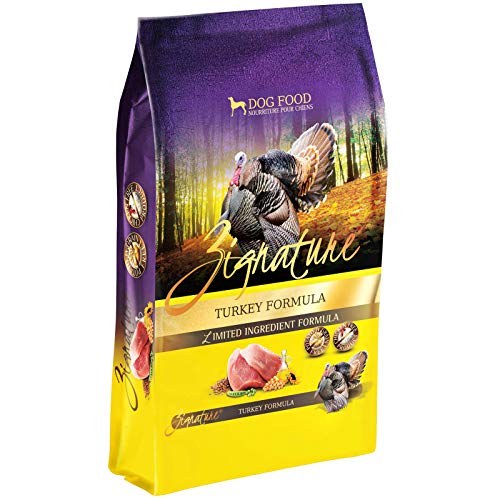 The Zignature Limited Ingredient Turkey Formula Dry Dog Food promises to provide your pup with a tasty blend of nutritious ingredients including flaxseed, chickpeas, wholesome peas, and farm-raised turkey.
This blend of ingredients gives a whole new meaning to the idea of "farm to table" as it's made with natural ingredients found in nature. Plus, there are no allergens in it either, such as wheat, corn, soy, potatoes, or chicken. This makes it ideal for Golden Retrievers with sensitive tummies and can protect against developing glycemia, allergies, and other conditions.
Included in the recipe is a mix of essential fatty acids, antioxidants, and vitamins that are guaranteed to provide your Goldie with balanced nutrition in every meal.
With only a few key ingredients, this grain-free formula is made for energetic golden retrievers. It's made with only a few hand-picked ingredients that will make your pup feel great.
Pros
---
Features antioxidant-rich chickpeas and wholesome peas
Farm raised turkey is the main protein ingredient
Doesn't contain any allergens like wheat, soy, corn, chicken or dairy
#7 Open Farm Grain-Free Dry Dog Food
What better way to show your pets that you love them than with one of the best in pet nutrition? That's what the Open Farm Grain-Free Dry Dog Food promises to do and it's filled with 100% Certified Humane farmed raised poultry. The main ingredient is protein-packed chicken and turkey from certified humane farms, for a flavor-packed profile.
This dog food also comes loaded with locally sourced fruits and vegetables – includes a mix of non-GMO local pure produce such as lentils, chicory root, apples, tomatoes and pumpkins.
You will not find grains such as wheat and corn in this dog food, instead, superfoods such as Flaxseed and Coconut Oil are added. This helps your Golden Retriever to grow up even healthier.
It's a more premium dog food (and relatively expensive) choice for your Golden Retriever. However, with its humanely source ingredients, you can be sure of the ingredients that you feed to your dog.
Pros
---
Humanely sourced dog food
Suitable for Golden Retriever with allergies and/or sensitive tummies
Full ingredient transparency – you can track each ingredient back to its sour
---
Dog Food for Golden Retrievers Buyer's Guide
---
If you have a golden retriever then you should count your lucky stars because your golden retriever will always be there for you when you need a hug, they'll protect you with their own life and will always be there to share joyful moments. Their fluffy fur is perfect for snuggling up in front of the tellie, and who can resist that adorable face?
Goldies are the perfect family dog because they love kids and can teach them a lot about kindness and compassion.
We know very well that it's difficult for most pet owners to choose the right kind of dog food for their pups because there are a lot of different dog foods out there. The best way to narrow down the dog foods to choose from is to educate yourself about your golden retriever's nutritional needs before you start looking at the different dog foods.
Related: How Much Do Golden Retrievers Cost?
You should be aware of any health conditions that your pet may be prone to so that you can buy food that will help to prevent those conditions while supporting optimal health.
Here are a few pointers to help you out.
Feeding Golden Retrievers
Feeding your golden retriever doesn't have to be difficult and it's all about giving it food that will cater to its growing needs.
We all know that pups start out drinking their mother's milk which comes with all the nutrients and calories they need at that stage in life. But, as they grow up, they need to start consuming solids to grow optimally and this process usually starts after about five weeks.
It's best to start with wet food because your pup is still fairly young and probably won't be able to handle hard kibbles. Pups at this age need to eat at least four times a day up until they get to 9 weeks. Do keep a lookout for puppy worms and deworm your puppy immediately if there are any symptoms of worm infestation.
From 2 or 3 months onwards, they'll start eating three times per day while maintaining the same calorie intake. By month 4, your golden retriever will only eat twice per day which is the same eating schedule that it will maintain for the rest of its life. Do remember to bring your goldie out for regular walks on a retractable dog leash.
It's worth noting here that some dog owners choose to feed their golden retrievers once per day but it's better to stick to the twice per day recommendation to maintain proper digestion. If time is a constraint, do check out these automatic dog feeders that make feeding your golden retrievers easy.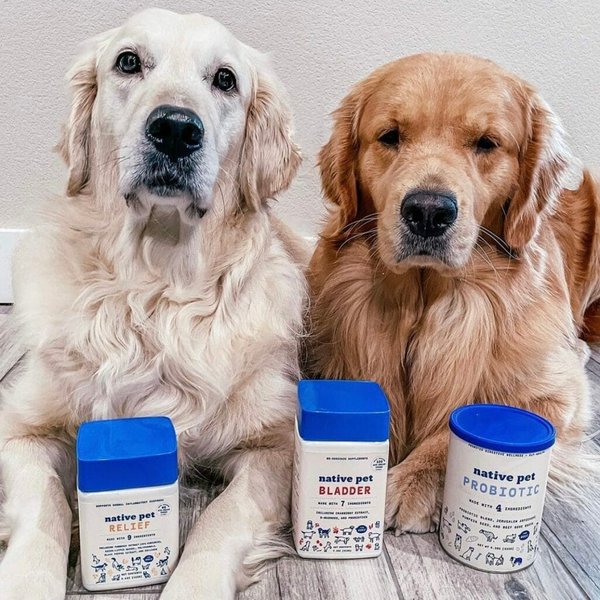 What Are The Nutritional Requirements Of Golden Retrievers?
Golden retrievers have similar nutritional requirements to other large dog breeds with the only difference being the nutritional "content." That's because goldies aren't as muscular as pit bulls and rottweilers, for example, but they're still large and require a fair bit of nutrition to maintain good health and keep energy levels high.
Protein
Protein is quite crucial to pets, which is why your goldie's food should have a protein content of at least 25%. In fact, protein should be the first and main ingredient in your pet's food, unless your golden retriever is on a special diet. Otherwise, it's a good idea to check the product's guaranteed analysis as well.
Related: Best High Protein Dog Food
Fat
Golden retriever food shouldn't have a fat content above 20% as that's all they need to maintain a shiny coat and healthy skin. However, it can be hard to keep track of this because meat has fat too which will contribute to the overall far percentage in dog food.
Micronutrients
The most important micronutrients are phosphorous and calcium, both of which are instrumental in helping your pet develop healthy bones and joints. B-vitamins are also essential to ensuring optimal metabolism, and you should look out for Vitamin A and E as well.
To supplement your golden retriever's diet, we have compiled a list of dog multivitamins that are beneficial.
Nutraceuticals
When it comes to nutraceuticals, look out for ALA, HAD, and EPA because they're essential in developing and maintaining optimal immunity, cardiovascular and neurologic health. To keep your pet's joints healthy, you'll need to give it food with glucosamine and chondroitin, while probiotics will help it to maintain a healthy gut.
Related: Best Organic Dog Food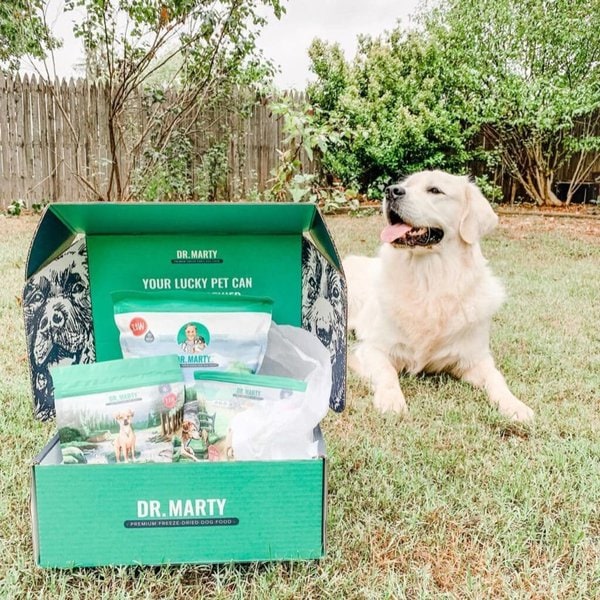 What Ingredients You Should Avoid?
Aside from healthy ingredients and nutrients that your pet needs to thrive, there are also certain ingredients that you should avoid, including colorings, flavor enhancers, and preservatives. If you notice any of the following words in the ingredients list of your pet's food, run the other way!
Propyl Gallate
According to scientific research data, propyl gallate is packed with essential xenoestrogens which is a known carcinogenic. So, it doesn't bode well to see it in pet food.
BHA & BHT
According to the World Health Organization (WHO), both butylated hydroxyanisole and butylated hydroxytoluene are classified as carcinogenic. Stay far away from foods that contain either of these ingredients.
Propylene Glycol
The Propylene Glycol ingredient has been shown to produce Heinz body anemia and yet some pet food manufacturers still use it to retain moisture.
Ethoxyquin
Ethoxyquin has been banned in Australia and the EU because of its ability to compromise blood and liver health. Keep in mind that golden retrievers are prone to develop conditions like aortic stenosis and Von Willebrand's disease, and consuming this ingredient can increase their risk of developing these conditions.
TBHQ
TBHQ is a dangerous preservative that's known to cause irreversible DNA damage and even stomach cancer.
---
Final Thoughts
---
As a golden retriever parent, you want what is best for your pooch and proper nutrition is an excellent first step towards providing them with a healthy life. Now that you know what to look for when shopping for dog food, it's time to announce our top pick for what we consider to be the best dog food for golden retrievers in 2019.
Drum roll please… It's the Royal Canin Breed Health Nutrition Dry Dog Food! We love the fact that this formula features a balanced combination of nutrients from healthy ingredients like brown rice for digestion, as well as DHA, EPA, and Taurine for optimal heart health and a better immune system.