The best retractable dog leash is Flexi New Classic Retractable Dog Leash.
You have probably been using a classic dog leash for a long time now, but realized it doesn't do justice to your pooch. It isn't flexible and doesn't let your canine companion room around at all, which makes the usual walk a bit of a struggle for your furry buddy.
And that's precisely what led to the popularity of retractable dog leashes. They provide all the flexibility your dog wants to explore the surroundings during the walk, without making you lose control or compromise on safety.
But that's only possible if you go with the right retractable dog leash that's both flexible and safe. Here's the list of best retractable dog leashes that you can get right now.
#1 Flexi New Classic Retractable Dog Leash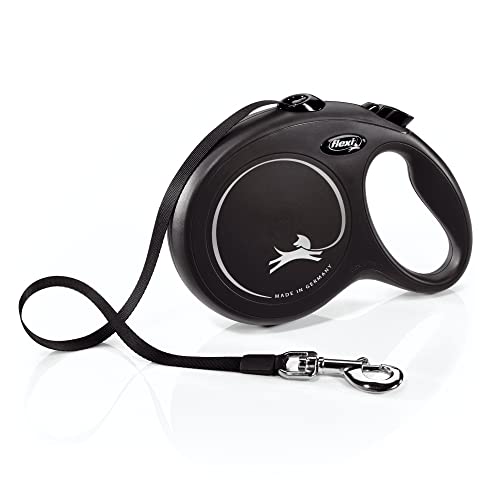 Flexi New Classic Retractable Dog Leash (Tape), 26 ft, Large, Black
CONTROLLED FREEDOM: With our specially designed leashes, your best friend can feel like they have complete freedom while...
MULTIPLE SIZES: We cater to all size of dogs, which is why we don't have one standard leash or size. Each type of dog...
CHOOSE YOUR STYLE: Our New Classic leashes come in either tape or cord, allowing you to see what would fit your and your...
Let us tell you right off the bat that if you have a strong dog that weighs over 60 lbs, there aren't many retractable dog leashes out there that will serve you better than this product.
It's incredibly heavy-duty – suitable for dogs up to 110 lbs. Even high-energy, superbly strong dogs have not been able to tear nor cause any damage to it. However, for bigger, we do recommend getting Flexi's Giant Tape Leash instead.
It's 26 feet long, which is the longest you will be able to find. This length would be ideal for dogs that like to roam around in the park or you just want them to have some extra flexibility.
Unlike some other retractable leashes of this length, this leash is very smooth when gliding out or retracting back. The brake button and grip handle are very functional as well, although the latter can feel a little slippery if you have your gloves on during the winter, but not enough to be a serious safety concern.
Finally, it's easy and comfortable to use, and even a 5-year-old would have no problem holding it.
Even customers that own multiple dog leashes have agreed that this retractable dog leash is their favorite. It's designed to hold up against the largest and strongest of dogs, simply because of the amazing durability, long length, super smooth handling and the ease of untangling.
Pros
---
Incredibly strong, durable and heavy-duty.
Conveniently long at 26 feet.
Ergonomic handle offers a great grip.
Ideal for dogs up to 110 lbs.
Fairly lightweight and easy to use.
#2 Fida Retractable Dog Leash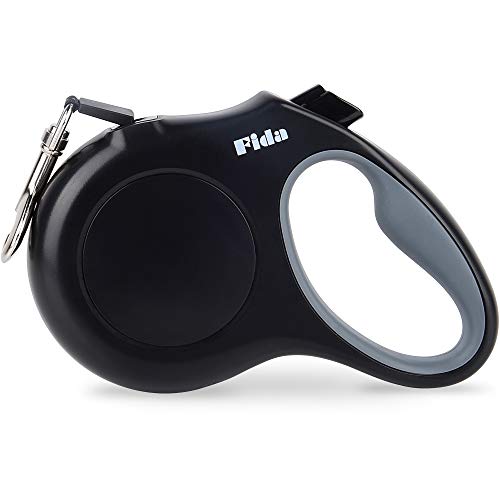 Fida's 16-ft retractable leash is suitable for dogs weighing up to 26 lbs. This makes it not just ideal for toy breeds but also for smaller canines who may struggle with equipment designed for larger animals.
The leash is designed not to tangle as quickly as most other leashes. This feature is especially useful for small dog breeds that are more active since it prevents the leash from being tangled when you try to shorten it to a suitable length.
The leash is also made in a manner such that you can easily access all of its features, giving dog owners complete control and a sense of security whenever they know they need to bring their dogs closer to them.
This Fida leash stands out as a wonderful option for dog owners with smaller pets. While smaller dogs may not require as much reinforcement as their larger counterparts, they do require accessories that are designed primarily for their needs.
Pros
---
16-ft retractable dog leash.
Durable rustproof swivel hook.
Ergonomic anti-slip soft handle.
Anti-twist inlet to prevent tangling.
Strong reflective tape.
Easy-to-use.
#3 TUG Nylon Tape Retractable Dog Leash
It's one of the more unique retractable dog leashes out there, coming with a patented 360° design. It basically means that the leash can move at any angle without making you lose control of your dog or get tangled.
Its durability isn't as good as the previous two products, but it would turn out to be good enough if your canine companion is not a bad puller.
The lock and brake system is pretty impressive as well, with three different options. The temporary lock option is particularly useful to control sudden movements of your pooch, or for people with weak hands or arthritis.
It has some unique features that help it stand out, especially for its price. It's also fairly durable, coming with a high-quality nylon leash that can handle dogs weighing up to 110 lbs.
Pros
---
Different leash sizes for different sized dogs; Small, Medium, and Large).
Super comfortable to use and hold.
TUG's patented 360° tangle-free design ensures greater control and flexibility.
Temporary lock is unique and useful.
#4 Hertzko Heavy-Duty Retractable Dog Leash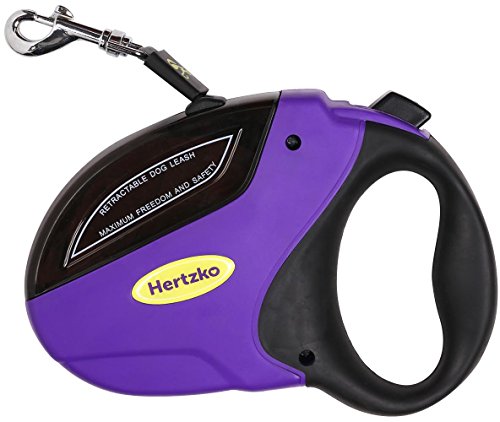 This retractable dog leash is everything you would want it to be, and at a price, you would find reasonable.
First things first, the durability is certainly there, with a particular dog owner mentioning it holds up well against their two dogs pulling it together.
The retractable leash works smoothly and never gets stuck even when being pulled out very quickly or if locked suddenly when being pulled out, which can otherwise be common issues with retractable dog leashes.
It's also comfortable to hold, and the lock mechanism is reliable. You can lock it at any length you want.
It's an all-round dog retractable leash with great durability, functionality and a perfect length. Similarly, the lock mechanism or handling doesn't leave anything to be desired as well, and that's all with a fairly affordable price tag.
Pros
---
Has just the right length at 16 feet.
Locks at the press of a button.
Allows full, instant retraction of your dog.
Comes with a 30-day refund guarantee.
#5 Flexi Retractable Neon Leash
SALE ALERT!!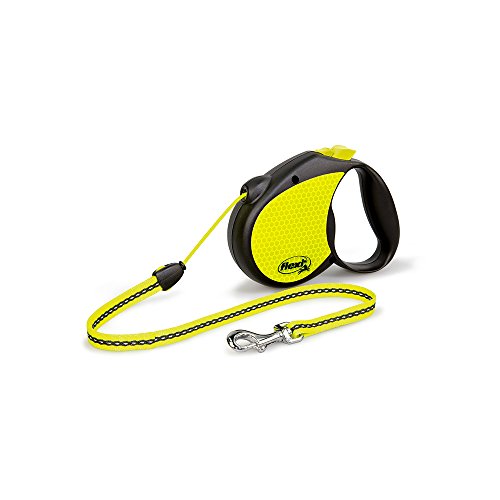 If you have a medium-sized dog, this retractable canine leash will be right up your alley. It's 16 feet long like most other retractable dog leashes we reviewed, but it's specifically designed for dogs weighing up to 44 lbs.
It also comes with improved visibility, thanks to being a neon leash with reflective stickers. This makes it a great option for walking your pooch when the visibility is low, and a considerably safer option in general.
It would turn out to be durable enough for puppies even if they are fond of chewing.
It can sometimes get stuck for a bit if your little furry beast is giving it a hard time, but all you need to do is gently pull it back out and it will start working smoothly again.
We like how it's specifically designed for energetic puppies and medium-sized dogs. It's also one of the safest and most reliable retractable dog leashes on the market, thanks to the increased visibility and convenient handling.
Pros
---
Great visibility makes it much safer.
Durable for energetic puppies.
Allows attaching a bag dispenser.
The tape doesn't hurt the hands.
#6 Dial-A-Distance Retractable Dog Leash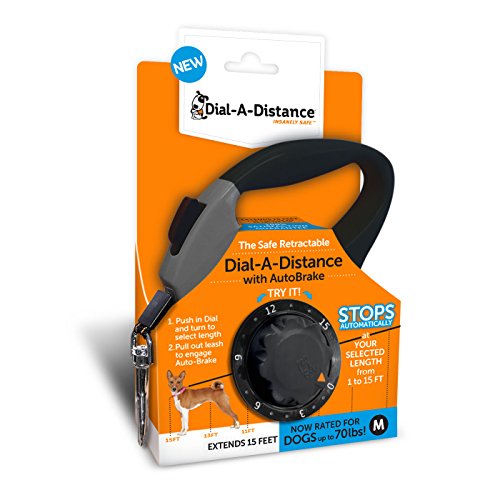 This is one of the latest products on the market that gains much popularity due to its automatic braking system. It means that you can set any length from 0 to 15 feet long (maximum of 15 feet) as the braking point, and the brake will automatically be applied once that leash length is reached.
This allows you to keep your dog within a safe distance from yourself without having to constantly keep an eye on it or putting the brake every now and then.
This leash would be great for medium-sized dogs, as it can handle any dog weighing up to 70 lbs.
It's also incredibly easy and quick to adjust the length by just turning the dial.
The automatic braking system wouldn't fail to impress any dog owner. The price is on the higher side and the durability is not as good as some of the other retractable dog leashes we reviewed above, but if your canine companion weighs well under 70 lbs and is not a heavy puller, then this leash will be a very safe option.
Pros
---
Automatic braking system ensures great safety.
Made using a strong, high-quality tape leash.
Less tangles.
Convenient and easy to use.
#7 EC.TEAK Retractable Dog Leash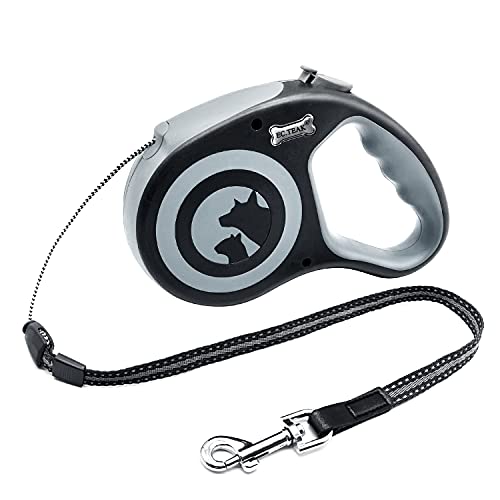 This EC.TEAK Retractable Leash is a terrific way to give your dog more freedom while yet keeping them secure. The leash's length, up to 26 feet, allows you to let your pet wander significantly farther away from you than traditional leashes allow.
This leash is suitable for dogs weighing up to 77 lbs, great for both large and small dogs, providing them absolute freedom while remaining under your control. With this Flexi retractable leash, you can take your dog for a pleasant stroll or on vacation without worrying about it getting lost or escaping.
Anti-slip material is used on the handle to keep it from slipping away under pressure. The grip is very comfy, ensuring that your walks are always enjoyable.
If you are constantly annoyed by how frequently the leash handle slips out of your hands while strolling with an active pooch, this product is comfortable to hold and provides a pleasant walking experience with your dogs. You won't have to worry about the dog leash hurting your hand when the dog runs around wildly.
Pros
---
26-ft retractable dog leash.
Safe and reliable brake system.
Ergonomic anti-slip handle.
Durable materials for long-lasting use.
Return or refund is available.
#8 Mighty Paw Retractable Dog Leash 2.0
SALE ALERT!!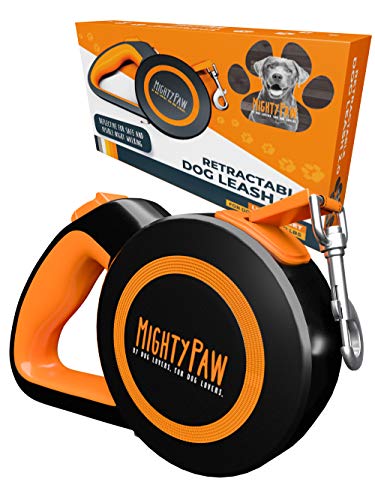 The Mighty Paw Retractable Dog Leash 2.0 is a heavy-duty dog leash that is tangle-free and features reflective tape and a one-touch quick-lock brake system.
This device is suitable for dogs up to 110 lbs. Its durable nylon tape lead can manage even the largest dogs while on a leash, providing you with complete control.
This retractable dog leash includes an anti-slip handle that keeps it tightly in your grip as you walk with your pooch, avoiding it from slipping out of your hands and letting you be more comfortable on longer walks.
We found its rubber handle to be one of the most comfortable grips we've come across. The leash is 16 feet long and locks and unlocks with a simple press of a button. If you enjoy taking your dog for late-night walks, this retractable leash is a great choice!
Pros
---
Tangle-free design.
Best for nighttime walks.
Ergonomic anti-slip handle.
One-touch quick-lock braking system.
16-inch nylon tape leash.
---
Retractable Dog Leash Buyer's Guide
---
Well, we just reviewed the 8 best retractable dog leashes out there, but chances are that some of you are still confused. This is because not everyone's needs are the same, and some of you may be looking for some more help to figure out which product you should go with.
Further, there are things every dog owner using a retractable dog leash must know, even if they have decided on the right product for their furry buddy.
So let's walk you through everything you need to know about using a retractable dog leash (such as going jogging), as well as more useful information on how to choose the right one for your needs.
No Dog Leash Is 100% Safe
While all the dog leashes we reviewed above are durable and safe to a great extent, you can't rely on them completely when it comes to the safety of your furry companion. This is especially given the fact that it's not very uncommon to get a defective leash or have a leash suddenly break while walking your pet pooch.
This means that while a good retractable canine leash will make your job much easier, you would still have to make sure your pooch is always safe when being out.
In fact, most dog trainers and veterinarians wouldn't recommend a retractable dog leash.
To add to our reasons to not completely rely on your leash, dog leashes – no matter how strong the material they are made of – can be chewed through by strong chewers, especially if they try to do it every now and then.
That's not saying these leashes are dangerous; they are usually pretty safe, but you do need to be a bit careful about these issues and keep an eye on your dog even when walking with the retractable leash on. Also, never take signs of wear on your leash lightly, and replace it if you think it might get completely ripped anytime during your walks.
If you walk your dog when it's dark out there, you would want to get a leash made using a reflective material, so that it's easily visible and you don't lose track of it.
Finally, don't overlook the overall functioning of the retractable leash, as it's equally important for your dog's safety. If the leash doesn't glide in and out smoothly – and the brake system is difficult to use or misses to put the brake sometimes – avoid that retractable leash like the plague.
Never Choose A Cheaply Made Product
A cheaply made retractable canine leash may pose great risks to the safety of your dog. Canine accidents due to the leash being low-quality and getting ripped exactly at the wrong time aren't uncommon.
Look for a retractable leash made using a strong material. The ones made using high-quality nylon or that are a "ribbon" leash generally tend to be more durable than cord leashes.
While not necessary, double-stitching can improve the durability of the retractable leash, and sometimes, even improve visibility.
All sellers mention the "capacity" of their leash, which is basically the weight of the dog it can handle safely. The ones that are rated for dogs up to 100 lbs or more would turn out to be the best bet for large dogs, while the ones rated for up to 70 lbs or lower would be a good choice for medium-sized dogs and puppies.
Likewise, it's important to note that a puppy may not be comfortable with a retractable leash designed for large dogs weighing much more. So if you have a puppy, you would want to get a leash designed for smaller dogs and puppies.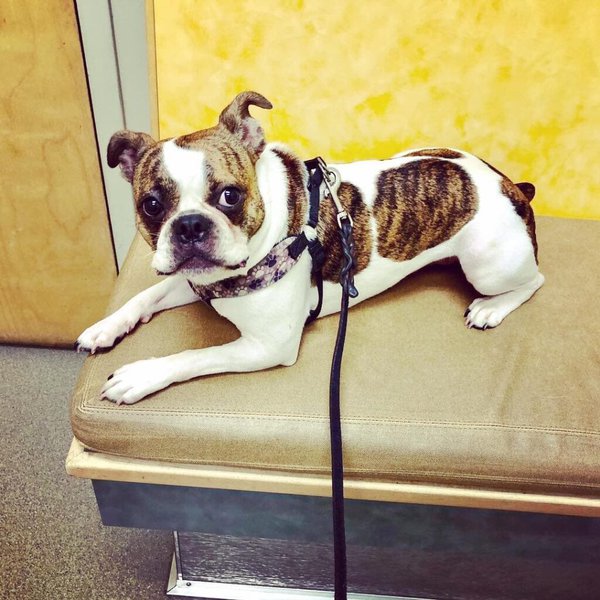 Other Features To Consider
Leash Length
The retractable leash length is obviously a basic but important consideration. Most dog leashes come with a length of 16 feet, which should be enough for most dogs.
However, if your pooch likes to wander a lot or you like to take your furry buddy to a park, then our top pick with 26 feet in length would make more sense for you.
Locking Mechanism
The locking system must be fast and easy to use, and it's a great bonus is it's more flexible as well. The brake shouldn't let the leash be pulled more as soon as it's applied.
Some retractable leashes allow you to set a particular length as an automatic length, which is a great feature to have if you tend to walk your canine companion in crowded areas.
Another leash on our list above comes with a temporary lock feature, which helps stop a dog quickly without any yanking, which can be the case when putting a full lockout of nowhere, especially when your pooch is running fast towards something.
Tangle-Free Retractable Leashes
The tangling is another area that needs your attention. Many retractable leashes are good, until they end up tangled, which can then take quite a while to untangle. It can obviously get frustrating and even be harmful to your pooch.
All the retractable leashes we picked in this post are either tangle-free or easy to untangle, which makes them a great choice, particularly for dogs that like to move around in all directions when taken on a walk.
Ergonomic Grip And Handle
The quality of the handle and grip, too, can be more important than you think. Some customers report the handle being uncomfortable to hold, or being slippery, which can be dangerous too if your pooch is a heavy puller.
We have also considered this factor when reviewing the products in this post. So if you're to pick one of the canine retractable leashes here, you likely wouldn't have any problems with respect to the handle grip.
In fact, for our top pick, one of the customers that bought it even mentioned that their five-year-old can hold the retractable dog leash without any problem, which is pretty impressive when compared with some other cheaper products on the market.
---
Final Thoughts
---
As a final word, we would simply say that unless you're on a very tight budget or have a small puppy, it can't get any better than our top pick.
Our top pick has the longest leash, a fast and reliable braking system, doesn't tangle at all despite being 26 feet long, offers convenient handling, and is super easy to use. Most importantly, however, the kind of durability it offers is hard to come by, even if you're willing to buy a more expensive retractable leash.
Many dog owners have come to terms with this same conclusion for our top pick, including some who have been using the leash for a very long time now.