About BARK Bright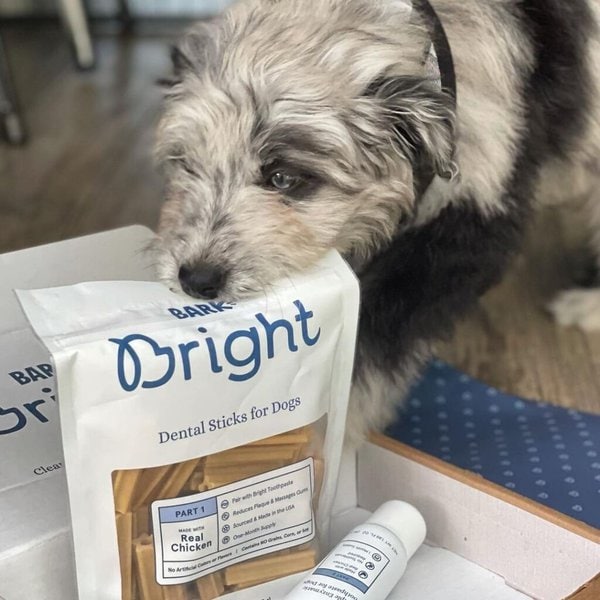 The BARK Bright Dental kit comprises toothpaste and dental sticks that will help your pup's teeth and mouth stay clean. The toothpaste contains three active enzymes that do all the cleaning work. This product, combined with the chicken flavor dental sticks, gives your furry friend a happy mouth and happy life.
BARK Bright Dental is considered to be the world's first dental kit for dogs, and several customers testify that it works. The brand is a part of the BarkBox family sharing its 2.9 million followers on Facebook, and has been operational since March 2020. Its reputation has been noted in CNBC, Reuters, Quartz, and Adweek. CBS News, in particular, has called BarkBox a 'disruptor in the pet toy and treat industry.'
At the time of writing, besides Facebook, the BarkBox brand also has established a solid social media presence with over 430,000 Instagram followers and 130,000 Youtube subscribers. Dogs, like humans, love fresh and clean mouths and teeth. Unfortunately, they are not toothbrush fans. There is a need for an effective dental care system that will take care of dogs of all sizes. This is where BARK Bright comes in. We will explain everything you need to know about BARK Bright subscription boxes and how you can get one for your furry friends.
Overview Of BARK Bright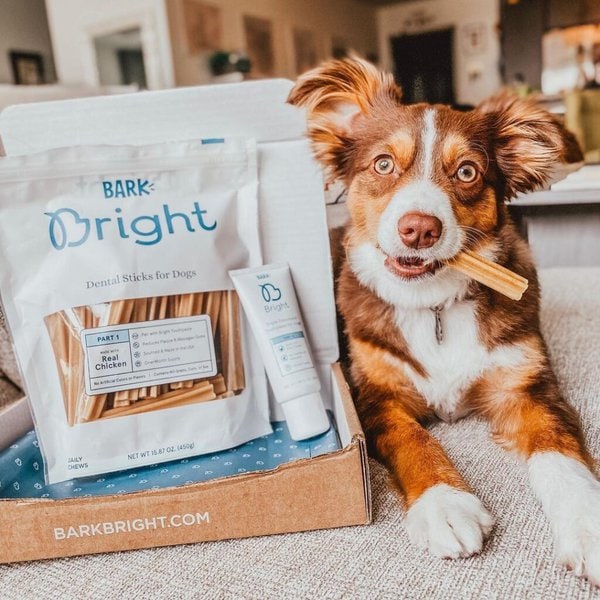 BARK Bright is the dental care pack that lets your pup live a cavity and toothache-free life. It operates as a monthly subscription service of dental toothpaste and dental chews or sticks to suit your dog's needs. You receive these products in a monthly package that will cost you between $30 and $35 per box per month.
Founded in March 2020, BARK Bright is part of the BarkBox family. It set out to be a dog-centric company that offers unique products and services for its most important client – doggies.
Bark, the mother company, was launched in 2012 and had over 2.3 million active subscriptions. It was founded by Carly Strife, Matt Meeker, and Henrik Werdelin. The current CEO, Matt Meeker, manages a team of 450 dog-loving employees over at BarkBox.
Other products under BarkBox include Superchewer and Bark Eats. When picking a box, you should include information about your dog's size, as there are three packages on offer. There is a large, medium, or small box for you to choose from. The box will cost you between $30 and $35 per box per month.
Upon subscription, the package will be shipped for free to your doorstep. In fact, BARK Bright has made successful deliveries to thousands of dogs all over North America.
The dental sticks or chews have a groove design that helps to clean your dog's teeth. In the middle, is a ridge where you can strategically put a little toothpaste to help brush the teeth. Cleaning automatically begins after 30 seconds of chewing on the sticks.
Pros
BARK Bright dental kit is a monthly subscription for your pup.
It will cost you between $30 and $35 per box per month.
It comes with dog chews and toothpaste to give your pup fresh breath and healthy teeth.
Free shipping within North America.
Cons
This caters to dogs only, so do not use it on other pets.
You cannot adjust your subscription box if you have more than one dog.
Not suitable for doggies with chicken allergies.
How Does BARK Bright Work?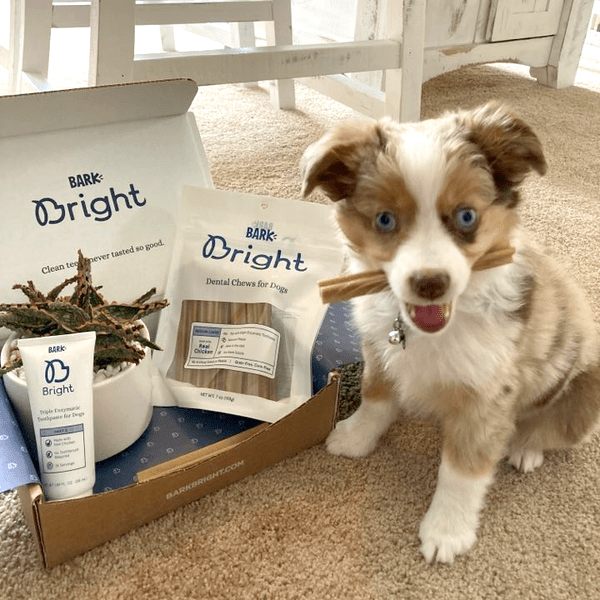 BARK Bright is a unique experience for your pet as they receive toothpaste and a pack of dental chews or sticks. Each package is packaged with enough monthly products depending on your pup's size.
To get started, visit BARK Bright's website to sign up and subscribe by choosing the package that suits your budget. If you are already an existing BarkBox subscriber, the site registration will use the information it has previously and gets processed much quicker.
Next, include your vital information, which includes dog size, name, breed, gender, birthday, address, and payment details. After that, you just sit back and wait for your package to arrive.
If your pup has specific needs like beef, chicken, or turkey allergies, you can customize the box by making changes to the package. You can do this on your account dashboard. Keep in mind that the charges will vary based on the changes you make.
You can choose a package at $35 per box per month. If you opt for the 6-month subscription at $30 per box per month, you will receive a free tooth toy for your pup to enjoy.
BARK Bright has a 100% happiness guarantee. If your dog is not pleased with the goodies, BARK Bright further recommends that both you and your dog email or even chat with its Happy Team about the experience.
BARK Bright Review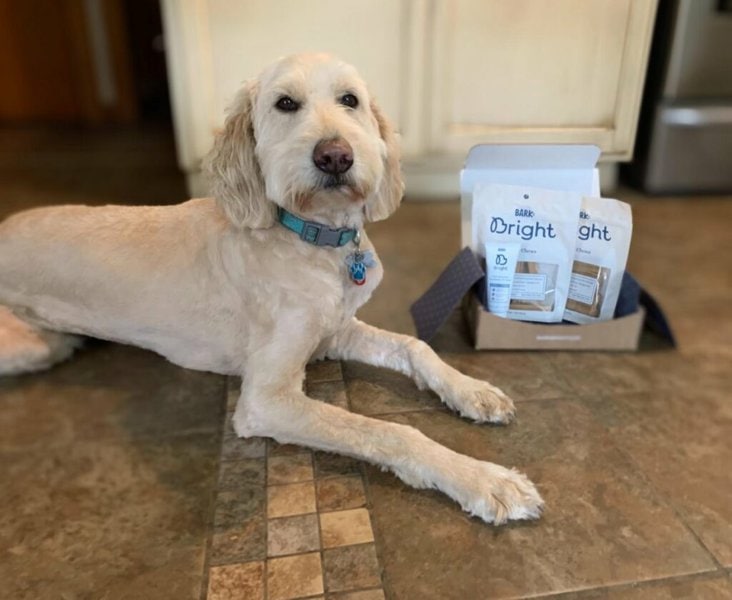 We tried the BARK Bright package and chose the $35 package to test it out. We received the box for medium-sized dogs weighing between 20 to 50 lbs. The smaller dog has a serious case of plaque. Dental cleaning for pups can be expensive, and we needed an affordable, long-term solution.
When you receive the box, it comes with a tub of dental toothpaste, a bag containing 30 dental sticks, and instruction cards. The dental chew design can hold a good amount of toothpaste. It helps scrub teeth and brush them while your pup is chewing on the stick. We suggest that you hold the stick as your pup chews to help slow down how fast they chomp on it.
We have been using the toothpaste and chews for a week now, and their breath has greatly improved. We want to keep using it as instructed to see what effect it has on the teeth. The 100% real chicken sticks are perfect because the dogs love the taste. If your furry friend seems hesitant at first, use that time to gain their trust first.
Does BARK Bright Really Work?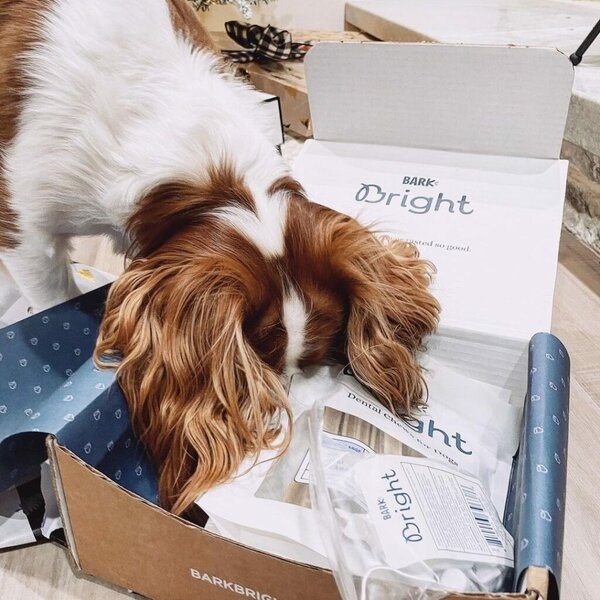 Dental health is not just a human responsibility. Your dogs also need to have their teeth taken care of.
Your BARK Bright box is delivered each month for as little as $1 a day, and your pup is guaranteed noticeably clean teeth and fresh breath in 30 days, or you get your money back!
BARK Bright is a combination of a dental chew and toothpaste with natural ingredients to fight tartar and plaque. In each monthly pack, you receive one month's supply of Dog Dental Chews. You also receive one month's supply of Triple-Enzymatic Dog Toothpaste.
So, how does it work? Easy! First, use the dog toothpaste to brush the dog's teeth, and then they get to bite down on the dental chews. Do this daily, and your pup's grin is good to go.
Do Vets Recommend BARK Bright?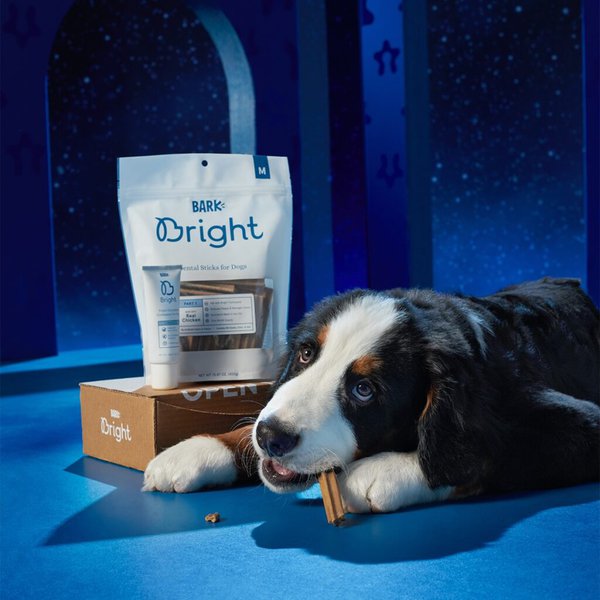 Your dog's bad breath is a challenge that many dog owners face. It is usually a sign of periodontal diseases that many dogs will have by the time they are three years old.
Vets recommend BARK Bright because its products contain three enzymes that help combat bad doggy breath. In addition, its full dental kit comprises toothpaste and dental chews for building stronger and healthier teeth.
We advise that you visit your vet during this journey to ensure that your dog's health is on point. A visit to the vet also lets you know if they have a problem deeper than just bad breath.
Can Dogs Eat Too Many Dental Chews?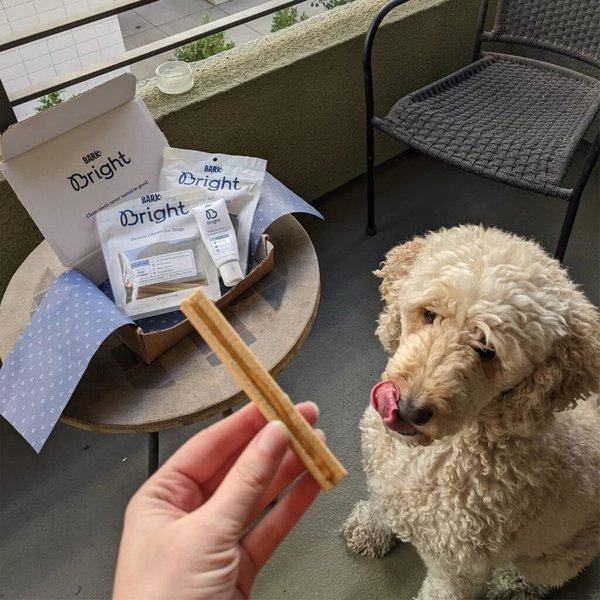 Actually, says Dr. Turner, there are no easy answers. There is an almost endless variety of chews on the market. Some are toys, some are treats, and some are designed to improve the health of your dog's teeth and gums. But the question of which chew is right for your dog is very important.
No matter the type of chew, it is essential to make an informed choice, to avoid the heartache many pet owners, like Fern Finer, have experienced.
The bottom line: Always exercise caution when giving your dog any kind of chew.
Comparison: BARK Bright VS OraVet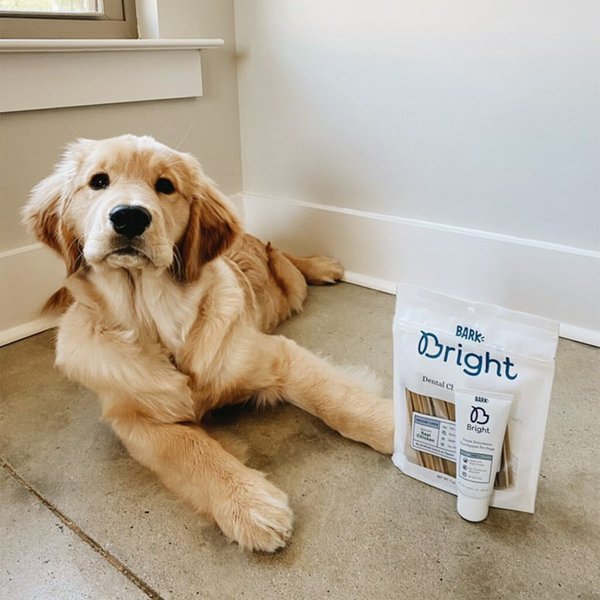 BARK Bright
BARK Bright is a dental kit with chews and toothpaste for the overall protection of your furry friend's teeth and mouth. They are from the same company that offers BarkBox subscription boxes. Like its sister brand, BARK Bright also comes as a subscription box.
BARK Bright is a dental kit for dogs containing dental chews and one enzymatic toothpaste.
The chews help to dislodge plaque and food particles, while the toothpaste helps to protect their teeth from tartar and bad breath.
BARK Bright dental kit comes in a monthly subscription box for about $35 per month and can go as low as $23 per month based on an annual plan.
BARK Bright is a product for both big and small dogs.
OraVet
OraVet is a dental hygiene chews brand which takes care of plaque, bad breath, and tartar. It is a dual-action dissolvable chew that cleans and protects the doggie's teeth. Depending on its size and weight, you can choose the best option for your pup.
OraVet is a brand that specializes in dental hygiene chews.
OraVet contains Delmopinol, which forms a preventive barrier to keep away bacteria, plaque, and tartar that builds up over time.
OraVet gives you a dog chew pack of either 15 or 30 chews, and this product ranges between $14 to $32.50.
OraVet caters to both large and small dogs.
Similarities
Both brands are dental products designed for dogs.
Both brands come with dental chews.
They are perfect for cleaning dog teeth and giving them fresh breath.
Both brands are perfect for big and small dogs.
Differences
BARK Bright is a monthly subscription dental kit, while OraVet contains only dental chews. This means you need to purchase a separate toothpaste if you are going with OraVet.
The price range for BARK Bright is on the higher side than OraVet.
How Much Is BARK Bright?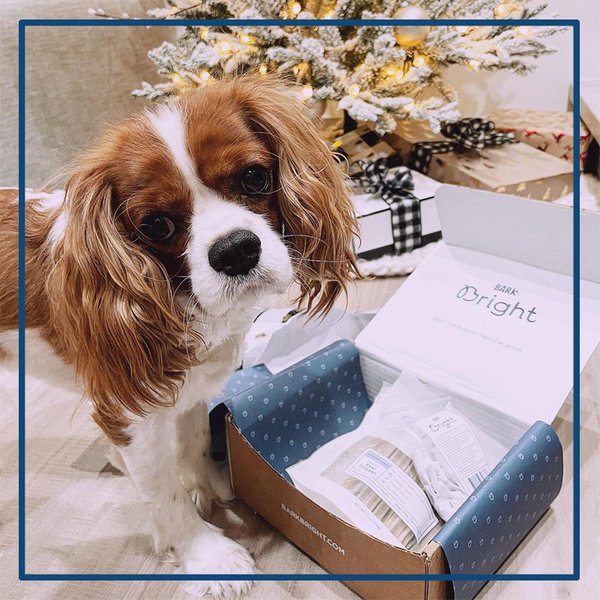 Bar Bright has different subscription options. You can choose the one-month option for $35. There are package deals like the 6-month option for $30 per box, which comes with a pet toy as a gift.
BARK Bright products in each box, if sold separately, can cost more than the set subscription fees. This means that this is a great deal for doggy lovers. Before choosing a suitable package, you will create an online profile where you need to answer questions that describe your pet.
You can also include information on any allergies they have or dietary preferences. The process takes about five minutes to complete.
BARK Bright Reviews: What Do Customers Think?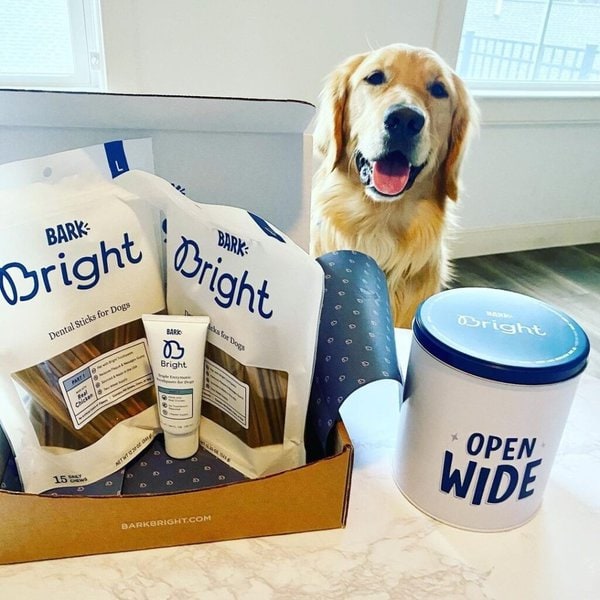 BARK Bright received an average of 4.5 out of 5 stars. This is from over 3,700 reviews from Amazon and Petco combined. Most customers appreciate how easy it is to use the BARK Bright Dental kit. They love how you simply need to apply the toothpaste on the dog chews, and the rest is history.
One review shared thoughts on BARK Bright and considered it a solution for her pet's "unpleasant mouth odors and tartar." The customer loved the taste of the chews and toothpaste, and the pup responded well to BARK Bright.
Another review was glad that their furry friend had gross breath, and now this has been greatly reduced. When it comes to the subscription box, one review took up the Petco 25% discount offer, and their pup loves the dental chews and "flavorful paste."
However, everything does have its downside. For example, one customer review noted that the dental sticks were too small, and the pup did not like the taste. Another customer felt that while the chews were great tasting, the subscription box was too pricey and the chews didn't always last during the cleaning process.
For the most part, customers appreciate BARK Bright and all that it has to offer. Remember, there is a 100% happy guarantee that you can make use of if you happen to be unsatisfied with the product.
Is BARK Bright Worth It?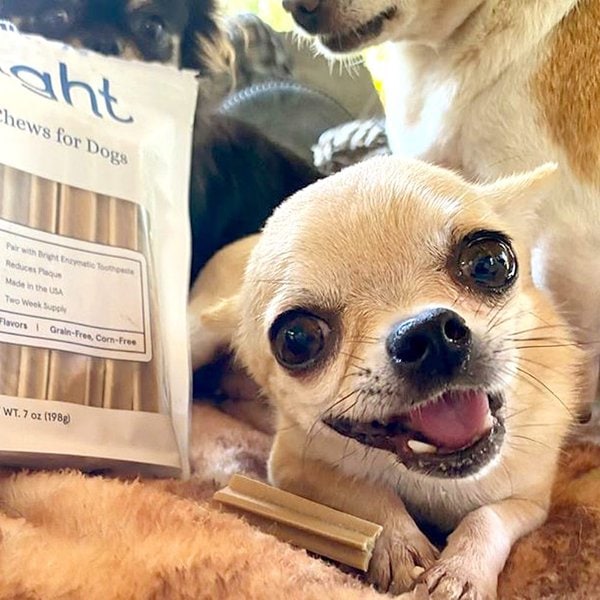 Keeping your pup's teeth clean can be an uphill task. They also want to feel clean and fresh as humans. We love that BARK Bright gives pet owners unique products just for pups.
We love that it is pocket friendly at $35 a month or $30 if you choose the 6-month subscription. This translates to proper dental care for only $1 a day! What is important to remember is if you want to change your subscription, do so before the 15th of that month to avoid a charge.
It helps with bad doggy breath thanks to the three active enzymes in the toothpaste. The dental sticks taste great for most dogs as they are made of 100% real chicken. We appreciate the ridge down the middle of the sticks. All you have to do is place a generous amount of toothpaste along this ridge and let your furry friend chew on it.
We also love the free shipping within North America, so we are always eager for our box to arrive each month. If you live outside this region, shipping will set you back about $8. It is also worth it because the items cost way more if purchased separately.
If you have a problem with your pack, you can reach out to them via email, chat, or social media and take advantage of the 100% happy guarantee. Overall, BARK Bright is worth it.
BARK Bright Promotions And Discounts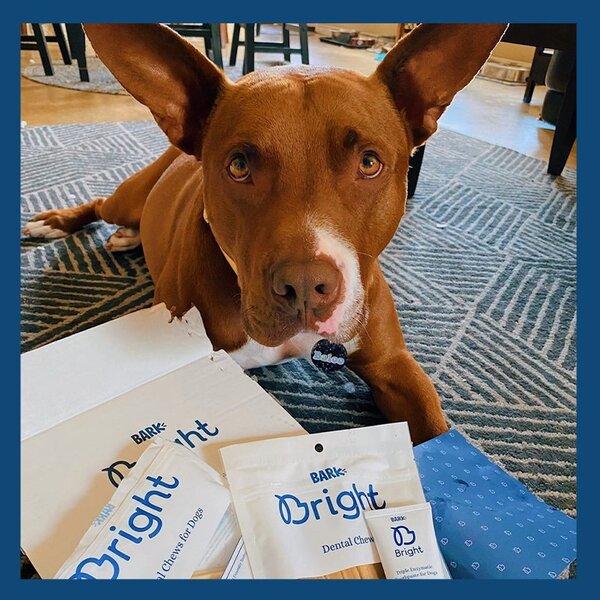 BarkBox has many promotions and discounts from time to time. Sign up for a newsletter or check out the website regularly for updates.
Currently, you can enjoy promotions on the 6-month subscription option. If you opt for this option at $30 a box per month, you will also receive a cool pet toy for your furry buddy to play with.
The BARK Bright dental package in itself is one big discount festival. If you have decided to take it up, especially the 6-month subscription, you can pay as little as $30 per box. That is only $1 daily for fresh breath and white teeth for your furry friend.
Where To Buy BARK Bright OR Sign Up For BARK Bright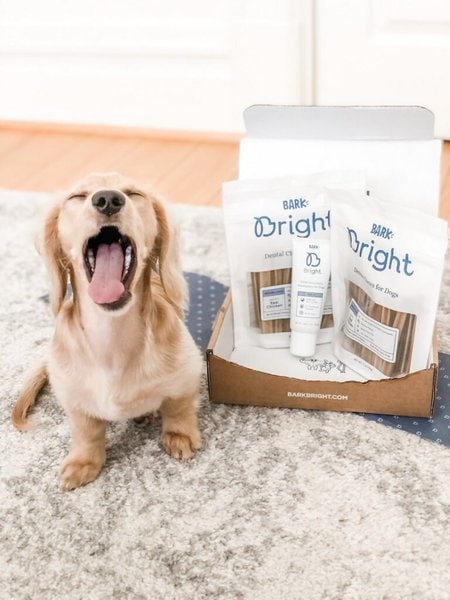 To sign up, all you have to do is create an online profile, answering questions about your dog's size and dietary preferences. You can also choose from the three different sizes available depending on your dog's size.
From there, you can choose a one-month subscription ($35) or a 6-month subscription ($30 per box per month). The entire subscription process takes less than five minutes.
It is important to note that this bundled package is affordable, mostly if you spend $35 or more on dog treats and dental care. However, if you purchase the box items separately, the costs of the individual items will definitely cost more than the package. Do this only if you are trying out a specific item.
FAQs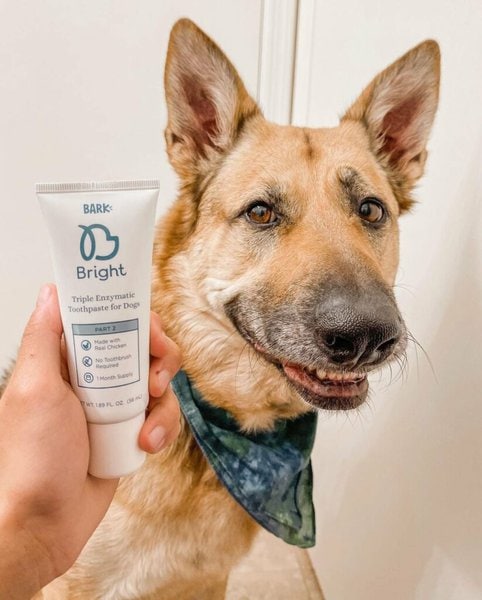 Can We Stop Seeing The Vet For Teeth Cleanings If My Dog Uses BARK Bright Dental?
While BARK Bright dental is a great combination that combats plaque and tartar, you must still visit the vet for regular checkups. Just like humans visit the dentist at least twice a year for a checkup, the same goes for your furry friends. You also need to know if anything in the dental kit can harm or affect your dog in any way.
Will BARK Bright Dental Cure My Dog's Bad Breath And Gingivitis?
Bright dental contains three active enzymes (Psst! It's a trade secret, so their names cannot be revealed) that can help beat your pup's bad breath and gingivitis. Make sure that you use toothpaste and dental chews daily for the best results. If you notice your pet still has a problem with their teeth or gums, you should visit the vet for a checkup.
How Do I Safely Store BARK Bright Dental Chews And Toothpaste?
It would be best if you stored your dental chews and toothpaste in a cool, dry place to avoid compromising their quality. Keep the packages well-wrapped so they can last longer. In addition, you should store them out of reach for your pup, so they do not eat all the chews.
How To Contact BARK Bright
For inquiries related to BARK Bright, you can contact the company via:
Phone number: (855) 520-2275
Email address: happy@BarkBox.com
Physical address: 221 Canal Street, Sixth Floor, New York, NY 10013
Social media platforms: