About Ruff Greens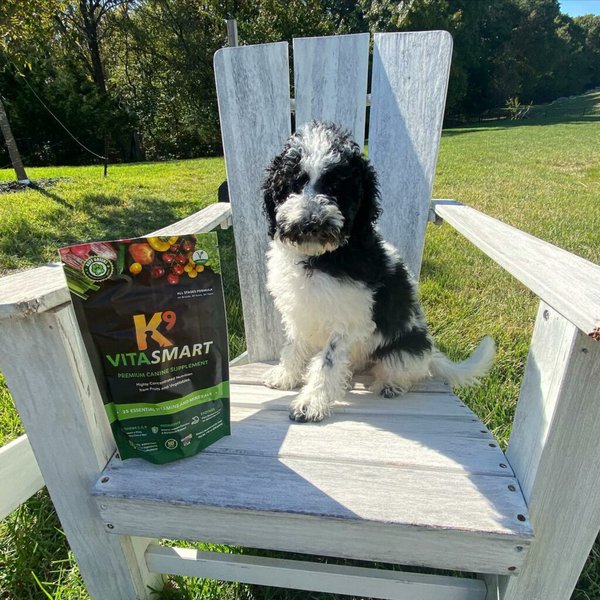 Ruff Greens is a powerful nutritional supplement brand that provides dogs with all the essential nutrients they might be lacking in their diet. Since its establishment in 2015, the brand has gained in popularity over the years and is used by many dog owners. It is also worth mentioning that Ruff Greens has over 11,000 followers on Instagram!
Ruff Greens Inc. is the parent company of K9 VitaSmart, a premium canine nutritional supplement. K9 VitaSmart returns all the essential ingredients in your dog's food that the manufacturing process took out.
The company has appointed Dr. Dennis Black, a naturopathic doctor who formerly headed Texas Superfood's human supplement company, as the CEO of Ruff Greens. It is also committed to creating the best dog nutritional supplement products for customers. Hence, Ruff Greens' products are produced in the United States at an FDA-registered facility. Their main goal is to keep your dog on the road to greater and superior health at a reasonable cost.
Overview Of Ruff Greens Nutritional Packs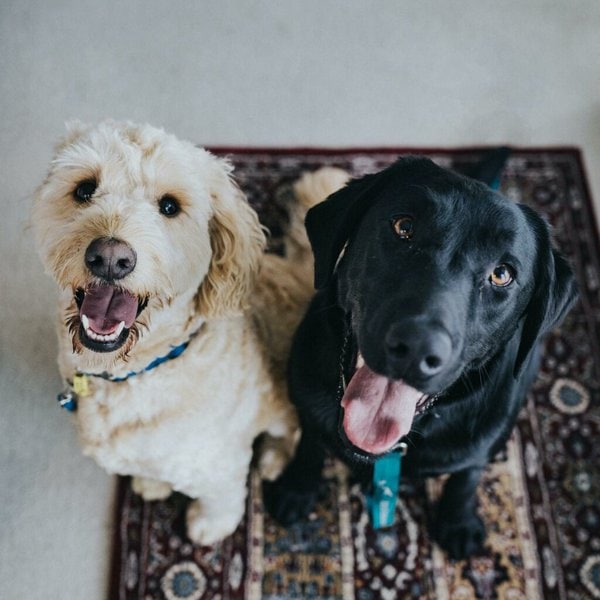 Ruff Greens is a proprietary natural blend of 20 essential vitamins and minerals, 15 powerful probiotics, omega-3, -6, and -9 oils, over 20 digestive enzymes, and plenty of anti-oxidants.
All these ingredients make a perfect blend that dogs love. So the brand should be your first option if you want your pooch to live its healthiest life.
In addition, if you have been a dog owner for a while, you must have heard about pet food recalls because of dangerous and toxic ingredients. Luckily, Ruff Greens only uses live nutrients in the manufacturing practices, and no ingredients are exposed to extreme heat and pressure.
This guarantees that all the fragile digestive enzymes, probiotics, and omega fatty acids get to your pooch in the live state they need to be.
Ruff Greens seeks to keep dogs happy by improving their diet and educating owners about the benefits of successful pooch nutrition.
Made in the USA in an FDA-registered facility.
Supports shiny coat, healthy joints, and better energy levels – You are guaranteed joint, brain, and heart support while boosting your immune function.
Easy and convenient powder – Ruff Greens powder is easy to feed your dog, where you can feed your dog separately or mix it in your pooch's current food.
100% natural product – All products use natural ingredients, making them safe for consumption with your dog.
How Do Ruff Greens Work?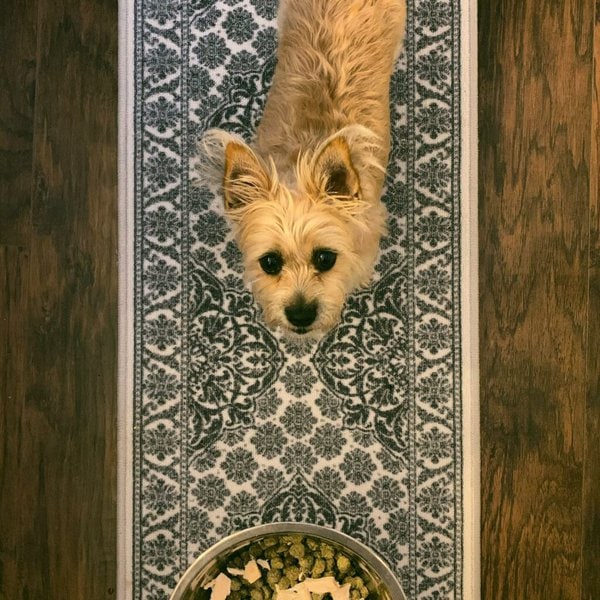 Generally, Ruff Greens is a supplement product, and therefore its nutritional value is less crucial than if it was a food product. However, Ruff Greens contains high levels of specific vitamins and minerals beneficial to your dog's health and wellness.
Examples of these vitamins include the B vitamins, such as B3, B6, and B9. Some of the minerals include zinc, selenium, and chromium. These vitamins and minerals offer several benefits, including:
Improving The Brain And Nerve Function
Thanks to the omega oils, Ruff Greens is packed with, the products are great for helping to support your pooch's heart, brain, and immune function. In addition, it supports a shiny, healthy coat and fewer skin irritations.
Increasing Your Dog's Energy Levels 
Ruff Greens contains omega-3, -6, and -9 oils, all of which bring the perfect balance for dogs to have better mobility and joint health. With the best mobility, you are guaranteed to see an increase in your dog's energy levels. 
Notably, the wrong combination of omega oils can increase inflammation in your dog; therefore, this perfect balance of omega oils is necessary.
A More Robust Immune System
Ruff Greens provides your pooch with proper nutrition to keep it healthy from natural ingredients and hence a more robust immune system.
Ruff Greens is 100% vegan, and the product is made from human-grade foods in an FDA-Registered facility. This ensures your dog will get nothing but the best nutrition.
Less Odor And Improved Breath
Since Ruff Greens is packed with probiotics and enzymes in its formula, it provides a powerful method, via diet, to combat pet odor in dogs. Some users have claimed to see a difference within days.
All Natural Ingredients
Ruff Greens is made with only natural ingredients and does not contain artificial ingredients such as fillers, corn, wheat, or artificial colors that may harm your dog. All the ingredients are 100% natural and healthy, and they have been carefully selected to avoid dogs' health issues and common diseases. 
Ruff Greens not only provides the essential live nutrients your dog needs to be in its best health but also the nutrition it needs to stay at its best.
Ruff Greens Products Review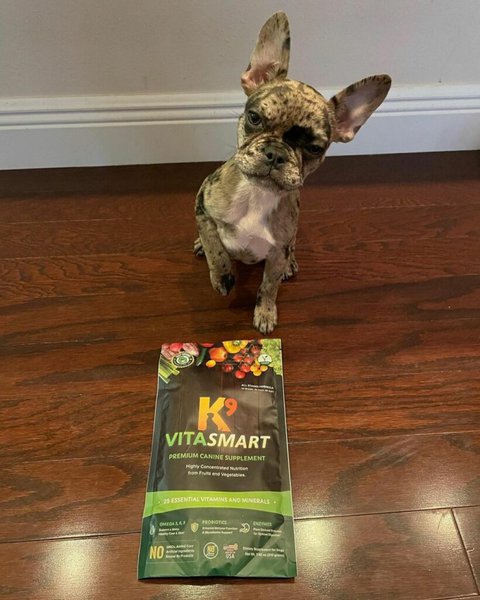 Ruff Greens has a small product range, and its core powdered supplement is its most popular product. The powdered supplement is meant to be mixed with your pooch's normal diet, but it can also be given at any other time.
You must be certainly impressed with Ruff Greens as a brand and are pleasantly curious, at this point, to start browsing through their amazing line of products available.
Nutrition Products
One of the categories Ruff Greens has in its line of products is its bespoke nutrition products for dogs.
Ruff Greens Regular Size
Ruff Greens is a concentrated blend of vegetables, fruits, and digestive enzymes designed to give your dog the essential nutrition they need. The product is meant for all dog breeds and sizes, and it comes in a regular-sized bag weighing 7.4 oz.
Some dogs will enjoy the product straight from your hand, but others may need you to place it on something or mix it with their current dog food.
However, some dogs enjoy it when mixed with wet food or water. Therefore, since every dog is different, try all the methods to see how the pooch likes it best.
Ruff Greens Large Size
This product is quite similar to the above, and the difference is the size. Ruff Greens' large size weighs 14.8 oz, double the regular pack. You should feed your dog one tablespoon a day if under 40 lbs and two tablespoons if over 40 lbs.
Ruff Greens Pack Pak
The Ruff Green Pack Pak is suitable for all dog sizes and breeds, and it weighs 4.6 lbs, meaning it will be a super saver if you want to make a bulk purchase.
Like with the regular and large size pack, you should feed your pooch one tablespoon if it is under 40 lbs and two tablespoons if it is over 40 lbs.
Ruff Chews
Ruff Chews is a favorite as most dogs will love its taste and beg you for more. They are Beef Rawhide Chews produced using a process that makes them easily digestible thanks to the highly soluble ingredients. The product will give you about 30 chews, and it is a suitable treat or a training snack for your pooch.
Ruff Chews is made with natural ingredients and includes minerals, vitamins, and nutrients. It is meant for all dog breeds and sizes, and its chewy texture will reduce plaque, clean its teeth and minimize tartar buildup. However, the product is only meant for supplemental or intermittent feeding.
Pet Hemp Oil
Organic full-spectrum hemp oil is suitable and great for dogs and cats with anxiety issues. It is a calming aid that helps soothe your pooch's nerves.
These pet tinctures contain full-spectrum hemp oil with MCT Oil and all-natural beef flavoring. It is suitable for all dog breeds, and it's safe and effective for all sizes and types. It is designed to help promote relaxation in your pets and reduce inflammation, hyperactivity, and pain.
Play Toys
The next category of products Ruff Greens has is its play toys for dogs, as it is an important tool a dog will need in its life.
Holy Moly
All dogs enjoy a great doughnut, and if you are looking for a new favorite toy for your pooch, this is it. The Ruff Greens Indestructible Holy Moly Play Toy is a 100% FDA- approved solid rubber designed to withstand the toughest chewers.
Holy Moly is made for play, and thanks to its springy texture, it is gentle on teeth making it a suitable toy for all walks of life. In addition, it is weatherproof, bouncy, and eco-friendly, meaning it can be used outdoors, including lake play.
Ruff Fish
The Ruff Fish play toy is a bouncy floating toy made from FDA-approved solid rubber and can withstand the toughest chewers. In addition, it is eco-friendly and safe for use since it is free of BPAs, latex, and phthalates.
The Fish play toy is gentle on your pooch's teeth and qualifies as a perfect play toy for the outdoors. In addition, since it's weatherproof, the product can be used to play water games with your dog.
Nutty Dog
Thanks to its crunchy center, Ruff Greens Nutty Dog is the perfect play toy to stimulate your pooch's mouth for hours of enjoyment and exercise. It is made of a rugged, bendable, and puncture-resistant rubber material that can withstand all sorts of outdoor fun.
The product is available in two sizes, meaning you can choose the best size for your pooch, and you can stuff it with treats to surprise your pooch when it comes to playtime.
RuffBall
Ruffballs should be a go-to choice for any dog owner looking to drop tennis balls that get soggy quickly and get a durable toy that will never pop and will float. Also, thanks to its floating rubber material, it is a great option for playing fetch at the beach or pool.
In addition, Ruffball is non-toxic, meaning it's safe and free of Latex, BPAs, and Phthalates. This should give you confidence about letting your pooch play with it for hours.
RuffBone
Are you interested in giving your pooch a great mouth workout because it is a chewer? RuffBone is a chew dog bone made with durable rubber that withstands the toughest chewers. It is the best toy for chewing and works great for playing a fetch or tug-o-war battle game.
RuffBone play toy is suitable for dogs of all sizes, and it comes in various bright neon colors. This makes it super visible and hence easy to find it outdoors. In addition, it is free of latex, BPAs, and phthalates, making it safe for your dog to play with continuously.
Accessories
Accompanying these product categories are miscellaneous accessories that you can get for your beloved dog.
Reflective Jogging Hat
Ruff Greens company also has a reflective jogging hat for the dog owner. It allows the owner to wear it on any occasion and run confidently, thanks to the reflective accents on the back and front for increased visibility.
The reflective jogging hat is made of 100% cotton twill, featuring a six-panel design and an adjustable hook-and-loop closure to allow a super comfortable fit. In addition, one size fits most; hence fitting will not be an issue.
What Ingredients Are In Ruff Greens Nutritional Packs?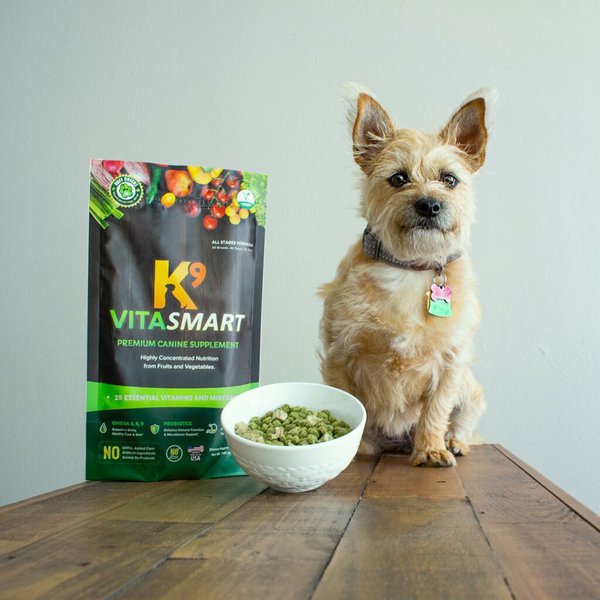 The supplement includes core ingredients of grains such as Wheat, Rice Bran, and Barley. These ingredients are great sources of nutrition, such as fiber, plant-based protein, and carbohydrates.
Apart from the grain ingredients, Ruff Greens also includes several beneficial additions, including;
Brewer's yeast
Flaxseed
Vegetables
Powdered fruits and probiotics
Flaxseed is a great plant-based source of omega-3 fatty acids, whereas Brewer's yeast is a reliable source of several vitamins and minerals like the B Vitamins.
Is Ruff Greens Good For Your Dog?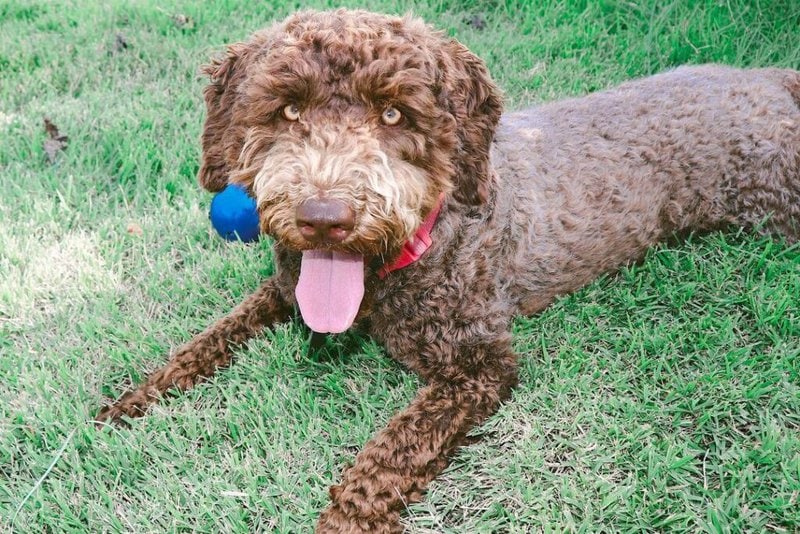 The simple answer is yes. Ruff Greens is good for your dog because the company uses live nutrients in its ingredients, ensuring your pooch gets the ingredients in the live state they need, and it is easy on your dog's metabolism.
Ruff Greens gives a first Trial Bag for free if you are unsure whether your dog will enjoy then you can order once your dog likes it. Since dogs are picky eaters sometimes, this is helpful as it will help you avoid something that your dog will not eat.
The goal of this free bag is to ensure your dog eats it, and you might also see some results during the trial period. However, if you don't, practice patience because results come with time. So, if you got nothing to lose, why not try it to improve your dog's overall health?
Can Humans Eat Ruff Greens?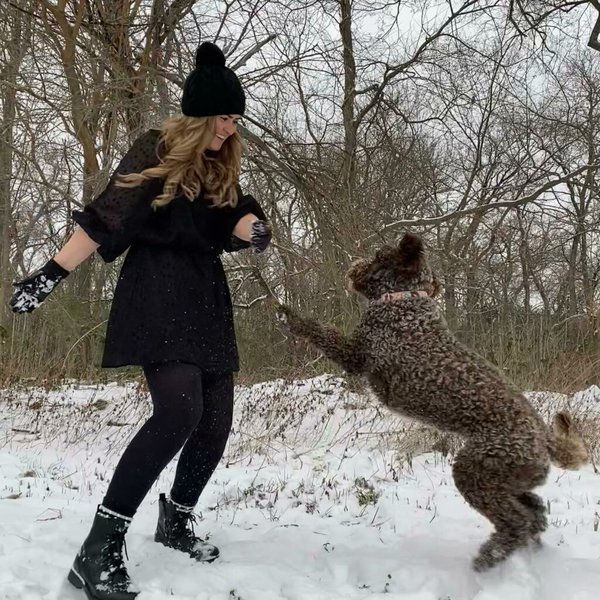 Generally, dog food is not designed to cater to the unique nutritional needs of humans, even though it is made from ingredients that are safe for humans to consume.
In addition, dogs have different vitamins and mineral needs than humans, and long-term use could make you very sick.
So, although Ruff Greens supplements may not be immediately toxic, an increase in your consumption could result in developing foodborne illnesses.
Some nutrients in dog food are reported to be toxic to humans at high doses, and their total nutrition composition is not sufficient for humans. For instance, dogs need more protein than an average human body would be comfortable consuming.
Notably, Ruff Greens does not contain animal by-products like intestines and ground-up bones, making it suitable for consumption. However, while consumption in small amounts would not significantly hurt you, it is better to stick to human food.
Do Ruff Greens Contain Any Meat or Meat By-Products?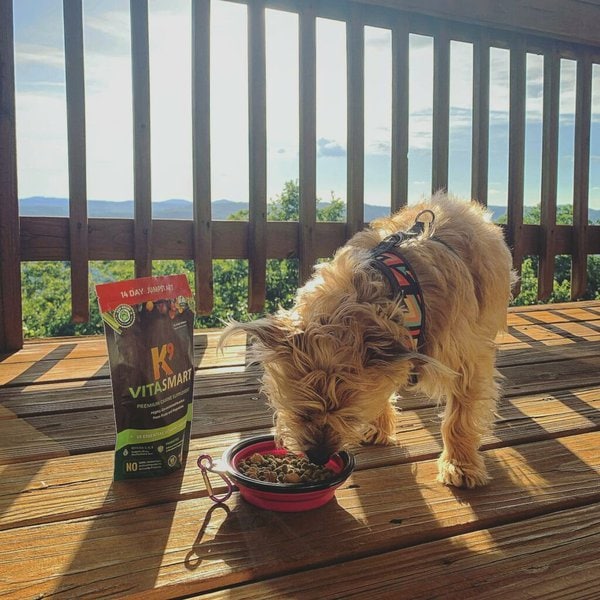 Ruff Greens does not contain any meat or meat by-products. It is 100% vegan and a plant-based product packed with healthy bio-available vitamins, minerals, proteins, probiotics, and enzymes that your pooch will need for superior health.
In addition, Ruff Greens does not contain any fillers, GMOs, antibiotics, artificial sweeteners, colors or flavors, hormones, or any Chinese ingredients.
Who Is Ruff Greens For?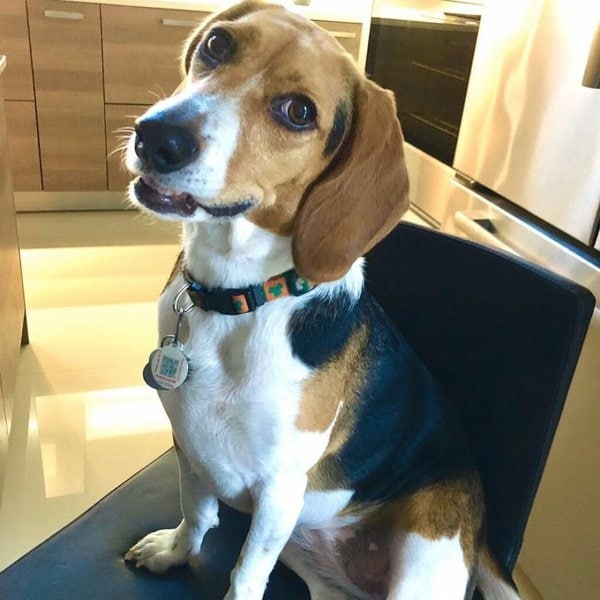 Ruff Greens is meant for dogs who need a boost in their immune system to match the requirements. Dogs are naturally exposed to deadly bacteria and germs all the time, and therefore your dog should be in good shape to be able to fight back the germs.
Aside from that, considering the physical activity of a middle-aged dog, it will need its joints to be robust to keep them working all day long. These supplements provide an easy way to maintain your pooch's joint health.
In addition, Ruff Greens products are a multivitamin source. Therefore, if you have a busy schedule and miss out on balanced nutrition, you can still manage to maintain the supply of essential vitamins in your dog's diet.
Comparison: Ruff Greens VS Healthybud Meal Toppers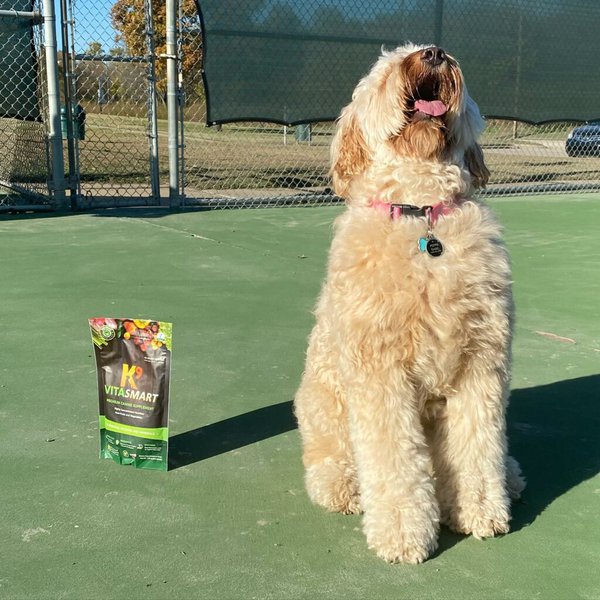 As with many great brands for dog food, both Ruff Greens and Healthybud meal toppers are designed to be mixed with your puppy's normal diet.
Ruff Greens
A free-trial offer.
Offers a subscription service.
Contains no chemical additives.
A great source of minerals and vitamins.
Contains omega-3 essential oils.
HealthyBud
Ethically sourced meat that is both hormone- and antibiotic-free.
A source of human-grade healing ingredients.
Healing foods that support your dog's immune system.
Contains no artificial flavors or colors.
Non-GMO and grain-free.
Both products are made from human-grade ingredients meaning they will be safe for dogs. But first, let's see the comparison between Ruff Greens and Healthybud Meal Toppers. 
Ruff Greens has been in the market for a longer period, and it was founded in 2015. in contrast, Healthybud was founded in 2019. 
Ruff Greens contains high vitamin levels and minerals to improve your pooch's health and wellness. On the other hand, Healthybud provides dog owners with healing foods to speed up their pooch's recovery.
Ruff Greens benefit your pooch by increasing energy levels, improving brain and nerve functions, and boosting the immune system. HealthyBud is great for common dog health issues, like poor joint health, dry coat, or anxiety.
Ruff Greens has various dog food options, but Healthybud has a wider range of dog food products, including wet food and dry food.
Ruff Greens have a sustainable nutritional value. However, Healthybud has a slightly more impressive proportion of protein and fat in its supplements.
How Much Is Ruff Greens?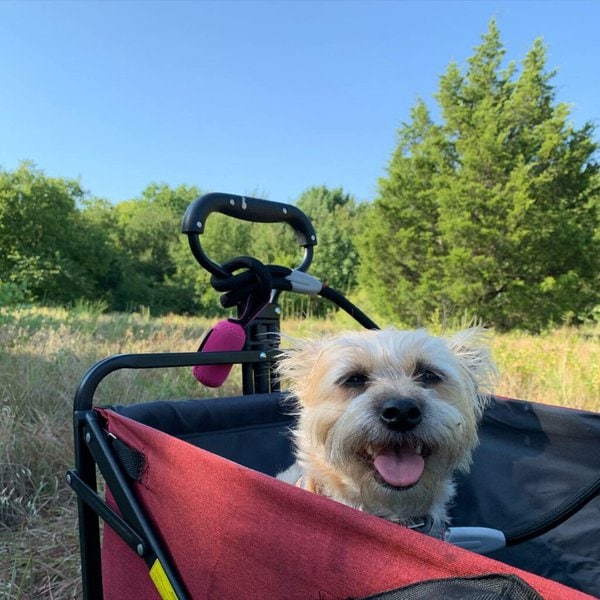 The full range of Ruff Greens products spans between $11.95 and $595.95. Its cheapest item is actually the Indestructible Dog Toy you can get for your dog, in the shape of either a ball or a doughnut.
Browsing through the shopping category of nutrition products, we have found that the 7.4-oz Regular Size bag costs $79.95, the 14.8-oz Large Size bag costs $159.95, and the 4.6-lb Pack Pak costs $595.95. However, the Ruff Greens Pack Pak is currently on sale at $100 less, where its sale price is $495.95.
Although the price range is higher than other dog food options, you are guaranteed to get the utmost value for your money. You will thank yourself when you see the benefits of your dog, thanks to Ruff Greens' quality and ingredients.
Ruff Greens Reviews: What Do Customers Think?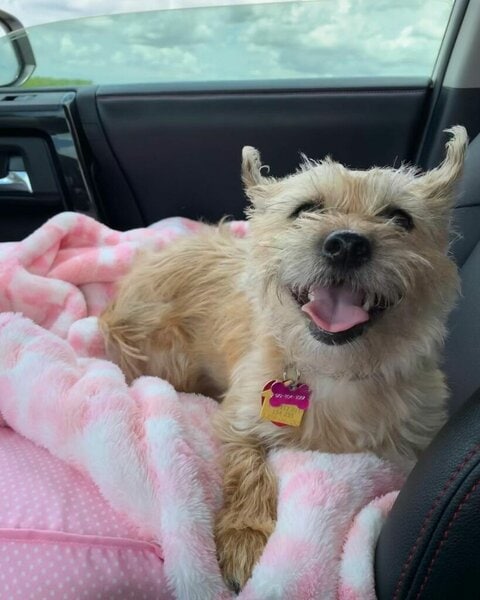 Most shoppers like knowing what other people think about the product before purchasing. It's a part of the research. So, let's see what other customers had to say about Ruff Greens.
We have rounded up some comments and ratings around the web to explain more about the reliability, safety, and quality of Ruff Greens and other products from the company. First, let's check out some ratings of the best sellers on the Ruff Greens website:
Ruff Greens, Regular Size – A 4.77-star rating from 745 reviews
Ruff Greens, Large Size – A 4.69-star rating from 144 reviews
Ruff Greens, The Pack Pak – A 5-star rating from 1 review
RuffBone Indestructible Dog Toy – A 4-star rating from 1 review
Let's examine a closer look at the Ruff Greens Regular Size. Its review or comment section is full of positivity, indicating how Ruff Greens has been beneficial to many dogs.
For example, one reviewer praised how Ruff Greens helped reduce the itching and licking from her pooch within a few weeks – visible results within three weeks!
"Groot enjoyed his ruff greens from the first day! His itching & licking has gotten so much better in the first three weeks. His bowel movements are firmer, too, as he had pretty loose stools. Can't wait to see what 90 days will look like! He's a Puggle, and allergies are a common problem!"
Ruff Greens supplements are said to be suitable for all types of dogs, and one claim was asserted by a reviewer who had a 6-year-old Cocker Spaniel, a picky eater with allergies, and saw an improvement in the dog's energy after having behavioral issues with its meals.
"We are only a few days into our 14 day supply, but we can already see an improvement. He is eating very well, even licking his bowl and my finger if it has Ruff Greens residue. He rests more soundly and seems to have more energy."
Others mentioned seeing an improvement in their dog's coat within two weeks, better breath and fuller, more beautiful, and softer fur.
For your overall performance and reliability, here is a summary of the reviews:
Quality – 9/10
Taste – 10/10
Safety – 10/10
Variety – 9/10
Reliability – 10/10
Value for money – 8/10
Is Ruff Greens Worth It?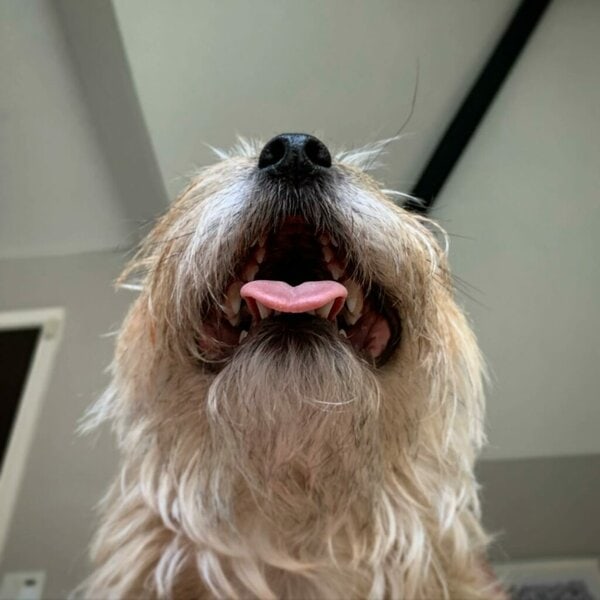 Yes, Ruff Greens is worth it because it ensures your dog gets a balanced diet. The company's concept is that its products contain vitamins and plenty of minerals that will help boost metabolism.
Many of these vitamins and minerals are not present in regular dog food. Therefore, you can feed the supplements by mixing them with the available food or feed your dog independently.
These Ruff Greens supplements are packed with various vitamins such as B3, B6, and B9 and also contain zinc, chromium, and selenium. These trace minerals will offer a ready boost for your dog.
In addition, the supplements don't contain meat or fish-based ingredients, but you can get the essential proteins by choosing a balanced dog food diet. Finally, you can serve the supplement as a dessert after your dog enjoys the main course at dinner.
Ruff Greens Promotions And Discounts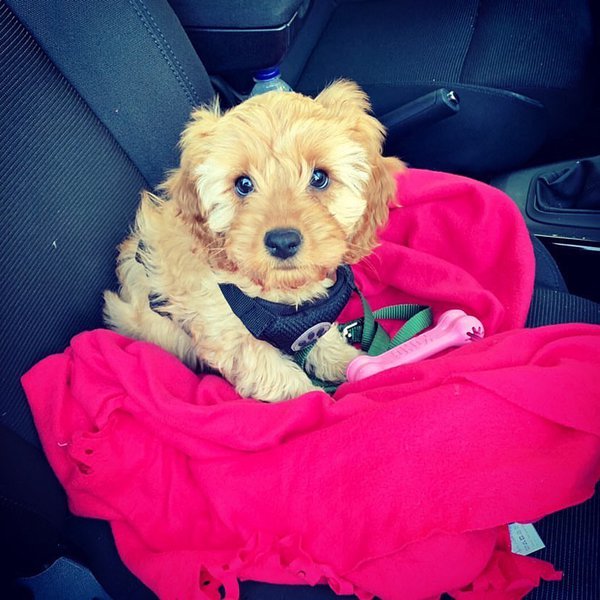 Who doesn't love promotions and discounts? Not me! Here are some discounts and promotions to enjoy while shopping for Ruff Greens' nutrition and play toys.
A 14-day trial for $14.95 at Ruff Greens
$20 off for purchases at the Ruff Greens website with a minimum order of $100 (Coupon code – S100S20)
Extra 20% off for orders above $100 (Coupon code – BUDDY)
10% off for the VitaSmart Large Bag (Coupon code – VITA10CO)
Save 30% off toys at Ruffgreens.com (Code – RUFFTOYS30)
In addition, Ruff Greens has a loyalty program that allows a dog owner to receive a 25% per bag discount off the regular price of every monthly order. The company will send canine supplements at the shipping frequency you calculated, depending on the number and size of dogs and how much Ruff Greens your dog gets per day.
As long as you are in the Loyalty Program, you will still receive the 25% per bag discount. However, you can cancel at any time for no reason, and you will not incur any cancellation fees or penalties.
Where To Buy Ruff Greens OR Sign Up For Ruff Greens?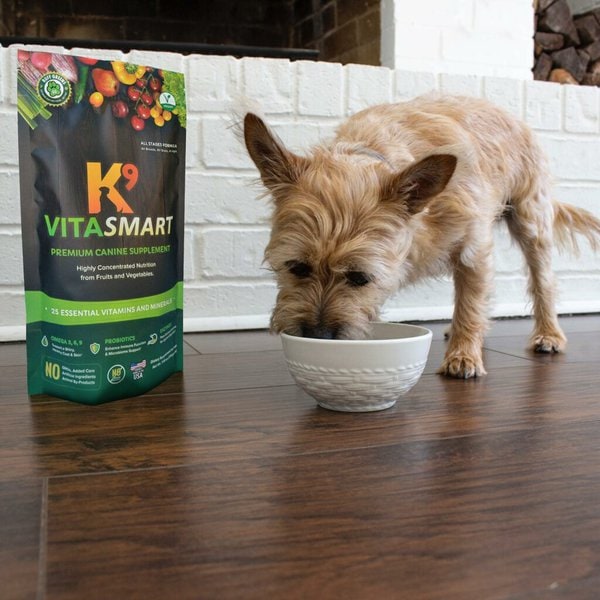 The best place to purchase Ruff Greens is from their official website. However, retailers sell the products on sites like Amazon but beware of the price.
Most dog owners prefer to purchase Ruff Greens directly from the website because apart from the cost that could be slightly cheaper, you are also dealing with the manufacturers. But, of course, this applies to all other Ruff Greens Products.
Notably, the best place to purchase your Ruff Greens is where it's most convenient for you.
FAQs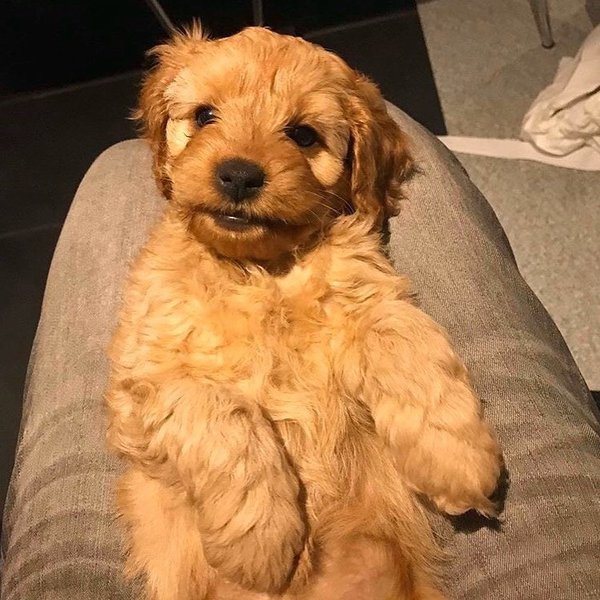 How Long Do Ruff Greens Last?
An unopened bag of Ruff Greens will last two years from the manufacture date. Store your bag in a cool environment away from direct sunlight for the best results.
Notably, if you are using the Tub of the Pack Pak of Ruff Greens or more than one bag every month, it is advisable to refrigerate or freeze some of the product. This is necessary, especially if you are not actively using it.
Freezing Ruff Greens does not negatively affect the product and will help preserve freshness.
How Many Times Should I Feed My Dog Ruff Greens?
Ruff Greens only states how much a dog owner should feed their dog per day. To answer, you can break the dose and feed your pooch throughout the day in small servings or feed it in one serving.
Also, feeding your pooch slightly more than the daily dose won't hurt your pooch. However, for an elderly or a pregnant dog, you should slowly work your way to doubling the dose. 
How Long Will It Take Before I See Results?
The amount of time it takes to see results with Ruff Greens varies from one dog to another. Therefore, some dogs might see some results during the free trial period, but others won't have results that soon. 
It is necessary to give your pooch Ruff Greens for at least 90 days, and you will have a healthier dog.
How To Contact Ruff Greens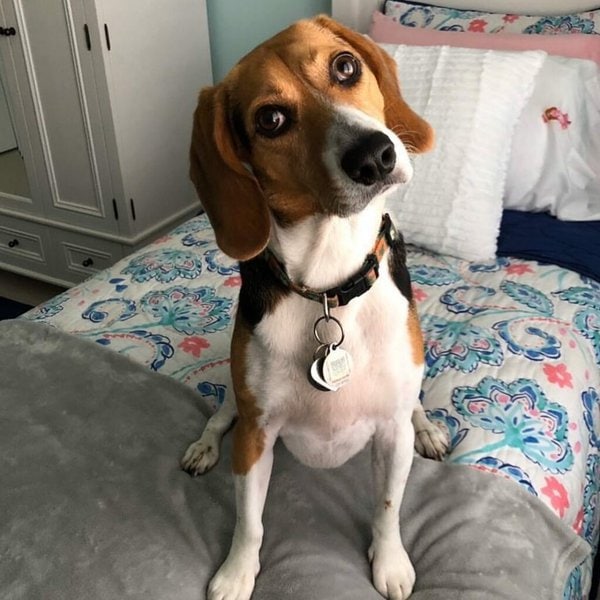 You can contact Ruff Greens by filling out their contact form.
For inquiries unrelated to Ruff Greens, you can contact the company via:
Phone number: (833) 783-3364
Email address: info@ruffgreens.com
Physical address: 2387 Midway Road, Carrollton, TX 75006
Social media platforms: