About Big Lu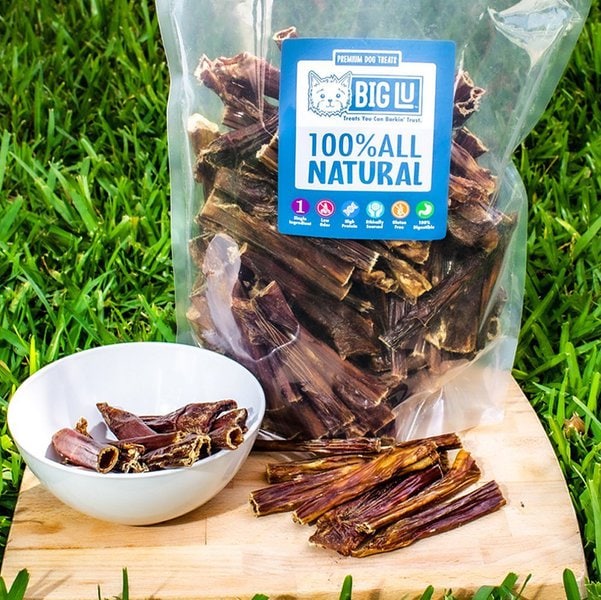 Big Lu is a dog treats company that prides itself on providing pups with artisanal, all-natural chews. The treats include but are not limited to tripe, bully sticks, and ears. Each product has been worked on by in-house bakers who strive to offer all dogs an opportunity to the tastiest and healthiest dog chews and treats.
Founded in 2020, Big Lu is currently building its online presence and has 100 Facebook followers and 566 Instagram followers. It is considered one of the best doggy treats for small pups.
Big Lu took it a step further and turned this into a subscription box service. Depending on your dog's size and breed, you can order boxes for as little as $29.90 per box per month. The flavors available included chicken, hare, beef, and pork. All animal products used are from grass-fed animals. You get to enjoy free shipping across North America.
Overview Of Big Lu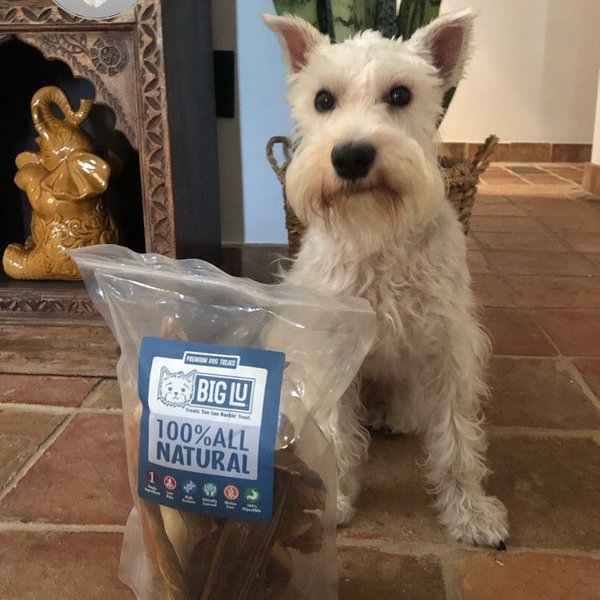 Big Lu is a company that offers subscription boxes for your furry friends. Big Lu has natural dog treats and chews and contains no additives, hormones, or antibiotics. The chews are created in conjunction with in-house bakers who are constantly sharing doggy treat recipes and flavors that your pup will love.
Big Lu was founded in July 2020. Big Lu's mission is to make quality treats that are affordable and loved by dogs across the United States. The company works with in-house experts who create the best dog treats for pups of all ages and sizes. Treats available include jerky treats, ear treats, burgers, sausages, and trachea flats. Benzinga reports that Big Lu treats "aren't just the average, run-of-the-mill variety."
Subscription boxes are shipped by FedEx Ground within 48 hours and are at the customer's doorstep within 3 to 5 business days. There is a 30-day money-back guarantee available.
By logging on to the Big Lu website, you can create a profile for yourself and your pup. Next, you choose a subscription box that works for your pup. They cost between $29.90 and $39.99 with free shipping.
Pros Of Big Lu
Big Lu is a dog treat monthly subscription for your pup.
The subscription boxes cost between $29.90 and $39.99.
There are five types of boxes, each with different types of treats to choose from.
The treats store has different types of treats that you can request to be added to your box at an extra cost.
Free shipping within North America.
Cons Of Big Lu
These are treats exclusive to dogs – you have to get different treats for your other pets.
Your subscription box cannot be adjusted if you have more than one dog.
Not all of their dog treats are suitable for dogs with allergies.
How Does Big Lu Work?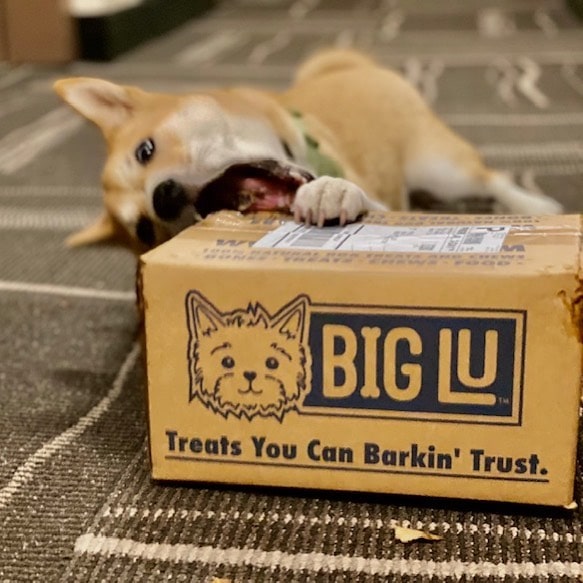 It all starts by visiting Big Lu's website to sign up or log in to your account. On the dashboard, you are able to manage your subscriptions and billing address. All you have to do is choose the subscription box you want. You can choose either the Ear Lover's, Tasty Jerky, Butcher's, or Party Box.
The first three boxes have products matching their respective box names; Ear Lover's contains cow and pig's ears, while the Butcher's option contains sausages and burgers. If you choose the Party Box, you simply need to give details of your dog's size and breed, and the box will come with a variety of popular treats for your pup.
Once you add your desired subscription to your cart, you will proceed to check out to find out how much the box and its shipping will cost, of which the latter is often free when shipping within the United States. You can find out from the site if you have a discount code available. Keep reading to find out what cool discounts Big Lu has to offer for you with each purchase of their treats.
Now all you have to do is sit back and wait for your pup's fun gift to arrive. Since 2020, Big Lu has enabled a Return Policy and allowed returns as long as the purchases are made within seven days.
Big Lu Review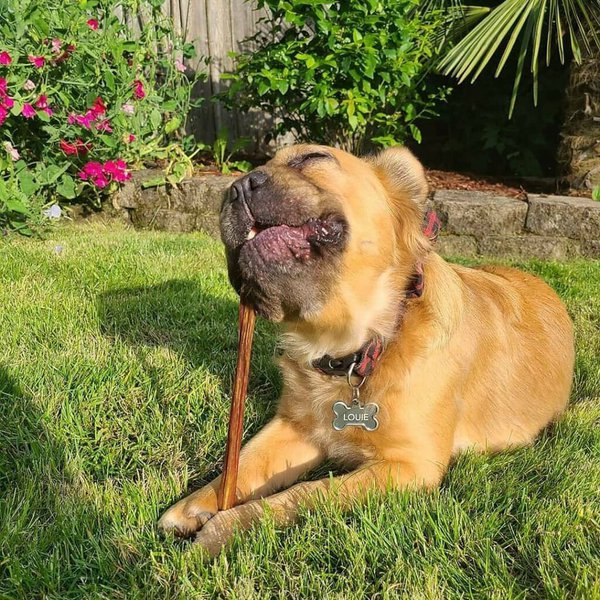 We ordered two boxes, the Ear Lover's Box and the Butcher's Box, for a medium-sized dog. First, the free shipping to our hometown was a win in our books and makes the $29.90 and $39.99 per box purchases a worthy investment.
In the Ear Lover's box, which we opted for its regular option, it came with an assortment of 15 cow and pig ears. The aroma was all-natural, and the pup loved them. They took a few days to eat one, but it was finished with no crumbs left.
As for the Butcher's Box, it had 3 venison sausages, 2-oz beef lung cubes, 4.5-oz beef heart chunks, 4-oz chicken bites, 3 beef sausages, and 3 beef burgers.
The treats are perfect for all dog sizes. These dog treats are perfect for boosting dental health. This is because the fiber in the treats helps to reduce plaque and tartar as they chew away. This means that you do not have to worry about visiting the vet for dental treatment.
Aside from helping to keep pup teeth clean and strong, they are also great tasting. You will not have any wastage, and your pets will appreciate the quality chews that Big Lu has to offer. We love the fact that they have such a wide variety of treats, so you can mix and match to see which ones your doggie loves.
Is Big Lu For Dogs?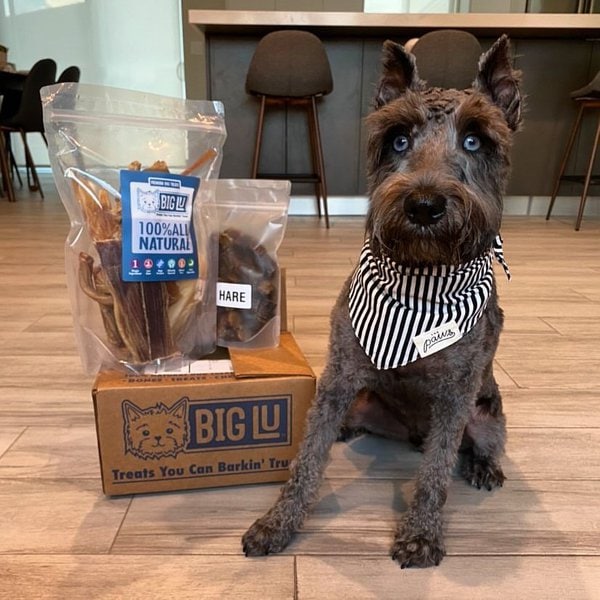 Yes, Big Lu Natural Dog Treats are specifically made for dogs. Dogs have specific dietary needs, and Big Lu aims to create the best treats that fulfill these needs and have pups at the heart of their products.
You can choose from the various subscription boxes, such as the Party Box, Ear Lover's, Tasty Jerky, and Butcher's Box.
Each of these boxes has different products like tails, ears, sausages, burgers, bully sticks, tendon chews, and jerky chews, among others. You have the option to customize your subscription box with different treats.
Are Big Lu Natural Dog Treats Safe?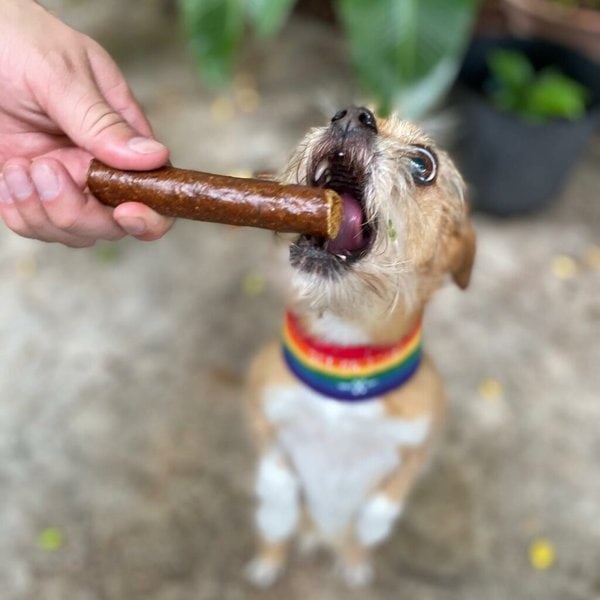 Big Lu Natural Dog Treats are safe and are made of all-natural products. They are hormone, preservative, and antibiotic-free. This means that if your furry friend has an allergy, these treats are safe for them. There are soft chew and tougher chew options to choose from. Depending on your dog's size, breed, and health status, you have a choice.
Dog chews and treats are useful for calming down anxious pups. They also help with their dental health and digestion. Simply follow the instructions and avoid overfeeding them. If you are unsure of how they will react to the treats, feel free to reach out to your vet for guidance.
What Comes In Big Lu's Party Box?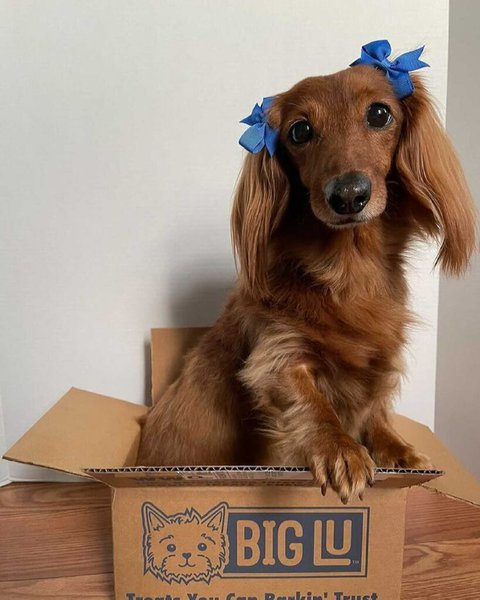 Big Lu's Party Box is the surprise box of the pack and is also known as the Surprise Me Hooman variety pack! It can serve as a perfect housewarming gift for a fellow furry friend lover or a perfect birthday gift.
When you log on to the Big Lu website, you simply put in your dog's size, breed, gender, and any notes on their allergies. Then sit back and wait for your surprise box to arrive at your doorstep.
Shipping is actually free but only within North America. Some of the treats they may receive include bladder sticks, gullet sticks, cow tails, gullet flats, trachea flats, and so much more.
Comparison: Big Lu VS BarkBox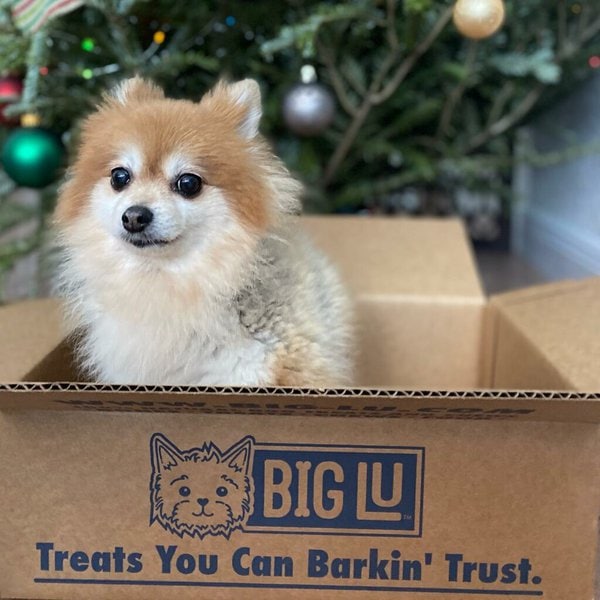 Subscription boxes for pups are fast becoming popular, with Big Lu and Big Box being some of the popular options in the market. Big Lu is focused on offering a large variety of quality dog treats for all dog sizes. BarkBox has multiple pup products, which include Bark Bright dental products. We will, however, focus on the dog treats subscription box.
Big Lu Subscription Box
Monthly dog treats subscription box for dogs.
Four types of subscription boxes to choose from depending on your budget or furry friend's taste – Butcher's Box, Ear Lover's Box, Tasty Jerky, and Party Box.
Online store with a variety of treats like jerky, tongue, trachea flats, and many other options. They can be added to your box at an extra cost.
Free shipping is available within North America.
The price falls between $29.90 to $39.99.
BarkBox Subscription Box
Monthly subscription box for dogs.
Standard box contains two innovative toys, two bags of treats, and one chew.
Treats are made with all-natural ingredients.
Three packages are on offer – "Small And Cute" for dogs up to 20 lbs, "Just Right" for dogs between 20 lbs to 50lbs, and "Big And Bold" for those over 50 lbs.
Free shipping is available within North America.
The price falls between $23 to $35.
At first glance, the boxes are similar in that they are both monthly subscription boxes. All you have to do is visit the websites and register an account. Both products have products for dogs of all sizes. You can get your box delivered to you across North America.
As for the differences, Big Lu is focused on a variety of dog treats, while BarkBox offers toys, chews, and treats in each box. The price range of both subscription boxes varies, so it is up to you to choose an option that suits your budget and pup's preference.
Another unique thing that Big Lu offers its subscribers is an ambassador program where you refer other pup parents to the service, and you receive free boxes for your efforts.
How Much Is Big Lu Natural Dog Treats?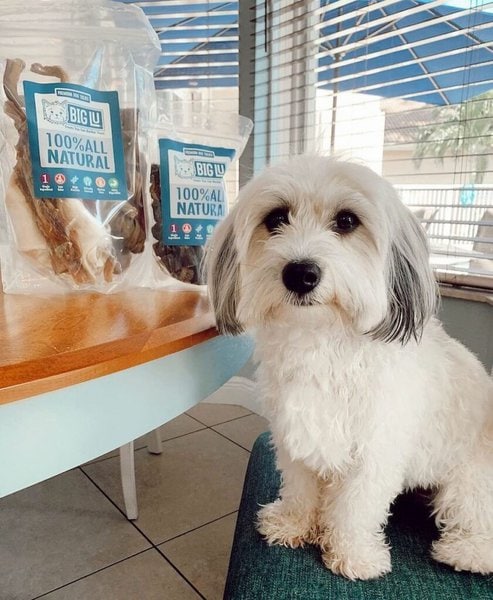 Big Lu believes in giving the customer an option that suits their needs. There are five types of boxes to choose from, and prices start as little as $29.90 per month.
Butcher's Box: This costs about $39.99 per box, inclusive of free shipping within the United States. It has a variety of products like chicken, beef burgers, venison, and beef sausages. You can ask for deliveries every 1, 2 or 3 months.
Ear Lover's Box: Each box comes with between 7 to 15 treat pieces. There is a larger box with 30 pieces. You will part with $29.90 per box per month. It contains cow and pig ears, among other treats.
Tasty Jerky Box: Interesting treat combo comprising gullet sticks and stuffed gullets, among other options. Each box costs about $39.99, and free shipping is available.
Party Box: If you want a selection of popular box treats, you can order the Party box at $39.99 per box per month. You will enjoy free shipping and delivery as long as you are within the United States.
Big Lu Reviews: What Do Customers Think?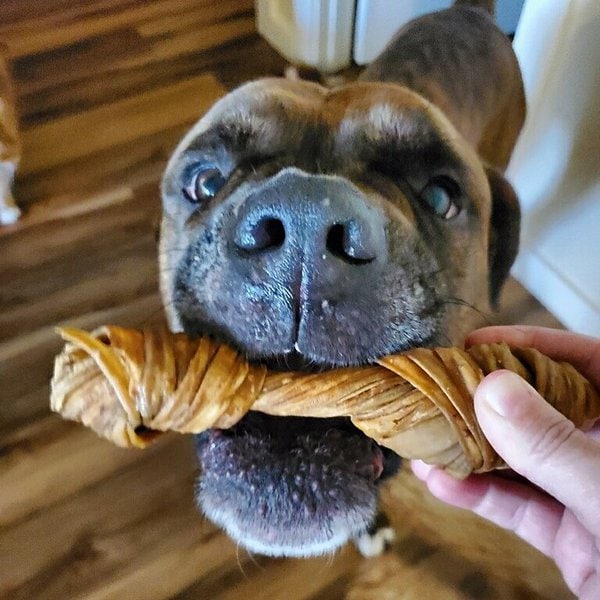 Big Lu received an average of 4.7 out of 5 stars on Amazon. Consolidating over 100 reviews gathered from Amazon, Crate Joy, and Loox, most customers appreciated the variety and size of dog treat available in the box.
One reviewer has said that the big ear treat, despite its massive size, "works for her [dog] though because it lasts her several days." Another one concurred that the ear treat could last that long and "wished that [he] knew it sooner" such that he could apportion the big treat over several days.
A concern that was raised was that you need to gauge the size and amount of dog treats that you order. This is as one customer said about the chicken feet "I recommend you start with a smaller quantity to make sure your dog likes chicken feet."
A hot favorite among the many Big Lu treats is the Beef Trachea Flat chews. One customer noted that the dogs loved the treats dearly but were concerned about the issue of diarrhea.
"My dogs really enjoyed this product, they enjoyed the chewing, the crunch, and the flavor, but it gave them both diarrhea. I may have to find a way to break this up and give it to them in smaller portions and less frequently."
Is Big Lu Worth It?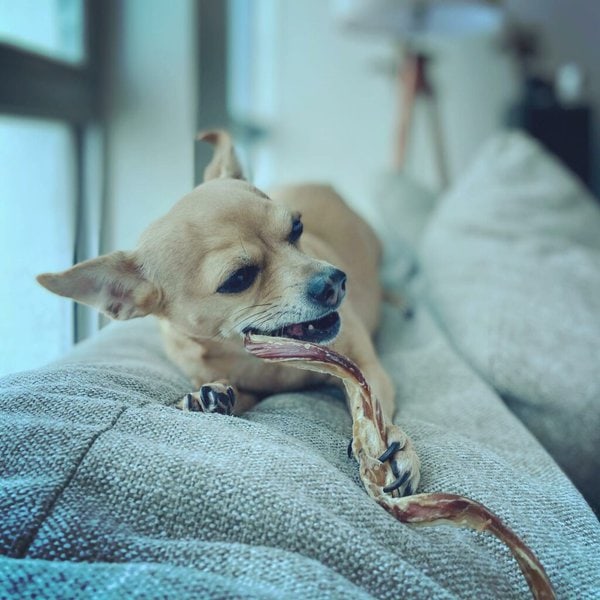 Big Lu doggy chews and treats are worth it because they are not only all-natural but also low in fat. The benefits of having chews handy are that they help your pup with anxiety, dental health, digestion, protein intake, and joint support.
Something else to consider is if the subscription box is worth the money you will spend at least monthly. If you spend less than $30 a month on doggy chews, then this might be a tricky sell. However, keep in mind that the purchase of these treats separately can cost you more than that.
You can try out a one-month subscription initially and test out the products on your furry friend. You can cancel on the dashboard if unsatisfied and do this best before the next month rolls in.
We would advise trying out the various subscription boxes available and depending on your pup's dietary preferences. Next, settle down on the one box that appeals the most to your beloved dog. You can also opt for the Party Box, which is an assortment of popular treats if you are unsure.
Big Lu Promotions And Discounts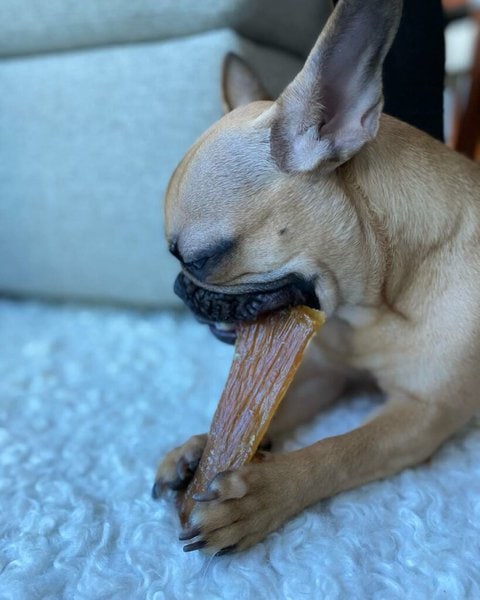 Your furry friend will love the Party Box option containing an amazing assortment of popular treats. Although this will cost you $39.99, you get to enjoy free shipping anywhere in North America. New users of Big Lu can use this code 'NEWBARKER' for a 20% discount on their first purchase.
The Ambassador program is an open invite to doggie influencers, vets, and doggie trainers to get more customers to try out Big Lu treats. Ambassadors will receive free boxes each month based on a tiered basis, depending on the number of new subscribers they can get to join the Big Lu family.
How does it work? You will get a unique code that you will share with your family and friends, and they will receive a 20% discount when they join. If an ambassador gets five friends signed up, they receive a free one-month box. You can get more than 40 friends signed up and, in turn, receive a full year of subscription boxes.
Where To Buy Big Lu?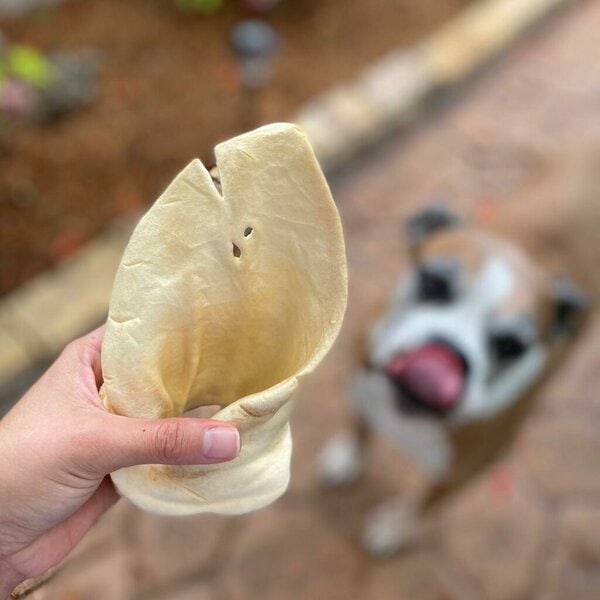 Your Big Lu journey starts on the website. Simply log on and register an account. You will be asked for details, such as your pup's breed, size, gender, and shipping address. This only takes a few minutes and you are good to go.
Once logged in, you can check out the available subscription boxes based on your pet's needs and budget. There are five subscription box options from as low as $29.99, inclusive of free shipping within North America. You can choose to receive your box every 1, 2, or 3 months. You can also visit affiliate sites like Amazon to order.
FAQs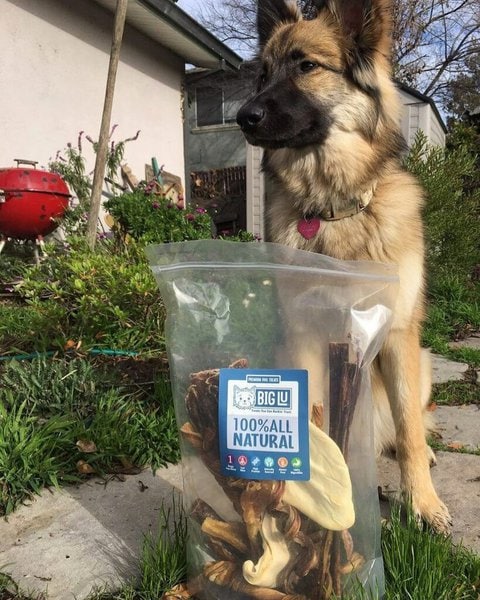 Are All Natural Dog Treats Good For All Dogs?
Most natural dog treats are good and safe for dogs. They are made of natural ingredients instead of rawhide. In most cases, rawhide is not safe for dogs because pieces of the chews may not be fully digested and also cause a big choking risk. Big Lu Treats is nutritionally rich in protein and minerals your pup needs to stay healthy.
Can I Choose A Different Subscription Box Each Month?
Yes, you can choose a different subscription box each month. There are different options to choose from, such as Party Box, Jerky Box, and Butchers Box, among others. In addition, you can select what treats you want in your doggy subscription box. All you have to do is visit your dashboard to make changes.
What Are The Subscription Boxes I Can Choose From?
As mentioned, there are different subscription boxes to choose from. There are boxes available for as little as $29.90 per month. You can select the frequency of your customized boxes to be delivered every 1, 2, or 3 months. Visit your dashboard to choose the best subscription for your pup.
How To Contact Big Lu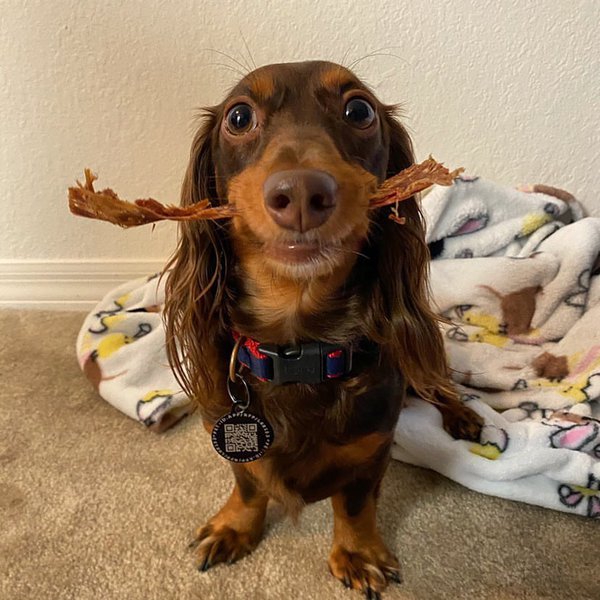 For enquiries unrelated to this article, you can contact the company via:
Email address: Hello@big-lu.com
Social media platforms: