The best dog food for Yorkies is Royal Canin Breed Health Nutrition Yorkshire Terrier Adult Dry Dog Food.
Yorkshire Terriers, also known as "Yorkies" are just as unique as any other breed, which means they have a very specific diet and preferences. They are also known to be extremely picky eaters.
As a small (or petite) dog breed, Yorkies generally needed to be fed food that is:
Smaller Sized Kibble: To minimize choking hazards
Has Omega-3 & Omega-6: For the smooth, shiny, silky coat
No Artificial Preservatives or Food Dyes: As Yorkies tend to have sensitive stomachs
The following guide is aimed at helping Yorkie owners find the ideal type of dog food for their little pup. Here's the list of the best dog food for Yorkies.
#1 Royal Canin Breed Health Nutrition Yorkshire Terrier Adult Dry Dog Food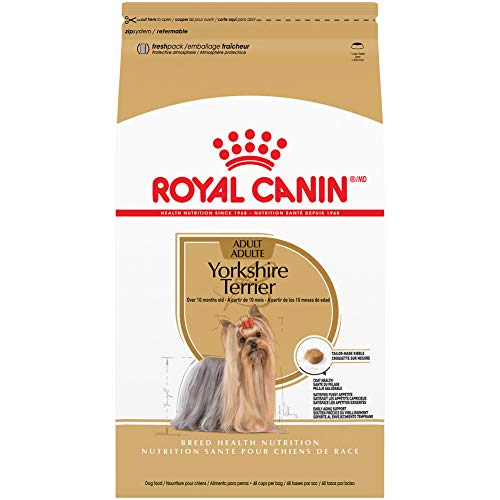 Royal Canin Yorkshire Terrier Adult Dry Dog Food, 10 lb bag
FORMULATED FOR PUREBRED YORKSHIRE TERRIERS: Royal Canin Yorkshire Terrier Adult Dry Dog Food is complete and balanced...
COAT HEALTH: Provides omega-3 and -6 fatty acids and biotin to maintain a healthy coat
HEALTHY AGING: Delivers targeted nutrients including vitamin C, EPA, and DHA to help support and maintain your toy...
Royal Canin is instantly recognizable as one of the most trusted dog food brands on the market. That's because this company has differentiated itself as an organization that cares about dog health, to the point that they develop unique dog food formulas that cater to different breeds, ages, and health needs.
The Royal Canin Breed Health Nutrition is packed with vitamins, nutrients, fats, proteins, fiber, and calories that your dog needs to thrive. It is specially formulated to include DHA and EPA which help to produce a smooth and healthy coat.
The only noticeable downside to this food is that it has a lower protein profile as compared to the other dry dog food options. But it makes up for this with a better level of quality. It also features ingredients like wheat gluten and other cereal grains that might be a problem with pets that suffer from gluten intolerance. On the upside, these grains are meant to provide your pet with the necessary amino acids to develop healthy tissues.
The Royal Canin Breed Health Nutrition dry dog food also comes with brown rice and brewers rice, which makes it an ideal source of energy for your dog.
We like the fact that this Royal Canin formula is fortified with essential ingredients like glucosamine and chondroitin, which help to improve joint health while facilitating overall wellness. It's also packed with powerful antioxidants, immune-boosting properties as well as anti-inflammatories.
Pros
---
Royal Canin's adult dry dog food features a blend of vitamins and nutrients, such as vitamin C, EPA, and DHA, all of which ensure Yorkshire Terriers remain strong and active, even as they age.
This adult dry dog food contains omega-3 and omega-6 fatty acids, as well as biotin, to help maintain healthy dog coats.
The formulation of this adult dog food features a combination of aromas and flavors that appeals to pooches that are picky eaters.
The shapes, textures, and sizes of the Royal Canin kibbles are designed in a way that encourages Yorkshire Terriers to chew before swallowing, thereby helping to prevent tartar and plaque buildup.
Cons
---
Several dogs reportedly developed vomiting and diarrhea after eating the Royal Canin dry dog food.
The Royal Canin Breed Health adult dog food is considerably expensive.
#2 Purina Pro Plan Small & Toy Breed Formula Adult Dry Dog Food
SALE ALERT!!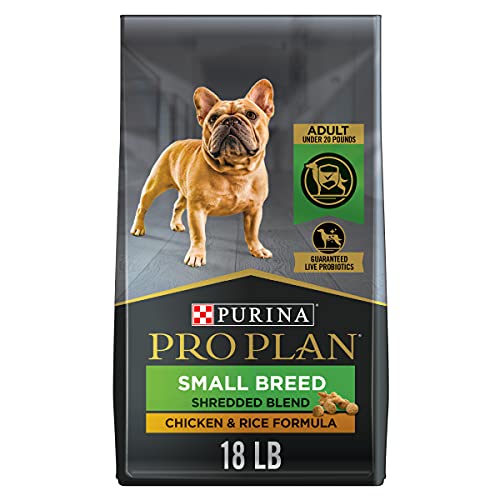 This dry dog formula from Purina Pro is specially formulated for small breed dogs. Although it's a nutrient-dense formula, it certainly doesn't skimp on the flavor, and its crunchy yet soft texture is a hit with Yorkies. The primary ingredient in this food is chicken, which is an excellent and healthy source of protein for any dog.
You'll be glad to know that this food also has an optimal protein-to-fat ratio, in addition to nutrients like Vitamin A, Omega 6 acids, and linoleic acid which contributes to providing your dog with a healthy and shiny coat. This food also features a natural prebiotic fiber that comes from wheat bran to promote healthy digestion.
This Purina dry dog food formula offers complete nutrition and it's packed with flavor. It comes with the vitamins, minerals, and fats that your dog needs to enjoy life to the fullest.
Pros
---
The high protein formulation of this dry dog food is sufficient to meet the energy needs of highly active small dogs like Yorkshire Terriers.
The Purina Pro Plan meal contains guaranteed live probiotics that ensure that Yorkshire Terriers have no issues digesting the kibble.
This adult dry dog food from Purina comes as a semi-moist kibble with a shredded texture that dogs enjoy eating.
The natural prebiotic fiber, which is obtained from wheat bran, contained in this adult dry dog food provides nourishment for intestinal bacteria that are vital for the digestive health of pooches.
Purina Pro Plan dog food contains substantial amounts of calcium and phosphorus to facilitate the development of strong bones and teeth in Yorkshire Terriers.
Cons
---
The packaging inconsistencies of the Purina Pro Plan result in customers getting food bags that contain fewer amounts of shredded chicken than usual.
Purina Pro Plan food packages typically contain chicken chunks that are too big for Yorkshire Terriers to eat without posing a choking hazard.
#3 Merrick Lil Plates Grain Free Small Breed Recipe
Merrick Lil Plates Small Breed Dry Dog Food with Real Meat 20 Pound (Pack of 1)
One (1) 20 lb Bag - Merrick Lil' Plates Small Breed Dog Food, Grain Free Real Texas Beef and Sweet Potato Recipe, Small...
Merrick Lil' Plates Small Breed Dog Food, Grain Free Real Texas Beef and Sweet Potato Recipe, Small Dog Food
Real deboned Texas beef is always the first ingredient in this small breed dry dog food, which offers the ideal...
The Merrick Lil Plates Grain-Free Dry Dog Food combines the delicious flavor of your dog's favorite treats with the nutrition he needs to thrive. This is a whole meal that includes real pieces of raw beef meat which have been freeze-dried to preserve their flavor and nutrients.
This food has no grains which makes it ideal for gluten intolerant pets and it offers complete nutrition for small breed dogs. It has a rich taste and a variety of nutrients, thanks to the inclusion of vegetables and fruits like peas, sweet potatoes, blueberries, and apples. There's also a fair amount of Omega 3 fatty acids in this formula due to the flaxseeds and this helps to maintain a healthy-looking coat.
As if that weren't enough, Merrick also included probiotics and prebiotics in this formula to assist with digestion, while the chondroitin and glucosamine will keep its joints strong and healthy.
The Merrick Lil Plates Grain Free Small Breed Recipe doesn't contain any allergens like gluten, soy, wheat, or corn so it's safe for most dogs to consume.
Pros
---
The Merrick Lil Plates recipe features real deboned Texas beef as the first ingredient, thereby providing a high-quality protein source for dogs.
This recipe uses a grain-free and gluten-free formulation that is ideal for Yorkshire Terriers with grain allergies.
The crunchy texture of this grain-free dog food, when chewed on, helps to prevent mouth plaque and tartar buildup.
Merrick Lil Plates dog food is rich in prebiotics and probiotic fiber to provide improved gut health for Yorkshire Terriers.
This dog food product contains high levels of glucosamine and chondroitin, both of which are important for canine joint health.
Cons
---
Several dogs have reportedly refused to eat this Merrick Lil Plates grain-free recipe.
Multiple customers have also commented that their dogs developed vomiting and diarrhea after consuming this Merrick product.
#4 Hill's Science Diet Dry Dog Food
SALE ALERT!!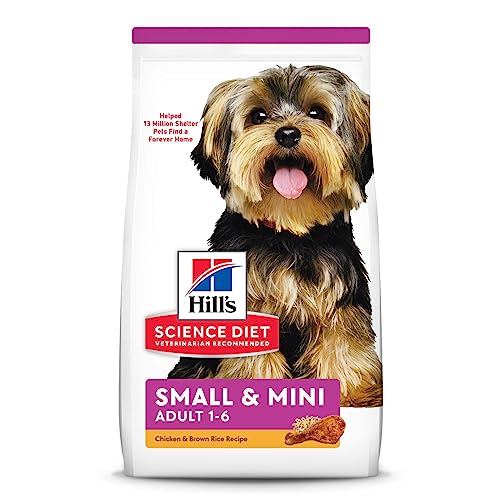 Hill's healthy dog formulas are well-known among pet owners for their quality, and this dry dog food is no exception. The Hill's Science Diet is designed to meet the nutritional and development needs of small dogs, and it doesn't contain harmful preservatives or chemicals.
Instead, it's packed with vitamins C and E as well as antioxidants to promote health and longevity. Although Yorkies tend to live longer than other dog breeds, adding the Hill's Science Diet Small & Toy Breed will extend their lifespan even more while allowing them to enjoy life with vibrant health!
Hill's Science Dry Dog Food is one of the most recommended pet foods by veterinarians around the world, and it's not hard to see why. This is optimal nutrition based on scientific studies, and this brand only uses quality ingredients to make sure that each pet gets the nourishment it needs.
Pros
---
Hill's Science utilizes a special antioxidant blend in this dry dog food product, along with vitamins E and C, to provide additional immune support for dogs.
Omega-6 fatty acids contained in this Hill's Science diet help to keep a pup's coat and skin healthy and shiny.
Calcium and high-quality proteins contained in this dry dog food work together to strengthen a Yorkshire Terrier's bones and muscles.
This dry dog food product is devoid of artificial colors, preservatives, flavors, and other ingredients that don't have nutritional benefits for Yorkshire Terriers.
Hill's Science dry dog food is manufactured in the United States with high-quality globally sourced ingredients to ensure adherence to safe manufacturing practices.
Cons
---
Several owners of picky dogs claim that their pooches wanted nothing to do with the Hill's Science Diet dry dog food.
The cost of the Hill's Science diet is high when compared to other dog food products available on the market.
#5 Wellness Complete Health Natural Dry Small Breed Dog Food
If you're familiar with the Wellness CORE dog food, then you'll like the Wellness Complete Health Natural Dry Small Breed Dog Food. It comes with pretty much the same nutrients but with more calories per serving.
Some of the nutrients featured in this dog food include Omega 3 and Omega 6 to promote a soft and shiny coat. It also comes with live probiotics to help your dog maintain a healthy gut and digestion in the long run. This Yorkshire Terrier dog food is mostly made of high-quality protein ingredients with no allergy-causing cereal grains or preservatives.
The protein from this formula comes from salmon, turkey, and chicken – all of which are ultra-healthy and lean sources of protein that promote health and energy.
Pros
---
The nutrient-dense formulation of the Wellness Complete dog food is intended to provide a higher level of nutrition for Yorkshire Terriers in smaller kibble sizes.
Wellness Complete dry dog food has no GMOs, meat by-products, fillers, or artificial preservatives that either trigger allergies in dogs or are of no nutritional benefit.
This dog food product is manufactured in U.S.-based ingredients with ingredients gotten from high-quality sources worldwide.
Constantly chewing on the crunchy texture of this dry dog food prevents plaque and tartar buildup on a Yorkshire Terrier's teeth, thereby promoting dental health.
Customers can combine this dry dog food with the Wellness Complete wet food to make the meal more appealing to their pooches and eliminate pickiness.
Cons
---
Dogs reportedly develop diarrhea and vomiting after eating the Wellness Complete dry dog food.
The texture of the Wellness Complete kibbles is usually too hard for puppies to chew comfortably before swallowing.
#6 Nutro Natural Choice Small & Toy Breeds Dog Food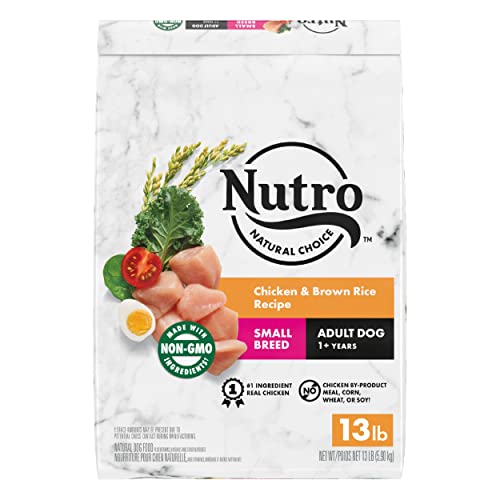 This small breed formula from Nutro is all your pet needs to get its nutrients in, and it's specially designed for dogs that weigh 20 pounds or less. It's made with high-quality sources of protein such as real chicken, which is essential in maintaining an ideal weight while providing all the energy that your Yorkie needs to enjoy life.
It's important to note here that small breed dogs typically have a life expectancy of 20 years which is quite long in animal years. That's why they need high-quality nutrition to ensure that they reach their full potential.
This formula comes with fruits and vegetables that are rich in beneficial minerals and antioxidants. Because this formula doesn't contain any grains and goes through specialized processing technology, it's easier to assimilate and absorb its nutrients. One of the nutrients worth mentioning is Kale, which is a superfood instrumental in boosting your Yorkie's antioxidants.
This formula contains no fillers. A favorite among dog owners, which helps to improve their dog's flaky skin and coat.
Pros
---
The use of recognizable, non-GMO ingredients in manufacturing this dog food product and the absence of common allergy triggers, grain and wheat, ensures that the Nutro Natural dry food is largely safe for dogs to eat.
The crunchy texture of this dry dog food helps clean a Yorkshire Terrier's teeth and also prevents the buildup of plaque and tartar.
Nutro Natural dog food contains natural sources of glucosamine and chondroitin, which are both essential for the formation of healthy joints in dogs.
Nutro Natural dog food products are cooked and packaged in U.S.-based facilities to ensure that they are safely manufactured and safe for dogs to consume.
Customers can mix this dry dog food product with the NUTRO Wet dog food to increase palatability and eliminate pickiness.
Cons
---
Nutro Natural Choice kibbles have a strong smell that some dogs may find offensive.
Some owners of picky dogs have commented that their pooches refused to feed on Nutro Natural kibbles.
#7 Nulo Small Breed Grain-Free Dry Dog Food
SALE ALERT!!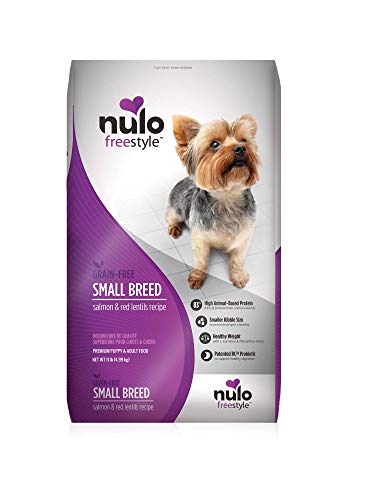 Although tiny in size, small breed dogs are balls of energy that will give even the most energetic owner a run for their money. Because they use a lot of energy throughout the day, Yorkshire Terriers need to get that energy from good sources that will support their metabolism as well.
That's what the Nulo Small Breed Grain-Free Dry Dog Food promises. It's made of 84% protein which comes from real meat like lamb, turkey, and salmon, while the small kibble size texture facilitates natural chewing and digestion.
Based on dog reactions, this small breed formula from Nulo is not only packed with nutrition but it tastes great too. It's mostly made up of lean protein sources and is formulated to promote optimal digestion and maintain proper metabolism.
Pros
---
The majority of the protein provided by Nulo's dry dog food is gotten from real meat sources such as salmon, turkey, and salmon, to ensure that Yorkshire Terriers can meet their high energy requirements.
Nulo grain-free dog food is available in smaller kibble sizes to make it convenient for Yorkshire Terriers to chew and swallow.
The grain-free formulation of the Nulo dry dog food is suitable for Yorkshire Terriers that have grain allergies.
Miscanthus grass contained in this dry dog food provides a natural source of fiber that is of immense benefit to a pooch's digestive system.
Nulo Small Breed dog food contains L-Carnitine supplements that have been scientifically proven to help pooches maintain optimum body weight.
Cons
---
Nulo Small Breed dry dog food has a strong smell that numerous customers and dogs have found to be unappealing.
The food bags when delivered were reported to have holes, causing a leakage of kibbles within the delivery packaging boxes, and this suggests that the product can come in poor packaging quality.
---
Dog Food For Yorkies Buyer's Guide
---
Just like people, dogs are not all the same. Some are small, some are large; some are cheerful and energetic, while others keep to themselves. That's why each dog breed requires a different type of dog food based on their temperament, size, coat, and even personality. As a pet owner, you need to educate yourself about your pup's nutritional needs so that you don't end up with what is known as a "picky eater."
When it comes to dog food, it simply won't do just to pick the first thing you come across. Your selection process must be informed by a thorough understanding of the essential nutrients that your Yorkshire Terrier needs for optimal health.
Here are some of the essential factors to keep in mind when looking for the best dog food for your Yorkie:
Protein
For the best results, always choose a dog food that has high-quality protein. This means staying away from things like protein meal and meat by-products. Instead opt for formulas with real meat and lean protein sources, while making sure that it makes up a third of the ingredients in the product.
Puppies, in particular, need more protein to support their growing bones and muscles. As Yorkies age, protein plays a huge role in maintaining energy levels but elderly Yorkies don't consume as much of it as younger pups.
Related: Adorable Yorkie Mixes
Carbs
Some of the best and healthiest sources of protein for your dog include sweet potato, brown rice, and barley. Because most dogs nowadays are prone to sensitivities, it's best to avoid carbs with gluten, wheat, grains, or corn, as these ingredients can negatively affect your pup's digestive system.
Related: What Are Good Treats For Yorkies?
Fats
Good quality dog food should also contain healthy fats like Omegas 3 and 6, which are available through flaxseeds and fish oil. With healthy fats in its system, your dog will have a healthy and shiny coat. Naturally, you have to brush your dog regularly too,
Avoid bad fats like corn syrup and beef tallow because they can wreak havoc on your Yorkie's digestion, and they don't have any nutritional value anyway.
Related: Common Health Problems in Yorkies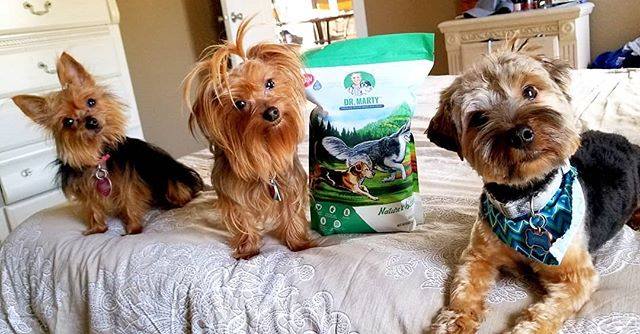 Nutritional Requirements For Yorkies
If you want your Yorkie to lead a healthy and happy life then you must provide him with the nutrition that your pooch needs. While it may not eat as much as a Labrador, your small Yorkie still needs healthy carbs, fats, and protein in its system.
Here's a breakdown of a Yorkie's essential nutrition:
Small Food Bits
Perhaps due to their small stature, Yorkshire Terriers tend to have small mouths and teeth, which means they enjoy food that comes in small bites. They also like it when their food has a soft texture, but this doesn't mean that you should feed them canned food as it may not meet its nutritional needs.
Alternatively, you can purchase average-sized kibble that's packed with high-quality ingredients and then soften it up with water too so that it's easier to break down.
Also, small food bits are also easier to carry around when you are packing for travels. Your Yorkie will fit comfortably in a carrier purse, airline-approved pet carrier, or a dog backpack carrier.
Calories & Proteins
Yorkies are always running around and bristling with energy. On average, they need about 150 kilocalories per day to thrive but this doesn't always work for all dogs. Some pups are so energetic that they require up to 200 kilocalories a day.
If you are not sure how much to feed your pooch every day, consult with a vet and they'll make an assessment based on your dog's needs as well as its age. Of course, you should also allow your intuition to guide you because if you notice that your small dog is using up more energy, then you should give it more food. You can consider treats such as dental chews or healthy dog snacks.
Another vital point to make is that Yorkshire Terriers tend to do exceptionally well when following a high-protein and high-fat diet. That's because it provides them with the sustainable energy that they need to keep going for the whole day. Plus, protein is essential in building muscle tissue that will enable your pet to continue enjoying an active lifestyle for years to come. You must keep in mind that some of these fats and proteins are converted into energy so you need the right amount of carbs as well to facilitate this process while eliminating the risk of blood sugar problems and hypoglycemia.
Easily Digestible Food
As with their small mouths, Yorkies have small stomachs as well. That's why they prefer food that's easy to consume and digest. You can achieve this by feeding them small meals throughout the day instead of one or two big meals. Also, focus on providing your dog with food that's made from high-quality ingredients with no harmful chemicals, preservatives, or allergens.
You can make use of a dog food-dispensing toy to let your Yorkies have hours of endless fun.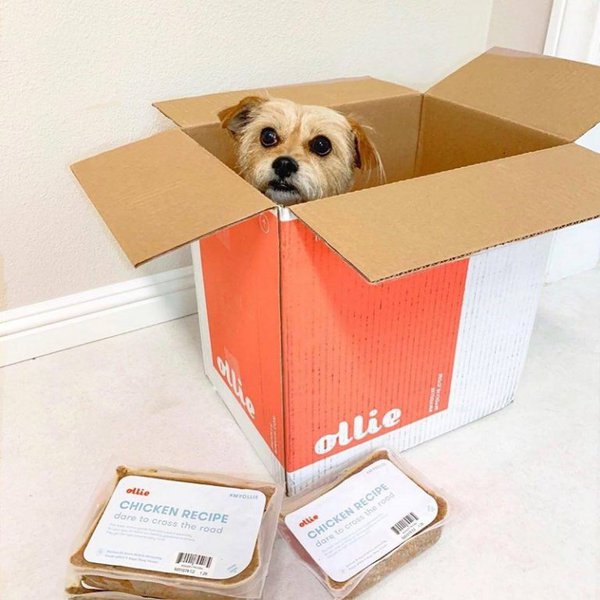 Potential Health Issues to Be Aware Of
The following are some of the most common health issues facing the Yorkshire terrier dog breed. As you'll see below, it's possible to overcome and even prevent these issues through proper nutrition.
Hypoglycemia
Hypoglycemia is caused by low sugar levels in the blood, which makes your Yorkie constantly feel tired and weak. The best way to overcome this issue is by feeding your dog small meals frequently so that its blood glucose levels have no chance of dropping. This is where an automated dog feeder will come in handy, as you can schedule the feeder to dispense food at selected intervals.
Floating Kneecap
The floating kneecap is known as luxating patella and subluxation in scientific circles, and it's quite common among Yorkshire Terriers. This condition is usually passed down through genes but can also be caused by unexpected trauma. The most effective way to eliminate this problem is surgery, but providing your dog with good quality protein sources can help to speed up recovery by supporting tissue repair with multivitamins.
Tracheal Collapse
Tracheal collapse refers to weakened cartilage. Foods with glucosamine, MSM, and chondroitin can help to alleviate this condition by allowing cartilage cells to perform better.
Sensitive Tummies
Yorkies tend to have sensitive stomachs which is why most of their dog food comes with probiotics to promote healthy digestion. You'll also do well to refrain from giving them allergenic foods as that will only serve to aggravate their tummy.
Related: Best Dog Food For Sensitive Tummies
---
Final Thoughts
---
Yorkshire terriers are a special breed of dog that's characterized by small stature and high-energy personalities. They also have unique nutritional needs, and that's why you must provide them with the right combination of healthy fats, vitamins, minerals, carbs, and most importantly, protein.
The top pick ticks all the boxes with nutritional and high-quality ingredients that will promote your Yorkie's health and longevity.