The best puppy training treat is Blue Buffalo Blue Bits Natural Soft Moist Training Dog Treats.
Welcoming a new puppy at home?
There's where having puppy training treats will come in handy!
You'll need to train your puppy in so many different areas, such as potty training, basic commands, and even adorable dog tricks.
Small pieces of food, such as puppy training treats, help to motivate your puppy to practice and reinforce these good behaviors.
Here's our list of the best training treats for puppies that you should get.
#1 Blue Buffalo BLUE Bits Natural Soft Moist Training Dog Treats
Blue Buffalo BLUE Bits Natural Soft-Moist Training Dog Treats, Salmon Recipe 4-oz bag
REAL SALMON FIRST: BLUE Bits dog training treats are made with delicious real salmon as the first ingredient making them...
MEATY TRAINING TREATS: For dogs that love a meaty treat, BLUE Bits are tender, bite-sized morsels that are the perfect...
WHOLESOME INGREDIENTS: These dog treats don't contain any chicken (or poultry) by-product meals and are free from...
Blue Buffalo is one of the major dog food brands in the market, and for years, the company has produced several top food products. The Blue Buffalo BLUE Bits natural soft-moist training dog treats are not any different.
This puppy training treat has many positive reviews from tons of users online. From our research, many dog owners have regarded this as the best training treat for puppies.
The natural ingredients in this training treat feature additional nutritional additives such as omega-3 fatty acids and omega-6 healthy fats. Besides, these dog training treats are also very delicious and the great thing is that they don't have any artificial flavor or fillers. The dog training treats also come filled with DHA, a substance that will help improve the cognitive abilities of your pup.
In essence, the Blue Buffalo BLUE Bits dog treats are designed to help your puppy learn new tricks easier and respond to your training session positively.
These dog training treats from Blue Buffalo contain high levels of DHA, an essential ingredient that helps with cognitive development. This means that puppies can learn quickly and respond to new tricks very well.
Pros
---
The BLUE Bits soft moist treats from Blue Buffalo are enhanced with DHA to provide the nutrition needed for the optimal development of the mental and cognitive aspects during puppyhood.
The omega-3 and omega-6 fatty acids contained in these natural dog treats are essential for promoting healthier skin and coats in puppies.
The ingredient list of the BLUE Bits canine treats is devoid of artificial preservatives, colors, flavors, corn, wheat, and soy, thereby making this product generally safe for dogs to eat.
This dog training treat contains wholesome brown rice, oatmeal, and flaxseed to provide the fiber needed to support healthy digestion in puppies.
The soft and moist texture of the bite-sized BLUE Bits treats makes this product comfortable for puppies with developing teeth to chew conveniently.
Cons
---
Several customers have reportedly received BLUE Bits packages containing stale treats that were too hard for their puppies to eat, despite the product being far from expiring.
Blue Buffalo doesn't offer replacements or refunds in situations where the product either arrives damaged or a puppy doesn't like the treats.
#2 Wellness Soft Puppy Bites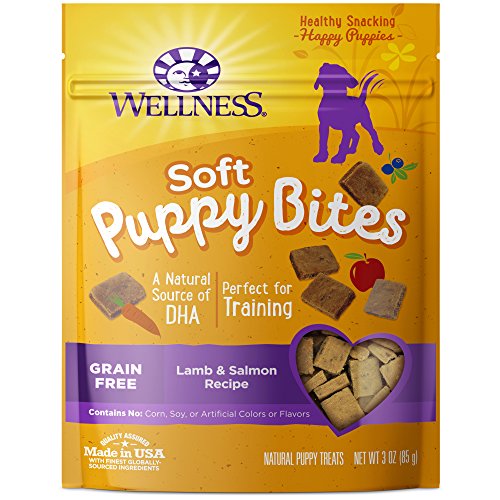 Every dog owner knows that there's nothing more rewarding than seeing your pup learn new tricks. Well, if you want affordable puppy training treats that will help you with this, then the Wellness Soft Puppy Bites are going to work. These bites are mostly used for smaller dogs and younger puppies.
The size of the dog is a huge factor to keep in mind when you are shopping for dog training treats. This is because smaller dogs or puppies naturally have smaller mouths. The last thing you want is to give them large bites that are just too bulky for their mouth. This brand, however, takes care of this by offering small square bites which are an ideal choice for smaller dogs.
We also liked that these dog training treats are low on calories. They help to reduce the risk of getting your pup fat because they are also formulated with a grain-free recipe involving all-natural whole fruits and vegetables.
They feature all-natural salmon, chicken, lamb, apples, and many other healthy ingredients. A healthy treat, especially for a young growing puppy, is essential. This product offers that. There are also no artificial additives or fillers.
It's just a pure, natural, healthy, and tasty treat that your puppy will love.
The treats come with lots of essential fatty acids which are essential in brain development. We also love that these treats have a very natural formulation with no artificial additives or fillers.
Pros
---
The Wellness training treats are formulated using pure meat protein that gives the essential nutrition for the physical development of growing puppies.
The salmon oil included in the Wellness soft puppy bites contains DHA, which is a nutrient that has been scientifically proven to facilitate brain development in dogs.
The all-natural ingredient list of the Wellness puppy bites doesn't contain meat by-products, corn, wheat, or dairy, which makes this product ideal for pooches with allergies to these ingredients.
The antioxidant-rich sweet potatoes and blueberries used to produce these puppy bites provide additional support for the canine immune system and increase a puppy's ability to ward off diseases and infections.
The Wellness puppy bites are manufactured in US-based facilities to guarantee compliance with safety and quality control regulations.
Cons
---
Several dogs have reportedly developed diarrhea and stinky farts after eating the Wellness Soft puppy bites.
The padded plastic pouch of the Wellness Soft puppy bites doesn't do enough to prevent the treats from being crumbled during shipping and delivery.
#3 Pet Botanics Training Rewards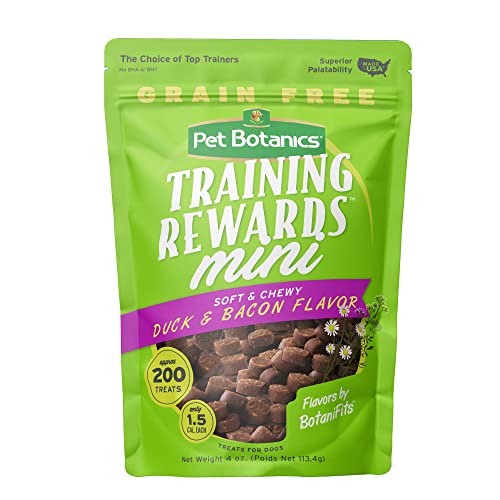 Pet Botanics Training Reward treats are some of the most popular treats you can get. These dog training treats are very small in size so they won't have any issue with smaller dogs. Small puppy treats are also great because they help you to treat your pup in smaller amounts.
You won't have to worry about fillers like soy and corn. Fillers are bad for two main reasons. First, they are tasteless. They may also lead to weight gain.
Pork liver is, however, the main ingredient in this product. This is a great protein source for muscle growth.
There are also dried eggs, bacon, sweet potatoes, and a load of vegetables in the formula.
The main ingredient, which is protein-rich pork liver, is complemented with a wide range of veggies to give your dog a balanced diet. The fact that the product doesn't have any filler is a big plus for most puppy owners out there.
Pros
---
The bite-sized kibbles of this Pet Botanics product are prepared to be convenient for puppies with smaller mouths and teeth to chew.
The low-fat formulation of the Pet Botanics kibbles, which contain approximately 1.6 calories per treat, provide a way for customers to train and reward their puppies while ensuring that ideal body weight is maintained.
The grain-free recipe used to produce the Pet Botanics training treats makes this product suitable for consumption by pooches with grain allergies.
The combination of omega fatty acids and a select blend of botanical ingredients used in the production of the Pet Botanics treats helps with the maintenance of healthy and lustrous skins and coats on puppies.
The closable zipper packaging of the Pet Botanics training rewards provides a convenient way for customers to keep the treats fresh after feeding their canine buddies.
Cons
---
Several customers have reported that their puppies showed little or no interest in eating the Pet Botanics treats.
The Pet Botanics training rewards are non-refundable, which means there's no way for customers to return the product if their puppies don't like the treats.
#4 Pup-Peroni Dog Snacks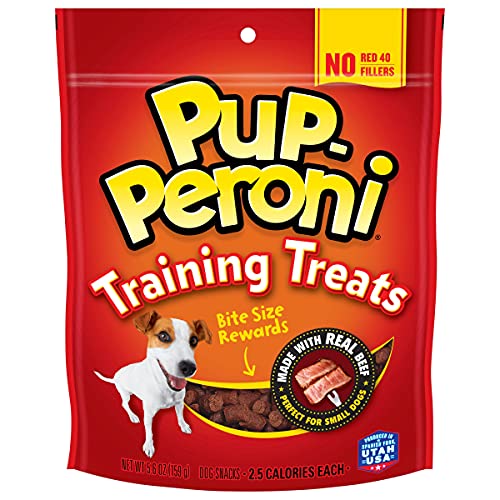 If you want a beef-flavored treat that will keep your pup drooling, then this is it. Dogs love beef and they know how to smell it out. Beef is the main ingredient in the Pup-Peroni Dog Snacks and naturally, you can expect that it will be a favorite for your pups.
These dog training treats are also slow-cooked to make sure that all the flavors of beef are not lost.
You can choose to break the Pup-Peroni Dog snacks into smaller pieces for efficient training.
We really liked the delicious and aromatic appeal that they offer. Whether you are at home or on the road, they will be a great and delicious way to teach your puppy new tricks.
Pros
---
The real meat flavor used to produce the Pup-Peroni dog snacks increases the appeal and palatability of the treats to puppies.
The Pup-Peroni treats are produced and available in different varieties, ranging from original beef flavor to prime rib flavor, to enable customers to make purchases based on their puppy's feeding habits.
The miniature size of the Pup-Peroni snacks provides convenient chewing for puppies with small mouths.
The Pup-Peroni canine treats are manufactured without using filler ingredients, as well as FD&C colors, thereby making them safe for puppies to eat.
The Pup-Peroni puppy training treats are manufactured in the United States, with ingredients obtained from quality local and international sources to ensure compliance with production standards.
Cons
---
There have been several reports of customers receiving Pup-Peroni packages containing stale and dried treats that were too hard for puppies to eat.
Multiple customers have also commented that the Pup-Peroni treats crumble easily, thus making it difficult to feed puppies with the product.
#5 Old Mother Hubbard Crunchy Classic Natural Dog Treats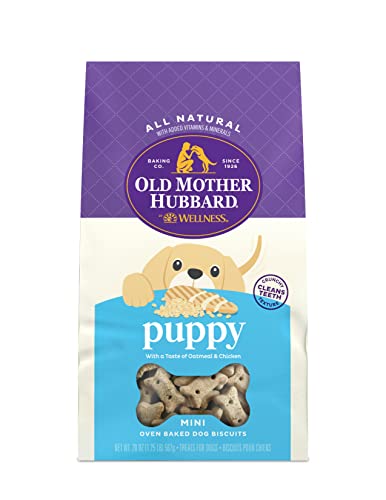 The Old Mother Hubbard Crunchy Classic Natural Dog Treats are all about variety. These nutritious biscuits come with many great ingredients in them.
They are oven-baked too to make sure that all flavors are retained and that the final product has that crunchy texture.
Their delicious biscuit recipes include wholesome natural ingredients such as real peanut butter, fruits, and vegetables; each biscuit is slowly oven-baked to preserve the natural flavors.
It's all-natural and doesn't come loaded with artificial preservatives.
Each biscuit is slowly oven baked to preserve the natural flavors – pure yumminess for your puppy!
Pros
---
Old Mother's classic dog treats don't contain artificial preservatives and meat by-products, thus making them a healthy addition to a puppy's daily diet.
The Hubbard crunchy treats contain a blend of vitamins and minerals that work in various capacities across a puppy's body to facilitate the pooch's growth and development.
The slow baking process utilized in the production of these crunchy treats provides greater nutrient retention, thus ensuring that puppies can gain optimal nutritional benefits from eating them.
The inclusion of superfood ingredients, such as carrots and apples, in the Old Mother dog treats work to fortify the immune system of puppies by releasing antioxidants that fight free radical damage of cells in a pooch's body.
The Old Mother Hubbard dog treats are manufactured in facilities located in the United States, with high-quality ingredients sourced from reputable global suppliers.
Cons
---
There have been several reports of customers receiving crumbled Old Mother treats that were oddly small and, hence, difficult for puppies to feed on due to the product being shipped in a paper envelope.
Some customers have also commented that their puppies weren't pleased with the flavor of this product, which resulted in them refusing to eat the treats.
#6 Buckley Trainers All-Natural Grain-Free Dog Training Treats
SALE ALERT!!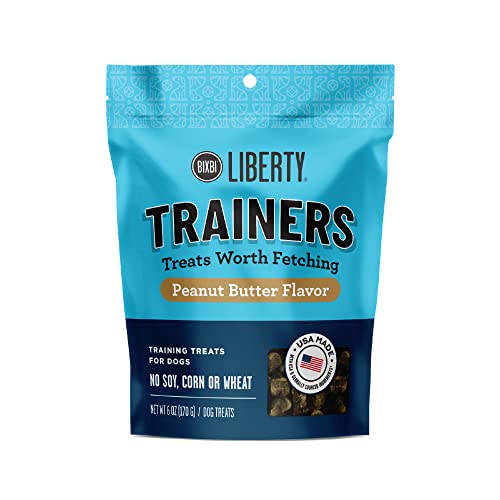 Proudly made in the USA, this puppy training treat is gluten and grain-free. These dog training treats are very low on calories. Each training treat has just 4 calories, one of the lowest of any product on our list.
The low-calorie characteristic means that the treats can be used to train puppies of any type and size – while reducing the risk of weight gain. Also, the product doesn't have artificial additives or fillers. It's a natural, safe, and healthy training treat.
It's grain-free and gluten-free product, which is suitable for puppies with allergies. Puppy owners also love the fact that the product comes in small sizes, making it an excellent option for all types of dogs – even smaller and growing puppies.
Pros
---
Buckley's all-natural training treats for puppies are manufactured in the United States to ensure that whatever kibble is produced is safe for canine consumption.
The small size and semi-moist texture of the Buckley trainer treats makes this product easy to chew and swallow and, hence, suitable for use as a training reward for puppies.
Each kibble of this grain-free product for puppies contains just 4 calories to ensure that pooches don't become overweight from being fed the treats.
The grain and gluten-free formulation of the Buckley treats makes this product ideal for consumption by pooches with food sensitivities.
The Buckley Trainers treats are produced in several flavor options, including chicken, bacon, and salmon, which ensures that customers can make purchases based on their pooch's feeding preferences.
Cons
---
There are multiple reports of puppies, including those without a history of food pickiness, refusing to eat the Buckley treats.
Several customers have commented that the Buckley training treats tend to crumble easily and become difficult for their puppies to eat.
#7 Pupford Freeze-Dried Training Treats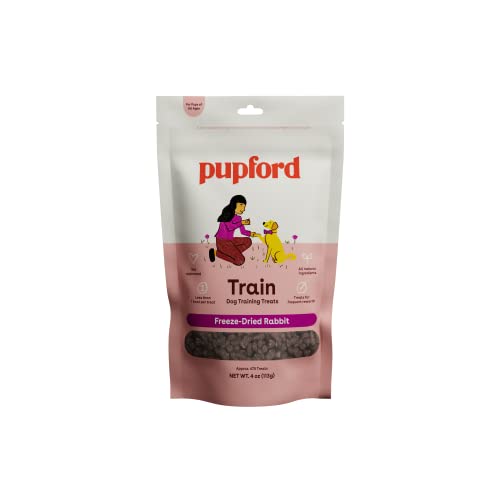 Pupford is a low-calorie, high-nutrition small-sized treat for pups of all ages that is created in and with ingredients from the United States. Beef liver, rabbit, chicken, sweet potato, and salmon are among the variety of flavors available, one of which your dog will definitely enjoy.
This is a premium brand with high-quality ingredients that is less expensive than many premium training treat products. This is a fantastic addition to another fun training session with your pooch.
Freeze drying is a method of removing moisture from food without removing all of the nutrients. Also, it keeps the natural flavors preserved! There's no need to add water to the treats; you can either feed them to your dog whole or break them up into smaller pieces.
You won't feel the need to use a huge chunk of meat to train your dog because only these bite-sized, delectable treats will do the trick! You'll be training your dog to focus, listen, and follow appropriate behavior when you include these in your bag of training tools. Say goodbye to bad behaviors and welcome the focused, calm, and well-behaved puppy of your dreams.
Pros
---
The Pupford freeze-dried training treats are produced with high-quality rabbit meat, which is rich in protein and low in fat, to provide the nutrition that is needed for lean muscle mass formation.
The grain-free formulation of these puppy training treats makes them suitable for consumption by pooches with food allergies and sensitive stomachs.
Production, packaging, and shipping of the Pupford training treats all take place within the United States to ensure compliance with standard manufacturing practices.
The Pupford treats are small and easy to chew and swallow, which makes this product suitable for rewarding good behavior during puppy training activities.
The special freeze-drying process used for the preparation of these training treats for puppies ensures the retention of a significant amount of the nutrition and flavor present in the ingredients.
Cons
---
Several customers have commented that the Pupford training treats have an overwhelming and unpleasant smell, which results in some pooches refusing to eat the kibble.
There have also been some reports of the Pupford training treats being too hard for puppies to chew.
#8 Nutro Mini Bites Dog Treats
NUTRO Mini Bites Dog Treats Roasted Chicken Flavor, 8 oz. Bag
Low-Calorie Treats for Dogs: NUTRO Mini Bites chewy treats contain less than 3 calories per treat, making them perfect...
No Artificial Flavors or Preservatives: These bite-sized soft dog treats that contain no chicken by-product meal, no...
For Treating and Training: NUTRO Mini Bites dog treats are a great way to train your dog, reward good behavior, or to...
These bite-sized chewy training treats come with real chicken as the main ingredient. You can also choose between a yogurt and berry flavor too.
Each bite has less than three calories. Nutro Mini Bites Dog Treats are simply anytime snacks that will help with your puppy's training in a healthy and nutritious way.
The product is also made in the USA under stringent quality standards. All the ingredients used are natural too and your pet also gets additional minerals and trace nutrients that will support overall health. The Nutro Mini Bites Dog Treats don't have any artificial flavors, preservatives, or coloring.
The product is free of GMO and common food allergens that may affect your little pup. There are no fillers too so don't expect to see things like soy and wheat in this formulation. The treats are also perfect for dogs with a sensitive stomach.
Pros
---
The Nutro Mini Bites for puppies are crafted using high-quality chicken as the main ingredient to provide the proteins that are vital for the physical development of puppies.
Each kibble of this Nutro product contains less than 3 calories, thereby ensuring that the treats can be conveniently used for training a puppy without causing the pooch to gain excess weight.
The absence of corn, wheat, soy protein, artificial colors, flavors, and preservatives on the ingredient list of the Nutro Mini dog treats makes this product healthy for consumption by puppies with food sensitivities.
Nutro Mini dog treats are available in several flavor options, including Chicken, Beef & Hickory Smoke, Berry & Yogurt, and Peanut, to enable customers to choose products that align with their puppy's feeding habits.
Nutro Mini Bites are manufactured in the United States, with ingredients obtained from reputable global sources, to ensure that quality production standards are met.
Cons
---
Several puppies have reportedly become sick with diarrhea and vomiting after eating the Nutro training treats.
Multiple customers have bemoaned the largely unpleasant smell of the Nutro Mini Bites, claiming that the smell makes it difficult for them to hold and administer the treats to their pooches.
#9 Cloud Star Tricky Trainers Low-Calorie Training Dog Treat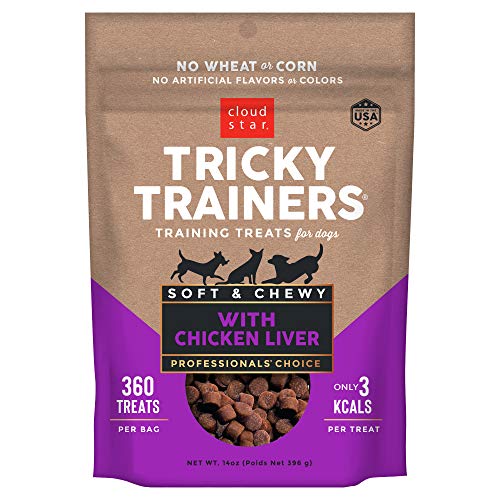 These training treats are designed for pet owners that are looking for soft and protein-rich dog chews. The treats are about the size of a pea so they will work for any type of puppy.
Smaller treats packed with protein and other additional ingredients are often much more effective than bulky ones. The Cloud Star treats are exactly that. The product features chicken liver as the main ingredient.
There are no traces of filler or artificial additives. We also noted that the product is very low in fat.
The treats have maple syrup, which provides a sweet taste that will make the pet keep coming back for more. If you have a puppy that tends to easily get an upset stomach, it's very likely that these treats will be good for them.
We liked the fact that these treats are incredibly small. They can be used for any type of puppy and they are much more effective in training behavior. We also loved that the product is easily digestible and works very well for puppies that tend to get upset stomachs easily.
Pros
---
Each pack of Cloud Star's dog treats contains a considerable amount of kibbles that are sufficient for continuously rewarding puppies during long training activities.
The Tricky Trainers treats are low in fat, with each kibble containing less than 3 calories, thereby making this the ideal training treat for customers that are wary of their puppies gaining excess, unhealthy weight.
In addition to being easier for puppies to eat, the small size of the Cloud Star treats makes this product ideal for use with treat-dispensing toys.
The use of real chicken liver to produce this canine training treat provides a flavor that most puppies will find appealing.
The bite-sized chews of the Cloud Star training treats are free of corn, wheat, artificial flavors, and preservatives, which makes them generally safe and healthy for puppies to eat.
Cons
---
There have been several reports of puppies refusing to eat these training treats, despite the inclusion of natural chicken liver flavor.
Customers claim that it is difficult to break these treats into smaller bits, for their puppies, without crumbling them.
---
Puppy Training Treats Buyer's Guide
---
First off, congratulations on getting a new puppy! It's a major milestone in your life and we are sure that you want to shower all the love to your precious little pup. For the 1st-time puppy owner, we have compiled a list of new puppy checklist items that will come in very handy.
Despite this, it is important to note that healthy dog training treats are just as crucial as healthy dog foods. It's something you should never overlook even for a second.
Before feeding your puppy with training treats, make sure that it has been weaned off milk replacers completely. It can be a choking hazard to feed newborn puppies with training treats.
It's easy to assume that all puppy training treats are the same. After all, they seem to have the same ingredients. But this is not true. There's a big difference between these treats. Before choosing any brand, you may want to consider a few simple factors and we will highlight some of them in this article.
Why Are Training Methods Important In Dogs?
The method you use to train your puppy has implications on how fast the pet learns and whether or not the knowledge will be retained. As more information on canine psychology continues to come out, it's emerging that using dog training treats is probably one of the most effective ways for dog training. Although negative reinforcement techniques may deliver fast and immediate results, they can also leave a lot of emotional scars on your pup.
Using dog training treats is a positive reinforcement technique and the great thing is that it works. This is simply the use of different kinds of rewards to train certain behaviors out or into your little pup.
According to most professional dog trainers, positive training techniques make the training process more interactive to the pup and have a way of inspiring a strong eagerness to learn. This makes it easier for results to be achieved.
Types Of Dog Treats To Use
There is no doubt that puppies love treats, but puppy training treats are different from regular treats. The regular milk dog bones and other bulky treats will not work for training. This is because they may cause unnecessary weight gain in your pet.
So, what kind of treats should you use for training? The first thing to note is that size actually matters. Small pea-sized puppy training treats are so much better for training. This is because when you are teaching your puppy new lessons, you will have to reward it several times before the trick is finally learned.
The last thing you want is a large and bulky treat. It will take too much time. Smaller low-calorie puppy training treats to ensure that the lessons can be delivered slowly and more effectively without the risk of weight gain. You can benchmark your puppy's weight gain with our puppy weight chart calculator.
It's also essential to make sure that the treats are high in protein. The great thing is that most of the treats we have listed above have plenty of protein.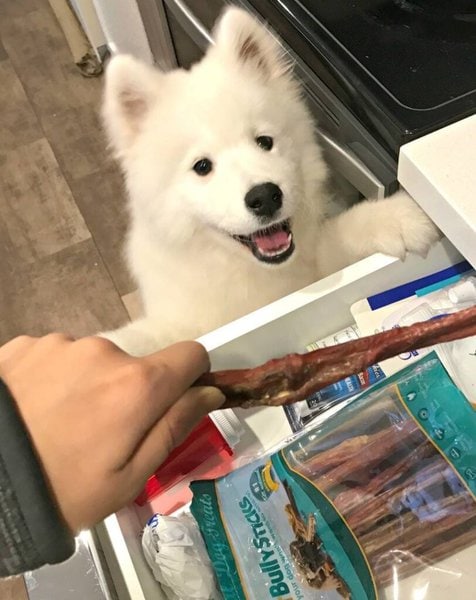 How Many Training Treats Should You Use?
The amount of puppy training treats you use in one single day is very important. Although there's no specific specification on the number of treats to use, it's advisable to not go beyond 10% of your pup's daily calorie intake. For example, if your pup needs a total of 300 calories a day, limit the calories intake through training treats to 30.
What Works Better For Training: Dog Treats Or Praise?
It really depends on the puppy. Some pups love the cuddles and attention during training while others love training. Take time to know your dog and what it likes. If your dog likes training treats, go for them. But if your pup is more of a praise pet, then you may want to consider that option.
Is Clicker Training Treats Any Different?
No, they are absolutely not! There is an initial phase in clicker training where the trainer clicks and hands out the dog treats almost immediately. This reinforces the association of the clicking noise and the treat in the dog's mind. There's, therefore, no rule as to the kind of dog training treats you can use for clicker training. As long as they are tasty and loved by your pup, they should work.
---
Final Thoughts
---
Buying training treats that are healthy and nutritious enough for your puppy shouldn't be that hard. There are many great brands in the market right now. However, our top pick should stand out among the ones listed here.
These treats are incredibly healthy and delicious. They are all-natural and come infused with DHA, which is crucial in the cognitive development of your pup. This puppy training treat doesn't have any filler or artificial preservatives, so it's safe enough for your dog to enjoy.