The best puppy potty training pad is All-Absorb Puppy Training Pads.
Puppies can't really control their bladder till they are 16 weeks old. As a result, they do need to pee frequently.
In fact, according to AKC, puppies can only hold their bladder for the same number of hours as their age in months. This means that your 1-month-old puppy will need to pee every hour!
Using a puppy training pad, you can train your puppies to relieve themselves on the pad – this will avoid getting your carpet or floor soiled.
That's why we have came up with a comprehensive list of the best puppy training pads.
These training pads typically come in 2 different options – reusable & disposable pads. Disposable pads offer the most convenience for the busy pet parent, while reusable pads are more cost-efficient, provided that you're willing to wash them regularly.
#1 All-Absorb Puppy Training Pads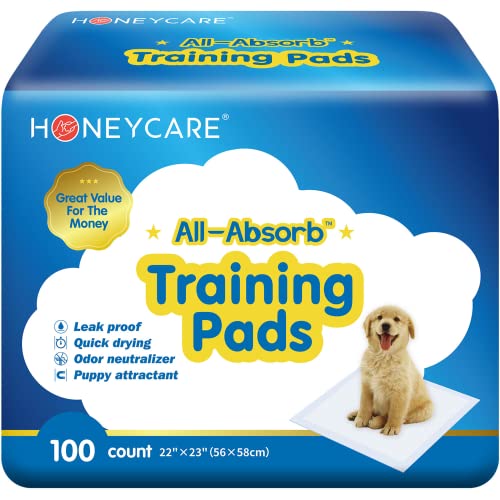 Every puppy owner gets concerned about their pup's ability to potty train and the amount of time it'll take. That's why you need a super absorbent training pad that will soak up all the soiling to keep your floor clean and the pressure off both you and your puppy.
The All-Absorb Training Pad meets these requirements with in-built attractants and a waterproof 5-layer disposable pad that's made from durable polyethylene.
This eliminates the risk of getting spills or accidents on your mat and you can rest assured that this mat is very effective at absorbing all the moisture. The ultra-absorbent core quickly transforms the liquid pee into a soft gel.
The mid-core also comes with convenient fluff pulp which speeds up the liquid conversion process. The top layer of this mat is coated in non-woven cloth, while the other layer is composed of baking soda which works to neutralize odors.
That way, you can leave your pup indoors the whole day without worrying that you'll come back from work to find your house smelling like the dog pound. The best part is that All-Absorb's puppy pee pad can hold 3 cups of urine and this is enough to last for at least a few days.
With five layers of super-absorbent pads, this training puppy pad can take a lot of pee and it's easy to maintain and clean afterward.
Pros
---
Features a waterproof PE bottom layer
Made with 5 layers of absorbent pads
Dries quickly
In-built odor neutralizer
#2 Four Paws Pet Select Pee Pee Puppy Pads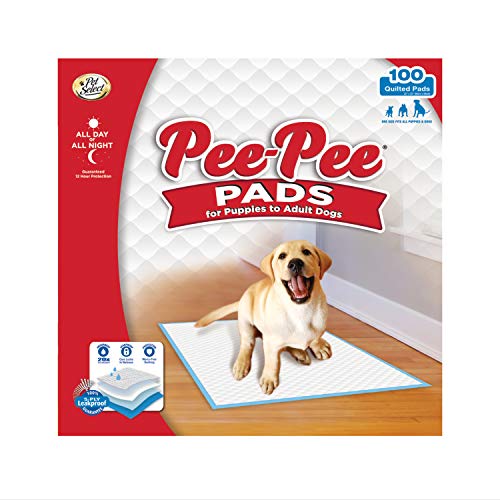 Pee-Pee Puppy Training Pee Pads 100-Count 22" x 23" Standard Size Pads
Pee-Pee training and puppy pads provide worry-free training and an alternative to outdoor relief for your dog with...
Uses 5-ply leak-proof Floor Armor system with 100% leak-proof guarantee; heavy-duty leak-proof liner protects floor and...
Built-in attractant draws dog to pad; super-absorbent quilted core provides maximum absorption, and quick-drying top...
Four Paws Pee Pee Puppy Pads are designed to simplify the potty training process. How is this possible? First, they come with a leak-proof liner that'll keep your floor surface clean no matter what, while the quilted core pad is one of the most absorbent materials out there.
It's also easy to use because all you need to do is put your puppy on top of the pad and give them a treat for sitting on it. This'll allow them to associate going on the pad with being rewarded.
Eventually, they'll get used to going on the pad and this will make it much easier for them to move the process outside. The Four Paws Pee Pee Puppy Pads take out the guesswork from potty training.
It comes in 2 differents sizes – Extra large (28″ X 34″) & Standard (22″ X 22″).
With its quilted upper layer, this pee pad is fairly comfortable for your puppy and it automatically draws liquid straight to the absorbent core. Plus, it features conventional leak-proof lines that allow it to last for up to 24 hours without getting your floor wet.
Pros
---
Built-in dog attractant
100% leak-proof
Made from a durable 5-ply floor armor system
#3 American Kennel Club Pet Training and Puppy Pads
SALE ALERT!!
The American Kennel Club Puppy Training Pads are a decent option for anyone that's looking for effective, high quality puppy pee pads. It comes in 2 different sizes (standard & extra-large), and fits most dog crates and kennels.
Each disposable AKC pee pad comes with 8 layers to prevent stain marks and leaks, and they're absorbent enough to provide up to 24 hours of leak-proof protection.
There's also an in-built attractant (lemon, lavender, newspaper fresh-scented) in these training pads which makes them more favorable to puppies. This is the addition of the odor control tech and comfortable construction that'll give you peace of mind no matter where you place the mat.
This offers great value, as each box comes with 150 disposable training pads.
Keep your floors clean and pee-pee free with the high-quality American Kennel Club puppy pads. It'll keep your house odor-free and clean as you go through this typically tough potty training stage.
Pros
---
Built-in attractant
Anti-bacterial and odor eliminating
Up to 24 hours of leak-proof
6 layers of ultra-absorbent pee pads
#4 AmazonBasics Pet Training & Puppy Pee Pads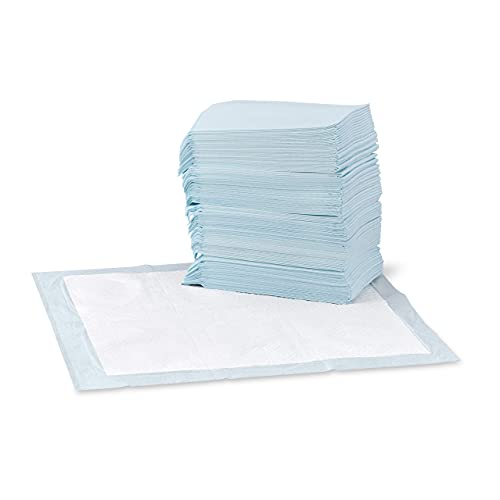 The AmazonBasics Pet Training and Puppy Pads are a firm favorite among dog owners and it's not hard to see why. Not only do they feature natural attractant to ease the process, but they also come with several layers of optimized performance.
The first layer is a 1.5-inch plastic barrier with leak-proof action, an anti-streaming layer for odor and wetness protection, as well a surge layer that can convert the liqud pee into gel.
Then there's the locking layer which helps to prevent leaks as well, while the polyethylene backing finishes the job. With these potty training pads, you can rest assured that there won't be any tracking, leaking or wetness on your floors as you housetrain your dog.
These puppy training pads from AmazonBasics can serve several functions. They're great for potty training, of course, but they can also be used to assist aging or sick dogs, or to keep your pup from peeing all over your car during road trips.
Pros
---
5-layers surrounding a super-absorbent core
Leak-proof
Dries quickly
1.5-inch plastic perimeter for added protection
#5 Hartz Home Protection Gel Dog Training Pads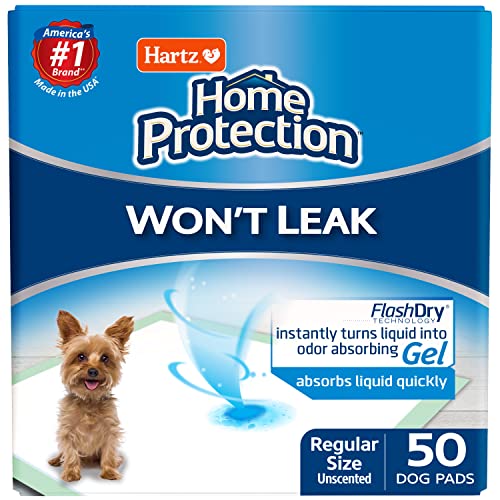 Hartz Home Protection Unscented Odor Eliminating Gel Dog Pads - 50 Count
WON'T LEAK: Each pee pad is created with a unique FlashDry Technology, which instantly turns liquid into GEL to lock...
SUPERIOR ABSORPTION: The 6-layer construction creates a small urine spot, allowing your dog or multiple dogs to find...
LEAK PROOF PROTECTION TO KEEP YOUR HOME CLEAN: Each pad features a plastic backing and border to protect all floor types...
Thanks to its super absorbent core that converts the liquid pee into gel, the Home Protection Dog Training Pads use FlashDry gel technology to keep your house clean as you transition your puppy.
It comes with a lavender layer for even stronger odor protection and there are 6 layers of leak-proof and non-tracking design. This makes it easier to train your little pooch while keeping your floors clean and it's a win-win for everybody.
The most notable feature of these 6-layer Hartz dog training pads is the FlashDry technology which can transform the liquid urine into gel effortlessly. This helps to prevent runoffs, leaks, tracking, and odors.
Pros
---
6 layers of ultra-absorbent training pads
Leak-proof
Odor-proof lavender scent
Comes with FlashDry gel tech
#6 Four Paws Wee Wee Puppy Pee Pads For Dogs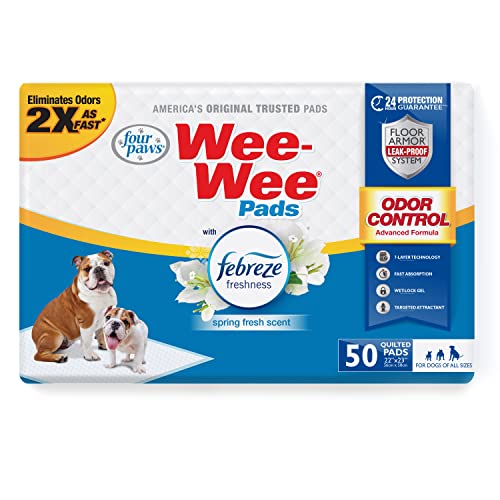 With seven layers of pad protection, the Four Paws WeeWee Pee Pads feature a quilted exterior for comfort and quick-drying. It's very effective at reducing tracking and it's the glue that holds the different layers together.
Between the middle polymer core, there's a duo of reinforcing layers that work to neutralize odors while locking in the liquid to prevent any spills. Included in the Floor Armor System are four layers that'll keep all the dirt from getting on your floors.
It's interesting to note that there are plastic channels here that are designed to completely prevent spills and leaks from getting on your mat or tiles. Plus, it features odor-neutralizing and moisture-locking technology, which is over and above the dog attractant which simplifies the training process.
Research shows that these WeeWee puppy training pads work twice as fast at removing puppy urine odors. Plus, you'll be able to enjoy 24 hours of leak-proof and non-tracking defense thanks to the large quilted pockets and 7 layers of protection.
Pros
---
Neutralizes odors
Moisture-locking
Features leak-proof Floor Armor System
7 layers of super absorbent pee pads
#7 ASPCA Ultra Absorbent Training Pads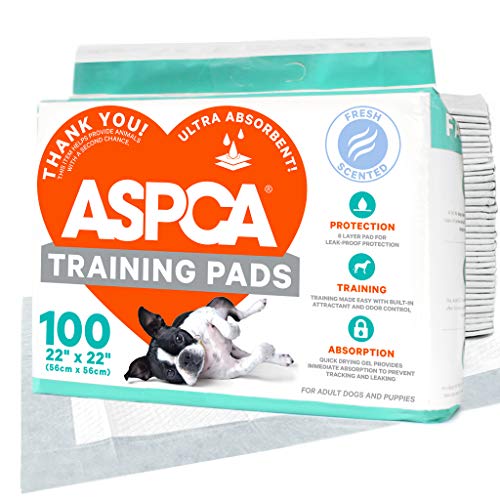 The ASPA is an organization that's constantly working with animals, so it only makes sense that they'd be able to create the perfect puppy training pads. These Fresh Scented pee pads come with anti-bacterial technology and built-in attractant.
They also feature six super-absorbent layers that convert the liquid pee into a quick drying gel. And they're leak-proof, easy to clean and suitable for use indoors.
These puppy training pads are super absorbent when compared to other training pads out there and it's designed for pups and elderly dogs as well.
Pros
---
Anti-bacterial
6 layers of super absorbent protection
In-built attractant
Designed for puppy housetraining
#8 Pet Parents Pawtect Reusable Washable Puppy Pee Pads
The Pet Parents Pawtect Reusable Puppy Pee Pads is the perfect choice if you would prefer washing the pee pads after every use.
With its WickQuick proprietary fabric blend, this reusable pad quickly wicks, absorbs & holds more liquids per square as compared to any other reusable option out there.
It comes in packs of 2, and have 7 different sizes to accommodate different sized puppies. With over 7000 happy customers on Amazon, you can't go wrong with this washable pee pad!
These washable puppy training pads are super absorbent when compared to other training pads out there and it's designed for pups and elderly dogs as well.
Pros
---
Anti-tracking WickQuick that quickly wicks, absorbs & holds liquid
No-slip grip so that the pee pad stays in place.
Save money over the long run
Modern & neutral color options
---
Puppy Training Pads Buyer's Guide
---
When you get yourself a new puppy, there are many things that you have to take note off. You can start by reading this new puppy checklist, which provides a list of items that you have to purchase. Puppy food is also another important item that you need to stock up on.
Buying puppy training pads might have been easier when there were only a few brands available on the market but with so many options to choose from, it's much more confusing and complex. Most of the available products have similar features and often make fantastic claims.
The good news is that you can narrow down your choices by going through the following checklist of features whenever you're shopping for puppy training pads.
To help you find the best potty training pads for puppies, we did our research (such as here, here, here & here) to check out what's available on the market. The following list results from that research and we took many factors into consideration including each training pad's absorbency level, size, eco-friendliness levels, and reviews.
Surface That Dries Quickly
You want quick-drying puppy training pads that are super absorbent. This will make it significantly easier to eliminate odors during the potty training process. A quick-drying surface will make for a more effortless process that doesn't require as much oversight from you as a dog parent.
Be sure to check the puppy training pads for any signs of puppy worms. If there are worms in your puppy's stool, do consult your veterinarian immediately.
Leak-Proof Bottom Panel
The bottom part of the training pad should be made of waterproof materials that make it leak-proof. Of course, it doesn't hurt to have perimeter channels as well to concentrate moisture in the core of the pad instead of leaking it all about.
Resistance
Most absorbent materials like potty paper dissolve into pieces as soon as they're soaked with liquid. That's why you should purchase a tear-resistant pee pad to avoid this unfortunate eventuality. To achieve this, the training pad needs to have tear-resistant and highly absorbent materials.
Likewise, getting your puppy a durable chew toy is a great method to prevent your belongings from getting gnawed.
Odor Neutralization
When combined with bacteria, the nitrogen in urine can lead to a horrible smell that'll affect the overall ambiance of your home. That's why it's a good idea to purchase a potty trainer with baking soda or some other natural deodorizer that'll neutralize that foul urine smell. Essential oils are another reliable option that'll help to promote a nice and pleasant smell.
If your puppy accidentally pees on your couch or carpet, using a pet odor eliminator is an effective method to remove the smells.
Wetness Indicator
If you've ever had to change a human baby diaper then you know all about the wetness indicator technology. This is designed to alert you whenever the baby's diaper gets wet and over-full. Dog training pads now feature the same technology to let you know whenever you need to change the pad.
Dog Attractants
Just because you've bought a couple of training pads doesn't mean that your dog will immediately gravitate towards them. The truth is that it'll take your pup a while to get used to the training pads and you have to be proactive in teaching your dog how to use them. It helps to get training pads with built-in natural attractants that'll entice your dog to go on the puppy training pads naturally.
Absorbency
Most pee pads can handle between 3 to 5 cups of urine, and will usually indicate the amount in the description. But, this is not always the case because some brands are not willing to include that information.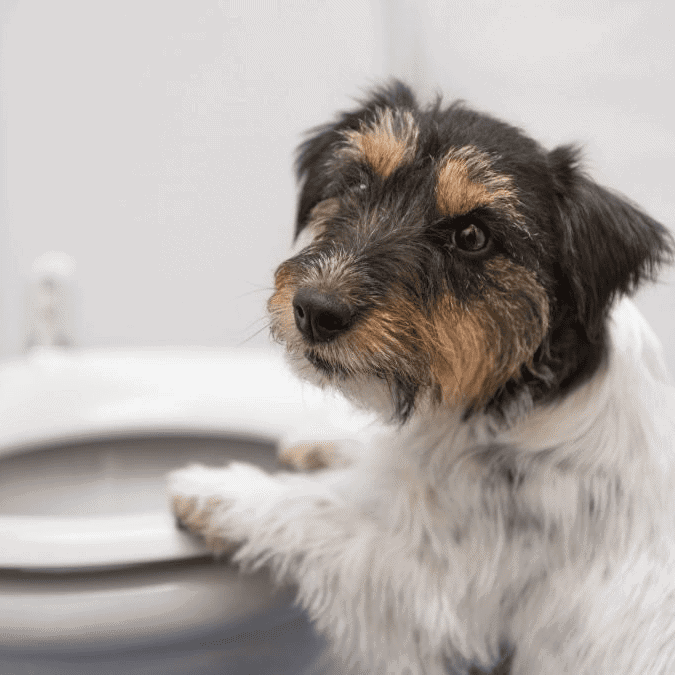 Why You Should Buy A Potty Training Pad?
Pee pads can come in handy for several different scenarios. You can use them for training your puppy while it's still small without worrying about it getting "accidents" in the house. Pee pads are a great way to give your dog one ideal spot for them to pee on so they don't get confused. The last thing you need is your pup to have peeing anxiety and you'll have peace of mind knowing that your floor is protected at all times.
Pee pads are lifesavers for sick or elderly pets because they're usually too weak to go outside and these training pads provide them with an easier alternative. Training pads are also useful for when you need to leave your dog at home for long periods. It's probably the only reliable way to guarantee that you won't come back to a pee-smelling house.
Research shows that these training pads make the whole potty training experience less traumatic for your dog and can help to prevent anxiety and behavioral issues. You should also purchase one for those stormy rainy nights that could make it uncomfortable for your dog to go outside.
As you can see, there's a handy list of scenarios and situations in which you can use puppy training pads. Since most of them are quick to dry, you can also use them as doormats to prevent your dog from tracking mud and water from outside, or you could place them on your car seat when traveling to your dogs to avoid accidents. When your puppy grows up, swap out the puppy training pads for an SUV cargo liner instead.
Plus, they're useful as liners for your canine carrier.
---
Final Thoughts
---
There's no way to avoid the potty training stage when you initially get a puppy. The best way to prevent leaks, accidents, and dirt getting tracked into your house is to use potty training pads. Most models are comfortable and interesting enough to attract your pooch's attention and come with features like odor eliminating, leak-proof and super absorbent technology.
If we were to choose only one option from the potty training pads featured in our review list it would have to be the All-Absorb Training Pads. That's because these pee pads feature a waterproof PE layer and an ultra-absorbent core which completely absorbs the liquid and transforms it into a gel. Plus, they're non-tracing, quick-drying, leak-proof and super absorbent. But what we like about its design is the built-in odor neutralizer and the fact that it's super easy to maintain.