The best dog lift harness is Labra Vet Approved Dog Lift Harness.
Do you have a dog who needs help getting up or down the stairs? Do you have a senior dog with arthritis or hip dysplasia that just can't climb those stairs anymore? If so, a dog lift harness is a perfect solution for your pup!
The harness takes the bulk of the pressure off your pet's limbs, allowing them to move pain-free. All that you have to do is grab the handles and give them the support they need.
A lot of us have had occasions where we need to lift our dog in or out of something like a car, bed, or bathtub. In order to do this without hurting your back, you can use a dog lift harness instead of lifting them by their collar and risking injury. These come in all shapes and sizes so they're perfect for any size pup.
We've compiled a list of the best dog lift harnesses and researched them to find out which ones are most suitable for your pup.
#1 Labra Vet Approved Dog Lift Harness
SALE ALERT!!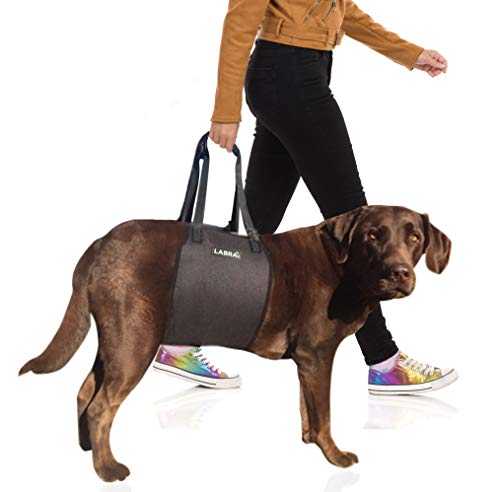 Our #1 pick is the Labra Vet Approved Dog Lift Harness. And we are sure that thousands of satisfied dog parents would vouch for it.
This is an amazing mobility harness with an easy-to-use design. It features a sling that goes under the dog's belly/midsection and wraps around their torso. It is then secured using overlapping Velcro straps. Fits like an old sock.
The length of the handle's straps can be adjusted to suit your height so that you can give support to your pet pooch without bending too much.
You just tug the handle gently and the dog will be able to use the limb that's least affected, to move about.
There are no rough edges on the sling. In fact, the inner side is lined with soft fleece that will keep your aging companion comfortable.
The harness is available in four sizes. Ensure that you pick the right one for your dog.
We would also like to mention, that Labra backs up their vet-recommended dog lift support harness with amazing customer service. They are compassionate about pets and go the extra mile to ensure that you and your dog are happy with their dog lift harnesses.
Irrespective of whether your dog is aged, injured, or recovering after surgery, the Labra mobility harness will give them the support they seek. Can't recommend this enough!
Pros
---
Length adjustable handles
Velcro straps to secure the sling
Sturdy and slip-free
Inner fleece lining
#2 Love Pets Love Dog Lift Harness
The Love Pets Love Dog Lift Harness is a pocket-friendly pick for homeowners who aren't looking to spend too much on a dog lift support harness.
The affordable price tag doesn't take anything away from the quality though.
This is a sturdy rehabilitation harness that does a great job at supporting your dog's weight and alleviating the pain that they suffer from while moving.
It has a very similar design to the Labra harness.
There's a 37.5" long (including the handles) X 9.5" wide support pad that goes on the dog's underside and is secured with a soft Velcro.
The support pad is made of a poly, nylon blend and comes with a soft inner fleece lining.
It's easy to put on and remove and is completely waterproof.
The only possible quibble that we have with it, is that it's available in two sizes only. Ensure that you measure your furry friend and pick the right one. Also, the handles are not length adjustable on this one.
The Love Pets Love dog lift harness is a testimony to the fact that quality canine products need not cost an arm and a leg. It is affordable and reliable at the same time.
Pros
---
Budget-priced support harness
Polyethylene and Nylon material
Fleece inner lining
Easy to put on and remove
#3 GingerLead Dog Support Lift Harness
The GingerLead Dog Support Harness features a corduroy-lined support pad that keeps your dogs comfortable when they walk.
No chaffing or bruises on the skin.
At the same time, the thick corduroy layer prevents the pad from bunching up, even when your pet is climbing up the stairs or walking downwards on a slope.
The outer layer is made of canvas-like nylon. It's machine washable and dryable and surprisingly low on maintenance.
We particularly liked the stay-put straps and Velcro that don't budge even if an excited dog pulls on it.
By the way, the handle and straps can be adjusted from 38" to 60" according to your liking.
Made in the USA and available in seven, male and female-specific sizes.
If thin nylon harnesses are bunching up or causing problems for your pet, then this thickly padded support harness from GingerLead should be ideal for you. It is vet recommended and made in the USA.
Pros
---
5.5" thickly padded support strap
Soft corduroy lining on the inside
Length-adjustable straps
Integrated leash that can be attached to a chest harness or collar
#4 Max & Neo Dog Lift Support
The Max & Neo Dog Lift Support Harness is specially designed for dogs with rear-limb immobility.
Injury, arthritis, hip-dysplasia, irrespective of the condition, the harness takes the weight off your dog's hindquarters and allows them to walk on their front legs.
A part of the bodyweight is comfortably borne by you of course.
The harness is wide and is thickly padded to ensure that there are no scrapes or bruises on your dog's soft belly. Doesn't bunch up or slip either.
The handles are made of neoprene and are comfortable to hold. But they are not adjustable, which is kind of a letdown.
Max & Neo donate one dog harness to dog rescues for every purchase they get. So, it's a great chance for you to do your bit for homeless, abandoned pets. Moreover, this is a phenomenal dog lift support harness. Comfortable for both dog and owner. Perfect for long-term use too.
Pros
---
Designed for dogs with rear-limb immobility
Thick and wide support strap
Waterproof nylon
Comfortable neoprene handles
#5 Coodeo Dog Lift Harness
This is a vest-styled dog lift harness from Coodeo that goes around your dog's entire torso as opposed to just the belly.
The all-enclosed design gives the dogs more support and is less likely to dig into their skin when you lift them.
It is made of waterproof nylon on the outside and is soft to the touch on the inside. Not fleece-lined mind you.
But the material is breathable and can easily replace your dog's harness for all-day use.
We love the thoughtful design that allows the dog to urinate and poop without having to remove the vest.
The removable handle straps can be attached to the appropriate buckles on the vest depending on your dog's disability.
Attach it to the set of two buckles on the front if your dog's front legs are injured. Attach it to the two on the rear if your dog's hindquarters are injured.
This completely changes the weight distribution and it's like customizing the vest according to your pet's disability.
If you dislike the narrow sling-styled dog support harnesses for some reason, then this vest-styled mobility harness should interest you. It keeps your dog comfortable and the customization takes the guesswork out of it.
Pros
---
Vest-styled dog support harness
Breathable nylon material
Allows the dog to urinate without removing the vest
Removable and adjustable handle straps
#6 Dog Lift Harness Sling ACL Brace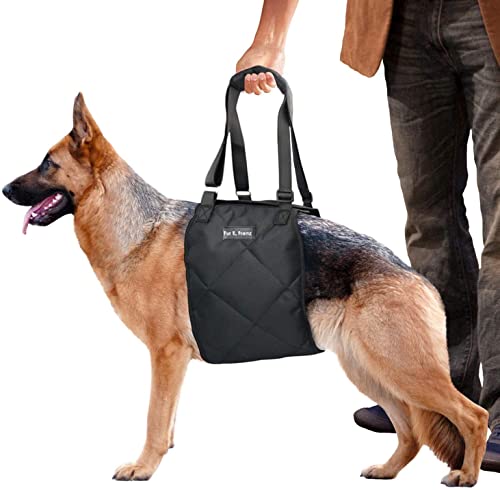 This Dog Lift Harness from 'TheraCool' is designed for larger dogs.
It is available in large and X-large sizes and the support strap is 9.5" wide, distributing the weight evenly across the dog's body.
Perfect for stair climbs, carhops, and everything else that your dog likes.
Made of thick, quilted, oxford nylon, it gives your dogs the comfort they deserve while being lifted onto the back of a car or up the stairs.
The design is a non-slip one and once secured using the overlapping nylon straps, it doesn't move an inch.
The straps are length adjustable and if the harness gets soiled or dirty, you can machine wash it and air dry.
The TheraCool Dog Lift Harness makes it possible for you to help your large, aging, or disabled canine move about freely. The weight distribution is perfect and even elderly dogs parents are able to lift their 80 lbs. dogs with ease. You can't really ask for more.
Pros
---
Large, thick support harness for large dogs
Non-slip design
Quilted oxford nylon fabric
Length adjustable handle straps
Machine washable
#7 PetSafe CareLift Support Harness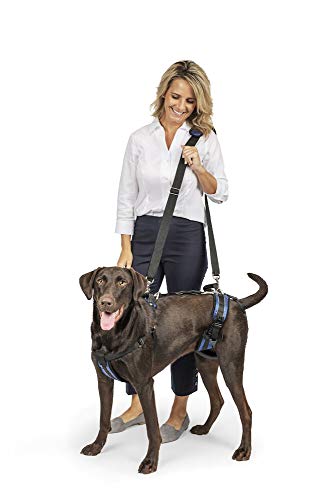 The PetSafe PetSafe CareLift Support Harness has a unique design. It is a two-part harness with one part supporting the pet's hips and the other part supporting their shoulders.
Both parts have a thickly padded band that goes around the body and there are leg loops that help secure it further.
Rubberized handles are provided with the harness to allow pet owners to support their dogs. But you can always use a lifting leash if you so choose. Or the shoulder strap that's included in the package.
What we liked about the PetSafe Solvit is that you can choose the area of your dog's body that needs support.
If your dog has hip dysplasia or is immobile from the rear side, then you can support their hips allowing them to move using their front limbs, or vice-a-versa.
You can also support both if need be.
Comes in three sizes.
The PetSafe CareLift Support Harness might be the best dog lift harness for supporting senior dogs. Not only does it provide even support on both hips and shoulders, but it also includes a shoulder pad for comfortable lifting.
Pros
---
Unique two-harness design
Can support the front limbs or the hips or both
Thick padded band that goes around the body
Perfect for dogs of all ages and sizes
---
Dog Lift Harness Buyer's Guide
---
A lot of dog parents are skeptical about using a dog lift harness for their pets at first.
Instead, they try to lift their dogs on their own, no matter how back-breaking the task may be.
Picture yourself lugging an 80-pound German Shepherd with hip dysplasia up a flight of stairs.
What if it slips out of your hands? Or you trip on the stairs yourself?
Dreadful thought, isn't it?
Not only is a harness more comfortable for both the pet and the parent, but it is also less likely to cause injuries.
But before you jump head over heels into the market and buy the first harness that you come across, let's quickly talk about some of the key variables that matter the most while selecting a harness.
Related: Best Dog Wheelchair
The Width Of The Support Strap
Dog lift harnesses are simple by design. They are just modified slings, to be honest, that help you take the weight off the dog's legs and distribute it evenly across the body.
One of the most important factors that determine this weight distribution is the width of the support strap that goes around the dog's body.
Ideally, the strap should be wide enough to cover at least half of the dog's abdominal area.
For a large dog, that's approximately 8-9 inches. For a small or medium-sized dog, that should be 4-5 inches at least.
Anything smaller might do more harm than good.
Related: Best Dog Steps & Stairs
Material – Can't Go Wrong With Nylon Or Fleece
Dog lift harnesses are typically made of nylon or nylon blends due to the durability it offers.
Nylon is a foolproof choice. It is waterproof and lasts for years even with everyday use.
But the inner side of the harness that comes into contact with the dog's skin must be lined with a softer material that doesn't bite into the skin.
Some manufacturers line it with fleece, which is extremely soft and wouldn't chafe the skin or cause sores.
Fleece-lined harnesses can even be kept on all day.
The caveat is that fleece tends to slip and bunch up on certain short-haired breeds. Not to mention that it can be a dander magnet.
Corduroy is a great alternative. It's soft, doesn't slip, and doesn't get clogged with fur and dander. Look for a harness with reflective material on the outside if you walk your dog outdoors after dark.
Look For Soft & Sturdy Handles
One of the purposes of a dog lift harness is to make it comfortable for you to lift the dog off the floor.
So, it's imperative that the handles and straps be sturdy, soft, slip-free, and length-adjustable.
Sturdy so that the stitches don't fray after a few weeks or months of use. Soft so that blisters don't form on your hands.
Slip-free for obvious reasons and length adjustable because if it cannot be adjusted and the strap is a short one, then you'd have to bend every time to help your pooch off the floor.
Fit Matters – Always Measure
Measure your dog according to the manufacturer's recommendations.
Some brands size their dog lift harnesses based on the dog's weight, whereas others require linear measurements.
Grab a measuring tape and measure the length and girth of your dog's abdomen and chest.
The harness must comfortably go around the dog's body. It shouldn't cramp the dog's belly nor should it hang loose.
Most harnesses have overlapping Velcro straps. Some might use buckles and straps.
Velcro straps are easier to put on and remove.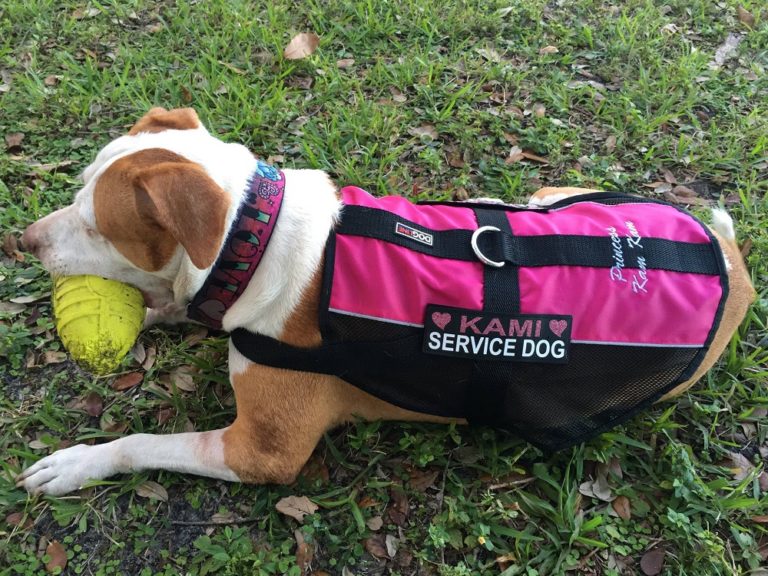 Tips To Use The Dog Lift Harness Correctly
Despite the seemingly simple design, it takes a while for dog parents to get used to walking their dogs with their dog lift harnesses.
You might discover that the dog finds it difficult to adjust to the harness.
The harness might bunch up at the rear when the dog is climbing the stairs.
And in some cases, the dog might plain refuse to walk with the harness around their bodies.
Here are some tips to use the dog lift harness correctly.
Give The Dog Some Time To Get Used To It
An aging dog or an injured one might be undergoing a lot of pain and stress. The new harness might add to the anxiety. Give them some time to get adjusted to it. Let them wear it for a few minutes each day. Start off by gently tugging on the handles or the leash and helping them stand. Take them for small walks around your home. Always remember to reward good behavior by giving your pooch some healthy dog treats. In a few days, the dog should be comfortable in the harness.
Only Provide As Much Support As The Dog Needs
If the dog can move about fairly well, then there's no need to lift them off the ground. Just taking some weight off their legs should suffice.
If you have a large dog, you might need a ramp to help them get into the car. Or a two-part harness, like the PetFit Solvit. Two people can lift the dog using the shoulder and hip support straps.
While helping them get up or down the stairs, provide support to the legs which are weakened and allow them to use the other legs to move.
And sadly, if your dog is completely immobile, then a vest-styled harness, like the Coodeo dog lift harness might make it easier for you to lift the dog safely.
Related: Best Dog Joint Supplements
---
Final Thoughts
---
After careful consideration and analyzing all the factors that we mentioned, we feel that there's no better option than the Labra Dog Lift Harness.
It fits all the above-mentioned scenarios to the T.
It has a wide, heavily padded strap for even support, is fleece-lined and keeps the dog comfortable, and has length-adjustable, soft handles for you to grip easily.
To top it off, customer support is legendary. Hard to beat a combination like that!
We hope that you enjoyed reading this article and like our recommendations for the best lift harness.
If you feel that we've missed out on anything, then do write to us. We'd love to hear about your experiences and doggie tales.