The best dog stairs steps is CertiPUR US Certified Foam Dog Steps.
What are dog stairs, and how do they benefit your four-legged friends? Dogs can be just as clumsy as humans when it comes to climbing up or down a flight of stairs. This is especially true for older dogs that have arthritis in their hips, legs, or back. Dog stairs and steps help make the process easier on your pup while also preventing injuries from falls.
Besides, young puppies have developing bodies. Until their paws and joints are fully grown, they can be vulnerable to injuries all the time, and dog stairs could help reduce this risk.
The best dog stairs & steps are sturdy and easy to assemble, which is why we have compiled this list of our favorite dog stair products on the market today. Read on for more!
#1 Best Pet Supplies CertiPUR-US Foam Dog Steps
SALE ALERT!!
The foam pet steps from Best Pet Supplies come with a soft and fuzzy surface. They are safe and quite comfortable for both smaller and larger breed dogs. In addition to this, the dog steps are created using CertiPUR-US certified foam. The foam has a reputation for being sustainable and 100% natural. They don't have any toxins that could potentially harm your pup.
It also has a soft fabric cover on the top. The fabric covers are available in 12 different colors and patterns. The dog steps are very stylish and will easily go with the rest of the décor in your home. They also deliver great traction for dogs that want to climb. Even dogs that have never used stairs before will definitely enjoy this one. The fabric cover can be removed and is machine washable too.
The CertiPUR-US certified foam dog steps are quite sturdy. This makes them perfect for dogs of all sizes. Despite the sturdy nature, the dog steps are soft at the top of the foam. As a result, dogs with weak paws and joints can still use them. We also loved the stylish covers. The fabrics come in 12 different colors and patterns that can easily work with any décor at home.
Pros
---
Offers plenty of traction for dogs to climb.
The foam is made using suitable and non-toxic foam.
Comes in a variety of styles and colors.
Fabric covers on the top deliver excellent style.
#2 Pick Pet Gear Easy Step II Dog Stairs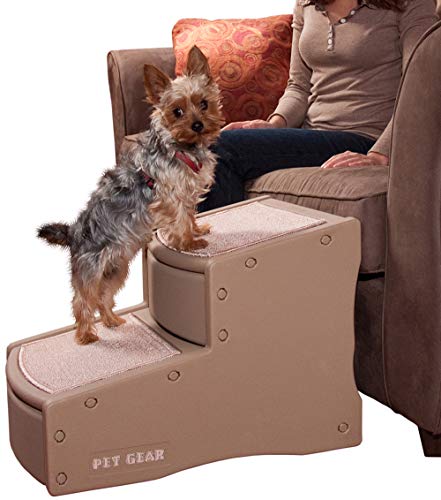 The Pet Gear Easy Step II Pet Stairs is perfect for dog owners who are looking for value at a relatively low price. The product offers wide and deep stair landings which are perfect for smaller breeds like pugs and terriers. Each step on the stairs has an outstanding grip too. The dogs can jump and climb without the risk of sliding.
In addition to this, every step of the dog stairs is covered with a removable and machine washable tread. These new dog steps are easy to assemble too. It takes a few minutes and you won't need any tools for the job. The dog steps can also be snapped together and taken apart for easy storage.
The Pet Gear Easy Step II Stairs are designed for small dogs. They will also deliver excellent grip.Your dogs can climb and play around without sliding. The treads on each step add to the stylish nature of this product. They can also be removed and cleaned anytime. This makes the overall maintenance quite easy.
Pros
---
Wide and deep landings ideal for small dogs.
Each step has a tread that offers excellent grip.
Ease of assembly and disassembly.
#3 Pet Loader Light 16" Platform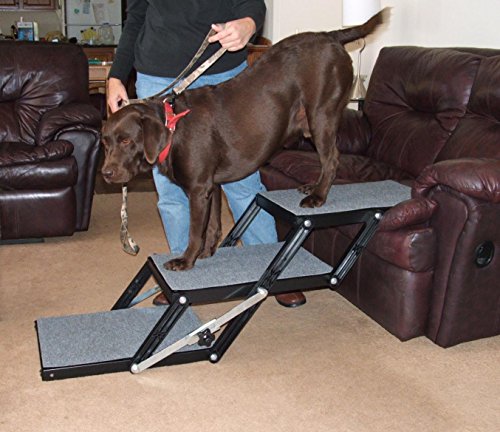 As the name suggests, the Pet Loader Light 16" Platform can be perfect for moving dogs around. So, if you are having trouble loading your dog into the car, these dog steps will take away all the hassle. There are different models available. Each has a different number of steps that range between three and five.
The product is foldable too for easy storage and transport. It is also average in size. However, it can be used by smaller and bigger-sized dogs. Besides, the multiple steps on the loader make it perfect even for the most skittish dogs. It is the perfect way of loading your dog into the car without any risk of injury.
The versatility of the Pet Loader Light 16" Platform is definitely something worth noting. You can choose a 3-step, a 4-step, or a 5-step loader depending on the size of your dog. We also liked the fact that it's a hassle-free product. It's very easy to use. You just extend the steps, allow your pup to jump into the car, fold it back, and store it for future use. This is the kind of convenience that every dog owner would love!
Pros
---
Comes in 3, 4, and 5 steps for versatility.
Extendable steps and can folded back when the loader is not needed. This makes transport and storage quite easy.
Perfect for lifting your dogs into cars, beds, and couches.
#4 Arf Pets Wood Dog Stairs
SALE ALERT!!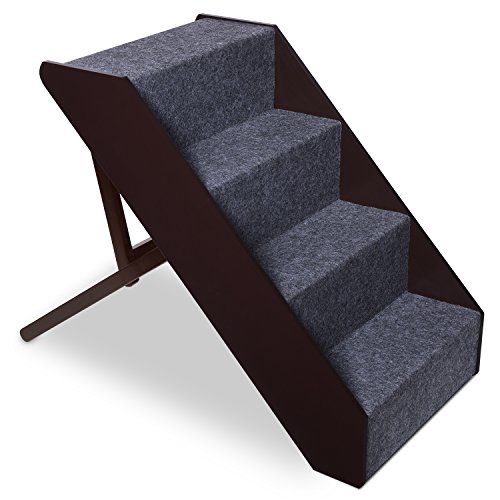 Product
The Arf Pets Wood Dog Stairs is just convenient and stylish. It comes with a rich espresso finish that will accentuate the decor in your living room. The sturdy and strong construction ensures dogs of all sizes can jump and climb anytime. The stairs are also foldable. You can move or put it away in storage conveniently in case you run out of space.
The dog steps will also come with safety side rails which add to the safety of the product. The Arf Pets Wood Dog Stairs don't need to be assembled either. Just find a nice little corner in the room and place them.
The Arf Pets Wood Dog Stairs is probably one of the most stylish products in this list. It's just easy on the eye. We also loved the sturdy construction. The dog steps are adjustable and deliver enough flexibility for all types of dogs.
Pros
---
Adjustable dog stairs, which makes them versatile enough to accommodate dog breeds of various sizes.
Can be folded for easy storage and transport.
Very stylish finishing that offers décor value to your living room.
#5 Pet Gear Easy Step IV Dog Stairs
The Pet Gear Easy Step IV Pet Stairs are luxuriously designed to comfortably allow dogs to climb on cars, couches, and beds. The stairs feature deep angled landings on each step that allow small dogs or cats to get their four paws on every step.
This makes climbing much easier and safer too. The stairs also have rubber grips on the bottom. The grips are designed to keep stairs glued in one place. No matter how hard your pooch jumps or climbs, the stairs will not move.
The stairs can easily be assembled in a few minutes without any tools. They also feature a soft cover on each step for extra grip and style. The covers are removable and they can be machine washed for easy maintenance.
The stairs are not relatively high and only measure 19.84 inches in height. Each step measures about 5 to 6 inches, so they can be perfect for both smaller and big dogs. According to the manufacturer, this pair of stairs can support a maximum weight of 50 lbs.
The Pet Gear Easy Step IV Pet Stairs are relatively safer compared to many designs in the market. The deep angled landings on each step allow dogs to climb up and down safely. This reduces the risk of injury significantly. We also liked the non slip rubber grips at the bottom of the dog stairs. The grips hold itself in place for additional safety.
Pros
---
The stairs come with deep angled landings on each step.
Ideal for larger and aging canines that have lost some agility.
The stairs have rubber grips at the bottom.
Ease of assembly without the need for tools.
#6 Premier Pet Steps Tall Raised Panel Dog Steps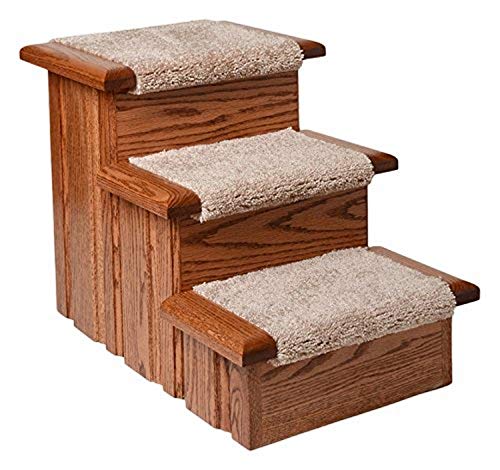 In case you are in the market for something a little classier and more elegant, then the Premier Pet Steps won't disappoint. The dog steps are created using wood and carpet accents. They are about 16.5 inches tall and look totally different from some of the popular dog steps in the market at the moment.
The wood construction is very sturdy too. The entire stairs can support up to 300 lbs in weight. This is a clear indication of how strong it is. Even people can climb up and down if they want. The Premier Pet Steps are simply a combination of classy design and strength. It's something you will love to have displayed in your living room too.
The stylish nature of the Premier Pet Steps is the biggest appeal. The wooden design is finished with a unique stain and carpeting for a stunning look. Strength and durability are also quite good. There aren't many dog steps in the market that can support 300 lbs in weight. This is a huge plus for people with big dogs. The great thing is that the Premier Pet Steps can also be used by smaller pets including cats.
Pros
---
The sets are made using solid red oak wood which is very strong.
Can support large dogs easily.
The high-quality finishing on both the wood stain and the carpet accent will blow you away.
#7 Majestic Pet Portable Dog Stairs
These simple stairs are easily portable and can be used to help dogs into beds and other high places. The stairs are available in six fun and exciting colors that are embellished with additional patterns. This allows them to go well with the furnishing in any home.
The stairs offer a cushioned surface too that takes the weight off your canine's feet as it lands. This leads to extra safety. These cushioned covers can be removed and washed too. The Majestic Pet Portable Pet Stairs are made in the US from upholstery grade fabrics. As long as they are properly maintained, they can last for a very long time.
The Majestic Pet Portable Pet Stairs are nice looking. The wide variety of colors and patterns ensures they are able to rhyme with furnishing in your living room. Safety too is quite good. The cushioned steps ensure the landing for dogs is as easy as possible. In case you are looking for a good pair of stairs for puppies, small dogs, or cats, we would highly recommend this one.
Pros
---
Easily portable and versatile.
Can be used in beds, cars, and couches.
Available in six color schemes to choose from.
Cushioned surface that is easy on the dog's paws and joints.
#8 PETMAKER Folding Plastic Dog Stairs
SALE ALERT!!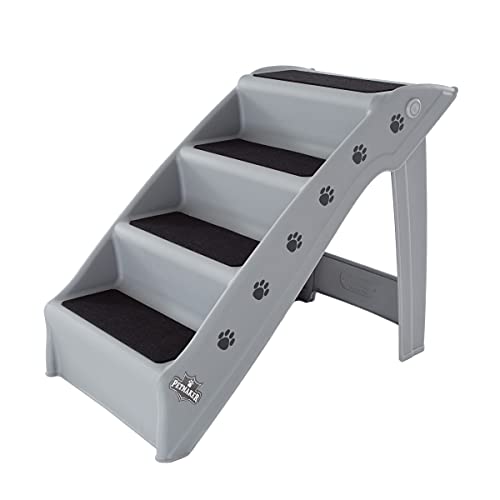 Give your dog an easy way up to anything with these simple and high-quality dog stairs. These dog steps from PETMAKER are perfect for any kind of dog but are recommended for puppies, kittens, and senior animals that have lost some agility. Each step has a carpeted tread too for extra traction.
The stairs can be folded for easy storage and transport. There is also a unique locking system. Once the stairs are assembled, the system keeps the dog steps in place all the time. This is an important safety feature that you won't find in many other designs out there.
The safety of the PETMAKER Folding Plastic Pet Stairs is definitely one of its strong points. Each step in these stairs is carpeted for excellent traction. The side rails also ensure your pup can jump and climb without slipping. There is a locking mechanism that keeps the steps in place once they are assembled. We also loved the simple and foldable design that allows for easy storage and mobility.
Pros
---
Easy to use for both the dogs and the owner.
The stairs can support up to 120 lbs in weight which makes it perfect for smaller sized dogs.
The design has side rails for extra safety.
#9 PetSafe Solvit PupSTEP Plus Dog Stairs
SALE ALERT!!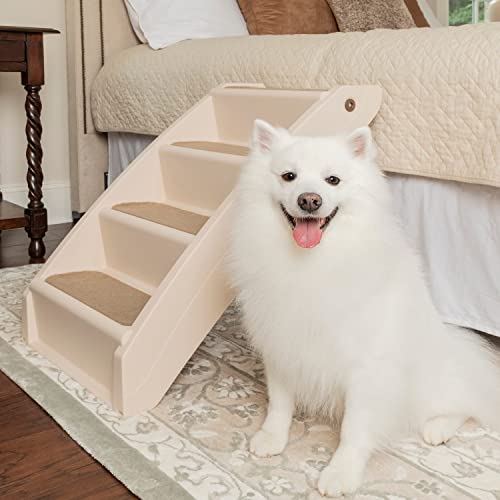 The PetSafe Solvit PupSTEP Plus Pet Stairs offers a simple and easy way to grant your pooch access to high places. The versatility alone should be enough to convince you of its value. These dog steps are super light at just five lbs. They are very easy to move around the room but they are also very strong.
The dog steps can handle up to 120 lbs in weight. The PetSafe Solvit PupSTEP Stairs feature non-skid feet pads for extra safety. Although they are light and compact, these dog steps offer outstanding durability too.
The durability of the PetSafe Solvit PupSTEP is the biggest selling point. It can support up to 120 lbs in weight. The steps are very small and lightweight too. They can also be folded easily. These features make storage and mobility very convenient. The steps are very safe too. An inbuilt safety rail and non-skid surfaces are some of the safety highlights to look forward to.
Pros
---
A foldable design that is ideal for easy transport and storage.
Lightweight for easy mobility around the house.
Comes with built-in safety rails and non-skid feet for excellent safety.
Finished with neutral colors to complement your living room.
#10 Zinus PS-C2118C Easy Pet Stairs
The Zinus PS-C2118C easy pet stairs completes our top eleven picks. They are comfortable and versatile. This is because they are available in five different sizes and can accommodate dogs of all sizes and weights. The stairs also come with high-density foam.
The foam is relatively soft on your dog's joints and paws. You don't need to assemble once you buy. The stairs are cream in color and this neutral shade can blend into any décor easily.
The versatility is the most notable feature. The Zinus PS-C2118C easy pet stairs is available in five different sizes. This gives you the chance to pick stairs that are ideal for your dog. We also loved the neutral cream finish on the upholstery. It's a very unique color that will easily blend in with your furnishing and décor.
Pros
---
The high-density foam on the stairs is soft on the dog's paws and joints.
Very versatile, can be used by dogs of different sizes and weights.
Easy to assemble.
#11 Topmart High-Density Foam Dog Steps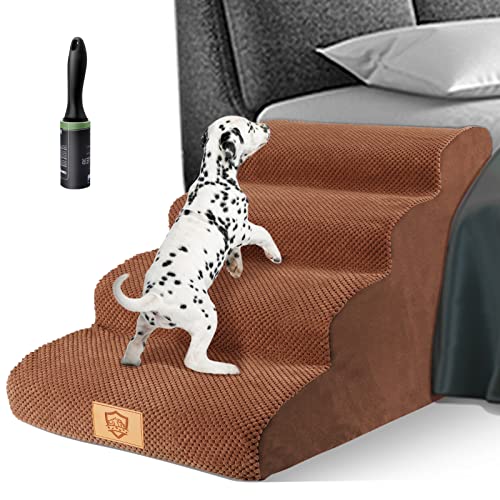 The Topmart High-Density Foam Dog Steps are perfect for pets with injuries or much older. The steps are 15.75 inches long by 7.1 inches wide each. They are built wide to help reduce the strain dogs may experience while climbing up or down. It can be used in a car, bed, or other places that your pet will need to access.
The dog steps from Topmart are made of a soft, machine washable cover and have a non-skid bottom surface. It has a corduroy cover which reduces the chances of your pet slipping when using it. It is stuffed with 30D high-density foam and is perfect for pets no more than 60 lbs in weight.
The Topmart High-Density Foam Dog Steps are great for your aging or injured furry friend. We love that it is stuffed with high-density foam and the outer cover is non-slip and machine washable. Make sure that you take time to open the vacuum compressed package for your pet's safety.
Pros
---
Wide steps with each measuring 15.75 inches long by 7.1 inches wide.
Perfect for older pets or those with injuries.
Made with an anti-slip corduroy cover that is available in Brown or Navy Blue.
Soft and machine washable.
Stuffed with high-density foam that can hold dogs up to 60 lbs.
Can be used for accessing car seats, beds and etc.
---
Dog Steps & Stairs Buyer's Guide
---
It's not uncommon for dogs to have trouble getting into higher places. For example, dogs love to climb on the bed or on the couch to cuddle.
Dog steps and stairs make it easier for them to do this. You will not always be there to lift young dogs up to the bed or the couch. But the stairs will take care of this all the time even when you are not around. In other cases, you may have a dog that has lost its agility due to old age. Dog steps can help your canine companion climb up and down different places with ease.
Related: Best Dog Ramps
Dog Ramps VS Dog Stairs
Dog ramps can play the same role as the stairs but these are two different products. A lot of dog owners, however, prefer the stairs. They can easily fit into small spaces without any issues. However, some dogs, especially those that aren't used to stairs, will need some time to get used to.
Related: Best Dog Lift Harness
Features To Consider When Looking For The Best Dog Steps
Dog steps and stairs come in different shapes and sizes. There are too many options out there. However, there are a number of important considerations you will need to make before you purchase one which we will cover here.
Safety
Dog stairs are designed to help dogs reach high places and as such, there will be a lot of climbing. As a dog owner, you must make sure the stairs are safe. Your pooch should be able to climb up and down without slipping or falling.
Mobility
It is also important to choose stairs that can conveniently be moved from one place to another. Dog steps are not designed for one location. Sometimes you may want to use them outside. For example, stairs are commonly used in lifting dogs into cars these days. Something that can be moved easily will be perfect for this.
Stability
A good pair of stairs must withstand the weight of your dog. In other words, the stairs should be stable enough to stick on the ground as the dog climbs up and down. This will be safer for both the dog and the owner. Various designs have unique weight specifications. Make sure you understand this before you buy.
Aesthetics
Dog stairs will probably go into your living room. In that case, it should be something that adds décor value to your spaces. Most designs in the market are very stylish but it all depends on your tastes and preferences.
Assembly
Once you buy the dog stairs from the store, you will probably need to set them up. Some stairs require assembly while others don't. The great thing is that the majority of stairs can be put together with a lot of ease. You won't even need any tools for this.
Dog Stairs VS Ramps: Which Do You Really Need?
If you're reading this, you're probably feeling undecided about which option to pick between dog steps/stairs or ramps. If you've never tried one of these options before it can be difficult to figure out which one would be a good fit for your home and your dog. That's why we prepared a guide that'll help you decide based on the advantages of each option while taking your needs and the needs of your dog into account.
What To Choose (Dog Stairs VS Dog Ramps)
Every dog owner has a unique set of requirements based on the design of their home and the needs of their canine companion. That means there's no one-size-fits-all solution when it comes to canine products.
But, it's understandable that most dog parents can't tell the difference between dog stairs and steps. That's because these two words have the same meaning, and are often used interchangeably, which is what we'll be doing in this article.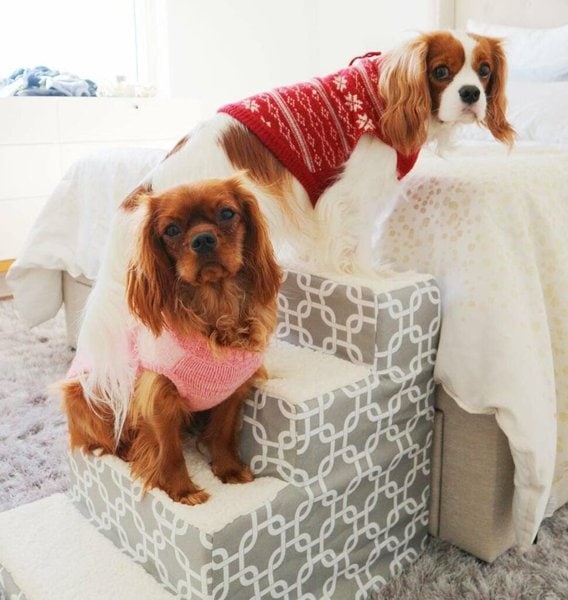 Pros Of Dog Stairs Over Dog Ramps
There are many benefits of using dog stairs or steps instead of dog ramps, such as the following:
Dog stairs are compact, and they don't take up much space. Yet they'll help your pooch reach the same height as a dog ramp. You can easily place the dog steps next to your bed or any tight space.
Dog steps have an ergonomic design that makes it easier to store them when not in use.
Stairs enable your dog to climb up and down the stairs safely regardless of their age or health condition. That's why dog steps come highly recommended for elderly dogs or young pups that are still getting used to climbing stairs.
Dog stairs are versatile enough for outdoor use, and you can easily store them next to your car, in your garage, or next to an outdoor deck.
It's easier to find customized dog stairs when compared to dog ramps. That's because manufacturers are always interested in customizing dog stairs and catering to unique customer needs and specifications. All you have to do is provide the manufacturer with your specific dimension, and they'll give you a quote of how much it'll cost to customize the dog stairs.
Dog stairs typically cost less than dog ramps because they're cheaper to make. This makes them an ideal option for anyone that's shopping on a budget.
Cons Of Dog Stairs Over Dog Ramps
There are also quite a few disadvantages worth mentioning when comparing dog stairs to dog ramps.
Dog stairs aren't as sturdy and reliable as dog ramps. Even if you lock your dog stairs tightly, they'll never be as secure as a dog ramp.
Generally, dog ramps are safer and more reliable for arthritic dogs because they don't cause as much strain on your canine companion's joints when climbing up and down the stairs. Dog steps or stairs can put a lot of strain on your pooch's joints and make it difficult to navigate elevated surfaces.
Most dogs favor ramps instead of steps because they have a wider, more reliable look. This is in stark contrast to dog stairs that look narrow and too small to walk on safely. That's why dog ramps are often recommended for elderly dogs or injured dogs because your dog is less likely to feel apprehensive about climbing onto them.
With that said, different dogs have different expectations and preferences. Some dogs are so anxious about climbing onto elevated surfaces that they won't go for stairs or ramps.
Related: Best Dog Wheelchairs
---
Final Thoughts
---
Dog stairs and steps are designed to help dogs climb into relatively high spaces with ease. Despite the huge variety of options in the market, our top pick comes highly recommended.
Each step on these stairs is reinforced with sustainable, non-toxic foam for excellent traction. The design is also stylish. The fabrics that cover the foam are available in many colors and patterns. Simply put, style, durability, and safety for dog owners are the features that our top pick on this list will shine.