The best dog toothpaste is bluestem Oral Care Toothpaste.
Dog toothpaste is important! It's not just for humans. If you use the best dog toothpaste, your pup will be less likely to have bad breath and dental problems.
You may think that it doesn't matter which one you pick because they all do the same thing, but there are many different types of products out there with varying qualities.
Some brands can even help cure oral diseases in small dogs like gingivitis and plaque buildup. The right type of product can make a world of difference for your pet so read on to find out more about how to pick the best one possible.
Using the best dog toothpaste can ensure that your dog with good oral health keeps your dog's teeth plaque-free. High-quality toothpaste that is specifically formulated for canines is exactly what your furry companion needs.
#1 bluestem Oral Care Toothpaste
The bluestem Oral Care Toothpaste is a flavored toothpaste to keep your pets' teeth clean and healthy. Its coactiv+ formula is made of food-grade ingredients. It helps reduce stubborn tartar up to 25.4% and fights plaque too.
This pet toothpaste also helps to promote fresh breath and overall oral health. In a scientific study, it was tested against seven pet bacterium types and four toothpaste brands. The study's summary results were found to be very effective and can be made available upon request.
This toothpaste from bluestem was made and tested in North America, and its priority is pets' oral health. The ingredients do not include sugar, xylitol, or alcohol which makes it suitable for most cats and dogs.
We love the fact that bluestem Oral Care Toothpaste helps to keep their teeth clean. We also love that it helps to reduce tartar and plaque. We are sure that both dogs and cats will love the chicken-flavored toothpaste.
Pros
---
Toothpaste flavored in either chicken or vanilla mint.
Contains patent-pending coactiv+ technology.
Helps fight plaque and tartar.
Boosts fresh breath and clean teeth.
Tried and tested in North America.
Food-grade ingredients.
Free of sugar, xylitol, and alcohol.
Cons
---
Doesn't come with a toothbrush.
The 2.5-oz squeezable tube may not last as long as we hope for.
#2 Sentry Petrodex Enzymatic Toothpaste For Dogs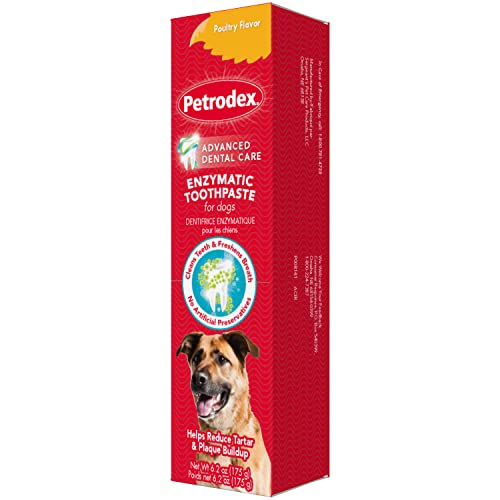 Curious about what is the #2 rated dog toothpaste?
It's the Sentry Petrodex Enzymatic Toothpaste For Dogs.
Of all the best dog toothpaste, this toothpaste clearly leaves a mark for being effective. It uses patented enzymes to control plaque, prevent plaque and tartar buildup, and also eliminate bad breath.
The toothpaste has a non-foaming formula and hence does not require rinsing. If you have a squirmy pup at home that hates having his mouth washed, then this is your best option.
The formula that goes behind making this toothpaste quite popular is the production of hydrogen peroxide. It not only helps clean your dog's teeth but also keeps them sparkling white when used regularly. There is a lot of canine toothpaste in the market that claims to do the same but often leaves yellow stains behind.
Do you know what the surprising part is?
While reviewing this product, we realized that the feature liked the most by users is the flavor. Most dogs love the poultry flavor that it comes along with, and it is easier for them to accept the taste.
We recommend this product because if you can use this toothpaste regularly, you can expect your dog's teeth to shine bright, its breath to feel fresh and clean, and you can also prevent gum diseases. This toothpaste effortlessly promotes the oral health of your pet when used regularly.
Pros
---
No rinsing required.
Pets easily accept the flavor.
Breath feels fresh.
Tasty poultry flavor.
Cons
---
One of the more expensive options.
#3 Arm & Hammer Dental Care Dog Toothpaste
What can be better than dog toothpaste that tastes like vanilla ginger flavor?
The Arm & Hammer Dog Toothpaste is an enzymatic toothpaste that can prove to be your furry friend's best companion. You can not only control bad breath but also prevent odor from building up again with regular use.
Apart from fighting bad breath, it prevents tooth decay, plaque, and tartar buildup, and also a lot of gum diseases to a good extent.
This toothpaste is ideal for small and large dogs as well as puppies. You can also use it on cats. While targeting plaque, this toothpaste also strengthens and whitens your dog's teeth in no time.
Even if your pet is a picky eater, he is sure to give in to the incredible taste of this toothpaste. The entire kit also contains a soft-bristled brush to thoroughly clean and restore your dog's teeth.
We recommend this product because of the wide range of pets you can cater to with this and the sheer ease of use.
Pros
---
The flavor is quite enticing.
Prevents build up of plaque and tartar.
Can be used for a wide range of ages and sizes.
Cons
---
The tube could be slightly difficult to open.
#4 Nylabone Advanced Oral Care Toothpaste For Dogs
The Nylabone Advanced Oral Care Dog Toothpaste helps you to establish healthy oral practices for your canine companion.
It significantly reduces the risk of developing dental issues.
This can also go on to extend your dog's life because we are all aware that dental hygiene is directly linked to a greater life expectancy.
If your dog loves a nutty flavor, both you and him are in for a treat because this toothpaste has a natural peanut flavor that makes it more acceptable for your pet. It also helps reduce the buildup of plaque and tartar effectively.
The toothpaste contains Denta-C that has been known to reduce the formation of plaque. Plaque harbors bacteria and leads to dental issues.
We recommend this product because most users have reported excellent dental health and hygiene after using it and a more compliant pet because of the flavor.
Pros
---
Reduces episodes of dental problems.
Enhanced oral hygiene.
Natural peanut flavor more acceptable to pets.
Cons
---
Not all dogs like toothpaste that is peanut-butter flavored.
#5 Vet's Best Dental Gel Dog Toothpaste
SALE ALERT!!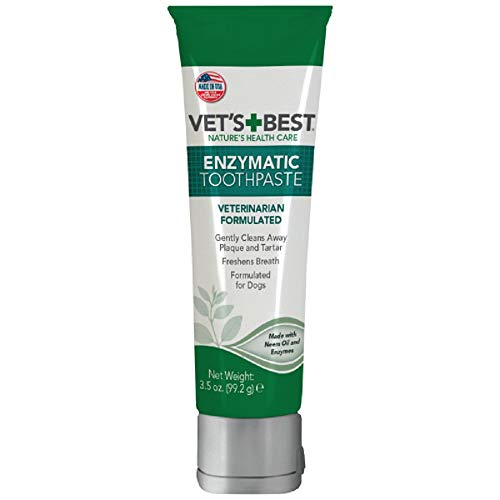 Have you been looking for a natural way to enhance oral hygiene in your dogs? Well, the Vet's Best Dental Gel Dog Toothpaste can help with that.
This dog toothpaste at hand ensures that your dog can fight plaque and tartar effortlessly with its regular use. It keeps teeth and gums healthy, and also freshens up your pup's breath.
A lot of pooches have issues of very bad breath and that tends to isolate them from peer groups. With the use of this dog toothpaste, you can expect your dog to have fresh breath all the time. This dog toothpaste uses natural ingredients like neem oil, grapefruit seed extract, enzymes, and aloe vera to keep your dog's teeth clean and shining.
All these ingredients have antibacterial and antifungal properties that help in strengthening and brightening your dog's teeth.
We also recommend this product because it is quite simple to use. All you need to do is use a brush or finger to apply the gel to your dog's teeth two to three times a week. To achieve the best results, you need to use this dog toothpaste 30 minutes before or after having food or water.
Pros
---
Natural cleansing method with no harsh chemicals.
Instantly refreshes your dog's breath.
Keeps bacteria build up away.
Cons
---
The tube could leak at times.
#6 Nutrivet Enzymatic Dog Toothpaste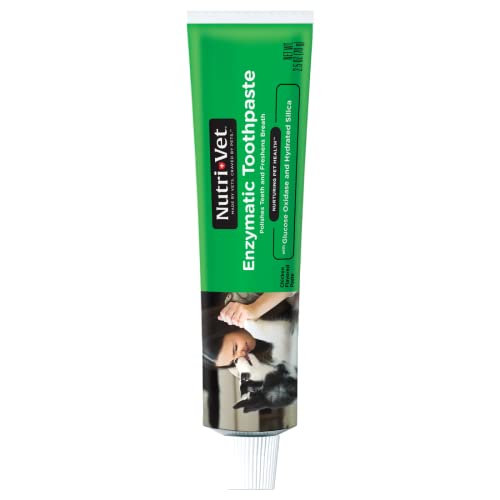 How about dog toothpaste that tastes like chicken and cleans like a pro?
It might sound unreal to you but the Nutrivet Enzymatic Dog Toothpaste is all that and more!
The non-foaming formula ensures that it cleans effectively without having to rinse out your dog's mouth because we are all aware of how adamant dogs and puppies can be about not letting water inside.
The key components in the dog toothpaste work somewhat like this: hydrated silica helps to remove plaque, glucose oxidase breaks bacteria build-up and plaque, sorbitol helps retain moisture.
While cleaning the teeth and mouth of your pet efficiently, this dog toothpaste sets up a healthy routine for your pet by promoting a healthy lifestyle. It also encourages great dental hygiene because its incredible flavor makes your dog get used to the idea of brushing every day.
We recommend this dog toothpaste because if your dog has gum problems such as plaque and tartar buildup, sensitive gums, or loosening of teeth, this special formula can take care of all these quite effectively.
Pros
---
The flavor is quite enticing for your pet.
Reduces episodes of tooth loss.
Non-foaming formula.
Cons
---
Might be an acquired taste and some dogs might not be a fan of it.
#7 Sentry Petrodex Natural Dog Toothpaste
SALE ALERT!!
With the Sentry Petrodex Natural Dog Toothpaste, there is no doubt that your dog might as well push you to bring out the brush every single day.
Kudos to Sentry for mixing peanut flavor with their toothpaste!
What with the amazing peanut flavor that dogs generally love, this toothpaste is your one-stop solution for all dental and oral hygiene issues. Your pet will find it very hard to resist and this will help develop a dental routine like never before.
What else do we like about the product?
It uses all-natural ingredients to clean your dog's teeth. There are no toxic chemicals or additives that could cause more harm than do any good.
This toothpaste consists of ingredients like sorbitol, hydrated silica, glycerin, purified water, xanthan gum, mushroom extract, eucalyptus oil, and parsley seed oil.
We recommend this toothpaste because it tastes so good that it can only mean more brushing for your dog and cleaner dog's teeth, lesser plaque, and a breath that stays fresh for a long time.
Pros
---
All natural ingredients.
No preservatives and no additives.
Great flavor that makes it irresistible.
Cons
---
Might be too addictive for dogs.
#8 Pro-Sense Dental Starter Kit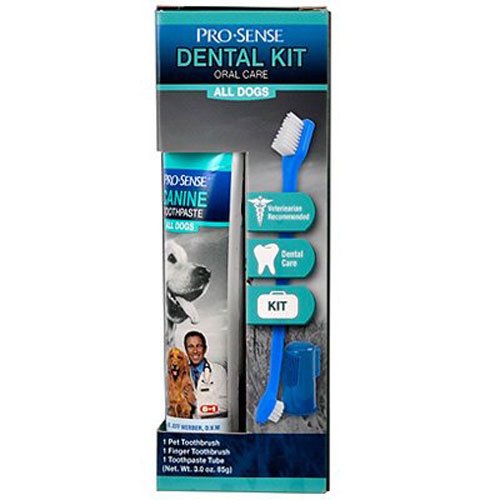 The Pro-Sense Dental Starter Kit is the perfect way to introduce your dog to brushing and maintaining oral hygiene. It has all the components that are required to keep your dog's teeth in optimal conditions.
The manufacturers keep harping on the fresh flavor of this toothpaste and it is hard to deny the fact that everywhere we went; users could not stop talking about its flavor.
The entire kit contains everything you need to get started. It has 1 toothbrush, 1 toothpaste tube, and 1 finger brush. The toothpaste contains premium ingredients to ensure that your dog's teeth are always kept clean and healthy.
Moreover, it is not just about your dog's teeth but also about his gums that make a difference to the entire oral hygiene. With the inclusion of a finger brush, this kit ensures that the gums are also taken care of without any hassle.
We recommend this product because it comes in a full all-inclusive kit.
Pros
---
Fresh flavor attracts dogs to use the toothpaste.
Breath smells fresh for longer.
The kit is all-inclusive.
Cons
---
The provided toothbrush has stiff bristles that tend to be uncomfortable.
#9 Nylabone Advanced Oral Care Puppy Dental Kit
When you need a toothpaste that provides easy oral care, then the Nylabone Advanced Oral Care Dental Kit is your best choice. It leaves your pet feeling fresh with healthy dog teeth and gums and makes your tasks slightly easier to follow.
When you establish a daily dental care routine, you go a long way in ensuring that your dog has lesser episodes of tooth decay. This toothpaste comes recommended by veterinarians to reduce plaque and tartar buildup. It also contains Denta-C that reduces plaque that is generally caused by bacteria buildup.
We recommend this toothpaste because we understand that dental care for plaque and tartar buildup could be a task and we respect the efforts you put into it. This toothpaste will significantly reduce the time taken to remove tartar buildup.
Pros
---
Fresher breath.
Healthier teeth and gums.
Reduces tartar build-up effectively.
Cons
---
The toothpaste might be too thick for your dog's liking.
---
Dog Toothpaste Buyer's Guide
---
There is no doubt about the fact that your dog's oral hygiene is directly linked to his overall oral health and happiness. A dog owner needs to put in constant effort to maintain the oral hygiene of your furry best friend.
Your dog would probably not like it. But, it's necessary. It is quintessential that you brush your dog's teeth regularly.
Before you venture into the world of oral hygiene, it is important to understand the need for certain things and what to look for before buying them.
When you get a brand new toothbrush for your dog, you will obviously look for brand new dog toothpaste. So what do you need to look for in the right dog toothpastes for your beloved canine friend?
Related: Best Dog Dental Chews
Taste, Taste, & Taste
Ask yourself this question.
What kind of food do my pup like? Is it beef, chicken, peanut, or others?
Answering this question is important to avoid wasting money on buying a dog toothpaste that your dog cannot simply stand to put in its mouth. Always try to buy a dog toothpaste that has a flavor that your dog is comfortable with.
Whether it is the first time or the hundredth time that you choose to brush your dog's teeth, you can never be sure of how he could possibly react to it. This is exactly why you need to choose dog toothpaste that tastes good.
A number of flavor options are available, for example, poultry, beef, vanilla, mint, peanut etc.
Related: Best Dog Dental Water Additives
Understanding The Ingredients Inside A Dog Toothpaste
Some of the common ingredients that should be present in dog toothpaste are as follow:
Enzymes- they work to reduce the bacteria in your dog's mouth.
Silica- gently removes plaque and tartar.
Emulsifiers- help prevent plaque and tartar buildup.
Sorbitol- sweetener to make it pleasant to taste.
Before you buy any product for your canine companion's oral use, always ensure that you are aware of the ingredients that are present.
Never buy anything that you are not sure about or have questions about.
Ingredients like tea tree oil, propylene gel, etc need careful supervision so always ask your vet if they are safe to use on your pet.
It is better to stay away from dog toothpaste that is abrasive or has artificial sweeteners in them. When you buy a new brand of dog toothpaste, make sure you are buying the smallest tube unless it has been recommended by your vet.
This will help you save money and trips to the vet if your dog doesn't like it or is allergic to it.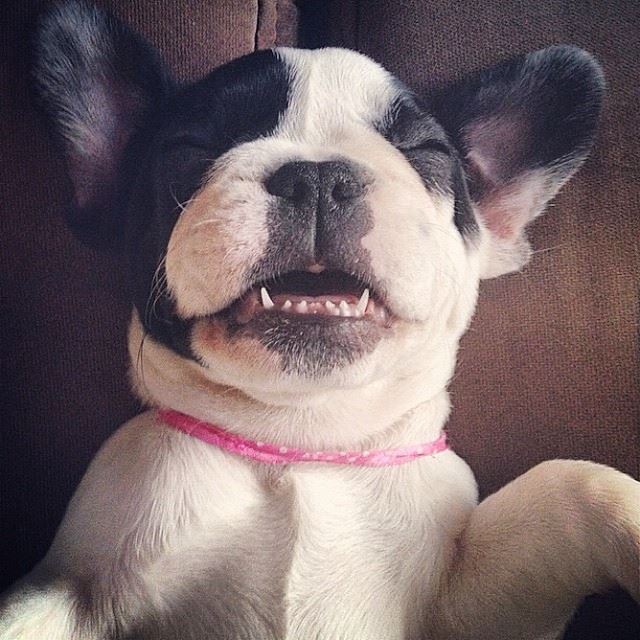 Can You Use Human Toothpaste For Your Dogs?
Short answer, no!
Dogs have a tendency to swallow the dog toothpaste. These could contain ingredients that are toxic when ingested.
Fluoride is one example.
It is highly toxic for both adult dogs and puppies. It could potentially harm your dog's system.
Always use dog toothpaste that is specially designed for dogs.
Plaque And Tartar Control? What's That?
Have you ever noticed a thin film-like substance on your dog's teeth?
What begins like that is popularly known as plaque but goes on to become tartar that could easily ruin your dog's teeth. While plaque can be brushed off your dog's teeth within 36 hours, tartar is the kind of deposit that fails to be washed off since it hardens over time.
If you allow the plaque and tartar to stay back for a while, it can build around your dog's teeth for longer periods of time and you could easily invite infection. This can further lead to the surrounding tissues and bony sockets to destruction.
This is exactly why tartar control is so important. Whenever you shop for dog toothpaste, always look for ingredients that can naturally prevent plaque and tartar buildup.
Dogs Can Develop Gum Disease Too
Poor oral hygiene can lead to gum diseases in your dog. If your dog suffers from gum disease, you can expect inflamed and swollen gums that could go on to be very painful. You might notice that these dogs find everyday activities quite uncomfortable like chewing on toys, eating, playing fetch etc.
While there is still a lot of research going on to treat canine gum diseases, the only thing that veterinarians recommend is brushing your dog's teeth regularly with dog toothpaste that has ingredients to prevent gum irritation etc. Ingredients like aloe vera, baking soda, etc are the ones that you should look out for.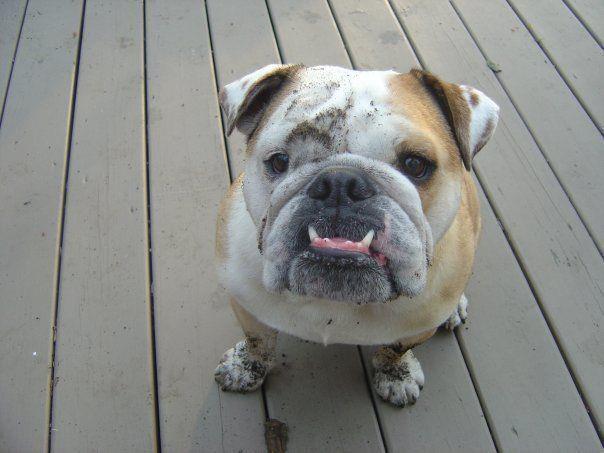 Importance Of Brushing Your Dog's Teeth
There is no doubt about the fact that the best dog toothpaste will improve your dog's oral as well as general health. However, the best way to ensure that is to brush your dog's teeth regularly. If you cannot do it every day, try to do it three or four times a week at least.
What you should know here is that poor oral health can be detrimental to your dog's health in a number of ways.
The bacteria present in your pooch's mouth can travel into its bloodstream and cause harm to its organs.
It could also cause unpleasant breath that again tends to isolate your dog from others.
All these could have an adverse reaction on your pup's oral health and personality which is why investing in the best dog toothpaste and brushing regularly with it is highly recommended.
Do Certain Foods Cause Dental Decay?
Yes, absolutely!
Certain foods lead to a faster plaque and tartar buildup and bacteria. The most notorious example is dry food (kibble). Avoid feeding your pet readymade food and offer more variety in the form of raw food such as carrots.
If possible, supplement your dog's diet with raw meaty bones. These bones have a mildly abrasive surface which helps to remove the dental plaque and tartar buildup around their teeth.
---
Final Thoughts
---
It is a sad fact that the prevalence of dental disorders has greatly increased in recent times. The link between periodontal disease and overall health is still an ongoing process and we are yet to understand the link completely.
However, we have also noticed a growth in the number of successful veterinarian visits and that gives us some hope.
It is important not to be fooled by dental products that claim to work better than brushing because brushing your dog's teeth is still the most efficient dental product you could possibly use.
The best way?
As pet owners, please only get dog toothpaste specifically meant for dogs and never rely on the ones that claim to be as good for dogs as for humans.
We have discussed a number of enzymatic dog toothpaste in this article and this is because they are proving to be more beneficial in the longer run. As long as your pet is benefitting from the dog toothpaste that you are using at the moment, you have one less thing to worry about!