The best dog dental water additive is Vet Recommended Dog Breath Freshener Water Additive for Pet Dental Care.
As a pet owner, you probably know what the real meaning of the phrase "dog breath" is, better than anyone else. We won't go into all the details on what weird odors you have caught a whiff from your best buddy. However, we will make your life easier by letting you know about the best dog dental water additives and how to pick a good one for your pooch.
#1 Vet Recommended Dog Breath Freshener Water Additive For Pet Dental Care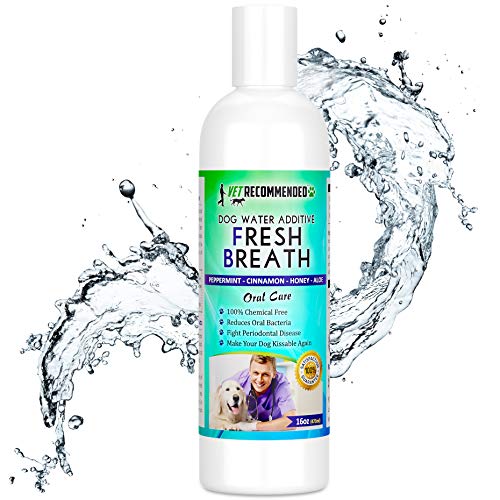 Our top pick is a fantastic all-natural solution to your dog's dental problems. It includes organic ingredients like aloe vera, cloves, and cinnamon. These have an antibacterial effect which comes in handy when it comes to deal with cavities and gum infections.
Furthermore, the formulation includes mint which helps with an instant fix of fresh breath for your beloved pooch. It also gives the water a nice and crisp taste to balance the heavy spicy profiles from ingredients like cloves.
With this formula, a little goes a long way when it comes to ensuring overall dental health for your pooch. Regardless whether it is cavities, gingivitis or just foul breath, you ever only need one product to take care of everything.
Pros
---
This dog breath freshener doesn't contain chemical additives that can be harmful to a pooch's teeth.
This dog breath freshener is easy to use, and it can be administered by directly adding it to a pooch's drinking water.
This water additive contains cinnamon, clove, peppermint, and aloe vera, all of which have been scientifically proven to be effective at eliminating germs responsible for bad breath.
The formulation of this Vet Recommended water additive is clear and odorless, thereby making it safe for pooches to use.
This water additive comes in a sizable 16oz bottle, with customers only needing to use between one to two tablespoons per bowl of drinking water for their dogs.
Cons
---
Several customers have reported that this water additive wasn't effective in correcting their pooch's bad breath.
Some customers also claimed that their pooches developed diarrhea after using this water additive.
#2 Oxyfresh Premium Pet Dental Care Solution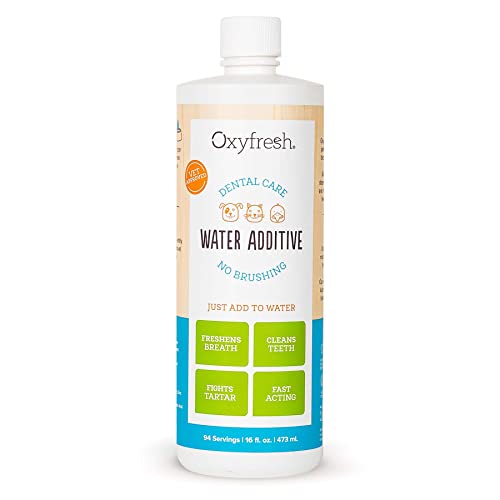 Bad breath is a persistent issue with pets, but with the Oxyfresh premium pet dental solution, you can safely snuggle and kiss your furry friends without having to worry about perceiving offensive odors from the pet's mouth.
The Oxyfresh dental care solution, which is formulated from the fast-acting Oxygene formula and zinc, is typically used to clean pet teeth and prevent plaque build-up. Additionally, this solution is said to promote healthy gum growth. Its absence of flavors, dye, and alcohol in the ingredient list means that this dental water additive is safe to use on pets.
This dental care solution can be used on dogs without needing to brush the pooch's mouth. And the odorless and tasteless nature of this dental care additive means you can easily add it to your pet's drinking water without any resistance from your furry friend.
The Oxyfresh premium dental water additive provides a non-toxic solution for pet parents interested in promoting the dental welfare of their furry friends. This dental water additive is easy to apply, and packs a healthy ingredient list, backed by professional vet approval, thereby making this product a must-have for pet parents.
Pros
---
The formulation of the Oxyfresh dental care solution is effective at cleaning dog teeth and gums, while eliminating bad breath.
The Oxyfresh premium dental care solution comes in three different volumetric options – 8 fl oz, 16 fl oz, and one gallon – depending on the quantity the customer needs.
This dental care solution can be applied without brushing, with users only needing to apply the solution to the dog's drinking water.
This dental care solution is odorless and colorless so that dogs won't know when the product has been applied to their drinking water.
The Oxyfresh dental care solution is manufactured in the United States using only high-quality ingredients.
Cons
---
There have been multiple customer reports about dogs developing gastrointestinal disorders after using this dental care solution.
In some cases, some dogs stop drinking their water after the application of this dental care solution.
#3 Naturel Promise Fresh Dental Water Additive For Dogs
SALE ALERT!!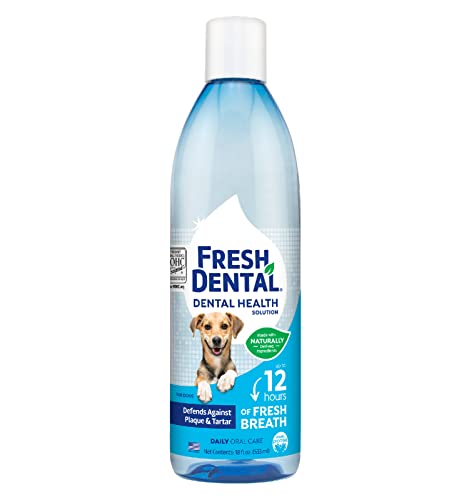 This alternative does a whole lot more for your dog than just help with keeping their mouths clean and smelling fresh. It contains glucosamine as one of the key ingredients. This is useful in the formation of bone and cartilage. That way, your dog not only has healthy teeth and gums but also healthy bones and joints.
If your dog has or is prone to skeletal issues, this will be an ideal alternative as it gives that extra boost.
Pros
---
The Naturel dental water additive contains ingredients such as glycerin and citric acid, which makes it an effective product for dog teeth cleaning.
This dental water additive is manufactured in the United States to ensure compliance with quality product safety standards and eco-friendly packaging.
Apart from cleaning dog teeth, this water additive is effective for treating dog dental diseases such as gingivitis and periodontal diseases.
This product is intended to be administered orally, which ensures that it can be used to freshen a dog's breath without needing to brush the dog's teeth.
This dental water additive has a long-lasting freshening effect that remains noticeable for up to 12 hours after administering the product to a dog.
Cons
---
There have been several reports of this dental water additive making dogs sick after administration.
This dental water additive contains green tea extract, which is listed as an ingredient to avoid for dogs by the ASPCA Animal Poison Control Center.
#4 TropiClean Fresh Breath
SALE ALERT!!
Dogs do not always take to the taste and color of dental additives. This is why the TropiClean Fresh Breath dental additive is such a hit. It is not only colorless but also tasteless and odorless. This is because of the use of color and flavor-neutral ingredients. That way, your dog will not even notice anything was added and will continue to consume their product-infused water and enjoy the benefits.
If you have a fussy eater on your hands that is sensitive to new smells or tastes, this is an excellent pick as they won't even notice the addition.
Pros
---
This product is tasteless with no flavor, thereby making it easy to incorporate into a dog's daily feeding routine.
The blend of ingredients used in formulating this TropiClean dental additive is effective at combating bacteria responsible for bad breath in dogs and preventing plaque and tartar buildup.
This dental water additive is professionally certified as being safe to use for dogs by the Veterinary Oral Health Council (VOHC) and the National Animal Supplement Council (NASC).
This dental additive also contains glucosamine, which is essential for promoting canine bone and joint health.
Cons
---
The quantity of water additive that needs to be administered tends to be too much, resulting in this product getting exhausted within a short time, and this can prove to be quite expensive for some customers in the long run.
Multiple customers left feedback about this dental additive giving their dogs urinary tract infections after use.
#5 Fresh Breath By TropiClean No Brushing Water Additive For Pets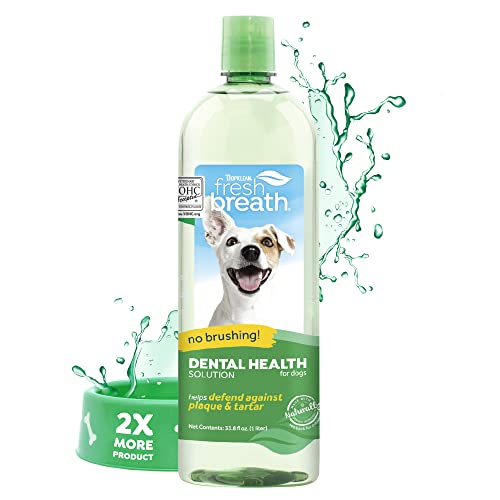 The key ingredient in this alternative is green tea extract. This superfood-status option offers several dental health benefits to your dog. These include antibacterial action to prevent or deal with cavities as well as anti-inflammatory effects for gingivitis. You will see the results within 14 days with a healthier-looking and better-smelling dog mouth.
If overall dental health is your main priority, then this versatile dental additive is a really good pick. Its numerous ingredients are fantastic for dealing with all sorts of oral issues for your dog's sake.
Pros
---
The TropiClean water additive contains ingredients that are effective at protecting dogs from the negative effects of periodontal disease.
This Fresh Breath dental additive works well to prevent daily plaque and tartar buildup on a dog's teeth and gums.
Administration of this water additive is straightforward and can be done by directly adding the product into a dog's drinking water without the need to brush the pooch's teeth.
This dental water additive is manufactured in the United States to ensure that the product is safe for dogs to use.
This TropiClean product has a long-lasting effect, and it helps to keep a pooch's breath fresh for up to 12 hours after use.
Cons
---
Some customers have reported that this water additive had no apparent effects on their dogs' teeth.
Due to the recommended dosage, a bottle of this water additive doesn't last for a considerable period, thereby making this product more expensive compared to other options on the market.
#6 New Peppermint Fresh Breath Dental Water Additive For Dogs And Pets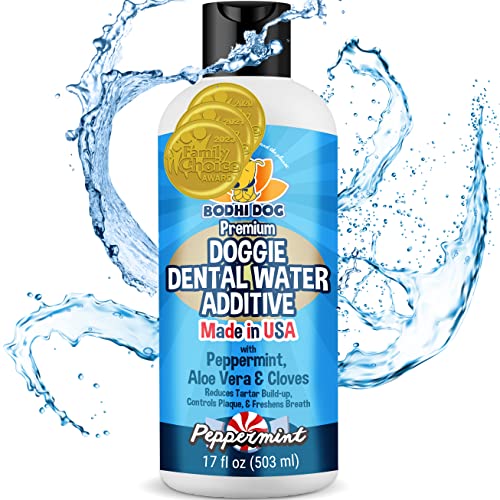 This alternative is in a lot of ways like our top pick. It includes organic ingredients like honey, cinnamon and peppermint. The key difference is that the ingredients are not as concentrated and you will need two or more tablespoons per 16 oz of water. This is a good thing if you have a dog with a sensitive stomach.
It is ideal for quick fixes when it comes to bad breath with the strong peppermint and long-acting antibacterial ingredients.
Pros
---
This water additive's plant-based formula is safe for consumption, and it helps control plaque and reduce tartar buildup on a dog's teeth.
This water-based product can be administered to a pooch without having to use toothbrushes.
This product has anti-inflammatory properties that bring relief to dogs suffering from gingivitis.
The New Peppermint dental water additive is made in the USA with locally sourced ingredients and eco-friendly packaging.
Cons
---
This product may be pricey for owners of large dogs that tend to drink a lot of water.
Customer feedback suggests that this New Peppermint water additive may not be an effective breath freshener for all dogs.
---
Dog Dental Water Additives Buyer's Guide
---
If there is one thing shopping for dog dental water additives will teach you is that there are a whole lot of brands out there. This can make settling on the right bottle for your pooch a little more challenging than it really needs to be.
It would help if you also remembered that every dog is different. And the fact that this is something they will swallow and have in their systems means you cannot afford to take the decision lightly. There are several crucial factors you need to consider in order to make the very best choice possible for your pooch. Here are 6 of them and why they actually matter for your dog's overall well-being.
Anti-Bacterial Capabilities
Bacteria are the main culprits when it comes to most, if not all, dental problems. They are the ones that burrow teeth and cause cavities. They are also the ones that infect gums and cause gingivitis. And it is their stinky byproducts that have your dog's mouth smelling like all kinds of weird.
It, therefore, goes without saying that you want to settle for a dog dental water additive whose ingredients should take care of this problem. In this case, you have two options: all-natural or artificial ingredients.
Natural ingredients with anti-inflammatory ingredients are numerous in this niche. They include cloves, ginger, Aloe vera, cinnamon, and green tea extract. They do a really good job of helping to get rid of bacteria in your dog's mouth. The best part is that the ingredients are all-natural, thereby making it absolutely safe for your pooch.
Artificial ingredients, on the other hand, include options like glycerin and citric acid. If you do not mind the chemical additives in the formula, these get the job done just as well and are particularly great if your dog is fussy about taste.
Breath-Freshening Ingredients
For the most part, the anti-bacterial agents in the previously-mentioned ingredients will take care of the bad breath. However, this is a slow and long-term effect that may take weeks. So if you want your dog's breath fresh as soon as possible, you will want a dog dental water additive with breath-freshening ingredients.
The most effective in this case is peppermint. It contains 40% menthol, which is what gives it that fresh and icy mint smell and mouth-feel for your dog. This is a fantastic ingredient in the additives as you will need very little product and very little time to start seeing the effects.
Another popular alternative here is spearmint. This has only 1% menthol. Though not as strong as peppermint, it is still pretty effective. It is also particularly useful for dogs with gut problems. This is because the lower concentration makes it gentler on the doggy's sensitive tummy.
Is It Safe For Consumption?
We cannot stress enough how important it is to ensure that the dental additives you settle for are actually safe for consumption. This is particularly the case with formulas that have chemical additives. This is because some of the chemicals may cause harm to your dog's gut or health in general.
These include alcoholic ingredients and artificial sweeteners like xylitol. They have been shown to cause problems ranging from mild diarrhea to serious issues like metabolic disturbance. It is therefore always better to avoid such options.
Instead, go for an additive whose ingredients have all been proven to be safe for dogs. In fact, the ideal choice would be to completely cut out any artificial additives or potentially harmful ingredients. A great example here is our top pick, Vet Recommended Dog Breath Freshener Water Additive, with its all-natural formulation, which is perfect for all pooches.
The Taste
The last thing your dog wants is weird-tasting water. If they pick out any weird taste in what should be a refreshing drink, you can see right off the bet that they will not take more than a lick of it. This is particularly the case if your dog is already generally a food diva with a very picky palate.
They can often pick out strong flavors from ingredients like cloves and cinnamon. The good news is that there are several ways around this. One is to get an additive whose formulation has the proportions designed to mask the taste of any intense flavors without losing the benefits. This is exactly what you get with our top pick and several other alternatives from the list.
Your second way around this if you are shopping for a picky dog is to go with an option whose ingredients are all neutral in flavor. More often than not, you might have to compromise on the all-natural formulation.
Your Pooch's Gut Health
Yes, you are shopping for your dog's dental care and not for their gut health. However, remember that they are not gurgling and spitting out. So whatever you are picking needs to be safe for their digestive tract. As a result, you need to carefully consider your dog's gut health and factor this information into your final pick.
If your dog has a sensitive stomach, it is best to avoid potentially irritating formulas that are rich in things like ginger and spicy ingredients. These may just worsen the situation. However, there are some that have these ingredients but in proportions that are mild enough for your pooch's gut safety. If this is the case, then there really is no need for your dog to miss out on all the benefits.
On the other hand, if your furry best friend has a stomach of steel that can handle almost anything, then most formulations on the market will get the job done for you just fine. However, it is important to monitor bowel movements for issues like constipation or diarrhea once you start using the additives.
Professional Recommendation And Buyer Reviews
What others have to say about the product is also vital to consider when you are shopping for a dog dental water additive. The first opinion that you should care about is that of professionals. You could consult your vet or just look for legitimate "vet-recommended" stickers on the product. These let you know that you are handling something generally safe for most dogs.
You should also pay close attention to what other dog owners have to say. These guys know better than anyone else what you can expect and might have a lot of insight to offer. Hence, you will know whether the brand you are interested in actually delivers on its promise for fresher breath and healthier mouths.
---
Final Thoughts
---
It is wonderful news to hear that there is actually a solution to your dog's foul breath. And the best part is that you now not only know how to pick the best dental additive, but also which are the top 6 options on the market.
Our top pick stands out the most as it packs quite a punch with its all-natural ingredients. And you don't even have to use that much to get all the wonderful benefits. So, get yourself a bottle and just see the results for yourself. The next time your dog comes in for a kiss, you don't have to hold your breath or turn them away.