The best dog period panty is Wegreeco Washable Female Dog Diapers.
Pet owners with dogs that are yet to be spayed will at some point have to deal with the first heat cycle. The process is different from humans but in essence, your dog will be having a period. This means that your pup is now grown and ready to procreate.
The period phase can cause a bit of a mess, especially if you don't know how to handle it. But don't worry. There are products in the market designed to help you in these specific situations. Think of it as a sanitary pad for a dog designed to make sure that your pup doesn't leave that red mess everywhere in your house.
Typically, these products are referred to as "dog diapers', but we believe that period panties are the most appropriate term to use. Period panties for dogs generally come in various shapes and forms. In our article, we will show you our best dog period panties.
#1 Wegreeco Washable Female Dog Diapers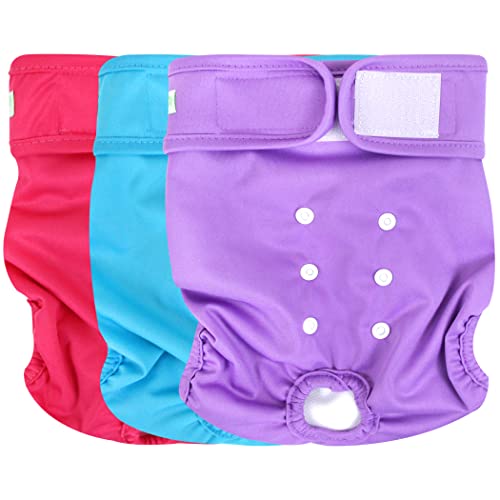 The Wegreeco Washable Female Dog Diapers are high-quality and durable garments that will easily keep the red mess off your house when your pup is in heat. The diapers are waterproof, too, on the outside. The inside is, however, made using the same wicking material you get in standard athletic jerseys.
There is also a super absorbent pad neatly fixed around the crotch. This ensures there are no leaks, keeping your dog dry and clean all day. The Wegreeco washable panties also come with Velcro strips that will hold the diapers in place without causing too much discomfort to the dog. You can also choose among different colors and prints based on your preferences.
The Wegreeco Washable Female Dog Diapers fit very comfortably. They can easily be put on and removed in just a few seconds. We also liked that they are machine washable and can, therefore, be recycled for future use.
Pros
---
These female pup diapers come in 3-packs, and there are nine different packs to choose from as well as five sizes with waist sizes between 10.5 inches and 33 inches to cater to most breeds.
They are absorbent as they have a leak-free material that is soft and can absorb plenty of liquid and also has a stitched-on inner padding for comfort.
The diaper design is specially created for female dogs to give them a snug fit.
It is reusable and easy to clean as you can either hand wash or clean in a washing machine.
It is easy to put on and take off, thanks to the hook and loop closure design.
Cons
---
The liquid can sometimes leak from the side, and this means additional cleaning of surfaes and furniture should an accident occur.
Some pups with sensitive skin may experience rashes and discomfort after wearing the diapers.c
#2 Cos2be Female Dogs Diapers
The Cos2be Female Dogs Diapers are perfect for dogs in their heat cycle as well as incontinent ones too. The panties come fitted with a waterproof outer layer as well as a highly absorbent soft inner layer. You will also find a pad carefully woven into the panties to offer extra protection against potential leaks. The design is then completed with a simple tail hole.
The Cos2be Female Dogs Diapers are probably some of the most comfortable period panties for dogs out there. The elastic bands on the leg openings also make them versatile enough to work on any dog size. The manufacturers are very confident about the quality of this product that they give you a 90-day money-back guarantee. You can buy them in packs of three, and they come in different sizes too.
The Cos2be Female Dogs Diapers fit very well, all thanks to the innovative design. Putting them on and removing them should be very easy. We also noticed that the products have many great positive reviews from other users.
Pros
---
These diapers come in packs of three containing pink, purple, and bright spotted diapers, which come in three sizes of X-Small, Small, and Medium, fitting all waist sizes between 10.23 inches and 21.2 inches.
They are soft and comfortable thanks to the soft inner fabric and leak-proof outer cover, so your female pup does not experience chafing or rubbing.
They are safe for your furry friend as they are lead-free, BPA-free, PVC-free, and free of other toxic chemicals.
The diapers are easy to keep on and take off thanks to their elastic bands that fit around your pup's legs and their Velcro fasteners to hold the diaper in place.
They are reusable, easy to clean, and ideal for pups with incontinence or those undergoing training.
Cons
---
For some pup owners, the outer material is not as leakproof as it soaks through if your pup pees a lot.
The Velcro fasteners lose their adhesiveness after some time.
#3 Paw Legend Reusable Female Dog Diapers
Your dog will release a lot of blood, urine, and other fluids during her heat cycle. As a pet owner, you want period panties that will hold these fluids without leaking. The Paw Legend Reusable Female Dog Diapers are just perfect for this. The diaper comes with three different layers. You get a waterproof outer layer, another odor-absorbing layer in the middle, and an inner fluid-absorbent layer.
The product is completed with a pad at the center to absorb all liquids. The Paw Legend Reusable Female Dog Diapers merely is effective, and once it's on, you won't have to worry about anything. The product also features Velcro straps to keep the panties well in place. You will be able to choose from a collection of different colors too.
The ability to easily fit on any dog seems to be one of the key selling points of the Paw Legend Reusable Female Dog Diapers. Its period panties are also quite effective in containing fluids for a more extended period of time.
Pros
---
There are plenty of options to choose from, like the 5 sizes for pups' waist sizes between 8 inches and 33 inches, and comes in packs of 3 with 6 different color designs to choose from.
These reusable diapers have a leak-proof outer liner and an inner liner that comes in black or white, and you can get up to 300 washes from these diapers, making them cost-effective.
Comes with an odor control layer which keeps the bad smell away as your pup is wearing it, and it is also long-lasting and comfortable thanks to the extra quilted stitching.
This female pup diaper has a hook and loop closure which makes it easy to wear, and also has a hole for the tail.
You can keep the diaper well in place and reduce leakage with the elastic bands around the leg area.
Cons
---
The tail hole can sometimes cut into your pup's tail and cause discomfort if it is too tight for them.
Not ideal for very small dogs as the elastic band and hook and loop closure may not hold, and this could cause leakage or the diaper to slip off.
#4 Pet Magasin Luxury Reusable Dog Diapers
SALE ALERT!!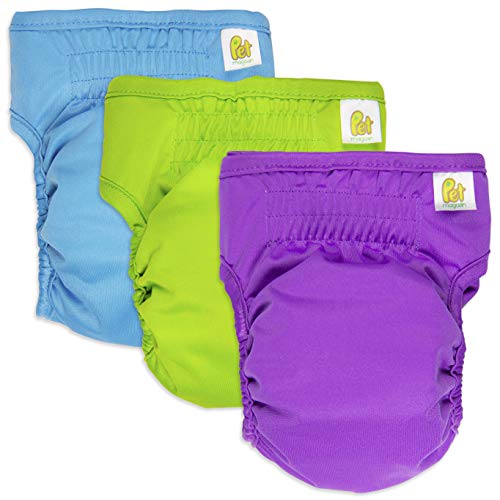 Pet Magasin Reusable Dog Diapers, Extra Small, Pack of 3
【ADJUSTABLE SIZE】Size XS: best for Small dogs & puppies, Waist Waist 26 - 34 cm (10.2" - 13.4"). *We strongly...
【MACHINE WASHABLE & ECO-FRIENDLY】😊 Easy to clean with no special treatment. Hand / machine washable with quick...
【SUPERIOR ABSORPTION】💪 Multiple highly absorbent inner layers and a waterproof outer layer which prevents...
The Pet Magasin Luxury Reusable Dog Diapers are defined by two key attributes. They are super absorbent and very comfortable. The diapers are also machine washable, so it should be straightforward to clean them up. They come in vibrant colors to choose from, and the outer layer is 100% waterproof.
The Velcro on this product is strong and easily adjustable. This makes it easier for the Pet Magasin Luxury Reusable Dog Diapers to fit a broad range of waist lengths and sizes. The Velcro is also easy to secure and will never stick to the pup's fur.
Pros
---
These diapers are available in a pack of 3, and you can choose from 4 styles, namely botanical, solid, trending, or original, whereas their sizings come in 5 different sizes, including Extra Small size.
It has multiple layers for extra absorption and comfort, as it has a waterproof outer layer and 2 highly absorbent fleece middle layers.
There is a mesh inner layer that sits close to your pup's skin, and it makes the diaper breathable and keeps your pup cool and dry when wearing it.
Wide Velcro closures keep the diaper in place as they are adjustable and will not stick to your pup's fur.
Easy to clean either by hand wash or a washing machine so you can keep reusing it.
Cons
---
The Velcro fastener loses its adhesiveness after some time.
The material is too thick for smaller pups or pets, as the multiple layers can be uncomfortable.
#5 Pet Parents Washable Dog Diapers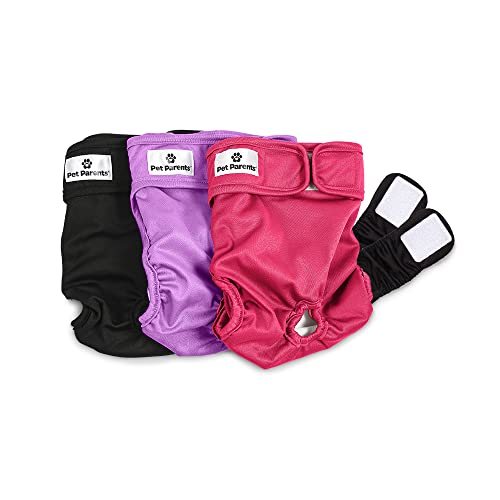 Pet Parents Washable Dog Diapers are designed to look like the briefs that humans wear. The diapers are unisex and can be used by both male and female dogs. It features a very secure fit, a comfortable design, and super absorbent fabrics. The only downside for the Pet Parents Washable Dog Diapers is the fact that they only come in two color variations. Nonetheless, it's still an excellent option to go for. Besides, it's also easy to wash.
The Pet Parents Washable Dog Diapers are just effective in what it does. The pad on the inside keeps the leaks off. The other water-resistant layer ensures that your dog is comfortable all day.
Pros
---
This is a 3-pack of female pup diapers that comes in two color styles, namely, Princess and Southern Belle, and you can get it in sizes like Small that fits waist sizes of 9 inches to 15 inches, as well as four other sizes to fit bigger dog breeds.
These diapers have a trademark WickQuick inner lining that is soft and non-abrasive as it helps to keep liquid away from your pup, protecting them from urine burns or diaper rash.
Has a leak-proof exterior shell and an interior absorbent pad which is ideal for pups in training or those suffering from incontinence.
It is environmentally friendly as you do not have to dispose of them after use, and you also save money in the process.
It is easy to clean, and you can get a couple of hundred uses thanks to its washable nature.
Cons
---
The tail hole does not work for all pup breeds, and some of them can cut off circulation, cause pain if too tight, or experience messes if the hole is too loose.
Larger doggie breeds or those that pee a lot may experience leaks, and this can cause a mess in your car or home.
#6 BINGPET Dog Diapers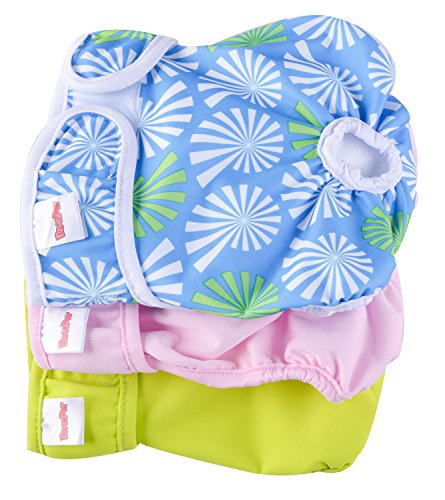 Dog Diapers Female Washable Reusable (Pack of 3) Large by BINGPET
L Dog diapers:Suitable for waist size 20" - 26".Please measure your dog's waist right in front of the back legs to...
Specially design for female dog in heat ,incontinence or that suffer from excitement urination.
Made of polyester material,absorbent,waterproof outer layer designed to prevent leaks.Velco across the back for a better...
The BINGPET Dog Diaper comes in a wide array of sizes and shapes. This makes it versatile enough to fit into any dog. The period panties are specifically designed for female dogs in heat, incontinence, or even dogs that suffer from excitement urination.
The BINGPET Dog Diaper is made using highly absorbent materials, including a waterproof outer layer that prevents leaks. The diapers are fastened using Velcro that fits very well across the back. The product is also machine washable, so cleaning shouldn't be a problem.
The BINGPET Dog Diaper has many great features, but the fact that you can choose between different sizes is a big selling point for us. We also loved that the diapers are machine washable, which makes them so easy to clean.
Pros
---
These pup diapers come in a pack of 3 that contains colors, such as pink, green, and blue, and has lovely design imprints; it comes in small and large sizes, with the latter fitting pup waist between 20 inches and 26 inches.
Has a waterproof outer layer designed to prevent leakages and keep surfaces in your home and car mess-free.
These diapers are made of absorbent polyester material that is soft against your pup's skin and absorbs as much liquid as possible.
Has a Velcro fastener that goes around as well as some elastic along this strap for a better fit.
It is easy to wash, dry, and maintain, as it is reusable, and you can enjoy hundreds of uses before needing to replace them.
Cons
---
The elastic tail hole is not suitable for all pups, and you must be careful to avoid injury to their tails.
The diaper is not completely leakproof, especially if your pup urinates a lot or the diaper does not have a proper fit.
---
Dog Period Panties Buyer's Guide
---
Choosing the best period panties for your dog should be easy. After all, there are many options in the market.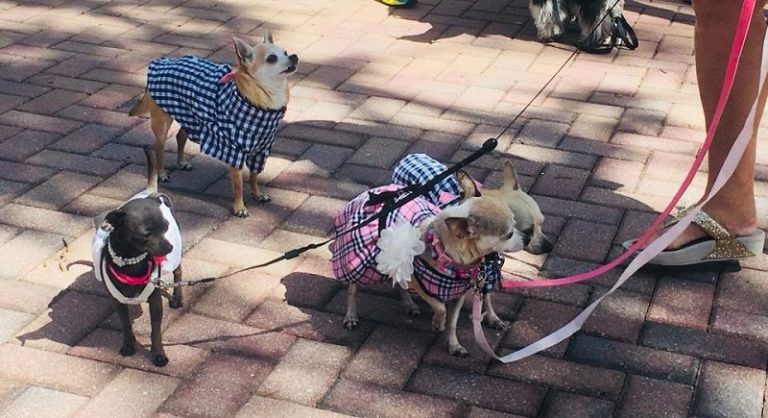 Here are a few things which you should look out for.
Use
In case you plan to use the period panties for a long time, you may want to go for reusable and machine washable options. People who are looking for something to use occasionally should simply buy disposable period panties that tend to be cheaper.
Type
As we have noted in our discussion above, period panties come in many different types. Mostly, the panties are categorized based on your needs. So you are likely to get both disposable and reusable options. The colors and designs also vary a lot.
Material
The material determines how long period panties will last.
Typically, reusable ones will be made using cloth. This makes it easier for repeated washing without the risk of damage. Disposable period panties, on the other hand, are super absorbent. They are designed to hold as much liquid as possible before they are disposed of later in the day.
Size
Regardless of the purpose, the period panties need to be the correct fit for them to work. Don't just buy for the sake of it. Take some time and measure your dog's waist and leg sizes before purchasing a period panty that fits. This is similar to other dog accessories, such as a no-pull dog harness or a dog bicycle leash.
Some options may also feature elastic waistbands and can, therefore, fit any dog. Keep an eye on them too.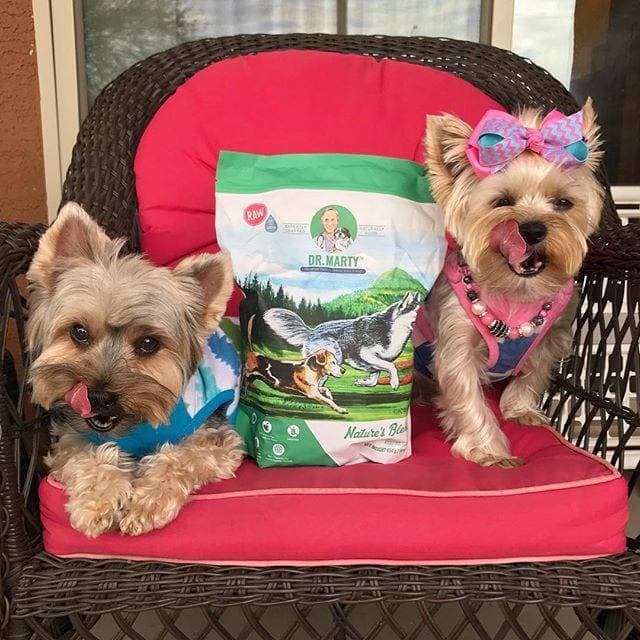 What Are The Different Types Of Dog Period Panties?
There are three broad types of dog period panties that you can use. Here is a breakdown of each of them:
Reusable
Reusable dog period panties are usually washable. They can be used, cleaned, and used by another dog or the same one at a different time. The most significant advantage of reusable period panties is that it saves you a lot of money. Once you buy one, you can be sure that you won't need another one for a long time.
The biggest challenge is with the washing. If you don't always have the time to get to the laundry, perhaps you'd be better off getting disposable options.
Disposable
Disposable period panties can only be used one time only. Once it's soiled, you have to remove it and get rid of it. A disposable period panty is an ideal option for people who want something they can use temporally. This is because, if you were to use disposable period panties on a long-term basis, you would end up paying a lot of money for them. The only benefit you get is that you don't need to clean up anything.
Homemade
In some cases, you may decide not actually to buy a period panty. Well, there's nothing wrong with homemade period panties. Simply use old clothing or fabrics to get the job done. You don't need too many skills to make a dog period panty. But if you are unsure of how to go about it, you can find many easy-to-follow guides online.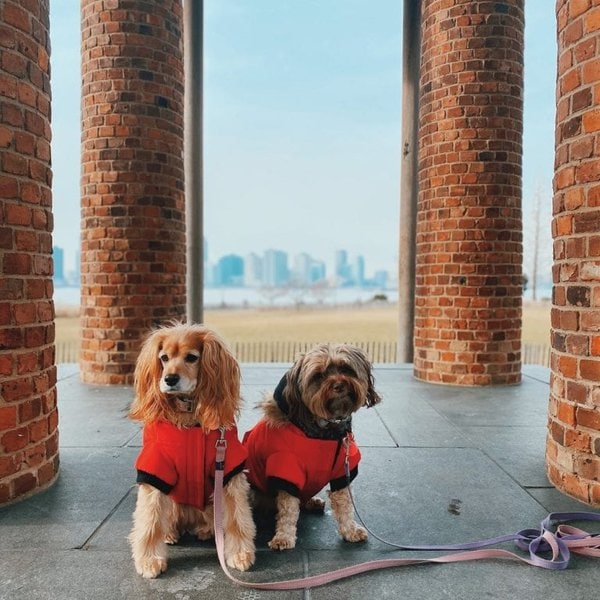 How To Choose A Fitting Dog Period Panties?
Any product designed to be worn by your dog has to be of the correct size. Besides, period panties that are too big will leak and create a mess in your entire home. Small ones, on the other hand, will hold the fluids, but the dog will be too uncomfortable.
In that case, you have to get the proper fit. Generally, there are two steps to follow:
Weigh your dog
Measure your dog's waist size
Most disposable period panties will typically come in sizes that take into account the weight of the dog. In summary, you can buy a fitting period panty based on the pooch's weight. Despite this, it still helps to measure the correct size before you buy, especially around the waist.
To help your pooch be more comfortable during its heat cycle, you can get a cooling mat for them to lie on.
How To Avoid Rashes And Discomfort?
Canine rashes and discomfort are very common problems associated with period panties. The rash develops due to prolonged contact between the dog's skin and the urine trapped in the period panty.
Here are a few things you can do to avoid this:
Make sure the period panty you are using has a super absorbent lining that is soft and gentle on the skin.
Change the period panties regularly to prevent prolonged urine contact with the skin.
Ask your vet for a topical application that can be applied to your dog's skin to reduce the risk of rashes.
Get the period panties in the correct size.
Always clean the pooch's skin using baby wipes before and after using the diapers.
If the rash still doesn't go away after 1 week, it may also be a good idea to check in with your veterinarian just to be sure it's nothing serious. Doggie period panties are excellent in keeping your pooch clean during her periods, but there will always be a few side effects.
Also, it's worth giving your pooch a dog bone to gnaw on or an interactive puzzle to play with. These serve as great distractions for your dog when they are wearing a period panty.
---
Final Thoughts
---
Finding the best dog period panties should be easy as there are quite a few options to choose from in the market. But even then, there are a few period panties that are better than the others.
Although all the options in our list above should work for any dog owner, we believe that our top pick is the best choice. It is super absorbent and waterproof to ensure there are no leaks. We also loved that it's very comfortable on the dog too. The diapers are machine washable such that you can use them for a long time.