The best no-pull dog harness is RabbitGoo No-Pull Dog Harness.
Do you find yourself getting dragged constantly by your pet pooch during dog walks?
There's where a no-pull dog harness will come in handy. These dog harnesses are specifically designed to discourage pulling behavior in your dogs, leading to safer walks.
In our article, we have identified some of the best no-pull dog harnesses that will stop unwanted pulling behavior in your canine companion.
#1 RabbitGoo No-Pull Dog Harness
SALE ALERT!!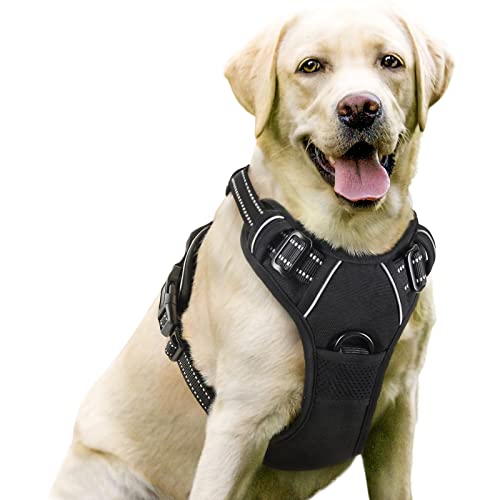 With this "easy-on, easy-off" harness, you can have better control of your pooch without any stress. As most dogs are not too eager to be put in a harness, this is a great product.
This dog harness features a no-pull design that enables a handler to have better control of the dog by fastening the dog's leash to the clip in the front. So, when your overenthusiastic pooch pulls, it gets turned around instead of moving forward and pulling on the leash.
The walk with your pooch is made more enjoyable as you will feel more comfortable and secure with the no-pull harness. This is due to the lightweight and breathable padding of the harness, which has a snug fit.
This no-pull harness is made from premium and high-quality materials, and it has two metal attachments for the canine leash – at the front and back. It also reflects in the dark, making outdoor adventure with your furry friend fun both day and night.
The durable material used to make the RabitGoo Dog Harness is one of its big pluses. Its easy-on, easy-off buckles and adjustable straps make it a snug fit for dogs of different sizes. Moreover, it reflects in the night, thus making it safe to walk with the dog at night.
Pros
---
The dual ring design of this dog harness product from RabbitGoo makes it possible for customers to attach dog leashes in multiple ways to suit a variety of purposes.
The chest attachment clip on RabbitGoo's no-pull harness for dogs is designed and ideal for preventing dogs from pulling against the leash when out on walks.
The two fast-release buckles located on either side of the RabbitGoo harness ensure that customers can conveniently and quickly put on and take off the harness from their canine buddies.
The RabbitGoo no-pull harness features four different straps on the neck and chest regions such that customers can adjust to provide a comfortable and convenient fit for their dogs.
The breathable air mesh material of the RabbitGoo harness provides optimal airflow and ensures that pooches can stay cool when wearing the product.
Cons
---
The straps of this no-pull harness tend to get looser while the product is in use and constantly need to be readjusted to ensure that the harness remains convenient for a pooch.
This product has sizing inconsistencies, as several customers have reportedly received harnesses that were either too small or too large for their dogs to wear.
#2 PetLove No-Pull Soft Leash Dog Harness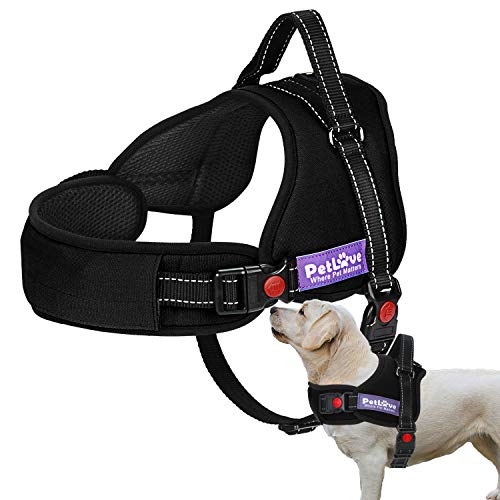 If you want a no-pull dog harness that comes with high-quality materials and features at a reasonable price, then this PetLove harness is a great choice.
It is made of durable, stylish, high-standard, and scratch-resistant materials. It is also a type of "easy on and easy off" harness. Its mesh lining is soft and comfortable, with soft sponge padding for the belly and chest.
One of its safety features includes a reflective material that guarantees visibility for night walks. It also features adjustable straps that make it a custom fit for your pooch, irrespective of size.
This PetLove harness is sold for a reasonable price, and you can purchase it without affecting your budget. It also has excellent tensile strength and scratch-resistant material.
Pros
---
This canine harness product from PetLove is available in multiple size options, ranging from XXXS to XXL, to ensure that customers can make purchases based on their dog's size.
The soft sponge padding found on the chest and belly regions of the harness ensures that this product can be comfortably worn by pooches without leaving abrasions or skin cuts on the dog.
The buckle of the PetLove harness features a red button security lock that keeps the buckle firmly locked and makes it difficult for pooches to unhook and escape the harness.
The reflective strip on the PetLove harness glows, to provide better visibility when exposed to light in the dark, thereby making it safer for customers to take their pooches on walks at night.
The PetLove no-pull harness comes with a 12-month limited warranty offer that provides returns and refunds for product defects that are due to manufacturer error.
Cons
---
The slide for adjusting the size of this canine harness tends to automatically expand back to the largest size, thereby resulting in the harness falling off while a dog is being walked.
Some customers claim to have found it difficult to get rid of dog hair that sticks to this no-pull harness.
#3 PetSafe Easy Walk Harness
Designed to mildly discourage your pooch from pulling while on its leash, this PetSafe easy walk harness is very comfortable to put on and easy to fit. It makes walking or jogging fun for you and the dog.
It has an attachment leash for the front chest of the dog that aids you in steering the dog to a side and redirecting its attention to you. Rather than putting pressure on your pooch's throat, this strap rests across its chest, thus preventing gagging or choking.
This PetSafe no-pull harness is a superb multipurpose harness that can be used for all dogs. Moreover, it enables you to be in full control of the dog while remaining gentle and applying little force on the dog's body.
Pros
---
PetSafe's canine harness product features a patented martingale loop that works to prevent leash pulling by placing gradually increasing pressure on a dog's shoulder when the leash is being pulled at.
The minimalist and simple design of the PetSafe harness doesn't obstruct airflow and ensures that pooches can remain cool and comfortable while putting on this harness.
The Easy Walk harness is designed to rest across a pooch's chest to prevent gagging or choking when the dog pulls on the harness.
The quick-snap straps on this product's shoulder and belly regions make it possible for customers to fit and wear the harness on their canine buddies without hassle.
The chest loop design of the PetSafe harness eliminates and prevents gagging and choking that typically occur due to a pooch pulling on its leash.
Cons
---
The PetSafe harness isn't chew-proof and can be easily destroyed by pooches with bad chewing behaviors.
The size chart provided by the manufacturer of the PetSafe harness is different from the actual product sizes, and this often results in customers receiving loose-fitting dog harnesses.
#4 Eagloo No-Pull Front Clip Dog Harness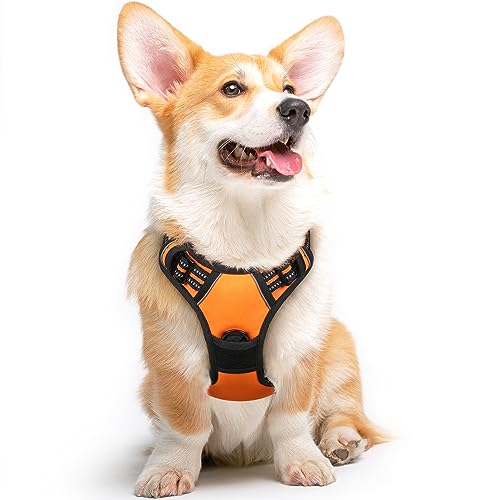 The Eagloo No-Pull dog harness places the safety of your pet pooch as a top priority. It has a considerate design that reduces the pressure on the dog's neck. Its design also includes double attachment rings for the leash – one at the back for keeping the dog in the home yard and one at the front for preventing pulling or choking while walking or training.
This no-pull harness can also be customized to be the best fit for your canine companion due to its slide straps with four buckles – 2 each on the back and neck. The buckles also ensure that the harness is comfortable to put on and take off.
This dog harness ensures the satisfaction of both the dog handler and the dog itself with a 100% quality warranty. It is also easy to wear or remove and easy to adjust to make a custom fit for your furry friend.
Pros
---
The chest metal ring that is included on the Eagloo no-pull harness is effective for curbing dog leash pulling and training a pooch to heel.
This no-pull dog harness product is designed to evenly redistribute pressure, due to leash pulling, around a dog's chest region, thus preventing choking.
The top handle design of the Eagloo harness provides better close control, making it possible for customers to grab, lift, and carry their dogs.
The versatile back clip of the Eagloo harness provides an outlet to attach leashes for daily outdoor activities such as walking, jogging, and hiking.
The reflective material on this leash's nylon webbing glows in low-light conditions, thereby making it safer to take pooches on late evening or night walks.
Cons
---
There are several customer reports of the Eagloo no-pull harness product arriving in sizes that weren't suitable fits for the dogs they were intended for.
Some customers have also reported that the reflective strips located on the chest region of their Eagloo harnesses were turned backward, thus making them ineffective.
#5 2 Hounds Design Freedom No-Pull Dog
If you want to enjoy walking with your pooch while it is on a harness, then consider getting the 2 Hounds Design Freedom Harness. A patented control loop attached to the back of the harness ensures that it tightens very gently around the chest of your canine companion, discouraging your furry friend from pulling and making the walk a great, enjoyable, and easy experience.
The harness is also designed in a way to keep your dog safe with stainless steel hardware material. Moreover, its four adjustment points ensure that it has the strength to hold any size of dog, from 15 lbs to 125 lbs and heavier.
This Freedom harness ensures that the handler has excellent control of the dog. Its maximum safety and comfort make it an excellent choice for all dogs – puppies and adult dogs.
Pros
---
This no-pull dog harness product from 2 Hounds comes with four adjustment points that can be used to either tighten or loosen the harness across a pooch's body.
The velvet lining used on this 2 Hounds product helps to prevent the harness from uncomfortably rubbing on and chaffing a pooch's legs.
The 2 Hounds dog harness comes with a warranty that covers damages done to the product due to a pooch's chewing activities.
This harness is designed to sit below a dog's neck region, thus preventing gagging or choking when a pooch pulls on its leash while also providing dogs with unrestricted leg motion.
The 2 Hounds no-pull dog harness package includes a dual-connection leash that customers can simultaneously attach to both metal rings located on the harness to provide an improved walking experience with more control.
Cons
---
The lightweight material of this 2 Hounds dog harness is usually easy for pooches with destructive chewing habits to shred.
Multiple customers have commented that this product wasn't very effective at curbing their dogs' leash-pulling tendencies.
#6 Lifepul No-Pull Dog Vest Harness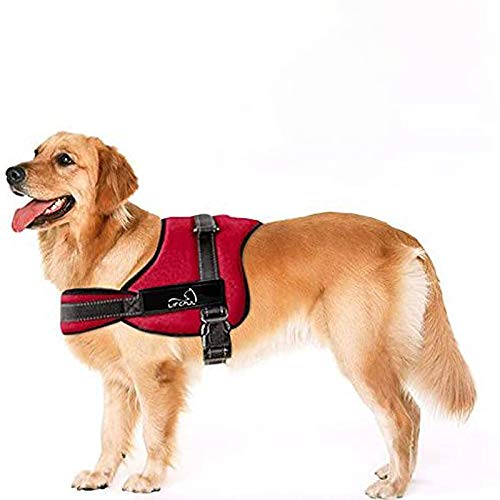 The Lifepul No-Pull Dog Vest Harness is one that is easy to operate and designed with functional features to make it enjoyable for you and the dog. Its surface material is made of high-standard durable nylon. This material has soft, thick, and breathable padding underneath to make it comfortable for your pet pooch.
You also won't need to worry about respiratory problems that come from putting much pressure on the neck. The excellent material of the harness, with its nickel-plated hardware, lessens weathering. As your pooch grows, you can customize the fit of this dog harness with its adjustable chest strap and snap-on buckle.
This Lifepul dog harness is of excellent quality and is uniquely designed to offer dog handlers total control over their dogs. Dogs on this no-pull harness will enjoy comfort and fashion style. It is also safe, thus making outings with the dog enjoyable.
Pros
---
The handle located on the upper part of this Lifepul harness provides customers with better close-range control over their pooches, as well as making it convenient for customers to lift and carry their canine buddies.
The soft padding located on the underside of the Lifepul harness is gentle on a pooch's skin and ensures that the vest is comfortable to wear for extended periods.
The reflective stitching on the straps of the Lifepul harness provides better visibility in low-light conditions and makes it safer to take a dog on a late-night walk.
The back D-ring clip of this canine vest harness provides an outlet for customers to attach a leash and take their Fido on regular walking exercises.
The adjustable chest strap of the Lifepul canine harness makes it possible for customers to modify the size of the vest to cater to a dog's growth changes and ensure that the pooch is always comfortable when wearing the harness.
Cons
---
The material of the Lifepul harness is considerably thick, and the vest tends to overheat when used on a dog during summer.
Multiple customers have commented that it was relatively easy for their pooches to slip out of and escape the Lifepul harness.
#7 Embark Adventure No-Pull Dog Harness
The Embark Adventure No-Pull Dog Harness offers rugged adventure. It is durable and lightweight for everyday use. It is made from anti-chafing padding and no-rip nylon. Getting it on and off the dog only take a few seconds, hence, making it easy to walk or run.
It also guarantees a secure and snug fit as it can be fully adjusted on the belly and upper chest of the dog. It has two attachment points – the back can bear constant pulling, while the front is used only in training settings.
This dog harness is highly durable and very easy to wear or take off. It becomes effortless to train the dog, and it works great with dogs of different sizes and shapes.
Pros
---
The front leash attachment of Embark's no-pull harness provides an effective means of curbing a pooch's leash-pulling habits without choking or gagging the dog.
The Adventure dog harness product comes with a control handle on the back that can be used to keep a pooch close when there is a need to do so.
The Adventure harness sliders provide an easy way for customers to either loosen or tighten the vest to provide a convenient fit for their canine buddies.
The military-grade nylon material used to produce the Embark harness provides strength and ensures that the product is durable enough to withstand the wear and tear that comes with consistent use.
The heavy-duty buckles of the Embark Adventure harness provide a quicker way for customers to wear and remove the vest from their canine buddies.
Cons
---
The straps of the Embark canine harness tend to come loose with a dog's pulling or running movements, thereby making it easier for a pooch to slip out and escape.
The lack of sufficient padding on the arm region of the Adventure harness usually causes chafing and may injure a short-haired pooch.
#8 Barkbay No-Pull Front Clip Dog Harness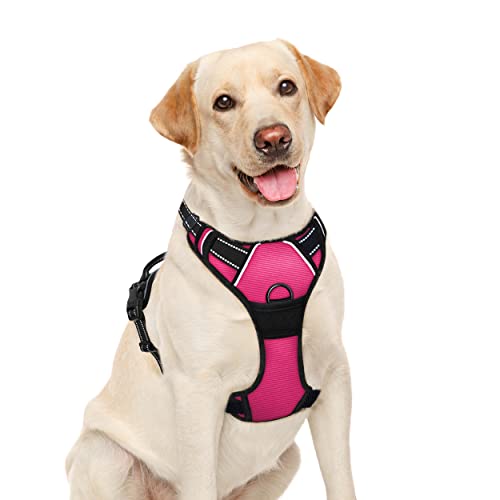 Do you desire to go on adventures with your furry friend? If yes, then this Barkbay No-Pull Canine Harness is worth considering. It is a soft harness that is at the same time durable and strong. Whether you want to go hiking, camping, trail running, or walking, this adventure dog harness will heighten the pleasure of the experience.
It is broadly padded around the neck to increase comfort. It comes with a strong back handle for easy control of the dog during training. Its design allows freedom of movement for the dog and makes it comfortable to be worn for several hours.
This dog harness is effective for different purposes; it is also safe for use during the day and at night. Its design also reduces strain on the neck of your furry friend.
Pros
---
Barkbay's no-pull dog harness features anti-chafe padding to protect a dog's skin from damage typically inflicted by the vest constantly rubbing against the pooch.
The inclusion of four different adjustment points on the Barkbay harness provides a convenient way for customers to modify the vest according to their pooch's size.
The ultra-reflective strips on the Barkbay harness glow when exposed to light in the dark, thereby providing a way for customers to safely take their pooches on late evening and night walks.
The top easy-lift handle of the Barkbay harness is suitable for exercising and maintaining greater control over a pooch during walks or training activities.
The over-head design of the Barkbay vest, with side clips to secure the harness, provides a convenient way for customers to either wear or take off the product from their dogs.
Cons
---
Several customers have reportedly found it difficult to adjust the straps of this dog harness to ensure a convenient fit for their canine buddies.
The Barkbay harness tends to twist and shift when a large and strong dog wearing the vest pulls hard on its leash.
#9 YOOGAO Pet Heavy Duty Soft Padded Dog Harness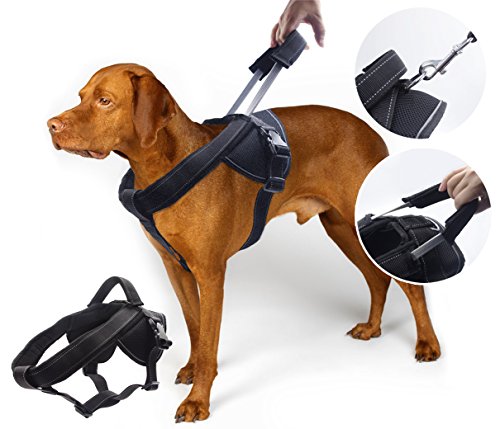 Is your pooch one with a sensitive neck? Do you encounter problems in educating your dog? Then you can switch to this YOOGAO Pet heavy-duty canine harness. It is engineered with high-standard fabric that can bear 450-lb pulling resistance. It allows for more control over the dog with a short and integrated leash design, while the padded handle ensures that the handler's grip remains tight.
This makes it easy to deal with hard pulling. It is an excellent choice for medium and big-sized dogs. Moreover, its short, tactical leash can be paired with a long handle for leisurewear and comfort walks.
This dog harness is very comfortable due to its soft padding. It is also resistant to wear and highly durable. It also offers quick control of the dog.
Pros
---
YOOGAO Pet's heavy-duty dog harness is constructed with durable nylon material that is resistant to the wear and tear of consistent use, as well as weather-induced damage.
The padded extensible handle of this canine harness product, which is made with elastic material, is suitable for customers and trainers that wish to exercise more close-range control over their dogs.
The soft padding on the insides of the YOOGAO Pet harness cushions and protects the parts of a dog's skin exposed to the vest from chafing.
The D-ring leash adapter of the YOOGAO harness is compatible with different types of leashes and ensures that the vest can be used for various purposes, including daily walking, training, and work-related activities.
The easy-click buckles and adjustable straps of this no-pull dog harness from YOOGAO Pet make it possible for customers to make frequent adjustments to obtain the most comfortable fit for their pooches.
Cons
---
The use of elastic material to construct this harness' top handle results in the handle stretching easily and makes it more difficult for customers to control their pulling dogs.
The YOOGAO Pet harness has sizing inconsistencies, as there are multiple customer reports of the vest either being too big or too small for the dogs they were intended for.
#10 ThinkPet No-Pull Breathable Sport Harness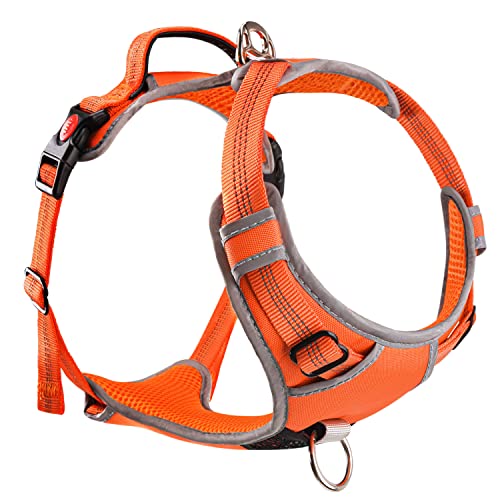 ThinkPet No-Pull Breathable Sport Harness is a medium-sized no-pull harness for smaller dogs. It has a chest girth of between 15 to 30 inches and a neck girth of between 16 to 22 inches. It is made of premium nylon to keep the harness robust during wear. The inner layer of soft mesh helps with ventilation and comfort.
This harness from ThinkPet comes with a lock design to enhance the safety of your pup. It has quick snap buckles that make it easy to wear and take off. It also has widened straps to prevent choking and pulling. The dog harness has a fluorescent strap all around for extra visibility. It has two metal leash D-rings and a padded soft handle.
We love a stylish harness that you can use every day outside or while traveling. It has wide straps to protect your dog. The material helps with ventilation and overall comfort for your furry friend. The fluorescent strap is perfect for walks in the dark. It is easy to put on and take off, thanks to the quick snap buckles.
Pros
---
The ThinkPet Sport harness comes with an inner mesh lining that ensures comfort by providing optimal airflow to a dog's skin and also helps protect the pooch's skin from friction-related injuries.
ThinkPet's no-pull harness product features a dual metal ring design that makes it possible for customers to attach a leash in different ways to suit a variety of purposes.
The quick-snap buckles of this no-pull harness provide a way for customers to swiftly and conveniently wear the vest on their canine buddies and also remove the vest, as needed.
The wide strap design of the ThinkPet harness assists with pressure redistribution and ensures that pooches don't choke when they pull on the leash attached to the vest.
The fluorescent straps on this no-pull dog harness from the ThinkPet brand make this product ideal for taking a pooch on walks when the visibility is generally poor, such as in the evening or at night.
Cons
---
Multiple customers have commented that they found it difficult to adjust this no-pull harness to get the right fit for their canine buddies.
The chest straps of the ThinkPet harness tend to loosen easily and are often difficult to tighten.
#11 Sporn No-Pull & No Choke Dog Harness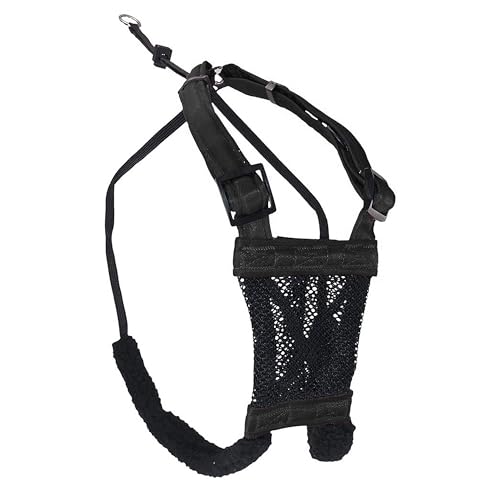 This Sporn Dog Harness has an excellent blend of style, control, safety, and comfort. It is engineered to be more for mild to heavy pullers, and it ensures that your canine companion is discouraged from pulling without any form of choking or even training.
Its mesh covering of the harness is placed at the front of the dog's neck while the nylon straps are put on both sides of its head. Sherpa-covered loops are placed around the dog's legs so that when your pooch pulls, the padded Sherpa can tighten and gently apply pressure beneath its front leg.
This Sporn dog harness effectively prevents any unwanted pulling without tampering with the comfort of the dog. Your dog is guaranteed the utmost safety with this dog harness. It is also comfortable to wear.
Pros
---
The humane design of the SPORN no-pull harness applies pressure underneath a pooch's legs, rather than around its neck, to curb leash pulling without choking the dog in question.
The high-quality nylon and nickel-plated hardware material used to produce this canine harness are ideal for use in different weather conditions and won't easily wear down with consistent use.
The elastic webbing on the SPORN no-pull harness stretches with a pooch's natural movements, thereby ensuring that a pooch can move freely when wearing the vest.
The one-piece design of the SPORN canine harness makes it convenient for customers to quickly put on and take off the vest from the pooches.
The padded restraint sleeves of this no-pull harness that go under the pooch's front legs are soft on the skin and ensure that the vest is comfortable for dogs to wear.
Cons
---
The design of this harness allows dogs to lunge forward at will, making it ineffective for curbing leash pulling under certain circumstances.
Several customers have commented that this no-pull harness started to irritate their pooch's skin after using the vest for a considerable period.
#12 My Busy Dog No-Pull Harness Vest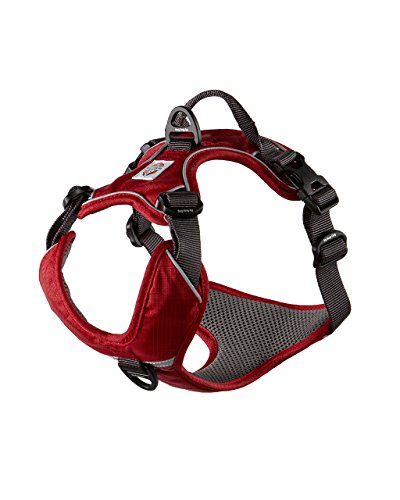 When looking for a no-pull dog harness, you always want a comfortable and convenient harness. This is precisely what you get with My Busy Dog Harness Vest. Its mesh design and double metal leash points of attachments are comfortable and flexible in a way that makes it easy to go walking, hiking, or a day out on the beach.
Its back-leash attachment provides your pup the freedom to range a bit further from you during hikes and to explore the outdoors. It has an additional front leash attachment to train your dog to stop pulling.
The Busy Dog Harness Vest allows your pooch to get busy and explore without pulling and continuously readjusting. Your canine friend is guaranteed convenience and comfort.
Pros
---
My Busy Dog's no-pull harness comes with a front aluminum leash attachment that can be effectively used to train a dog to stop pulling at its leash.
The soft and breathable mesh fabric of this canine harness is comfortable for a dog to wear and minimizes the risk of a pooch developing skin irritation due to prolonged wearing of the vest.
The metal sizing adjusters on the My Busy Dog harness can be used to either loosen or tighten the vest to provide a convenient and comfortable fit for a pooch.
This canine vest is designed with a sturdy top handle that can be used either to hold, guide, or grab a dog, depending on the situation.
The 3M reflective material used in crafting this no-pull harness vest provides additional visibility in low-light conditions, thereby making it relatively safer to take pooches on late-night walks.
Cons
---
There have been multiple reports about the vest's straps loosening up even after being tightened.
The sizing chart of the My Busy Dog no-pull harness product is inaccurate and has resulted in several customers purchasing ill-fitting vests for their canine buddies.
---
No-Pull Dog Harness Buyer's Guide
---
It can take effort and time to buy quality items when in search of one. However, when you get a quality harness and you walk down your neighborhood with your pet pooch strolling calmly at your side, it will be worth it.
A good no-pull harness does not just provide a temporary solution to the problem of your frantic pulling dog. Over time, it trains the dog how to walk calmly without pulling.
Dog Harness VS Dog Collar
According to research conducted by the School of Veterinary Medicine, University of Wisconsin-Madison, they found that wearing a canine collar leads to increased intraocular pressure as compared to a regular dog harness.
This is because a harness spreads the force generated during pulling across the dog's body. Small-sized dogs and puppies can't handle the pressure that a collar generates, and a tuck could crush their windpipes or damage their necks.
It is often the belief of some dog parents that the discomfort a collar provides is preferable as it is better equipment to discourage dog pulling. But some research has claimed that such beliefs are wrong. Instead of training or discouraging the canine to pull lesser, the neck of the dog gets accustomed to your pulls and is more resistant. Hence, you, as the dog owner, will have to resort to harder pulls which risk severe canine injuries.
There is less chance of a canine harness slipping off or breaking away while your dog is running and so your furry friend feels more confident and secure with the harness around its body.
The bottom line is that with the right dog harness, you can avoid all this. The correct harness makes activities of various kinds to be enjoyable for you and your dog.
What To Look Out For When Buying A Harness For Your Dog?
When going through the different styles of dog harnesses on the market, it can be challenging to make the right choice.
The best thing to do is to carefully research and understand the features of a harness before purchasing it.
Is your pooch the type that easily jumps into mud puddles? Then you will be better off choosing a harness that can easily be washed in the machine.
Or perhaps your pooch is the type that will lunge at other dogs on the road? Then decide on a harness with a top handle that allows for better control.
Furthermore, it is better for you to take your pooch out while searching the market for a harness. This way, you can try out each type and decide which will be easier to wear on and take off from your canine buddy.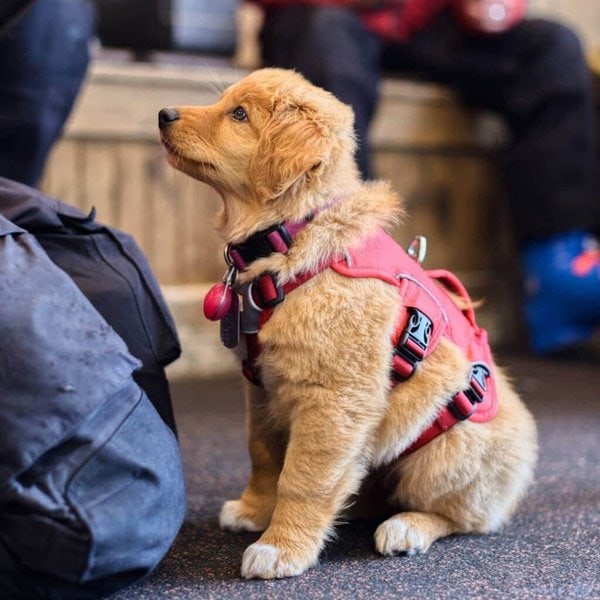 What Are No-Pull Dog Harnesses?
Just as its name suggests, no-pull dog harnesses prevent dogs from pulling or at least reduce the rate at which the dog pulls. A no-pull dog harness works by distributing the pressure evenly around the body of the dog. When a dog starts to pull on the harness, the front hook gently steers your pooch back towards you.
This helps to discourage any unwanted pulling behavior.
A no-pull canine harness typically comes with two separate clips to be used for the leash. One clip will be attached to the front, while the other will be attached to the back.
No-Pull Back-Clip Harness
Back-clip dog harnesses are one with a D-ring leash attachment on the back, resting between the shoulder blades of the dog. They are a suitable choice for small dogs, dogs with injuries in the neck, and dogs that have trachea or respiratory problems. For instance, a back-clip harness will be suitable for a dog that has a collapsed trachea because it does not strain the neck of the dog.
It provides excellent protection for the dog's throat and neck region. However, excessively pulling dogs, powerful dogs, or big dogs with little training and a high prey drive will not benefit from a back-clip harness. For instance, the back-clip harness will not work on a 200-lb Bull Mastiff that tends to pull frantically.
No-Pull Front-Clip Harness
On the other hand, a front clip harness is one with the D-ring form of leash attachment at the front and at the center of the dog's chest. They are an excellent choice for dogs that jump and pull and also dogs that easily get distracted while walking or are difficult to direct. It is ideal for training a dog on how to navigate easily.
Related: Best Escape Proof Dog Harness
How To Put On A No-Pull Dog Harness?
Putting on a harness for a dog is dependent on the model and make of the harness. Some dog harnesses go in over the head of the dog and clip on both sides with a strap that holds the harness around the dog's chest or waist.
While other no-pull harnesses open and close around the dog with multiple clips, you may have to make your pooch walk into a harness before it can be secured with single or multiple clips around the back area.
So, always practice positive reinforcement with your pooch to let it get used to the harness. Reward it with a treat whenever it wears the no-pull canine harness.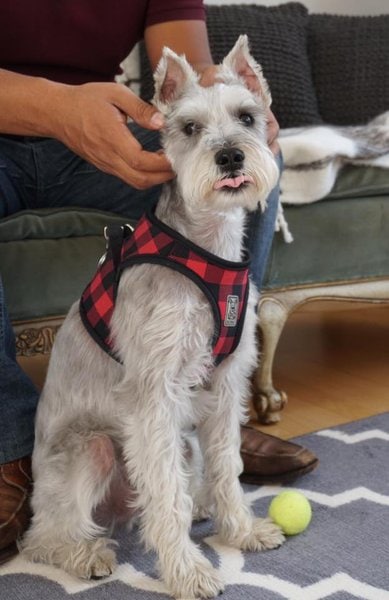 Measuring Your Dog For The No-Pull Harness
It is essential that you measure your furry friend correctly for the no-pull harness you want to purchase to avoid the risk of many injuries and problems of different kinds. An overly loose canine harness can lead to your canine companion slipping out of the harness and escaping. While too tight of a harness can cause pain and discomfort.
For most dog harnesses, there are two measurements needed – the chest and the lower neck. The process involves the use of a measuring tape that is soft to measure around the lower portion of your furry friend's neck.
Place the tape a little above the breastbone and towards the back of the dog's neck. Use the soft tape to measure around the widest part of your canine friend's chest. This involves setting the tape behind the front legs and wrapping it around to the point of the dog's back for most dogs. Several dog harnesses make use of the term "girth" in describing the measurements of the dog's chest.
Also, it is better to allow two fingers of extra space when fitting the harness of your pooch to avoid pinching and chafing. So, buy the harness for your canine buddy based on the measurements.
Padding
Some dog owners often ask if padding is necessary for a no-pull dog harness.
The answer is based on the type of dog and your preference. As a general guide, dog breeds that have short hair could potentially benefit from padding to prevent skin irritation and rubbing.
No-Pull Harness Material
The cleaning of dog harnesses is crucial, especially for those with padding. Some dog owners will choose a leather canine harness because of the reduced possibility of skin irritation. In contrast, some other paw parents will go for nylon dog harnesses because they are quicker and easier to wash.
The size, breed, allergies, and skin quality of your dog influence the choice of the material to a great extent. As great as leather dog harnesses look, lightweight nylon materials are the best for dogs such as pugs. Besides, Nylon is a very durable material though if it is without extra padding, the force of pulling on your pooch can rub its skin and lead to irritations.
Adjustability
Adjustability is one of the vital points when purchasing a no-pull canine harness. Though you can get your dog measurements and buy a suitable canine harness, it is still rare to get a perfect fit. So, an excellent way to ensure a suitable and correct harness fit for your canine companion is to make use of adjustment points.
Moreover, as your pooch grows, these adjustment points ensure that the harness is still a good fit.
Related: Best Tactical Dog Harness
---
Final Thoughts
---
The top-rated choice of all the no-pull dog harnesses reviewed is our top pick. It has an adjustable neck and girth that can be adjusted to fit most sizes practically. This ensures a comfortable fit into any dog size.
You don't have to worry about choking, and it is helpful to gently train your pooch to minimize its unwanted pulling behavior.