The best dog GPS tracker is Whistle Go Explore Dog GPS Tracker.
Owning a dog is one of the most rewarding experiences you can have. From taking them on walks, playing fetch, and making sure they are healthy; it's clear that we love dogs. But what happens when your pup takes off?
Approximately 23% of dogs experience some form of noise anxiety, causing them to scurry unexpectedly. During these circumstances, a dog can get very far quickly, so it'll be difficult for pet owners to go after it.
Luckily there are devices such as GPS trackers that make life easy for both owners and pets alike. These small devices attach to your dog's collar so if they get lost you can find them quickly without having to worry about where they might be wandering off to.
With a GPS dog tracker, you can follow your dog 24/7 in any place because it's being tracked on your cell phone.
We're going to go over a few of the best dog GPS trackers on the market and help you make an informed decision about which one would be perfect for your pup.
#1 Whistle GO Explore Dog GPS Tracker
SALE ALERT!!
Whistle GO Explore GPS + Health + Fitness Dog Tracker Plus Health & Fitness Monitor, Waterproof,...
Subscription required. Plan covers location tracking with GPS, health and fitness monitoring, including proactive...
Location Tracking. Set up alerts and quickly locate your pet, whether they've made a sneaky escape, or are 3,000 miles...
Health, Nutrition, & Activity Tracking. Monitor activity levels, calories, distance, and activity, along with behaviors...
Out of all the GPS trackers for canines that we have researched, the one that stood out from the rest and what we can truly say is the best device for tracking a missing or runaway dog is the Whistle GO Explore tracker. This is a new piece of technology, which helps keep digital tabs on a pet at all times.
The device has hefty updates inside, but it has remained to be Spartan with its design. It looks simple as it is just a tiny gray box that has a small pinhole with a whistle pictogram. Behind the scenes, however, there's a lot going on! The activity levels of the pet can be tracked with a Fitbit and the GPS data can be transmitted to your cell phone.
Generally, you'll be accessing data from the Whistle application. A subscription plan of $7.95 per month will be everything you need to pinpoint the exact location of your pet anywhere in the country! Yes, even in rural areas.
Using the Whistle app, you can also set the "home" area of your pet, the place where it is safe for it to roam around. Whenever your pet goes out of the area that is marked to be safe, you will receive a notification on your cell phone.
Whistle GO Explore tracker has lots of features to love, not just its connectivity. For one, we loved how it's small and less obtrusive compared to other GPS trackers. Also, it makes use of GPS, LTE cellular and Wi-Fi to ensure your pet is tracked at all times.
Pros
---
Has a simple, yet durable construction with an IP67 waterproof rating – can be submerged in water.
Lasts for 20 days on a single charge.
Tracks your dog's location once every 15 seconds.
#2 Tractive LTE GPS Dog Tracker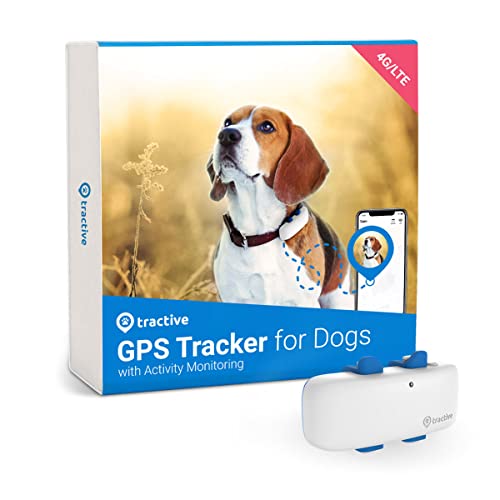 Priced at almost 60% cheaper as compared to our top pick, the Tractive LTE GPS Dog Tracker is an affordable option to consider.
This GPS dog tracker does all that it's supposed to do – which is to track your dog. It doesn't come with health or behavior tracking as what the Whistle GO could do. But that's totally perfect if all that you are looking for is a no-frills dog tracker.
The Tractive GPS tracking monthly subscription plan is also cheaper, costing $4.99 per month. In comparison, Whistle GO Explore's monthly subscription plan is $7.95 per month.
It offers the most bang for your buck, and it's also an excellent choice if you're living in the suburbs or city and your dog likes to stray. You wouldn't get short-changed on important features too. This is a 100% waterproof tracker, which makes it suitable for your outdoor pooch.
The real-time tracking mode of Tractive Pet Tracker will let you see where the dog has traveled, as well as where it is headed. Just like the Whistle GO Tracker for Dogs, it will let you set a safe zone using Tractive's own app. You will also receive alerts whenever your dog goes out of the safe area.
Apart from a lower upfront cost, the reason why we've found the Tractive Pet Tracker to be a value buy is because it has a lower monthly fee, as well as a rechargeable battery! On top of that, it comes with a 1-year comprehensive warranty, ensuring that you're able to make the most use out of the device.
Pros
---
Easy to activate and set up.
Compatible with Windows, Android, and iPhones.
Best value – requires only a monthly fee of $5 to track your dog in real time.
Up to 5 days of battery life per charge.
#3 FitBark GPS Dog Tracker
Introducing FitBark, the life-saving GPS dog tracker. Designed for all dog breeds and their adventures, this lightweight tracker is tough, rugged, and waterproof.
Get alerts when your pup approaches escape-artist status or when it's on a fun outing with its friends with live tracking in real-time. You can also use it as a fitness tracker to monitor sleep habits and step count too. All this while providing real-time GPS tracking via Wi-Fi, Bluetooth for the Verizon LTE network.
Tne custom safe places is a really useful feature – you can configure "safe zones" using Wi-Fi. Whenever your dog leaves the safe zones, you will be alerted via the Fitbark app.
With a 30-day money-back guarantee on all plans, this lightweight device fits dogs weighing between 5 lbs to 240 lbs. It can be equipped with collars up to 1.5 inches wide, and lasts between 10 to 20 days, depending on the availability of Wi-Fi, Bluetooth, or Verizon coverage.
A sleek, lightweight and multi-functional GPS dog tracker. You can also use it for your dog's health & behavior monitoring – which is a good addition too.
Pros
---
Comes with a 30-day money-back guarentee.
Super lightweight – only 0.6 oz.
Shockproof and waterproof.
#4 Garmin Alpha 200i Dog Tracking Handheld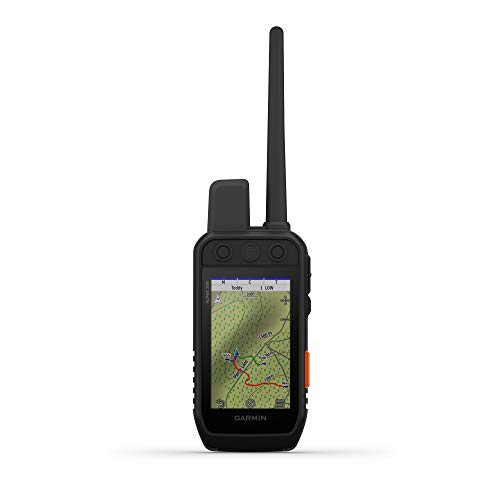 A nifty device that's a must-have if you have a sporting dog, the Garmin Alpha 200i operates optimally in the field. This means that if you love being outdoors with your pet, this tracker is your best option.
The entire package comes with the 200i handheld with a rechargeable lithium-ion battery pack which can last up to 20 hours with a single charge, AC adapter, micro-USB charging cable, and a belt clip. A sweet deal, isn't it?
Setting up the Alpha 200i is easy. Instead of buttons, it features a touchscreen interface that's glove-friendly. The device comes with superior GPS tracking, preloaded with TopoActive maps consisting of satellite images from BirdsEye.
The product ensures that you don't lose your sporting dog during hikes and allows you to direct your hunting buddy to get the right game. Alpha 200i will let you know where a dog is even when it's out of sight. Using the device's high-tech GPS, it is able to track a maximum of 20 dogs flawlessly in real-time.
This Garmin device impressed us because it has the ability to track a dog for long distances. It also has an accurate mapping system, not to mention a collar beep that is audible even to an older dog. You may find the unit to have way too many settings and features, but you'll love it once you get a hang of using the tracking device.
Pros
---
An easy-to-use handheld system.
Tracks dogs within a 9-mile radius.
Delivers a dog's exact location every 2.5 seconds.
20 hours of battery life with a full charge.
#5 PETFON Pet GPS Tracker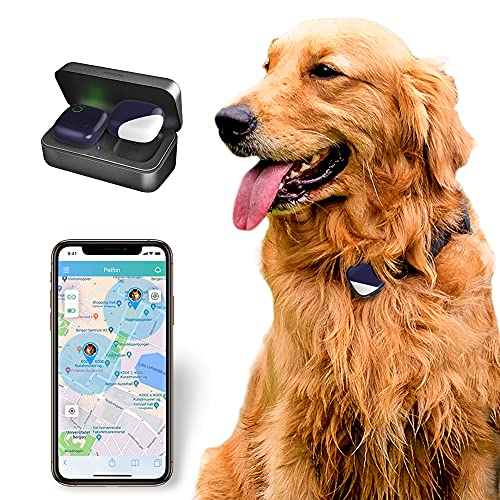 The PETFON tracker is a device that combines both GPS, Bluetooth, and Wi-Fi technologies to assist pet owners in keeping track of their pets' movements. It typically comes as a collar device that is worn around the pet's neck.
This tracker has a mobile app with which pet owners can instantly view and pinpoint their pets' location. Its coverage area varies, with tracking ranges extending up to 0.65 miles in dense areas and 3.5 miles in open spaces. The geofencing feature of this tracker enables pet owners to set a safe area around their pets, with notifications being sent out immediately when they step out of the defined safe area.
The colorful lights located on the tracker can be activated to make it easier to locate missing dogs at night or in dimly lit situations. Also, pet owners can store and play voice commands on the tracker, thereby making it easier to communicate with their pets.
The PETFON tracker is waterproof to an extent and can work well under the rain. Additionally, it comes with a battery that typically lasts for between 8 to 16 hours. The tracking collar weighs just under an ounce, making it comfortable for pets to wear for as long as is needed.
Great tracking abilities, coupled with a significant working range, a lightweight design, and a host of other great features, make the PETFON pet GPS tracker the product to get if you wish to be constantly kept in the loop regarding your pet's location.
Pros
---
An easy-to-use mobile app that relies on geofencing technology.
No need to pay a monthly fee for its service.
Standby battery lasts for between 8 to 16 hours.
The tracker can store and play voice commands.
Rainproof design.
Lightweight design – weighs about an ounce.
Variable working distance – 0.65 miles for dense areas and 3.5 miles for open areas.
#6 GIBI 2nd Gen Pet GPS Tracker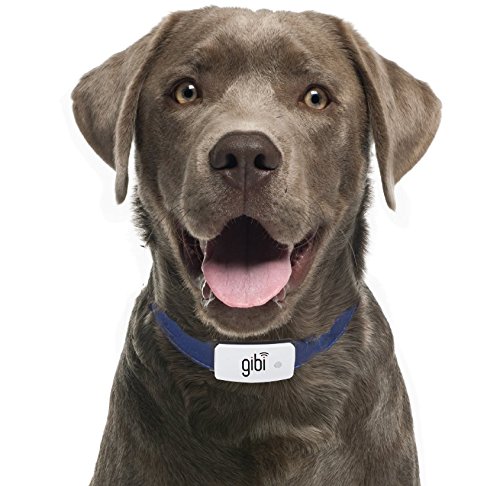 As its name suggests, the Gibi 2nd Gen GPS Canine Tracker is the 2nd generation tracking device from the brand. It has retained its predecessor's key features; it's waterproof, compact, and lightweight. With the 2nd gen tracker, the company behind it, Gibi, gave it a more accurate report of the dog's location as well as a much longer battery life.
Moreover, the 2nd gen tracking device is resistant to impacts. It also has protection against contact with potentially harmful particles like dust and dirt. It's waterproof as well and can be submerged up to three feet underwater for half an hour. All these and more make it a solid choice as it can last for years. Of course, that's the case if it's used properly!
This tracking device is cuboid in shape. On the front, it has the logo of the company, a switch on/off button, as well as a battery or power status light.
We loved how lightweight it was that even a Chihuahua dog doesn't find it obtrusive. It only measures 2.75″ x 1.25″ x 0.5″ and can be easily attached to your pet's existing collar.
Pros
---
Location updates are given every 30 seconds.
You can customize a safe zone for your pet.
Reliable, durable, and waterproof.
---
Dog GPS Trackers Buyer's Guide
---
Canine trackers have one purpose and that's to tell you your dog's exact location. As you know by now, there are a lot of trackers for dogs sold online and the abundance of options makes it a bit difficult when looking for the right one.
After all, technology is constantly evolving and has become an integral part of our lives. We use it to keep up with the latest news, find things on Google maps, and even bank online. It's only natural that people would want to use technology for their pets as well.
To ensure that what you pick is the best for your specific situation, keep on reading as you'll find every single aspect that makes a good tracker below.
Related: Best Wireless Dog Fence
Signal Range
This one goes without saying. The best GPS tracker for dogs should have a decent operating range in communicating with the local signal tower. Whenever the signal is weak, you can't know the location of your pooch. This can defeat the entire purpose of using a canine tracking device.
Related: Best Invisible Dog Fence
Extended Battery Life
Another thing that's a must for a GPS dog tracking device is good battery life. This is especially crucial if the device will be "on" always. If you choose from the products we featured above, you won't have to worry about this as their batteries, when fully charged, can last for days.
But, there's one thing that you also need to do and that's to remember the recharging of the tracker. Charging will vary from one device to the other. If possible, choose the one that can last the longest. Five to ten days with just a few hours of charging is ideal. Make sure you don't skip this aspect as a device that can't hold a charge is next to useless.
Waterproof
A good canine tracker is waterproof; it will work even during heavy rain or when a dog jumps in a body of water. If your pooch likes water, then you definitely need a waterproof GPS device as nothing upsets a sensitive device more than water.
Geo-Fencing
The best GPS canine trackers use zones. They allow you to allocate a certain area that's safe for a pooch to wander or roam. In this area, the tracking device won't give false alerts but will only give notifications to your cell phone when the dog goes out of its zone.
Geo-fencing is not really a unique feature of GPS trackers as most have them have it. Geofencing isn't solely for GPS trackers as well as it can appear in all kinds of modern technology. It is pretty cool – even a robotic lawnmower is given this kind of technology. The geo-fencing will let you set the boundaries of your four-legged friend. The boundary can be set inside your home or around your entire property.
GPS Tracker Subscription
A canine tracking device often comes with a monthly subscription. For example, the Tractive LTE GPS Tracker requires a fee of $5 per month to track your escape artist in real-time. Although this can feel like a commitment you don't want to take part in, it is essential that you consider the advantages of having a device that can accurately inform you of your furry companion's whereabouts.
If you're like us, then you also value your mental health. We would gladly pay a small fee if that means we get to enjoy peace of mind knowing that our beloved furry babies are safe and sound.
Yearly plans are also offered by most manufacturers of GPS trackers for dogs. There are also those that don't require a subscription such as the Garmin Alpha 200i as they rely on their networks for the tracking of dogs. The tradeoff, obviously, is that the upfront cost is more expensive. As soon as you've made the investment, the tracker will be all yours and will run continuously.
The right tracker for you will depend on your confidence in a particular device as well as your budget.
Accuracy
The best canine GPS trackers track pets in real-time; therefore, you will be able to pinpoint your dog's exact location. Others have slight delays, which are usually just a few seconds.
Additional Features
The devices we listed above come with additional features beyond GPS tracking. They can let you track the daily activity of your pet to ensure that it is getting enough exercise. Other devices available for purchase online can let you track your pet's temperature so that your pooch is in no danger of overheating.
If extra features are essential for you, then get a tracker that comes with all the necessary ones that you need.
Durability
This may seem obvious, but most dog owners purchase the cheapest devices they see online and hope that they work! That's why we are stressing the fact that you need a GPS tracking dog collar that isn't straight-up rubbish or else you'll just be throwing money away. Keep in mind that we have researched the products above and made sure that they last for a long time.
Related: Best Escape-Proof Dog Harness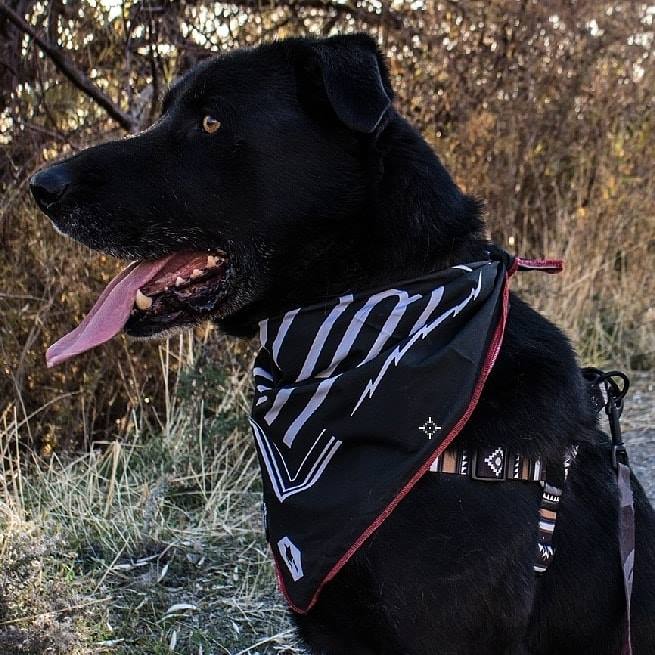 Frequently Asked Questions
How Does A GPS Tracking Device Work?
A canine GPS tracker makes use of satellites via the Global Positioning System in order to locate a pooch, regardless of where it is on the planet. There are cases when the device is sold on its own and you simply need to attach it to your pet pooch's existing dog collar.
Some also come with dog collars. The device won't bother your dog, especially when it's of great quality as it's specifically made to be unobtrusive and lightweight.
A tracking system has various applications; it can be used to check where your pooch is when it runs away. You can also check if it is inside or outside its designated area. A GPS tracker is made to give a dog owner peace of mind. Most trackers inform you of your dog's location through apps or through websites.
Is There A Need To Download Specific Apps To Track My Dog?
This will depend on the tracker that you use. The Garmin Alpha 200i comes with a handheld device that allows you to skip the use of an app from your cell phone. As mentioned, there are also devices that use apps. Some of them come with in-depth websites that will detail all the info you need, so you won't need an app anymore.
A few trackers sold online will send out emails or texts to update you of your pooch's location. So, to answer your question, it will depend on the GPS tracker that you use for your dog.
Will I Be Able To Train My Dog Using A GPS Tracker?
It is possible if your tracker is built for training purposes, such as the Garmin Alpha 200i. If you need extra training for your pooch, the Alpha 200i will let you set a vibration or ringer that will activate when your canine companion breaches its geofence or when the stimulation is activated.
Be aware that the training will ask for both of your time and patience. In most cases, you will also need lots of treats for your pooch. On the upside, it's a fun and practical skill that a dog can learn.
---
Final Thoughts
---
We hope you find this handy guide useful in making an informed buying decision. It is best that you remember that it is not always wise that you base your final decision on price unless you are on a very tight budget.
Instead, think about the features that you and your four-legged companion may need from a GPS tracker. Our top pick has it all, which makes it the ideal canine tracker for reliability, battery life, range, and so much more.
So, what have you decided to get? Rest assured that you'll never go wrong with purchasing our top pick.