The best dog carrier purse is PetsHome Dog Carrier Purse.
When traveling on the subway, on a plane, or even in your car, it is best to get the best dog carrier purse for your furry friend.
This is because your pooch could feel overwhelmed by the large crowds and so the carrier purses provide them a sense of security and calm.
It is best to look for a purse that has all the necessary features as this ensures your canine's companion security. Apart from efficiency, the design and the looks also matter.
Choosing the right carrier purses from a thousand different options can be a tough job. That's why we have gathered the 9 best dog carrier purses for you.
#1 PetsHome Dog Carrier Purse
If you love your dog, then you would be ready to get them the best. Made of premium PU leather, the PetsHome Dog Carrier Purse has been handcrafted not only for efficiency but for its outstanding beauty.
Designed with a breathable mesh on its sides, your pup can comfortably keep their head inside should they feel scared or insecure. The carrier handbag has been made from breathable materials without any fade or distortion, assuring you of a very long-lasting product.
What's more? It comes with a safety leash tucked in the inside of the purse, so that you can attach your dog leash onto it. This keeps your pet pooch from getting out when you are getting around town.
This dog carrier purse stands out from the rest as its design is more or less similar to a stylish purse. With the amount of detail given to it, this is going to attract attention. It comes fully detachable (3 separate pieces + 1 mat) for easier storage and cleaning.
Pros
---
Dimensions: 15.7" x 7.9" x 9.5" inches
Made of high-quality PU leather, which is soft and lightweight
Beautiful modern design
Breathable mesh at the sides
#2 NOBLE DUCK Small Dog Carrier Purse
Looking for an efficient and fancy bag, but on a tight budget? This NOBLE DUCK Small Dog Carrier Purse is your perfect choice.
This unique bag is made from a durable polyester cotton fabric, with stitched seams on both the inside and outside. The purse has a generous space inside to fit your small dogs comfortably.
Unlike most dog carrier purses, the NOBLE DUCK purse resembles more of a tote bag that you can sling over your shoulder.
With an irresistible price point, the NOBLE DUCK Small Dog Carrier is the best value for money dog purse carrier out there. It is super comfortable for both your dog and for the pet parent.
Pros
---
Dimensions: 15″ x 11.8″ x 7.5″
Zippered front pocket for storing your items
Thick and comfortable straps
Comes in a gorgeous tan color
#3 Sleepypod Atom In-Cabin Pet Carrier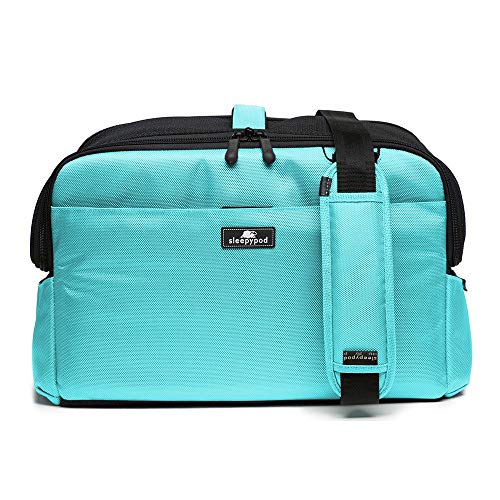 This bag is made from high-quality materials and is sturdy enough to carry dogs of up to 8 pounds, regardless of its lightweight design. This is one of the few bags which have crash-tested for safety purposes and passed with flying colors.
This pet carrier abides by the pet regulations of major airlines. There are many ways to carry your dog in this bag. It can be attached to rolling luggage, used with a shoulder strap or held by the top handle.
Pros
---
Dimensions: 10.5″ x 17″ x 8.5″
Airline approved carrier
Comes in a variety of colors.
Large mesh panel for aeration.
Crash-tested for safety
#4 BETOP HOUSE Soft-Sided Dog Carrier Purse
SALE ALERT!!
When elegance, class, and efficiency come together, this is the dog carrier bag you get to bring your dog around town. With a classy mirror surface and made from durable faux leather, this dog carrier is not only beautiful and stylish but also long-lasting.
Suitable for small dogs of up to 10 pounds, this bag can help you carry your little bud everywhere you go.
Featuring buttoned pockets on the sides, one can have extra storage space for your dog's snacks or your items. Both sides have flaps for ventilation which can be concealed for privacy and security.
Pros
---
Dimensions: 17" x 11" x 7.5"
Premium faux leather tote purse
Stylish and beautiful
#5 I IHAYNER Fashion Dog Carrier Purse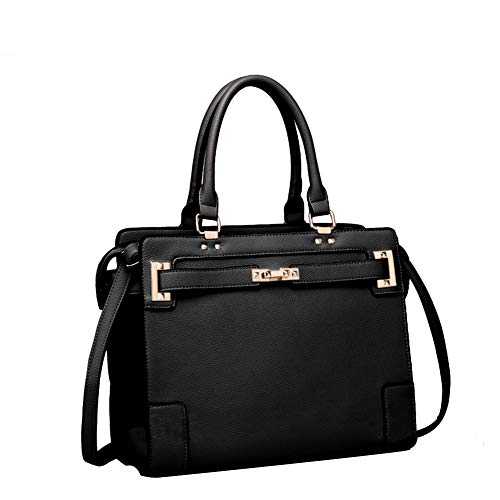 A stylish, modern dog carrier purse for a dog parent that wishes to make a fashion statement! This purse is elegant and made from a comfortable smooth PU leather material.
Be it on a plane or for a drive; this dog carrier has been designed for all that. It fits nicely on the underneath of most airplane seats, which makes it an airline-approved dog carrier purse.
The front and back of the purse are meshed too, which allows for ventilation to ensure that your pet pooch will be comfortable.
A stylish and modern-looking purse that will be a perfect accessory for most occasions.
Pros
---
Dimensions: 17.8" x 9.5" x 11"
Lightweight and airline approved
Sturdy hard-sided construction
Comfortable padded interior
#6 Hubulk Dog Carrier Bag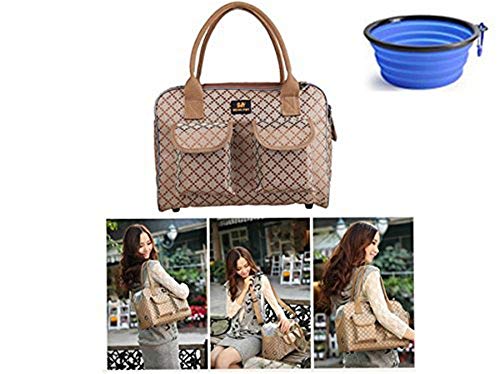 Made from a classic houndstooth print fabric, this bag will get your eyes on it due to its beautiful design. It features an imitation patent leather trim and handles to add more durability to the bag. The bag has a dual zipper top and Velcro closure for easy accessibility.
The bag has mesh windows with one end zipping on both sides for better ventilation and access. Cleaning the bag is easier because the interior pad can be easily removed.
Pros
---
Dimensions: 15" x 7" x 11"
Made with a durable oxford 1680D fabric
Leash attachment inside
Pockets on the side for storing treats
#7 Kenox Fashion Dog Carrier Bag
Tag along with your furry friend to every place you go in style. This modern carrier bag is quite attractive and very much efficient. It is sturdy enough to carry dogs of up to 16 pounds.
The bag features extra side zipper pockets for you to carry a snack, toys or your items without having to worry about an extra bag.
The bag has removable inner pads for easy cleaning. The mesh sides can easily be covered with Velcro flaps and zippers making it pass like any normal handbag.
Pros
---
Dimensions: 15.7" x 11" x 7.5"
Easy to clean
Beautiful design
Side pockets to store toys, treats or personal items.
#8 Petparty Fashion Dog Carrier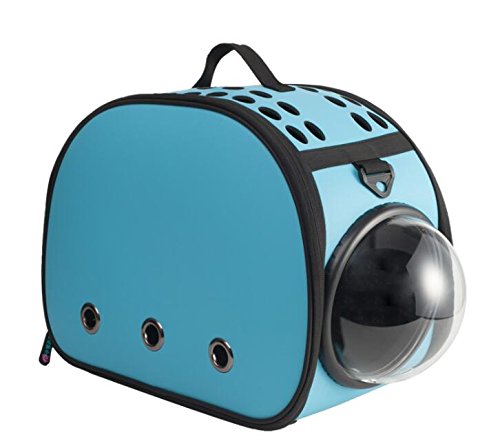 Made from durable striped canvas fabric, this pet dog is ideal for those who love taking their pet dogs with them but detest walking around with bulky bags.
The Petparty Fashion Dog Carrier lives up to its name as a fashion bag thanks to its design. With glossy and sturdy handles, you can carry around your dog without any restraints.
The bag comes with removable interior pads for easy washing and hygiene maintenance. The mesh sides offer enough ventilation and can be covered with velcro flaps for discretion.
Pros
---
Dimensions: 15.7" x 11" x 7.5"
Stylish and beautiful
Several pockets for the convenience of storage
Ideal for dogs of weight 10 lbs
#9 DJANGO Dog Carry Bag
Should you be looking for a very classy, luxurious, and durable dog carrier, this is your ideal option. The bag is made from very durable and organic materials such as cotton, leather and topped up with water-resistant fabrics.
The soft leather handles make it easier for you to carry your dog with ease. The bag has a soft but sturdy footpad which is Sherpa-enclosed to maximize your dog's security.
The Sherpa-enclosed footpad can be removed for easy cleaning. You can store your pup's toys, snacks or even keep your belonging safely with the extra pockets.
Pros
---
Dimensions: 14.5" x 8" x 12.5"
Made from durable materials
Sturdy enough to hold dogs up to 30 pounds
---
Dog Carrier Purses Buyer's Guide
---
If you went to the internet and searched for 'Best Dog Carrier Purses', you would get hundreds of options to choose from. Luckily, we have put a conclusive list of the best canine carrier purses for you to choose from.
The biggest problem most dog owners face is how to choose the right carrier purses. Let's jump straight into some of the factors that you should consider before purchasing.
Different Types Of Carrier Purses
There are several types of doggie carrier purses and it all solely depends on what you want to do with your pooch.
Dog Carriers – These are the most common type of carrier purses that most dog owners prefer using. A few of these have been highlighted on our list of the best dog carriers. They are used by pet parents who wish to go with their pooches around, be it for a short drive or several miles away on the train or plane.
Dog Carrier Bags With Wheels – They are more or less similar to the canine carriers mentioned above, but just that they come with wheels. You can either pull them around and are more recommended for heavy or large canine breeds. It's a more convenient option.
Dog Carrier Slings – These bags are slung around your shoulders and chest and are more ideal for carrying smaller pups.
Dog Carrier Backpacks – They are mostly ideal for those who love taking their furry friends for outdoor activities such as hiking or cycling.
Related: Best Dog Carrier Slings
Size Matters
This is the main factor you should consider before setting out to purchase your next dog carrier purse. Always have in mind the size of your pooch. If you are unsure, it is highly recommended to get a rough measurement done prior to getting a carrier bag.
Most retailers will always indicate the measurement specifications of the purse along with other details. Don't get a purse that is too large or too small. Get a carrier purse that your pooch can stretch freely and even lie down or stand up without having any space constraints.
On the contrary, an oversized carrier purse isn't always a good idea. When an oversized purse, your pooch can have the tendency to become nervous. A small-sized purse, which covers them well, will provide your canine companion with security and a cozy feeling.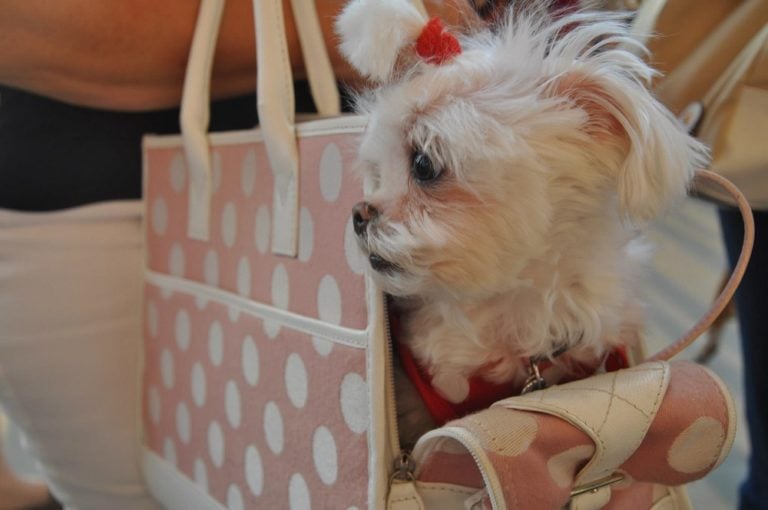 How Secure Is The Carrier Purse?
How secure is the dog carrier purse you wish to purchase?
By security, we mean both for your pooch and for other people. Especially if you have an aggressive dog. Always look for a carrier that has the option of closing fully, so that your furry friend cannot easily get out.
Some carrier purses can be closed using Velcro flaps or zippers. A carrier purse is supposed to offer your nervous dog a sense of security especially when you are around a lot of people or some other not-so-friendly dogs.
Should that be the case, do consider a carrier purse that your pooch can comfortably lie down in. When you cover the entire purse, no one can even notice that there is a dog inside. This provides your furry friend with some well-needed privacy.
Does It Have Good Ventilation?
Dogs, just like us, need air to survive. If the purse is not well ventilated after closing it up, then you need to reconsider your options. When going on long trips with your pooch inside the purse, air levels may decrease at some places and the temperature may get a bit uncomfortable.
Always make sure your pooch gets enough air in there to avoid accidents such as suffocation or overheating. Some purse manufacturers take into consideration that factor and have side meshes or grommets for added ventilation.
Accessibility To Food & Water
If you only use your dog carrier purse to carry your dog for short drives and walks, then you may skip this tip. But if you love taking your dog around for long trips, maybe on a train, plane, or by car, then you should consider how they are going to be fed.
Just like you, your pet will also need to fill up their tummy or rehydrate themselves. The best purses in the market have side panels which can be used for easy feeding of your dogs, without necessarily having them come out.
This especially comes in handy when using public transport such as planes where some other passengers may be scared or allergic to dogs. Always search for a purse that you can easily give your furry friend a snack or water.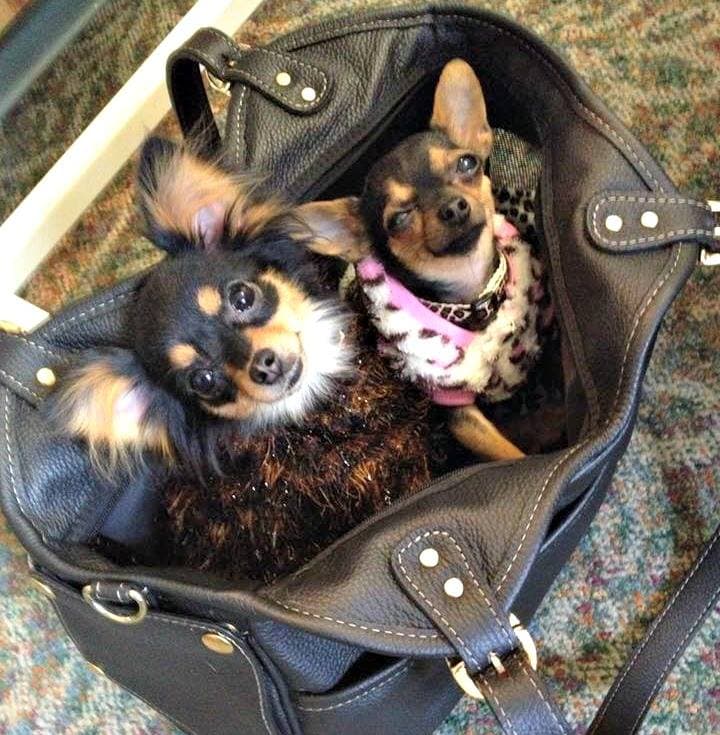 Ease Of Cleaning
Your dog's carrier purse is just like their temporary home and ought to be kept clean always. How easy is it to clean the canine carrier purse? Some models are just so much easy to wash as their materials are soft and won't require much work.
Other brands have removable footpads which can be easily machine-washed. This is because your pooch can easily poop or pee in there, and that's always the first place to get dirty.
Sturdy Handles For Convenience
This is one factor most dog carrier purse owners overlook and end up regretting later on. Lucky for you, you will be in the know before buying a purse. The handles of the purse matter a lot when you are carrying your furry friend around. If they are not sturdy enough, accidents will happen.
That will never turn out to be good either for you or your pet. Always look for carrier purse handles that are made from durable materials and are sturdy enough to withstand the weight of your four-legged friend. And before we forget, the weight also matters a lot not only when looking at the handles but also for the entire purse.
---
Final Thoughts
---
Get A Stylish & Featureful Carrier Purse!
Picking the best dog carrier purse hasn't always been an easy task. We hope this article has provided you with the knowledge on choosing the right carrier purse bag.
Always insist on quality purses, such as the PetsHome Dog Carrier Purse, which not only provides your pooch with the utmost security, privacy and comfort but is also attractive and stylish.