The best dog carrier sling is Alfie Pet Sling Carrier.
Being a small dog breed owner (such as a Yorkie or a Maltese) comes with its perks! You are able to bring your adorable little pup to places that larger dogs are not welcome.
All you need is a dog carrier sling – think of it as a sling bag that you sling over your shoulder, with a compartment for your pooch to rest safely in.
A dog carrier sling is not just for your convenience, but it's for the safety of your little pup too. Imagine bringing your Yorkie on a leash in a crowded local farmer's market – your dog could be stepped on or even kicked on!
We have found the 8 best dog carrier slings you'll lay your eyes on. Keep reading for in-depth reviews on each one as well as a guide regarding dog slings.
#1 Alfie Pet Sling Carrier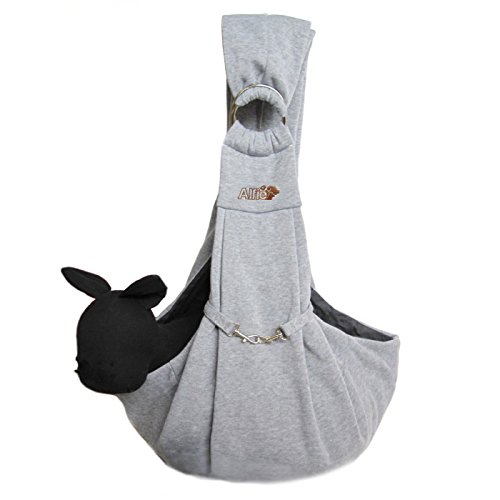 Your small dog can be your companion wherever you go with the Alfie Pet Sling Carrier. Alfie combined fashion with practicality to result in a superior product for small dog owners. Dogs immediately get comfortable when they feel the cotton material surround them.
The sling bag design permits an even distribution of dog weight, so your arms won't get tired. The closeness of this design offers the ability to keep your small dog within arm's reach. Regardless of how tall you are, the dog sling carrier is fully adjustable, so it's guaranteed to fit.
This Alfie dog sling carrier prevents the possibility of your small dog experiencing separation anxiety. Dogs tend to prefer to travel with their owners than being left behind. The universal design of this dog sling makes it suitable for small and medium-sized dog breeds. As long as your pet is below 12 lbs, you can put this Alfie product to great use.
What sets this dog sling carrier apart from its competition is that it caters to a huge variety of dog breeds. For instance, Alfie dog sling carrier can hold a Chihuahua to a Jack Russell. You'll find that this pet sling carrier is cat-friendly as well.
Pros
---
Made using soft cotton.
Practical hands-free design.
Two-way safety collar hook.
#2 iPrimio Dog Sling Carrier
SALE ALERT!!
If you're trying to save money or can't afford to invest in a high-end dog sling carrier, you should turn to the iPrimio Dog Sling Carrier. This is a low-budget yet quality dog carrier that will transform the way you interact with your pooch. A small dog will find the spacious 20" wide by 14" deep sling to be comfortable for the price you're paying.
The low price tag of the iPrimio means that it won't be made out of high-end cotton. Instead, it's made from a breathable material that's lower quality than our top pick. The material both inside and out consists of a t-shirt cotton fabric that's comfortable for most small dogs and cats.
Perhaps you're not convinced that this is the dog sling carrier for you. The good news is that iPrimio is a registered brand on Amazon, so your purchase from them is entirely risk-free. Those of you who aren't satisfied with the product should know that iPrimio will offer you a replacement for no cost or a total refund.
iPrimio Dog Slinger size and material differ from other products in the market. Dog owners find that the budget-conscious decision that still values quality is the optimal dog sling carrier. iPrimio is the type of brand to fulfill those requirements.
Pros
---
Comes with a reversible feature, which means you are getting two colors for the price of one.
Security clasp to easily attach your dog's leash.
Made with breathable material similar to t-shirt cotton.
#3 WOYYHO Pet Dog Sling Carrier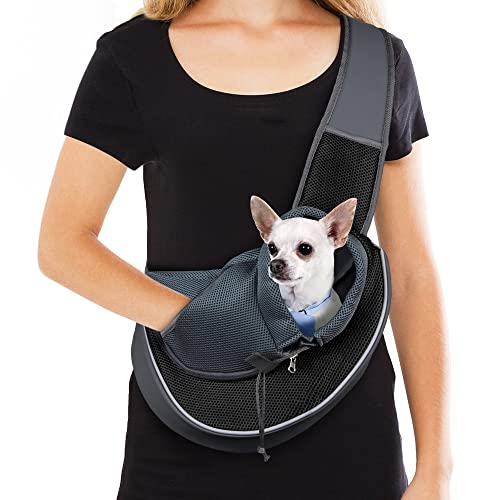 The WOYYHO pet dog sling carrier is a convenient way to take your little furry friend wherever you go. You can find it in small and medium sizes. It is made of high-quality PU leather and breathable mesh fabric.
You can keep your pet calm with this design as you can comfortably pet your furry friend. The shoulder strap is lined with sponge foam for extra comfort, while the bottom is thickened to prevent scratching.
The shoulder strap is adjustable and measures between 38.6 and 46.5 inches long. There is a pocket where you can store items like phones keys and additional stuff for your pet. Not forgetting how handy the D-ring buckle is for hanging items for easy and quick access.
There is also an adjustable drawstring closure that will not restrict your pet's head. In addition, there is a built-in buckle to keep your pet safe. You can use it during hikes, biking, and outdoor activities. It can accommodate small pets of up to 10 lbs.
The sling carrier is comfortable to carry, owing to its adjustable straps. It is safe for your pet thanks to the thickened bottom, built-in buckle, and adjustable drawstring. You can keep your pet feeling safe because your hand can fit in for some petting. The pocket lets you carry other items easily. Remember, it's for your small friends of up to 10 lbs, so pick up this perfect carrier now!
Pros
---
Two sizes are available; Small and Medium.
Perfect for small pets of up to 10 lbs.
Made of PU leather and breathable mesh.
Thickened bottom to prevent scratching.
Wide adjustable shoulder strap.
Provides pocket and D-ring buckle for carrying excess items.
Adjustable drawstring closure.
Comes with a built-in buckle.
#4 Bro'Bear iPet Dog Sling Carrier
SALE ALERT!!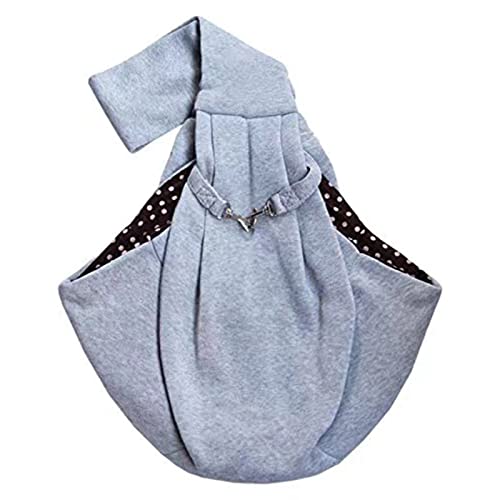 Bro'Bear understands that some pet owners would substitute a blend of cheap material that feels similar to soft cotton to pay less money for a pet sling carrier. This brand found the perfect combination of cotton and polyester. The blend allows the iPet Dog Sling Carrier to have a low price tag while highlighting its durability.
It comes built with a long sling that you can wrap around yourself multiple times to ensure your small dog's safety. Your canine will rest on your opposite hip. It will have so much space that it could easily lay down and go to sleep.
We love how it doesn't make a dent in your wallet yet it follows through on its promise of providing a durable and long-lasting dog sling. The iPet dog sling carrier functions best as your backup accessory. The fabric will prove to be flimsy the more you wear it.
Pros
---
External security clasp to keep a dog safe.
Reversible design allows creativity to flourish.
Easy to wash by hand or machine.
#5 YUDODO Dog Sling Carrier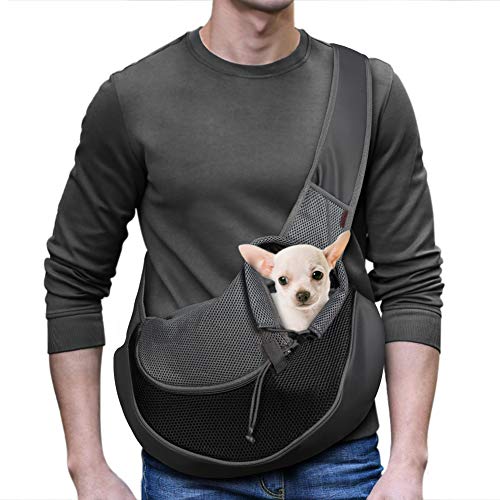 YUDODO Dog Sling Carrier is ideal for pet owners who expect to carry their dogs around with them in all sorts of weather. During the summer, you have to carry your dog around because its paws are too sensitive to be exposed to hot cement. Even in the rain, dogs hate getting their paws wet.
Rather than leaving your small dog at home, the YUDODO Pet Sling Carrier makes it possible to take Fido along with you because of its waterproof design. It comes with a water-resistant drawstring to make transporting the bag easy. There's a separate pouch where you can store all your items such as your keys and smartphone.
The magic stick zipper makes it harder for your dog to unzip from the carrier sling accidentally. This is a really useful security feature that the other brands doesn't have.
---
Comes in 8 colors and 3 sizes.
Breathable mesh material which improves air circulation.
Reinforced zipper for added safety and security.
#6 BUDDY TASTIC Dog Sling And Cat Carrier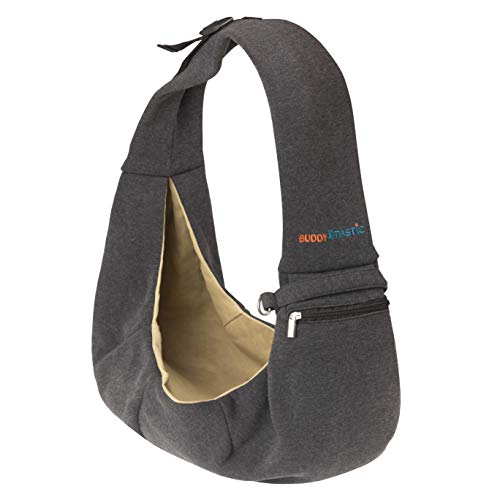 The BUDDY TASTIC dog sling and cat carrier is another item you can use to take your small dog or cat with you either on a hike or while traveling. It has two reversible sides, each with a different color, so you can use the side you want.
The sling carrier is also made of 100% cotton and can carry pets of up to 13lbs. It has an adjustable strap for extra support and comfort.
There is a zipped pocket on the carrier. This means that you don't need an extra bag for your phone, wallet, and pet items while on the move. In addition, there is a safety belt that you can link to your pet's collar. This keeps your pet secure while in the carrier. It is machine washable, so you can clean it as often as you need to.
This sling carrier from BUDDY TASTIC lets you take your pet with you and leaves your hands free for other tasks. We like the reversible sides, so you can choose the side that fits your mood for the day. We appreciate the adjustable strap for comfort and the safety belt.
Pros
---
Measuring 17.87 inches long by 10.31 inches wide by 3.35 inches tall and weighing about 10.24 oz.
Can carry cats and dogs of up to 13 lbs.
Comes with a safety belt to attach to the pet collar.
Reversible design.
Made of 100% quality cotton and is machine washable.
Adjustable shoulder strap for support.
Stylish and comfortable.
Zipped pocket.
#7 Cuby Dog Sling Carrier
SALE ALERT!!
Cuby Dog Sling Carrier looks identical to the other products reviewed here. Dog owners who want a dog sling carrier in the most basic form with no additional design features, look no further. Cuby ensures your small dog's safety without overcrowding the bag with extra pockets.
The soft cotton fabric creates a comfortable environment for your small dog. Dogs small and medium in size will fall straight to sleep in the Cuby Dog Sling Carrier.
A no-frills, valued for money dog sling carrier from Cuby. It has over 9,500 ratings on Amazon, with an average of 4.5 out of 5 stars.
Pros
---
Double-sided design.
Suits pets up to 15 lbs.
Machine washable.
#8 SlowTon Dog Sling Carrier
SALE ALERT!!
Dog owners taking their comfort as well as their dog's comfort into consideration will find the SlowTon Pet Carrier. SlowTon is the only sling to contain a thick sponge around its adjustable shoulder strap. The sponge material relieves stress on your shoulder. Taking your dogs on your weekly hike is an easy endeavor.
The dog carrier space for this model is smaller than other dog carriers. So, this makes it ideal for dogs with short legs. Typically, small dogs weighing 3 to 12 lbs would feel comfortable sitting in a SlowTon Pet Carrier.
Comes with a zipped pocket, which makes the SlowTon dog sling carrier a safer option to consider.
Pros
---
Adjustable with a buckle.
Perfect for subway, hiking, shopping, and etc.
Easy to store and carry with you.
---
Dog Sling Carrier Buyer's Guide
---
As time passes, it becomes challenging for your dog to keep up with your active lifestyle. You may notice that it can't walk as much as it used to compared to when it was a puppy. You can lessen the stress that you're imposing on your dog by carrying it around in a dog sling carrier.
A dog is a delicate creature, so treat it as you would a child. Imagine all the errands you can complete in a day when you have your dog attached to you. It'll be safe in your arms while you can divide your attention to finishing your tasks.
Safer For Your Dog
As time passes, it becomes challenging for your dog to keep up with your active lifestyle. You may notice that it can't walk as much as it used to compared to when it was a puppy. You can lessen the stress that you're imposing on your dog by carrying it around in a dog sling carrier.
A dog is a delicate creature, so treat it as you would a child. Imagine all the errands you can complete in a day when you have your dog attached to you. It'll be safe in your arms while you can divide your attention to finishing your tasks.
Related: Best Dog Carrier Purses
Lesser The Risk Of Dropping Your Pooch
Dog owners who don't use a pet sling run the risk of dropping their pets. Those who think slings are dangerous are sorely mistaken.
Dog carrier slings feature a fully adjustable design. This means your bag can accommodate your dog as it gets old. Some even come with a safety collar hook which you can use to attach your dog's leash to. As you can see, traveling with your dog is safest with a dog sling.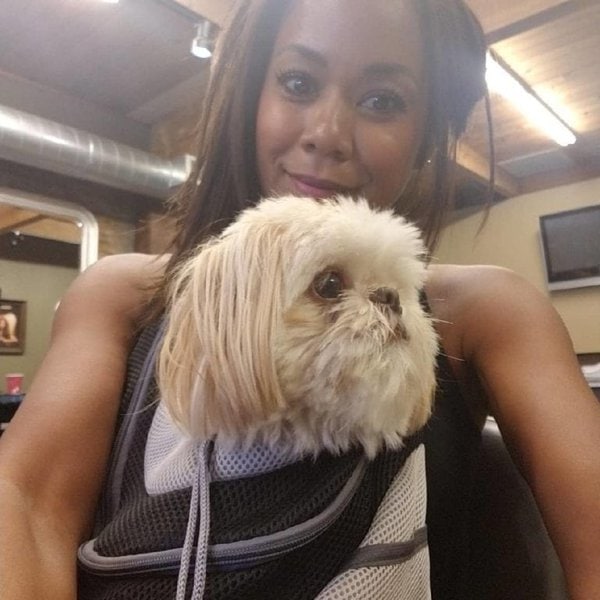 Provides Secure Environment
Living in a high-stress urban environment won't work to a slower dog's advantage. Dogs who get anxious in crowds shouldn't be walking around in a city. You need to cater to your dog's needs, which includes making it feel protected. One way you can do this is by placing it on a dog sling, so it doesn't make contact with large crowds.
Don't forget that some cities have laws forcing you to carry your dog in a sling whenever you take the metro.
Cities have high levels of foot traffic, so it ends up being difficult to keep track of your dog's whereabouts. It's likely that people will accidentally step on your dog. You can avoid this from happening when you use a dog sling carrier.
Safely transporting your dog in a congested area is a reality with a pet sling. The design of a sling features a pocket that's attached to an adjustable shoulder strap. This means your dog can freely move in the confines of the bag with no possibility of jumping out of your arms.
Related: Best Small Dog Breed Foods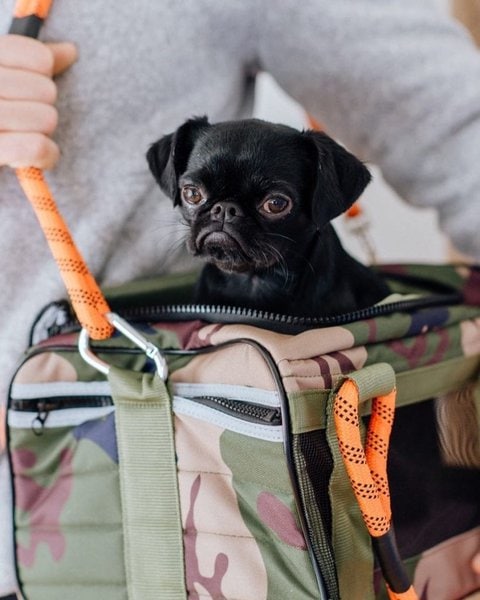 Treat It As An Investment
Your time is valuable, so you need to grasp at every chance you get when it comes to multitasking. With a pet sling, your dog stays by your side while you finish work for the day. Since this accessory will save you both time and money in the long run, it's safe to assume a pet sling to be a sound investment.
On average, dog sitters charge $25 a half-hour. Depending on how frequently you hire one, it can add up as a huge cost by the end of the month. Imagine all the money you could save if you no longer needed a pet sitter.
You can say goodbye to having to hire a dog sitter. The option to carry your dog around with you is a better alternative. With a dog sling carrier, you're guaranteed a hands-free carriage. You'll become unstoppable with the freedom you have to perform chores with both hands. The entire time your dog will be sitting still in the sling wrapped around you.
Easy To Maintain
Dog carrier slings tend to be made out of cotton, making them lightweight and machine washable. This is good news for those with puppies who aren't trained and accidentally wet themselves in the sling. The solution would be to throw the sling into the washing machine.
After allowing the sling to dry, you're free to wrap it around yourself once more and put it to use. We guarantee you it'll smell fresh and look brand new.
Most dog owners are used to transporting their dogs via a dog stroller. Once the dog sling carriers hit the market, the dog stroller seemed archaic and bulky. Slings have a lightweight feel to them that allows you to wrap them around your body as you would a scarf. You can readily hide a dog sling in your tote bag so that you can have it on you at all times.
Dog slings don't take much to clean. Strollers can be trickier to maintain, which is another reason dog owners avoid them. Keep in mind that slings have a lower price tag than dog strollers as well.
---
Final Thoughts
---
Dog carrier slings are both practical and extremely stylish. Anyone with a small pet could benefit from acquiring such an accessory. If you want a dog carrier to match your outfits, we guarantee you that there is a brand to cater to your fashionista needs.
Since most are made out of cotton, they are lightweight and easy to incorporate into your everyday life. However, our top pick contains all the features you want from a dog carrier sling, which explains why we are highly recommending it.