The best small breed dog food is Hill's Science Diet Dog Food For Small Breed Dogs.
Small dog breeds are known for being fearless, highly energetic, and simply adorable. With their small stature, you might think they are fragile but the reality is they are tough little dogs.
Smaller dogs have higher metabolisms than larger ones, so they burn through food faster. This means that they need to eat more often, which makes it important to find the best dog food that will keep them healthy and strong.
When it comes to dog food, there are a lot of factors to consider, but small dogs need special care. Their bodies are different (they're more prone to joint problems and heart disease), and the proper diet is different too. So how do you decide which small breed dog food will be best for your little four-legged friend?
Without further ado, let's delve into the list of the best small breed dog foods!
#1 Hill's Science Diet Dog Food For Small Breed Dogs
SALE ALERT!!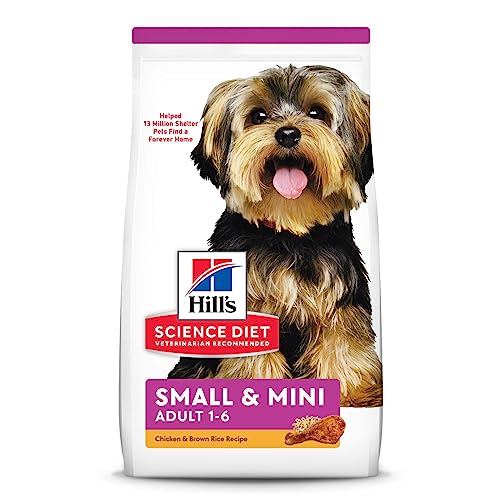 Right off the bat is the small breed dog food package that will appeal to the pickiest of pets and provide them with the needed ingredients and nutrients for healthy growth.
Hill's Science small breed dog food contains – among others – chicken meal, pork meal, cracked pearled barley, whole grain corn, and whole-grain wheat, all of which contribute to a balanced mixture of both plant and animal protein, carbs, and fiber.
According to Hill's Science researchers, their ingredients provide easy-to-digest nutrition for growing pups weighing up to 25 pounds when fully grown, along with nursing and pregnant small breed dogs. From vitamins, E and C, which enhance immunity, to DHA, which contributes to healthy brain development, and omega-3 fatty acids, which is essential for muscle and bone development and growth, your small breed dog will get everything he needs when growing.
Hill's Science package for small breeds contains a plethora of other healthy ingredients, including pork fat, which is loaded with omega-6 fatty acids and has a sweet flavor that dogs love, fish oil, and flaxseed, both of which are excellent sources of omega-3 fatty acids, which are good for the skin and joints of your dog, and Oat fiber, which is a great source of dietary fiber.
An excellent source of protein, carbs, and fiber. This small kibble mixture is balanced and tailored for small breeds and puppies, and it's well-researched to promote healthy growth. The flavor is also nice and seems to appeal to most dogs, even the pickiest among them.
Pros
---
The high-quality protein formulation of this special diet promotes the formation of lean muscle mass and ensures that small breed dogs don't become obese.
The small kibble of the Hill's Science diet dog food is specifically prepared to be convenient for a small-sized pooch to chew and break into small pieces before swallowing.
The blend of vitamins and antioxidants contained in this Hill's Science recipe for small dogs work together to fortify the canine immune system, thereby improving a pooch's resistance to diseases.
This dog food product contains omega-6 fatty acids, which provide the nutrition that is needed to ensure that a pooch's coat remains shiny and healthy.
This Hill's Science recipe is devoid of artificial colors, flavors, preservatives, by-product meals, and other ingredients that are either harmful or non-beneficial to small breed dogs.
Cons
---
The kibbles of this Hill's Science formula usually have a strong smell that deters some pooches from feeding on the product.
Some pooches have also reportedly gotten diarrhea after feeding on Hill's Science diet food for small breed dogs.
#2 Purina Bella Natural Bites For Small Dogs
We get it, the prices of dog food can be too high sometimes, which makes finding a quality brand that can give your dog everything he needs without breaking the bank seem like an impossible endeavor. Worry not, as we've already done the heavy lifting and found it for you; Purina Bella Natural Bites, our top value-oriented small breed dog food.
Despite its low price, this dog food brand contains a multitude of healthy ingredients, including chicken by-product meal, whole grain corn, whole grain wheat, soybean meal, and corn gluten meal, making it both delicious and nutritious.
Through its ingredients, Purina Bella's Natural Bites can provide your small breed dogs with the required vitamins (B12, B1, A, and D3 just to name a few), fiber, protein, and fats for healthy growth. The meat concentrate included in this small breed dog food offers around 300% more protein than fresh chicken, the corn and wheat are (as cereal grains) an excellent source of energy, and the soybean meal is another protein-packed ingredient.
Other components, such as the corn gluten meal and canola meal, also contribute to the overall nutritional value of this dog food brand, thus making for a complete, healthy meal every time.
Granted, Purina Bella Natural Bites isn't the fanciest of dry food for small dogs, but for the price, it definitely does the job perfectly and shines as an excellent mainly-plant-based dry dog food that promotes growth and development through a handful of vitamins, minerals, and macronutrients. Good nutrients, sweet flavors, and reasonable price. What else could you ask for in dog food?
Pros
---
The crunchy texture of the Purina Bella kibbles promotes canine dental health by helping to eliminate plaque and tartar buildup on a pooch's teeth, thus keeping the dog's teeth clean.
As the main ingredient and major source of protein in Purina Bella's natural bites, the use of real turkey provides small dogs with the nutrients needed for the formation of strong and healthy muscles in pooches.
The bites of kibble, with shredded pieces, of the Purina Bella product are sized to be convenient for small dogs to chew and swallow without choking.
Each kibble of the Purina Bella Natural Bites formula is specifically formulated to contain a higher concentration of nutrients to provide the energy needed to cater to the higher metabolism rates of small dogs.
The antioxidant blend contained in this Purina Bella product boosts the canine immune system by fighting against free radical damage.
Cons
---
There are questions over the quality control processes of this product, as several customers have reportedly found mold and other foreign objects mixed with the kibble.
There have also been multiple reports of customers receiving Purina Bella Natural Bites that were expired and, therefore, unfit for canine consumption.
#3 Purina Pro Plan Small & Toy Breed Formula Adult Dry Dog Food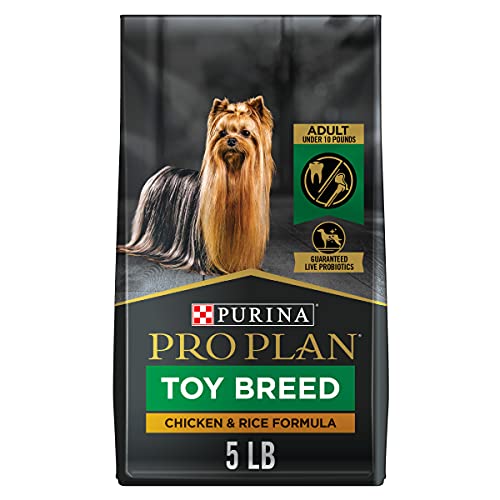 Purina Pro Plan is another affordable dog food manufacturer that has been providing pets with healthy nutrition for years. The formula isn't revolutionary—with both animal- and plant-based ingredients —but the result is pure nutritional quality.
Among the notable ingredients in this dog food, there's chicken, which is the primary protein source, barley, which provides decent caloric energy and supports stable blood pressure levels, and animal fat. Quite the complete food, isn't it?
There's a catch though. The Purina Pro Plan small breed dog food product contains a lot of by-products, such as the poultry by-product meal and brewers rice, which is a cereal grain by-product, making the mixture a bit controversial as by-products offer a slightly lower quality compared to single-species ingredients.
Nevertheless, they still provide plenty of benefits. The poultry by-product meal, for instance, is a natural source of glucosamine.
Although the mixture may seem of lower quality compared to premium brands, Purina Pro Plan small breed dog food comes at a really affordable price and offers great nutritional value that can support and maintain the growth and development of your little pooch.
Pros
---
The Purina Pro plan dry dog food is formulated with real chicken as its main ingredient to provide the high-quality protein source needed for optimal physical development in small dogs and to meet the high energy requirements of active small pooches.
This small dog breed formula contains calcium, phosphorus and several other minerals that are beneficial for the formation of strong and healthy bones in small breed dogs.
The vitamins and omega-6 fatty acids that can be found in this Purina small breed formula enrich the canine skin and coat, and ensure that a pooch maintains a shiny appearance.
The natural prebiotic fiber contained in this adult dry dog food facilitates the growth of beneficial intestinal bacteria, thus improving the digestive health of pooches.
This Purina Pro Plan formula is fortified with guaranteed live probiotics that provide support for the canine immune system.
Cons
---
Inconsistencies in the size, shape, and color of the Purina Pro Plan kibbles have reportedly resulted in several dogs refusing to eat this product.
Some customers claim to have found foreign objects, such as mold and bugs, in their Purina Pro Plan bag foods.
#4 Wellness Complete Health Natural Dry Small Breed Dog Food
If your chihuahua prefers natural, premium ingredients over wheat or meat by-products, Wellness' dog food for small dogs might just be what he needs, especially that it comes in a kibble size that's just right for a tiny dog's mouth
Just like other products in the wellness complete health line, this dog food for small breeds contains deboned chicken, chicken meal, ground brown rice, tomato pomace, turkey, and garlic powder, along with many other natural ingredients.
These ingredients not only make for a delicious taste but also contribute to a healthy, balanced mixture that's good for the growth, immunity, digestive wellness, and high energy of your little pooch.
The Wellness Complete Health Natural Dry Small Breed Dog Food lies just in the middle ground. It's not too expensive, nor is it the cheapest. In playing for both crowds, it does come with a few compromises, but for the price, there's nothing to complain about, especially that all the ingredients are natural and premium.
Pros
---
The guaranteed levels of calcium and phosphorus included in this dog food recipe promote the formation of strong teeth and bones, and the crunchy texture of the kibble also helps to clean a pooch's teeth.
The Wellness Complete Health Natural formula contains antioxidant-rich superfood ingredients, such as blueberries and spinach, that work together to support the canine immune system by preventing free radical damage to dog cells.
This dry food for small dogs contains taurine that strengthens and ensures that a pooch's heart continues to work optimally.
This adult small breed dog food is prepared without using poultry by-products, wheat, gluten, corn, soy, artificial colors, and preservatives, thereby making it generally safe for canine consumption.
The Wellness Complete small breed dog food is produced and packaged in the United States to ensure total compliance with safe manufacturing practices.
Cons
---
Some customers have commented that the kibbles of this Wellness Complete recipe were too large for their puppies to eat without posing a choking hazard.
Multiple pooches have become sick with diarrhea and vomiting after consuming this small breed dog food from the Wellness Complete brand.
#5 Royal Canin Health Nutrition Small Adult Dry Dog Food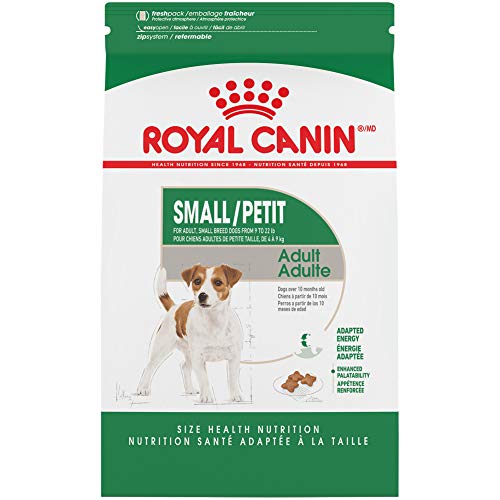 Royal Canin Small Breed Adult Dry Dog Food, 14 lb bag
SMALL BREED DOG FOOD: Royal Canin Small Breed Adult Dry Dog Food is precise nutrition specifically made for small dogs...
WEIGHT MAINTENANCE: L-carnitine helps maintain a healthy weight, while helping to meet the high energy needs of small...
SKIN AND COAT HEALTH: Optimal levels of fatty acids like EPA and DHA support skin and a healthy dog coat
Royal Canin is a dog food brand that is known for its nutritious packages that appealed to big dog-breed owners, but, more impressively, they really hit a chord with the small breed dog owner with the Health Nutrition Small Adult Dry Dog Food.
Among the ingredients, this small breed dog food contains a chicken meal, which, although is controversial as is the case with any meat meal, is a concentrate, which means that it contains 300% more protein than fresh chicken. For carbs and energy, Royal Canin's small breed dog package includes brown rice, a complex carbohydrate that's easy to digest.
Other healthy ingredients include corn, a plant-based protein booster, chicken fat, which is high in omega-6 fatty acids, wheat gluten, another plant-based protein source, and fish oil, which is rich in omega-3 fatty acids.
Although this dog isn't the cheapest, it definitely lives up to both the price point and brand name and can be the best dog food for small dogs depending on your dog's needs, though keep in mind that many of its ingredients are controversial in the dog food world.
Pros
---
The kibble design of this Royal Canin recipe, which is specifically formulated and adapted for miniature jaw sizes, is convenient and easy for small dogs to break down into smaller pieces and swallow.
The inclusion of L-carnitine in this Royal Canin formula helps small dogs to physically stay in shape by metabolizing fat, and also provides the energy needed by active dogs to go about their daily activities.
The optimal levels of fatty acids, such as EPA and DHA, contained in this small adult dry dog food help a pooch with the maintenance of healthy skin and coat quality.
Additionally, this Royal Canin recipe contains controlled levels of phosphorus that helps regulate and ensure that the kidney of a senior pooch continues to function optimally.
The Royal Canin Health Nutrition dog food is packaged in multiple bag sizes – 2.5, 6, 14, 17, 30. and 35 lbs – to enable customers to make purchases based on their pooch's size and individual feeding habits.
Cons
---
Distinct variations in kibble size and color with different Royal Canin food packages received have reportedly resulted in some pooches refusing to feed on this product.
The zip lock seal for the Royal Canin food bag constantly opens up, thereby causing kibble to lose its freshness much faster.
#6 Blue Buffalo Wilderness High Protein Small Breed Dog Food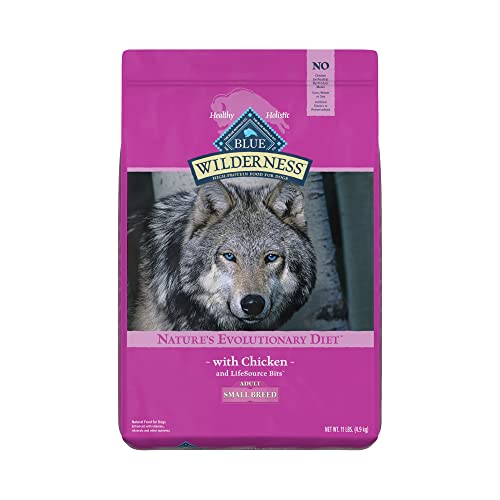 A few years ago, Blue Buffalo shook up the dog food market with their nutritious large breed packages, and they've recently expanded the line to the world of small breed dogs.
Blue Buffalo's dog food for small breeds includes a plethora of protein sources, both animal- and plant-based ones, including chicken meal, deboned salmon, and pea protein, all of which can promote healthy growth for your pup. This dog food is also an excellent carb source, with energy-inducing ingredients such as tapioca starch and pea starch, both of which are gluten-free and full of calories.
Even though Blue Buffalo claims that the main ingredient in this dog food is meat, it's worth noting that it actually contains different types of pea products, including Pea protein, Peas, Pea fiber, and Pea starch.
If we were to consider all of these individual items as one ingredient, peas become the predominant ingredient in this recipe, so the "first component is natural meat" claim might just be a marketing ploy.
Protein is essential for healthy development, and when it comes to protein-packed dog foods, Blue Buffalo offers the best recipe with both plant and animal sources that contribute to a balanced mixture.
Pros
---
This high-protein Blue Buffalo formula for dogs promotes the formation and maintenance of lean muscle mass in small-sized dog breeds.
The Blue Buffalo Wilderness formula doesn't contain chicken by-product meals, corn, wheat, soy, artificial preservatives, flavors, and other ingredients that are generally considered to be unsafe for canine consumption.
The precise blend of antioxidants, vitamins, and minerals contained in this small dog breed food work together to ensure that various systems in a pooch's body continue to function optimally.
The smaller kibble size of the Blue Buffalo Wilderness dog food is crafted to make it easier for small breed dogs to feed on this product.
This recipe contains a balanced amount of carbohydrates and proteins to provide the energy needed to fuel a pooch's active lifestyle.
Cons
---
Several dogs have reportedly refused to eat the Blue Buffalo kibbles because they didn't like the flavor of the product.
There are multiple reports of dogs developing allergic reactions to some of the ingredients contained in this Blue Buffalo recipe.
#7 Merrick Lil Plates Grain Free Small Breed Recipe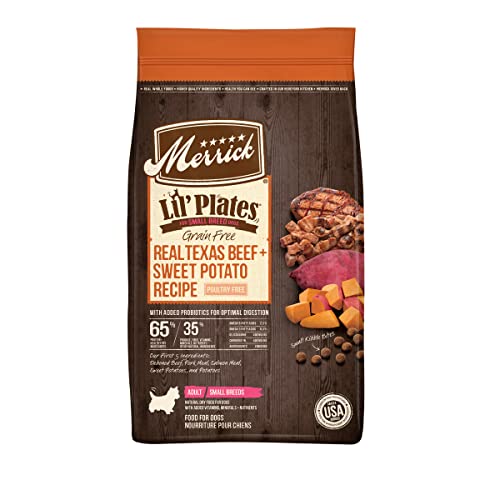 Merrick Lil Plates Grain Free Small Breed Recipe, 4-Pound, Beef
One (1) 4 lb Bag - Merrick Lil' Plates Small Breed Dog Food, Grain Free Real Texas Beef and Sweet Potato Recipe, Small...
Real deboned Texas beef is always the first ingredient in this small breed dry dog food, which offers the ideal...
Natural dog food grain free recipe crafted with probiotics and prebiotic fiber for healthy digestion
Back to the affordable side of the spectrum with Merrick, another well-known pet food brand, and its small dog food that's delivered in a beautiful package.
There's more to it than meets the eye though, as Merrick's dog food for small breeds offers a well-balanced, grain-free recipe that contains deboned salmon, an excellent omega-3 source, salmon meal for protein, and sweet potato for energy through a gluten-free carbohydrate source.
What's notable about this dog food brand is that it uses coconut oil as a natural flavor, which, being a medium-chain triglyceride, is also known for its excellent health benefits as it can help in the treatment of chronic skin disorders and canine cognitive dysfunction syndrome.
Through its grain-free formula, the Merrick small breed dog food provides great nutritional value for your dog without blowing a hole in your wallet, thus making for a great combo of quality and affordability.
Pros
---
The Merrick Lil Plates small breed recipe features real, deboned beef as the first ingredient and major source of protein to provide the combination of proteins and fat needed for the maintenance of optimum body weight in small dogs.
This grain-free recipe for small dogs contains glucosamine and chondroitin, both of which are essential for the formation of healthy bones and joints in dogs.
The omega 3 and 6 fatty acids contained in the Merrick Lil Plates small breed recipe ensure that a pooch's coat maintains a shiny and well-polished appearance.
This grain-free small breed recipe contains probiotics and prebiotics fiber that facilitate the growth of healthy bacteria in a pooch's guts, thus improving the canine digestive system.
The small-sized kibbles of this Merrick Lil Plates product have a texture that helps keep the canine teeth clean by getting rid of plaque and tartar buildup.
Cons
---
Some customers have reportedly received Merrick Lil Plates food packages that contained a significant amount of crumbs that their pooches cannot feed on.
Several dogs have also reportedly developed digestive issues, such as diarrhea, after eating this Merrick Lil Plates grain-free product.
#8 Purina Beyond Small Breed Dog Food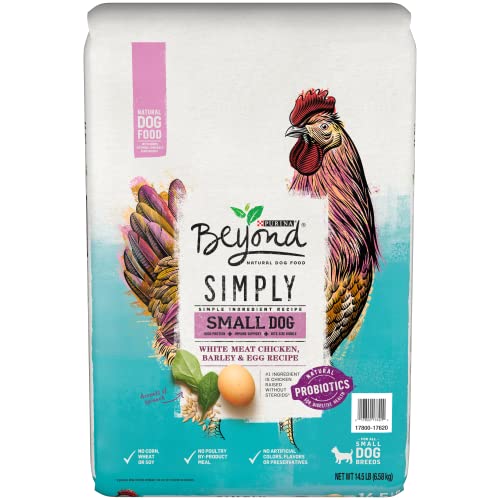 The Purina Beyond Small Breed Dog Food is a solid mid-range dog food recipe. It contains chicken, which is the first source of protein, barley, which is a starchy carb that supplies several healthy nutrients like fiber, and beef fat, which, although does sound appetizing, is a quality ingredient and a great fat source.
Truth be told, we're a little conflicted about Purina Beyond adding brewers rice and canola meal to its recipe, as both are controversial, but they're also found in premium brands and can yield significant health benefits, especially when mixed with the other ingredients, so nothing to complain about here.
In a nutshell, Purina One Beyond is an above-average dry product that contains both healthy ingredients and controversial components that may seem appetizing to some people.
Pros
---
This antioxidant-rich Purina recipe provides the nutrients that are needed to ensure that the canine immune system is suitably fortified to fight against diseases.
The bite-sized kibble of the Purina Beyond product is specifically designed for a small dog to chew conveniently without posing a choking hazard for the pooch in question.
The Purina Beyond recipe, which is devoid of corn, wheat, soy, and by-product meals, is crafted in US-based facilities to ensure compliance with safe and healthy manufacturing practices.
The limited ingredient recipe of the Purina Beyond small breed dog food makes this product ideal for consumption by pooches with a history of food sensitivities and allergies.
This canine formula contains glucosamine to support the formation of healthy bones and joints in small dogs.
Cons
---
The inconsistencies in the sizing of the Purina Beyond kibbles are deemed to have led to an unpredictable feeding pattern, with some dogs occasionally refusing to eat the kibbles after having gotten used to a particular shape and size.
Several customers have also commented that their pooches refused to eat the Purina Beyond small breed product, despite having no previous history of food pickiness.
#9 Diamond Naturals Real Meat Recipe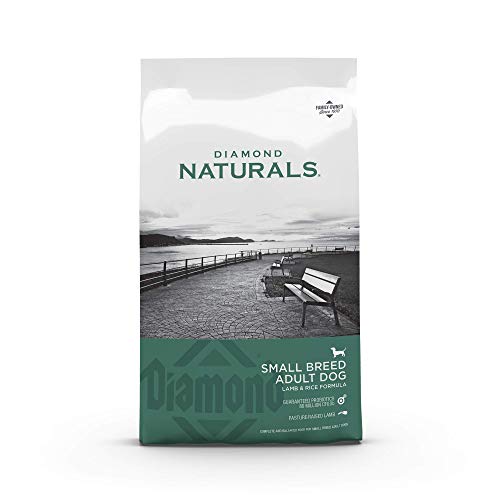 Diamond Naturals Small Breed Dog Real Lamb Recipe Premium Dry Dog food, 18 lb
Diamond Naturals Small Breed Adult Dog Lamb and Rice dry dog food; REAL PASTURE-RAISED LAMB is the #1 ingredient; small...
Nutrient-rich and provides the energy to thrive; vitamins and minerals from SUPERFOODS, including fruits like...
Each serving includes species-specific K9 Strain PROPRIETARY PROBIOTICS - plus antioxidants and prebiotics - to help...
Diamond Naturals gets the last spot on our list of the best dog food for small dogs. The ingredients include beef meal – which is a meal concentrate – for protein, peas as a source of fiber, and rice flour or ground white rice, which is a gluten-free substitute for wheat flour.
This dog food includes a lot of seeds, including flaxseed as an omega-3 fatty acid source, chia seed, which is pretty similar to flax, and quinoa, which is known for its gluten-free grains.
With a long track record and plenty of happy customers, the Diamond Naturals Real Meat Recipe is a good option to consider, especially if you're on a budget.
Pros
---
This real meat recipe is specifically formulated to meet the physical requirements of small dogs, due to the use of high-quality protein, in real lamb meat, as a major ingredient.
Diamond Naturals' real meat recipe for small dogs contains superfood ingredients, such as blueberries and oranges, that deliver the vitamins and minerals that work to keep a pooch healthy.
This food product contains species-specific K9 strain proprietary probiotics that support healthy digestion by facilitating the growth of healthy bacteria in a pooch's gut.
The nutrient-rich recipe of this Diamond Naturals product for small dog breeds contains omega fatty acids that work to keep a pooch's coat healthy and shiny at all times.
The Diamond Naturals real meat recipe for small dogs is processed, following stringent food safety protocols, in the United States with high-quality ingredients that are obtained from reputable domestic and international suppliers.
Cons
---
There are multiple reports of dogs developing loose stools and smelly gas after consuming the Diamond Naturals real meat recipe.
Several customers have also commented that their dogs didn't like the texture and flavor of this product and refused to eat the kibbles as a result.
---
Dog Food For Small Dogs Buyer's Guide
---
Although big and small dog breeds are pretty similar in different physical and behavioral features; they're quite different when it comes to nutritional needs. For that very reason, choosing the best dog food for small dogs can be overwhelming, especially considering the vast number of brands available today, each of which claims to offer the best ingredients and highest nutritional value.
No need to break into a cold sweat though, as we've already done the heavy lifting for you, but you still need to pick the ideal product for your pup. For that, we went through all of the resources available online and offline and researched the subject thoroughly to clear up any confusion you might have in your mind. So, for all the Yorkies and Chihuahuas out there, here goes our guide:
What Are The Nutritional Needs Of Small Dog Breeds?
Food, in essence, exists to provide us with enough energy to go with our days with ease. The same goes for small mutts. As you know, energy is measured in calories, which come from macronutrients; proteins, carbs, and fats. While a healthy, sedentary adult needs around 15 calories per pound of bodyweight for a total of around 2,500 calories every day, a small adult Yorkshire Terrier, for example, needs 40 calories per pound, which add to approximately 500 calories in total. Such a measly number, huh? I mean, compared to the 2,250 calories per day that a 100-pound German Shepherd – the very same breed the 46th POTUS has – needs, Yorkies aren't that big of eaters.
The devil's in the detail though. A small pup needs 40 calories per pound of body weight, while a big dog typically needs 22.5 calories per pound. In other words, the smaller the dog, the more energy-rich the food should be, as their metabolism is much faster.
It's not only about the quantity though, as the quality of the dog food is equally important. Each dog has specific nutritional requirements depending on the age, breed, and health state. Generally, proteins and fats are essential nutrients for small dogs, as they can ensure proper development, growth, and metabolism throughout the years. For optimal bioavailability, look for dog food brands that offer both of these nutrients from animal sources. Carbs come in next when it comes to importance, but there's nothing special about them for small breed dogs. Just make sure that they come from easy-to-digest sources.
Other than protein, fat, and carbs, your dog also needs minerals, vitamins, and antioxidants, all of which can protect your dog against free radical damage, which can yield severe results in the long run.
How To Choose The Best Dog Food According To Your Mutt's Age
Your dog's nutritional needs greatly depend on his age. Puppies, adults, and senior small breed dogs require different amounts of calories and proteins to accommodate their growth and energy needs.
Puppies need the highest calories and protein content to support their growth and development, so keep that in mind when choosing your dog food brand. They also need more vitamins, minerals, amino acids, and water to grow up healthy and in good shape. As a general rule of thumb, you should feed your puppy sold food during his first three to eight weeks.
Upon reaching adulthood, your dog, especially a small one, will need fewer calories as they can quickly lead to obesity. On the other hand, they need vitamins, calcium, minerals, proteins, and fatty acids for a solid immune system that can resist illnesses and diseases.
Finally, senior small breed dogs require special care as they go through several physiological changes that can make the feeding process a bit tricky. When your small dog reaches an older age, look for dog food brands that are rich in fiber with fewer calories and fatty acids to ensure proper metabolism.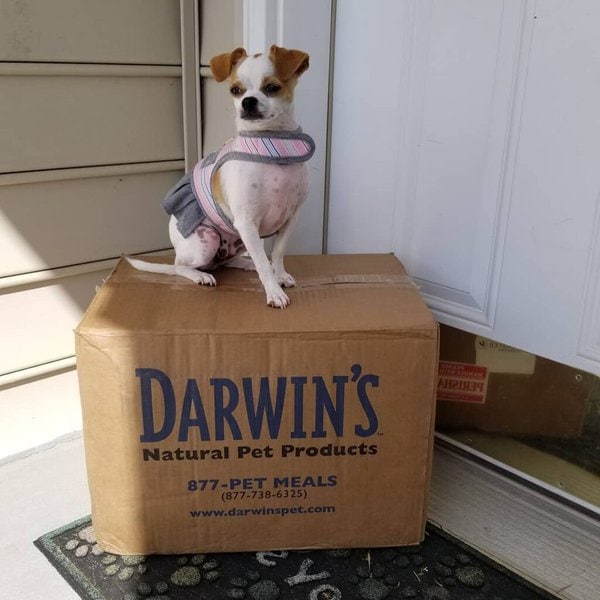 Which Ingredients Should You Look For?
When looking for the best dog food for your tiny beagle, there are some ingredients that you should look for, which can make for the healthiest experience. Those components include:
Veggies
Just like humans, small breed dogs need vegetables (fruits as well) to get the necessary minerals, vitamins, and antioxidants that ensure proper bodily functions and prevent illnesses and diseases, so make sure the product you choose contains fruits and vegetables.
Whole Meat
Human grade whole meat, which is approved for human consumption, is healthier than other types of meat, as it goes through a more thorough inspection before hitting the market, which means that it offers the highest nutritional quality.
Whole Grains
Whole grains are an integral part of any pup's diet, as they provide dogs with both energy and easily digestible fiber capable of ensuring good digestive health.
Natural Preservatives
While it's best to get a dog food brand that doesn't contain any preservatives whatsoever, if these components are a necessity, look for a product that contains natural ones, such as Vitamin E and C.
Amino Acids
Amino acids are the building blocks of protein. To ensure the healthiest muscle development for your little pooch, make sure to look for the right amino acids in the dog food label, which include arginine, histidine, and leucine among others.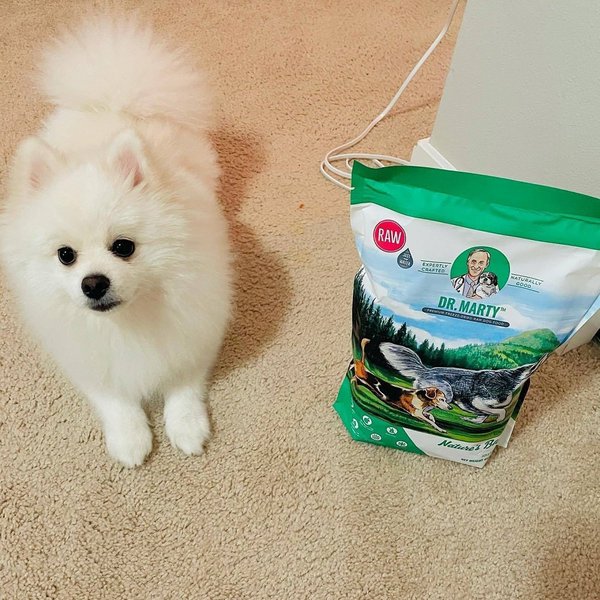 Which Ingredients Should You Avoid?
We hear you. "Do this, don't do that," we're starting to sound like your mother, right? Believe us; it's going to be worth it in the end, as the last thing you want is to fill your pup's little stomach with dangerous ingredients, such as:
Food Dyes
Food dyes, besides being useless as dogs don't care about their food's color, can be hazardous for your little mutt's health, as they're basically chemical additives that provide zero nutritional values and can result in severe illnesses and diseases (even cancer sometimes).
Rendered Fat
Rendered fat, or generic animal fat, comes from roadkill, dying, or diseased livestock, along with expired grocery meats. Yep, it is as scary as it sounds.
Ethoxyquin
Ethoxyquin (we know that it's hard to pronounce) is a preservative that's often found in dog food. Ethoxyquin was initially developed as a herbicide, aka a substance that's toxic to plants, and it has been associated with severe side effects, such as leukemia (blood cancer), blindness, and kidney damage. Should we say more?
Propylene Glycol
Propylene glycol is used by some manufacturers to prevent bacterial growth. As you probably already know, not all bacteria are harmful. Unfortunately, Propylene Glycol cannot tell the difference, so it inhibits the growth of both bad and good bacteria, which is necessary for proper food digestion and absorption.
Hydrochloric Acid
Hydrochloric acid is a corrosive agent that has many applications and enters in several processes, such as modifying gelatin and corn starch and converting corn starch to syrup. Since it's not a natural agent, it's only reasonable to try to avoid it when looking for the best dog food for small dogs.
What Are the Different Types of Dry Dog Food Brands?
Generic Brands
These brands usually contain cheap ingredients and sweetening fillers, both of which can make the digestion process laborious for your tiny Dachshund or Pembroke Welsh Corgi. It's worth noting that some of these brands do offer premium ingredients while still being super cheap, such as Purina Natural, which is reviewed above.
Premium Brands
Premium dry dog food brands offer superior quality compared to generic brands, but not as good as super-premium brands. A good example in this category is Pedigree.
Super Premium Brands
Super-premium brands are super expensive, but they also offer superior quality when it comes to the balance and nutritional value of the ingredients, making them the ideal choice for those looking for the best growth, development, and energy level for their small companions. Wellness is an excellent example of this category.
Related: Best Healthiest Dog Food
---
Final Thoughts
---
The day you chose to adopt a dog, you stepped into a minefield. We're not trying to scare you, but it's a real responsibility, especially when it comes to feeding, as your little pooch's health is directly related to what enters his stomach.
Out of the reviewed batch, Hill's Science Diet Small & Toy Breed Dry Dog Food outshines the rest with a great balance, premium ingredients, and an exceptional nutritional value. If you understand that quality comes at a price, that's the best dog food for small dogs that you can get.