The best slow-feeder dog bowl is Outward Hound Slow-Feeder Dog Bowl.
Does your dog gulp down its food during meals?
Eating too fast over a long period of time can lead to many health issues like bloating, stomach discomfort, obesity (as they will keep demanding more food), and more. Some of these issues can even be life-threatening and require emergency medical intervention.
There's a simple and effective method to slow down your dog's eating. You would need a slow-feeding dog bowl.
These are dog food bowls that are specially designed to make it challenging to access their food, thus slowing the pace of eating down.
#1 Outward Hound Fun Feeder Slow Bowl
SALE ALERT!!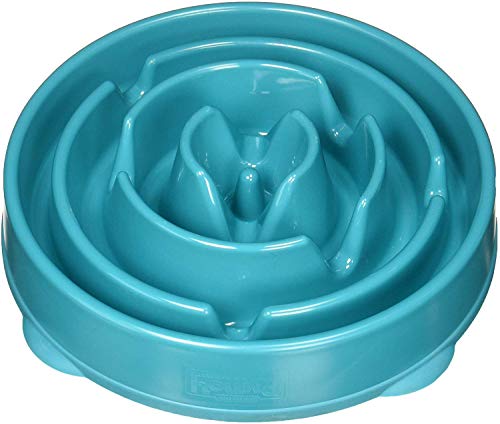 Outward Hound Fun Feeder Slo Bowl, Slow Feeder Dog Bowl, Large/Regular, Turquoise
SLOWS DOWN EATING UP TO 10X: Outward Hound uniquely designed Fun Feeder dog bowls feature meal-lengthening ridges to...
AIDS IN PROPER DIGESTION: Common issues that arise in fast-eating dogs include bloating, regurgitation, and canine...
MADE WITH NON-SLIP BASE AND FOOD SAFE MATERIALS: Outward Hound's Fun Feeder Slo Bowl, slow feeder dog bowls are made to...
This slow-feeder bowl has managed to get thousands of reviews, with a vast majority of them awarded 4 to 5 stars. Needless to say, most customers that bought it are all praises for the product.
And that's simply because it works for pretty much every type of dog, barring those super clever ones that somehow manage to figure out how to flip it over and get into their beast-eating mode again.
For most dogs, however, it would slow down their eating speed by up to 10x or even more. One of the customers mentioned how their dog that used to gulp up the food in about 20 seconds flat now takes around 10 minutes to eat the same food. It also helped stop their visits to the vet for the dog's bloating problem.
It may turn out to be a wonderful solution if your dog is having bloating issues, digestion issues, or tends to vomit right after having a meal.
Some of the other noteworthy features include a non-slip base and food-safe ABS plastic which is also free of PVC, Phthalates, and BPA and provides mental stimulation for your dog during its mealtime.
It gets the job done better than pretty much everything else there is on the market. Further, it's also top rack, dishwasher safe, and works just as well for dry, wet, and raw food diets. Customers mention in their review how it helped solve their dog's vomiting-right-after-eating and bloating problems. It's available in different sizes too.
Pros
---
Works excellent at slowing down a dog.
Made using a food-safe, high-quality material.
Promotes better digestion and prevents bloating issues.
Highly rated by actual dog owners.
#2 UPSKY Slow-Feeder Dog Bowl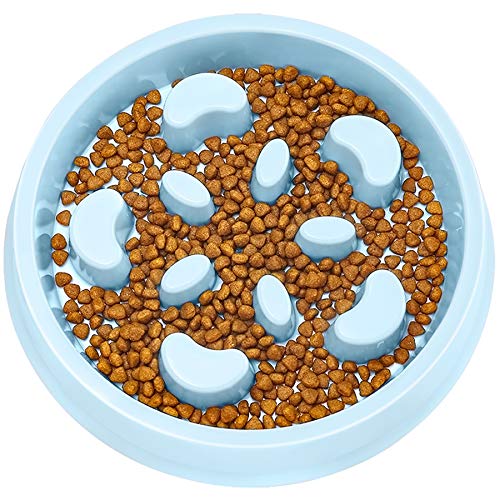 If you find the above product a bit on the expensive side and would like to go for something cheaper without compromising much on the quality, then this is likely your best alternative.
It's an excellent choice for dogs that get frustrated with a complicated design. It comes in a relatively simple design that does enough to slow down your dog during feeding time but doesn't annoy or hinder them. This makes it a particularly good option for small dogs that might give up on more complicated designs.
It also offers fantastic value for money, including a high-quality food-grade collapsible bowl to feed water to your furry buddy.
The slow-eating food bowl is made using a high-quality plastic-like material known as PP resin, but it's safe, non-toxic, and even recyclable. For small dogs, it should also last for quite a while, although it may not be strong enough to stand up to a large, energetic dog's chewing attacks.
A customer mentioned how their dog had given up on their previous slow-feeder bowl took to this one quickly, but it still took him about 25 minutes to eat the food that they used to gulp down in just a minute.
The price is far lower than most other products that are of a perfectly food-safe quality and also functional enough. And it somehow still manages to come with a free food-grade water bowl.
Pros
---
Works great for small dogs.
Non-frustrating design but gets the job done.
Non-toxic, food-safe material.
#3 Decyam Pet Fun Slow-Feeder Dog Bowl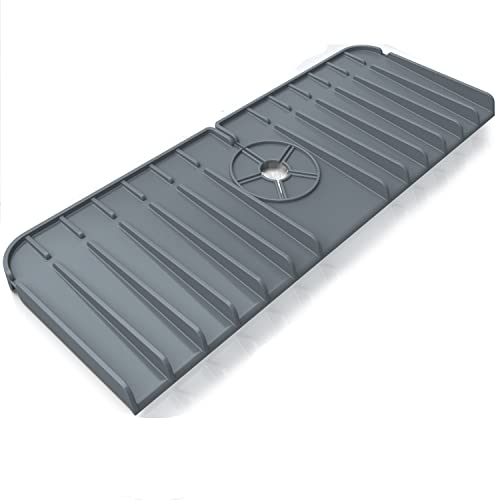 The Decyam slow-feeder dog bowl is another quality slow-feeder bowl made of a non-toxic, high-quality polypropylene material that is eco-friendly and free of BPA too.
This one-size-fits-all product can hold up to two cups of food and is dishwasher-safe. Therefore, it can be sent to the dishwasher or rinsed clean right after the dog has finished its meal.
The well-thought-out design of this dog bowl poses a challenge for dogs during mealtime, and they have to work their way around their foods, thereby reducing their eating speeds while aiding their intellectual development.
A particular customer mentioned how this bowl had reduced her dog's eating speed and left it frustrated and annoyed while reaching for the remaining bits of food.
This slow-feeder bowl would be a better choice for an intelligent dog that can eat just as fast as other slow-feeder bowls. However, it has enough "easier-to-eat" area in the middle to not make your dog give up on it.
Pros
---
Fun slow-feeder design for clever dogs.
Helps control eating speeds significantly and reduces the farting frequency in dogs due to hasty eating.
Can be rinsed clean with direct running water after mealtime.
Comes with a 1-year warranty.
Cons
---
May leave dogs frustrated, causing several bite marks or scratches around the bowl.
#4 NEATER PET BRANDS Slow Feed Dog Bowl Stainless Steel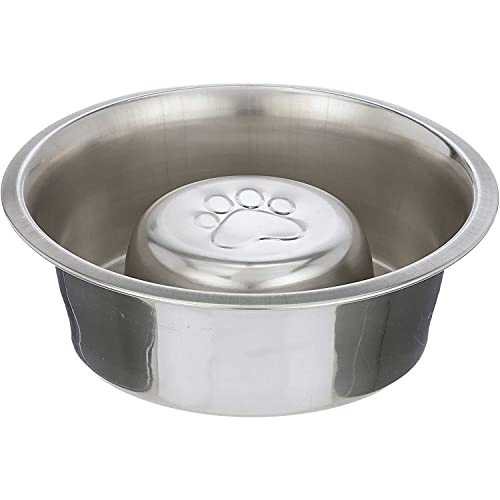 Coming from NEATER PET BRANDS, this product is a very different slow-feeder dog bowl in the sense that it's made of stainless steel and designed for large dogs.
It's priced a bit on the higher side – but if the fantastic customer reviews and its unique design are anything to go by – it's well worth it.
The first significant design difference is that it has a big blocked space in between, forcing the dog to go slow and eat around the edges. Secondly, the design isn't flat, so your dog can't gulp huge amounts of food and has to catch smaller amounts instead.
This steel dog bowl works well for large dogs that are aggressive eaters. This bowl is also designed to fit into a feeder.
Pros
---
Stainless steel slow-feeder design.
Works for aggressive eaters.
Designed for large dogs and fits into the feeder.
#5 Dog Games Outward Hound Slow-Feeder Bowl
SALE ALERT!!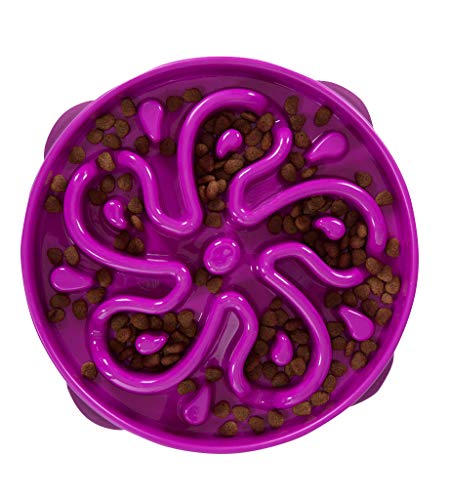 Outward Hound Fun Feeder Slo Bowl, Slow Feeder Dog Bowl, Large/Regular, Purple
SLOWS DOWN EATING UP TO 10X: Outward Hound uniquely designed Fun Feeder dog bowls feature meal-lengthening ridges to...
AIDS IN PROPER DIGESTION: Common issues that arise in fasting eating dogs include bloating, regurgitation and canine...
MADE WITH NON-SLIP BASE AND FOOD SAFE MATERIALS: Outward Hound's Fun Feeder Slo Bowl, slow feeder dog bowls are made to...
This is another top-rated product in the slow-feeder dog bowl category from Outward Hound, apparently the most reliable, popular brand when it comes to slow-feeder dog bowls.
The Outward Hound slow-feeder isn't expensive, but it's very effective. It forces dogs to slow down on their eating without being overly complicated.
The material used to make it is food-safe and free of BPA and other harmful elements. The base is non-slip, and it works just as well for both large and small dogs.
Finally, it might frustrate some dogs, but it will certainly slow them down. But if you have a dog that inhales its food in mere seconds, then you wouldn't want to complain about its initial frustration.
The Outward Hound's fun feeder has puzzle elements that will help your dog to eat slower during its meals.
Pros
---
Very effective design.
Reliable brand, popular product, thousands of great reviews.
Non-slip base.
Food-safe material, BPA-free.
#6 Super Design Slow-Feeder Dog Bowl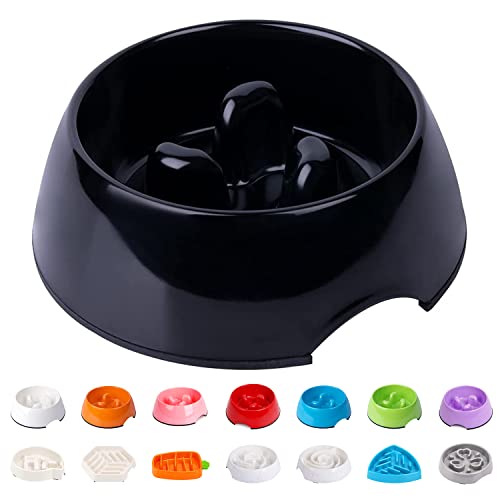 This slow-feeder bowl is specially designed for small dogs and dogs with a short snout (and of course, it works well for cats as well). However, it won't work for large dogs or dogs with a longer nose as the spacing is too narrow to allow them to get the food, and they may also end up hurting their nose.
But if you have a small dog with a short snout, then this product could turn out to be a perfect option. It's available in 3 different sizes, and it does make fast eaters slow down more than you would expect.
The material isn't marked BPA-free, but it is made of a food-grade melamine material, which isn't the best but may not necessarily be bad.
Finally, it works just as well for wet food as it does for dry food.
It's a tad bit on the pricey side for its material, to be honest, but then if you have a small dog that doesn't easily take to other slow-feeder dog bowls, then your options may be few. It does work pretty well for small dogs, and feeding wet food in it wouldn't be a problem.
Pros
---
Designed for small dogs with a short snout.
Suitable for both dry and wet food.
Does slow down fast eaters significantly.
Available in four different sizes.
#7 NEATER PET BRANDS Slow-Feeder Dog Bowl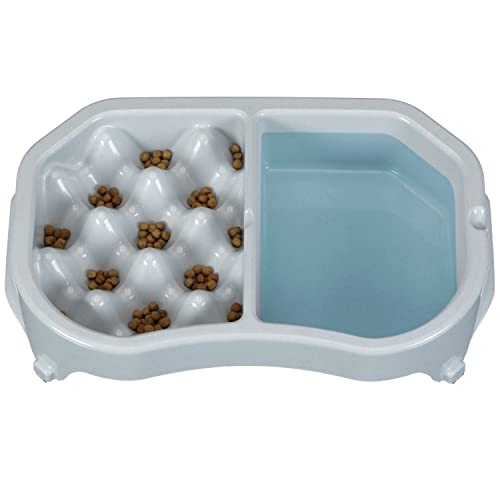 Featuring another product from NEATER PET BRANDS, this dog bowl is one of the most expensive slow-feeder dog bowls on our list. This is because the bowl offers some unique advantages over the others.
Firstly, the design of the food compartment is very unique, with many small holes into which the food goes. This means that while the dog is able to get food quickly without getting frustrated, it won't get much in a single bite. Secondly, it has another compartment for holding drinking water in case your dog is thirsty.
This bowl also comes with an adjustable height, so you would also be able to adjust the feeder according to the height of your dog. Based on more than a few customers' reviews, it slows down the most voracious of eaters, yet without making them feel frustrated.
It's also made in the USA using food-grade and safe ABS material, which is BPA-free.
This elevated slow-feeder offers more than most other slow-feeder bowls on the market, although it does cost more than most of them, too. However, it's well-designed, safe, and BPA-free while also being height adjustable and non-frustrating for your pooch.
Pros
---
Works great for both large and small dogs.
Holds up to 2.5 cups of food and 8.5 cups of water.
Made in the USA with food-safe BPA-free material.
Adjustable height.
#8 HDP JW Skid Stop Food & Water Bowl Slow Feed
This is an incredibly cheaply-priced slow-feeder dog bowl, especially for a large one that can hold an impressive 6 cups of food.
Another highlighting feature is the anti-skid rubbery base that prevents it from moving easily when your dog is eating.
However, the low price and large size do come with their drawbacks. While it's large and holds a lot of food, its design doesn't complement the large size as well and makes it easier for even large dogs to eat quickly.
It still might slow down your furry buddy, but not as much as the other products above. Intelligent dogs may figure things out much quicker, and it may not work for them at all.
It's dishwasher safe, though, and the material is rust and bacteria-resistant.
This fun feeder is interactive and comes with a great price-size combination. It isn't the best at slowing down fast eaters, but it should help unless your furry buddy is a half-dinosaur.
Pros
---
Large size for an incredible price.
Rubbery anti-skid base.
Heavy-duty and bacteria-resistant.
Works better for some dogs than others.
---
Slow-Feeder Dog Bowl Buyer's Guide
---
While many of you may be pretty clear about getting a slow-feeding dog bowl after seeing your furry buddy throw up almost every time after having a meal, some others might be a bit confused about whether it would help.
In that case, let us offer a more detailed explanation about when a dog should need a slow-feeder dog bowl. This is mainly because some people believe they don't need a slow-feeder dog bowl as their dog doesn't vomit despite eating very fast.
Let us tell you that it's a mistake to think that way, and your dog may develop a much more significant health issue than throwing up after having a meal.
Bloating
It's prevalent for dogs to eat too fast to suffer from bloating. Now, the problem here is that bloating might not always be noticeable – at least initially – and it might get too late or too expensive to deal with when you do realize it.
In many cases, where bloating is considered a medical emergency and could require surgery. This could cost a dog owner upwards of $10,000 in medical fees.
Other Health Issues
Apart from bloating, eating too fast also leads to other issues like digestion issues, vomiting, obesity, and more. It also means a lot of wasted dog food and, of course, your time.
All these issues mean that it's always a good idea to buy a slow-feeder dog bowl for a dog that's eating abnormally fast. It's important to note, though, that some products might work better for some dogs than others.
Be sure to watch out for giving your dog too many treats too, as these might cause them to overeat. There are healthier options that you can consider, such as these healthy dog treats.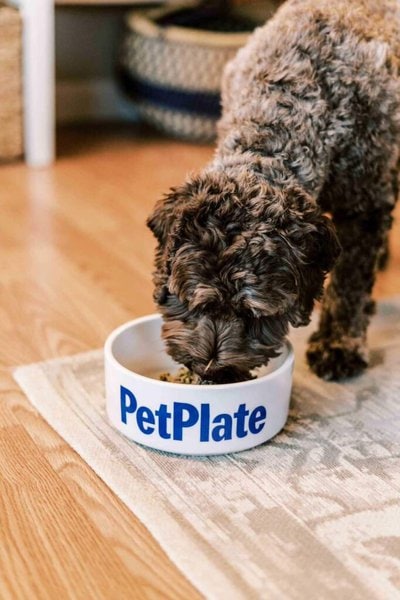 Types Of Slow-Feeder Dog Bowl
Standalone Slow Feeders
These are the most common type of slow feeders in the market. Essentially, they are new slow-feeding dog bowls that you use to replace your current dog bowl. They come with a built-in slow-feeding mechanism.
Most of these standalone slow feeders should fit comfortably in a dog car crate or an airline-approved dog carrier.
Ceramic Slow Feeders
Apart from pure aesthetics, there are no differences between a ceramic slow-feeder dog bowl and a standalone slow-feeder dog bowl (which is usually made from plastic). The ceramic material has a premium finish to it, but be careful with any chips or cracks that could hurt your pooch's mouth.
Slow-Feeder Dog Bowl Inserts
These are plastic add-ons to your existing dog bowls to turn them into slow-feeding dog bowls. The removable option makes it easier for you to switch back to a standard dog bowl once your pooch no longer has any digestion issues.
However, do take note that usually, a slow-feeder dog bowl insert is specific to a particular brand & make of dog bowl. Using these inserts on unsupported dog bowl brands will lead to a bad fit, resulting in an ineffective slow-feeding bow.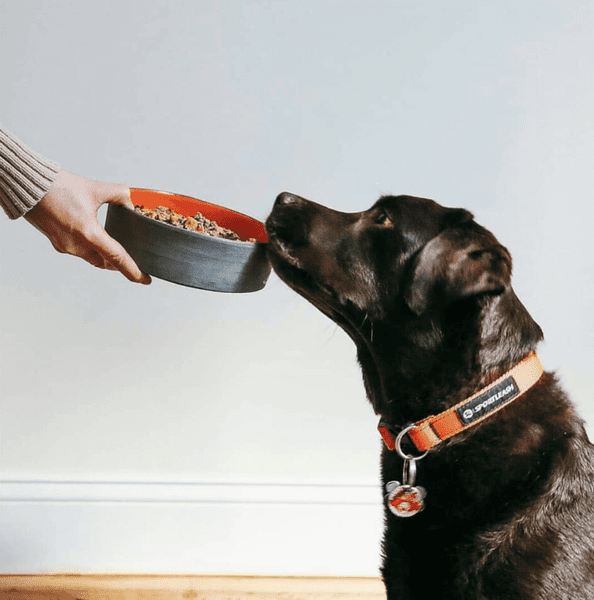 Features To Consider
While we have already found and reviewed the best slow-feeder dog bowls for your dog, you may want to learn about the features to look for as well, as it will allow you to choose the perfect slow-feeder dog bowl for your furry buddy.
Effectiveness
If the slow-feeder dog bowl you buy does little to slow down your furry beast, then you're back to square one, aren't you? So you would want to choose a slow-feeder dog bowl that comes in a design that slows them down and doesn't have big spaces that they could use to eat large quantities of food instead of taking small bites.
Similarly, the bowl must be designed in a way that it cannot easily be flipped over. A non-skid base will help as well.
Material
It's easy to overlook this feature, but a bowl made of cheap plastic would do more harm than good. You would always want to go for a food-safe material, ideally a BPA-free material, especially for small dogs that are more prone to health issues.
Non-Frustrating
While the design needs to slow down your dog, it shouldn't frustrate them. Some customers do mention their dogs giving up on a slow-feeder dog bowl as they find it too frustrating to get food out of it.
This is especially true for big dogs with large noses. If you have a large dog, make sure you choose a bowl that doesn't have too small spaces so that they won't hurt their nose while still not being able to get a lot of food in one bite.
Also, we have compiled a list of dog food brands that are recommended for a slow-feeding dog bowl.
---
Final Thoughts
---
All said and done, let us tell you that our top pick is not only the best product according to our research but also the favorite of thousands of customers.
It's the most popular slow-feeder dog bowl with thousands of super satisfied customers (and slightly less satisfied dogs), but it offers the best of both worlds in terms of slowing down your dog without being easy to flip it over and an exceptional level of durability.