The best dog car crates & carrier is Sleepypod Mobile Pet Bed.
Whether you're traveling to the vet with your Fido or using a dog crate to help it feel more comfortable in a car, it is important to take vehicular safety seriously to keep you and your dog safe. This isn't just about the method of travel — it's about the dog's overall health and safety.
The good news is that with a portable dog crate and carrier, you can keep your dog safe and comfortable inside your car while traveling.
In fact, the American Veterinary Medical Association (AVMA) states that driving with an unrestrained pet in the vehicle is a serious safety risk for your dog and everyone else on the road.
We'll go through the benefits of dog car crates, explain the features that you need to look for when picking one, and share a few of our favorites below!
#1 Sleepypod Mobile Pet Bed
Sleepypod Mobile Pet Bed, Sky Blue, Medium
Mobile pet bed, carrier, and car seat lets you travel anywhere with your pet
Made from luggage-grade nylon outside and ultra-plush polyester inside
Contoured to fit pets up to 15 pounds
Our top pick product is the Sleepypod Mobile Pet Bed. This travel crate is quite versatile and can be used in different ways. For instance, you can use it as a car seat for your pet or fasten it to your car's seat using its straps.
The travel crate has been tested by the Pet Passenger Restraint System and approved for meeting the required safety standards. You can be assured of the safety of your pet in case of a crash or sudden emergency car braking.
This mobile crate acts as a comfortable bed for your dog too. The inside of the carrier is made of ultra-soft polyester with a foam cushion that feels comfortable for the dog. The travel crate also acts as a portable carrier for the dog. It has padded straps and holders that can be used to carry the dog over the shoulders or by hand.
This is an ideal and luxurious crate for small dogs. You will not have to worry about how comfortable your small dog feels inside the travel crate during car travel. The carrier is perfect to use in the car or airplane. It is easy to use. Just unzip the top cover to retrieve the dog. It is a great choice for owners of small dogs.
Pros
---
Customers can use this mobile pet bed for their dogs without the need to assemble any parts.
The Sleepypod mobile bed comes with a padded shoulder strap to ensure that customers don't feel pressure from carrying their pooches around.
This mobile pet bed has a water-resistant foam liner that helps prevent dog urine from spilling out of the bed and staining the surroundings.
This product can be used as a pet bed, carrier or dog car seat, thanks to an adjustable dome top that can either be removed or fixed according to the intended use.
The polyester material used to manufacture this mobile pet bed can be conveniently maintained either by vacuuming or machine washing on a gentle cycle.
Cons
---
This mobile pet bed comes with a strong chemical odor that is difficult to get rid of.
The Sleepypod bed's top opening can be too stiff to keep open at times, making it a hassle to get dogs in and out of bed.
#2 EliteField 3-Door Folding Soft Dog Crate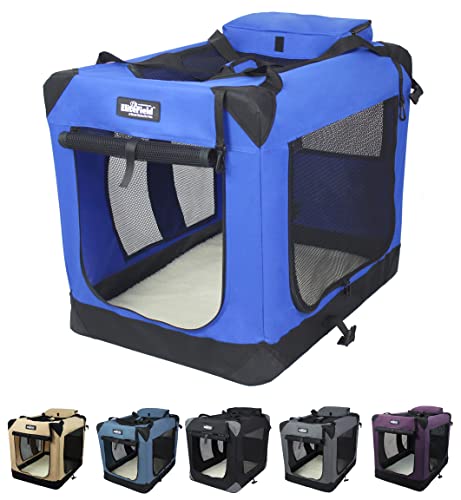 This classy dog carrier is strong, light, well ventilated, and stylish enough to carry your dog in. It is made of strong durable steel tubes. The outer cover is made of a durable and high-quality 600D material. The material is sturdy enough to withstand your dog's chewing.
It has three meshed doors, one on the side, on the front, and on top. It has two pockets on the side and on top which you can use to carry accessories.
The EliteField 3-Door Folding Soft Dog Crate has a handle and padded carrying straps for easy and comfortable portability. It has removable and washable beddings made of high-quality absorbent material. Your dog will find this bed quite comfortable. This is a budget dog crate that can be used in the car. It can also act as a nest for your dog when you are far from home.
This cost-friendly dog carrier is a must-have for every family that loves taking road trips with their dog. You will find it very convenient when your dog has no place to sleep on. It is made of high-quality durable materials and can carry both small and medium-sized dogs.
Pros
---
The dog crate from EliteField has multiple mesh windows to ensure that dogs have proper airflow and ventilation when contained in the crate.
The lightweight design of this dog crate ensures that customers can move it from one place to another without difficulty.
This crate is easy to assemble and can also be broken down within minutes for convenient setup and storage.
The cover and bed accessories that come with this dog crate can be removed and machine-washed for both convenience and easy maintenance.
This dog crate from EliteField has two accessory pockets on the top and sides for the storage of dog supplies and accessories.
Cons
---
Dogs can easily escape through holes made by chewing through the mesh and the sides of this dog crate.
Several customers have commented that this crate's zippers tend to break easily, thereby making it easy for pooches to force their way out of the crate.
#3 Lucky Duck Dog Car Kennel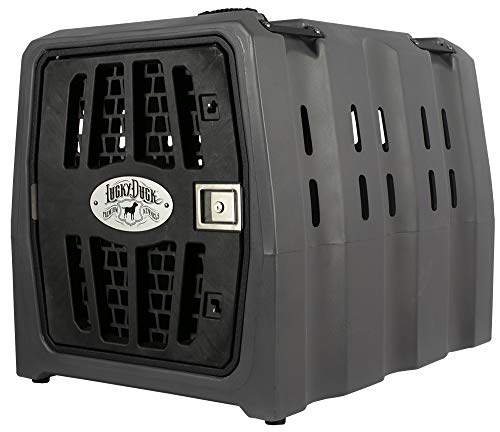 Lucky Kennel Intermediate
Lucky Duck Kennels are proudly made in the USA, and are built for years of use
One-piece roto molded kennel is durable yet lightweight (38lbs.), and includes heavy duty lift handles, powder-coated...
Well ventilated with ventilation holds to keep your dog cool on hot days, and pitched floor is elevated to run water...
This is one of the strongest dog carriers in the market today. Made of a hard plastic material this crate is useful when you want to ensure that your dog doesn't escape while in transit.
It's user-friendly and can be used both indoors and outdoors to keep your dog safe. This crash-tested dog crate is big enough and can accommodate even big dogs. You are assured of the safety of your dog while using this carrier. It is exceptionally friendly for car travel and comes with safety belts that can be fastened to a car seat.
If you value the safety of your dog this kennel is all you need. It ensures that your dog doesn't escape and its interior is quite comfortable for the dog. It comes with top handlebars for better portability.
Pros
---
The Lucky Duck Dog Car Kennel is crash tested, with a 5-star rating, by the Center for Pet Safety, which ensures that it can keep dogs safe during accidents.
This car kennel has several ventilation holes that help to keep dogs cool during hot days.
Made by injection molding, this product's reversible door features corner locking pins and a locking paddle latch to help keep dogs safe and secure in the kennel.
The design of this product features an elevated pitch floor and drain holes on each side of the kennel to keep the insides of the kennel dry and clean and also make cleaning of the kennel easier.
Non-slip rubber feet at the bottom of this kennel help to keep the kennel sturdy and stable when in use.
Cons
---
This kennel from Lucky Duck is considerably an expensive purchase when compared to other similar products.
This dog car kennel is available in only one size, and in some cases, this size is too small for large-sized dogs to comfortably stay in.
#4 Noz2Noz Soft-Krater Indoor & Outdoor Crate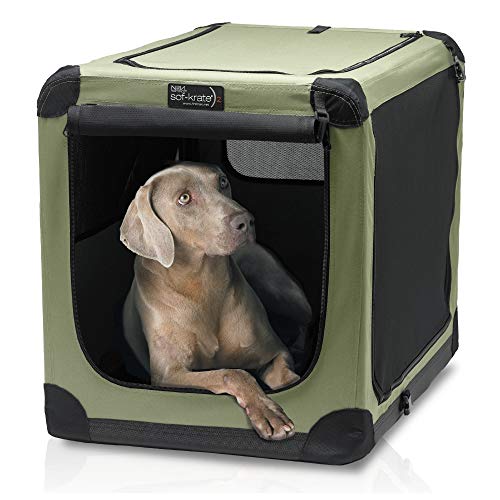 Made for dogs with a weight of up to 90 lbs, this dog car crate & carrier is designed with a sturdy material that doesn't wear out easily. The frame is made of strong steel with weave mesh windows. The window ensures there is enough air circulating inside while allowing the dog to enjoy the views outside.
It comes with a water-resistant bed for your dog. The travel crate has holding straps that make it easy to carry the dog. It guarantees the safety and comfort of the dog while on transit.
This is a perfect crate for anyone searching for a comfortable carrier to transport the dog at a good price. Whether you are on a road trip or going to the vet, the Noz2Noz Soft-Krater is the best to carry your dog in.
Pros
---
Customers can easily set up and break down the Soft-Krater within seconds for use and storage, thanks to push button tabs and couplers included in the product design.
This crate is designed with rounded corners to prevent scratching and damage to home furniture and décor.
This product has multiple top, front and side entries that provide convenient access to dogs contained within the crate.
The Soft-Krater has a water-resistant base that prevents dog accidents from spilling through and which can be easily cleaned by wiping with an appropriate stain and odor remover.
This crate's cover can be completely removed and machine-washed for easy maintenance.
Cons
---
The durability of this dog crate is suspect, as several customers have commented that their crates broke down only after a few months of use.
This crate's side mesh is too lightweight and can easily be broken through by a dog desperate to escape.
#5 Petmate Two Door Pet Kennel
SALE ALERT!!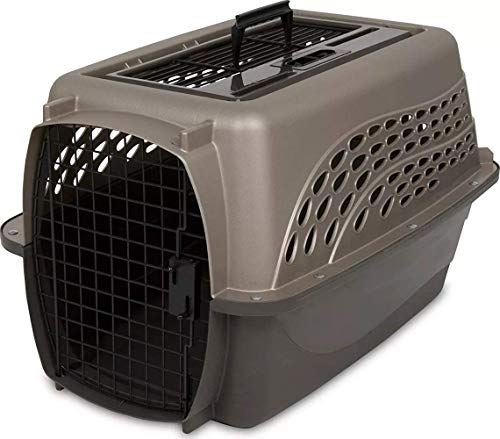 The Petmate kennel offers an effective solution for pet parents looking for a means to safely and comfortably transport their furry friends up to 15 lbs.
The kennel features multiple air vents at the sides to ensure proper ventilation. And in addition, the Petmate kennel's top-loading door makes it easier for pet parents to both remove and place their furry friends into the kennel and to easily observe what is going on with their pets.
Pet parents aren't left out of the mix when it comes to comfort, and the ergonomic handle design coupled with easy-squeeze door latches make it easy to transport the Petmate kennel. Additionally, the steel door, which is reinforced with durable plastic material, is quite sturdy and effective at keeping pets in the kennel.
A sturdy, durable build that doesn't come apart easily makes this Petmate kennel worth spending the cash on. We also highly regard the top-loading design of the kennel as an innovative design, granting pet parents easy access to their furry friends and providing a convenient means of monitoring happenings within the kennel.
Pros
---
This Petmate product's dual door design makes it easy for customers to access dogs housed in the kennel.
This dog kennel is designed to meet highway and most airway travel requirements, thereby making it suitable for traveling either by road or air.
This pet kennel has air vents on all sides to provide dogs with enough visibility and ample airflow to prevent suffocation when traveling.
The ergonomic design of this kennel's top door handle provides a comfortable drip for dog parents carrying the kennel.
This kennel is available in two size options – 19 inches and 24 inches – to ensure a cozy fit for dogs of various sizes.
Cons
---
This dog kennel reportedly has several nooks and crannies for dog poop to get stuck in, thereby making cleaning a chore for dog parents.
Several customers have repeatedly received kennels with missing doors or dogs that didn't fit the intended opening, citing poor quality control.
#6 2PET Foldable Dog Crate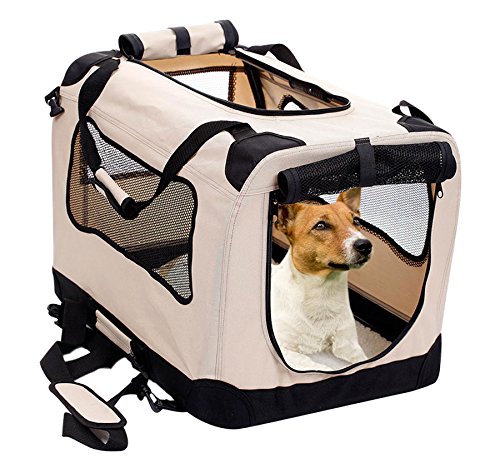 The 2PET Foldable Dog Crate is a lightweight dog carrier that is made of a strong steel tube and a 600D material. The fabric material is washable and can be removed and fixed easily.
It has a meshed window which gives enough ventilation to the dog. It is a soft crate that can be used indoors while traveling, training the dog, or when taking a sick dog to the veterinary. It is an affordable dog crate that still provides lavish comfort to your dog. It comes with a strap for shoulder carrying and a handle for easier portability.
The 2PET Foldable Dog Crate will come in handy when you need to travel with your dog in a car. It is affordable and will give you value for your money because of its multifunctional design.
Pros
---
The 2PET dog crate is versatile and can be used in several ways, including as an indoor or outdoor crate, as a training tool, and for traveling with dogs.
The steel tube of this dog crate is designed to be quickly unfolded when needed and easily folded for storage.
The Oxford 600D cover of this cover crate is fully removable and machine-washable for convenient maintenance.
Mesh panel windows located on the sides of this crate provide dogs housed in the crate with ample ventilation.
This 2PET dog crate is available in several size options – Small, Medium, Large, XLarge, and XXLarge – to ensure that dogs of different sizes can be convenient in the crate.
Cons
---
Multiple customers have commented that these crates' metal framing rods are too long and extremely difficult to connect during installation.
The material used for this crate's mesh is weak and can be chewed through by dogs with chewing tendencies.
#7 Petsfit Travel Pet Crate & Carrier
SALE ALERT!!
Made from an odorless material, this dog car carrier will ensure that your dog stays healthy. It's made of three meshed doors, a frame made of lightweight steel, and a top holder. It has an extension that can be unzipped to give plenty of room for the dog to sleep on.
This dog car crate is strong enough to accommodate a heavy dog. Just like the name suggests, it can be safely used on an airplane or inside a car. The travel dog carrier comes with a water holder that can also hold a food tray.
The Petsfit Travel Pet is suitable for those long train and car rides. You will not need to worry about the comfort of your dog when you have one of these. This is one of the most comfortable dog carriers on the market today.
Pros
---
The Petsfit carrier comes with two doors and a top entrance that can be rolled up to provide easy access to dogs in the crate.
This pet crate and carrier comes with storage pockets for customers to keep dog accessories such as leashes, treats, and other essentials.
Customers can use this product either as an open bed, a carrier, or a crate for their dogs.
This Petsfit product features a screw-in frame design that holds the carrier's mesh firmly in place after installation.
This dog carrier has a leak-proof bottom that helps protect the car interior from dog accidents.
Cons
---
Per multiple customer feedback, the material used to craft this carrier is flimsy and can be easily chewed through by dogs with separation anxiety.
Some customers also claim that this carrier isn't sturdy and tends to tip over when being used for travel.
#8 A4Pet 27″ Pet Car Crate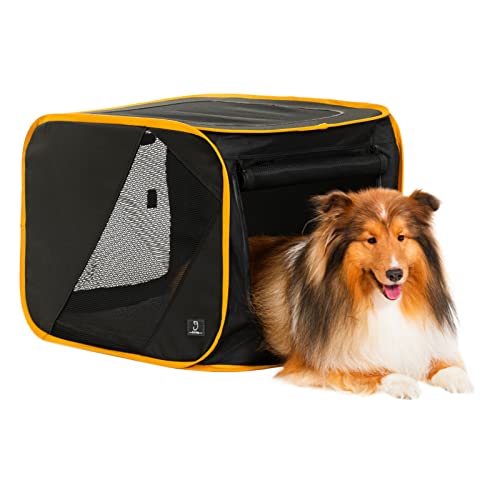 A4Pet 27″ Pet Car is an ideal car dog carrier for medium-sized breeds. It's made with a strong material that doesn't tear easily. The A4Pet carrier has two belts that can safely be strapped to the car seat. It is secure and will keep the dog safe. It has a strong zipper that your dog cannot chew on.
The travel crate has entrances on the right and left sides. The sides of the pet crate are meshed to give the dog enough air circulation. Your pup can also enjoy outside views as you travel.
When looking for a soft dog crate for traveling with your dog look no further than the A4Pet 27″ Pet Car. It's a safe, convenient, and CPS-approved dog carrier.
Pros
---
The interior of this A4Pet car crate is lined with water-resistant PVC material to prevent dog excrement from seeping through and damaging car upholstery.
This car crate features a built-in hook that can be attached to a dog's collar to prevent the pooch from escaping from the crate during drives.
This pet car crate comes with large breathable meshes on all sides to ensure that dogs continuously have access to fresh air.
This dog crate can be folded for easy storage when not in use.
The mesh windows located at the sides of this car crate can be rolled up to allow dogs to put out their heads and feel closer to their parents.
Cons
---
This pet car crate is designed such that dog parents cannot check to see how their dogs are doing at a glance while driving.
This car crate does not come with assembly instructions and can be rather complex to put together for customers without the technical know-how.
#9 Amazon Basics Two-Door Top-Load Pet Kennel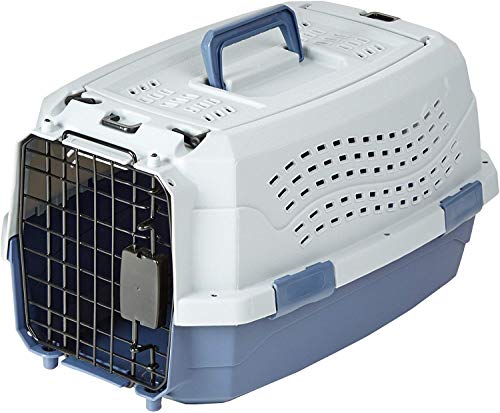 Hailing from Amazon Basics, this is a plastic kennel with a steel door and ventilation on the sides and at the top. It is secured with screws at the top and bottom to ensure that the dog cannot open the door and escape.
The two doors at the front and back give you quick access when loading. It has a top handle for easy portability. The plastic material is durable and weather-friendly. This is a nice carrier for transporting an untamed dog. It's easy to clean too.
If you are looking for a two-door pet kennel to transport an untamed dog, the Two-Door Top-Load Pet Kennel from Amazon Basics is your best choice. It has a weatherproof design and is well ventilated to keep your dog comfortable.
Pros
---
The Amazon Basics kennel comes with multiple side vents to provide ample ventilation for dogs housed inside the carrier.
The molded plastic construction of this pet kennel is durable and can resist damage from dogs looking to escape.
The top loading design of this product provides a convenient means for customers to place and remove their dogs from this kennel.
The use of plastic, rather than fabric material, in constructing this dog kennel ensures that the kennel will be easier to clean for customers.
Cons
---
The instruction manual that accompanies this product lacks vital and clear instructions for the installation of the pet kennel.
Several customers claim that this carrier's top isn't sturdy enough to be used with a top handle.
#10 SPORT PET Kennel
SALE ALERT!!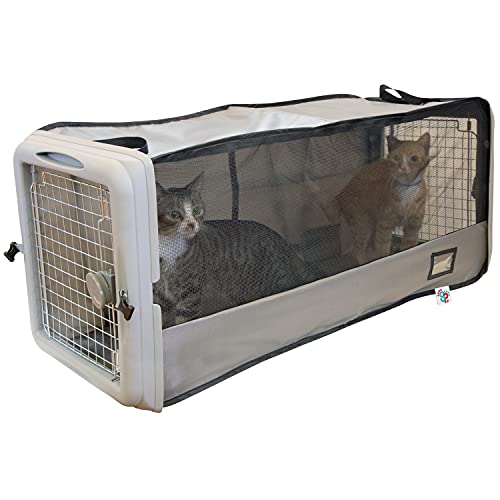 The SPORT PET Kennel is a nice and cozy enclosed space for your pets. Its physical dimensions measure 45.25 inches long by 17.25 inches wide by 18.75 inches tall, weigh 8.25 lbs, and can fit almost any type of caged pet.
It features soft sides with mesh panels to keep your pets comfortable. There are headrest straps and seatbelt loops for securing in position while traveling by car, thereby making transportation by vehicle fairly easy.
You can safely place it in your home, back seat of your car, or in the trunk. It comes with easy-to-use front, and rear exits made of sturdy, tough materials. There is also an adjustable leash that can be attached to a harness for extra safety.
Once you are done with your pet kennel, you can fold it down flat for storage. Keep in mind that this kennel is perfect only for crate-trained pets.
Unlike a conventional crate, this kennel from SPORT PET has soft sides to keep your pet safe. It also has mesh side panels and easy-to-use doors for your pet's use. We also like the adjustable leash and straps to secure the kennel in a car. Lastly, it can be stored in tight spaces once you fold it after use.
Pros
---
This product comes fitted with headrest straps and seat belt loops to keep the kennel and the dog secured in place while on road trips.
This dog kennel comes with an adjustable leash that can be attached to a dog's harness to prevent the pooch from escaping the kennel and interfering while customers are driving.
The SPORT PET kennel has mesh panel sides that make it easy for customers to observe their dogs, in addition to providing the pooches with good airflow.
Customers can fold this kennel down flat when not in use for convenient storage.
The front and rear exits of this pet kennel make it easier for customers to place and remove dogs from the kennel.
Cons
---
Multiple customers have reported that this kennel is flimsy and can't stand upright without support.
Several customers have also commented that it is difficult and requires much effort to fold down this kennel for storage.
---
Dog Crate For Car Travel Buyer's Guide
---
What are dog crates or carriers and why do you need one? Some dogs are easily excitable and quite unpredictable. They can even jump out of a moving car at the sight of a squirrel on the roadside. You need a comfortable and secure dog travel crate to hold the dog when traveling with it in your car.
Dog crates are secure, portable, and comfortable soft-sided crates or carriers that help to keep your dog safe and comfortable when traveling. The soft-sided crates are easy to set up and dismantle after use. They are made from a strong durable metal frame with fabric or mesh linings. The dog crate makes it extremely easy to carry along your dog while ensuring that the dog enjoys fresh air inside the travel crate.
Why do you need a dog crate? Many dogs today are already crate trained and will comfortably sit inside the travel crate while traveling. The soft-sided crates are comfortable for the dog and provide an easy and convenient, manageable way to handle your dog in the car. A travel crate is a perfect option for a family that never leaves the dog behind when going out for picnics or vacations.
Related: Best Airline Approved Dog Crates
Benefits Of A Dog Crate Or Carrier For Car Travel
Here are some of the advantages and benefits of purchasing a car crate or carrier for your dog.
The travel crate provides a secure and comfortable way to travel with your dog. Most dogs enjoy lounging inside the soft-sided comfortable crate. It is also designed to provide plenty of air for the dog.
Less stress for you. When you invest in a good travel carrier or dog crate, you eliminate all the worries you would otherwise have about the comfort and safety of your pooch. You can concentrate on driving without stressing about your dog.
Great experience for dogs. The comfortable crates have soft sides and come with mesh or fabric lining. The design allows your dog to enjoy the scenic views you drive past in a secure and comfortable containment crate.
A solution for dog potty accidents while traveling. There are those times when your dog cannot hold it until you get to your next stop. Dogs have small bladders and may not hold pee for a long time. A dog crate is easy to clean if the dog has a potty accident before you get to the next stop.
Related: Best Dog Car Harnesses
How Safe Are Dog Crates And Carriers?
Safety is an important factor in any crate or carrier used to carry your dog when traveling. There are numerous dog crate products in the market which makes it difficult to claim with a degree of certainty that all dog carriers and creates are 100% safe for your dog.
Fortunately, you can always check for certification from the Center for Pet Safety (CPS) on the travel crate to ensure that it has been tested for safety before you buy the product. When you don't trust the manufacturer, you can always check for a safety mark from CPS. This is a non-profit organization that provides independent safety testing for harnesses, crates, carriers, and other pet products.
A 2015 crate study test by the CPS found that many dog crates cannot protect your dog in a collision. The CPS study even discovered that some dog crates that are being marketed as crash-tested have doors that easily fly off, cages that instantly cave in, and straps that snap easily on impact.
Fortunately, there are reputable brands that manufacture strong, safe, and secure dog crates for car travel. These are products that you can count on to provide real protection for the dog and other human passengers inside the car in case of an accident.
Related: Best Dog Car Seat Belts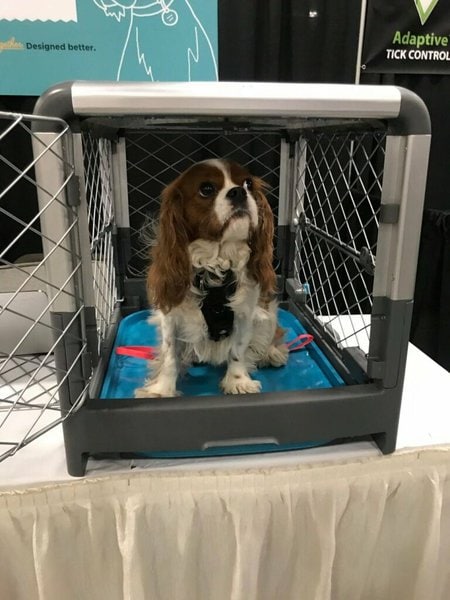 Factors To Consider When Looking For The Best Dog Crate And Carrier For Cars
How do you find the perfect crate for your dog when you want to bring the dog along on your vacation or outing?
Here are a few important things to look for in the right travel crate for your dog.
Size Does Matter
The first and most important thing to consider in a dog carrier is size. Your choice will depend on the breed and size of the dog you own. You need a crate or carrier that has enough room for the dog to turn around and stand up without scrapping on the sides. If your dog is still a puppy, go for a larger model that will continue serving you as the dog grows bigger.
Heavy-Duty Construction Materials
The carrier has to be durable and strong. It should preferably be made from a good mixture of heavy-duty metal and plastic materials. Look for crates made of lightweight and durable frame materials such as steel or aluminum which are light enough to carry around easily.
The materials used should also be strong enough to withstand wear and tear. If your dog likes to chew, then get a carrier that's specially designed with strong and durable fabric or mesh. Get a product made with heavy-duty soft-sided materials such as luggage-grade nylon.
Comfort And Bedding
Your dog's comfort is an important factor to consider when buying a traveling crate or carrier. The whole purpose of carrying the dog along is to make it enjoy the trip, not to punish the poor animal in an uncomfortable containment crate.
Make sure the travel crate has soft-sided materials, and more importantly, ensure that the travel crate has a soft bed pad or mattress. If the travel crate doesn't come with the mattress or bedding, then make plans to buy one separately.
Also, make sure your pet will always rest on soft bedding every time it's inside the travel crate.
Proper Strapping
The strength and durability will also depend on the type of strapping it comes with. Look for travel carriers with strong and durable straps. If you want a smaller crate, make sure it has straps that allow you to attach it to the car's seatbelts. Larger models should allow you to strap or tie them down securely inside the car.
5-Star CPS Certification
There are hardly any regulations on the pet safety market when it comes to dog crates and carriers, which leaves you at the mercy of the manufacturer's claims. Your best option is to look for a dog crate that has passed crash tests. The results are, in most cases, publicly available or indicated on the product. The best models are those that have a 5-star CPS certification for crash tests.
The Question Of Cost And Quality
Cost is always regarded to be an important factor, but do avoid going for the cheapest model you can find at the expense of your dog's comfort or the travel crate's durability. Look for a model that falls within your budget, but that is not made of cheap insecure, and uncomfortable materials. Most of the products we have reviewed in this dog crate and carriers for cars review article are high-quality products with affordable price tags.
Related: Best Dog Car Barriers
---
Final Thoughts
---
It's important to ensure that your dog is not only comfortable but also safe while traveling. If you want your dog to be safe from injuries or even death in the unfortunate event of a car accident, then get a good, securely built dog crate or carrier.
Your loving pooch should always travel in a high-quality crash-tested traveling kennel. There are many dog crate products out there which makes it hard to find the right one for your dog.
Of the many dog crates and carriers discussed above, we believe in our top pick, as it comes with all the top features and functions you will need for a safe and secure dog carrier.