The best dog seat belt is Slow Ton Dog Seat Belt.
Most dog owners love the company of their dog when they go out shopping or take a long drive to the beach. But car rides can pose an unforeseen danger for you and your dog.
Without the best dog car seat belt, a simple small impact of an emergency brake or hit from a careless driver can cause serious injury to your pooch.
It could also be the spontaneous instinct of your canine friend to jump out of the car. This article details the qualities of the best dog seat belts; those that provide absolute safety for your dog.
#1 Slow Ton Dog Seat Belt
SALE ALERT!!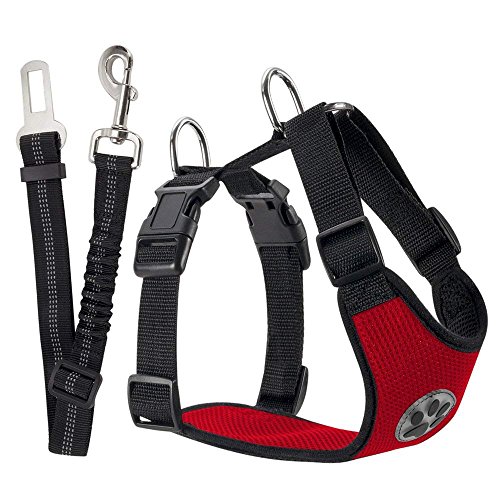 If you are seeking a comfortable and stress-free ride for you and your dog, the Slow Ton seat belt is an optimal choice. This seat belt is sold as part of a harness set with a connector strap and a breathable mesh chest vest that doubles as protection and sweat-absorb fabric.
The elastic seat belt is made of sturdy nylon straps to securely hold your dog. It is long and can be easily adjusted, allowing your dog to stand, sit or lie down during the ride.
The buckles on the vest straps make it easy for you to slide it onto your dog. The safety seat belt hooks to the vest straps on one side and buckles to the car's seat belt on the other. The sizes range from xxx-small to large and over 15 color options to choose from.
If you are the kind of dog owner that wants the best for your dog, the Slow Ton set offers safety, comfort, ease of use, and variety. Your dog will enjoy a safe ride in this belt without feeling too tight or too limited for movement.
Pros
---
A complete set with vest and belt.
Adjustable for your dog's comfort.
Sturdy for dog's safety.
Wide range of color and sizes.
#2 Vastar Dog Seat Belt
SALE ALERT!!
The Vastar dog seat belt offers value without digging too deep into your pocket. You can choose between black, pink, and red for a price no more than $10 on amazon.
The belt is made to easily hook to your usual dog vest and keep your dog safe in the car. The high-quality nylon straps, the zinc alloy swivel snap, and the metal buckle together guarantee durability. The belt's size is adequate and can be easily adjusted to allow your dog the comfort of sitting, lying down or standing without distracting you on the driver's seat.
When purchasing, ensure the belt has the Vastar logo which is the mark of authenticity and the control for counterfeit. Double-check the belt's buckle size to ensure it securely fastens on the standard 0.8-inch seat belt clasps.
If you are on a tight budget, the Vastar dog seat belt will give you value and durability for less. Most dog seat belts will sell alongside a harness pack for a price higher than $10. But the Vastar belt allows you to spend less while guaranteeing safety for your dog.
Pros
---
Price fits a tight budget.
Made of quality nylon for durability.
Adjustable size for your dog's comfort.
Has Vastar logo as a seal of guarantee.
#3 Lukovee Dog Seat Belt
Sold alongside a double-mesh chest vest, the Lukovee dog safety belt has a 360° rotation metal hook that connects it to the vest via the metal rings on the vest straps. The belt's buckle is designed to easily fasten on the clasp of most standard vehicle seat belts.
The reflective stitching on the belt is an extra safety detail that allows you to trace your dog from the rearview mirror. The reflective stitching perfectly complements the nine attractive colors from which you can choose.
The belt has ample length and its elasticity allows you to adjust the belt so your pet can comfortably sit, stand or recline.
The Lukovee dog seat belt delivers beauty and quality in a single package. Your dog will look attractive in purple, red rose, and other available colors. The adjustable belt allows your pal to sit, stand or recline without the least discomfort. The package has a comfortable vest made with double breathable fabric.
Pros
---
Easy to use.
Securely connects to vest by a metal hook.
Adjustable bungee for dog's comfort.
Reflective stitching on a variety of colors.
#4 Dutchy Brand Pets Lovers Club Durable Dog Seat Belt
The Dutchy Brand will strike you as a durable and sturdy dog seat belt at first sight. This is because it is made from premium nylon, making it optimal for your dog's safety.
A reliable latch-hook connects the belt to your car's latch-anchor while a swivel clip hooks the belt to your dog's vest.
The belt has two reflective lines along the length on each side, allowing you to trace your pet movement at the back of your car especially when it's dark. The length of the belt can be adjusted for use with small and extra-large dogs, extending from 22 inches to 37 inches long.
The Dutchy brand is the optimal pick for those looking for durability, safety, and a universal fit for dog size. Besides, the reflective stitching lets you easily trace your dog from the rearview mirror without getting distracted.
Pros
---
Durable and sturdy.
Fitted with a reliable latch-hook.
Reflective stitching along the length.
Adjustable length to suit any dog size.
#5 URPOWER Dog Seat Belt
SALE ALERT!!
The elasticity of the URPOWER makes this dog seat belt a one-size-fits-all pick. To suit the purpose and dog size, you can adjust it from 20.8 inches to 26.3 inches. Combined with the zinc alloy swivel snap and the stainless hook and clip, the premium nylon straps make URPOWER the durable and sturdy belt for your canine's safety.
Once you open your standard 2-pack order, you will notice the URPOWER mark that guarantees authenticity. There are six colors to choose from.
The seatbelt tab is 1.57 inches long and 0.83 inches wide, compatible with most vehicles, but, you can always confirm compatibility with your car before making the order.
If you are the type that isn't satisfied with a single dog at home, URPOWER will save you the trouble of multiple orders by delivering 2 elastic and adjustable heavy duty belts in a single pack.
Pros
---
Elastic to suit purpose and dog size.
Adjustable length.
URPOWER seal of authenticity.
Sold as a 2-pack.
#6 Blueberry Pet Seat Belt
This pick is for those who are both dog lovers and color lovers. There are more than 20 floral colors to choose from. The belt is an inch wide and can be adjusted from 16.5 inches to 25.5 inches in length.
The stainless steel swivel clip hooks the belt to your pets harness and the seatbelt clip buckles perfectly in most vehicle models but the Volvo. If your pet soils the belt, you can easily machine wash on the gentle cycle and with cold water.
The Blueberry seat belt can be purchased with a matching neck collar, leash, and harness. You will notice the 'Blueberry Pet' seal of quality upon opening the product.
Blueberry Pet seat belt stands out for its assorted range of floral colors. Your dog will be safely secured by a belt that lets you easily trace your pet from the noticeable colors.
Pros
---
20+ floral colors to choose from.
Easily adjustable.
Can be machine washed.
Bears the 'Blueberry Pet' seal of quality.
#7 Kurgo Dog Seat Belt Tether
SALE ALERT!!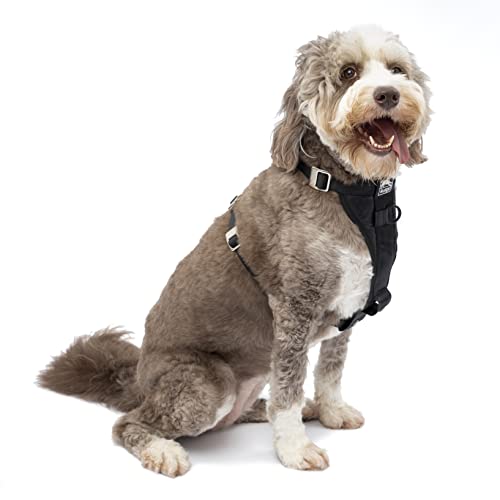 This seat belt tether sells as part of the Kurgo Dog package. The package is crash tested at Calspans' Buffalo crash test facility in New York and certified for dogs weighing up to 75 lbs.
The dog seat belt tether has an attached carabiner that attaches to the shoulder and waist belts and then to the back strap of the harness to keep your dog secure.
If you buy a new item from an authorized dealer, you have a lifetime warranty against manufacturer defects. You can choose your preferred color from black, blue, red, and grey.
You can never go wrong with a dog seat belt tether that has been crash tested and certified as sturdy for strong dogs. This gets better with a lifetime warranty against manufacturer errors.
Pros
---
Comes as a complete harness package.
Crash test certified.
Lifetime warranty for new items.
Four colors to choose from.
#8 COOYOO Dog Seat Belt
SALE ALERT!!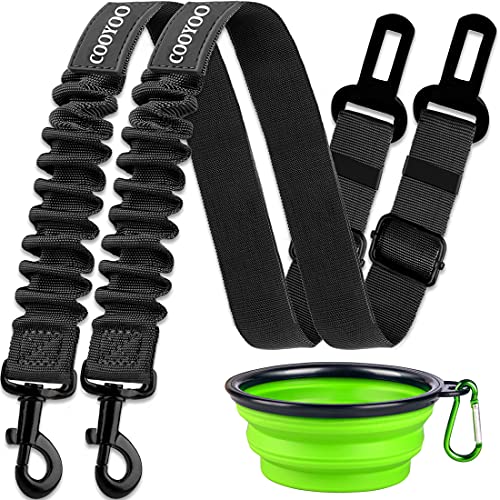 Does your dog move around a lot inside the car while you're driving? Then you can be assured of your pet's safety by using this COOYOO dog seat belt.
The strap is made from high-density nylon fabric for durability and can be adjusted from 22 to 31 inches. The aluminum-alloy clasp can also rotate 360° to ensure that your dog can move around the car without getting tangled or choked during sudden brakes and turns.
Clipping and unclipping can be done in a snap, and the tab on the seat belt clip is universally compatible with almost all vehicles, thanks to its 0.79-inch width.
The safety of your dog should be your utmost priority, and this seat belt gives you that assurance. Its strong material and adjustable strap give you confidence that your dog is safe and comfortable inside your car while you are busy minding the road.
Pros
---
The adjustable strap can fit almost any dog size.
The swivel-free tangle-free attachment allows your dogs to move around freely.
Comes in a value pack of 2 seat belts and a collapsible travel bowl.
Available in 10 different color types.
#9 Mighty Paw Chew-Proof Dog Seat Belt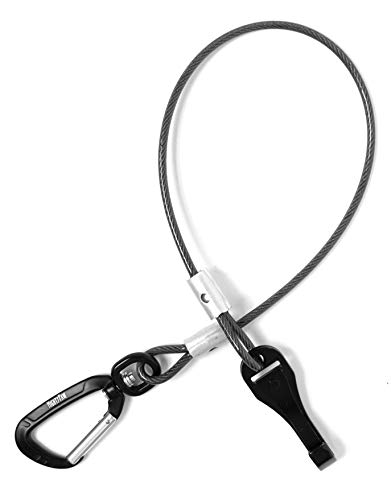 The Mighty Paw Chew-Proof Dog Seat Belt is made with braided steel wire, impossible to chew by any dog with the strongest teeth. Five pieces of 7-wire bundles are intertwined to make the 2.34 mm belt. This means that the belt is extremely light yet steel-strong.
The belt attaches to the seat by a latch bar attachment similar to that of a child's car seat. This eliminates any possibility that your dog could accidentally unbuckle the belt.
An aviation aluminum carabiner attaches the belt to your dog's harness ensuring maximum protection. The seal of authenticity 'MIGHTYPAW' is inscribed on this carabiner.
This is the ideal pick for those with dogs that chew their way out of a belt. It will take an eternity for any dog to chew the sturdy steel wire belt or unbuckle the latch bar attachment.
Pros
---
Chew-proof.
Light but sturdy.
Impossible to unbuckle by accident.
Secure aluminum carabiner.
---
Best Dog Seat Belt Buying Guide
---
The US law allows you to drive with your furry friend aboard your car. But there are legal guidelines that control the conditions under which your dog can stay to enjoy the ride.
These guidelines are related to the safety of both you and your dog. While driving with your dog on board, your canine pal should be comfortable and enjoy unrestricted movement. But the dog should be belted to prevent him/her from distracting you while you drive and to keep the pet safe from eventual danger.
Not all dog seat belts are equal when it comes to protecting your dog. As a dog owner, it is your 'parenting' duty to explore the market and purchase the best seat belt for your baby.
So, which are the best dog seat belts? Belts that are crash test certified, provide maximum safety, offer comfort, and are durable make the best dog seat belts. Read on to understand the details of each of these features.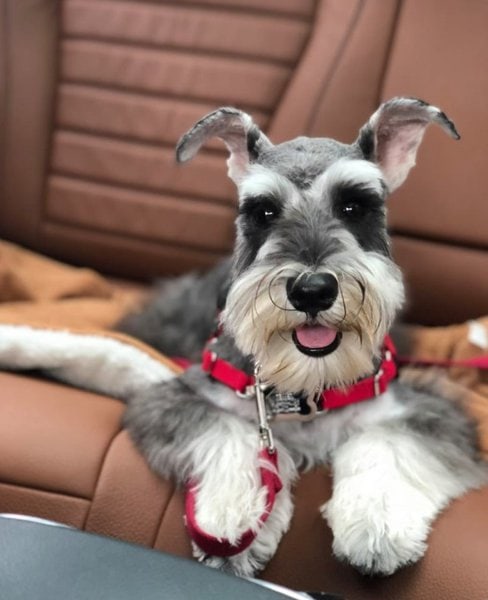 The Surety In A Crash Test Certified Dog Seat Belt
A crash test is a rigorous trial conducted on a product to ascertain its high standards of performance. A crash test for a dog seat belt examines its capacity to withstand the impact from an unintended movement of the car (abrupt braking or the force of collision) combined with the weight of the dog.
Submitting a dog seat belt for a crash test is solely the manufacturer's choice. Ordinarily, most manufacturers have internal processes for crash tests. But a dog seat belt that has been submitted to an independent assessor such as The Center for Pet Safety (CPS) makes the crash test certification more credible to the dog owner.
Check with the manufacturer about their product's crash test status before proceeding to make your order. An answer in affirmation should make you go for the deal since it confirms that the belt has been proven fit to use for your dog's safety.
Be keen on the specifics of the crash test process. Some of the dog seat belts on offer may read 'crash test certified' when they have only been tested on their ability to keep your dog from distracting you while on the wheel. Instead, a comprehensive crash test for dog seat belts should address the following:
The belt's capacity to keep the dog at restraint without breaking or releasing the dog to launch.
The surety that the dog stays on the seat during the test and does not fall on it even while attached to the belt. Any of this could predispose the dog to injury.
The possibility to adjust the tether to 6 inches or less. Longer tethers can cause the dog to launch or tangle him/herself, with the risk of harming the dog.
Does the belt show similar resistance for all the available size variations?
Making sure that your choice of purchase has passed all these aspects of the test assures you that you are not chancing on your dog's safety while using the belt. You will, instead, be confident that your dog's safety is on a tether that has been proven sturdy enough for the purpose.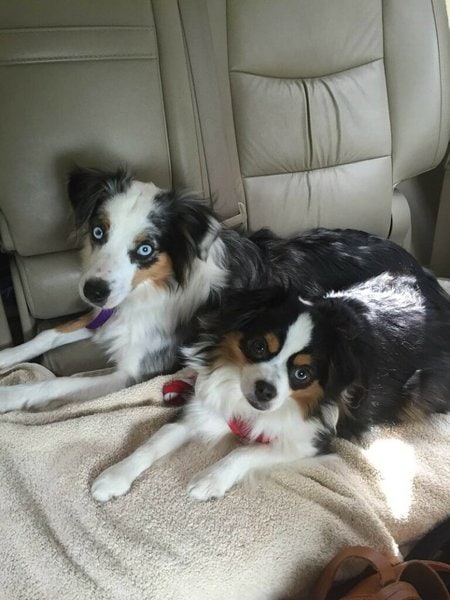 Dog Safety In A Space Designed For Humans
Car safety features such as seat position and seat belts are generally designed for the safety of humans. This means that it's already difficult to keep your canine friend safe in a car. But most dogs find the car ride exciting, and the loving dog owner's heart would bleed to leave their pal behind.
A dog in the car is exposed to some dangers.
They can yield to the joy of a car ride and leap out of an open window.
They may hang their head out of an open window and be hit by a static or external object in motion.
They may be harmed by an airbag that is released for the safety of adult passengers in the event of an accident.
They may turn into a projectile if they are loose in a traveling crate.
While keeping your dog safe in a space designed for humans can be tricky, using a dog seat belt is the best way to keep your pet safe in the car. This implies making use of available human-safety features to protect your dog in the following ways.
First, safe use of a dog safety belt means making it long enough to allow your dog free movement but short enough to buffer him/her from hitting into the front seats in case of an accident. To achieve this, opt for a product that can be easily adjusted to fit the purpose.
Dog seat belts are safer when used with a harness rather than being attached directly to the ordinary leash or dog collar. In case of an accident, the harness distributes the force from the belt to the canine's chest and back and reduces the force on the neck. For this safety detail, products like the Slow Ton and the Kurgo Dog package are optimal choices.
A third way of ensuring dog safety with a seat belt is making sure that a buckled dog seat belt cannot be easily unbuckled if the dog accidentally steps on the release button. Here, the option would be to choose between a belt that attaches to the car seat by a safety belt clip or by a latch bar attachment. A latch bar attachment is safer for your dog (see the Mighty Paw Chew-Proof Dog Seat Belt).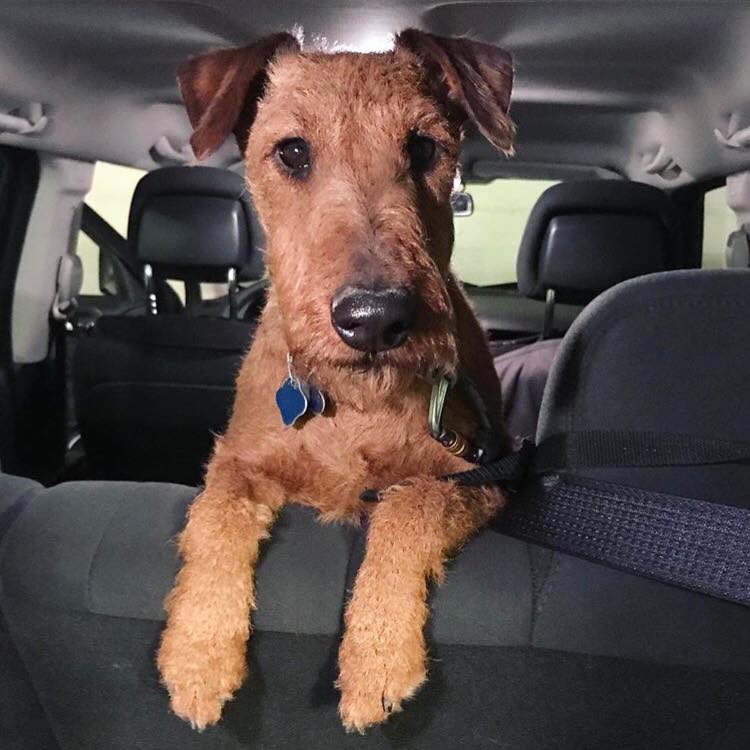 Your Dog's Right To A Comfortable Ride
Dog safety guidelines direct that they are let loose enough to move around at the back of the car. But dogs should be restrained so they do not jump on your lap while you drive or jump out of an open window.
Creating a balance between restraint and the right length of the dog's seat belt is a core element of comfort when it comes to your dog's ride aboard a vehicle. While little restriction may predispose your dog to injury by being tossed around the moving car, too much restraint will make your furry friend wish he/she had stayed back home with some space to breathe.
Ordering an adjustable seat belt (like the Lukovee Dog Seat belt) or purchasing a model that is specially made to fit purpose and dog size (like the Slow Ton) comes in handy when you are trying to create the balance between restraint and comfort.
When thinking about comfort, consider the part of the body where the force of the seat belt will be exerted in case of abrupt breaking or a head-on collision. If your dog's seat belt hooks directly to the neck collar, you are putting your dog at the risk of choking should he/she be subject to extreme force owing to an accident. You sure don't want to witness that.
A comfortable dog seat belt is one that attaches to a harness. Opt for seat belts that come with a harness such as the Slow Ton. If you go for the budget-conscious Vastar or the chew-proof Mighty Paw, be sure to order a chest vest alongside the seat belt.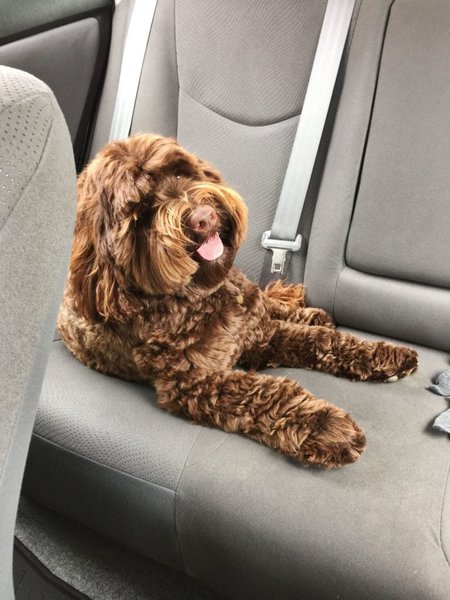 Considering The Dog Protection Aspect Of Durability
Durability implies two key aspects: how long the dog seat belt lasts and its sturdiness when subjected to impact. While it is important to purchase a dog seat belt that serves you for the longest, our focus here is on the resistance of the belt to extreme force.
In case of an accident, which is what a seat belt should protect your dog from, a dog's seat belt should be sturdy enough to withstand the extreme impact of a pull. If your dog's seat belt is made of straps that cannot withstand pressure, then your dog is at great risk in the event of an accident. A belt that buckles loosely and unbuckles with every little force is a ticking time bomb against your dog's safety.
Go for dog seat belts that fasten well on the seat belt buckle. Checking the compatibility of a product with your car model is one crucial way of ensuring that your dog's seat belt will stay buckled and protect your dog in case of an accident.
You should assess the strength of the seat belt's material before making a purchase. Nylon strap seat belts are popular for their capacity to withstand extreme pull. But, if your dog has the habit of chewing the leash, consider getting a car seat belt that is anti-chew like the steel Mighty Paw Chew-Proof dog seat belt.
Durability should also be tested on the hooks and swivels. Dense stainless metal hooks and swivels are the best in this case. A rotating swivel snap will offer greater resistance to pressure. Instead, a static carabiner may easily yield to pull at the hooking joint.
---
Final Thoughts
---
Having established that the best dog seat belt should be safe and comfortable for your dog, there is no doubt that our top pick passes the test on these qualities.
Hooking the seat belt on the breathable mesh chest vest will give your dog protection and comfort from the sweat-absorb fabric. Besides, the sturdy nylon straps are good at withstanding pressure in case of an accident and the adjustable length is perfect for all dog sizes.
Which dog lover would miss out on a product that is perfect for safety and comfort for their canine pal?