The best dog shampoo for dander is The Ecology Works Anti-Allergen Pet Shampoo.
Dog dander is an absolute nightmare. From aggravating your dog allergies to ruining your pooch's coat, the havoc these microscopic flakes bring is definitely not welcomed. Vacuuming and general grooming may help, but the most effective way to deal with the problem is to get the best dog shampoo for dander for the job.
Here are 7 of them:
#1 The Ecology Works Anti-Allergen Pet Shampoo
Our number one pick stands out because it seeks to deal with the root of the problem and not just the problem itself. A lot of dander comes from infestation with external parasites. These include dust mites and fleas. This shampoo works by putting an end to its reign of terror with its dust mite allergen-neutralizing and flea-control formula.
It is, therefore, a fantastic choice when dealing with dander as in addition to helping you with general grooming and getting rid of what has already built up, the shampoo minimizes the formation of new dandruff. With consistent and correct use you should start to see the results after a few washes.
The shampoo also has a 2-in-1 function with the conditioning feature. This will leave the dog's hair and skin smooth and healthy. It works by helping with moisture retention. And the wetter the skin and the hair both get, the less likely they are to flake off.
If you are allergic to your pooch, then this dog shampoo for dander is easily one of the best solutions you have to look forward to. It is incredibly effective and features high-quality ingredients for maximum effectiveness. With all its perks it easily takes the top spot and will definitely not disappoint.
Pros
---
This shampoo consists of a plant-based, hypoallergenic formula designed to neutralize protein allergens once they come in contact with your pup's skin and fur, and this makes it perfect for doggies with allergies.
It has sustained release odor protection which ensures your pup stays smelling fresh and great for hours.
It contains pup-friendly ingredients, which include deionized water, an anti-allergen additive, aloe vera, plant and mineral-based non-ionic surfactants, neem tree extract, and yucca.
Its formula helps to limit pet dander and can help your pup to handle skin conditions that may be caused by ticks, fleas, and dust mites.
It is an easy-to-use shampoo, and its 2-in-1 formula helps to keep your pup's skin and coat feeling smooth and healthy.
Cons
---
Some pups experienced extreme fur shedding after using this shampoo.
There are pups who break out in hives in specific parts of their bodies with continued use of the shampoo.
#2 Veterinary Formula Clinical Care Hypoallergenic Shampoo
SALE ALERT!!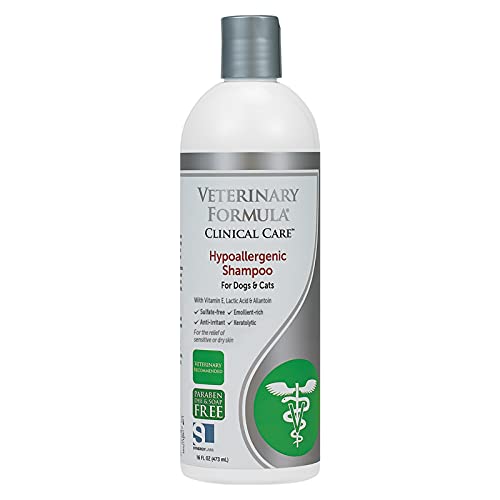 The Veterinary Formula's alternative is popular for its skin-soothing and restoration effects. This shampoo helps to minimize dander as it keeps the skin intact under the coat. This, in turn, translates to less flaking of the skin.
The shampoo achieves this feat through the use of high-quality ingredients, excluding sulfates, parabens, and dyes. These ingredients include vitamin E oil, coconut oil extracts, lactic acid, and allantoin. They all play a role in healing the skin and promoting coat health in general. In this way, your doggie will not only have healthy dandruff-free skin but also strong and shiny locks.
You have the hypoallergenic soapless formulation to look forward to with this purchase. This makes it ideal for dogs with a history of allergic reactions to other grooming products. The formula also indirectly helps with the reduction of dander formation by ensuring that the skin does not get irritated in any way.
If you are shopping on a budget for a dog with sensitive skin then this soapless option right here would be ideal for you. With its mild yet effective formula, you can rest assured that you will get value for your money. And your dog gets to enjoy it too with the safe ingredients in the shampoo.
Pros
---
Its formula is made to take care of dogs and cats, and this is because the pH-balanced treatment works for each pet skin type.
This shampoo contains gentle coconut-based cleansers, and it is free of harsh ingredients, artificial fragrances, and dyes, perfect for pups with sensitive skin.
This hypoallergenic shampoo helps to keep your pup's skin and fur shiny and healthy thanks to ingredients, such as vitamin E to boost dull skin and fur, lactic acid for moisture retention, and allantoin to give them relief and soothe irritated skin.
The shampoo's formulation is tear-free and fragrance-free such that it is pup- and kitty-friendly.
It is designed to clean the skin, but it will not wash away any existing tick or flea treatments applied to your pup's skin or coat.
Cons
---
Causes flaky skin dandruff after some use on parts of your pup's skin.
Some doggies' skin felt sticky after use, which may lead to dust or foreign particles settling on the skin due to its adhesiveness, causing an itch.
#3 Allertech Anti-Allergen Pet Shampoo
SALE ALERT!!

AllerTech® Anti-Allergen Pet Shampoo 16-oz Bottle
Allertech Pet Shampoo is scientifically formulated to specifically address the presence of pet allergy irritants. Our...
Nature's Best for Your Bestie: Our pet shampoo is crafted with natural, hypoallergenic ingredients, ensuring a gentle...
AllerTech Pet Shampoo stops pet allergy irritants in their tracks! Clinically tested for effectiveness, it helps protect...
Here you have a soap-based 16-fl-oz shampoo. This non-allergenic pet shampoo from Allertech contains non-ionic surfactants which help with foam formation and for a more thorough cleansing. This is great news for you as it means that you need less product to get the job of removing dander done.
If you are worried about the use of a soap-based option then you can rest at ease with this alternative. This type of surfactant offers the additional benefit of being less harsh on the hair and the skin. It does not strip them of their protective lipid layers like what other low-grade commercial surfactants do, which is definitely something worth celebrating.
This Allertech shampoo alternative is a good option for dog dander if you want something simple yet effective that has a lot to offer you, in terms of functionality with just one purchase.
Pros
---
Comes in an economical 16-oz bottle and has a non-allergenic and non-toxic formulation that works on pups, cats, and other small pets for allergy and asthma relief.
It comes in a 2-in-1 formula in that it acts both as a shampoo to clean away any dirt while also conditioning the skin and coat to keep it soft and healthy.
Its formula is ideal for cleaning away allergens, like dander and dust mites, and is also odor-free for pups with such sensitivity.
This shampoo contains non-ionic surfactants, emollients, and an anti-allergen base which will give your furry friend up to 30 days of protection from ticks and fleas.
It is easy to use and all you need to do is apply water on your pup, use the shampoo to clean, thoroughly rinse your pup and wipe them dry with a towel.
Cons
---
It causes pup owners to have dry and flaky skin after cleaning their pups, so gloves are a must when using this shampoo.
Some pups and pup owners feel it has a strong smell which can be uncomfortable for pups.
#4 Arava Natural Medicated Dog Shampoo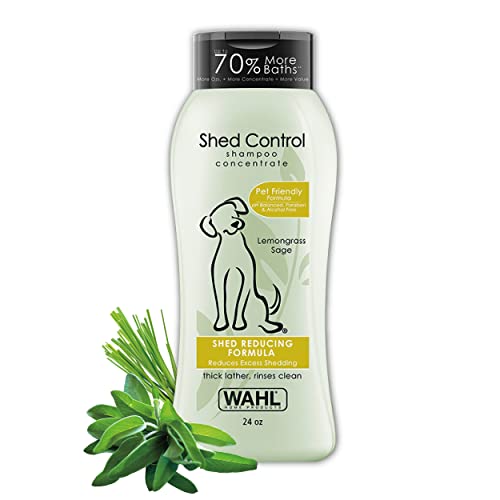 WAHL Shed Control Pet Shampoo for Dog Shedding & Dander – Lemongrass, Sage, Oatmeal, & Aloe for...
Made in the USA - Our lemongrass, sage, oatmeal, & aloe pet shampoo is pH balanced, alcohol free, paraben free, PEG-80...
Shed Control Formula – This lemongrass & sage scented dog shampoo is great for keeping the skin and coat healthy which...
Less is More - Wahl has a higher concentrate of coconut derived sodding agent, which means you don't have to use as...
Is your dog suffering from a pesky skin disease that is just so hard to treat? Then this shampoo may offer some relief from the constant itching your dog is experiencing.
The shampoo is specially formulated as an anti-inflammatory shampoo that can heal hot spots, scrapes, irritations, and abrasions.
It is 100% all-natural with 28 active botanical ingredients like reishi, pomegranates, aloe vera, chamomile, kelp, and rosemary that fights itchiness and promote skin healing.
It is also unique in its addition of Dead Sea salt minerals that deeply cleanse the skin and remove dead skin and dandruff. Being rich in magnesium, it hydrates the skin by bolstering the skin's lipid barrier.
What's more, is that it is pH-balanced, so you can be assured that it is gentle and safe on your pooch's skin.
Arava Natural Medicated dog shampoo has been proven by many users to be effective. Many have claimed that its regular use contributes to healthier skin, resulting in shinier and thicker coats. Hence, you will never go wrong with this brand of shampoo for your dog.
Pros
---
This shampoo comes in a 24 oz bottle and contains up to 5% more surfactants, and this gives you up to 70% more baths, making this product a good value for money.
It is a pH-balanced, paraben-free, and alcohol-free formula, which makes it safe for use on pups with allergies.
This shed control shampoo is rich in oatmeal, sage, and lemongrass, and this keeps away bad odor while reducing shedding significantly.
It has a rich lather which helps to clean and get rid of all types of dirt and allergens while making the skin and coat shiny and healthy.
It contains a coconut-derived sodding agent, and this lets you use a small amount of shampoo with each wash.
Cons
---
Some doggies experienced stiff hair after using this shampoo.
It can dry out or cause dandruff after using this shampoo for some time.
#5 Shed-X Shed Control Dog Shampoo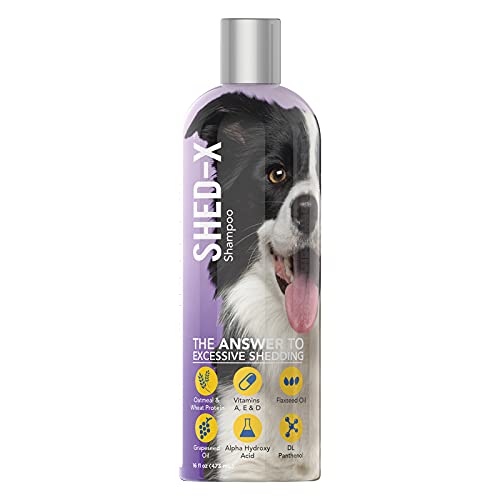 The Shed-X shed control dog shampoo helps deal with dander by promoting healthy skin. It does this by infusing it with useful compounds like vitamin A, D, and E. It also contains omega-3 and omega-6 fats.
The combination of all these nutrients promotes skin repair and overall health. The result is that you get to not only deal with the current dander but also prevent the formation of new dander.
The vitamins and essential oils, as well as other ingredients like DL Panthenol, also help with shedding control, which is another major perk that you and your furry best buddy will look forward to. The ingredients help strengthen the hair all the way down to the roots for a thicker, smoother, and generally healthier coat.
This product from Shed-X is worth considering as an alternative especially if you are dealing with dandruff and excessive shedding as its formula takes care of both. It is also fantastic if you want something with a fruity and spicy scent to it for odor control.
Pros
---
This shampoo is available in a 16-oz bottle and helps to thoroughly clean, reduce shedding and exfoliate the skin of pups 12 weeks and older.
Contains wheat and oatmeal protein which helps to supply needed amino acids to the skin and coat, leaving them shiny and healthy.
It is rich in flaxseed and grapeseed oils to infuse your pup's skin with omega-3 and omega-6 fatty acids to moisturize both the skin and coat while further infusing the skin with antioxidants to reduce inflammation.
Has Alpha Hydroxy Acid to exfoliate and moisturize your doggie's skin and also DL Panthenol which helps with strengthening the hair shaft and reducing shedding.
It has a great pomelo fragrance to keep bad odor away and will not wash away tick or flea treatments applied to your doggie's skin or coat.
Cons
---
Can sometimes cause chunky and excess dandruff after some use.
Some pups are reported to be experiencing hive breakouts and swollen eyes after use.
#6 HONEYDEW Lavender Oatmeal Natural Dog Shampoo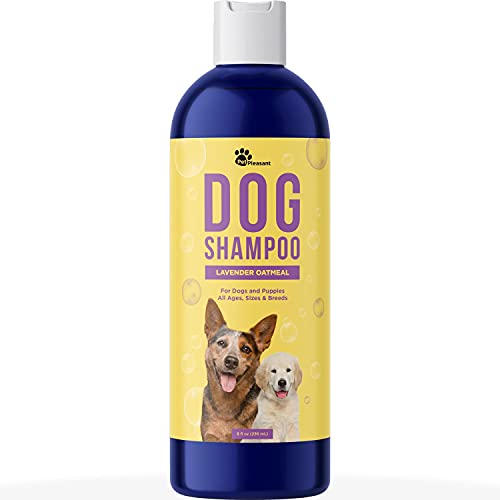 This choice is fantastic if you want something more natural. It includes colloidal oatmeal. Unlike the extracts, this has more of the good stuff including proteins and fats necessary when it comes to soothing and restoring the skin. This is important as it helps to keep your pooch's coat well-moisturized and as such less likely to become flaky and form dander.
Moreover, you have the lavender extract to look forward to from this shampoo. This might not necessarily help with dander prevention but it does a commendable job in helping to keep your dog nice and calm. It also offers a natural floral scent which is perfect if you wanted something to help you mask any associated odors.
This is an excellent pick if you are shopping for a dog with a history of skin sensitivity. The oatmeal will soothe them right up and help you deal with any current and future dander build-up.
Pros
---
This lavender and oatmeal formula shampoo is ideal for large and small pups, as it is a potent cleanser while fighting off odor after use.
Contains colloidal oatmeal that provides good fats to your pup's skin and coat to not only make skin smooth but also reduce skin irritation.
It contains ingredients, such as aloe vera, jojoba seed oil, and wheat protein, which help to revive dull fur and offer a soothing effect while helping to get rid of dandruff.
It is hypoallergenic and has a pH-balanced formula which means it is perfect for pups with sensitive skin.
If unsatisfied with the shampoo, you can take advantage of the 100% money-back guarantee.
Cons
---
Pups with extreme sensitivity challenges have experienced itching and allergic reactions.
Some pups experienced dry skin, chafing, and dandruff after using the shampoo.
#7 John Paul Pet Oatmeal Shampoo
SALE ALERT!!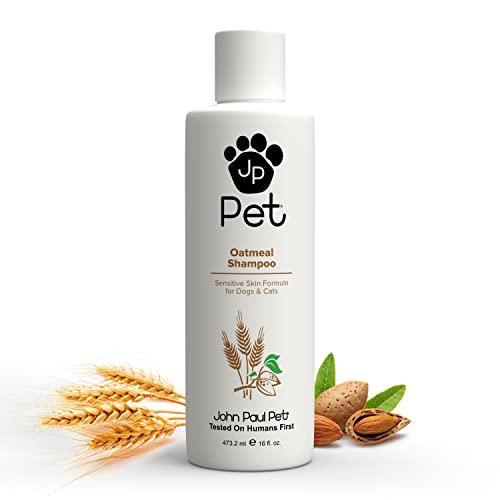 Here you have yet another oatmeal shampoo for dander that is ideal if you are also dealing with sensitive skin. What sets it apart is the combination with other high-quality natural ingredients including aloe vera, chamomile, and almond.
Aloe vera is highly effective when it comes to dealing with dog dander as it helps to moisturize the skin, thereby preventing further flaking. It also promotes healing in the event that the cause of the dander is due to irritated or damaged skin.
In addition to their soothing effects, the almond oil and chamomile extract will contribute to odor control. With this shampoo, you will have a clean, and fresh-smelling dog with healthy, dandruff-free skin.
The nutty smell on this shampoo from John Paul is a definite winner, especially if you like your dog shampoos with milder and more neutral scents. That aside, it is a pretty decent dog shampoo for dander.
Pros
---
This shampoo is available in a 16-oz bottle or the 1-gallon option, and it is labeled cruelty-free, meaning that no animals are harmed during its product testing before being made available on the market.
It contains aloe, chamomile, and hydrolyzed oat protein which moisturize your pup's fur while offering thorough cleansing.
Made of botanically derived and eco-friendly ingredients, which are perfect for soothing your doggie's skin without irritating it.
This shampoo has sweet almond oil, which helps to eliminate bad odor while relaxing your pup after a bath.
It is safe for pups as it contains no animal ingredients, and it is paraben and phthalate free.
Cons
---
Some doggies experienced itching and a rash after using the shampoo, which means they had an extreme allergic reaction.
Some pup owners noted that the scent was not as strong as it should be, meaning that the bad odor on their doggies may persist after bathing.
---
Dog Shampoo For Dander Buyer's Guide
---
Shopping for dog shampoos to control dander is a unique process. You will have to make special considerations and truly understand different specifications if you wish to make the best possible purchase.
Therefore, to help you out, here are 7 top things you need to know about shopping for this type of dog shampoo. With all the information and tips, whether you are a first-time buyer or you want to switch to something different you will know what really matters and what different features mean for you and your pooch.
Prevention Is Better Than Cure
To some extent, it is inevitable that your dog will develop some degree of dander. They shed skin cells every single day whether their skin is healthy or not. However, there is a lot that you can do to prevent the formation of excess amounts of dandruff.
One such solution is by getting a dog shampoo for dander that helps solve the issues that cause the skin damage in the first place. These include shampoos with activity against mites, fleas, and ticks. It also includes products with skin healing and restoration capabilities, both of which keep the skin healthy and intact as much as possible.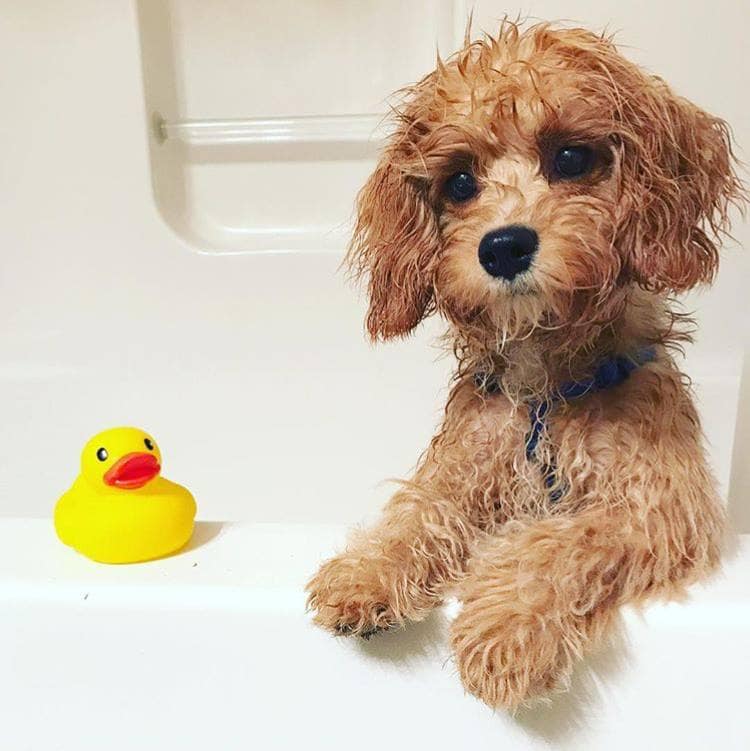 Your Dog's Safety Is Non-Negotiable
Some dog shampoos for dander can actually end up causing harm instead of helping. This is usually a result of having harsh ingredients in the formula. Some of the most common that you should look out for and avoid are parabens, alcohol, sulfates, and some surfactants. These could cause skin irritation which then worsens the dander problem.
Natural options are without a doubt the best way to go. However, there are some shampoos with other chemical ingredients that are still safe for your pooch including a few from our top 7 list. In these cases, the chemicals are considered safe for dogs and are in the right proportions to ensure effectiveness without damage.
Never Go Wrong Opting For Hypoallergenic Options
You will notice that quite a number of shampoos for dander that we reviewed above were hypoallergenic. These are actually the best when it comes to dealing with flaky skin. The reason is that allergic skin reactions account for a huge proportion of the blame when it comes to dander.
Dogs with sensitive skin or those exposed to harsh grooming products may develop the problem. Hence, it is just easier and safer to go with the hypoallergenic options as you are assured that what is supposed to help you doesn't actually end up making things more difficult for you.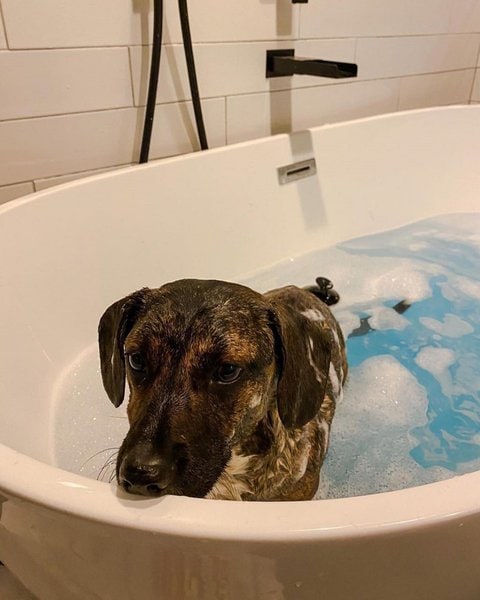 Is Fragrance Really A Priority?
When shopping for dog shampoo for dander, deciding whether to go for something with fragrance or not can be a little tricky. Options with deodorant effects or fragrance extracts help deal with the funkiness often associated with dander. In this way, you have a dog that not only has healthy, dandruff-free skin but also smells pretty awesome.
However, it is important to be careful as some perfumed shampoos can be a little too harsh and therefore end up causing more skin irritation and damage.
As such, it is best to play it safe by going for something with a mild enough fragrance that you deal with the odor but not so strong that you cause more trouble.
Consider A Multipurpose Shampoo
In an ideal world, a good shampoo for dog dander should do more than just one job. This will definitely help you save on money as you do not have to have a doggy tub full of grooming products where one could knock out several services.
An example here is our top pick. In addition to helping with the dander problem, it neutralizes odors and also conditions the coat which means you are pretty much guaranteed full value for your money and then some.
A lot of the other options also include additional benefits, such as skin-soothing and restoration effects for irritated skin.
Whatever the combination is, it is always a bonus to have one shampoo that does more than just help you deal with dander. Just make sure you go for something where the quality and effectiveness of all the services are not compromised by the product's multipurpose property.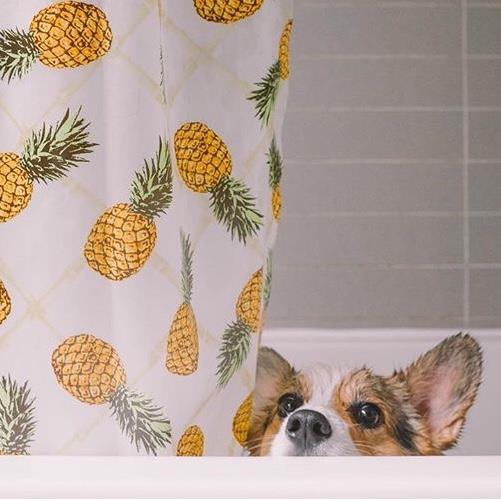 What Natural Ingredients Actually Work?
You will notice as you are browsing through your different options that there are very many options with natural ingredients. From oatmeal to lavender extracts, these look really nice on paper. The presence of the word "natural" just inspires confidence. However, not all of these ingredients will actually do any good for your dog as far as dealing with dander is concerned.
Those that actually do work, however, do a great job at it and the best part Is that your pooch is not exposed to any harsh chemicals in the process. They include oatmeal, aloe vera, vitamin E, and coconut oil.
Soap-Based VS Soap-Free
This has been a long-standing dilemma for dog owners when it comes to shopping for shampoos in general. It is a particularly vital consideration to make in this case given the specific condition of the skin when there is excessive dandruff formation.
Soap-based shampoos have surfactants that can be a little harsh on the fur and on sensitive skin. Soap-free shampoo, on the other hand, does not have surfactant and is generally gentler on both the skin and the fur.
Given your dog's state when it comes to dealing with dander, it is always best to go with the soap-free options. They are effective at cleaning without stripping the much-needed moisture and natural oils from your dog's skin.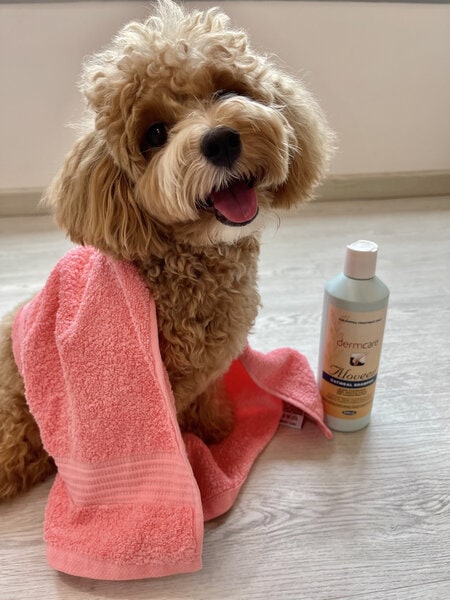 ---
Final Thoughts
---
Shopping for dog shampoo to get rid of dander is, at the risk of sounding dramatic, a precise art. It is a very unique situation that requires very specific action by the shampoo so not all options out there may be up to the task.
With our shopping guide, you now know what really matters and the specific considerations to be made so that you actually buy something that will help you. Our top pick, in this case, is a fantastic example of a product that has it all from the pet-friendly formulation to the multipurpose property. It is therefore a great place to start if you are stuck on your shopping journey. You definitely will not be disappointed.