Is your otherwise playful canine buddy's dry skin making it dull and inactive, thus taking a toll on your companionship? To get your doggie rid of dry skin, we've compiled a list of the best dog shampoo for dry skin, and we're sure you'll find the perfect formulation for your pet.
#1 PET SILK Rain Forest Shampoo

Pet Silk Rainforest Shampoo, 16-Ounce
THROUGH CLEANSING: Give your pet a clean, shiny and smooth coat with our pet hair shampoo. Let your pet play in the...
DELICATE FLORAL SCENT: Great smelling pets are loved by all! Your cute little pooch will feel refreshed for a long time...
SAY NO TO HARSH CHEMICALS: Never treat your pooch with harsh chemicals which may cause allergies or damages to its...
PET SILK Rain Forest Shampoo contains a unique blend of non-harmful cleansing agents, natural ingredients, and moisturizing agents. This pet-friendly formulation ensures that your dog's skin stays moisturized, thus acting as a remedy for dogs with dry skin.
Silk fibers, being a major component of this formulation, are well-known for their role in adding shine and luster to your pet's coat whilst preserving the moisture content of the skin.
Besides cleansing and moisturizing agents, nourishing ingredients present in the shampoo play a key role in rejuvenating your pet's dry skin. A unique floral scent added to this recipe makes your pet smell great too.
It can prove to be a boon for pet owners and pets alike because this shampoo is suitable for all other furry pets, such as rabbits, cats, horses, etc.
This product from PET SILK is our top-most pick because a deeply moisturizing shampoo with a long-lasting floral scent is all you'll need for a pet with dry skin. The harsh synthetic ingredients react readily with dry skin and cause irritation, that's why no harsh chemicals have been added to this product.
Pros
---
Available in 16-oz, 1-gal, and 2.5-gal bottles.
No harsh chemical additives.
Rich in silk fibers.
Suitable for dogs, cats, rabbits, and other furry friends.
#2 Veterinary Formula Clinical Care Medicated Dog Shampoo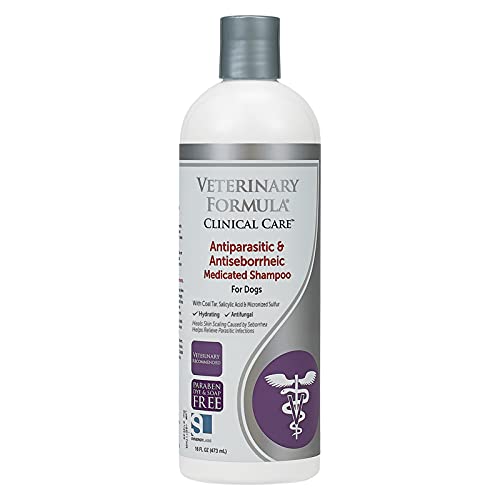 This medicated shampoo from Veterinary Formula is very effective in treating multiple skin conditions which result in dry skin. Its major ingredients include coal tar, salicylic acid, and micronized sulfur.
Coal tar is best known for its effectiveness in treating seborrheic dermatitis, a condition characterized by dry, scaly patches on the skin. Micronized sulfur has proven results in treating several skin conditions, such as acne, eczema, and psoriasis, which are all major causes of skin irritation.
In addition to its powerful skin benefits, colloidal oatmeal and Allantoin keep your bongo's skin hydrated and promote the healing of dry and chapped skin. It's a fast-acting formula that manages to reduce dryness, inflammation, and skin irritation effectively.
Looking for an All-In-One skincare shampoo that comes at economical pricing? Here you go! Veterinary Formula has somehow managed to formulate this medicated skincare shampoo that takes care of your pet's dry skin and other skin conditions. We'd highly recommend you go for this shampoo if its effectiveness and cost-friendly nature are your top priorities.
Pros
---
Comes in a 16-oz container.
Possesses both anti-parasitic and anti-fungal properties.
Uses pH-balanced formulation.
For dogs over 12 weeks of age.
#3 OLIVER'S CHOICE Dog Shampoo
Packaged in a 14-oz bottle, OLIVER'S CHOICE dog shampoo works best against dry, itchy skin and soothes irritated skin, bringing instant relief to the dog.
The primary natural ingredients present in this formulation are oatmeal, shea butter, and aloe vera. Let's take a closer look at each ingredient.
Firstly, oatmeal is renowned for its efficacy in moisturizing and nourishing the dog's skin. Shea butter acts as an excellent alternative to harmful lathering chemicals which cause irritation to sensitive skin. Lastly, aloe vera helps to heal the skin, on top of its antibacterial and antifungal properties.
The resulting fragrance from this blend would make the smelliest dog smell fresh and sweet. In addition, all the ingredients are not pre-tested on animals, making the product cruelty-free.
If your pet's skin often stays dry and is very sensitive, the best option will be to treat it with this 100% natural shampoo from OLIVER'S CHOICE. This product comes with the goodness of natural ingredients, ensuring that your doggie's skin gets nourished and moisturized without irritation.
Pros
---
Suitable for dogs of all sizes and ages.
Uses no harmful chemicals and is 100% biodegradable.
Made in the USA.
Money-back guarantee.
#4 K9 Pro Oatmeal Dog Shampoo And Conditioner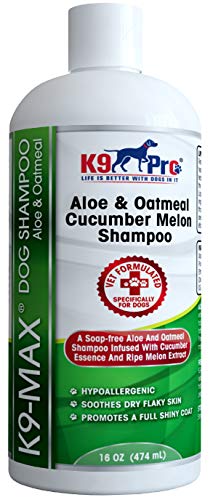 K9 Pro Dog Shampoo and Conditioner is an all-natural product, more effective than synthetic shampoo. Its effectiveness is due to Nano Liposome technology which ensures that natural ingredients penetrate deep into your canine friend's skin.
Its all-natural primary ingredients are oatmeal and aloe vera, making this shampoo an effective formulation for treating dry, itchy, and sensitive skin. It's because both ingredients are widely known for their moisturizing and nourishing properties.
If you're concerned about whether the ingredients of a typical pet shampoo will harm your pet's skin, this all-natural dog shampoo and conditioner from K9 Pro is the answer. Besides, its unique blend of cucumber essence and ripe melon extract gives this shampoo a refreshing scent.
Pros
---
All-natural product.
Nano Liposome technology.
A fragrance made from an infusion of cucumber essence and melon extract.
Money-back guarantee.
#5 Rocco & Roxie Dog Shampoo
SALE ALERT!!
After a day of frolicking in the dirt and sun, it is great to pamper your dog with a nice spa-like bath. Whether your dog has delicate, irritable skin or you want a shampoo to help condition its coat, the Rocco & Roxie dog shampoo has everything your dog needs.
It is formulated in 3 different varieties depending on the treatment you want. For dogs with delicate skins, the Calm Hypoallergenic Shampoo has aloe vera extracts that soothe skin and rosemary extracts that stimulate follicle growth.
For dry and itchy skin, there is the Soothe Oatmeal Shampoo, which contains oat extracts and shea butter to help seal in the moisture within the skin layer. And, for a nice healthy coat, the Shine Conditioning Shampoo works best with its added argan oil and vitamin A ingredients that help restore the coat's natural luster.
The unique formulation of Rocco & Roxie dog shampoo is gentle on your dog's skin, and frequent washing with this shampoo will not dry out its skin. The shampoo is thick and does not lather up like other products, but it does the job pretty well.
Pros
---
Comes in three varieties.
Does not contain alcohol, formaldehyde, phthalates, and paraben.
Formulated for easy shampooing and easy rinse-off.
A 100% guarantee.
#6 Nature's Miracle Oatmeal Shampoo
For an overall clean and healthy coat and skin, Nature's Miracle dog shampoo is a great shampoo to try on your dog. It is an oatmeal-based dog shampoo and conditioner accompanied by an odor-neutralizer.
Oatmeal is extensively used in natural pet shampoo because it not only moisturizes dry skin but also soothes inflamed, irritated skin, reliving symptoms of hot spots and allergies.
Furthermore, natural cocoa is present in this formulation, and this supplies your doggie's skin with essential vitamins and minerals, thereby nourishing its skin and hair.
For pets with severely dried-up skin, Nature's Miracle is all you need. The presence of natural ingredients, such as oatmeal and cocoa, makes this product a strong moisturizer and nourisher.
Essential minerals, such as magnesium and zinc, are present in cocoa which further supplement the overall hygiene of your pet's scalp. Lastly, its honey sage scent leaves a fresh, sweet smell on your dog.
Pros
---
It's a soap-free product.
Natural cocoa is present.
Honey sage scent.
Comes in a 32-oz bottle.
#7 Earthbath Oatmeal And Aloe Shampoo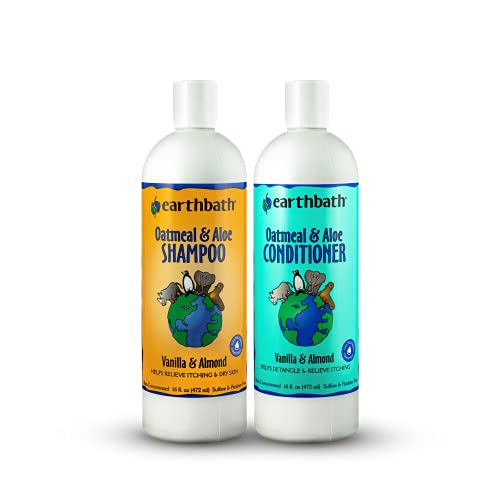 This special Oatmeal and Aloe formulation from Earthbath addresses the needs of pets with itchy, dry skin.
Dry skin naturally tends to be sensitive and gets irritated very often. That's why, Earthbath shampoo comes with a pH-balanced, soap-free formula that cleanses and moisturizes your doggie without irritation.
Aloe vera heals the chapped, dry skin, while oatmeal re-moisturizes the dry skin. The product's vanilla and oatmeal fragrance deodorizes your pet and keeps it smelling fresh for days.
Tired of your pet's persisting skin irritation? Go for Earthbath Oatmeal and Aloe Shampoo, and thank us later! Your pet's dry skin will stay moisturized and healthy after a few playful baths with this shampoo.
Pros
---
100% biodegradable and cruelty-free.
Contains no soap, no sulfate, no paraben, and no phthalate.
Uses a pH-balanced formula.
Suitable and safe for dogs, puppies, cats, or kittens over 6 weeks old.
Effective against skin irritation.
---
Dog Shampoo For Dry Skin Buyer's Guide
---
Picking a dog shampoo for your beloved dog to tackle the issues caused by dry skin requires knowledge prior to a trip down to the supermarket or a pet wellness store. Making an informed decision on the purchase of a dog shampoo will save you money, anxiety, and, most importantly, your dog's comfort and life. To gain this knowledge, let's take a closer look at the causes of dry skin.
Common Causes Of Dry Skin In Dogs
Dry skin in dogs should not be taken lightly because its causes can range from mild skin infections to severe skin-related diseases. Most commonly, dry skin in dogs is due to a bacterial infection arising from a bite of flea/tick/termite or a skin-dwelling parasite. Other causes can include rare hereditary diseases known as alopecia, canine distemper, Cushing's disease, fish scale disease, and many others.
You should use a relevant dog shampoo for dry skin provided in the list above before consulting a vet because most of the time, dry skin gets healed just by making use of genuine dog shampoo for dry skin. However, if the condition persists, you're advised to consult a vet because it's not possible for a layman to diagnose the disease which might be causing dry skin.
Is Your Dog Suffering From Dry Skin?
Diagnosing that your dog is suffering from dry skin might not be as easy as you think. It's because the symptoms of dry skin may vary from one dog to another. However, there's a set of common symptoms that can help you in deciding whether your dog has dry skin.
The symptoms include:
Flaky skin
Itchiness
Dandruff
Unpleasant smell
Inflammation
Rashes
Scaly dermis
Among the above-mentioned symptoms, itchiness is the most common symptom, and it is manifested in most canine friends more often than the other symptoms. Hence, a visit to a vet is recommended if you can't figure out the problem by yourself.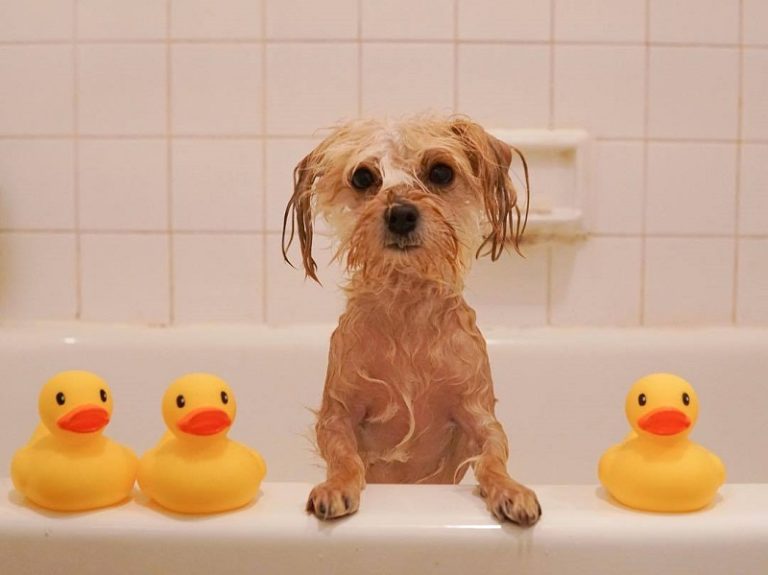 Benefits Of Dry Skin Shampoos For Dogs
Dog shampoos formulated for dry skin are specifically formulated with a multitude of moisturizing agents that keep your four-legged friend's skin hydrated and give it relief from dryness and its associated issues, such as irritation, inflammation, etc.
Unlike regular dog shampoos, this lot of shampoos come with a pH-balanced formula that maintains the pH levels of your pet's skin, thus preventing flaky, dry skin. Such shampoos have a soothing effect and help your pet control the constant itch, which will otherwise give rise to additional skin problems.
Some dry skin shampoos for pets contain oils that act against bacterial and fungal infections because dry skin often results from skin infections. Flea and tick bites can also give rise to skin infections which can, in turn, cause dry skin in your doggie. Therefore, oils, like lavender oil, can be present to serve as a repellent against flies and ticks.
Main Ingredients Of Dry Skin Shampoos
The chief ingredients that make up most dog shampoos for dry skin are oatmeal, shea butter, and aloe vera.
Oatmeal
Itchiness, commonly associated with dry skin, is relieved by oatmeal. It is rich in itch-relieving natural chemicals, like avenanthramides and phenols. Oatmeal also helps in the restoration and maintenance of the normal pH of a pet's dry scalp. It's highly effective in relieving symptoms of multiple skin conditions like psoriasis, eczema, allergies, and tick bites.
Aloe Vera
Dry skin is often associated with inflammation, flakiness, itchiness, and other issues. However, aloe vera has healing and soothing properties. It thus not only repairs the damage caused to the skin but also manages the symptoms associated with it.
Shea Butter
Some pet shampoos contain shea butter as one of the core ingredients used in making the shampoo. This is because of its moisturizing and healing properties. It helps a great deal in soothing your dog's dry skin patches, dry paws, etc.
Cocoa
Cocoa can be used as a remedy to relieve dry skin. Being abundant in fatty acids, it helps in managing dryness of skin caused due to skin conditions like eczema and psoriasis. It also acts as a moisturizer for flaky, dry skin, thereby posing as a perfect ingredient for dry skin shampoos.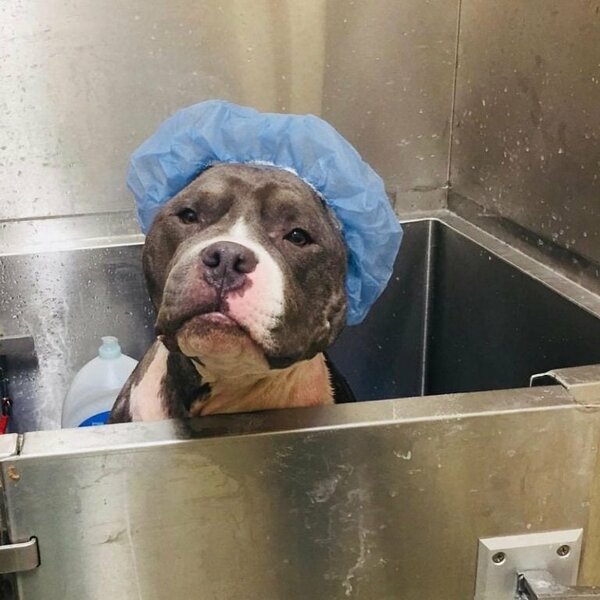 Things To Consider When Buying A Dog Shampoo For Dry Skin
Thinking of buying a dog shampoo for dry skin? Here's the checklist of essential things you need to keep in mind before buying one.
Healing Properties
If your furry friend's dry skin has been giving it a hard time, you should look for a shampoo with healing properties that is capable of healing the damage caused due to dry skin, like rashes, etc. The best option, in this case, will be to go for a medicated pet dog shampoo for dry skin.
Repellant Or Anti-Parasitic
There're dog shampoos available in the market which contain repellent oils, like lavender oil, which are capable of keeping fleas and ticks at the bay. If your buddy is suffering from dry skin caused due to a parasitic infection, shampoos with anti-parasitic ingredients will not only hydrate your pet's scalp but also get it rid of parasites.
Never Use Alcohol-Based Pet Shampoos
Given that your dog has dry skin, the use of an alcohol-based shampoo will make your pet's skin more irritated and result in extreme itchiness. Therefore, using a pet shampoo with no traces of alcohol is always a welcome step. For example, a dry skin shampoo based on shea butter instead of alcohol or synthetic soap can help your pet a lot in getting rid of dry skin.
---
Final Thoughts
---
The list of dog shampoos for dry skin provided above has been crafted to include shampoos for all types of dry skin conditions. However, if you want to buy a dry skin shampoo for your pet, we'd highly recommend our top pick for your consideration.
It's an all-natural dog shampoo provided with silk fibers ensuring that your pet's skin stays hydrated and nourished for days. However, you should keep in mind the individual requirements of your pet when buying a pet shampoo for dry skin.