The best dog wipes is Booyah Tree Free Bamboo Pet Wipes.
Sometimes, your pooch needs a quick wipe whether it is muddy paws or a smelly butt from anal secretions. In this case, nothing works better than wet wipes. They are convenient and effective and a lot easier for your dog than constant showers. In this case, here are 11 of the best dog wipes on the market.
#1 Booyah Tree Free Bamboo Pet Wipes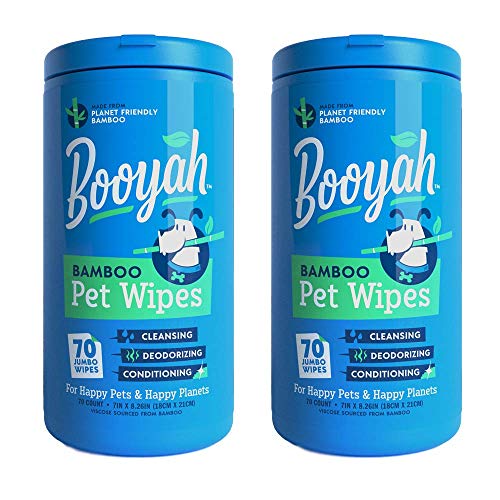 Our number one pick is a favorite among dog owners for its dog-friendly formulation. It features all-natural ingredients with the main active ones being aloe vera and vitamin E. They help to maintain the integrity of your dog's skin by keeping it moisturized and helping with healing in case there was any previous irritation.
In addition to cleaning and moisturizing, the Booyah Tree Free Bamboo Pet Wipes are designed with a special formula that conditions the dog's hair. You could therefore use these to give your pooch's coat a slight pick-me-up when it gets a little dull while at the same time freshening up the dog before the next wash.
The wipes themselves are made from sustainable bamboo material. This offers the benefit of being eco-friendly as it is biodegradable. The dog also has a lot to look forward to with this specification as bamboo wipes are particularly soft and therefore gentle on the little one's skin.
These wipes are easily the best on the market mainly due to their dog-friendly formulation. Everything from the wipe piece to the cleaning formulation includes natural ingredients which not only help you wipe off the nastiness but also leave the coat healthy and refreshed. If you want value for your money this is undoubtedly the best option.
Pros
---
70 wipes per pack
Unscented wipes
Free from parabens, chlorine and BPA
Hypoallergenic
#2 Earth Rated Dog Wipes
SALE ALERT!!
This option features a unique set of ingredients. These include aloe vera, shea butter and chamomile. Aloe vera is ideal for dealing with irritated skin. In addition to soothing, it has been shown to have antimicrobial effects which makes it ideal if you have a pooch currently dealing with issues like breakouts, skin infections or any other form of irritation.
The shea butter and chamomile also contribute to the soothing effect. Furthermore, they help maintain moisture not only on the dog's skin but also on their fur. They do so by creating a protective seal on the skin and hair layers to help with moisture retention.
This combination of ingredients also gives the Earth Rated Dog Wipes a very unique scent. You could make use of them if you want help with grooming a dog suffering from body odor for one reason or another. It is especially awesome if you like mild scents.
This might be one of the lower budget options, but this does not mean that they compromise on value in any way. From the natural ingredients to the pleasant scent you can rest assured that the pack is more than worth trying out. The best part is that it is safe for your dog with the hypoallergenic and chemical-free formulation.
Pros
---
100 pieces in a pack
Free from alcohol, parabens and sulphates
Cruelty-free production
Compostable plant-based wipe material
#3 Glandex Pet Wipes
SALE ALERT!!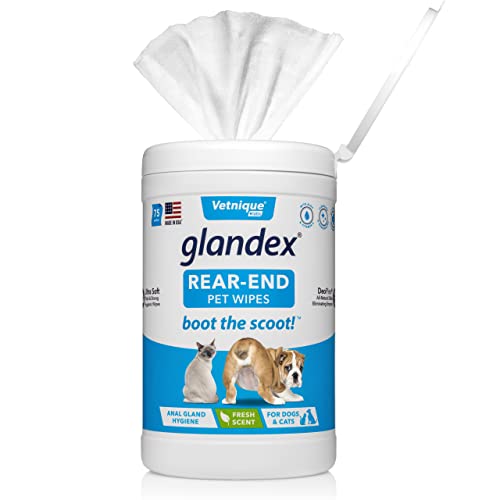 One of the leading causes of dog odors is anal gland secretions. If you have been around a dog with this you know it is nowhere near pleasant. That is exactly what Glandex Pet Wipes are designed to help you deal with. After all, washing your dog every day can and will get a little tiresome for both of you.
The wipes contain a special compound known as the deoplex enzyme. This is meant to bind to the odorous secretions from your dog's anal glands. This is a natural extract with deodorizing capabilities that neutralizes bad smells by breaking them down biochemically.
If you are tired of the stench from your dog's anal secretions and need a simple and quick fix then these wipes are more than up to the task with a simple yet effective natural solution.
Pros
---
Contains vitamin E and aloe vera
Thick wipe design for effective cleaning
Hypoallergenic formulation
Fragrance-free
#4 Pogi's Grooming Wipes
SALE ALERT!!
What sets the Pogi's Grooming Wipes apart from other alternatives on the market is the quilted design that the wipe leaves come with. Aside from giving them a distinct look, the style makes the wipes very effective when it comes to getting rid of dirt from the pooch's skin, paws and fur. It does this by offering better grip and friction.
They are therefore perfect if you want a pack of wipes to clean things like dirt and mud from your pooch after outdoor exploration. They will get the job done well allowing your little one to continue with the fun indoors without littering your space with dirt and grime.
These are some of the best quilted wipes that will get rid of all the dirt and nastiness from your dog's coat leaving them fresh and moisturized before their next deep cleaning session.
Pros
---
100 wipes per pack
Has no chemical additives
Includes aloe vera and vitamin E
Bamboo wipes
#5 Paws & Pals Pet Grooming Wipes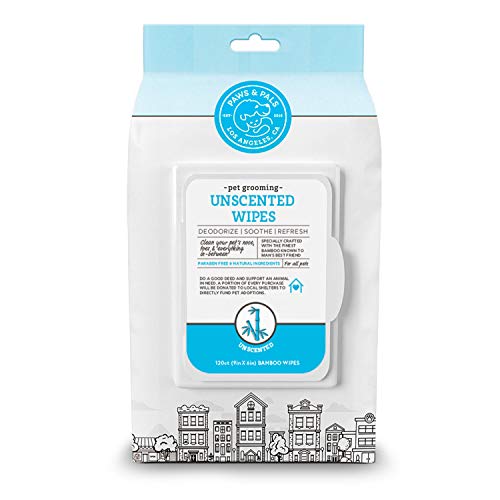 Paws & Pals Dog Pet Wipes, Eco-Friendly Bamboo Made for Deodorizing & Cleaning Sensitive Skin,...
INGREDIENTS: Water, Polysorbate 20, Cetylpyridinium Chloride, Aloe Barbadensis Leaf Extract, Alkyl Polyglycoside,...
DIMENSIONS: Each wipe is 9 inches x 6 inches and contain 120 wipes per package.
SAFE: The wipes are Hypo-Allergenic, Fragrance-Free, and formulated for sensitive skin. Plus, daily wipe downs will...
Here you have yet another set of dog wipes who's most impressive quality is the use of a set of all-natural ingredients. It includes aloe vera found in most of the alternatives on our list. This helps with moisturization and restoration in cases of damaged skin. Things with this alternative get interesting with ingredients like citrus and witch hazel.
Citrus serves several roles including antimicrobial activity as well as neutralizing dog odor. Witch hazel on the other hand is popular for its restorative effects on issues like dog acne. This pack of wipes is thus ideal if you are dealing with dog odor associated with issues like skin irritation and infections.
You have a lot to enjoy with this set from the distinctive ingredient combination to the large size of the individual wipes which both guarantee you an effective cleaning of your dirty doggy.
Pros
---
120 pieces per pack
Large wipes measuring 9″ long by 6″ wide
Hypoallergenic formulation
Mild fragrance
#6 PUPMATE Pet Wipes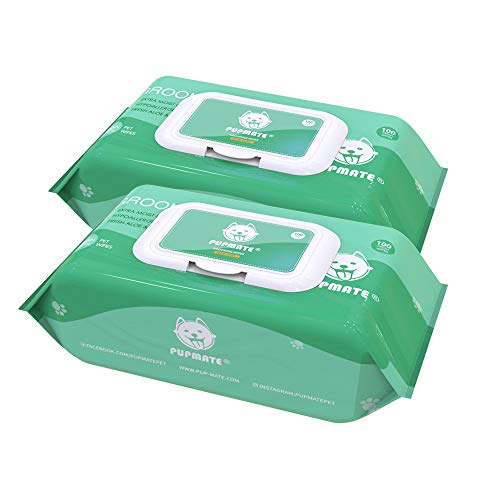 The Pupmate Pet Wipes are well known for their combination of cleansing, deodorizing and moisturizing effects all with one wipe over the dog's skin. The triple-threat formulation makes the pack ideal for dog owners who want something simple yet versatile in terms of effectiveness for full value from the investment.
All these benefits are from the use of high quality ingredients like aloe vera and Vitamin E. The specific proportions used in this formulation focus a lot on moisturization for both skin and fur health. So if your doggy has been looking a little dull and flaky then this is a pack worth considering.
The Pupmate Pet Wipe is a pretty simple yet effective pack of wet wipes that is ideal if you are looking for something affordable that still gets the job done.
Pros
---
100 sheets per pack
Hypoallergenic
Large wipes, 7.9″ long by 6.3″ wide
#7 PETRIBE Large Pet Wipes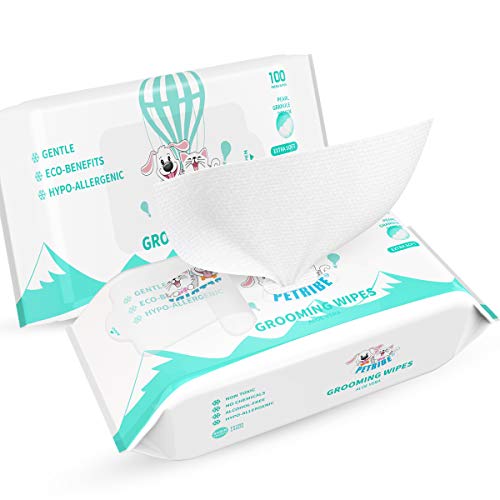 These wipes also stand out mainly for their size with their 8″ by 8″ dimensions. Larger wipes pack a bit more of a punch per sheet. This means that in the long run, you will need less for the same effect which definitely helps save you a lot of money.
The wipes are also unique as they are specifically pH balanced at a pH of 7. This balance is within the natural range of the dog's skin. It is ideal for those with sensitive skin as you do not have to worry about imbalance in acidity and alkalinity worsening the situation.
Size matters when it comes to getting full value from your wet wipes in which case the Petribe Large Pet Wipes definitely do not disappoint offering you more coverage with one swipe.
Pros
---
Contains aloe vera and vitamin E
Chemical-free formulation
Mild aloe vera scent
#8 Furbliss Hygienic Pet Wipes
Furbliss Hygienic Pet Wipes for Dogs & Cats, Cleansing Grooming & Deodorizing Hypoallergenic Thick...
ALCOHOL FREE - Hypoallergenic, unscented and free of parabens, alcohol, and harsh chemicals, safe for a dog or cat,...
CLEANSING WIPES - With aloe vera, vitamin E, natural deodorizers, and skin conditioners. Great for travel or everyday...
ELIMINATE ODORS - Gentle on sensitive areas yet eliminates tough odors, great for that stinky and dirty dog or cat
The Furbliss Hygienic Pet Wipes are the second on our list of options that contain the natural deodorant known as deoplex. The concentration here may not be as strong as wipes meant for anal secretions but it is still very effective in handling other dog odors.
It is therefore the wonderful alternative to consider if your furry best buddy has been smelling a little too ripe for your comfort. All you have to do is give them a good wipe and wait for the deodorizing enzyme to get the job done. What's more impressive is that it manages to neutralize the smell without leaving your pooch with an overpowering and unnatural scent.
This is a very good alternative for dog wipes if you want a simple yet effective solution for funky dog smells without having to put up with any strong artificial fragrances.
Pros
---
100 sheets per pack
Unscented
Moisturizing formulation
#9 Dechra 100 Count MalAcetic Wet Wipes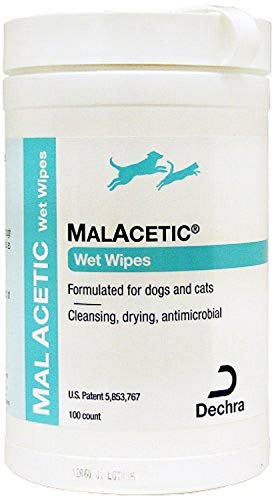 Dechra 100 Count MalAcetic Wet Wipes
MalAcetic Wet Wipes provide relief for hot spots and other skin conditions
Assists in treating mild fungal and bacterial conditions
Use for cleansing and soothing any skin condition, including hot spots, stud tail and chin acne for both dogs and cats
The Dechra MalAcetic Wet Wipes are designed to help relieve irritation on a dog's skin that is caused by microbes like bacteria and fungi. It makes use of effective yet safe chemicals like boric acid and acetic acid.
In addition to getting rid of the microscopic creepy crawlies wreaking havoc on your dog, the ingredients are also known to help deal with itchiness and general skin irritation. They are in fact so effective at their job that with just a few cleaning sessions now and then you should get rid of the problem in no time.
While they may not serve as alternatives to topical and systemic treatments, the Dechra MalAcetic Wet Wipes make the world of a difference when it comes to dealing with skin infections.
Pros
---
100 sheets per pack
Designed to promote moisture retention
Specially formulated to be pH balanced
#10 Mal-a-ket Dog Wipes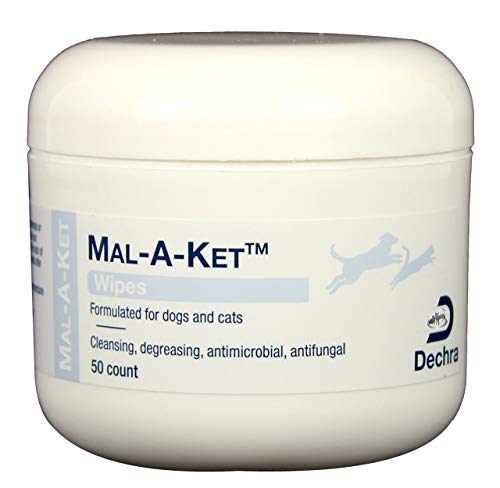 Mal-a-ket Wipes for Support Healthy Skin for Dogs, Cats 50ct by Dechra
Effective in treating bacterial and fungal skin infections in dogs and cats
Wipes allow for cleansing and degreasing the skin lesions while treating the infection
Mal-A-Ket Wipes are veterinarian recommended in treating localized skin lesions and supporting healthy skin for animals...
Another antimicrobial formulation set of wipes is the Mal-a-ket Dog Wipes pack and is just as effective when it comes to dealing with skin infections. The active ingredients here are 1% ketoconazole, 2% chlorhexidine and 2% acetic acid. These work wonderfully against fungal and bacterial lesions on the skin, nose, paws or even hair.
The wipes are also designed to degrease the dog's skin. This helps relieve clogged pores to help deal with acne while also reducing the level of oil films that sometimes facilitate the overgrowth of the microbes.
This is particularly useful for supportive management of fungal infection on different surfaces on the dog and with the effective and high quality ingredients you should get rid of the surface lesions on your pooch in no time.
Pros
---
50 sheets per pack
Has a deodorizing effect with a mild scent
#11 ScrubbyPet No Rinse Pet Wipes
SALE ALERT!!
ScrubbyPet No Rinse Pet Wipes- Use Pet Bathing, Pet Grooming Pet Washing, Simple to Use,Just Lather,...
CONVENIENT & WATER ACTIVATED - Super easy to use - single use water activated shower mitten can be used anytime,...
NO-RINSE FORMULA - No shampoo or rinsing required, just add water, lather up and scrub, the more water you add the more...
IDEAL USAGE- Dog walking, touch ups and clean up between grooming, hiking, travelling, pet accidents and more.
Last and definitely not least is a set of wipes unlike anything you have seen on our list or will see a lot of in the market. The ScrubbyPet No Rinse Pet Wipes feature a unique design both in terms of the wipe sheet style and the cleansing formulation.
The wipes take the form of mittens that you wear and use to scrub the dog. The fibers are infused with a special water-activated shampoo. All you need to do is wet the mitten, rub it to lather and wipe your pooch. This set is fantastic for dealing with dirt and mud making it ideal for outdoor expeditions whether it is a hike or a camping trip.
This set is not only effective at dealing with your dirty pooch but also economic as the sheets are reusable promising between 10 and 12 uses.
Pros
---
Hypoallergenic formula
Fragrance-free
No water needed for rinsing
Comes in 5 reusable mittens per pack
---
Dog Wipes Buyer's Guide
---
There are many dog wipes on the market which can make shopping for them a little bit trickier than it needs to be. The worst part is that a lot of them seem so similar on paper that it makes things even more complicated. If you have been stuck on your shopping expedition, you have come to the right place.
In the sections below, we will cover all the crucial features and specifications of dog wipes that you need to know about while making your decision. This should help you figure out what each packet has to offer you and your doggy. Here are the most important considerations to factor in:
Scented VS Unscented
One of the main reasons why you might need to get dog wipes in the first place is to help you deal with dog odor when basic washing up for some reason just isn't an option or a priority. This is where the question of whether to get scented or unscented wipes comes in.
With scented wipes, you have a formulation that helps you get rid of the odor by masking it with something that smells better. It could be something mild and neutral like aloe vera or a scent closer to dog deodorant formulations. The problem with these is that they tend to be a little harsher on gentle dog skin so it is not the best option if your pooch is sensitive.
Unscented options, on the other hand, might not work as well when it comes to masking odors. However, if you get an option with a good enough formula for efficient cleaning, you might not need the deodorizing effect.
Finally, you have the option of enzyme deodorant options. These are often found with the unscented wipes. They help deal with the funkiness by binding and neutralizing odor particles. This leaves your pooch smelling as fresh as they look and feel.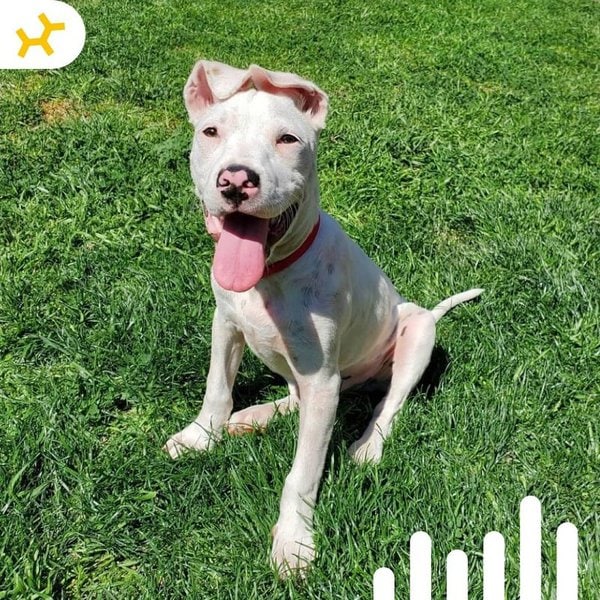 Consider the ingredients
The set of ingredients used with the specific wipes that you are considering are very crucial as they play the biggest role in determining whether or not you get full value for your money. They do this first and foremost by contributing to the overall effectiveness of the wipes. This depends on the specific needs you have from your wipes for your dog.
If you want an option to help you keep your pooch's skin nice and moisturized, you can never go wrong with the likes of natural oils and aloe vera. The latter further contributes to skin soothing and healing which is ideal if you want wipes to help with skin problems like dander and general irritation. Finally, wipes meant to deal with infections should contain an antibacterial or antifungal agent strong enough for the job in which case options like boric acid get the job done best.
Whatever your specific needs are, natural ingredients are always the best way to go. They are usually just as effective as chemical alternatives without any of the negative side effects.
Your dog's safety matters
Speaking of negative side effects, you also need to consider the ingredients carefully for your dog's general safety. The wrong set on your wipes could end up causing more harm than good which in addition to making your investment a waste puts your furry best friend in trouble they really didn't need to get into in the first place.
Here, it would be best to avoid chemical ingredients like alcohol and parabens among many others. These 2 in particular have been shown to strip the skin and fur of much needed protective layers of oils and proteins. This leaves the hair fragile and the skin irritated and it is all downhill from there.
While on the matter of safety, it is also the better bet to go with hypoallergenic dog wipes. These feature special formulas that are allergen-free. As a result, you do not have to worry about skin reactions or irritated mucosal surfaces like the nose and eyes from using the wipes.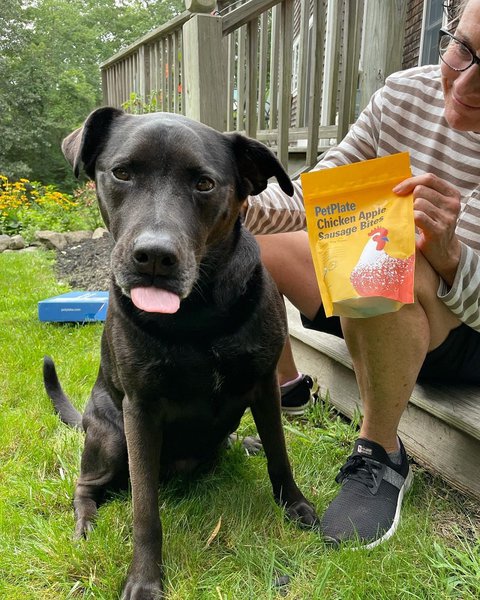 The value of pH balance
Behind that thick cover of fur on your dog lies very delicate skin with a very delicate internal environment. This includes the pH which falls in a neutral range of between 6.5 to 7.5. If this balance tips to either the acidic or alkaline ends of the spectrum, the skin is left more prone to issues like cracking, flaking and general increased sensitivity.
The pH on dog wipes varies depending on the ingredients used. You have to make sure that you settle for something that is specifically formulated to match the dog's sensitive skin environment. The result here is that the skin will remain safe even with prolonged exposure to the residues from the moisture on the wipe.
Getting the pH balance right with these products is particularly vital with options that feature acidic ingredients. These include acetic acid or boric acid as well as other acidic additives commonly found in the wipes. The balance is often achieved by adding alkaline ingredients that bring its net value back to the neutral range.
Don't worry, you don't have to become an overnight scientist and suddenly understand what all the ingredients are. You just have to read the label. If it says "pH balanced" on options that feature the aforementioned acidic ingredients then you should be good to go.
Eco-friendliness is a nice perk
Wipes are designed to be disposable. And if you have an adventurous dog you will be burning through these packs like no one's business. For this reason, it would be nice to know that the simple act of keeping your pooch well-groomed does not end up costing the environment.
Fortunately, there are several alternatives out there with an eco-friendly design. These usually feature wipes made specifically from biodegradable materials including wood like bamboo.
For the most part, this does not affect the overall quality of the wipes or their effectiveness at their job of keeping your pooch clean. However, it is a fantastic perk to have with your purchase. It is also awesome if you are into composting and want a set that you could easily add to your heap.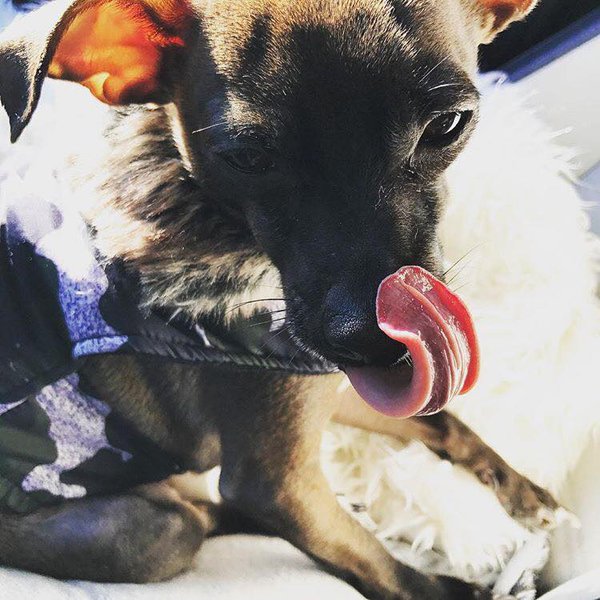 Get something with a moisturizing effect
Doggy wet wipes are designed primarily to help you clean the little furry bundle of joy. It is, however, always better for the dog to get something that goes above and beyond this service by offering a moisturizing effect. This is because the very act of wiping may sometimes wipe off the natural moisturizing agents produced by the dog's skin. If your choice of wipes does not replace these then your dog will end up paying the price with issues like dry and flaky skin.
The most crucial ingredient when it comes to moisturizing is vitamin E and any good pack of dog wipes should at the very least have this as a main ingredient. Aloe vera also does a pretty decent job with the same. They will leave your dog's skin supple and healthy making life easier for both you and your pooch between cleaning sessions.
Let's talk size
The size of the wipe plays a role, however small, in determining their overall effectiveness. For the most part, anything over 8″ by 5″ counts as pretty large. This will help you cover more space with one swipe. In addition to being more convenient, it will save you on a lot in terms of your repeat investments as you do not have to replace them as fast.
---
Final Thoughts
---
Wet wipes will clearly make life a lot easier for you whether it is a quick clean or for medical purposes. It is therefore a big deal that you take your time considering your options. The 11 alternatives we have highlighted are truly the best on the market.
Our number one pick is particularly awesome for dogs with sensitive skin. In addition to cleaning the skin and fur, the formulation deodorizes, moisturizes and conditions all in one wipe. So if you are looking for full value for your money this is a great place to start.
Our buyer's guide should come in very handy when narrowing down your options. That way you will make the best possible decision for your beloved doggy.