The best dog food brand is Purina ONE Dog Foods.
Dog food brands are a dime a dozen, but quality dog food that your dog will eat can be hard to find. While there may not be a one-size-fits-all approach to dog food, there are some brands that rise above the rest; brands that many veterinarians recommend and dog owners swear by.
The brands on this list are some of the best, and are some of the most trusted brands that many people and dogs have come to love.
Our dog food brand reviews should be able to help you choose the best dog food brand for your furry friend, as we'll cover aspects like flavor, nutrition, value for money, and more.
#1 Purina ONE Dog Foods
SALE ALERT!!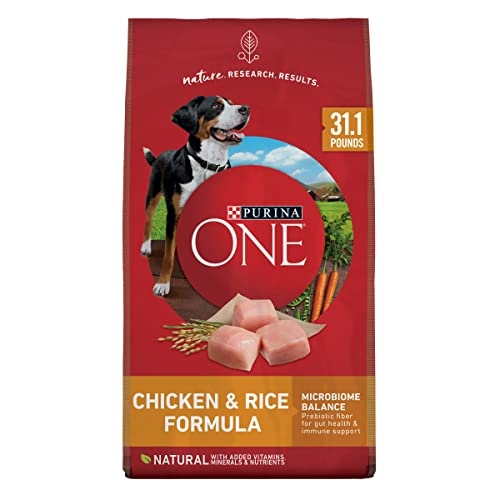 Purina ONE is a high-end dog food brand that is still reasonably affordable, and this makes them one of the most popular choices out there. Most of their dog food is filled with nutrients like omega-3 fatty acids to ensure that your dog has a healthy coat of fur.
Purina ONE dog food also offers a range of different flavors, so even the pickiest pups will be able to find something that they like. For example, you can choose chicken, turkey, venison, beef, and more in either wet or dry form, depending on what your furry friend prefers.
Every Purina ONE flavor also features balanced nutrients to ensure that your dog is getting all of the vitamins and minerals they need, regardless of what the food tastes like. This dog food also contains ingredients that will help prevent arthritis and other joint issues as dogs get older.
This brand has so much faith in their dog food that they even implore pet owners to take on the 28 Day Challenge, in which they promise your pet will even look healthier. The use of protein-rich ingredients will also help keep your dog healthy and energetic.
Overall, Purina ONE is the best brand for pet owners who want to buy their dog premium food but don't want to pay premium prices. While it may be a little more expensive than some of the other options out there, Purina ONE still provides excellent value for your money.
Pros
---
Great taste.
Cheaper than other premium brands.
Nutritious and natural ingredients.
#2 Hill's Pet Nutrition Dog Foods
SALE ALERT!!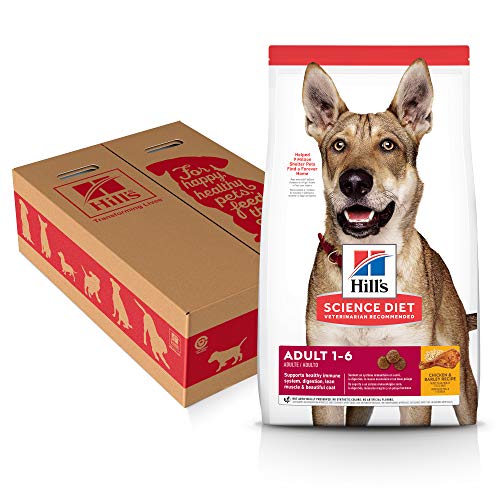 Hill's Science Diet Dry Dog Food, Adult, Chicken & Barley Recipe, 35 lb. Bag
This dog food made with natural ingredients uses high quality, easy-to-digest ingredients to fuel the specific energy...
Helps maintain a beautiful skin and a healthy coat by providing a precise balance of omega-6 & vitamin E
Supports lean muscle growth and maintenance in your adult dog with a premium source of high quality protein. Caloric...
Affordable dog food doesn't always have to be unhealthy, and Hill's has set out to prove that point. For customers who have a bit more of a restrictive dog food budget, Hill's is the ideal brand, as their blends are priced reasonably but they're healthy and delicious.
What sets apart Hill's from much of the competition is that they work directly with over 200 veterinarians to derive a scientific recipe for the healthiest food. Hill's Science Diet dog food is formulated specifically based on a dog's size and age range (for example, large dog breeds aged 1-5).
Hill's also has their Ideal Balance dog food line, which is a little more expensive than the Science Diet. Ideal Balance is meant to provide dogs with a more balanced diet, as you can guess from the name, and it incorporates nutrients you won't find in Science Diet food.
Due to a high concentration of vitamins and antioxidants, Hill's dog food helps boost your dog's immune system, making it less likely to get sick. Hill's dog food is also packed with nutrients like glucosamine, which helps keep your dog's joints healthy. Hill's dog food also uses all-natural ingredients, and it contains no artificial colors or flavors.
Hill's Dog Food proves that you don't have to pay a ridiculous price to feed your pet something healthy and tasty. Working closely with veterinarians, this company ensures that their food will promote a healthy lifestyle for the pets that are eating it.
Pros
---
Scientifically-formulated recipe.
Contains nutrients like glucosamine and chondroitin.
Natural ingredients.
#3 Pedigree Dog Foods
Pedigree is another premium dog food brand that has relatively reasonable prices, but their food is mostly known for its great taste. Dog owners know that opening up a can of Pedigree is usually enough to send their pet running, and that's because they can already smell the flavor.
Using ingredients like roasted chicken with no artificial flavors, Pedigree food is perfect for picky eaters who won't settle for anything but the best-tasting food. While it may not have as much of a focus on nutrition, Pedigree food is still loaded with nutrients like antioxidants and vitamins.
One of the most common nutrients that you'll find in Pedigree dog food is fiber, which will help improve your dog's digestive health. This is due to the inclusion of plenty of whole grains in Pedigree food. Pedigree dog food is made in the USA, and it features no artificial flavors or added sugar.
If you have a dog that's too picky for their own good, we'd recommend trying out Pedigree dog food. In addition to tasting better than other dog food choices, Pedigree includes additional nutrients like fiber that will keep your pet healthy for a long time to come.
Pros
---
Fiber aids digestive health.
Tastes better than other food.
Made in the USA.
#4 Blue Buffalo Dog Foods
SALE ALERT!!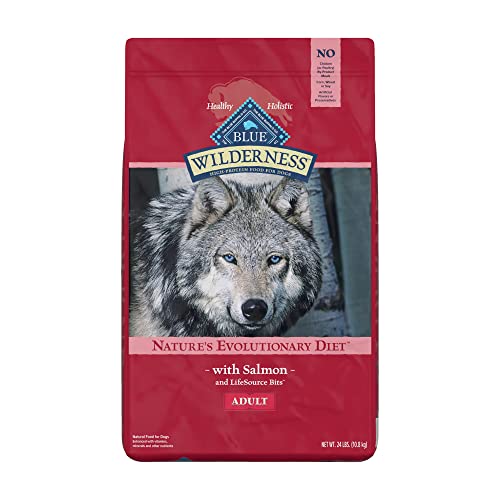 Blue Buffalo Wilderness High Protein, Natural Adult Dry Dog Food, Salmon 24-lb
PACKED WITH REAL SALMON: A recipe made to satisfy your dog's natural love for meat, this high protein dog food...
HEALTHY INGREDIENTS: BLUE Wilderness grain free dog food, made with healthy carbohydrates including sweet potatoes and...
ANTIOXIDANT-RICH LIFESOURCE BITS: A precise blend of antioxidants, vitamins and minerals carefully selected by holistic...
Blue Buffalo makes high-end dog food which is designed to provide pets with all of the nutrients they need in a flavorful package. Unlike other nutrient-rich dog food, Blue Buffalo doesn't overlook the importance of their food tasting great, which makes pets more likely to enjoy it.
This dog food company offers a wide range of different product lines for dogs of all types. For example, Blue Buffalo's Freedom line of food contains no grains so as not to upset the digestive systems of dogs who are intolerant to gluten and other grains.
On the other hand, Blue Buffalo's Wilderness blend is comparable to a paleo diet for dogs, containing a higher amount of meat and protein. Blue Buffalo blends include plenty of natural ingredients, and exciting flavors like halibut, quail, bison, or venison.
From Blue Buffalo's tasty yet affordable Basics line all the way up to their Life Protection formula, they offer a wide range of dog food to choose from. Whether your pet has specific dietary needs or if you simply want them to be as healthy as possible, Blue Buffalo probably has a recipe for it.
Pros
---
Four different dog food types.
Specially-tailored recipes.
Healthy and good-tasting.
#5 Nutrish Dog Foods
Nutrish is Rachael Ray's dog food line, and it's similar to Blue Buffalo in that it offers a range of different product lines for dogs with specific needs. That's not where the similarities end, as Nutrish is also heavily focused on providing dogs with all of the right nutrients while still tasting good.
The basic-level Nutrish dog food will contain meat-first recipes that avoid by-products and other unhealthy ingredients. On the other hand, the Dish line of dog food seeks to replicate complete dishes like a steak dinner or roast chicken over rice, containing varied nutrients and flavors.
Nutrish also contains prebiotics to help your dog digest its food with ease. The ingredients contain no artificial flavors or preservatives, and there is a range of flavors to choose from. Your dog won't get bored when they can choose between chicken, beef, turkey, and more.
As you can guess from the name, Nutrish is based on ensuring that your dog gets all of the nutrition they need. While it may be a little more expensive than other kinds of dog food, Nutrish is worth the extra money because it keeps your canine companion healthy.
Pros
---
No fillers, by-products, or gluten.
Picky dogs love it.
Designed to be healthy.
#6 Taste Of The Wild Dog Foods
Taste of the Wild is a dog food brand that focuses on recipes that are a little more "wild." With flavors like smoked salmon, roasted venison, and duck, Taste of the Wild seeks to bring dogs back to the diet of their ancestors, with a protein-rich nutrient profile and explosive flavors.
Taste of the Wild has various grain-free recipes that are filled with healthy ingredients and superfoods that will keep your dog healthy. Antioxidants will improve the luster of your dog's coat, and the inclusion of probiotics helps your dog's digestive system.
Taste of the Wild takes flavors like buffalo and venison and combines them with a range of nutrients that will help keep your dog energetic and healthy.
Pros
---
Protein-rich recipes.
Proprietary probiotics.
Premium meat ingredients.
#7 Nutro Dog Foods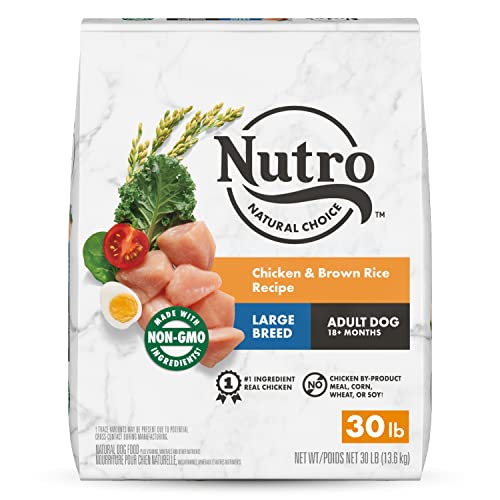 Nutro makes dog food with only the best ingredients, and this makes them a little more expensive than the competition. However, if you want to be sure that your dog food is sourced from natural, non-GMO sources, this is one of the best brands on the market.
Nutro's recipes feature a meat-first formula that provides your dog with plenty of protein, helping them develop and maintain their muscular health. This dog food also includes ingredients that will boost your pet's immune system, such as vitamin E.
This dog food is also ideal for larger breeds, as it is formulated to keep them thin, even if they're heavy eaters.
If you want to keep your dog as healthy as possible and you don't mind paying a little bit more for their food, then Nutro is likely your best option.
Pros
---
Great for large dogs.
Non-GMO ingredients.
Boosts immune system.
#8 Natural Balance Dog Food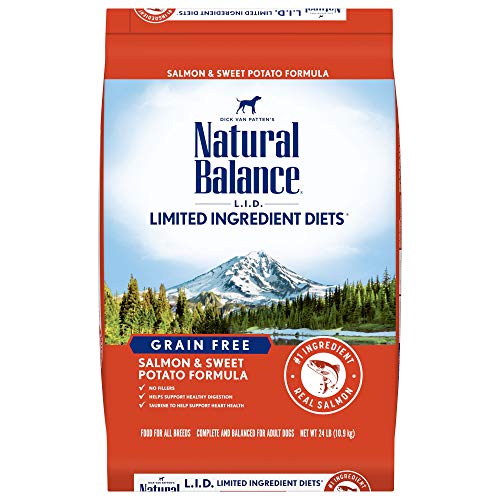 Natural Balance uses a unique whole-body approach when they are formulating their dog food recipes. This results in a more nutritious blend that can help keep your pet as healthy as possible. Natural Balance contains plenty of useful ingredients, including omega-3, fiber, and more.
Food safety is a major concern for Natural Balance, and they perform nine separate tests on every batch of dog food that they produce. This testing process helps Natural Balance ensure that their food is safe, but they also make sure that it meets their nutritional standards.
Keep in mind that Natural Balance is a premium brand, so it may be a little more expensive than other choices.
Natural Balance does exactly what the name suggests and provides your dog with a naturally balanced diet that will keep them as healthy as possible.
Pros
---
Two kinds of antioxidants.
Food is thoroughly tested.
Rich in protein.
#9 IAMS Dog Food
SALE ALERT!!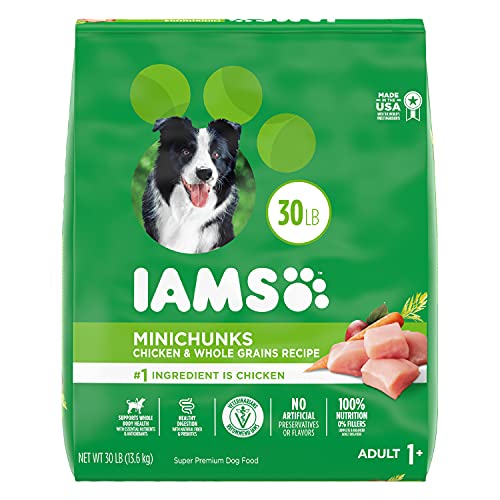 IAMS is a more affordable choice for pet owners, and it doesn't sacrifice nutrition or flavor so that it can fit into your budget. IAMS offers a range of different dog food types, each of which is split based on the age range of the pet, and they make some of the best puppy food on the market.
For example, IAMS' puppy food contains ingredients like omega-3 DHA, which helps improve your pet's cognition and intelligence. Even if you have an older pet, IAMS dog food is high in protein and contains ingredients that will strengthen your canine joints.
If you want to start your dog's diet off right from a young age, then IAMS produces some of the best and most affordable puppy food. As your dog ages, you can then move them on to IAMS' other age ranges, and they'll keep getting the nutrition they deserve.
Pros
---
Excellent puppy food.
Affordable.
Contains no artificial preservatives.
#10 Nature's Recipe Dog Foods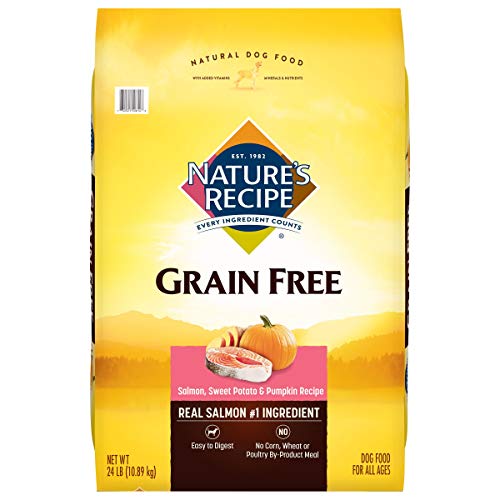 Nature's Recipe has a mission to make pets as healthy as possible through their nutritious food that is derived from natural ingredients. While you can expect to pay more for this dog food, your pet will also get more out of it, as their recipes are usually formulated with a purpose in mind.
For instance, Nature's Recipe produces dog food for puppies, grain-free food, a healthy skin formula, and more. While Nature's Recipe dog food is meat-first, it usually also features supporting ingredients like sweet potato or pumpkin. This dog food also comes packed with nutrients that improve digestion.
If there is something specific that you would like to fix by altering your dog's diet, then Nature's Recipe is the best choice. Whether your dog has digestive troubles or dry skin, Nature's Recipe can help them through it.
Pros
---
Easy to digest.
Natural ingredients.
Purpose-made recipes.
#11 Crave Dog Foods
SALE ALERT!!
Crave dog food is a premium, high-protein option for highly energetic dogs. While it's more expensive than other brands, it also contains about 50% more protein than many of them. This food is meant for dogs who are physically active, and it's perfect for working dogs who may need extra energy.
Flavors include chicken, lamb, venison, and salmon, but the flavor isn't the main draw of this dog food. This food uses high-quality ingredients, and it doesn't contain by-products, artificial flavors, preservatives, or colors. Crave is also high in carbs to provide your pet with additional energy.
Crave is a great choice of dog food for larger breeds that need the extra protein and carbs, but smaller dogs may find it a little overwhelming. Keep in mind that this dog food serves a specialized purpose, so it may not be ideal for all breeds.
Pros
---
Great for working dogs.
High protein and carbs.
Quality ingredients.
#12 Merrick Dog Foods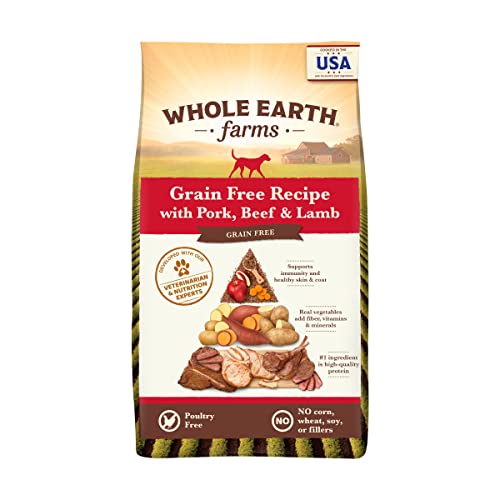 Whole Earth Farms Grain Free Recipe Dry Dog Food, Pork, Beef & Lamb, 25-Pound
One (1) 25 lb Bag - Whole Earth Farms Grain Free Dog Food, Pork, Beef and Lamb Recipe, Dry Dog Food
The first ingredient in this natural dog food Whole Earth Farms recipe is high-quality protein, made with a blend of...
This pork, beef and lamb dog food Whole Earth Farms recipe is crafted with a Wholesome Harvest Blend that provides omega...
Merrick dog food is another option that is a little more pricey, but their food is worth the money thanks to their combination of quality, flavor, and nutrition. Their recipes are formulated with your dog's diet in mind.
The Merrick Classic Blend features nutrients that can aid digestion, reduce the risk of arthritis, improve fur health, and more. You can also choose between grain-free and limited ingredients recipes for dogs that have special dietary needs.
Nearly all of Merrick's recipes include both omega-3 and omega-6 fatty acids, and they are balanced to provide your dog with healthier skin and a better immune system.
While Merrick's food may be on the pricey side, it can help keep your furry friend as healthy as ever. From their Classic dog food to their Backcountry formula for puppies, Merrick's dog food is filled with nutrients like omega-3 and fiber.
Pros
---
Rich in antioxidants.
A wide range of product lines.
Premium quality.
---
Dog Food Brands Buyer's Guide
---
When it comes to choosing the best dog food brands, there are many factors to consider. You need to make sure that the food you are buying is nutritionally balanced and healthy. You also have to make sure that your pet is going to like the taste, or else the food will go to waste.
Many people buy dog food based on which brand they have heard of, or which one they were using when they got their pet. While this can be a good place to start, you may find that a different brand is going to be better for your pet.
Here is a comprehensive list of things to consider before making a purchase.
Flavor
The first thing to account for when choosing the right dog food is whether or not your dog will like the taste. You can get the most expensive dog food in the world, but if your dog won't eat it, then there won't be much of a point to it.
Of course, the best way to choose the right flavor of dog food is to find out what your dog likes most. Many dog food makers provide sample packs that come included with a wide range of flavors so that potential buyers can see what their dog prefers.
If you figure out that your dog likes chicken more than anything else, then feel free to order a case of that flavor, but don't be afraid to let your pet experiment. Keep in mind that younger dogs will be more open to new flavors, as they won't have established preferences.
Beyond the usual flavors like chicken and beef, many dog food makers are beginning to produce less common flavors. For example, some companies are producing venison and other game-flavored dog food to add a taste of the wild to their product.
Related: Best Healthiest Dog Food
Quantity
You should also take a look at how much dog food comes in the bag or case that you're ordering. There are times when a particular bag of dog food may look like a great deal until you realize that it's only a three-pound bag, so weight is one of the first things to consider.
The amount of dog food that you buy at once can also determine how much you pay for it. If you buy your dog food in bulk, then you'll save money compared to someone who buys their food a can at a time at the supermarket, and you'll also have to shop less frequently.
For owners with a single dog, a large bag of dog food will usually be enough to last for a month. However, the rate of consumption will depend on the breed, the number of dogs, and more, so the amount of dog food that you buy is mostly a personal matter.
It is also vital to ensure that you don't get too much dog food at once, as there is a risk of your pet not liking it. If you stock up on a large amount of dog food, it may also spoil before your pet has the chance to get through all of it.
Related: Best Grain Free Dog Food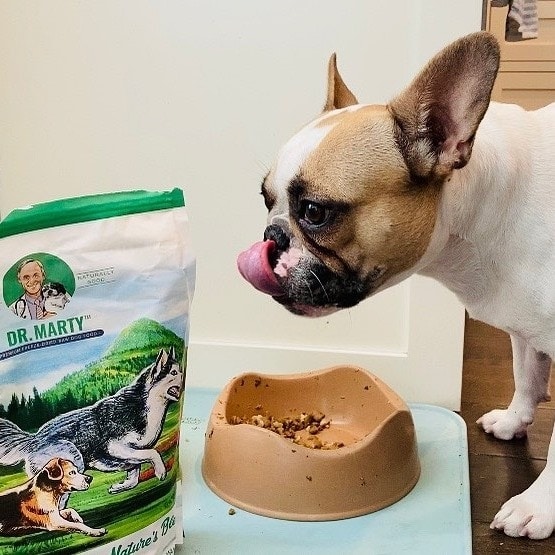 Dry Or Wet?
You'll also have to decide whether you want to get your pet wet or dry dog food, and they each have their benefits and downsides. Dry dog food is by far the most convenient option, as it will be easier to store and transport, and it will also be more affordable than wet dog food.
Since wet dog food has to be canned, you're also paying for the price of the can, which is more expensive than the paper bag you'd get with dry dog food. Canned dog food can also be more costly to ship, as the cans themselves add to the overall weight.
However, wet dog food has the significant benefit of tasting far better than dry food, provided your dog eats wet food in the first place. Some dogs prefer one type of food over the other while others won't care much about the difference.
Keep in mind that if your dog has been eating dry food its whole life, then it may not even like wet dog food. Nutrition will also vary between both kinds of dog food, with wet food often being a little more fattening than the dry alternative.
Related: Pet Plate Fresh Dog Food Review
Nutritional Value
When buying dog food, you'll also have to account for the nutrients that are included in the recipe. Each dog has varying needs, and it can be challenging to find a dog food that fulfills your dog's nutritional needs. There are many different dog food recipes, ranging from basic to specialized.
Basic recipes will usually be formulated to be healthy for the broadest possible range of dogs, so they may not be as beneficial, but they will be more affordable. Specialized recipes are meant for dogs with specific dietary needs like gluten intolerance.
Nutrients like omega-3 fatty acids are included in dog food to help improve the health of your pet's fur and skin (reducing dryness, in specific). On the other hand, some dog food includes chondroitin, which is an element that helps improve joint health.
The best dog food will also contain a high concentration of protein and fiber, helping your dog grow stronger and improving their digestion, respectively. Ingredients like prebiotics can work in tandem with the fiber to further enhance the food's digestion.
You'll also want to take a look at whether there are any artificial ingredients included in a particular type of dog food. Artificial colors and flavors can contain unhealthy compounds that pets should avoid, and the healthiest dog food uses all-natural ingredients.
Some dog food brands use meat by-products and other ingredients that wouldn't be deemed fit for human consumption. As you would expect, these by-products are not healthy for your dog, and the best dog food brands instead use farm-raised ingredients.
Related: Best Budget-Friendly Dog Food
Bag Or Container?
While this may not be the most crucial concern when buying dog food, you'll also want to see how it's packaged. For example, some larger bags of dry dog food will feature a zip-seal at the top to ensure that it doesn't end up going stale (or that your dog won't get into it).
However, a resealable container is arguably even more important for wet dog food. Resealable cans are beginning to catch on, and they make canned dog food far more convenient, as you won't need a separate can cover, which can get lost and often gets dirty.
---
Final Thoughts
---
Picking the best dog food brand is only the first step towards finding the best meal for your furry friend. You will never go wrong with our recommended top pick. Taking a close look at your pet's specific needs and choosing the right formula that matches its needs is your utmost priority. Of course, you'll also want to be sure that they love the flavor!