Fresh dog meals are slowly taking over the pet food industry as doggy parents become more and more careful about what they feed their fur babies. With all the health benefits and the indisputable fact that dogs prefer these meals a lot more than processed dog food, it is not so hard to understand this trend.
Among many popular fresh food brands is Pet Plate. The company makes all its meals with high-quality, human-grade ingredients. The food is then flash frozen for chemical-free preservation and to maintain freshness by the time you feed the dog. In addition to the high-quality food, Pet Plate stands out on the market by offering subscription-based deliveries for variety and convenience.
In our review, we take a deeper dive into what you can expect with Pet Plate, along with our verdict on whether it's worth getting Pet Plate for your pooch. But before that, let's get to know Pet Plate's origin a bit more.
Trivia
Pet Plate rose to prominence in the pet food industry with its appearance on Shark Tank to pitch their product to investors. Although they did not walk off with any deals, they did manage to not only sustain their business but also scale and be on course to success.
They went on to close an encouraging $4 million seed funding and, more recently, a whopping $9 million deal to bring the healthiest dog food to the doorsteps of dog owners.
This is done responsibly and without compromising the quality of the dog food and its benefits to pets. And the reason for that has always been the same as the motivation behind starting Pet Plate. It is as noble as it gets.
Pet Plate's founder, Relando Webb, had been exposed to the "inferior ingredients and substandard cooking processes" used by pet food makers by the big-name industries during his early career as a pet food consultant.
He is absolutely horrified by this practice and seeks to change it. Check out his story and the mission of Pet Plate in the video below.
What Pet Plate Has To Offer Your Doggy
Unboxing Pet Plate
Pet Plate dog food is specially formulated by veterinary nutritionists and approved by vet practitioners to offer your doggy the best balance of nutrients for a healthy life. They have four meal packages and one treat option for you to choose from. Here is a little more on each of the meals and who they are best for.
Here Is Why We Recommend Pet Plate
The Meals Are Kettle-Cooked
This is one of the main features that sets Pet Plate apart from their competition and therefore makes them one of the best in the business. Kettle cooking involves preparing the food in low enough temperatures that the food is cooked without the ingredients getting broken down completely.
This is the main reason why the food remains so flavorful even after being frozen for a long time that differs Pet Plate from its other wet food competitors. It also helps to maintain the integrity of heat-sensitive nutrients. These include vitamins and proteins, which are very easily denatured by other dog food preparation methods.
Finally, this cooking method preserves moisture already in food keeping the meals nice and juicy and therefore more palatable for the dog.
Natural Ingredients
There is probably nothing worse to feed your dog than rendered meats and byproducts. That is why Pet Plate is so worth considering. They use real human-grade ingredients from carrots and broccoli to the different meats. That way, you are guaranteed full value for your money while also giving your furry bestie access to high concentrations of nutrients.
And when Pet Plate says that their ingredients are human-grade, they are absolutely not lying. By human-grade, it means the dog food is safe for consumption by humans!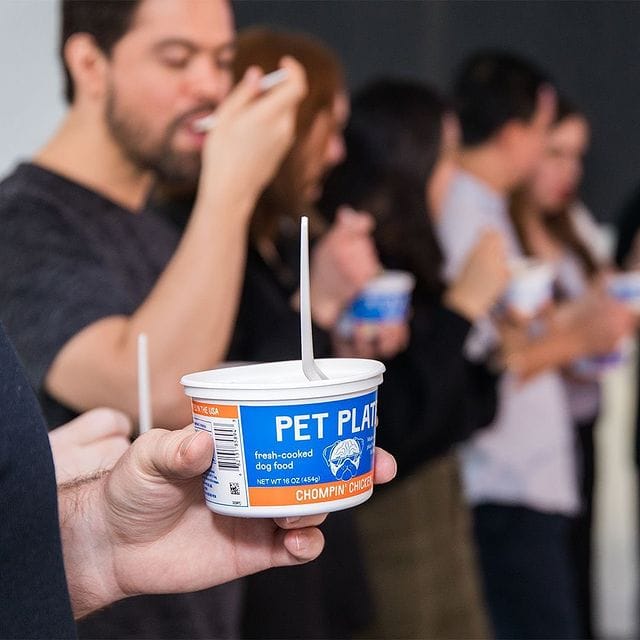 Their meals are also free of artificial additives. This includes flavors, color enhancers, and even preservatives. As a result, your dog will be exposed to much less toxicity through chemical ingestion. This, in turn, prevents all kinds of illnesses.
In fact, a report published in the Whole Dog Journal showed that many preservatives and flavor enhancers used in dog food could be linked to cancers later on in the dog's life.
It Offers A Balanced Diet
There is a common misconception among dog owners that all their fur babies need is meat, meat, and more meat. This could not be further than the truth. Most vets recommend a balanced diet with proteins, carbs, vitamins, minerals, fibers, oils, and water.
That is what Pet Plate has to offer your dog. Proteins make up the majority of the non-water nutrients and are ideal for growing doggies who need help building their muscles and gaining strength. The fruits, vegetables, and starches included adding to the nutritional value with vitamins, carbohydrates, and minerals for optimum day-to-day functioning.
Finally, the food includes fibrous, pro-gut ingredients like pumpkin, which we definitely recommend if your pooch is having digestive issues.
High Water Content Of Up To 75%
Pet Plate meals are wet dog food in every sense of the word containing around 75% water. This is one of the main reasons why it is so popular among small dog owners and those with puppies. The food is not only easy to chew but also very easy to digest. And it provides a great amount of hydration.
With water content that high, you also do not have to worry about your pooch not getting enough water. You can even get away with giving the dog as little as 50 ml if they are small or 0.5 gal for the gentle giants every day.
They Offer A Wide Variety
The problem with feeding a picky eater is that you never know what they will like and what they won't. You also never really know when they will get tired of meals they actually enjoyed. One of the best ways to deal with this is by giving your bestie some variety in terms of what you choose to feed them.
With Pet Plate, the subscription packages pretty much guarantee you variety. Your pooch may be in the mood for chicken today and turkey in a month. All you have to do is switch things up with the plan you settle for, and you will have the new meals delivered in no time.
The Meals Come Fully Prepped And Ready To Plate
This may seem like a simple matter, but convenience is a big deal as a dog owner. Unlike many other subscription services out there, the meals from Pet Plate come fully prepared and mixed. This not only makes it more convenient to package and transport but also for you to store as you do not have to find space for separate containers of ingredients.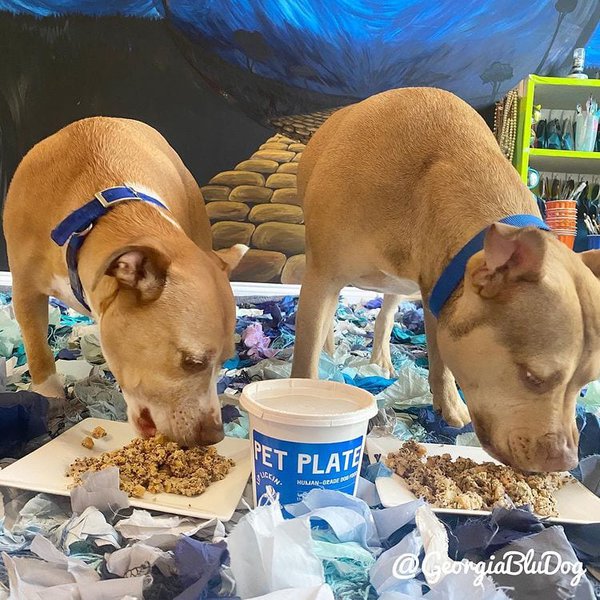 The Meal Plans Are Tailor-Made
Every single meal plan from Pet Plate is specially customized to fit your dog's specific needs. This is easily one of our favorite aspects of this particular dog food subscription service. Before you pick a plan, you will have to fill in details about your furry best friend. This includes their size, age, gender, weight, and much more. We will take a closer look at this in subsequent sections as we look into the order procedure.
Either way, their attention to the small details that make your dog unique is worth celebrating as you know your pooch is not getting some run-off-the-mill plan that may not really work for them.
Affordable Meal Plans For Most Dogs
Something else you have to look forward to with these meal plans is the fact that they are very affordable. This is the case particularly for puppies, small dogs, and medium dogs. For a small dog, you may have to pay anywhere between $1.50 to $4.50 per day for your meals. With medium dogs, on the other hand, the range is from $7 to $9 per day.
The differences are a result of variation in specific needs, whether it is age or even gender. Whatever the case, these are some of the friendliest rates on the market with high-quality products that more than justify the investment.
100% Money-Back Guarantee
You get to enjoy a relatively risk-free trial with these foods through the 100% money guarantee offered by the brand. This show shows how confident they are in the quality of their meals which should definitely inspire confidence.
It seems that they know what they are offering as many reviews on their site and other platforms support their "clean plate or money back" promises. Just take a look at how close this little one is finishing their large serving.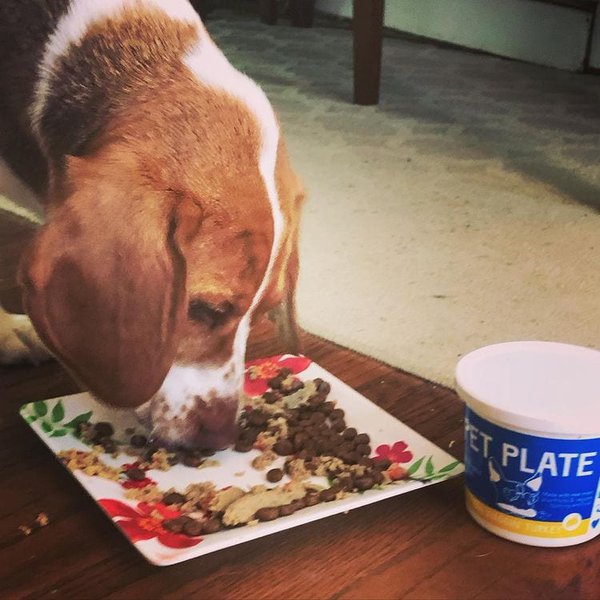 Free Shipping
Something else I love about Pet Plate subscriptions, and I am sure you will, too, is the fact that they offer free shipping. Considering that it is a continuous delivery subscription, this will save you a lot of money that you can reinvest into other aspects of your pooch's care.
Long Shelf Life
Typically, fresh food does not have the longest shelf life, especially when compared to canned foods and dry kibble. However, Pet Plate stands out by offering you a very long shelf life of about 12 months when frozen. Once you defrost the meal, you also have a lot of time to have your dog finish it with about a 5-day shelf life in the fridge.
The best part is that you do not have to worry about things like freezer burn or loss of flavor from leaving it frozen for a long time. This is partly due to the kettle cooking methods used in the food's preparation. It is also due to the fact that the food is flash frozen and sealed after it is cooked, sealing in all the flavors until you are ready to defrost the meal for your best friend.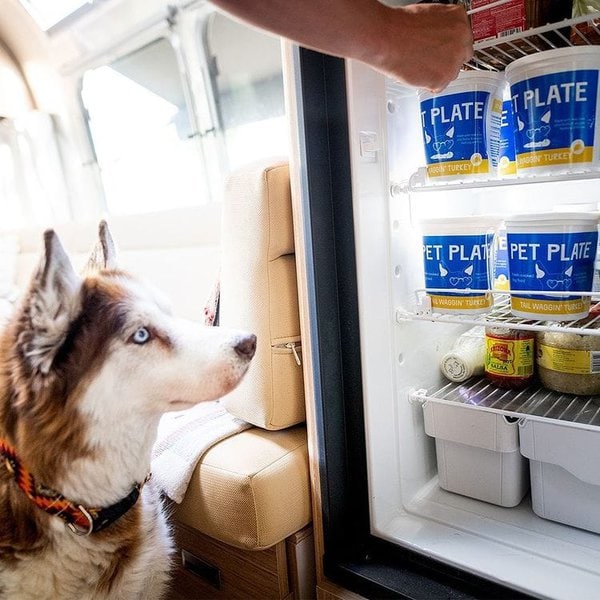 Recyclable, Microwave-Friendly Plastic Packaging
Finally, we love the packaging used by Pet Plate. The plastic is actually microwave-friendly. That way, you can just pop it into the device for a quick heat up if you do not want to give it to your dog cold.
It is also recyclable, so you get to do your part for the environment while taking care of your dog.
How To Place Your Order
Another awesome thing to celebrate about Pet Plate is just how easy it is for you to place your order. The process also involves detailed reconnaissance on their part to figure out exactly how to give your dog the best possible service.
The order process is divided into four main parts with a very easy-to-use website interface.
Part One: Dog Details
Here, you will have to answer seven quick questions about your dog that are crucial to the ingredients to use for the dog food. These details include weight, dog breed, and neutering status, all of which will help to fine-tune the dog diet into a fitting and healthy meal for your pets.
Part Two: Choosing The Meal
You can choose any of the four main meals highlighted above. You also have the freedom to mix things up by getting 2, 3, or even all 4 of the meals.
Part Three: Choosing The Plan
There are two main plans. One is a full meal plan with specially curated meals based on your dog's details. The other plan features toppers that are meant to offer wet, fresh food alternatives to whatever you are currently feeding your dog. You could also choose to add the treats to your meal plan.
Part Four: Checking Out
Finally, confirm the order, fill in your details, and you can complete the payment. It is also in this step that you find the discounts available based on the season.
Is There Anything You Should Be Concerned About?
Pet Plate subscriptions have almost a five stars rating from more than 300 previous customers. There is a consensus among dog owners that it is definitely worth the investment. Despite this, it is not perfect, and there is definitely room, however little, for improvement.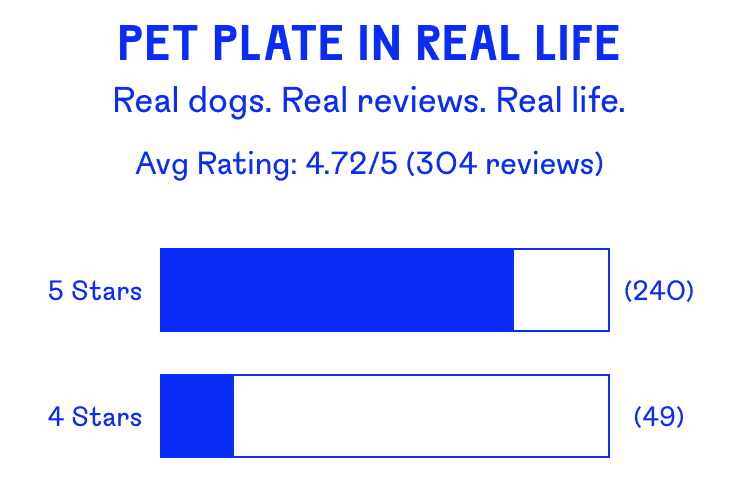 Very Finely Ground
Pet Plate food is a wet food with a very smooth consistency. This is because the ingredients are often either finely ground, thinly chopped, or mushed. This may be awesome for dogs with gut problems or for puppies, especially during weaning.
However, the lack of thickness in the texture may be problematic, especially with older dogs. In this case, simply add some fresh dog food kibble to the diet for some variety in terms of texture.
No Free Trials Or Sample Meals
With Pet Plate, you will not know what you are in for until you are opening the package and feeding it to your dog. If you are very particular about what you feed your dog, this may not be ideal. However, they offer a 100% money-back guarantee in case you are not satisfied with the quality.
The reviews also vouch for the quality and taste, so you may not really have a lot to worry about.
Giant Dogs Are Expensive To Feed
Pet Plate is very cheap for a subscription fresh dog food brand, especially with small and medium dogs. However, with larger ones, you may have to pay some of the highest prices on the market.
For example, a 110-pound pooch will cost an average of $16.85 per day and even up to $20 on a daily basis with giant dogs. Despite this, it is safe to say that the quality more than speaks for itself and will ensure that you get your full money's worth. They also offer amazing discounts of up to 30% off so you may not even have to pay as much as you think.
It Does Not Take Into Account Specific Dog Allergies
Pet Plate fresh dog meals are free from common allergens, including dairy and gluten. However, they do not cover specific allergies, including nuts and animal proteins. This makes things difficult for dog owners whose dogs have very rare food allergies.
Is The Fresh Food Formula In Pet Plate Really Worth It?
The price of Pet Plate is definitely more expensive than regular dog food. That is expected, though, as you are only getting the freshest of ingredients!
A study by the University of Illinois reported benefits like increased palatability, easier digestion, and richness in micro and macronutrients. So yes, it is definitely about time you actually made the move to fresh dog food for your furry bestie. If you are still not fully convinced, here are some of the key perks your doggy has to look forward to with these options.
Tastier and therefore ideal for picky eaters.
It is way easier to digest.
It is usually in the form of wet food and therefore minimizes the risks of dehydration.
High concentration of nutrients, especially proteins, vitamins, and minerals.
Organic varieties are free from harmful additives like flavor enhancers and preservatives.
Bottom Line: Is It Legit?
All factors considered Pet Plate is without a doubt worth all the hype. The fresh meals are not only super tasty but also made from the highest quality, natural ingredients for your dog's health. The subscription plans also allow you to switch things up, which is ideal when dealing with fussy eaters that need variety.
Studies have shown that fresh dog food is the way to go if you want to give your furry best buddy their best chance at survival and thriving. When you are ready for this next step, Pet Plate will definitely be a fantastic place to start. You can get the food for as little as $1.50 to $16 per day based on the dog's size.
The best part is that Pet Plate often offers seasonal and other special discounts. So check them out and their different packages and get your pooch on the right nutritional path.