The best outdoor dog kennel is Lucky Dog Uptown Welded Wire Kennel.
Outdoor dog kennels are a cost-effective and convenient way of keeping your dogs enclosed. They help to provide a safe space while sheltering your dogs from the elements.
More importantly, outdoor dog kennels help to keep your dog contained – ensuring that they do not wander off your property.
Generally, there are two different types of outdoor dog kennels:
Permanent: Requires actual construction with heavier materials
Portable: Temporary setups that you can use and dismantle (with effort)
We will be explaining the key features to consider when choosing an outdoor dog kennel, and sharing our recommended top picks.
#1 Lucky Dog Uptown Welded Wire Kennel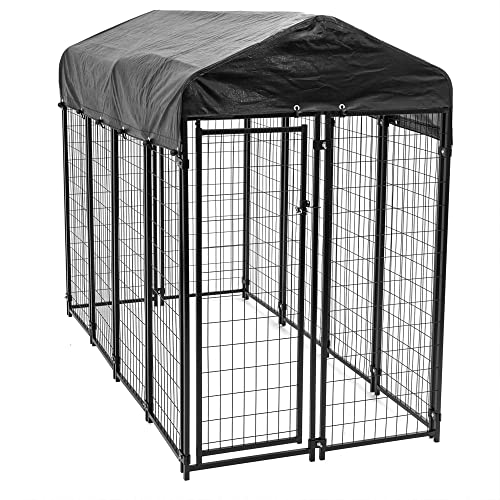 We know that all dog owners love their dogs. They also want them to be safe.
That's why we highly recommend the top-rated Lucky Dog Uptown Welded Wire Kennel. It provides your pooch the freedom of the outdoors in a safe and secure environment.
Your pet's safety is at the forefront of the manufacturers of this dog kennel. While steel bars and welded wire mesh have been used to make the dog kennel, they have been welded before coating to ensure that there are no sharp edges that might hurt your pooch. This further helps in keeping the exterior free from rust and corrosion.
The cover of the dog kennel deserves special mention. It is a heavy-duty steel roof frame that fits the cage and the ends perfectly to protect your pet from the elements of nature.
It also comes along with UV protection that enhances durability by preventing ripping, cracking, fading, and peeling. The elastic cords are also sturdy enough to keep the cover in place without stretching or breaking.
The roof is designed in a way so as to allow water, debris, and light snow to run off, instead of accumulating on it. The canine kennel features 1.5-inch raised legs that make cleaning of debris and dirt quite convenient and keep your pet in optimal conditions.
Pros
---
Heavy-duty frame and extremely sturdy.
Comes with a waterproof cover.
Easy to clean and maintain.
Cons
---
The door latch could be of better quality.
#2 Advantek Pet Gazebo Modular Outdoor Dog Kennel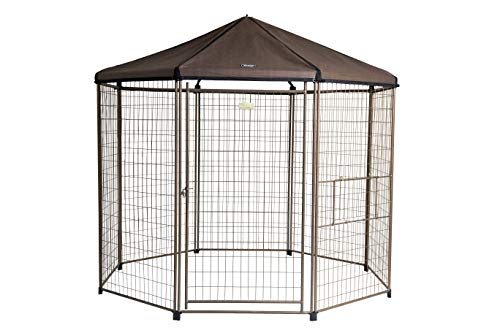 Our second pick goes to the Advantek Pet Gazebo Modular Outdoor Dog Kennel.
Easy to assemble, the entire process will not take you more than 10 minutes to set up the dog kennel. It provides ultimate protection from rain, sun, and light snow.
The safe and secure window with latch access ensures that your pet is always well-protected. A reversible cover made of polyurethane is weather-resistant and protects your pet from rain and sun. You will hardly require any tools to set up this dog kennel.
It is perfectly suited for your canine companions of up to a weight of 100 lbs.
Pros
---
Compact design.
Its weather-resistant cover keeps your dog comfortable.
Cons
---
A few users have found the door gap to be too wide.
#3 PetSafe Box Kennel For Pets
If you are a busy pet parent and you need to give your pet some time to play outdoors without getting into trouble, you should book the PetSafe Box Kennel For Pets right away!
There will be plenty of room to play around, what with the 10-ft by 10-ft squared space. It is a full-size kennel to facilitate your dog or puppy's outdoor play.
This dog kennel can be transported with ease and can be assembled quickly too. The galvanized steel construction ensures a rust-resistant exterior that makes for high durability.
We recommend this product because you will simply need a few tools to set up the entire kennel. What's more, there is a sunblock top to beat the heat during high summers.
Pros
---
Plenty of room for dogs of all sizes to play.
The frame is rust-resistant and durable.
Cons
---
You would need more reinforcements to anchor the dog kennel to the ground.
#4 CL.Store Heavy-Duty Dog Crate Cage Kennel
The heavy-duty dog kennel from CL.Store provides pooches with a large interior area to safely enjoy exercise, play, or other outdoor exercises. The kennel dimensions are as follows – L90" x W45" x H69.6". These kennels are typically available in two size variants – 57 lbs and 100 lbs. And users also have the option of combining several heavy-duty kennels together to provide their dogs with even more playing space.
This kennel is constructed from heavy-duty and rust-resistant metal material to ensure longevity; The crate is coated with an epoxy finish to provide resistance against rust, corrosion, and fading that typically occurs due to outdoor use. Additionally, this heavy-duty kennel is sturdy enough to prevent being knocked down by large dogs.
The kennel features a waterproof cover to help protect our canine buddies from rain, snow, debris, and to an extent, harsh UV rays. And to ensure easy clean-up of spilled dog food, urine, or poop, the kennel's base is raised 1.5 inches above ground level.
The CL.Store dog kennel also has a large sliding lock for added security, with top and side entrances providing easy access to the inside. Lastly, it can be deconstructed into slats for easy storage.
The CL.Store heavy-duty dog kennel is a durable product that provides dog owners and their pooches great value for money. Its living space is large enough for dogs to play and have fun, a raised base makes it possible to carry out quick cleaning operations, and pooches are guaranteed sufficient protection by the waterproof cover.
Pros
---
The kennel's dimensions measure 90 inches long by 45 inches wide by 69.6 inches tall.
Powder-coated steel frame for increased resistance against rust.
Sturdy build.
Waterproof cover.
Sliding lock.
Raised kennel base at 1.5 inches above ground level.
Cons
---
Might need to place bricks around the base for better stability.
#5 ALEKO DIY Chain Link Dog Kennel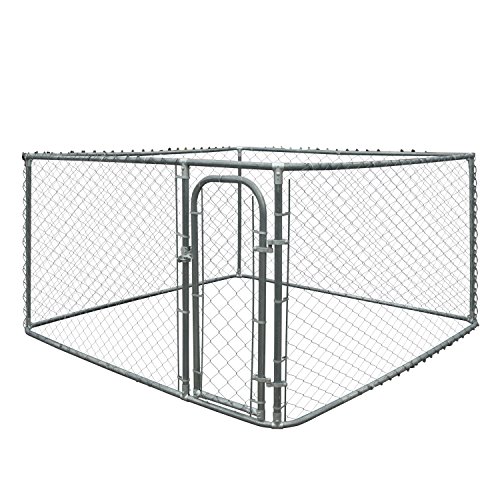 If you are in need of a DIY box kennel that can be transported and set up easily, this is exactly what you need. You will no longer need to restrict your pet to your living area because with this outdoor kennel, it is bound to enjoy a great time outdoors.
This dog kennel from ALEKO measures 10 inches long by 10 inches wide by 6 inches tall, thereby providing ample space for a small dog breed to roam freely within the containment area. Your furry friend can run around and utilize the adequate space that this kennel offers while being completely safe and sound.
We recommend this product because it has a simple frame assembly and is constructed of galvanized steel that also happens to be rust-resistant. It also comes with a roof frame where you can install a canvas to act as a sunshade in an outdoor setting.
Pros
---
Its frames are made of rust-resistant galvanized steel that adds durability and sturdiness.
Uses a 13-gauge, 2.36-inch by 2.36-inch squared mesh to secure your pet well within the containment area.
Applicable for both indoor and outdoor settings.
Easy to assemble and carry along during transportation.
Cons
---
Might require additional fencing.
#6 PetSafe Sun Block Top
Even though the PetSafe Sun Block Top is not a dog kennel, we strongly feel that it deserves a special mention.
Why?
Measuring 15 feet long by 5 feet wide, it is a sunblock top that provides shade over your existing dog kennel.
This helps your pooch to keep cool during a hot summer day. As pet owners, we know that dogs can be quite prone to overheating, especially when roaming outdoors under the sun.
That's how the PetSafe Sun Block Top can really help.
It is designed to reduce temperatures inside the dog kennel up to 15°F. The sunblock top is extremely compact and can be deployed within minutes. It is also 100% UV-treated to enhance its durability.
We recommend this product because of its simplicity and cooling feature.
Pros
---
Keeps your canine companion cool and comfortable.
UV-treated to enhance durability against various weather elements.
Cons
---
A few users have reported that the zip ties tend to break.
#7 PawHut Large Outdoor Dog Kennel
SALE ALERT!!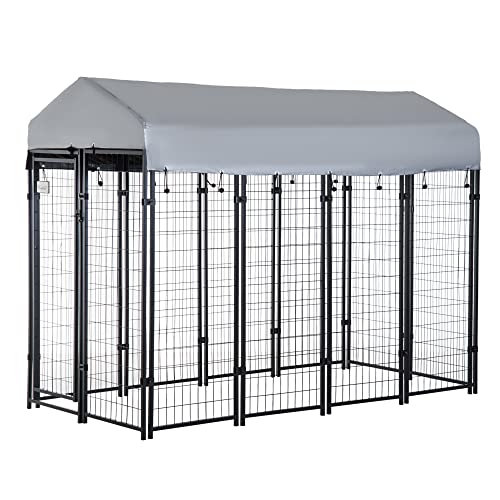 PawHut 8' x 4' x 6' Dog Playpen Outdoor, Dog Kennel Dog Exercise Pen with Lockable Door,...
Protective Roof: This outdoor kennel protects against rain in case the weather turns negative, and the entirety of the...
Steel Frame: The metal railings on this outdoor dog cage are strong and sprayed for a better-quality surface. There are...
Lockable Design: The outdoor dog kennel with roof has a door lock, which can be useful for both pets and pet parents....
The PawHut Large Outdoor Dog Kennel measures 8 feet by 4 feet by 6 feet making it one of the largest units on the market. The spacious kennel is ideal for large dog breeds that will have plenty of space to spread out whether it is for playtime or a nice nap. The dog kennel could also be used for multiple small dog breeds.
The PawHut Large Door outdoor dog kennel also stands out with its heavy-duty construction. It is made from galvanized stainless steel that is easy to maintain and very durable.
If you are looking for something spacious then this PawHut dog kennel would be ideal for you. The best part is that you can expand the capacity for more space.
Pros
---
UV-resistant and water-resistant tarp covering.
No weight capacity.
Can be expanded with connecting panels to accommodate larger or more dogs.
#8 JAXPETY Uptown Welded Wire Dog Kennel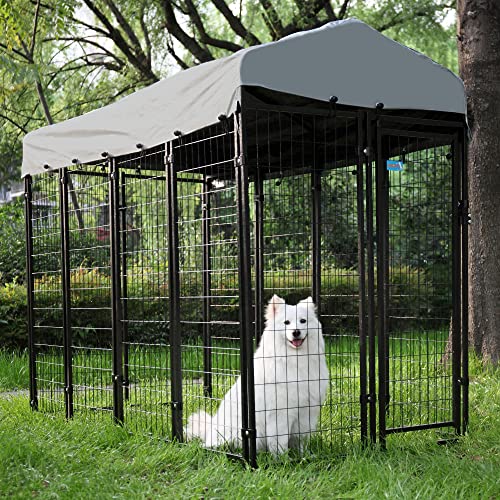 Outdoor dog kennels are constantly exposed to the elements. The JAXPETY Uptown dog kennel is built in many ways to withstand all forms of adverse weather conditions.
The frame and grid are made from stainless steel which is corrosion resistant. Furthermore, this stainless steel has a powder coat finishing which offers further protection from the elements making the dog kennel weatherproof.
This outdoor dog kennel also has a protective canopy unit. This offers the dog shade when the kennel is set up outdoors. It also protects from water during rainy weather.
This outdoor dog kennel stands out mainly when it comes to the quality of construction and its overall durability. If you want something that will serve you and your dog for a long time then this dog kennel is worth looking into.
Pros
---
Secure latch locking mechanism.
It is easy to set up and fold.
High-quality construction with a 1-year warranty.
#9 Vnewone Outdoor Dog Kennel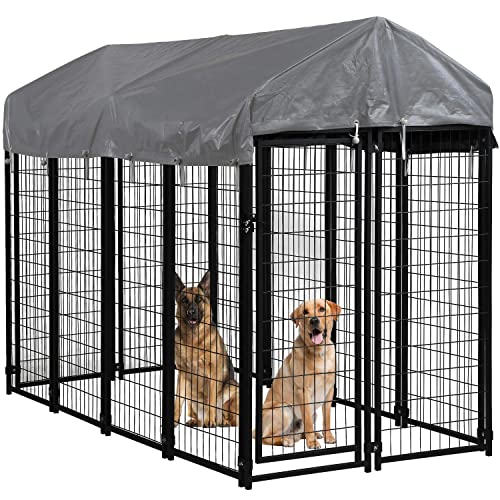 Most outdoor dog kennels today come with cover tarps that protect the dog from direct sunlight and water. The tarp on the Vnewone outdoor dog kennel stands out as it is specifically designed to be UV-resistant.
This feature not only protects the dog from harmful UV exposure but also protects the tarp itself from prolonged sun exposure. You do not have to worry about things like fading or cracking which leaves you with a beautiful, long-lasting tarp.
Another standout feature that makes the Vnewone outdoor dog kennel awesome for bad weather needs is the pitched roof design which allows rainwater to flow off the roof.
If you are setting your outdoor dog kennel in a place where the weather is often harsh, this is the dog kennel for you. Whether it is heavy rains or harsh sunlight, your dog will be comfortable and safe.
Pros
---
It measures 7.5 feet long by 3.75 feet wide by 5.8 feet tall.
Easy, tool-free assembly.
Rubber foot pads to protect the floor and for stability.
#10 PUPZO Heavy-Duty Dog Kennel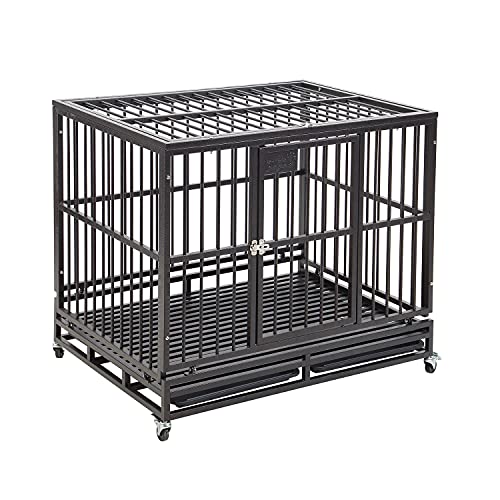 Outdoor dog kennels made out of metal often pose a danger to the dogs, especially if they have sharp edges. This is something that you will not have to worry about with the PUPZO Heavy-Duty Dog Kennel.
This dog kennel has a well-thought-out design with no exposed sharp edges at its corners. It is also made of corrosion-resistant carbon steel to provide durability and sturdiness due to its overall weight of 99 lbs. This is where its four wheels come into play, allowing the kennel to move with ease.
It comes with a double-door design that allows the top to be opened, apart from the door opening in the front. You can lift the dog in and out with ease.
As far as convenience goes, very few dog kennels can match what this PUPZO model has to offer. You are pretty much guaranteed its value for your money.
Pros
---
Comes in as easy-to-install preassembled panels that can be set up within five minutes.
It has two lockable wheels to keep the kennel in place.
Cons
---
Its front door can be prone to manufacturing defects that allow a dog to chew through.
#11 Lucky Dog Chain Link Boxed Kennel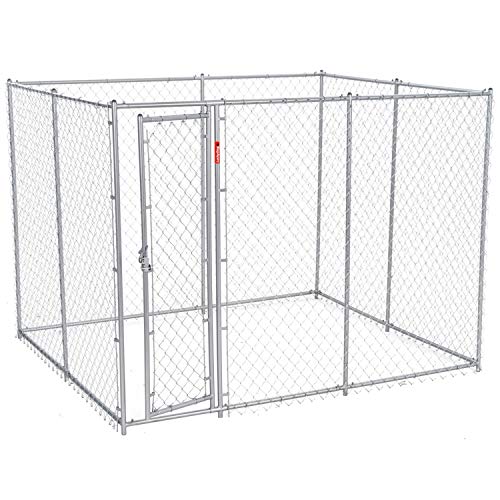 The Lucky Dog Chain Link Boxed Kennel has a fairly unique and minimalistic style. It is pretty much 4 walls made up of chain-link grid panels. The chain links are made out of heavy-duty stainless steel which is not only strong but also very durable.
The chain link design also offers great visibility for the dog and aeration while they are in the kennel. It is also perfect if you like that old-school, chain link fence aesthetic.
With its open-top design, the Lucky Dog Chain Link dog kennel is ideal for homes where the weather is pretty much always nice and neutral in which case there is not much to protect the dog from.
Pros
---
Rounded, welded edges.
Open top design for fresh air and sunlight.
Easy but secure latch mechanism.
#12 BestPet Large Dog Kennel Dog Crate Cage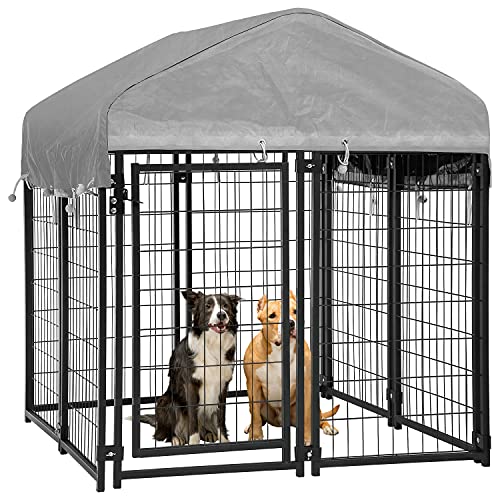 The BestPet dog crate cage is easily one of the smallest dog kennels with its design on the market. It measures 4 feet long by 4 feet wide by 4.3 feet tall for an almost perfect cube silhouette. With these dimensions, this dog house is best suited for small to medium dog breeds.
The outdoor dog kennel also comes with a reversible tarp. This offers protection against harsh weather elements, such as UV and rain. The tarp here stands out in that it is reversible which means you can switch sides to avoid overexposing one.
This outdoor dog kennel from BestPet is ideal if you have small dogs due to its small dimensions. This also works if you have limited outdoor space or you would like to set the dog kennel up indoors.
Pros
---
Wide grid system for aeration and visibility.
It can be used both indoors and outdoors.
Raised design for easy cleaning without moving.
---
Outdoor Dog Kennel Buyer's Guide
---
Think about it.
While reviewing the top outdoor dog kennels on the market, we realized that the best way to find out impartial reviews is to speak to many different dog owners.
Not to mention, we spoke at length to people who have pets and categorized them under stay at homeowners and working outside owners. This helped us to understand how outdoor dog kennels serve your purpose even when you are out at work.
Did we stop there? Definitely not.
We researched veterinarians' recommendations to help us understand the ideal conditions in which a dog should usually be while outdoors. This further assisted us in finding the outdoor kennel that maintains these conditions with respect to shape, size, and materials used.
So, it all adds up to this:
Our team brought all the pieces of information together to give you the best possible results.
How We Found The Best And Reviewed Them
While having a pet dog is one of the best feelings in the world, it is essential to return that favor by offering your dog the best amenities possible.
One of those innumerable things you could do for your furry friend is getting an outdoor kennel. There is no denying the fact that dogs love playing outdoors. However, this might not always be favorable if they are yet to understand property boundaries and general safety.
If you are wondering if this dog kennel would be of any use since the last dog crate was rather useless, think again.
Outdoor dog kennels are usually bigger and give your dog ample space to eat, drink, and take a leisurely stroll around without getting into any trouble.
There are so many choices with respect to size, shape, and materials when it comes to buying an outdoor dog kennel. That's why we have created this buyer's guide to help you to make that decision.
What Are The Benefits Of An Outdoor Dog Kennel?
An outdoor dog kennel can go a long way in keeping your dog safe and happy. Listed below are more reasons to buy one right away.
Smaller dogs learn bladder control while staying in outdoor dog kennels.
Lower the number of accidents in your living room.
Enjoy the freedom of being outdoors while staying safe.
Protect your dog from the elements of nature without restricting them to your living area.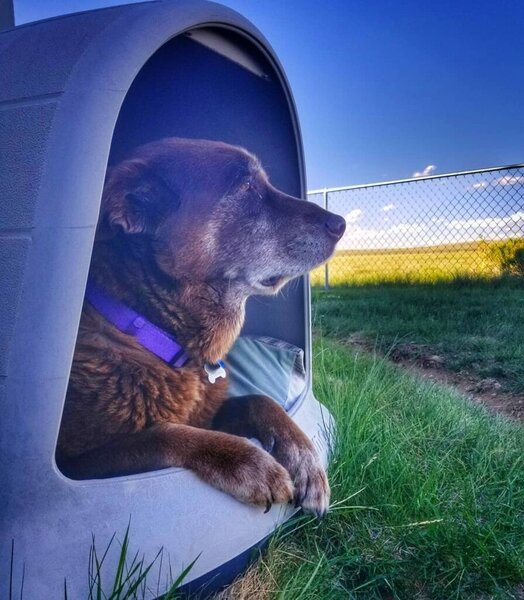 What To Look Out For?
Finding the best outdoor kennel could be tricky, especially if you are not aware of what to look for. Listed below are the few things you need to consider without fail.
Space And Size
An outdoor kennel should be big enough for your dog to move around easily because he/she might need to spend a few in there. It should also be able to accommodate your dog's food and water bowls as well as the toys.
Given below is a basic size guide that dog owners should follow.
Up to 50 lbs: 48" x 48" x 48"
Up to 100 lbs: 60" x 60" x 60"
100 lbs and above: 90" x 90" x 90"
If you would like your dog to roam safely around your entire yard freely without a dog kennel, it's better to consider a wireless dog fence instead.
Protection From Natural Elements
Having a water-resistant cover on the top of your cage comes in handy if you live in a hot and humid climate and also if your area is prone to sudden showers. A sunshade is also a good option if your city or hometown tends to get too sunny.
Type Of Material Used
Outdoor dog kennels come in three options; plastic, wood, and metal.
If you want an environmentally friendly option, then wood is your best option.
Plastic dog kennels are more popular because they are easy to assemble and do not require annual treatments.
However, if you want a sturdier option, metal dog kennels are the best.
---
Final Thoughts
---
Whether you opt for the top-rated pick or any of the other 4 choice picks mentioned, you should remember that dogs take some time to be familiar with outdoor dog kennels.
It does take some effort at your end to familiarize your pet with it. For the best results, try introducing your pooch to the canine kennel over brief periods of time.
Now that we have reviewed the top products in the market, we can only hope that you choose the best outdoor dog kennel for your pooch. They deserve all the love and care you can afford!