The best wireless dog fence is Petsafe PIF-300 Wireless Dog Fence.
While having a dog at home is a wonderful thing to cherish, it is equally important to ensure that your pet is always safe, secure, and happy.
Dogs are playful and active in nature – that's what makes them so lovable.
There is no denying the fact that most dogs tend to be very playful in nature, and even if they do not intend to not pay heed to your orders, they often land up in trouble while playing outside if left unsupervised for some time.
A word of caution:
Going beyond your property's boundaries is something that they absolutely love doing. However, this can invite troubles like getting attacked by other unfamiliar dogs outside, injuries or accidents from vehicles on the streets, and a lot more.
You cannot possibly keep your dog indoors all the time when you are tied up with work. A dog needs to play outdoors as frequently as possible.
The solution?
You need the best wireless dog fence. Such a virtual smart fence is a safe and simple form of pet containment system for your canine companion. The wireless invisible fence keeps your dog contained within a particular area while letting him/her enjoy the freedom of being out in the open.
Simply set the boundaries, and your pooch will be given a warning beep whenever it approaches these boundaries!
#1 Petsafe PIF-300 Wireless Dog Fence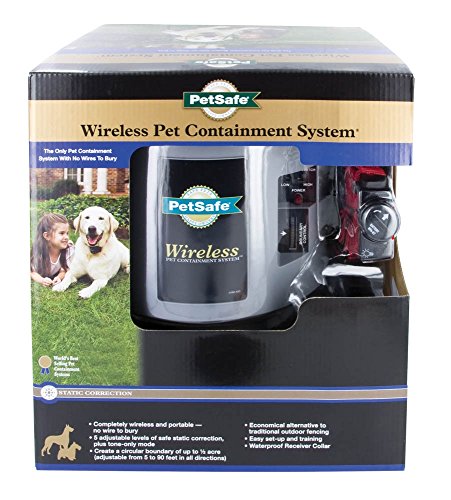 Petsafe PIF-300 Wireless 2-Dog Fence Containment System
Wireless radio-fence containment system for pets weighing 8 pounds or more
Covers an adjustable circular area of up to a 1/2 acre (180-foot diameter)
This containment system comes with an extra PIF-275-19 collar. The collar comfortably fits dogs 8 pounds and up and...
If you have a large yard space and a dog that loves to wander and explore it, the Petsafe PIF-300 wireless dog fence is ideal for you. This system offers a wide signal range of 180 feet in diameter or about half an acre. That way, your dog has more free space to roam around in.
This Petsafe wireless dog fence system comes with a static shock correction receiver that lets the dog know when they are getting too close to restricted parts of the outdoor space. The charge released is very safe and only causes irritation so you do not have to worry about causing harm to your doggy.
Something else worth celebrating with this wireless dog fence is the complementary collar that comes with the package. It is adjustable from 6 to 28 inches which can comfortably fit most dog breeds over 8 lbs in weight.
We like how efficient this wireless dog fence is as far as the range of signal effectiveness goes. This works really well for homes with large outdoor spaces. That way, your dog can truly enjoy their independent time on your property. Its wireless design also means that you don't have to worry about property destruction for installation.
Pros
---
No digging is required for setup.
The collar is waterproof.
Collar batteries have a lifespan of about 3 months.
#2 COVONO Wireless Dog Fence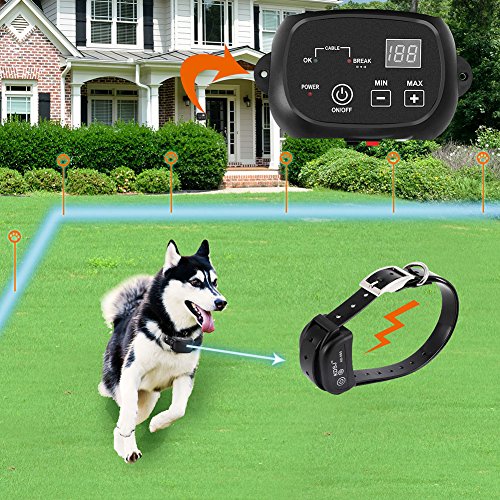 The COVONO wireless dog fence is technically not wireless as there is a 650 feet long boundary line that comes as a part of the package. This wire is designed to be super flexible to allow you to set it up based on your yard's dimensions and shape and how much freedom you want your dog to enjoy.
This wireless dog fence system has a signal range of up to ¾ acres which is quite impressive for an electric dog fence in its price range. The best part is that you can expand this range. All you have to do is invest in additional wiring to add to the 650 feet you already get.
The receiver and correction collar uses a combination of beeps and shock to warn and correct the dog as they approach the boundary and in case they cross it. The beeping in particular is awesome if you want to be a bit more gentle on the doggy.
The fact that you get such an incredible range from a dog fence in this model's price range is what makes the COVONO such a great option to consider. It can be expanded both in terms of signal coverage area and the number of dogs that can be monitored and controlled. Therefore, if you are shopping on a budget then this dog fence is definitely worth considering.
Pros
---
The shock intensifies with proximity to the boundary.
The wires are designed for both underground and aboveground setup.
Collar designed for dogs between 10 and 120 lbs.
Designed with an IP66 waterproof rating.
#3 JUSTPET Wireless Dog Fence
JUSTPET wireless fence system is an intelligent wireless system with a simple operation and a beautiful appearance. It has a 433 MHz frequency with a radius distance of 100 to 1,000 ft and a total of ten levels adjustment with 100 ft for each level. The distance is super accurate and can be chosen as needed.
The collar receiver automatically sends a warning sound and status shock to remind the dog to return to its safe zone if it runs out of the set range.
However, it uses the latest technology where the receiver will not warn, the electric shock will be disabled, and the test lamp will remain off after the main unit shuts down.
In addition, the receiver has a signal indicator that flashes when the battery is low to alert you to charge it in time.
The size of the collar can be adjusted from 8 to 28 inches wide and is generally suitable for most dog breeds weighing between 10 to 110 lbs.
JUSTPET wireless fence system is a safe and reliable choice that uses the latest technology to ensure no harm to your pooch during training. Moreover, it is suitable for outdoor training since the indoors will have a lot of interference factors.
Pros
---
Rated IPX7 waterproof.
High signal accuracy and stability.
Comes with static electric and shock functions.
An extremely well-thought-out design to meet the needs of dog owners.
#4 Wagz Freedom Smart Dog Collar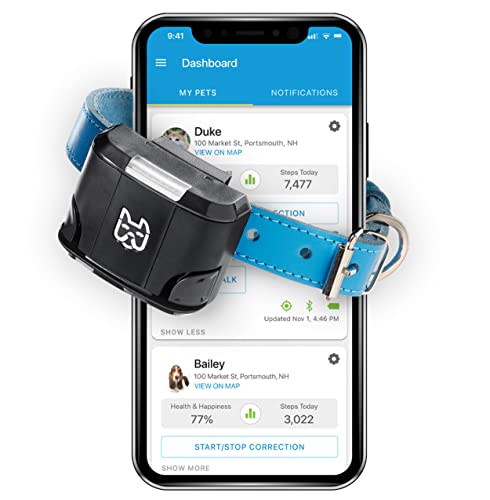 For shock-free corrections as a dog collar trains your dog with ultrasonic, audible, and vibration corrections, Wagz Freedom Smart Dog Collar should be on your mind.
It offers the ability to set up and store multiple customizable geofence perimeters and Keep Out Zones to protect and contain your dog. This, in return, ensures your dog doesn't access forbidden areas like pools, flower gardens, or patios.
Wagz Freedom shock-free collar has activity and healthy tracking, including exercise, sleep time, and step count, which logs the distance, duration, and route of your dog's runs, walks, and hikes.
In addition, it allows you to stay connected by utilizing GPS and cellular coverage, and you can create a virtual fence anywhere with good cell reception.
All in all, a Wagz App dashboard is provided to monitor the aforementioned features, the ambient temperatures, GPS location tracking, and activity tracking through your smartphone, while your dog is on the move.
Finally, the collar is lightweight, durable, portable, and easy to attach to your dog's collar. and does not need any installation or wires. It works on a broad range up to 15 ft and is recommended for dogs weighing 15 lbs and heavier.
Wagz Freedom collar should be your go-to choice if you are looking to have freedom at your fingertips to ensure your dog stays healthy, happy, and safe whether you are apart or together. It is suitable for dogs weighing 15 lbs or more.
Pros
---
Shock-free corrections.
Real-time GPS tracking.
Health and activity tracking.
Virtual geofence and keep out zones.
Lightweight device weighing a mere 1.7 oz.
#5 WIEZ GPS Wireless Dog Fence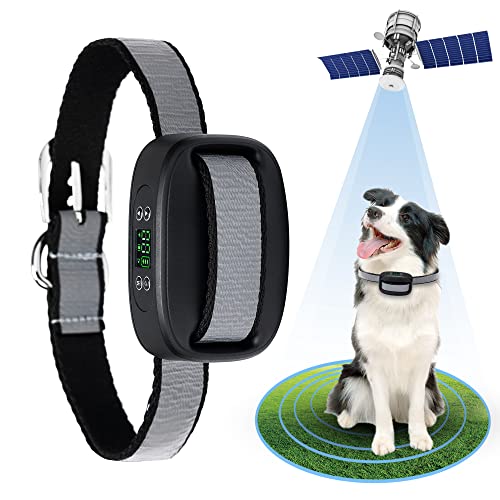 The WIEZ GPS wireless dog fence stands out from other wireless dog fences on the market mainly because of its huge radial coverage. It operates at a radial range of 98 to 3,281 ft and up to a maximum area of 776 acres.
Another great selling point is its GPS feature. The dog fence works well with just the dog collar but without a transmitter. It also relies on satellites for its GPS locating feature, thereby requiring a startup time of 1 to 3 minutes when placed outdoors.
There are 32 training modes to choose from and adjust the intensity of electric shock or vibration the dog wearing the collar can feel. This provides great flexibility that dog owners can take an advantage of while training their dogs. Simply start off with limited roaming space in your yard and gradually let the dogs have more freedom when they display good behavior.
However, the collar measures 3.1 inches long by 2.2 inches wide by 1.2 inch thick, a size that is not considered suitable for small dogs weighing less than 10 lbs. We urge dog owners to take note of this shortfall when purchasing this device.
Pros
---
The collar is rated IP7 waterproof and suitable for use in rain conditions.
The collar is rechargeable and has a battery life of 10 hours per day, lasting 4 to 5 days with a full charge.
Offers a 30-day money-back guarantee and a 2-year product warranty.
Cons
---
Depending on where the dog fence is placed, the performance of its GPS feature is heavily influenced by the level of satellite coverage the location has. This may pose reliability issues for the dog fence.
#6 Feeke Pet Wireless Dog Fence
The Feekee Pet Wireless Dog Fence is a true wireless containment system. It features a simple yet highly effective combination of a receiver that goes on the dog's collar and a transmitter and control unit. The latter is responsible for determining the boundaries and sends out signals to the receiver to correct the dog when they get too close to the perimeter.
This is another wireless dog fence that is designed with the dog's safety in mind. It has a three-correction maximum after which the receiver stops causing correction shocks to protect the dog from injury or psychological trauma.
Fortunately, most dogs will stop advancing towards the perimeter with the first correction if they are trained properly.
The completely wireless nature of this dog fence makes it perfect as you do not have to worry about wetting up cords all over your backyard space and in your home.
Pros
---
The connection is motion-activated by the dog running.
Designed for all dog neck sizes up to 28 inches.
Rechargeable transmitter and receiver with a two-hour charge time.
#7 Pet Control HQ Shock Collar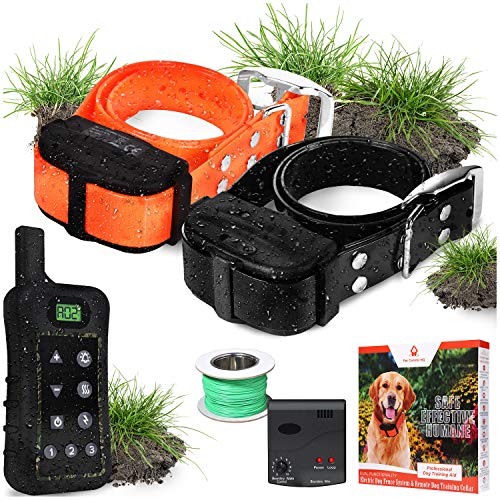 Pet Control HQ Wireless Pet Containment System guarantees there will be no risk of your dog wandering off where it contains your dog without a traditional fence.
It is the best option for a dog owner with more than one as it allows you to train up to three dogs simultaneously. In addition, the remote gives the owner the ability to pick the dog to be corrected and not accidentally shock the wrong dog.
Both the containment system and the collar are of high quality. The collar is also rated IPX7 waterproof, making it suitable for use in swimming activities. Thanks to the long 12-hour battery life that gives you three to seven days of pet containment training, it will give you peace of mind.
The electronic shock collar can be used on all dog breeds and sizes, thanks to its adjustable strap, fitting between 8 to 27 inches in dog neck sizes. In addition, the dogs should weigh between 11 to 154 lbs.
Pet Control HQ will be a great choice for any dog owner with multiple dogs in large yards or complicated spaces. The combination of wireless pet training systems gives your dog 10 acres of safe roaming, allowing your dogs to stay in the safe zone when outdoors.
Pros
---
Sturdy and waterproof.
10 levels on increasing intensity.
Long battery life to last half a day of activities.
A ¾-mile working range for safe adventures.
#8 OKPET Wireless Dog Fence Pet Containment System
OKPET Wireless Pet system comes with three receivers and can help control and train multiple dogs simultaneously. Thanks to the strong signal penetration capability, the host can be positioned anywhere in your home.
If the house is too big, you can use two transmitters simultaneously and place them in different corners to increase the transmission distance.
The collar receiver is suitable for use with dogs of all sizes, where the receiver has conductive posts to cater to different lengths. The length can be selected depending on the length of the hair and the size of your dog.
In addition, since the product adopts the latest technology and is FCC certified, the receiver does not electrically shock your pooch after turning off the host for safety.
Instead, the collar receiver will vibrate before sending the static electric shock. By delaying the shock, the dog will have ample chance to return to the safe zone.
OKPET Wireless Pet system should be your go-to option if you want a system to use with multiple dogs and multiple receivers. In addition, since the receiver can cater to different lengths, you can choose the conductive posts based on your dog's hair length and size of your dog.
Pros
---
Multiple dog control, up to 3 dogs simultaneously.
Waterproof, suitable for swimming activity.
A safety cycle between vibrations and static electric shocks.
A strong signal transmission distance spanning a 1,000-ft radius.
Provides 21 training flags to plot out the roaming boundary.
#9 PetSafe Pawz Away Pet Barrier
SALE ALERT!!
PetSafe Pawz Away Collar is an indoor collar that is easy to set up since it is cordless, meaning you can use it straight out of the box. The collar is portable and can be used anywhere and moved around up to a 6-ft range.
The collar has an adjustable nylon strap that sits conveniently on your dog's neck, and it has a quick-release buckle that makes it easy to put on or take off. It uses a straightforward transmitter with only two buttons, and it can be used to adjust the circular barrier range.
The indoor collar is effective for dogs weighing over 5 lbs and fits neck sizes between 6 to 28 inches. In addition, it has a decent battery life that can last up to three months with moderate use.
PetSafe Pawz Away Collar is the best indoor collar meant to be used indoors to keep problem areas such as furniture, trash cans, and counters off-limits from your dogs. When your dog enters an unwanted or unsafe zone, it will hear an audible beep as a warning sign followed by an advanced static simulation.
Pros
---
Adjustable barrier range up to a 6-ft radius.
Its audible beep serves as a warning sign.
Easy-to-use training tool.
Highly portable and suitable for use in multiple locations.
Decent battery life lasting up to three months.
#10 SportDog Contain & Train In-Ground Fence System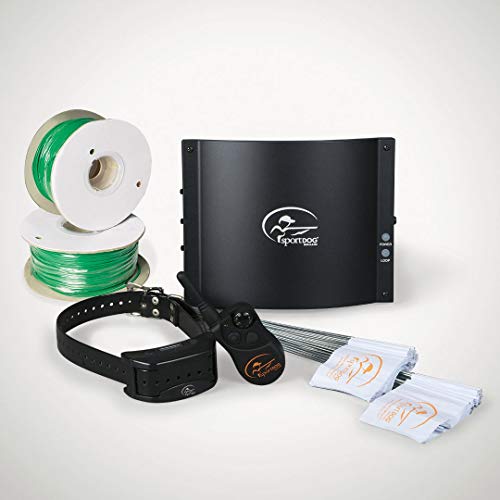 SportDog Contain & Train In-Ground Fence System 2-Dog System
Ability to secure your dog(s) within a set boundary, and remotely train both inside the boundary, at home, and outside...
Wire-break Transmitter alarm alerts you to possible problems with the Boundary Wire with Built-in lightning protection
Additional Collar for 2nd Dog
Featuring seven levels of static stimulation, SportDog Contain & Train System has an option to train your dog with vibration and tone.
The training mode can accommodate three dogs, while the containment mode can expand to accommodate all dogs with the Add-A-Dog collar receiver. In addition, it features 1,000 ft of wire and 100 boundary flags, and it can expand to 100 acres with additional wire and flag kits.
In addition, it includes a remote trainer from the popular FieldTrainer 425 that communicates with the collar receiver up to 500 yards away. This gives you the chance to train your dog on the insides and outsides of the containment area without having to switch collars.
The collar receiver is waterproof and is submersible to 10 ft, while the Remote Transmitter is DryTek waterproof and submersible to 25 ft. It also includes built-in lightning protection and a wire-break alarm on the transmitter.
Offering three modes of operation, the SportDog Contain & Train system allows you to choose the signal the collar receiver will respond to, giving you flexibility. Also, since it works with both the e-collar handheld remote and the underground wire, the collar receiver allows you to contain your dog within a boundary you define.
Pros
---
A wire-break alarm on the transmitter.
Anti-linger feature.
Seven levels of static stimulation.
A two-hour quick charge.
Rechargeable collar with a battery life of 1 to 2 months.
#11 Extreme Dog Fence Premium Kit Packages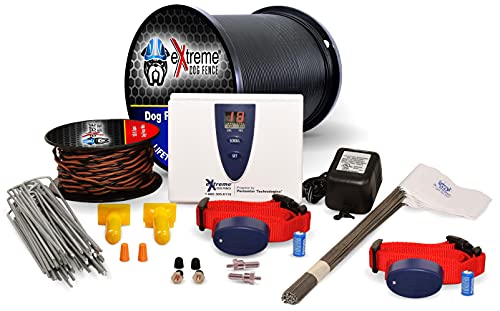 Extreme Dog Fence Kit covers an impressive area between 23 to 25 acres which can be expanded with extensive coverage. The dog fence can be installed on any terrain and has been updated to support the newer collars.
One pro-grade kit contains heavy-duty boundary wire ranging between 500 to 2,500 ft, a 16 AWG twisted wire, a digital transmitter, 6V batteries included for every collar receiver purchased, 100 to 500 training flags dependent on the distance, waterproof splice kits, and 10 dog fence staples.
The collar can train your dog using three different methods sound, static, and vibration. In addition, it gives a beeping sound as a warning to your dog whenever they are around the boundary.
It is made with a high-quality 14-gauge wire, which is thicker than the 20-gauge wire with most invisible dog fence kits, and it can withstand natural elements. The collar is waterproof and can withstand submersion underwater for up to 100 ft. It is a perfect solution for dog owners with a large piece of land.
Extreme Dog Fence Kit is the best choice if you are looking for maximum flexibility since it can be installed on any kind of terrain. In addition, the invisible fence is a perfect addition for dog owners who enjoy a good dip in a lake or a pond.
Pros
---
Waterproof and submersible.
High-quality 14-gauge wire.
Flexible installation.
Offers a one-year or 10-year warranty upon product registration.
---
Buyer's Guide – Wireless Dog Fence
---
A hundred websites can give you the same thing that we have to offer, so why would you trust us alone?
We won't be exaggerating if we tell you that we are a team of experts that have been dealing with dog containment systems for a decade now, and our wireless dog fence reviews are unbiased and reliably sourced.
For your furry friend that you love to play with will always be safe in the containment that we recommend.
This is because our recommendations are based on current market trends, along with reviews from caregivers, dog owners, and experts in the field. We also tally our wireless dog fence reviews with Amazon customer reviews to ensure that we don't miss out on the advantages and disadvantages mentioned by first-hand users.
After thorough research, we have come up with a review article that will cater to all your needs related to a wireless dog fence.
Related: Best Portable Dog Fence
How We Found The Best and Reviewed Them
As dog owners, we really love our canine companions.
That's why we have to look out for them and to keep them safe always.
The wireless dog fences help to keep your dog safely contained within a particular area while letting him/her enjoy the freedom of being out in the open.
However, before investing in any high-quality underground dog fence, you need a proper understanding of the factors that go into making a good wireless fence.
So we have come up with a buyer's guide that will help you to choose a wireless fence for your pooch to help you choose the best.
Corded Dog Fence VS Cordless Dog Fence
When you opt for a corded underground electric dog fence, your dog will have to wear a collar receiver. You have to either set up the wires around your fence or the perimeter specified or bury them under the ground in your yard.
Whenever your dog attempts to stray away from the safe zone, the receiver collar will send a small static correction to your dog, and with time, it will learn to stay within the safe area.
While a corded underground electric dog fence has the advantage of being flexible, it carries the disadvantage of needing long hours of installation because wires are involved.
On the other hand, a cordless dog fence will only need your dog to wear a collar and a transmitter to be placed in your house. This transmitter creates a radius that is basically the area that your dog can safely play in. If your dog attempts to escape the area, it will receive a small static correction just like that in a wired fence.
A cordless dog fence offers the advantage of an easy installation with no requirement for wires to be buried or set around the perimeter.
Since more and more people are seeking convenience nowadays, the demand for a virtual smart fence as such has gone up.
Related: Best Dog GPS Trackers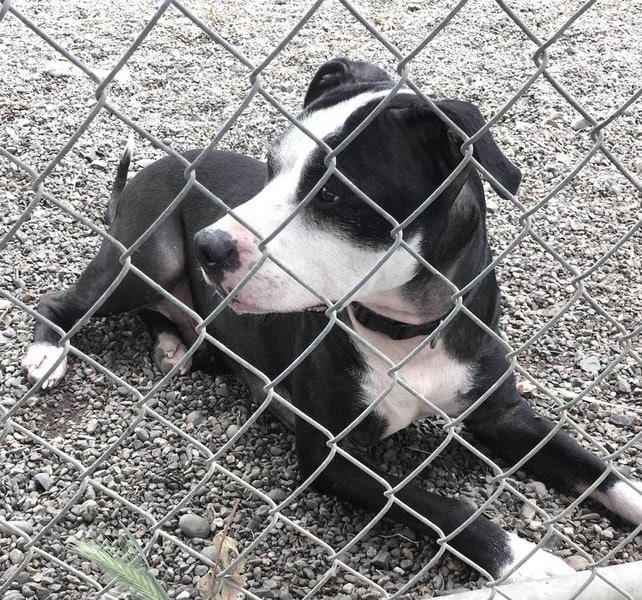 Factors You Should Consider Before Buying Wireless Dog Fences
There are a few factors that you should consider before investing in wireless dog fences and they are listed below.
Area Covered
The most important thing that you need to consider is the area that the transmitter of the wireless dog fence covers. You need to find out if the area mentioned caters to your need or not. Since you only have a transmitter to rely upon, the area covered is of prime importance.
While some transmitters can only cover half an acre, some others can cover up to 25 acres. The things that you should consider are the shape of the transmitter, the area in which it functions the best, and whether its signals can easily pass through obstructions or not.
Always avoid setting up your transmitter in an area where there are metal fixtures or furnaces. This might limit the radius of your transmitter.
If your house has a bigger area to cover, opt for a more powerful underground dog fence that can cover a wider area.
Installation Duration
The best part about a wireless dog fence is the fact that it can be easily set up or installed without having to dig, hammer, tie etc. It hardly takes more than a couple of hours to set up and start working.
What you need to look into is the positioning of the transmitter. Always ensure that the transmitter does not have any hindrance around it and has a 120-Volt outlet that is away from natural turbulences in weather. A transmitter that does not have a temperature below the freezing point is what you should ideally opt for. Positioning the transmitter on the first floor will give you more radius to cover more area.
Additional Features
Yet another important factor is whether the features of the dog collar suit your dog or not. If you tend to have a lot of pool parties at home, you should get a waterproof dog collar. This can withstand hours of being submerged underwater while a water-resistant dog collar will get damaged with long hours of submersion.
For very active canines, you definitely need a dog collar that is durable enough to withstand extreme levels of play and fun. Some collars give you the option of turning it off while your dog is still getting a hang of things so that it does not end up getting too many shocks.
Battery options are also to be considered while buying a wireless dog fence. Does the transmitter have rechargeable batteries or need disposable ones? What suits your preferences and whether you can sustain disposables or not, are factors that you must take into consideration.
Also, consider if the dog collar uses proprietary or non-proprietary batteries. If they use proprietary batteries, it could be difficult to acquire and could also be more expensive. Non-proprietary batteries are easily available and are less expensive too.
---
Final Thoughts – Let Your Dogs Roam And Play Safely
---
There is no denying the fact that your canine friends need exercise and that can only be attained when you let your dog roam about freely. However, it is also important to keep your pooch safe and secure so that it does not end up with injuries.
You can have irritable neighbors who do not enjoy dogs freely roaming around, you might want to protect your precious flower beds from getting ruined and you might also want to keep your dog away from the swimming pool.
All these are only possible when you have a wireless dog containment system that promises to keep your pup safe and secure. Now that we have given you a fair idea of how these systems work and the factors that go into making an effective solution for your pet needs, we can only hope that you make the best choice possible.
The idea is to have a containment system that not only caters to your needs but also completely caters to the needs of your pet. He/she should be absolutely comfortable with these wireless dog fences in place and should be able to get accustomed to it as early as possible.
To emphasize the idea yet again; an invisible fence system is all about making your dog's playtime way more fun than it is at the moment and about offering you the peace of mind that you have been looking for.