The best flea collar for dogs is Seresto Flea And Tick Collar For Dogs.
Flea and tick season is in full swing, which means dogs are at risk for fleas and ticks all summer long. Not all dogs are comfortable with a topical application to get rid of fleas, nor are they ready to take oral medications.
That's where the flea collar comes in. Flea collars are designed to be worn by dogs for the purpose of repelling fleas from their bodies. The best flea collar for dogs will have a high percentage of Imidacloprid and Flumethrin, which are insecticides that kill adult and larval fleas on contact.
We are going to review some of the best dog flea collars on the market today, their pros and cons, what people love about them, and what people don't. At the end of this article, we have also included a list of our favorite picks with links to where they can be purchased at great prices!
#1 Seresto Flea And Tick Collar For Dogs
SALE ALERT!!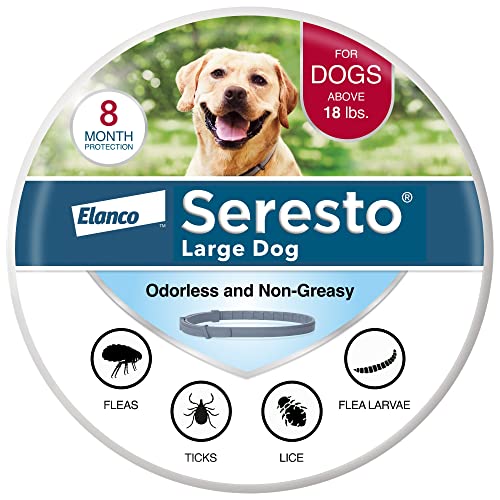 This flea and tick collar from Seresto is easy to use, odorless, suitable for puppies seven weeks and older, and for large dogs weighing 18 lbs and above. Formerly associated with Bayer Animal Health, Seresto is now part of Elanco Animal Health Incorporated, an American pharmaceutical company for pets and livestock.
The effectiveness of this collar product is about eight months, and it protects your pooch from ticks and flea infestations. Any contact with the collar is deemed sufficient to kill the ticks and fleas.
It can also be adjusted to fit your dog's neck and can be worn with regular leash collars. It is waterproof too and can be worn during swimming activities and bath time.
The Seresto collar employs a mechanism that slowly and continuously releases active ingredients to ensure active protection all day long. The active ingredients involved are Imidacloprid and Flumethrin.
Within 24 hours of wearing the collar, the infested fleas will start dying without the need to bite the wearer. Any forms of re-infestation or new ones are deterred within 2 hours upon the first day.
The Seresto collar is our top pick because it gives full 8-month protection from fleas and ticks. The two named active ingredients in the collar work together to both kill and repel fleas. It disrupts the flea lifecycle effectively. Dog owners love using these collars for their long-lasting effects and efficiency in dealing with the menace of ticks and fleas.
Pros
---
The Seresto flea and tick collar for dogs features a combination of active ingredients, Imidacloprid and Flumethrin, that are both effective at killing fleas and ticks.
Once applied, the Seresto collar works to kill existing fleas and ticks on a pooch within 24 hours such that new fleas, when coming in contact with a pooch after this 24-hour period, usually die within 2 hours.
The odorless and non-greasy design of this flea prevention collar makes this a product that a pooch can comfortably wear for a considerable period.
Its water-resistant design ensures that this flea prevention collar will continue working, even after it has been exposed to a considerable amount of water.
This Seresto collar comes with three optional reflector clips that can be attached to the collar to increase a pooch's visibility and ensure safety when walking at night or in low-light conditions.
Cons
---
Multiple customers claim that this product was ineffective for combating flea and tick infestation in their canine buddies.
Some pooches have reportedly developed allergic reactions and skin hotspots around the neck while wearing this Seresto collar.
#2 Adams Flea And Tick Collar For Dogs
SALE ALERT!!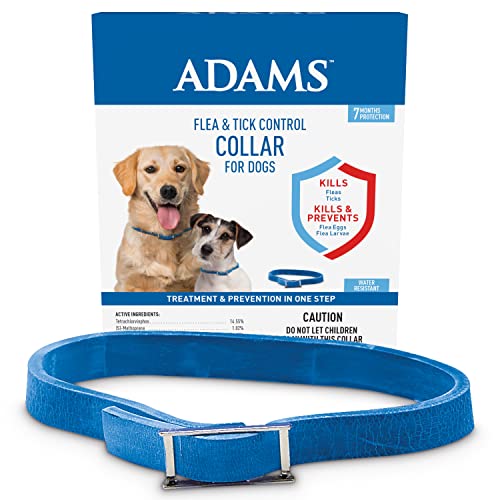 If you want a natural, safe and affordable solution for your dog's flea problem, you can consider the economical Adams flea and tick collar. Compared to its peers, it costs thrice cheaper and provides comparable protection for your dog.
Its control mechanism consists of tetrachlorvinphos and methoprene. Tetrachlorvinphos works to kill fleas, while methoprene interferes with the growth cycle of fleas.
If your dog loves to swim and to get wet, don't deny it the pleasure of playing with water because the collar is water-resistant.
Also, it comes in an adjustable strap that can be cut to fit the size of your dog's neck properly. The strap has an outer reflective layer that reflects light up to 450 feet for better visibility under low light conditions, making it ideal for dog walks at night.
The price and performance of this Adams collar make it an option worthy of going up against the more expensive dog flea collars on the market.
Pros
---
The extended-release technology incorporated in the Adams flea collar ensures the continuous release of the active ingredients that kill fleas and ticks onto a dog's body and skin, over a 7-month period.
The Adams collar comes in a one-size-fits-all package that is intended to fit a wide variety of neck sizes, with customers simply needing to make the necessary adjustments to ensure a convenient fit for their canine buddies.
This flea prevention product from the Adams brand features a water-resistant design that ensures that the collar can continue to be effective following exposure to water from rain or swimming.
The odorless design of the Adams flea and tick collar ensures that pooches won't get overwhelmed with a strong smell while putting on the collar.
The lightweight design of the Adams flea collar makes this product compatible for use with a pooch's regular collar.
Cons
---
There are concerns over the safety of this product, with there being reports of dogs developing seizures within a short period, after putting on the collar.
This Adams product isn't always effective, as there are multiple reports about pooches continuing to suffer from flea infestations despite wearing the collar.
#3 Arava Flea & Tick Prevention Collar
If you have a full-blown infestation, you should look for more effective measures. For a milder solution, the flea and tick collar from Arava is an excellent option to consider.
This collar is made from all-natural ingredients such as cedarwood oils, cinnamon, lemongrass, citronella, and peppermint. Therefore, there should not be any danger of chemical poisoning or allergies.
It also employs a special technique, Micro-Injection technology, which slowly releases the essential oils through the small pores along the collar. However, do take note that this Israeli patented slow-release process makes the collar effective for five months.
This Arava collar is an all-natural solution for fleas and ticks, and it lasts for 5 months. Unlike other products, it comes with a full money-back guarantee promise.
Pros
---
The Arava flea prevention collar is produced with natural and active herbal ingredients and essential oils that are generally safe and non-toxic to pooches.
The Israeli-patented micro-injection technology used to infuse essential oils into this canine collar ensures that the essential oils are distributed to a dog's body via a slow release process which improves the product's effectiveness.
The adjustable design of this flea prevention collar makes it possible for customers to cut and trim the collar as needed to provide a comfortable fit for their canine buddies.
The Arava flea and tick prevention collar come with a money-back guarantee in cases where the product isn't effective at repelling the aforementioned parasites.
This canine flea prevention collar is designed to be waterproof, and according to Arava, it can continue to be effective at repelling fleas and ticks for up to six months after initial application.
Cons
---
This Arava collar usually comes with a strong and unpleasant smell that requires a considerable period of air drying to get rid of.
Several customers have claimed that the Arava collar wasn't effective at repelling fleas and ticks from their pooches.
#4 Hartz UltraGuard Pro Reflective Flea & Tick Collar
SALE ALERT!!
Using the Hartz UltraGuard Pro collar is easy. Start by slipping it over your dog's head, just like a regular collar, and buckle it to fit. Once secured in place, let your furry companion go on its merry way with you knowing that this flea collar will keep them safe and sound!
The material used for the collar is water-resistant, so you don't have to worry about it getting damaged when your dog goes for a swim while wearing the collar. Moreover, it employs the Reflect-X Shield to reflect light up to 450 feet for better visibility when your dog wears it under low light conditions.
This product prevents eggs from hatching for up to 7 months. With its overall effectiveness of up to 7 months, this collar is rather affordable and worthy for your wallet.
Do take note that it is designed for puppies that are 12 weeks or older and dogs with necks no wider than 26 inches thick.
As a trusted brand in the dog industry, the Hartz UltraGuard Pro Reflective Flea & Tick Collar protects your pooch for almost seven months. It is also effective in breaking the flea life cycle and preventing re-infestation.
Pros
---
Hartz UltraGuard Pro collar utilizes a water-resistant design that ensures that the collar won't lose effectiveness after exposure to water from rain or swimming.
The Hartz collar releases active ingredients that offer protection against fleas and ticks for up to seven months and can even kill the eggs of these parasites to effectively break and end their life cycle to prevent reinfestation.
This collar is produced with reflective strips that glow when exposed to light in the dark, thereby ensuring that a pooch can safely be walked at night or in low-light conditions.
This canine flea and tick prevention collar is produced in the United States, with ingredients gotten from reputable global sources, to ensure compliance with safety guidelines.
The UltraGuard Pro collar is effective for use on both adult dogs and puppies aged 12 weeks and older.
Cons
---
Multiple customer feedback about this collar being ineffective at keeping fleas away from dogs.
This Hartz collar tends to come easily off a pooch's neck, especially when it is used with a very active dog.
#5 Fleebs Flea And Tick Collar For Dogs
This dog flea collar from Fleebs offers a safe and eco-friendly way of keeping disease-causing fleas away from your loyal pooch. It is made from 100% natural active ingredients, such as citronella oil, clove oil, and peppermint oil.
This collar comes in an adjustable strap of 24.4 inches long, and it is very lightweight, weighing merely 2.08 lbs. It is suitable for dogs of all breeds and sizes older than seven weeks.
The collar is water-resistant and can be worn even during playtimes in the pool or in the rain. All in all, it offers up to 8 months of active protection at an affordable price.
The eco-friendly Fleebs flea and tick collar is a natural oil-based flea collar that breaks the flea life cycle. This ensures long-lasting protection from fleas and the other usual culprits of lice, mosquitoes, and ticks.
Pros
---
The plant-based, essential oils formulation of the Fleebs flea and tick collar makes this product non-toxic for use with dogs.
Apart from being effective at repelling parasites, the ingredients contained in the Fleebs collar can also kill the larvae of fleas and ticks, thereby ending the lifecycle of, and preventing reinfestation by these parasites.
Fleebs' flea collar is produced for use with different dog breeds and sizes, with the collar's adjustable length design ensuring that it can be modified to fit comfortably on a pooch's (whether small or large) neck.
The waterproof build of this canine flea prevention collar ensures that dogs can continue to swim or walk in the rain, without the collar diminishing in quality and losing its ability to repel fleas.
The lightweight design of this flea collar ensures that it can be worn at all times by a pooch without weighing down on the dog in question.
Cons
---
The strong smell that typically comes with this flea collar isn't usually appealing to all humans and dogs.
Multiple customers have commented that this collar keeps falling off a pooch's neck, even after it has been adjusted to provide a convenient fit.
#6 Rolf Club 3D Tick Collar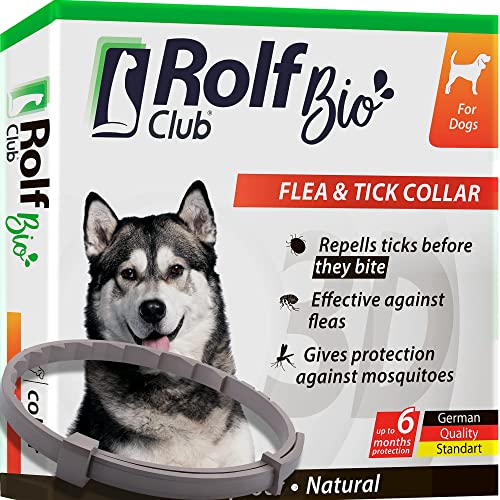 This Rolf Club 3D tick collar employs a proprietary non-toxic, odorless formula that offers, at best, six months of uninterrupted protection for your canine friend.
Besides ticks, this formula works on fleas, mosquitoes, and their larvae. It is also highly effective and kills the existing fleas within 24 to 48 hours when worn.
The collar is waterproof and can be worn during rain, bathing, and while in the swimming pool. Only available in gray color, it comes in two size options, namely Medium spanning 26 inches long to fit dogs weighing between 22 to 65 lbs, while Large spanning 30 inches long to fit dogs weighing above 65 lbs.
As a waterproof, non-toxic flea collar that activates within 24 hours of usage, this Rolf Club 3D product works surprisingly well on mosquitoes and ticks. Dogs will find this collar very comfortable to wear.
Pros
---
Rolf's tick collar makes use of essential oils to effectively repel fleas and ticks within the first 48 hours after application.
The essential oils contained in the Club collar are continuously released over a period of six months to provide a dog with protection against fleas and ticks during this time.
The Rolf Club collar is adjustable to a maximum length of 26.5 inches to make sure that it can be comfortably worn around various dog neck sizes.
Thanks to its waterproof design, the Rolf collar can continue to release essential oils to effectively repel fleas and ticks even after prolonged exposure to moisture from rain or swimming.
The Club 3D collar comes with multiple loops to feed the collar through and ensure that it stays in place on a pooch's neck after it has been applied.
Cons
---
This collar product usually comes with a smell that some customers and dogs have found to be overwhelming.
The sharp edges on this tick prevention collar may cause skin lesions or injury to pooches with a thin coat.
#7 Hartz UltraGuard Plus Reflective Orange Flea & Tick Collar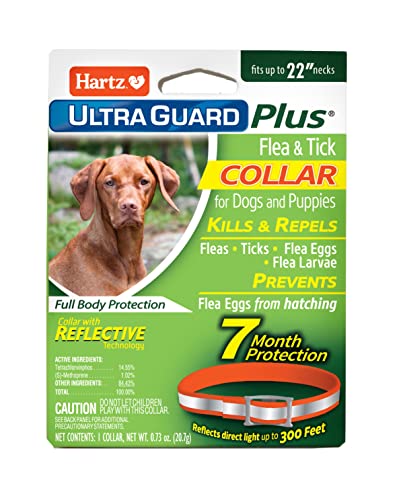 Featuring another product from Hartz, the UltraGuard Plus flea and tick collar provides 7-month-long protection against fleas and ticks by inhibiting their egg growth, killing and repelling them.
The active ingredients responsible for this effect are methoprene and tetrachlorvinphos. Despite the use of such chemicals, the collar is suitable for adult dogs and puppies aged 12 weeks and older. It employs a water-resistant design to last longer if your dog happens to be a frequent participant in water-based activities.
It is also adjustable and can fit neck sizes of up to 22 inches thick. For improved visibility when worn under low light conditions, it has a reflective stripe capable of reflecting light up to 300 feet. So, you don't have to worry while taking your dog out for a walk at night.
What makes this collar unique is its orange citrus scent emitted when worn. This keeps your dog smelling fresh and ready for cuddling anytime.
The UltraGuard Plus collar from Hartz offers seven months of flea and tick protection at an affordable price. If you and your dog prefer a scented flea and tick collar option, this is it.
Pros
---
The reflective strips contained on this UltraGuard Plus collar can direct light from up to 300 feet away to improve visibility and ensure a pooch's safety when walking in the dark.
The lightweight, non-bulky design of this Hartz collar ensures that it can be conveniently worn with a pooch's regular collar without putting any added weight on the dog.
The active ingredients that are slowly released by the Hartz UltraGuard collar kill and repel fleas and ticks, and continuously protect the pooch over a 7-month period.
In addition to repelling fleas and ticks, the UltraGuard Plus reflective collar can also kill the larvae and eggs of these parasites, thereby ending their life cycles and preventing future re-infestation.
This collar is water-resistant and can continue to release the essential oils needed to repel fleas and ticks after prolonged exposure to rainwater or when a pooch goes swimming.
Cons
---
This canine flea collar has reportedly caused some pooches to develop blisters and chemical burns around the neck region.
The attached buckle that comes with the Hartz product tends to loosen easily, thereby resulting in the collar falling off and, if not noticed on time, getting lost completely.
---
Dog Flea Collar Buyer's Guide
---
A flea infestation in dogs is a common occurrence.
It is not only frustrating for the dog and the owner but also the cause of severe diseases, such as Lyme disease, anemia, and dermatitis.
What makes flea infestation hard to control is the frequency and the number of eggs laid by fleas. Fleas can lay up to 50 eggs per day! Thus, it is crucial to start the flea treatment process the moment when you discover fleas on your furry friend.
You will know your dog has fleas when it starts showing symptoms such as:
Excessive scratching
Unexplained hair loss around the areas of the scratch
Seeing the fleas jumping on your dog's back
There are several methods to control these pests, but a relatively easy-to-use method is the dog flea collar. Wear the flea collar around your dog, and you are good to know. Flea collars are a hassle-free replacement for oral pills or topical applications, which requires more work to be done by the dog owner.
Related: Best Dog Flea Shampoo
How Does A Dog Flea Collar Work?
A dog flea collar works by repelling or killing the fleas via an insecticide.
These collars are usually made of plastic and are injected with insecticide, which is gradually released consistently in the form of a gas that repels the pests and kills the existing ones. This works because dogs have natural oils that reside on their skin, and this helps to spread the insecticide all over their body.
Dog flea collars appear no different from standard leashes, and often, they can be attached to the regular leash.
Related: Best Dog Flea Treatments
Types Of Flea Collar
There are three types of flea collars:
Repelling: These types of flea collars are designed to emit a gas that repels the fleas from coming near a dog and thus prevent the pests altogether. They do not treat existing flea problems.
Treatment: They are for eradicating an existing flea infestation. There are two primary methods. The first method is that the medication enters the dog's skin and kills the fleas when they bite the dog. The second method works when the dispersed medication comes in contact with the fleas and kills them.
Repel And Treat: The combination is the most recommended type because it is all-around protection. These types are the most effective and usually cost more than the others.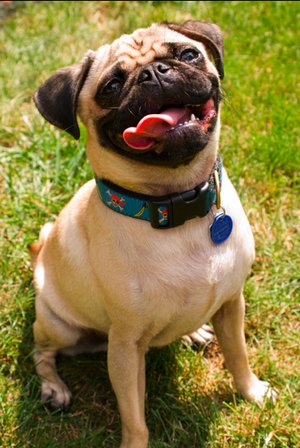 What Should You Look For In A Flea Collar?
There are a few factors to consider when buying a dog flea collar.
Length Of Protection: An effective dog flea collar will disrupt the flea life cycle. It will provide sufficient protection lasting between 6 to 8 months. The slow release of the medication will ensure that not only are fleas killed but they are prevented from laying eggs and starting a new cycle again.
Works On Ticks And Mosquitoes: Not only fleas but also ticks and mosquitoes can infest your dog too. Mosquito bite transfers parasitic roundworms into your pooch's bloodstream, which causes heartworm disease. Tick bites can cause Lyme disease. Hence, a good dog flea collar must be able to repel these two insects, in addition to fleas.
Active Ingredients: Studies have shown that dog flea collars with Imidacloprid and Flumethrin are effective in killing and reducing fleas and ticks by 95% and 90%, respectively.
Water-resistant: Dogs love to play in the water and get exposed to moisture in the process. It is cumbersome to remove and put onto a flea collar every single time. Hence, choose one that is water-resistant and maintains its effectiveness even with contact with water.
Size Of Collar: It is crucial that the dog collar fit it well and snugly because only then can the medicine be effectively transferred to the skin. It is strongly recommended to read the manufacturer's size chart and determine the right size to buy. An easier option will be to choose an adjustable flea collar that can be sized to your dog's neck exactly.
Odor: Not all pets and their owners can stand flea collars with strong, pungent odors. Choose odorless collars for long-lasting comfort.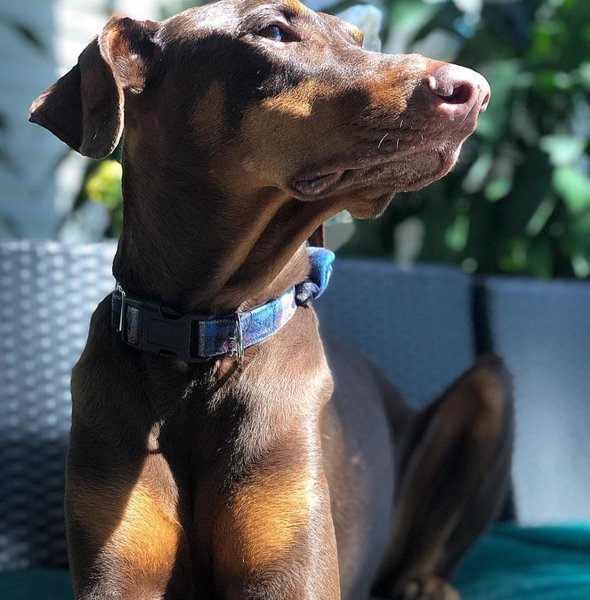 Are Flea Collars Safe?
Most flea collars are perfectly safe for your pet.
They are an easy solution to the pests' nuisance. However, they can be problematic when you have multiple dogs, and they have a habit of playing with each other.
This is because if either of your dogs chews the dog collar, the chances of oral poisoning are high.
In such situations, you must avoid using these flea collars.
Related: What Essential Oil Kills Fleas?
Can Dogs Of All Ages Use Them?
They are not recommended for young puppies, elderly and sick dogs, and pregnant ones.
Usually, most flea collars are suitable only for dogs above 7 to 8 weeks of age.
---
Final Thoughts
---
Based on the above guide, our top pick comes highly recommended. It is easy to use, water-resistant, has an adjustable size, works effectively, and most importantly, veterinarians strongly recommend it as a flea protection remedy.
We have listed the best options that are safe for your pet. Simply pick your choice. You can't go wrong with our top pick!