If you're a dog owner, then you know that fleas are the worst thing to happen to your pup. Not only can they cause allergies and skin irritation for your pet, but they'll also make it miserable when he tries to sleep.
No matter how much of an animal lover you are, there's no denying that these tiny bugs are one of the most annoying pests in existence – especially if they live on your furry friend.
Luckily for us dog owners out there with flea-bitten pups at home, there's an easy solution. All we need is a flea shampoo that will help rid your pup of pesky fleas and keep them away for weeks!
In this article, we will be reviewing some of the best flea shampoos for dogs on the market today.
#1 SENTRY Oatmeal Dog Flea Shampoo
SALE ALERT!!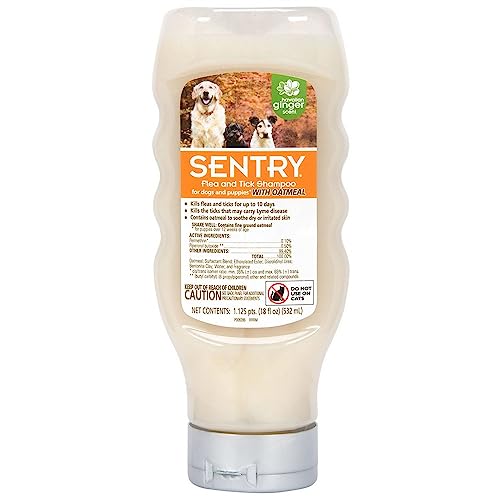 The SENTRY Oatmeal Dog Flea Shampoo is our top pick.
You will be amazed by its effectiveness in killing adult fleas. Just one bath and you could see the fleas being removed by this dog flea and tick shampoo.
Apart from helping to control the dog flea problem, this dog flea and tick shampoo has a hydration effect that protects your pet's skin from drying out excessively and keeps it naturally moisturized. It also helps to soothe and prevent itchiness that tends to come along with dog flea infestation.
Pros
---
The scent is relatively mild and not too strong.
Conditions your dog's dry skin and fur.
Kills fleas and ticks within 1 to 2 days.
Cons
---
Could be too concentrated and might need dilution.
Not suitable for puppies below 12 weeks old.
#2 TropiClean Dog Flea Tick Shampoo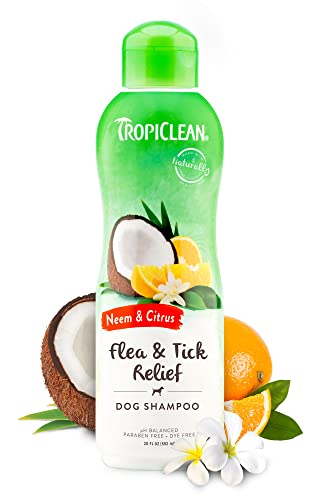 The TropiClean Dog Flea Shampoo has been formulated with 100% naturally derived ingredients that will help to soothe dry, rough, and irritated skin on your canine friend and give your cuddle sessions an added boost.
The essential ingredient in this dog flea and tick shampoo, neem, also known as Indian lilac, is known for its antiseptic and anti-bacterial properties. This explains the soothing effect that the dog flea and tick shampoo has on your dog's skin.
We often come across articles that tell us how dog flea shampoos forming rich lather are usually less effective and loaded with chemicals. This is, however, not true as far as TropiClean is concerned. It is a deep-cleaning shampoo that also forms rich lather so that your dirtiest dog coats can be cleaned in a jiffy. It also rinses easily so that you don't end up regretting the lather.
If your dog is the kind that gets his coat easily greased up, then you have one less thing to worry about now. This dog flea and tick shampoo can be used for de-greasing dirty, sticky, and smelly coats after a long day out in the rain and muddy puddles.
Pros
---
Mostly natural ingredients (85% Organic).
Forms rich lather.
Can be rinsed off easily.
Cons
---
The scent of neem might not be suitable for everyone.
#3 Adams Plus Dog Flea Tick Shampoo With Precor
SALE ALERT!!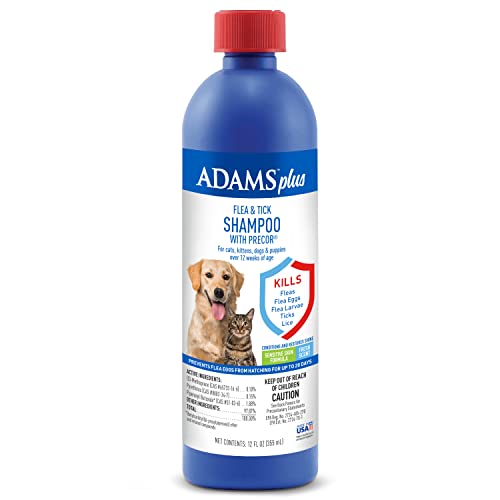 Let's go into more detail about the Adams Plus Flea & Tick Shampoo With Precor.
It targets all the four pests you need to get rid of. It effectively eliminates flea eggs so that the chance of a second infestation does not crop up.
This dog flea and tick shampoo is made up of all the effective ingredients like oatmeal, aloe vera, coconut extract, and lanolin. This dog flea and tick shampoo does not stop at fighting ticks and fleas but takes it one level higher by leaving the coat shiny and manageable. It also cleans gently to get rid of dirt and dandruff.
This dog shampoo can be used for dogs, puppies, cats as well as kittens which is great news for a pet parent who has more than one variety of pets at home. What is incredible about this dog flea and tick shampoo is how it prevents flea eggs from hatching and spreading the menace for almost four weeks. It is also a classic example of a cleanser and a deodorizer.
If your pet is often disturbed during nap times by buzzing mosquitoes, trust this dog shampoo to keep them away. A shampoo that kills adult fleas, ticks, and lice and keeps all of them contained for 28 days is definitely worth the purchase!
Pros
---
Flea and lice are contained for 28 days.
Versatile to be used on cats, dogs, kittens as well as puppies.
Deodorizes your dog's skin.
Cons
---
Not organic, and shampoo contain chemicals.
The smell might be overbearing to some dogs and their owners.
#4 Advantage Dog Flea Shampoo
Help protect your best friend from the whims of parasitic pests and the potentially harmful diseases they can transmit with Advantage Flea & Tick Treatment Shampoo for dogs and puppies.
The unscented formula features a scientifically formulated, highly effective combination of ingredients that work to kill fleas and ticks on contact. Not good enough? This lathering shampoo helps make sure you treat every inch of your pup's body – head to toe.
And since it's unscented, there are no worries about offending his or her nose.
Pros
---
Unscented shampoo.
Scientifically formulated.
Made by Bayer.
Cons
---
More expensive as compared to the other flea shampoos.
#5 Natural Care Flea Dog Shampoo
SALE ALERT!!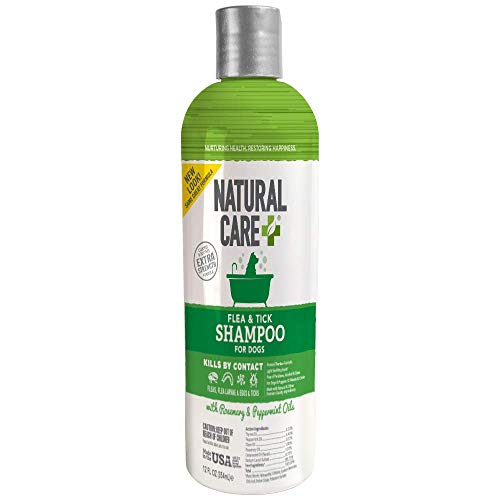 Natural Care Flea Dog Shampoo is a highly effective herbal/botanical formula for the gentle treatment of fleas and ticks on your dogs.
Safe for all-season use, it is made with naturally sourced botanical oils that smell fresh and last long on your pet. This shampoo is alcohol-free and paraben-free, which makes me perfect for people who prefer less harsh chemicals on their pets!
When you start using this product, make sure that you shampoo your pet twice or thrice weekly. This is to ensure that the initial impact is stronger. Once the skin shows improvement, the flea and tick shampoo may be used less frequently.
Pros
---
Floral herbal scent.
Contains no harsh chemicals.
Cons
---
Does not lather as much as expected.
#6 Arava Flea Control Dog Shampoo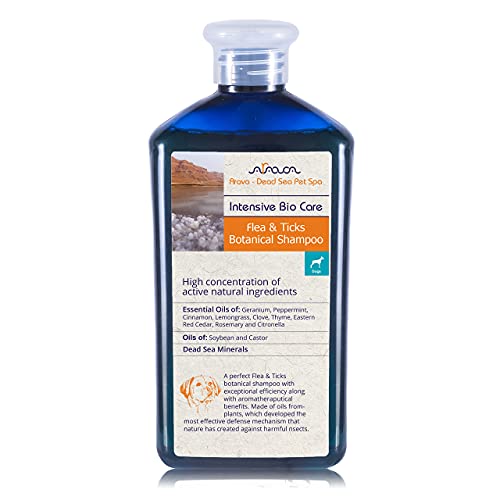 For your puppies and dogs older than 12 weeks, this might as well be the perfect solution for fleas and ticks. The Arava Flea Control Dog Shampoo effectively eliminates ticks and fleas when it comes in contact with them.
This 100% natural flea shampoo leaves your dog smelling fresh, clean, and feeling happy. It is a pet-friendly formula that will take good care of your dog that is over 12 weeks old.
Formulated with natural ingredients such as geranium oil, lemongrass, peppermint, cinnamon, thyme, clove, and eastern red cedar that repels kills for the maximum amount of time.
This product is free from parabens. Parabens have been known to be carcinogenic in nature, and a lot of shampoos contain parabens without the user being aware of that ingredient.
Pros
---
Made from 100% natural ingredients.
Subtle scent.
30 days, 100% money-back guarantee.
Cons
---
Might have to use the shampoo multiple times for effect.
#7 Direct Protect Plus Flea Dog Shampoo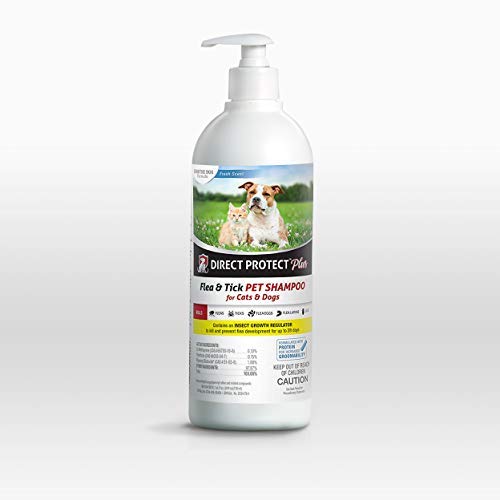 Direct Protect Plus Flea & Tick Shampoo, for Dogs & Cats, Sensitive Skin Formula with Soothing Aloe,...
Effectively kills fleas, ticks, flea eggs, flea larvae, and lice
Sensitive skin formula with soothing aloe, lanolin, coconut extract, and oatmeal
Contains an insect grow regulator (IGR) to kill and prevent flea development for up to 28 days
Direct Protect Plus Flea Dog Shampoo works for your canine flea problems. They make it easy by combining all of the key ingredients you need to protect against uncomfortable skin issues and infestations while also keeping pets looking great.
This dog shampoo contains an insect growth regulator called Rumacide to kill off developing fleas, saving long waits and preventing future outbreaks from getting out of control. It kills and prevents future infestations for up to 28 days.
The sensitivity-friendly formula goes on easily for less mess and protects both your pup from any discomfort associated with allergies or skin sensitivity disorder as well as the furniture they enjoy lounging on when being.
Pros
---
Contains an insect grow regulator (IGR) to prevent future infestations for up to 28 days.
Smells great and lathers nicely.
Comes with a pump.
Cons
---
Not an organic/all-natural flea shampoo.
#8 Wahl Flea & Tick Repelling Dog Shampoo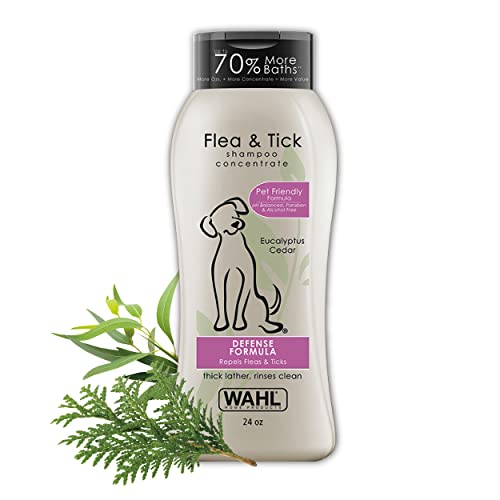 Wahl Flea & Tick Repelling Dog Shampoo uses plant-derived components, such as coconut, rosemary, cedar, and eucalyptus, to control fleas and ticks. The natural ingredients ensure that the product will be easy on the skin and hair while at the same time keeping it clean and smooth.
The natural oils used in this shampoo from Wahl also give your dog a fresh-smelling scent, instead of the medicated smell some shampoos leave on the coat. It uses no alcohol, paraben preservatives, or polyethylene glycol (PEG) that could irritate the skin and cause other health risks in dogs.
A small amount of shampoo is enough to create a thick lather with a high concentration of coconut and is very easy to rinse off. Regular use will prevent ticks and fleas from accumulating.
Pros
---
Its high concentration produces enough lather in small amounts.
The scent is mild and not overpowering.
Natural ingredients are ideal for sensitive skin.
Cons
---
Repels fleas and ticks but does not entirely kill them off.
The scent doesn't last long.
---
Buyer's Guide – Best Dog Flea Shampoos
---
We understand that it is practically impossible to confine your furry friends indoors while all they want is to roll around in the backyard and take a nap in the high grass. You could have the best dog shampoo to prevent or cure flea episodes but not any shampoo would do.
Despite knowing this, most pet parents fail at finding the best flea shampoo because there seem to be so many around that opting for the best one could be troublesome.
Therefore we came out with this Buyer's Guide to help you to understand what factors are important to look out for when choosing the ideal dog flea shampoo. This will help you to find the one that will suit your needs perfectly.
What Is A Dog Flea And Tick Shampoo? Why Do You Need It?
Flea shampoo is a medicated product meant to eliminate fleas and their eggs and also to prevent them from returning to your dog's skin or coat. The ones that are effective and natural will also take care of your dog's skin and coat and soothe irritated areas.
You can make a basic flea shampoo at home by mixing warm water, vinegar, and liquid soap. While this could prove to be effective for some, it often ends up being more of a task to mix the ingredients in the right quantities.
The homemade version could also worsen things by drying out the skin further and intensifying the itching.
Related: Best Dog Flea Treatments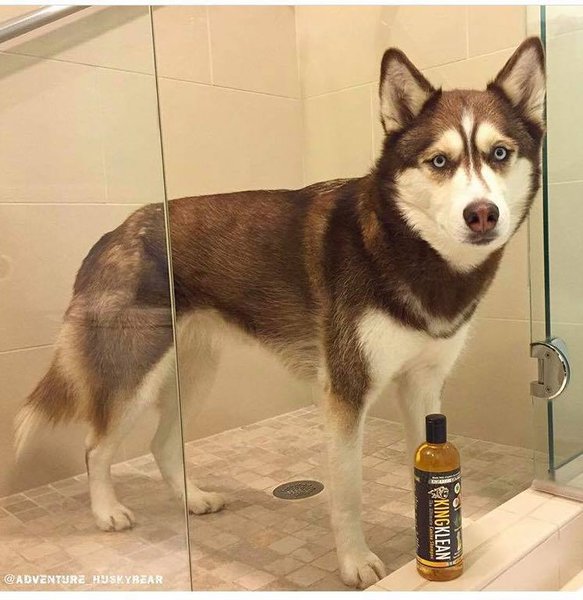 3 Different Types Of Flea Shampoos
Flea shampoo can be broadly classified into three types, and they are:
Chemical Flea Shampoo
This kind contains ingredients like pyrethrins and pyrethroids that are harmful to your pet's skin.
Natural Flea Shampoo
This type includes active ingredients like citrus peel extract and limonene etc that target the pest's central nervous system.
Organic Flea Shampoo
These are made of natural ingredients like cedar oil, peppermint, and clove that not only repel bugs and pests but also soothe irritated skin.
Related: Best Dog Flea Collar
Factors To Consider When Choosing A Flea Shampoo
There are a few factors that you must look for before buying a flea shampoo. They are:
Ingredients
This is by far the most significant factor that you should look for before buying a flea shampoo. It is very important to avoid harsh chemicals that have the potential to hurt or harm your dogs.
Always read the label carefully.
Try to look for ingredients that are all-natural and have soothing properties. Most dog shampoos that you buy will invariably have some sort of pesticide added. You never know which one your dog is allergic to, so find a formula that has oatmeal and aloe so that even if your dog does react to it, these ingredients will help soothe the skin.
Scent
Many of our customers are not aware that scent could be troublesome, especially if your dog has sensitive skin or has allergies. Try finding a product that is unscented or has a mild scent, at the least.
Effectiveness
Don't just buy a product because someone asked you to. Opt for one that has a reputation and is known to be effective for fleas and such. Reading reviews online can help a good deal in understanding different products.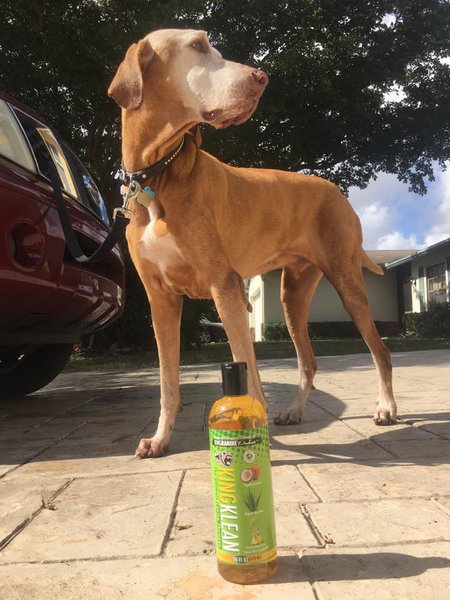 What Should You Avoid?
While it is important to know what to look for, it is equally important to understand what to avoid before making a purchase. Listed below are a few things that you should avoid while buying a shampoo:
Unknown Chemicals
It is a given fact that dog flea shampoos will contain pesticides in the form of some chemical or the other. However, they could also have some harsh chemicals that might not be necessary. You could try and avoid the products that contain these.
Unknown Brands
Reputation is a big thing when it comes to buying products online. There are brands that are ill-reputed to cause harm to pets, and you should steer clear of these even if you are recommended by someone to get them. Use your reasoning whenever you want to pick a product that you are not completely aware of.
Shampoos That Do Not Heal
While this is not a necessity, it could prove to be beneficial in the longer run. Try and avoid products that do not come along with additional features like softening fur, soothing skin, and healing dry skin conditions. It is more than likely that such products will contain harsh chemicals, not suitable for rough or itchy skin.
Additional Safety Tips
Listed below is a quick glance at things that you must invariably do before making your purchase:
Read and understand the label of ingredients.
The purpose of the ingredients: Benefits vs. Risk
Ask your vet before using a chemical flea shampoo.
Monitor your dog for 24 hours after using a product for the first time.
Look out for symptoms of toxicity like excessive salivation, tremors, fatigue, and seizures.
Follow the instructions on the leaflet carefully.
Use the exact amount as mentioned in the leaflet. While too much could harm your dog, too little could prove to be ineffective.
Always wash your hands before starting the procedure.
Wear gloves, if possible, to avoid infection.
Ensure that your dog's coat is dried off completely so that he/she does not end up ingesting much.
Avoid carcinogenic ingredients as far as possible.
Related: Dog Itching Home Remedies
---
Final Thoughts – Keep The Fleas Away!
---
Shampoos are not less than a health product when it comes to dealing with conditions like dry, itchy, and irritated skin.
Like all health products, it is a good idea to have a word with the vet before buying and using a brand. Your dog might react adversely to the ingredients present, and only a doctor would be able to recommend them safely.
You should also be aware of the fact that different breeds react to brands differently, so do not be surprised if your pooch breaks out in allergies to a shampoo that your retriever was perfectly adapted to.
Yet another important thing to remember is the fact that there are different shampoos for different ages. While some shampoos might be meant for both dogs and puppies, some others are only meant for adult dogs. Always be careful about this discrimination.
Finally, as a pet parent, you should know that a flea infestation might require much more than just a shampoo. If it is persistent and your dog seems visibly uncomfortable after trying every possible thing, do visit a veterinarian.
Here's hoping that these reviews could help you to buy a brand and a product that are among the best in the industry.