The best dog flea treatment is Bayer Advantage II Topical Flea Treatment.
Are you being bitten by tiny brown insects off late? Is your dog scratching itself crazy?
You might have a full-blown flea infestation on your pooch that requires prompt treatment.
Fleas are tiny insects that bite and cause allergic reactions in humans and pets. In severe cases, they lead to life-threatening diseases and infections. You must address the problem before it becomes a full-blown health issue not only for your canine companion but for the safety of your family members.
In our recommendation list, we have identified 9 of the best dog flea treatments that are the most effective in the market right now.
#1 Bayer Advantage II Topical Flea Treatment
SALE ALERT!!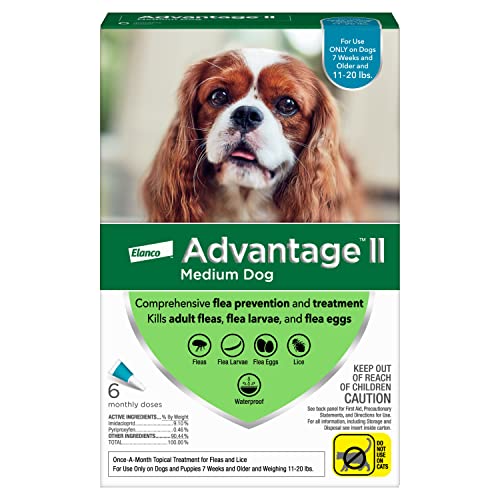 Fleas can cause so much trouble for us and our dogs. The Advantage II Topical Flea Treatment from Bayer works well to repel not only adult fleas but also the larvae and keep them at bay.
Its amazing formula will make it so your dog's fun is never again ruined by nasty flea bites. The thing which makes this flea treatment amazing is that fleas do not have to bite your dog for it to take effect—it rather kills through contact.
Furthermore, this treatment can eliminate fleas at all stages of development, which is important as most of the trouble for your dog will be caused by the many larvae which later develop into adults. It also works against lice. It is recommended for dogs older than seven weeks.
No other product on our list can match this repellent's ease of use combined with devastating efficiency. Your dog will thank you for making its days more pleasant by purchasing this premium flea repellent.
There are few other flea repellents which are so effective and yet so easy to use. On top of being devastating to fleas, this treatment option also makes sure your dog has a pleasant time by not requiring the fleas to bite it. You will not find more complete protection anywhere.
Pros
---
Kills fleas in multiple life stages.
Odorless and waterproof.
Controls, treats, and prevents lice infestation.
No biting requited: kills through contact.
#2 Pet Naturals FLEA + TICK Repellent Spray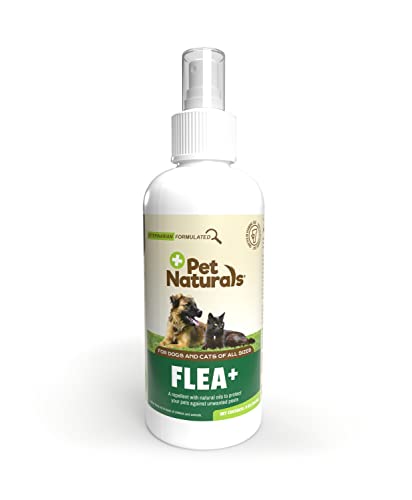 Our budget-conscious pick not only has the advantage of being affordable but also of being a more-than-decent product in its own right. Made of all-natural oils and ingredients, this flea repellent will keep not only adult fleas, but also flies, ticks, and mosquitos off your dog without exposing it to any harmful chemicals.
Relying on a treatment formula that has been used for millennia by humans on themselves, namely natural oils, this repellent will make sure unwanted pests do not get a whiff of your dog's skin and thus decide to take a bite. It is also safe for bedding and other furniture so you can let your dog play freely after applying this product. This product is also safe for kittens and puppies.
You can get this treatment either in the form of a spray or moist towelettes. This makes it very convenient. It is very difficult to beat when one takes into account its affordability in conjunction with its ruthless effectiveness.
Free of any harmful substances, this treatment product is a good choice for those looking out for the safety of their dogs. Although it may not be as aggressive as some of the more synthetic repellents, its cheap price combined with the protection it offers will more than satisfy a lot of dog owners.
Pros
---
Natural flea, mosquito, fly, and tick repellent.
Has a pleasant aroma.
You can safely use it on beddings.
Free of drugs or synthetic chemicals.
#3 FRONTLINE Plus Flea And Tick Treatment
SALE ALERT!!
Frontline Plus Flea and Tick Treatment for Dogs (Small Dog, 5-22 Pounds, 3 Doses)
Waterproof flea and tick treatment for dogs: Frontline Plus for Dogs provides waterproof, fast-acting, long-lasting flea...
Break the flea life cycle with frontline: Frontline flea and tick treatment for dogs kills adult fleas plus flea eggs...
Kills fleas and ticks: Frontline flea and tick treatment for dogs kills fleas, flea eggs, lice, and ticks. This flea and...
The FRONTLINE Plus flea and tick treatment is a topical treatment that is specially formulated to control flea and tick infestations only on dogs. The major ingredients used in the production of this product are Fipronil and (S)-methoprene, both of which, when combined, are effective at killing adult flea and ticks, as well as flea eggs and larvae.
That said, this FRONTLINE product is specially formulated for use on small dogs that weigh between 5 lbs to 22 lbs, with the pooch in question not being younger than eight weeks. The product is said to be fast-acting, with effects typically being noticeable within 24 hours upon application.
Each FRONTLINE Plus treatment is effective for up to 30 days, with a full 3-dose supply guaranteeing protection against fleas and ticks for up to three months. As an added advantage, the waterproof nature of the treatment ensures this medication stays on a dog's body for as long as it is needed.
The use of safe ingredients that guarantees effectiveness against flea and tick infestation cases on pooches is one reason why dog owners should purchase the FRONTLINE Plus flea and tick treatment for use on their canine buddies. Coupled with the fast-acting and waterproof nature of the FRONTLINE Plus treatment, the 30-day effectiveness of each dosage is what makes this product effective for treating parasitic infestations in dogs.
Pros
---
Each dose is effective for up to 30 days.
Waterproof.
Applicable on dogs that weigh between 5 lbs to 22 lbs.
Suitable for dogs aged eight weeks and older.
Two major ingredients – Fipronil and (S)-methoprene.
#4 Zodiac Flea & Tick Powder For Dogs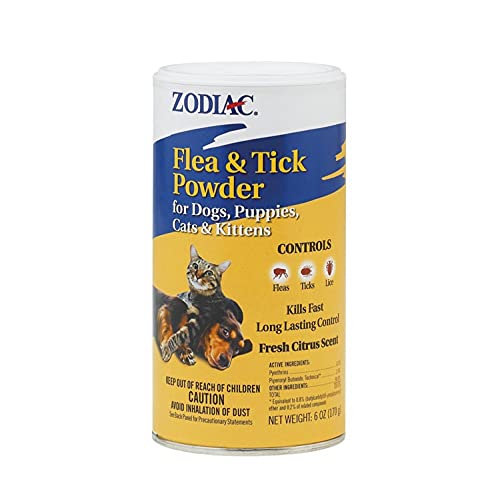 The great thing about this flea repellent is that it is very simple and straight to the point. Since it comes in the form of a powder, you need only apply a small amount and rub it into your pet's fur to see the desired effect (keep in mind that some pets might be allergic).
This thing kills fleas quickly and efficiently and is also good at killing off ticks and lice. You need only apply this treatment option occasionally too, as it features long-lasting control.
If your dog can stand a more aggressive flea repellent, then this powder will make sure that it stays nice and parasite-free.
This treatment is easy to apply and ruthlessly effective, making it difficult to find another product which is better at killing fleas. For better or for worse, this product throws caution to the wind and goes all out.
Pros
---
Controls fleas, ticks, and lice.
Features a shaker top for easy application.
Kills quickly.
Long-lasting control.
#5 TevraPet Activate II Flea And Tick Prevention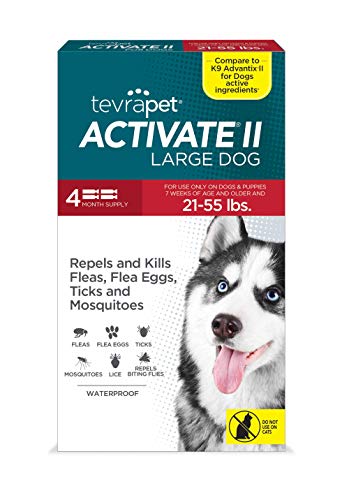 The TevraPet Activate II repels fleas and ticks on contact without your furry friend needing to initially get bitten. In addition to killing fleas and ticks, this product emphasizes long-term control of these infestations by killing flea eggs and larvae, thereby breaking the life cycle of these parasites.
This fast-acting product is a type of topical application that takes effect within 24 hours, and the use of ingredients, such as Imidacloprid, Permethrin, and Pyriproxyfen, guarantees safety when applied on the dog's skin and effective action against parasites.
The TevraPet Activate II drug typically contains four easy-to-apply applicators used on infested dogs monthly for up to four months to guarantee effective results. Additionally, this product is designed to be waterproof, which means that when applied, it can't easily be washed off a dog's body by rain or when bathing the pooch.
The TevraPet Activate II product is safe to use on dogs without side effects, and the quick-acting nature of this flea and tick treatment provides pooches with quick relief from these intrusive and annoying parasites. Additionally, this product is cost-effective and should be a staple medication found in the medicine cabinets in households with dogs.
Pros
---
Easy to apply and fast-acting (within 24 hours).
Waterproof.
Available in a 0.41 fl oz bottle.
Applied once a month for a four-month period.
Suitable for use on dogs aged seven weeks and older.
#6 Vet's Best Flea & Tick Home Spray For Dogs
SALE ALERT!!
This flea repellent spray is amazing for a number of reasons, perhaps the chief of which is that you can use it anywhere safely.
Whether you apply this indoors or outdoors, you can be sure that it is safe to come into contact with and will not leave any stains. This goes hand-in-hand with the non-chemical, all-natural formula made based on essential oils.
The correct way to apply this flea repellent is to spray it on your dog and massage it in, making sure not to forget any flea hiding spots, such as armpits or between the toes. The treatment can be applied directly to puppies twelve weeks or older.
Since it sports all of these features, it is not difficult to see why this flea repellent is a great choice. Easy-to-use and safe, you will definitely not do your dog or yourself any wrong by getting it.
Pros
---
No harsh chemicals.
Made from natural materials.
Kills ticks, fleas, and flea eggs.
Will not stain and is safe to use.
#7 Wondercide Flea, Tick And Mosquito Spray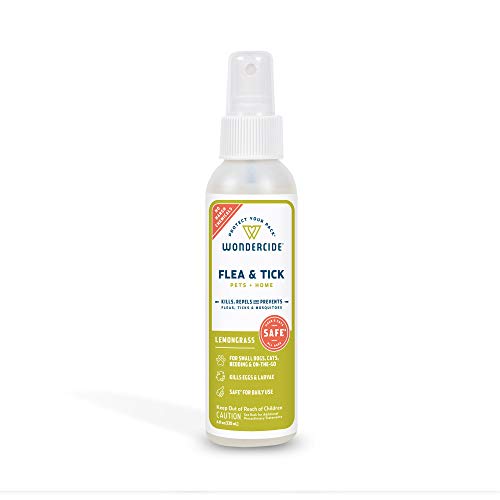 Wondercide - Flea, Tick and Mosquito Spray for Dogs, Cats, and Home - Flea and Tick Killer, Control,...
KILLS & REPELS. Using natural essential oils, this spray is proven to kill by contact, repel and prevent 98-100% of...
TREAT NATURE WITH NATURE. A safe and effective alternative to collars, pills, chewables, and drops that's powered by...
SAFE FOR DOGS, CATS OF ALL AGES. Gentle enough to use on puppies, kittens, and senior pets as often as needed, yet...
Similar to our top pick, Wondercide's flea, tick and mosquito spray repellent kills all stages of the flea life cycle. This is beneficial as 95% of the fleas on your pet will most likely not be adults. A lot of other products skimp out on this.
Made from natural ingredients, this flea treatment repellent is helpful and safe for children. You can even spray it all over your home.
The correct way to apply this spray is to spray your pet (but not soak them) and gently massage the repellent into their fur and on their skin. Apply as often as needed and make sure to cover their whole bodies.
In the world of flea repellents, it is always nice to find a product which deals with other pests as well. This repellent from Wondercide will also eliminate the entirety of a flea's life cycle, much to your dog's benefit.
Pros
---
Comes in several different scents.
Easily applied by spraying directly.
Safe for all ages and sizes.
Made of natural and safe ingredients.
#8 TICK BAN Extra Strength All-Natural Flea Repellent
SALE ALERT!!
This flea repellent is not only good at protecting your pets while they are at home but has also been reported to work out in the woods. That sort of power is even more impressive when you take into account that it is made from all-natural ingredients.
Containing no harsh chemicals, this flea repellent is safe for you and your whole family. On top of that, it also features a pleasant scent that will follow your pet around.
If you want to give your pet a great time without fear of fleas, then this treatment is a great option. Smelling good, effective, and safe, this is a solid choice.
With this repellent, you can give your pets the protection they deserve from unwanted pests without irritating their skin or harming their health in any other way. If this sounds appealing, then go right ahead with this product.
Pros
---
Made from natural oils and ingredients.
Lab tested for efficacy.
Safe around family and children.
Non-irritating and pleasant-smelling.
---
Dog Flea Treatment Buyer's Guide
---
Apart from knowing the individual products and their respective strengths and weaknesses, there is also some general info that you should be aware of when it comes to buying flea repellents and treatments for dogs. We will now go through some of that info and tell you what you need to know.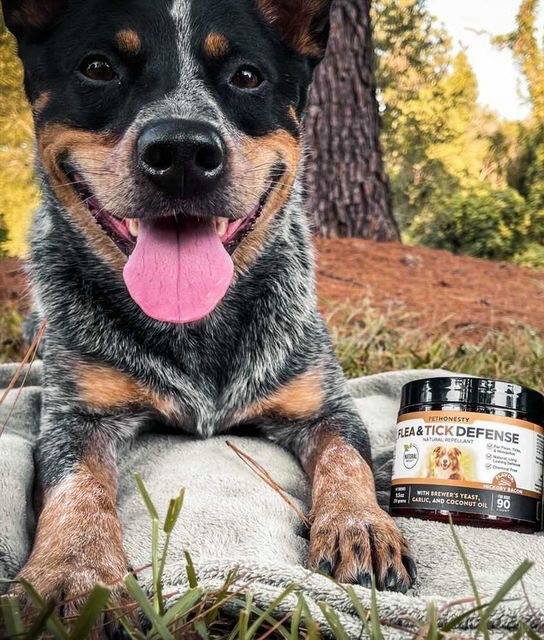 Consider Your Budget
It is more than understandable that we all wish to give our pets the best care possible. However, what that often makes us do is spend money we do not have on overpriced products which we may not necessarily need.
Do not get us wrong. A more high-end flea repellent will naturally cost more. If you wish to give your dog all-natural treatment which will not damage its health in any way, then expect to spend more than a few bucks on flea repellents. However, this does not mean that you have to buy the highest of the high end.
Very often you can be quite satisfied with the results a mid-range flea repellent will give you. Some of them can be real gems. Our budget-conscious pick, especially, is unbelievably versatile and effective while being more affordable than a lot of the higher-end ones.
his is something to watch out for: treatment options that are high-quality but decently priced. This may sound like common sense, but advice like this is often forgotten in the heat of the moment.
Economizing is also much healthier in the long run both for you and your dog. If you spend too much money on expensive flea repellents and treatments, you might have to skimp out on other parts of your dog's life. No repellent is perfect, and a lot of them are good enough, and that is all you really need.
It is much wiser to buy a flea treatment you can afford than spend all of your money on some luxury product. This is because of consistency. By not spending all of your money in a short time, you can keep buying a mid-range, decent, even good repellent and consistently keep your dog happy and free of pests.
Of course, if you have the means, go right ahead and buy the best you can. This makes the most sense, after all, that is if you want the products with the most natural ingredients and the longest list of pests that they kill, control, and repel.
What Are The Ingredients Used?
A lot of the treatment products on our list are "all-natural", meaning that they are made from non-synthetic ingredients and are free from aggressive chemicals. This is very much something to look out for, as an all-natural product can save you a lot of heartaches when it comes to your dog's health and even your own.
Although there are synthetic flea repellents and treatments which are not aggressive, a lot of them contain harsh chemicals which can irritate your dog's skin and do more harm than good. This is in sharp contrast to natural ingredients which are most often made from essential oils of plants such as lemongrass.
This is no accident. For millennia, people have been using these essential oils as natural repellents against unwanted critters both for their pets but also for themselves. I think you get the picture: if it is good enough for humans it is probably good enough for our pets.
So, the point is that these natural repellents and treatments are something that has been commonplace for a very long time. It is a tried and true treatment formula.
Chemically-engineered flea repellents, on the other hand, while they can be devastatingly effective, can cause unwanted effects on your dog's skin if you are not careful.
If you are not that altruistic towards your dog, then consider that you yourself are in danger of exposure to harmful chemicals. Children, especially, can suffer from this as they are careless and may harm themselves if they come into contact with a synthetic flea repellent.
Using a natural flea repellent is a safer treatment choice, as it keeps you, your dog, and your entire home and family safer while keeping adult fleas away. However, we can't deny the effectiveness of a synthetic flea repellent over a natural flea repellent.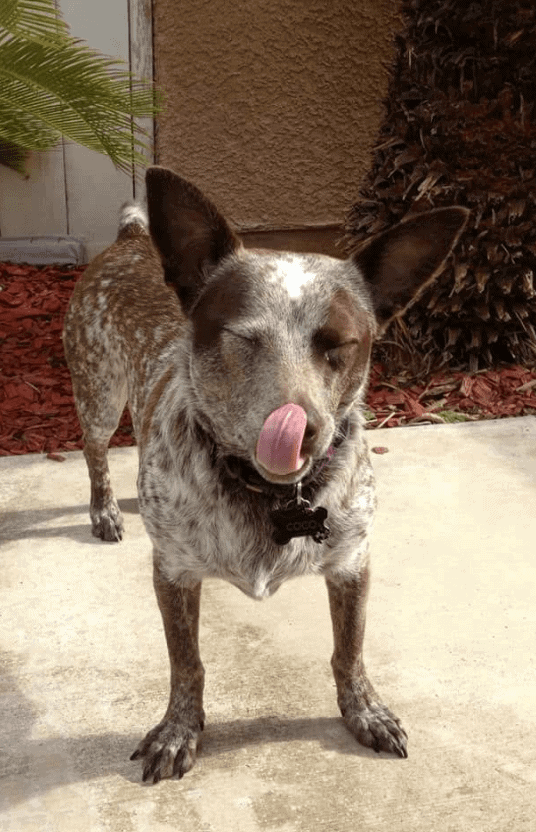 Does It Work On Other Pests?
Something that is easily noticed in the individual product reviews section of this article is that quite a number of these flea repellents and treatments will also work against other unwanted pests such as flies, ticks, or mosquitos. This makes a lot of sense. After all, why buy separate products to layer on your pet, when you can take care of several of these by using just one?
To decide whether or not you need a repellent that not only works on adult fleas but other critters too, it is recommended to consider the climate and environment in which you and your pet live. If you live in an area that is not very tropical and is usually quite chilly, then you will find little use for mosquito repellent.
On the other hand, a lot of places have flies and ticks, so repellents which also kill these are probably more useful.
Most likely, a repellent that works against other organisms will also be a little more expensive than a product which does targets only fleas. This is why we are telling you that there is no need to spend more money than you need to. We all want the best for our pets, but they need not be protected against nonexistent threats.
Another thing is that the more generalized a treatment option is, the less particular it tends to be. This is common sense, but it is worth mentioning here. Although this by no means applies across all products, if you are somebody whose pet has a lot of problems with adult fleas especially, then you will most likely benefit more from a focused repellent that specifically targets adult fleas and their young.
On the other hand, if you just want to give your dog the best all-around protection, then going broad is as good as anything, really.
Ease Of Use
Finally, we should take about ease of use. On top of that, we will also discuss other practical aspects of flea repellents and treatments here.
What constitutes "easy-to-use" will vary from person to person. Some people may like having a spray bottle so that they can apply the flea repellent with little to no fuss on their dog. Some, on the other hand, might prefer a powder that has to be rubbed into the skin.
There are several different forms in which flea repellents for dogs come, and which one you decide to buy depends on you. Keep in mind that the way a flea repellent is applied does influence the way it works to a certain extent.
However, if you carefully observe the treatment instructions and use a selected treatment the way it is meant to be used, then it is safe to conclude that you will run into little trouble.
The final consideration here is hygiene. Try and find a flea repellent that is easy to clean if it gets on your furniture (unless you prefer cleaning stains). This usually means going natural rather than synthetic.
---
Final Thoughts
---
There are many flea repellents and treatments options out there. Ultimately, the true test for how good a flea repellent can be is the way this product makes our dogs feel. When it comes to that, our top pick is the best product in the market currently.
It kills fleas on contact, so they do not have to bite your dog, and is ridiculously effective at controlling both them and ticks. Painless, effective, and smart, this flea repellent will be the cause of many tail wags.
If you really want to make your dog happy, then be sure to get this repellent and keep those pesky fleas at bay.