The best dog diaper is Paw Inspired Ultra Protection Female Disposable Dog Diapers.
Diapers are not only for babies. Pets need them, too, especially pups that are still too young to control their bladder. Senior dogs may also need to wear dog diapers to avoid any accidents in the house.
Dog diapers are mostly used for housetraining puppies and for senior dogs that are undergoing incontinence. Male dogs that tend to mark their territories and females that are in heat can also benefit from dog diapers.
These dog diapers are available in different shapes, sizes, and designs. They should be suitable for your dog's size, age, and other factors. Remember that it might require some trial and error before you can finally find that perfect dog diaper for your dog.
To help you in your search, below is a review of the six best dog diapers suitable for both male and female pups.
#1 Paw Inspired Ultra Protection Female Disposable Dog Diapers
SALE ALERT!!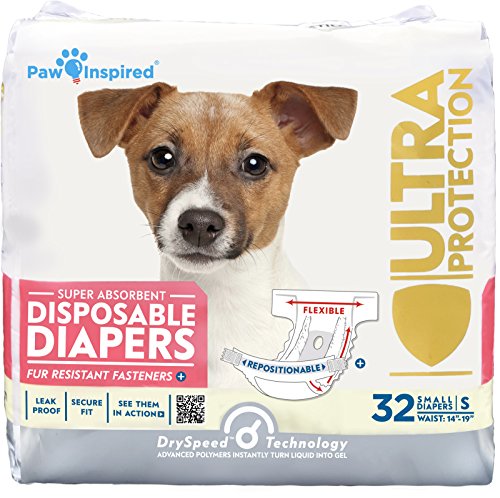 We have chosen the Paw Inspired Ultra Protection Dog Diapers as our top choice because we believe that this is the dog diaper that can give you the best value for your money. Each pack has 32 pieces of dog diapers that can last for several weeks, depending on how often you change your dog's diaper in a day.
The Paw Inspired Ultra Protection Dog Diaper is comfortable and features breathable inner layers. Your dog will certainly not mind wearing these dog diapers even for the entire day! Furthermore, they have an extremely absorbent core and feature the Advanced DrySpeed Technology that will convert your pet's pee into a gel. Thus, any leakage will be prevented.
The dog diapers' fur-resistant feathers can be repositioned to make sure that they will fit your pooch well and won't accumulate any fur.
We like the Paw Inspired Ultra Protection Disposable Diapers for dogs because it helps to make it easy and comfortable for your pooch to pee without the need to go to a toilet for a long time.
Pros
---
Fits many dog breeds around the waist, with six sizes available between 12 to 17 inches and 22 to 35 inches.
The diaper keeps your pup dry for a long time, thanks to its leakproof edges, a superabsorbent core that turns liquid into gel, and a waterproof outer layer.
Easily fits and stays fastened on your pup, thanks to the fur-resistant fasteners that can easily be repositioned for the perfect fit.
Ideal for all dogs, from puppies to mature adults, and also helps those with incontinence or undergoing training.
They are disposable, so you don't have to worry about cleaning them after use.
Cons
---
The adjustable Velcro strips come apart easily, which means your pup will not keep it on for too long.
The tail hole in the diaper is susceptible to leaks as it is not leakproof.
#2 Vet's Best Disposable Male Dog Diapers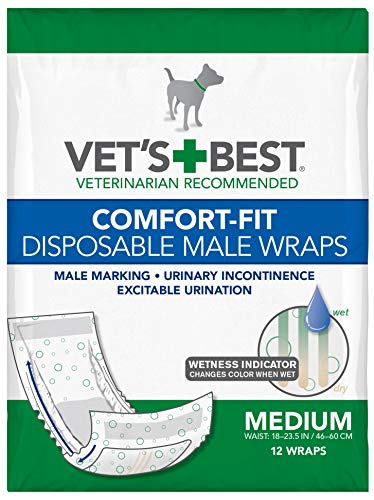 If you're on a budget, the Vet's Best Disposable Male Dog Diapers is what we would highly recommend. This rectangular-shaped dog diaper can be wrapped around the waist of a male dog that's suffering from incontinence.
It is capable of covering the dog's genital area and will fasten snugly in your pet through the single strip tape that's easily adjustable. The dog diaper is available in different sizes, from small to large, allowing you to choose something that will fit your pet.
This dog diaper comes with a wetness indicator level that will alert you if it's already time to change your pooch's diaper. Looking at the reviews written for this product, it's easy to tell that a lot of customers are truly satisfied with the way the product works.
The customers find the diaper extra absorbent and the extra leak protection makes it possible for the dog diaper to contain a good amount of urine. Indeed, this is the dog diaper that can make your pet comfortable and keep your home protected against accidental leaks.
The Vet's Best Disposable Male Dog Diapers are very gentle on your pet and highly durable as well. Your dog will surely not mind wearing this dog diaper even for a longer period of time. When buying the dog diaper, take the time to measure your dog's hips to ensure that you're getting the right size.
We like that this diaper is specially designed for dogs who suffer from incontinence, which is a pretty common condition among male dogs.
Pros
---
The diaper protects your pup from getting wet, thanks to its super absorbent core that holds in any liquid.
The diaper is leakproof because of the elastic barrier that keeps any moisture out and also has a wetness indicator that lets you know when to change your doggie.
It is comfortable, especially for male pups, because it comes in three sizes to fit most breeds.
The diaper holds in place, thanks to the fur-safe fasteners.
It helps doggies with incontinence and potty training pups, and it is also perfect for travel.
Cons
---
Very active pups cause the diaper to bunch up, and this leads to urine leaks.
The fastener strip easily comes off after a short time, which makes it hard to keep the diaper on your pup.
#3 Pet Parents Washable Dog Diapers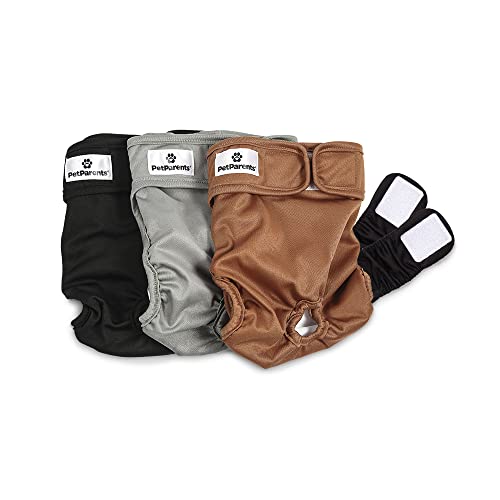 The Pet Parents Washable Dog Diapers are designed like a brief, similar to the baby diapers. But what's really great about this dog diaper is that both male and female dogs can use it. This dog diaper is very comfortable for your pet to wear and is superabsorbent.
Furthermore, it comes with a secure-fit feature, which means it won't get dislodged or removed no matter how much your pet moves.
There are two color options that you can choose for the Pet Parents Washable Dog Diapers. Its washability feature makes it one of the most practical dog diapers on this list.
We like this Pet Parents Washable Dog Diapers because it's among the few dog diapers that have a washable feature. It's super soft and comfortable for your pet. Plus, its highly absorbent feature and secure fit means there will be no mess when your pet plays inside your house.
Pros
---
These diapers come in packs of 3 and in different colors like rust, gray and black.
They are highly absorbent and prevent leaks, thanks to the pad sewn into the diaper as well as the waterproof exterior.
They are pocket-friendly because they are easily washable and reusable.
They fit both large and smaller dog breeds and come in 5 sizes.
It is comfortable for both male and female doggies and stays in place because of the velcro closures.
Cons
---
Some pup owners felt that the diaper does not cover the male dog's private parts adequately and leaves them 'hanging out.'
Active pups have a habit of pulling off the diaper after the Velcro closure weakens over time.
#4 Pet Magasin Luxury Reusable Dog Diapers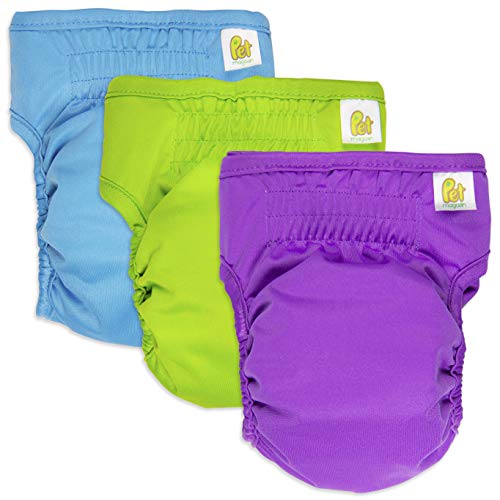 Pet Magasin Reusable Dog Diapers, Extra Small, Pack of 3
【ADJUSTABLE SIZE】ACCOMMODATING to different body types. We recommend you measure your dog with flexible tape...
【MACHINE WASHABLE】ECO-FRIENDLY: Easy to clean with no special treatment. Hand and machine washable with quick air...
【SAFE & SECURE】Highly absorbent multiple inner layers with a waterproof outer layer to prevent leaks and damages to...
Another great dog diaper that's gaining popularity among dog owners is the Pet Magasin Luxury Reusable Dog Diaper. These dog diapers are specially designed for puppies and small dogs. And if you want to help save the environment, then this is one of the dog diapers that you should get since it's reusable.
Unlike the disposable versions that you can only use once, these dig diapers can be washed easily and used by your pet again. You simply have to place them in the washing machine and air dry afterward.
It features multiple absorbent layers, as well as a waterproof outer layer that helps to keep your home fully protected against accidental defecation and leaks. Furthermore, these dog diapers feature an extremely durable and strong Velcro, so regardless of how active and playful your pet is, the diaper will remain intact.
When buying the Pet Magasin Luxury Reusable Dog diaper, it's important to measure your dog's waistline and take into account your dog's tail as well. Some customers have complained that the sizing of these diapers is somewhat different and they ended up receiving a bigger or smaller size for their pet.
We like the Pet Magasin Luxury Reusable Dog diaper because it's washable and reusable. It's good for the environment and is very practical too. Above all, it's truly effective in keeping your home protected from accidental defecation and leaks.
Pros
---
They are comfortably designed and come in a 3-pack of brightly colored diapers.
Comes in four sizes for a comfortable fit and can be fastened adequately with flexible tape.
You will save money, thanks to these easily machine-washable diapers.
It protects your pup from leaks with multiple inner layers and a waterproof outer layer.
Made in the USA and is ideal for large and medium doggies in training, suffering from incontinence, or in heat.
Cons
---
The Velcro strip is only on the ends of the diaper instead of having it go around the waist length, which means active pups can easily pull it off.
Many owners noted that the diaper does not comfortably fit pups with waists smaller than 19 inches.
#5 Paw Legend Reusable Female Dog Diapers
SALE ALERT!!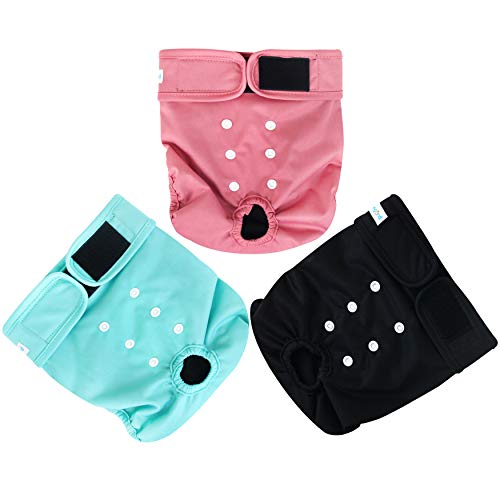 When buying dog diapers for your pet, check out the Paw Legend Reusable Dog Diapers. These dog diapers are very versatile and are available in four different sizes, from small to large. Since the dog diapers are available in different sizes, it's vital that you measure your dog before buying one. That way, you can be sure that the dog diaper you're buying will fit your pet.
There are three different colors in every package that you'll purchase for these dog diapers. Most pet owners are happy with the dog diaper's trendy design and chic colors. The materials used for these dog diapers are very soft and comfortable for your pooch. There won't be any uncomfortable feeling that's often associated with wearing dog diapers.
The Paw Legend Reusable Dog Diapers can be used for your dog's daily activities or during training too. They are superabsorbent, and the outer layer is 100% waterproof. Thus, it will keep you protected against all kinds of leaks. Above all, there's no longer a need to hand wash the dog diapers. You just need to place them in the washer and into the dryer afterward.
We like the Paw Legend Reusable Diapers because of its adjustable Velcro closures. Plus, it comes in a wide range of sizes that ensures you'll get a perfect fit for your pet.
Pros
---
Its reusable and washable diapers come in packs of three, and they can withstand up to 300 washes.
Easy to keep in place, thanks to the adjustable hook and loop closures.
Fits comfortably around the waist of pups with sizes between 8 and 33 inches.
It has a super absorbent inner layer and a leakproof outer layer.
Designed with a tail hole, a crinkle-free texture, and extra quilted stitching that offers additional comfort for your pup.
Cons
---
The leg openings are considered large for some dog breeds, which can lead to leaking.
The tail hole is not suitable for all dog breeds and can be too small or too large.
#6 CuteBone Dog Diapers
SALE ALERT!!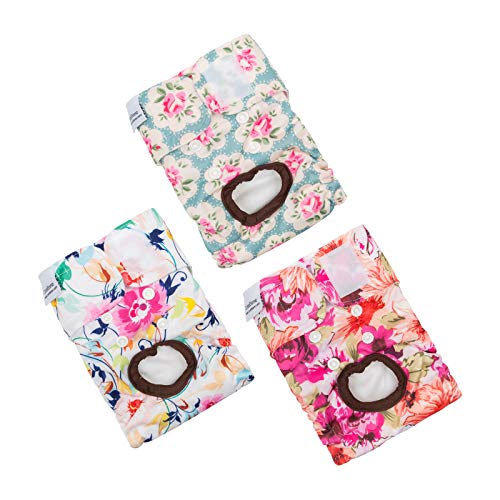 CuteBone Dog Diapers Female Small 3 Pack Reusable Puppy Period Diapers for Heat Cycle D14S
CuteBone female dog diapers are mess-proof designed with comfort and durability in mind, they're perfect for Dog in...
Washable and reusable diapers are environmentally friendly and economical, which Save Money by spending once. The hook...
CuteBone dog diapers female have Adjustable Leg Elastics which can be adjusted for better fit for most dogs. And there...
If you need a stylish and cute-looking dog diaper for your female pup, the CuteBone Dog Diapers is a great product to try. These dog diapers are specially designed for puppies and dogs in heat. They can also be used for menstrual protection and incontinence.
With each package, you'll get a set of three dog diapers featuring different designs that are quirky and colorful. Since these dog diapers are reusable, they are very economical and eco-friendly. There's no need to hand wash these dog diapers since they are safe for machine wash.
They are highly absorbent and waterproof and are made from premium quality materials that are guaranteed to last for a long time.
We like the quirky and colorful designs of the CuteBone Dog Diapers. Putting these diapers on your dog as you go for a walk outdoors will make your dog stand out.
Pros
---
Designed for comfort as it has adjustable leg elastics as well as snaps at the back, tail hole, and left plus right snaps to ensure a snug fit.
It is designed to be leakproof with sewn-in absorbent pads plus a waterproof exterior as well as fuzzy fastener closures to help keep the diaper in place.
Fits different doggie breeds as they are available in five sizes.
It is cost-friendly because they are washable and reusable, and they come in a 3-pack of fancy design diapers.
The diapers are soft to the touch and are perfect for training pups as well as those that suffer from incontinence.
Cons
---
The Velcro fasteners come loose very quickly, especially on very active doggies.
The diaper is too thin for larger pups, which means you might experience some leakage.
---
Best Dog Diapers Buying Guide
---
So how do you choose the right dog diapers for your pooch? Here are some of the most important factors to consider when buying a dog diaper.
Type
There are different types of dog diapers that you can find in the market, although the most common types are disposable and reusable dog diapers. Reusable or washable dog diapers are good for the environment, so you should consider buying them if you want to help save the environment.
But there are dogs that might require disposable dog diapers due to skin issues or other concerns. If you can't decide, ask advice from your pet's vet on the most recommended type of diapers for your pooch.
Purpose
You need to consider the reason why you're getting a diaper for your dog because the purpose is another important factor to keep in mind. Although it's mainly used to keep your dog's urine from leaking all over the place, the diaper can also be used for training and other things. So, determine what the diaper is for and buy what you only need.
Size
Diapers don't have a universal size, so when buying one, always consider your dog's body size and most especially the waist. Take a measurement of your pet before you buy one. Remember that getting a diaper that's too small or too big for your pooch will make it feel uncomfortable. Your dog might end up taking the diaper off, which defeats the purpose.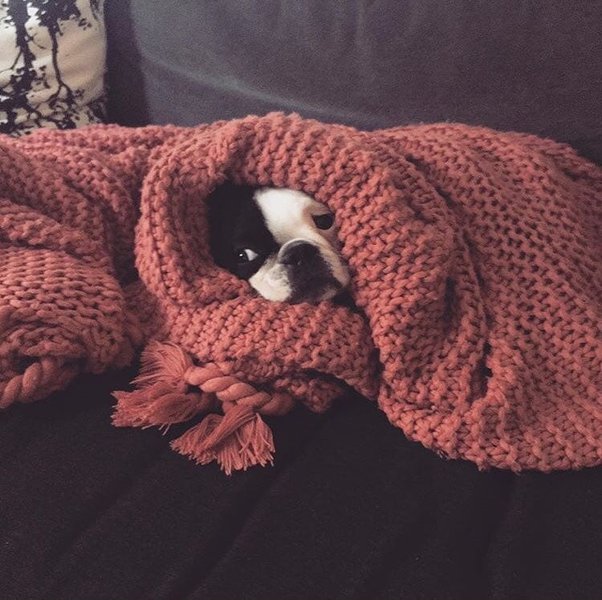 Functionality
When it comes to functionality, you need to think about the diaper's absorbency level and other features before getting one. If your dog suffers from incontinence, then you should opt for diapers that are superabsorbent so your pet will feel comfortable wearing the diaper even for a long period of time.
Male VS Female Dog Diapers
The gender of your pet is another important consideration when buying a diaper. Although male dogs can use most of the diapers for female dogs, there are some diapers that are only intended for male dogs and are not suitable for females. So do your research well and make sure that the diaper you are buying is suitable for your pet's gender.
Getting a washable diaper for female dogs might be a good idea. Aside from being eco-friendly, it makes your life easier as well. It will save you from accumulating a lot of waste in your home. Also, having soiled diapers is not hygienic. On the other hand, female dogs that are in heat might benefit more from using disposable diapers.
There are also dog period diapers that are specifically designed for female dogs that are menstruating. The diaper will wrap the dog's private parts in order to absorb the blood and make your pet feel more comfortable.
---
Final Thoughts
---
The Paw Inspired Ultra Protection Female Disposable Diaper is our top choice since it's the perfect diaper that can help to make your life much easier. It features Advanced DrySpeed Technology that helps to prevent leakage. Thus, there will be no mess to clean up in your home. Also, each pack includes 32 diapers, which is definitely a great value for your money.