The best dog pooper scooper is Nature's Miracle Jumbo Jaw Scoop.
Having a dog who welcomes you wagging his tail and giving you a slobbery hello is a rewarding feeling. But as you all know, having a pet dog is a lot of work. On top of feeding them, you need to groom them and take them for a walk. The walking part is a good exercise for you and your dog.
But as responsible dog owners, we have to do our part to clean up our dog's nature calls.
Without the proper tools, this cleaning can be a squirmish task. That's why you need a dog pooper scooper to do the work efficiently, quickly, and totally hands-free.
There are many pooper scoopers available in the market today and picking up the right one can be daunting. No need to worry, we have made a list of the best pooper scooper for you, and you only need to pick the right one for you to make cleaning up easy.
#1 Nature's Miracle Jumbo Jaw Scoop
SALE ALERT!!

Nature's Miracle Jaw Scoop is an easy-to-use and lightweight dog pooper scooper that can pick up your dog's poop from any surface. It works well on gravel, grass, or concrete. It also comes with anti-microbial protection and a non-stick surface.
Made from sturdy materials, it comes equipped with a high-tension spring that closes the jaws while you are cleaning after your dog. You can bring it along with you easily because it weighs only 1.45 lbs.
What makes this product our top pick is its long handle, much longer compared to others in this category. It has two optional sizes; Medium comes with a 30-inch long handle, while Jumbo has a longer 36-inch handle. This is the best product for you because you don't have to bend down to clean.
Another reason why it's the best is that its advanced jaw scooping mechanism is non-stick in nature. This feature makes cleaning easier and stress-free. You can also use its trademarked antimicrobial solution to keep this dog pooper scooper free from foul smells and germs.
These pooper scoopers from Nature's Miracle are the best in the market today because they have a longer handle and are big enough as a clean-up tool for larger dogs. We also like that they are non-stick which makes cleaning the poop mess easy. With the anti-microbial solution, you can rest assured that these pooper scoopers are odor-free and germ-free.
Pros
---
Made from durable non-stick plastic.
Available in two sizes; Medium and Jumbo.
Has a long handle that is spring-loaded.
Lightweight, weighing only 1.45 lbs.
#2 Petmate Arm & Hammer Swivel Bin & Rake Pooper Scooper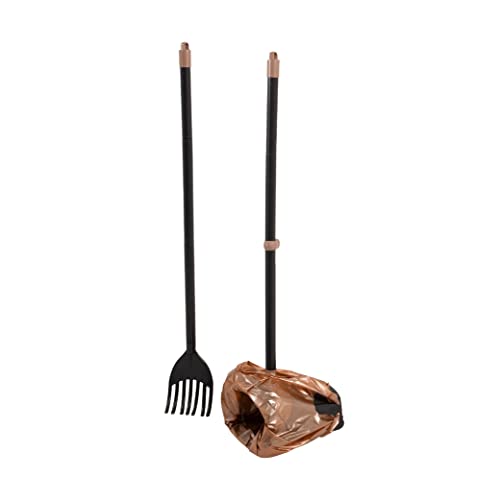 There will be no more bending with this excellent value-for-money dog pooper scooper from Petmate. It has an even longer handle of 32 inches, which makes it easy to clean after your pet without stooping over. As an added bonus, this dog pooper scooper comes with Arm & Hammer waste bags which you can easily tie and toss away.
It has a sturdy rotating bin that is ideal for quick pick up. Transporting your dog's waste is also easy, and it can accommodate cleaning up after large dogs. It includes a plastic rake for more effective cleaning on different surfaces.
For comfortable and clean pickups, it has hooks on either side to secure the plastic bags. These plastic bags are freshly scented to eliminate any bad odor. As an added convenience, the rake and the bin snaps together securely for easy storage.
This bin & rake pooper scooper can give you the benefits of cleaning after your pooch when outdoors at only a fraction of the price most dog pooper scoopers fetch on the market. The large swivel bin has an impressive poop storage capacity and is perfect on any surfaces from grass to gravel. The freshly scented plastics bags are good for masking the smell while scooping the poop.
Pros
---
Durable swivel design for quick pickups.
Extended handle at 32 inches.
With included plastic rake for more convenience.
Uses hooks on the bin to secure the plastic waste bag.
#3 Balhvit Non-Breakable Pet Pooper Scooper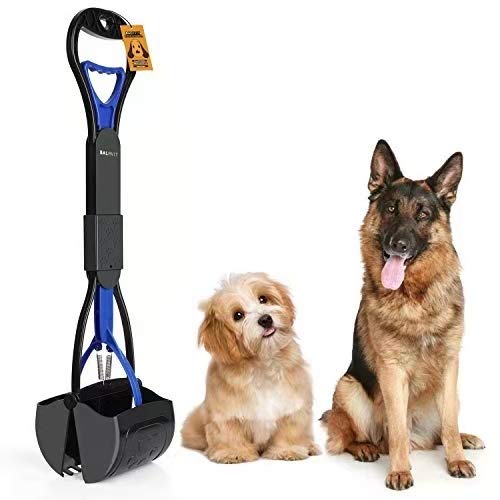 The Balhvit pooper scooper is made of ABS non-stick material, which makes it light but sturdy. It has a thicker design in the 2-part connection slot.
It comes with a 24-inch long handle and a cool paw print. It is simple to use, and you only execute one step to pick up your furry friend's litter. It is easy to store it, and all you have to do is unlock and fold it in half.
It has a plastic scooper with strong, serrated teeth and is perfect for use on concrete, grass, dirty water puddles, and so on. The easy pull handle has two durable springs that ensure an effortless litter scoop. The scooper comes with a 100% satisfaction and money-back guarantee.
A pooper scooper that works on grass and flat surfaces is a winner in our books. This Balhvit device is also easy to use, clean, and store. Coupled with its long handle, the one scoop design is perfect for use. We also love the money-back and satisfaction guarantee.
Pros
---
Has a 24-inch long handle.
Thicker design on the connection slot for durability.
Made with ABS non-stick material.
Available in three colors; Blue, Green, and Orange.
Can scoop on grass or concrete surfaces.
Easy to use, clean, and store.
Easy pull handles with two durable springs.
100% satisfaction and a money-back guarantee.
#4 Dogit Jawz Waste Scooper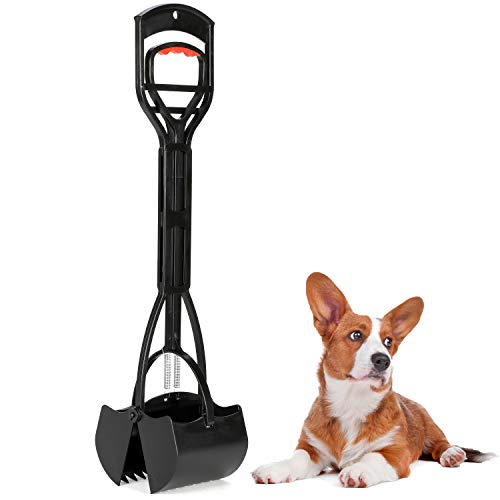 These dog pooper scoopers have a spring action mechanism you need to make pickups easy but within your budget. Although it is less expensive than its competition, they have all the significant features you need to make clean-up easy.
The Dogit Jawz Waste Scooper is made with solid plastic that is sturdy and easy to clean. It is also lightweight and easy to store.
With the spring-loaded handle, you can use it with only one hand, and the serrated teeth make scooping easier. The rubber grips on the handle are a nice touch, ensuring that the scooper does not slip from the hand while using it. You can use this dog pooper scooper on any surface whether gravel or grass.
This Jawz Waste Scooper from Dogit is the least expensive option, yet it can do the job well. This device can operate single-handedly and effortlessly with its spring-loaded ergonomic handle. It is compatible with all surface and made with very durable plastic.
Pros
---
A spring-loaded pooper scooper for quick and easy cleaning.
With two calibrated springs.
Its handle is thoughtfully and ergonomically designed for single-handed operation.
Its long length is sufficient to eliminate the need to bend your body while scooping.
#5 Pik-A-Poo One-Handed Pooper Scooper
PIK-A-POO 7 One-Handed Pooper Scooper, Bending Free, Touching Free by Klean (28 Inch)
US and internationally patented design. The ultimate pet waste cleaning tool, easy and convenient to carry and use. A...
Developed from previous PIK-A-POO models with significantly improved scoop design, larger scoop size, reinforced cable...
Pick up both hard and soft waste from various surfaces. More importantly, PIK-A-POO 7 Scoop does NOT get dirty after...
Uniquely designed by PIK-A-POO, this pooper scooper has become the favorite accessory for long walks. It has a one-handed claw that serves as a pooper scooper and is made from aluminum alloy and nylon. Heavy-duty waste bags are provided with the purchase.
The scooper handle is 28-inch long, thereby providing convenient cleaning without bending. For easy storage, the scooper can be folded easily. It also provides an attachment to hold onto the waste bags for easy access during operation.
It can also use any standard-issue plastic bags available in groceries, and a single bag can be used for multiple pickups too. This dog pooper scooper has an improved design with reinforcing cable in addition to the joint structures for more durability.
Most dog owners find PIK-A-POO One-Handed Pooper Scooper as a well-designed and easy to use tool whenever on the go. These pooper scooper are best for small to medium-sized wastes. If you are on the lookout for a one-handed scooper that has all the best features in one, these pooper scoopers are your best bet.
Pros
---
Long handle design spanning 28 inches.
Made from fiber-reinforced aluminum and heavy-duty reinforced alloy.
Larger scoop size for any type of surface.
With joint structures and reinforced cable.
#6 DogBuddy Portable Pooper Scooper
SALE ALERT!!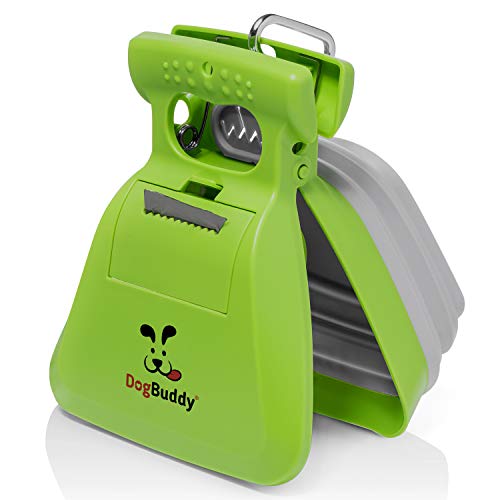 If you are looking for a pretty, compact, and more lightweight scooper, the DogBuddy Portable Pooper Scooper is very slim; it has become the favorite of many dog owners because you can hang it even on the dog leash. This feature is very handy because you can take it wherever you go.
It is versatile because it can double as the dispenser for dog waste bags and accommodate any standard-size waste bag. The backside of this dog pooper scooper has a retractable backside for easy scooping.
Unfortunately, the design does not incorporate a long handle and you will have to bend or squat to scoop up the poop. In this way, you can remove waste from any type of surface, and it can be useful, especially for large dogs and their humongous poop.
This dog pooper scooper from DogBuddy is a fantastic product and very affordable. It is compact, lightweight and convenient to use and can work on any surface. It offers convenience while dog walking because you can attach it on the dog's leash.
Pros
---
You can clip it on the dog leash.
It can pick up from any type of surfaces.
Made from durable, light and hard plastic that performs like a metal scooper.
Serves as waste bag dispenser.
#7 ActiveDogs Dog Poop Scooper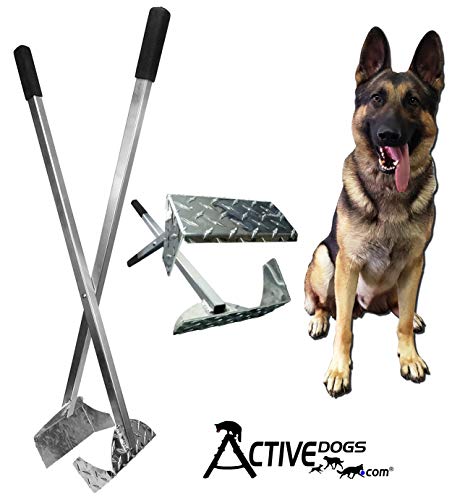 ActiveDogs designs this very dog poop scooper for durability to last way beyond your dog's lifetime. Although it can be costlier, the benefits are worth every penny. It has long handles, so there is no need to bend your back while scooping.
This scooper is designed for all types of surfaces too. While most dog pooper scoopers are made from sturdy plastic, this one is all aluminum for durability and long-wearing.
This pooper scooper from ActiveDogs features teeth on one side of the shovel. The jagged style teeth provide convenience when scraping and cleaning after your dog. Its best feature is you can open the mouth of the scooper as wide as you want to handle even more massive poop.
You can attach the handles together too for easy storage. With a whopping 38-inch handle, this is no flimsy tool.
Although this dog pooper scooper from ActiveDogs is on the expensive category, it is very useful in cleaning up your dog's mess on various surfaces under different weather conditions. It performs best in cleaning up poop on asphalt and concrete. Armed with the serrated teeth on one side, it can effectively clean up messes, even the toughest ones.
Pros
---
Made of sturdy and long-lasting aluminum.
Features serrated teeth on one side for easy scooping.
Long handle design spanning 38 inches.
Handles can be attached together for easy storage.
#8 Pawler Dog Pooper Scooper
This lawn saver from Pawler works basically like a broom and a dustpan. It is made of a wire rake-like comb to lift out the poop from grass and a tray for collecting the swept poop. It is that simple!
The tray has a sizeable holding capacity and can be used to collect dead leaves and rubbish, besides poop, thereby keeping your backyard or lawn clean. When purchased, both the rake and the tray need to assembled before use, but no tools are required.
When doing poop patrol in your backyard, a dependable dog pooper scooper from Pawler is an ideal choice. These dog pooper scoopers have long spokes that can sweep up the poop of any consistency and does not damage the grass at all.
Pros
---
Uses a push-pin installation for extra durability.
Easy to clean and rust-proof.
A multipurpose product.
Designed for used on lawns and various surface.
#9 Sunkoon Non-Breakable Pooper Scooper
If you want to keep your hands clean and stay clear of the stinking mess your dog makes, then this is the perfect product for you. The Sunkoon Pooper Scooper for dogs is a convenient way to clean up after your dog with a 24-inch long handle for easy retrieval of dog waste.
With its ergonomic design and easy-to-pull handle, you can operate the scooper with one hand. It has a stainless steel spring mechanism that tightens the claws with strong serrated teeth. Spillage should never be a problem.
Plus, it is easy to clean and rinse due to a non-stick material, so you don't have to worry about dirtying your hands.
A great product that has no problem picking up wastes from different surfaces like grass, concrete, gravel, and even water. You can bring it anywhere without worrying about cleaning up messes, whether it is in the park, on the sidewalk, or just inside your house.
Pros
---
Ergonomically designed for easy handling.
Foldable and portable.
Made from sturdy and tough materials.
Double spring design for increased ease of scooping up waste.
A 100% satisfaction guarantee with a refund.
---
Best Dog Pooper Scoopers Buyer's Guide
---
Buying the best pooper scoopers is not a daunting endeavor if you have done your research and know precisely what to look for. To do this, you need to know the points to consider when buying. We have listed the most important things to consider when purchasing a dog pooper scooper here.
How Heavy It Is?
When you are walking the dog, you don't want to drag along a bulky and inconvenient scooper with you. To make things easy, you need to find a compact and lightweight dog pooper scooper to bring along to the park. It can take the burden out and make things more convenient for you.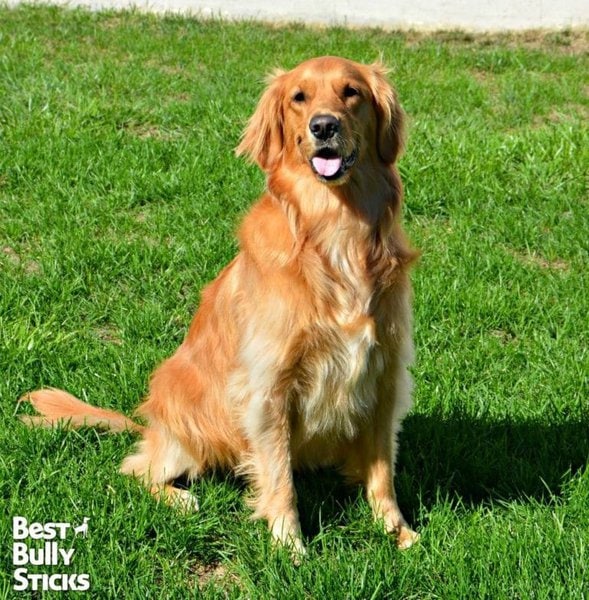 What Is It Made Of?
Judging from the dog pooper scooper reviewed in the early part of this article, you can say that it comes in different designs, shapes, and sizes. You need not only the one that best suits your needs but something that is made to last too.
Length Of The Handle
You don't have to bend when cleaning after your dog, so you need to put a little effort into finding one that has the most convenient length of the handle for you. Make sure that it fits your height perfectly, it will make cleaning up more relaxed and more comfortable.
Where Will You Be Using It?
Ask yourself where you are going to be using your new investment for your pet and how frequent it is going to be. Is it the park or just outside your house? If you are going to use it in your home, a simple rake and spade style will do, but you are going to use it in a park, invest in a tool with a bag. Disposal would be easier, and you will be walking the dog in style.
---
Final Thoughts
---
Until a robotic dog pooper scooper is invented, you will be the one to clean up after your dog, so you better choose the best one for your needs. Having the right tool handy will make this chore a little desirable. If you look at the list, there is a scooper for everyone, but if you are looking for the best, we highly recommend our top pick.
The one-handed operation and spring-loaded handle plus the non-stick surface are definitely worth the investment. It is versatile too in scooping from all types of surfaces. What's more, it has antimicrobial protection and it is an affordable option loaded with all the features you are looking for in a dog pooper scooper.