The best dog pool is KOPEKS Outdoor Swimming Pool.
It's summertime and the perfect weather to go for a swim with your pup. However, it's not always easy! Especially if you live in a small apartment and don't have access to a yard or pool
One of the best ways is by getting your pooch their own dog pools. There are many different styles out there so no matter what your budget or space, you're sure to find one that works for you.
In this article, we will look at different types of dog pools available today and the key factors to consider when shopping for the best dog pools.
#1 KOPEKS Outdoor Swimming Pool Bathing Tub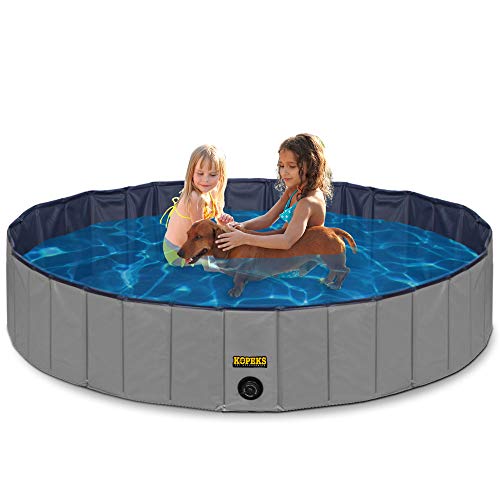 Our top pick on the best dog pools is the Outdoor Swimming Pool Bath Tub by KOPEKS. It is made from strong heavy-duty PVC material and can be folded for convenient carrying and storage. It has an easy-to-use drainage system with a cap on the pool's side.
The pool is easy to set up. Just unfold the PVC pool and set it on a smooth flat surface, while making sure that there are no stones or sticks that can pick through. Your dog will enjoy long hours in the pools it can hold water and stay still for long.
It comes in varying sizes, making it easy to choose the right size for your dog or dogs. It is an easy-to-clean dog pool too. It is made to withstand damage from heat and the sun.
The KOPEKS Outdoor Swimming Pool Bathing Tub comes in varying sizes to suit different dog breeds and sizes. It can be carried along when traveling or on vacation because it folds easily and is quite portable. It is made of safe, anti-slippery material.
Pros
---
Easy to set up
Large dimensions
Heavy-duty material
#2 Jasonwell Foldable Dog Pet Bath Pool
SALE ALERT!!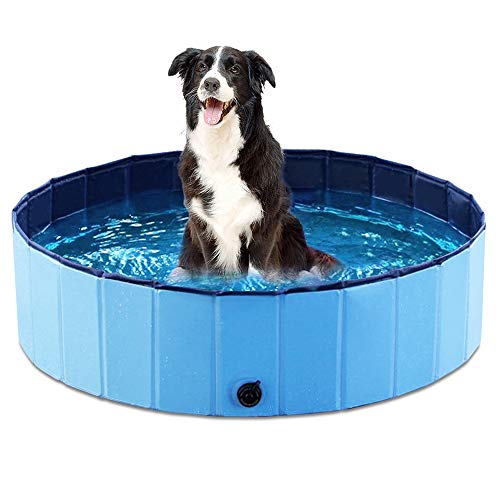 Our budget pick is the Jasonwell Foldable Dog Pet Bath Pool. This is an outdoor pool tub that is made of a strong and durable PVC material. The base of the pool is strong enough to avoid puncturing. The uniquely designed pool has two draining plugs on the side and bottom and can also be set on any flat surface within your compound.
It has an anti-slide design and doesn't slither on the ground once installed. This anti-slide feature helps to prevent accidents while your dog is splashing and having fun in the pool. It comes in five sizes which gives the dog owner a variety of options to choose from.
Jasonwell is an affordable and durable foldable swimming pool that gives value for money. It is easy to clean and just like the name suggests it can be folded down for easy storage and transportation.
Apart from the fact that this pool is affordable, it's strong enough to last for a long time. It can come in handy when going on a vacation. Draining this pool is extremely easy, as it comes with a bottom drain.
Pros
---
Affordable
Folds easily for convenient storage and transportation
Has an anti-slip design for your dog's safety
Strong and durable
#3 ALL FOR PAWS Dog Swimming Pool
SALE ALERT!!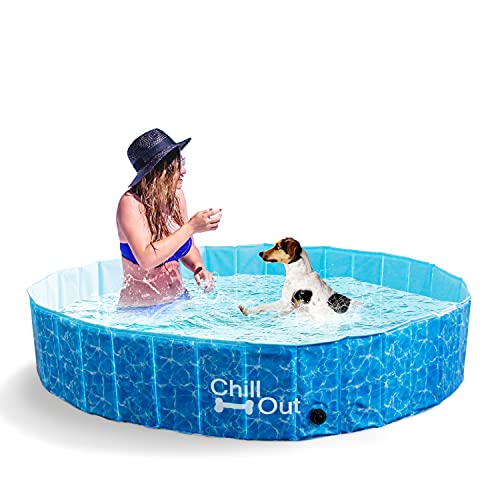 The ALL FOR PAWS Outdoor Bathing Dog Pool is an outdoor tub for dogs.
Made of extra-tough PVC, this foldable swimming pool is environmentally friendly and harmless, so you can relax knowing your dog is in safe hands! Easy to use and store: just fill with water, open sealed drain to empty, easy to fold up with small volume storage and handling.
You can easily set it up in just minutes without any extras or tools needed and store it with ease so you can still maintain an organized back patio space.
This is a suitable pool for dogs of all sizes. It has anti-slip features and a strong base that can withstand puncturing. It's a great option for dogs of all sizes.
Pros
---
Can be folded for easy storage
Tough and durable
Easy to fill and empty
Comes in different sizes to choose from
#4 NHILES Portable Dog Pool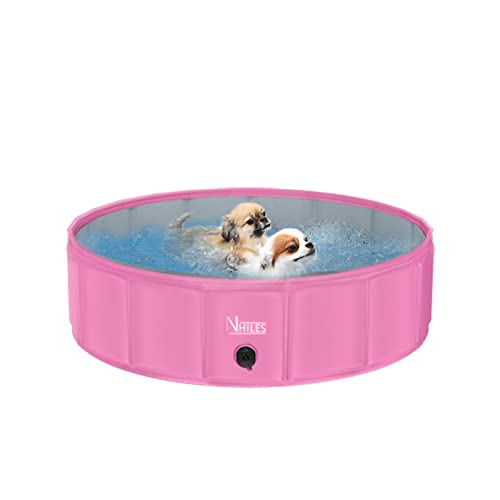 Made of waterproof nylon fabric, the NHILES portable dog pool is durable and leak-proof. It also features an easy twist off drain cap to avoid any water seepage due to unaccounted-for gaps that can happen over time.
This portable dog pool was tested for EN71, ASTM (American Society of Testing Materials) standards so you don't have to worry about any toxins leaking from the folds in your beloved friend's approved pool. So pack these up for a day at the vet or bring them along on vacation without struggling for luggage space as they are lightweight and easily stowed away when not in use.
This is a great pool for big dogs as it comes in a big size. In case you have small dogs, you only need fill it halfway. It is made of strong and durable materials too.
Pros
---
Conforms to EN71 ASTM standards
Folds easily
Leak proof design
#5 NACOCO Foldable Dog Water Pool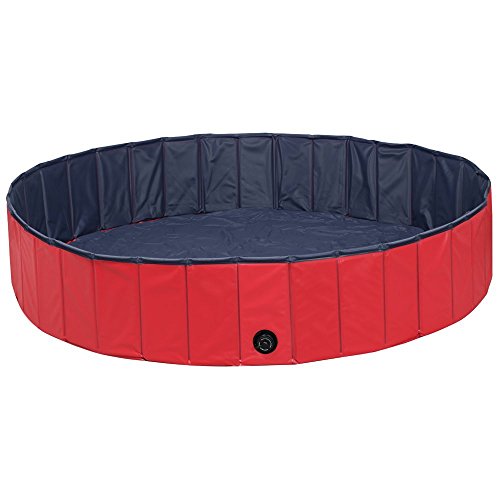 The NACOCO Foldable Dog Water Pool is convenient and practical as it gives your dog his own personal pool.
Made of safe materials, this item can last a long time without cracking or tearing. It comes in various sizes so you have the right fit for your pup. Plus, if you're looking to save some space, this product folds up into a small size when not in use! Just take out the plug and let water flow through until the drain spout loosens up so that nearby plants can absorb any spillage.
This is an easy-to-use doggie playground accessory that's ideal for summertime pooch fun.
This is a multi-purpose pool. It can be used as a refreshing pool and as a bathtub for washing your dog. As an added advantage, the pool can hold two or three dogs at once.
Pros
---
Can be used by dogs of all sizes
Can be folded with ease
Easy to drain and fill with water
Made of strong durable PVC material
#6 Petsfit Leakproof Fabirc Portable Dog Pool
SALE ALERT!!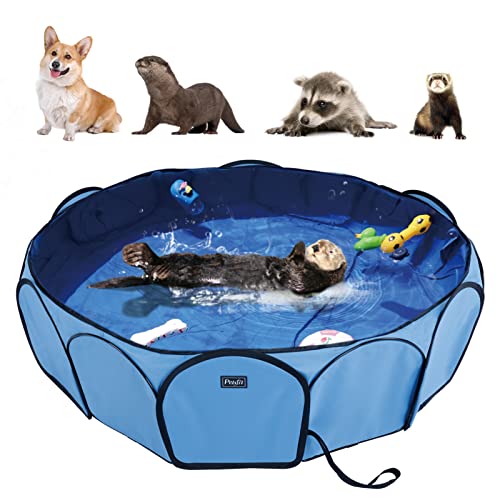 Petsfit Leakproof Fabirc Portable Dog Pool is one of the strongest dog pools in the market today. It is made of strong and durable PVC material. The pool doesn't have an outlet for draining off the water but you can easily push the panel inwards to get rid of the water.
Petsfit Leakproof Fabirc Portable Dog Pool is a strong pool that doesn't leak. It is also suitable for dogs of all sizes and is made of strong durable PVC material.
Pros
---
Leak proof
Made with very durable material
Can fit both small and large dogs
---
Dog Pool Buyer's Guide
---
So what exactly is a dog pool? As the name suggests, this is a swimming pool specifically designed and made for use by your dog. A dog pool provides a cool and refreshing space for your dog to chill out on a hot day. You may ask why not just use a kiddie pool instead of buying another pool dedicated to your dog. First of all, a kiddie pool is not designed to hold the weight of a large Labrador and may not last long when used by your dog.
Secondly, there are hygiene considerations when you allow dogs and kids to share a pool. The pool will definitely be left with drool, dog hair, and a fair amount of bacteria that you wouldn't want near your kids. Your best option is therefore to get a different swimming pool for your dog.
Related: Best Dog Pool Floats
Types of Dog Pools
Dog pools come in different shapes, construction materials, capacity, and sizes.
There are three types of dog swimming pool styles and designs:
Inflatable Dog Pool
This is the most portable and lightweight type of dog pool. It's a perfect option for families who travel a lot. Inflatable pools fold up easily into a compact package and weigh almost nothing when deflated. If you choose this type of pool, get one made of hard plastic that cannot puncture easily.
Folding Dog Pool
This is another easily portable type of dog pool. It is also quite easy to store after use as it can be folded down into a smaller package. Unlike inflatable pools which are made of thin plastic materials, the folding pool walls are made of strong semi-rigid panels. The pool folds inwards after it has been emptied and doesn't require inflation. It is more durable than an inflatable pool because its rigid panels are not vulnerable to dog claws.
Rigid Dog Pools
This type of dog pool is similar to the traditional kiddie pool used by children. It is made of strong plastic materials that can withstand clawing and other damages caused by dogs. These pools are extra durable and the best option for large rough dogs. They come with drains and other useful extra features. However, expect to pay more for a rigid pool than you would pay for a folding or inflatable dog pool.
Related: Best Dog Life Jackets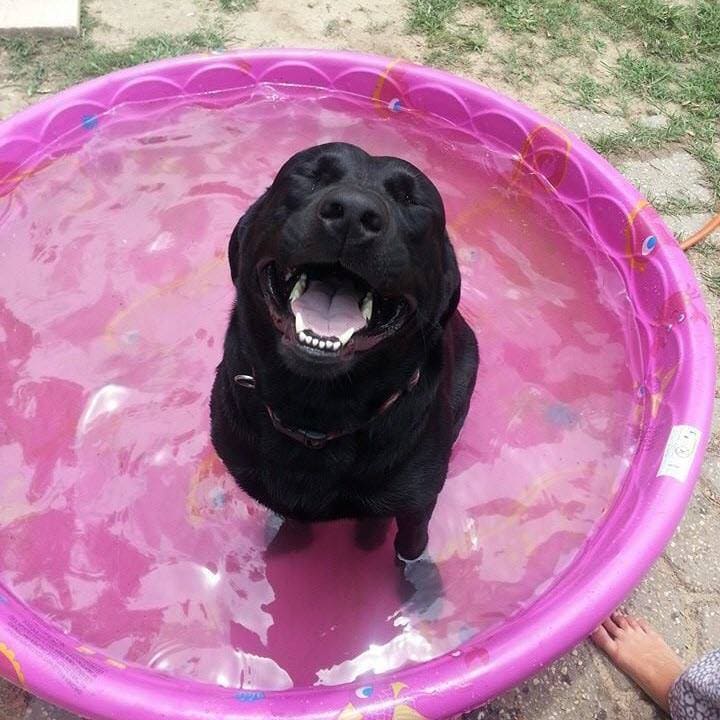 What Are the Benefits of Dog Pools?
Here are some of the key benefits of dog pools:
Your Dog Will Enjoy A Cool Swim
Pool time is a safe and enjoyable activity for your dog. It helps to cool down your dog on a hot day and make it feel happy and healthy all day. Swimming also provides mental stimulation to a bored dog. Get a dog pool to keep your dog's brain busy and active on hot days.
Be sure to keep your dog safe by following these pool safety tips.
Gives Your Dog Relief From Hot Summer Temperatures
Dogs also suffer from soaring summertime temperatures just like your children do. A quick dip in the pool will keep the dog cooler for some time.
Swimming Is Good Exercise For Your Dog
Small and medium-sized dogs have a perfect opportunity to exercise when they jump into a cool pool on a hot day. Swimming is a high-intensity low-impact activity that keeps your dog fit and healthy.
You Can Even Bathe Your Dog In The Pool
If your dog has an aversion to being bathed in a bathtub or shower, as many dogs are prone to, you can use the dog pool instead. The pool makes it easier to wash the dog without wetting your carpet and leaving the wet-dog smell inside your house.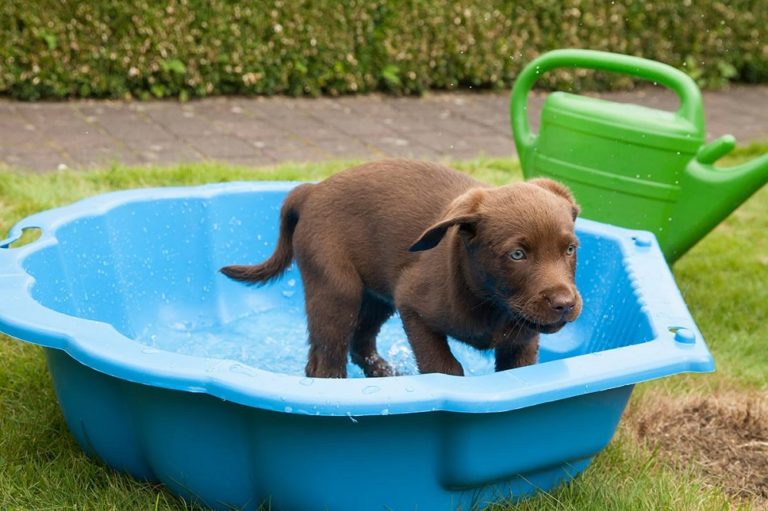 Factors to Consider When Shopping for a Dog Pool
Getting a good pool for your dog may seem like a simple task but there are a few important things you should be aware of to ensure that you make an informed purchasing decision. Avoid going for a low-quality pool as it may not last long or even end up costing you more in the long run.
Here are some of the most important factors to consider when shopping for the perfect pool for your dog:
Capacity
Capacity refers to the amount of water that the pool can comfortably hold. Check the pool's capacity closely as some models tend to look big in pictures but have a small capacity in reality. Get a pool with enough capacity, especially if you have a larger dog.
Dimensions
The biggest mistake you can make is to order a dog pool online only to find out that it's too small for your Great Dane when it finally arrives. If you have a big dog, take the time to check the pool's dimensions to ensure that your dog can comfortably dip and splash around in the pool.
Construction Materials
You definitely want a dog pool made of strong and durable materials. If you own a large dog, make sure the pool can withstand heavy usage and any damage that your dog throws its way. The best materials for dog pools include Polyurethane – which is a durable polymer also called truck bed-liner material, heavy-duty PVC which is tough and flexible, and properly coated metal which is rust-resistant and weatherproof.
Ease Of Use
How easy will it be for your dog to enter, get out, and generally use the pool? A large dog can easily hop in and out of the pool but if you have a large pool for a smaller dog, then you may have to install a ramp or steps for the dog to get in and out of the pool. Find a pool with a height suitable for your dog.
Aesthetic Value
Some dog owners may not care much about aesthetics but if you value the look and style of things that you purchase, then look for a cute pool for your dog. The pools come in a variety of styles, shapes, and colors to match your taste and personal preferences. Just remember to ensure that all the other qualities mentioned above have been met before you look at the pool's aesthetics.
It makes no sense to buy a beautiful pool that won't last more than a couple of days. Make sure the pool is made of tough materials that will not only last long but will withstand damage from the dog too.
Related: Best Dog Sunglasses
---
Final Thoughts
---
A dog pool is one of the best gifts you can buy for your faithful four-legged friend. The pool provides a refreshing space to cool off and exercise on a hot day. However, finding the right pool for your dog can be a difficult task given the huge number of dog pool models and brands available on the market today.
In order to make an informed buying decision, check the pool's capacity, dimensions, construction materials, and how easily your dog can enter and leave the pool.
Based on the factors mentioned above, our top pick dog pool product is the KOPEKS Outdoor Swimming Pool Bathing Tub.