The best glow-in-the-dark dog collar is Blazin' Safety LED Dog Collar.
For your dog, time outside is awesome, whether it is day or night. But for you as the owner, the thought of losing your best buddy out there in the dark can be a little daunting. That is what makes getting the best glow-in-the-dark dog collar a wonderful idea. Here are 7 of the best options in this case.
#1 Blazin' Safety LED Dog Collar
SALE ALERT!!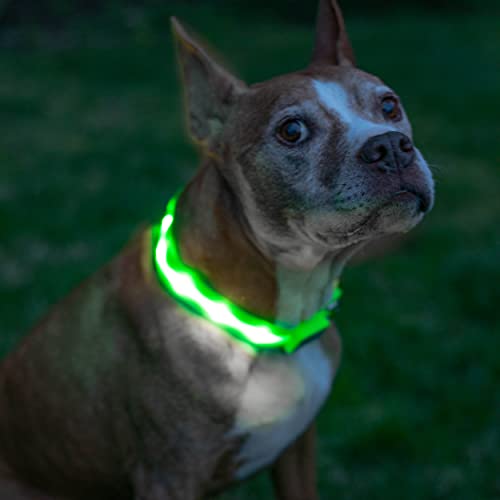 This is pretty much an ordinary dog collar with a strip of glowing bulbs. It has all the features of a good quality dog collar, including the adjustable straps and thick strap cut for the dog's comfort. The design offers versatility as you can use it both during the day and at night.
The best part is that the glowing strip design does not hinder your ability to adjust the fit. This is because the bulbs themselves have a slim design that allows them to slide under the adjustment buckle without getting stuck or damaged.
The Blazin' Safety LED Dog Collar is easily our best pick with its great construction and several dog and owner-friendly features. It is also really cool that you get something you can use both at night and during the day with one purchase.
Pros
---
The water-resistant design of the Blazin' LED dog collar makes this product suitable for use in wet or outdoor conditions without it getting damaged by exposure to water.
This glow collar product for dogs comes with a micro USB port and cable that can be used to charge the collar from a wide variety of devices to give the collar a runtime of up to 8 hours.
This canine glow collar utilizes individual light bulbs to ensure that maximum brightness is provided, with these bulbs surrounding nearly the entire collar to provide complete visibility of the pooch.
Blazin' Safety's LED collar provides visibility for up to 350 yards to make it easier for customers to spot their pooches in low-light conditions.
The total length of the Blazin' Safety LED collar can be resized to within 40% of the original length, and it also comes in four different size options to ensure a comfortable fit for pooches with various neck sizes.
Cons
---
Multiple customers have reported that their Blazin' Safety LED collars stopped working after a short period of use.
Sizing issues have resulted in some customers receiving collars that were either too small or too big for their pooches to wear.
#2 BSEEN LED Dog Collar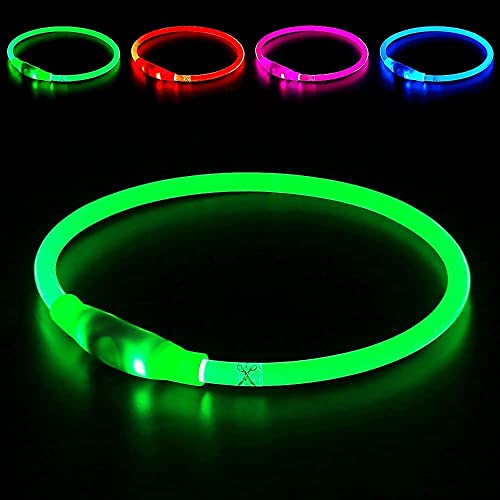 B.Seen LED Dog Collar, Neon Green
ONE SIZE FITS ALL: Collar measures 70 cm - But can be cutted to any length using scissors to fit your pet.
3 LIGHT SETTING: Slow flash, quick flash and steady glow (Easy push button).
RECHARGEABLE MINI USB: This item equipment with a rechargeable line.
Here we have a simple glowing halo design with a one-size-fits-all 70 cm cut. It is designed to allow adjustability by simply cutting the tube based on your dog's neck size. Don't worry, they have very specific and easy-to-follow instructions so you do not ruin your purchase.
In addition to the unique adjustability, the dog collar stands out with its touch controls. These allow you to easily turn it on or off as well as to switch between modes.
This is a nice low-budget option if you want a nighttime accessory for your outdoor expeditions in the dark with your beloved dog. You just put it on, put on their restrain collar and leash and you are good to go.
Pros
---
BSEEN's LED collar comes in a one-size-fits-all design, with customers given the opportunity to cut and size the collar according to their pooch's neck width.
This glow-in-the-dark dog collar from BSEEN is rechargeable, and it comes with a mini USB charging port that can be used with multiple power outlets.
With this LED collar, customers can choose between three different light modes – quick flash, slow flash, and steady glow – for various methods of illuminating their canine buddies in the dark.
This canine LED collar is simple to use, and customers can choose between the various light modes and also turn the product on or off with the push of a button.
The lightweight design of the BSEEN LED collar makes it comfortable for a pooch to wear for a significant period without it weighing down the dog.
Cons
---
The charging port of this LED dog collar isn't compatible with the universal USB charging cables that are in style these days, and this is inconvenient for several customers.
This canine LED collar tends to fall easily with every movement when used with very active pooches.
#3 MASBRILL Light Up LED Dog Collar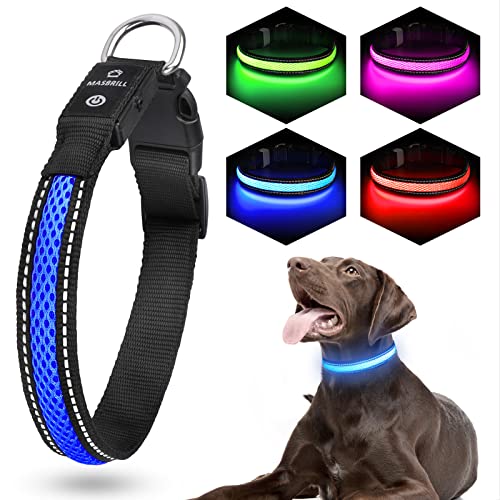 The MASBRILL model has a standard adjustable collar design with a TPU optical fiber strip running all around. The glowing strip emits more light than many LED bulb collars and is fantastic if high visibility is a huge priority for you.
The rest of the dog collar features breathable polyester material. This is not only comfortable and breathable for the pooch but also highly durable. It is therefore ideal for activities like hiking or swimming both in the day and at night.
This is an awesome pick if you want a nighttime dog collar for tasking outdoor activities like hiking or swimming.
Pros
---
MASBRILL's light-up collar is available in 4 different size options – small, medium, large and extra-large – to ensure compatibility with various dog breeds and neck sizes.
Each size of this canine LED collar can be adjusted within specific ranges to provide a comfortable and convenient fit for the pooches wearing the collars.
This LED dog collar product comes with a buckle that makes it possible for customers to quickly and conveniently wear and remove the collar from their pooch's necks.
The stainless D-ring attachment on this LED dog collar provides an outlet for customers to attach leashes and control their pooches while out on walks.
The waterproof design of the MASBRILL LED collar ensures that it can be used by pooches either when they are swimming or when it is raining, without the product suffering water damage.
Cons
---
Some customers have bemoaned the quality of this LED dog collar, claiming that the product didn't last for up to a week before getting damaged.
There has also been feedback about the low light intensity the collar emits does very little to improve the visibility under low light conditions.
#4 Illumifun LED Dog Collar
SALE ALERT!!
What stands out the most with this dog collar is the battery life. The lights are rechargeable using a USB cable and it will take about 2 hours of charging to get the battery full. After this, you will have up to a whopping 10 hours of light depending on the usage mode.
There are 3 options in this case. The first is the slow flash in which case you have 8-10 hours. The second is the quick flash which gives you 6-8 hours of use and finally, you have the steady glow mode which offers 2-3 hours of functionality from a full battery.
If battery life is a huge priority for you then this is an excellent alternative to look into.
Pros
---
The Illumifun LED collar features 3 different glow modes – quick flash, slow flash, and steady glow – that customers can conveniently switch between via the push of a button.
The micro-USB cable and charging port of this LED collar make it easy for customers to connect the collar to different power outlets and recharge when the batteries run low.
This dog glow collar comes with a buckle that customers can use to adjust the size of the LED collar to provide a convenient fit for pooches wearing the product.
The leash hook loop included on the Illumifun dog collar is compatible with a wide variety of dog leashes and provides a way for customers to maintain control of their canine buddies when going for walks.
The slim fixed buckle that comes with this LED dog collar makes it possible for customers to quickly and easily wear or remove the collar from their pooches.
Cons
---
Adjustments on this collar usually don't remain as set, thereby resulting in the collar constantly slipping off a pooch's neck.
Several customers claim that this collar doesn't illuminate all the way around, thereby making it impossible to spot a pooch wearing the collar when viewing from a particular angle.
#5 Domi LED Dog Collar
This is easily one of the brightest options on the market. The effect is a result of the use of TPU material for light guiding. The Nylon reflective stitches further complement the glowing effect for optimum glow. This gives the dog collar an impressive visibility range of 500 meters for added safety during your nighttime escapades with your dog.
In terms of brightness and visibility range, this dog collar is a wonderful pick that will ensure your dog is safe from traffic accidents and getting lost when you go out in the dark.
Pros
---
This canine glow-in-the-dark collar product combines LED & TPU light-guiding tube and reflective stitching to provide optimal visibility of a pooch wearing the collar in the dark.
The lightweight construction and breathable fabric material used for constructing this dog LED product are intended to be comfortable for small pooches to continuously wear for a considerable period.
The plastic release buckle that comes with this Domi product ensures that customers can remove the collar from their pooches' necks and also wear the collar around their canine buddies without hassle.
This LED collar utilizes batteries to provide visibility on the go, and when nearing a low battery level, customers can easily recharge these batteries with the micro-USB charging cable included in the package.
The Domi LED canine collar is available in two main size options – XS and S-XXL – with each length option being adjustable to provide an even better fit for pooches.
Cons
---
There have been multiple reports about this canine LED collar failing to hold a charge after just a short period of use.
Some customers reportedly find it difficult to unhook the buckle and release this LED collar from their dogs' necks.
#6 Higo Rechargeable LED Dog Collar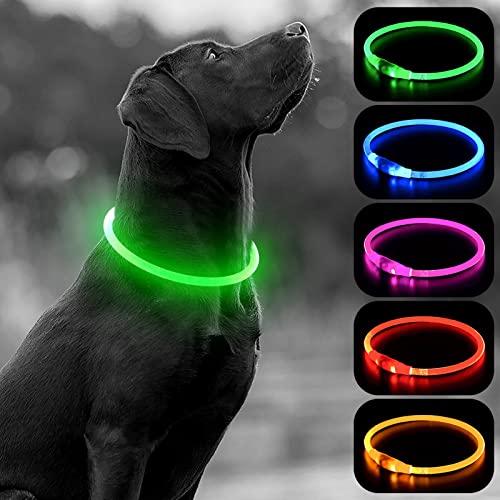 This is more of a flashing necklace design than a dog collar. The TPU tubing guides the light around the piece for the bright halo effect. This makes the dog easily visible in the dark for their safety.
In addition to light guiding, the material makes the dog collar comfortable and is also very durable which means you will have a comfortable and functional accessory for your dog for a very long time.
This is another worthy alternative if you want the simple flashing necklace design to use with your standard collar.
Pros
---
The water-resistant design of the Higo LED collar makes this product suitable for use in the rain without the collar getting damaged by water.
Customers can conveniently switch through the various flash modes on this canine collar – quick flash, slow flash, and steady glow – just by pressing a button.
This guiding tube of this canine glow-in-the-dark collar shines all the way around, thereby improving a pooch's visibility in low-light conditions.
The transparent TPU tube material used for this canine collar product can be cut and adjusted to provide a comfortable and convenient fit for the pooch wearing the collar.
The lightweight build of the Higo rechargeable collar makes it convenient for pooches to carry the collar around for extended periods.
Cons
---
There are multiple reports about this LED collar gradually losing brightness and not lasting past the first few months of use.
Customers report that this collar tends to lose its fit and doesn't stay on a pooch after it has been cut for adjustment.
#7 Illumiseen LED Dog Collar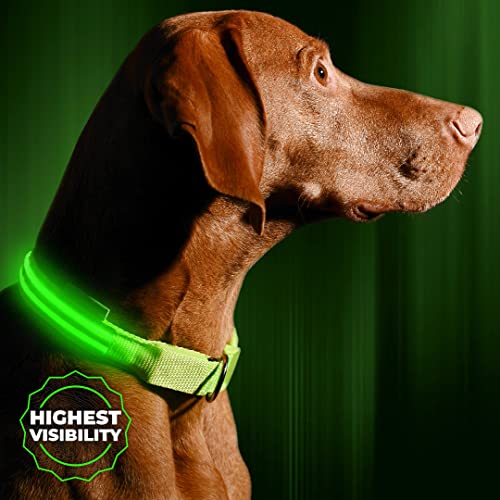 Rounding up our list is another versatile collar with both daytime and nighttime applicability. The dog collar features 2 strips of LED lighting that offer terrific visibility at night. The lights are powered by a rechargeable battery. The best part is that you have 5 hours of use to look forward to before you have to recharge the dog collar.
This is a decent alternative if you want something simple yet functional for your dog.
Pros
---
Owners of the Illumiseen canine collar can conveniently switch between steady, rapid flashing and slow flash modes just by clicking a button.
The durable design of the Illumiseen canine collar makes this product capable of withstanding rough handling from pooches to a certain extent.
The easy-clip buckle that comes with the Illumiseen canine collar makes it convenient to put on and take off the collar from around their pooches' necks.
Owners of the Illumiseen canine collar can attach a leash to the D-ring featured on the collar to provide a safe and controlled means of walking their pooches.
The Illumiseen LED collar is available in seven different size options, ranging from XX-Small to X-Large, to provide customers with a chance to choose collars that will be a convenient fit for their canine buddies.
Cons
---
The LED lights of this canine glow-in-the-dark collar tend to randomly shut off, thereby posing a great safety risk while walking pooches at night.
The charging port of this LED dog collar product isn't compatible with the standard micro-USB cable that is commonly used nowadays.
---
Glow In The Dark Dog Collars Buyer's Guide
---
Nighttime walks with your furry best friend can sometimes be the most magical hangouts. Maybe it is the stars. Maybe it is the calm in the darkness. However, it can also be quite risky, especially if you have an overexcited pooch with an affinity for trouble and running off.
For their safety and your peace of mind, glow-in-the-dark collars are a fantastic option. However, with all the options available on the market, shopping for the accessory can be a bit of a nightmare. This is the case particularly if you do not understand your options and what different specifications mean for you and your pooch.
To help you out, here are six major factors to consider when making your decision on the best glow-in-the-dark dog collar so that you end up with the best value for your money.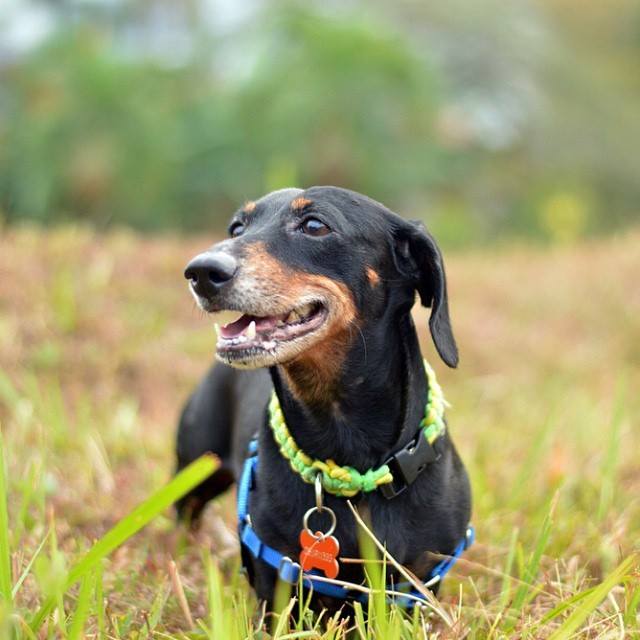 Glowing Collars VS Reflector Strips
When it comes to night visibility collars, you have two options: reflector strips and glow-in-the-dark collars.
Reflectors are strips of material that reflect light from external sources. As the light bounces off the surface of the material, it seems to glow making it visible in the dark. While these are effective for nighttime escapades with your doggie, they have one major setback. This is because they do not produce any light of their own and rely entirely on the environment. Therefore, if your pooch wanders off into the dark and you do not have a flashlight on you or a street light nearby, things might get a little tricky.
Glowing collars, on the other hand, produce light of their own. They usually feature light-emitting bulbs that, more often than not, are LED. These battery-powered bulbs are fantastic as they do not rely on environmental light sources. So if your best buddy runs off, you just have to look out for a glowing halo, and your worries are all gone.
Visibility Range
This refers to how far the light travels from the light-emitting bulbs on the dog collar. The value determines how far away your dog can be from you in the dark while still being visible to you so it is very important to consider.
Most decent quality options offer a visibility range of between 300 and 400 yards. To put this into perspective, 300 yards is almost equal to the length of 3 soccer fields. This value is fantastic as it pretty much guarantees that you can spot your pooch from really long distances.
You can let them run around and have fun without always being so tightly wound by the leash, which makes them happy. And all this time, they will still be visible even in the dark. That is, of course, as long as you have good eyesight.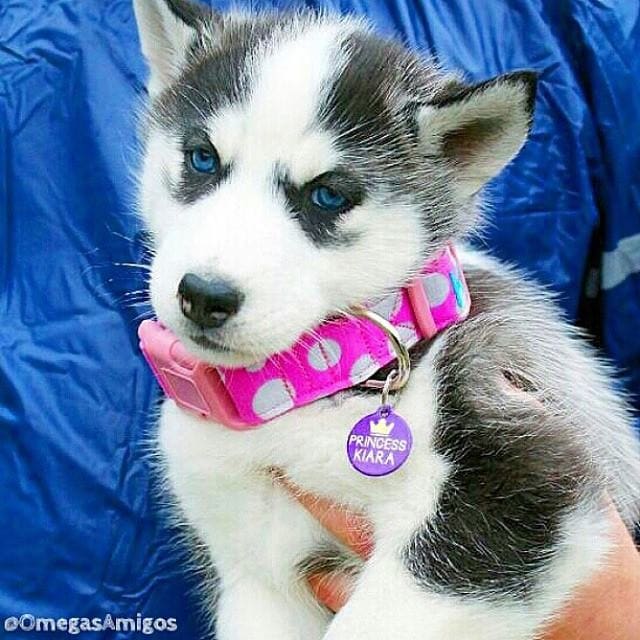 Battery Life
Most glow-in-the-dark dog collars are battery-powered and use rechargeable batteries. The amount of time you have with each charge is a key consideration as it determines the value you get. It goes without saying that something with a short battery life would not be awesome as you have to keep recharging, and there is always the risk of having it run out of juice when you are out and about in the dark.
A good pick should offer at least 6 hours of lighting per full charge. Yes, you probably will not spend 6 hours out in the dark with your dog unless you are on a hiking expedition or something. However, the long battery life means that you do not necessarily have to keep on recharging it every time you go out. Just roughly estimate how much time you use out with your doggie, and you will be able to approximate the ideal recharge time.
Glow Modes Available
At first glance, this might seem like a non-essential bonus. However, those glow mode options could actually help you a lot when trying to keep an eye out for your pooch in the dark. Most collars offer a variety of modes, most of which are just variations of steady light and flashing.
Steady lights are great for baseline monitoring. They help to save on power and are also generally more comfortable for your dog. Some collars allow you to choose the intensity of the light. You could go bright if you want to give your dog some freedom to run off. You could dim things down if there is sufficient environmental lighting, or you just want to save on the battery.
Flashing lights, on the other hand, come in particularly handy when you are afraid that your dog may run off and get lost. They are much easier to spot, especially from long distances, as the flickering is designed to grab attention and allow the dog and its collar to stand out.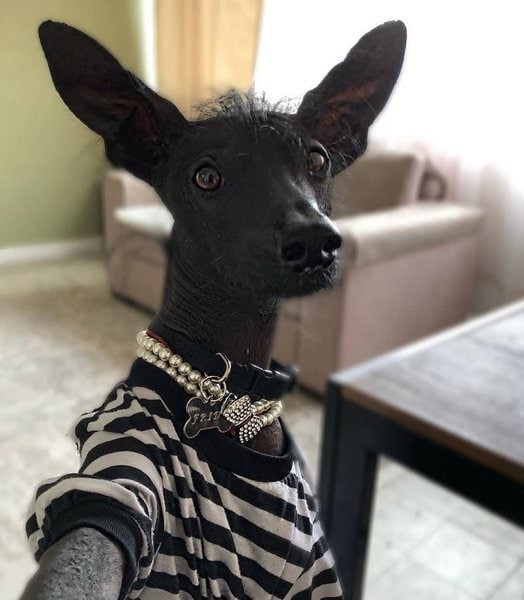 Coverage By The Glow Strips
How much of the dog collar do the glowing parts take? Is the entire thing a glow-in-the-dark neckpiece for your dog? Are there small strips of glowing lights around the dog collar? Or is it a nice balance between a functional collar and visible glowing bulbs?
These are your options when it comes to coverage with glow-in-the-dark dog collars, and each has its set of pros and cons. With full coverage collars where the entire thing is one large glowing halo, you will have maximum visibility. However, this usually means that you miss out on the functionality of the unit as a collar, so you may have to use both the strip and the dog collar.
With the partial options where there are small bits, or there is balance, you get to enjoy the best of both worlds. You will have a collar that actually works as a restraint while enjoying the visibility that the partial-coverage glow bulbs or strips have to offer.
Overall Functionality
Speaking of functionality, the versatility that your glowing dog collar has to offer is another very important factor to consider when shopping for these accessories. The best option is the dog collar which serves both as a collar and a night visibility tool. These usually have the design and cut of an ordinary collar with everything from leash attachment rings to adjustable straps. This makes the piece versatile, allowing both daytime and nighttime, so you do not have to buy two separate pieces.
---
Final Thoughts
---
A glow-in-the-dark collar is a fantastic investment to make as a dog owner. And you now know all that you need to make an informed decision that will give you and your pooch the best value. By these standards, our top pick stands out as one of the best options on the market. It is versatile, well-constructed, and offers great performance as both a nighttime and daytime accessory.
Therefore, if you are stuck in your shopping journey, you now have an excellent way out and 6 other really good alternatives to compare and consider.