The best dog dewormer is Panacur C Canine Dewormer.
As any dog owner knows, routine deworming is an important part of caring for your canine friend. While you may be tempted to hold off on this sometimes uncomfortable process because your dog appears to be healthy, you should know that it is one of the best ways to keep your dog healthy, too.
That's because worms, which live inside your dog, can make your dog sick. This is why it's so important to keep your dog's deworming schedule up to date.
In dogs, the most common worms are roundworms, hookworms, whipworms, tapeworms, and heartworms. Worms can live in the intestines, stomach, or esophagus of dogs. Some worms can be transmitted to owners, while others can only infect canines. Parasite infections in dogs can cause severe anemia and weight loss.
The best dog dewormers are formulated to eliminate a wide range of parasites quickly and effectively.
Let us help you out with this quick guide to the best dog dewormers on the market.
#1 Panacur C Canine Dewormer
Panacur C Canine Dewormer (Fenbendazole), 4 Gram,Red
Mix the daily dose with a small amount of your dog's usual food. Your dog should eat all of the medicated food. If...
Repeat the daily dose for 3 days in a row (each packet is a daily dose depending on your dog's size)
If dog's weight is in-between suggested dosing sizes, it's safe to use the next higher size. For example a 15 pound dog...
Our best choice is the Panacur C dewormer, as it is designed to work fast and for most dog sizes. While other dog dewormers may be ideal for a particular type of dog, you can simply scale the dosage of this one based on your pet's weight, making it suitable for owners of several dogs.
Keep in mind that the standard box only comes with three doses which are meant to be administered to a single dog over three days. If you have to treat more than one of your pets, there are also packs of two, three, four, and five of these doses. The larger packs are also perfect for bigger dogs.
Since this dewormer is powdered, it will also be easier to mix into your dog's food, though if it's dry, you may have to add a bit of water to it so that the granules will stick. This is also a versatile formula, meaning that it can be used for many different kinds of worms, so you'll have a comprehensive treatment at your disposal.
Another benefit to this dewormer is its nearly complete lack of side effects. Your dog will likely not even notice that they're being treated for worms. While other treatments may require several rounds, this one from Panacur is designed to work over the course of three days, with no needed use further down the line.
If you're looking for the best treatment for worms on the market, this one is probably your best choice. While the Panacur dewormer may be a little more expensive than some of its competitors, it is also more likely to give you the results that you need in a short amount of time.
Pros
---
Fenbendazole, which is the active ingredient in this canine dewormer, is approved by the FDA as being safe to use for eliminating worms in dogs.
This dewormer comes in powdery form, and it can be mixed with a dog's food for easy administration.
The Panacur dewormer is safe for use in dogs aged six weeks and older, as well as in pregnant dogs.
The Panacur dewormer causes little or no side effects in dogs.
This product comes in three 4-gram packets, with the product designed to be administered over three days, as opposed to other dewormers that require several rounds.
Cons
---
Customer feedback further suggests that this product may not be effective at getting rid of some worm types.
It can be difficult for some customers to measure out an appropriate dosage, given that this product comes in powder form.
#2 SENTRY HC WormX Plus Dog Dewormer
SALE ALERT!!
For buyers that need to save a little bit of money on their canine dewormer but are still looking for a treatment that will work, this choice from SENTRY is ideal. This pack contains two chewables that have been flavored for improved palatability. These dog dewormers are chewables that are mainly designed for use with smaller dogs and puppies.
If you've been looking to treat a smaller dog, but all of the other options are overkill, then this product should be perfect for you. When you buy the SENTRY HC dewormer, you won't have to worry about spending money on a proportion of the medicine that you won't even use.
Made for hookworms, ringworms, and tapeworms, this dewormer can eliminate seven different strains, making it a versatile choice. This treatment can also be used to prevent your dog from getting worms, provided that it is used once a month.
Since the chewable tablets are both soft and flavored, they're ideal for puppies who would otherwise refuse a worm treatment. You can also find these chewable tablets available in a larger serving size for big dogs as well as a twelve-pack of chewable tablets for smaller dogs, allowing them to build up resistance over time.
The SENTRY HC WormX is one of the most affordable options on this list, but unlike other cheap products, it doesn't sacrifice treatment effectiveness. While it's primarily made for smaller dogs and puppies, you'll also be able to find a variant that is made for larger canines at a slightly higher price.
Pros
---
The SENTRY HC dewormer is manufactured to combat and treat seven different strains of worms in dogs, including tapeworms, roundworms, and hookworms.
The WormX dewormer can be used to treat ongoing worm infestations in dogs, as well as to prevent the occurrence of worms in pooches that are prone to getting worms.
This dewormer can be purchased and used for dogs without needing to get a vet's prescription.
The SENTRY dewormer comes in two flavored chewables that are easy for dogs to pick up and eat.
Customers only need to administer this dewormer to their dogs once a month.
Cons
---
This product is formulated for use with small dogs that weigh less than 25 lbs.
Some customers claim that the SENTRY Dewormer wasn't effective at completely getting rid of their dogs' worms.
#3 Durvet Triple Medium And Large Dog Dewormer
SALE ALERT!!
While the previous model was meant for small dogs, this dewormer is intended for larger breeds, so it has a larger dosage per tablet. This dewormer pack also comes included with a total of 12 chewable tablets, making it ideal for long-term treatment and worm control.
The chewable tablets are easier for dogs to enjoy, and they even have an added flavor that makes them more appealing to canines that like to avoid medicine. This dewormer is meant to handle seven strains of worms so that you'll get near-complete coverage. The only missing kind of worm is the whipworm.
Keep in mind that these dog dewormers are meant to cure a dog of worms, and they don't help improve the prevention of worms. The great value of the 12-pack also makes this one of the best products for owners of several dogs, as you can treat them all without spending more money on multiple treatments.
If you own a large dog and you want to be sure that it's free of worms, this treatment will make sure of it. This dewormer is also meant to be easier to use than others, as the chewable tablets are flavored and soft so that they seem more attractive to dogs. Keep in mind that these tablets aren't made for use with pregnant canines.
Pros
---
The Durvet dewormer is a non-prescription medication, and it can be purchased and used without having to get a vet's recommendation.
This triple medium dewormer is produced to control seven different worm strains, including tapeworms, hookworms, and roundworms.
This product comes in a pack of 12 flavored tablets that can be easily picked up and chewed by dogs.
Feedback from customers further suggests that there are little to no side effects associated with the use of this large dog dewormer.
Cons
---
This product is specifically formulated for use with large dogs.
Some customers may find it difficult to administer this Durvet dewormer to their pooches as the product doesn't come with instructions on how frequently the medication should be used on dogs.
#4 Excel Safe-Guard Canine Dewormer
SALE ALERT!!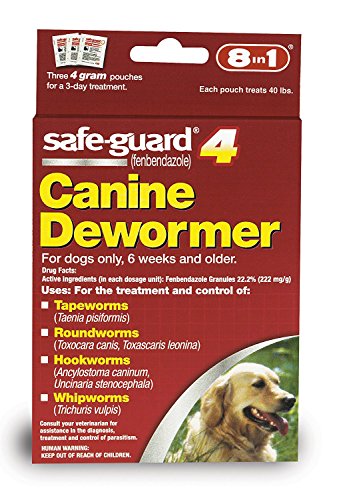 While the Excel Dog Dewormer only comes with three pouches that are four grams each, it is made to enhance the treatment of larger dogs. Each of these packets is enough for 40 lbs of body weight, and they are easy to administer over the course of three days at a rate of one pouch per day.
This treatment can work with tapeworms, hookworms, whipworms, and roundworms, making it more comprehensive than many of the other options on this list. Since the medicine is in the form of granules, it will be easier to hide in your dog's food, making it ideal for pickier eaters.
When using this dewormer, you'll want to be sure that your dog is over six weeks old, as it isn't designed for very young pups. This canine dewormer from Excel also comes available in small, medium, and medium 2-pack formats, which will allow you to choose the right one for your dog's size.
Since this treatment works against eight different strains of worms, it is a great choice if you don't know what kind of worms your dog has. Of course, you'll still want to get your dog treated before choosing a diagnosis, as a dewormer will be useless if it isn't used against the right strain.
Pros
---
The Excel canine dewormer is effective against 8 worm strains, including heartworms, tapeworms, roundworms, and hookworms, thereby providing versatility when treating canine worm infestations.
This product comes in granules that can be conveniently mixed with a dog's food for easy administration.
The Excel Safe-Guard dewormer remains effective in controlling and eradicating dog worms for up to 6 months after it is first used on a dog.
This dewormer comes with clear dosing instructions to prevent customers from either overdosing or under-dosing their pooches.
Cons
---
This product is formulated and safe to use for dogs aged 6 weeks and above only, and it isn't recommended for use in smaller or younger dogs.
Owners of extremely large dogs will have to purchase two of this product to administer the recommended dosage for their pooches.
#5 Bayer Tapeworm Dewormer For Dogs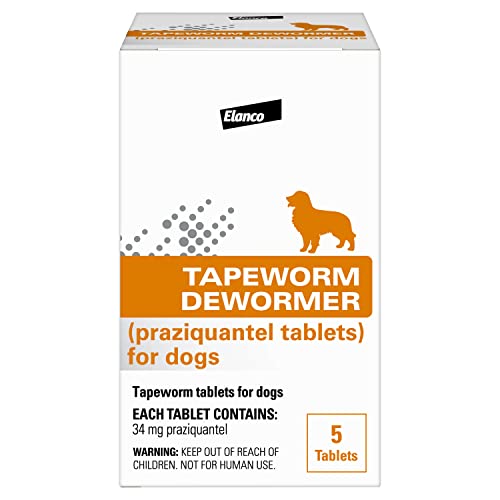 Bayer's Tapeworm Dewormer is more of a no-frills product that is designed to work efficiently above all else. As you may have guessed from the name, this treatment is particularly formulated to deal with tapeworms (Dipylidium Caninum), so it's a little more specialized than some of the others in this guide.
While these dog dewormers may be a little more expensive than some of the budget options, Bayer has designed them to work fast and made them extremely easy to administer. These chewable tablets are also safe for puppies that are over four weeks of age, so you can start treating your dog at a younger age than with other medicines.
The inclusion of five tablets means that you may have some extra at the end of the treatment, particularly if you have a smaller dog. This means that you may end up getting two treatments out of a single package, though bigger dog breeds will require the entire box of chewable tablets.
These dewormer tablets are made by one of the most reputable medicine makers around, so you won't have to sit around worrying about whether or not they'll work. The only disadvantages to these tablets are that they're a little more pricey and much more specialized than your other options.
Pros
---
The Bayer dewormer comes in tablets that can either be administered directly or by crumbling in a dog's mouth.
This dewormer contains the active ingredient, Praziquantel, which is particularly effective at targeting and eliminating common tapeworms in dogs.
Bayer Tapeworm Dewormer is available for purchase as an over-the-counter medication.
Customers only need to administer a single dose of this dewormer to get rid of tapeworms in their pooches.
This product comes with clear dosing instructions to ensure effective treatment.
Cons
---
Some customers claim that the dosage instructions in the product description are different from the instructions that come with the product.
Several customers also claim to have received an incomplete number of tablets from the manufacturers of this tapeworm dewormer.
#6 PETARMOR 7 Way Dogs De-Wormer
The main benefit of this chewable dewormer from PETARMOR is its value for money. For a much lower price than many of the other treatments on this list, you'll get at least three doses out of this dewormer (for a medium dog). The recommended serving size is one chewable per 12 lbs of body weight.
One of the disadvantages of this dewormer is that it cannot be used for young puppies. Where a lot of the competing dewormers will require that you wait for the puppy to get up to at least 4 to 6 weeks of age, this one can only be used starting at 12 weeks old.
This dewormer works with both hookworms and roundworms, so you'll be able to treat a decent range of strains. When using this dewormer with puppies, it is recommended that you use it in weekly intervals, transitioning to a biweekly schedule after the first four doses are administered.
With its beef-flavored chewables from PETARMOR, your dogs should be able to take the medication without any hesitation.
Pros
---
The PETARMOR dewormer comes in two tablets that can either be fed to a dog by hand, mixed with dog food, or wrapped into a treat for a pooch.
This product is effective against 7 species of worms, including 2 tapeworm strains, 2 roundworm strains, and 3 hookworm strains.
This product is specifically prepared for two categories of dogs to ensure its full effectiveness – dogs that weigh between 6 to 25 lbs and those that weigh above 25 lbs.
Customers only need to administer one monthly dose of this 7-ways canine dewormer to tackle worms in their dogs.
Cons
---
Multiple customers have reported that their dogs started vomiting after taking this dewormer.
This dewormer can't be used for small and young dogs that weigh less than 25 lbs.
#7 Bayer Chewable Quad Dewormer
SALE ALERT!!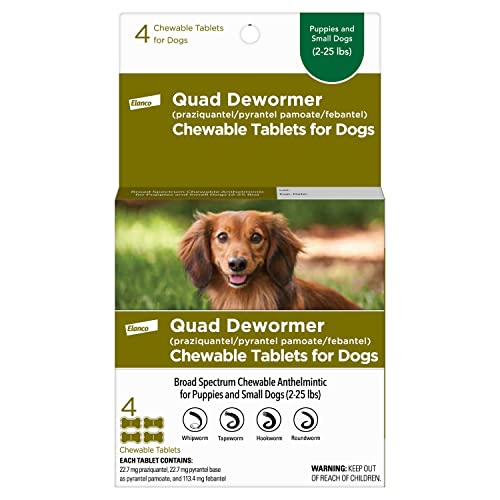 A broad-spectrum dewormer, the Bayer Quad Dewormer from Elanco is effective against 4 different types of dog intestinal parasites, namely tapeworms, roundworms, hookworms, and whipworms.
It works effectively in a single dose and is suitable for young puppies above the age of 3 weeks.
You will need to weigh your dog prior to feeding them with this dewormer chewable – this makes sure that you are using the right number of tablets according to their weight.
As a broad-spectrum dewormer, the Bayer Quad Dewormer works really well against the four types of worms in a single dosage.
Pros
---
This Quad dewormer from Bayer contains three active ingredients – Praziquantel, Pyrantel Pamoate, and Febantel – that are effective against tapeworms, roundworms, hookworms, and whipworms.
Customers only need to administer a single dosage of Quad dewormer per month to treat the four types of common canine intestinal worms.
This dewormer is easy to administer and can be given to a pooch by either mixing it with the dog's food or feeding it directly.
This product comes with clear dosing instructions to ensure that the dewormer is properly administered to dogs.
Cons
---
Several customers claim that this dewormer is difficult to use as their dogs repeatedly refuse to take the tablets.
Some pooches develop side effects, such as vomiting and stooling, after using this quad dewormer.
#8 Nemex-2 Dewormer
SALE ALERT!!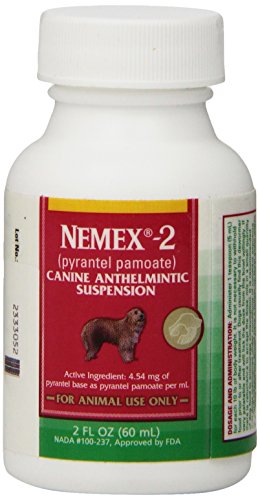 Nemex-2 Wormer 2oz
Safe, palatable and convenient
4.54 mg pyrantel pamoate per ml
Controls large roundworms and hookworms in dogs
The next choice is the Nemex-2 dewormer, which comes in a two-ounce bottle. You can either order a single one or get a two-pack if you have to deal with a larger dog or several pets. This dewormer is made to deal with large roundworms (Toxocara Canis) as well as hookworms (Uncinaria Stenocephala), making it relatively versatile.
Another advantage of this product is that it tastes better than many other treatments, making it a great choice for dogs who will usually refuse medicine. You can even use this wormer with puppies, making it easier to keep your dog clear of parasites at a young age.
While this treatment may be a bit more expensive than some of the other choices, it also works faster. Versatility is another significant benefit to this dewormer, as it can be safely used with cats as well as dogs. The dosage in this bottle should be sufficient for one medium dog or two smaller dogs.
If convenience and versatility matter to you, then you'll probably love the Nemex-2 Dewormer. This product is designed to be as safe as possible while remaining easy to administer. Even dogs who usually hate medicine will be enticed by the flavor and aroma of this product.
Pros
---
The Nemex-2 dewormer is safe to use for both puppies and adult dogs.
The Nemex dewormer is available in liquid form only, and its tasty flavor ensures that dogs will willingly lick the product from their bowls.
This dewormer is effective for controlling roundworm and hookworm infestation in dogs.
The quantity of dewormer contained in this product is usually sufficient to treat one medium-sized dog or two small pooches.
Cons
---
Quality control of this product is suspect as several customers claim to have received bottles of this dewormer that arrived without a seal.
This dewormer is one of the expensive options available on the market.
#9 Pfizer Nemex 2-16 Oz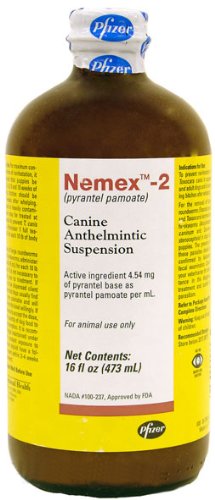 Pfizer Nemex 2-16 oz
Safe, palatable and convenient.
Doubly effective potent suspension of pyrantel pamoate to be given orally.
Controls large roundworms and hookworms in dogs.
The Pfizer Nemex 2-16 oz is a specially formulated canine drug produced to treat cases of hookworm and roundworm infestation in dogs.
The main ingredient used in producing the Pfizer Nemex oral suspension is pyrantel pamoate, which is a safe, effective, and well-known treatment against severe cases of worms in dogs. Each ml contains 4.54 mg pyrantel pamoate. In addition, this medication is used on lactating dogs after whelping to curb potential re-infestation.
As applicable with other drugs, dog owners typically don't need to feed their pooches before administering the Pfizer Nemex oral suspension, and the tasty caramel flavor of this drug is one that most dogs will find irresistible. Administration of this solution is usually done once a day for up to three weeks and is given orally at the rate of 1 cc per 2 lbs of body weight.
The Pfizer Nemex is an effective addition to the medicine cabinet of dog parents whose pooches have a history of suffering from worm infestations. The non-toxic ingredient list of the Pfizer Nemex medication and the appealing caramel flavor of this drug both provide a safe, easy-to-use treatment for pooches battling hookworms and roundworms.
Pros
---
Administration of this dewormer is done orally, and the product's palatable flavor ensures that most dogs will take the dewormer without issues.
This product is effective at controlling both hookworm and roundworm infestations in dogs.
The Pfizer dewormer is ideal and safe for use in both puppy and adult dogs.
This dewormer can be given to a dog without needing to feed the pooch beforehand.
Cons
---
Some customers claim to have received only one bottle of this product instead of the two bottles that were advertised.
The taste of this dewormer may not appeal to all dog breeds and additional flavorings may be needed to mask its strong taste.
---
Dog Dewormers Buyer's Guide
---
Deworming your dog is a safe and easy process. We have prepared a list of other factors that you should take into consideration before making your purchasing decision. These factors will help you to identify the most suitable dewormer to get for your canine buddy.
Related: Best Dog Flea Treatments
Palatability – Does It Taste Good?
One of the first things to think about when picking your dewormer is whether or not it tastes good. While this can be tough to determine before you make your purchase, a better flavor will make it far more likely that your dog will enjoy the medicine, meaning that you won't have to coerce them.
Force-feeding a dog medicine can range from unpleasant to downright dangerous, depending on its size. Consider what kind of flavors your dog enjoys and try to find something that matches them. Some treatments (mainly powders) will be unflavored so that your pet won't notice them.
Safety – Is It Safe?
Another thing that you'll want to account for when picking out the best dewormer for your dog is whether or not it is safe. As with any medicine, there will be potential for side effects when using a dewormer, but the vast majority of them will not cause any adverse symptoms.
While unsafe products may be uncommon, you'll still need to do thorough research to ensure that the product will work with your pet. Consider whether or not your dog is pregnant and take a look at the recommended age for the product before you buy a dewormer that isn't intended for your dog.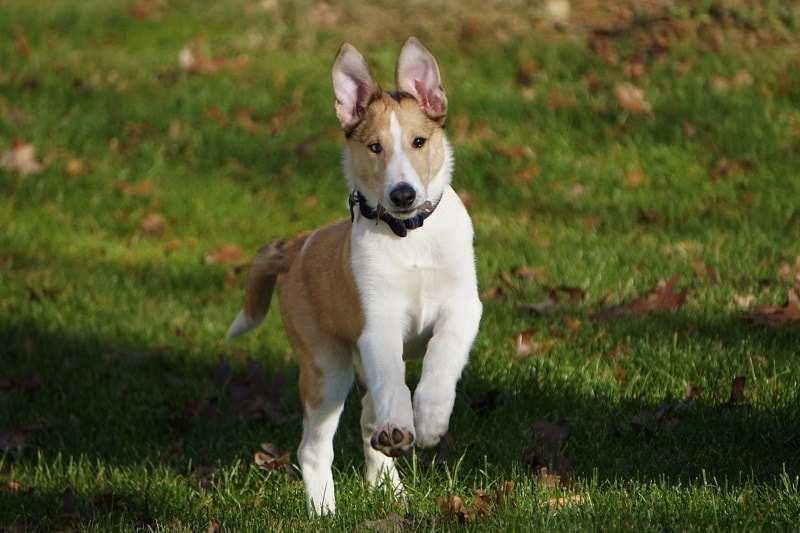 Liquid, Powder, or Tablet
When picking out the best option to clear your pet of worms, it's important to choose the right form of medicine. Some dog dewormers come available in powder form, which makes them easier to mix with canned dog food, and they usually don't have added flavors, so they're harder to notice.
On the other hand, you have access to liquid treatments that can be mixed with dry dog food more easily. A liquid will usually work a bit faster than granules. The final option is a tablet, and these come in both hard and chewable varieties. The former can be crumbled into powder, while the latter will be easier to eat directly.
Dog Size – How Big Is Your Pooch?
When picking out the best treatment for your needs, you'll also have to take a moment to determine the weight of your dog. Doses of dewormers are based on the mass of your dog, and you'll be able to find the right product if you know exactly how much dewormer you should use.
Some products are optimized for larger or smaller dogs, while others will allow you to make your own dosage. Picking out the right dosage based on your dog's size means that you're less likely to waste money on dewormers that you won't end up using in the first place.
Versatility (Cats) – Does It Work For Cats Too?
The final thing to consider is how versatile your dewormer for dogs is and whether or not it can be used with other species. If you have both cats and dogs, you may want a dewormer that is safe for both of them. You'll also want to take a look at the kinds of worm strains that are treated by a particular product.
Related: Best Dog Flea Shampoo
---
Final Thoughts
---
While these nine products are some of the best in their category, we highly recommend our top pick. This product combines value for money with a fast-acting treatment that can help improve your dog's quality of life over the course of three days.
We hope that this guide has helped you find the best dewormer for your canine. Keep in mind that every dog is different, and the best choice for your pet may not be ideal for someone else's.