The best pool float & raft for dogs is SwimWays Spring.
You might run into some difficulty when it comes to choosing a specific pool float for dogs. It is important to choose the right dog float, considering you want your pooch to be as safe as possible.
Some dog pool raft floats simply are not durable or safe enough to do the job. Fortunately, we got you covered.
Below you will find a list of the best dog pool floats & rafts to keep your furry companion safely buoyant!
#1 SwimWays Spring Float
SALE ALERT!!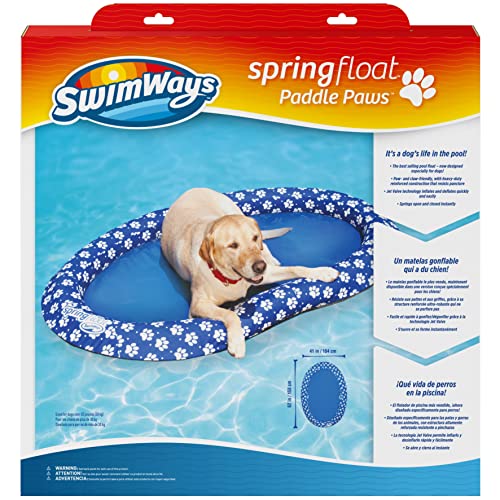 SwimWays Paddle Paws Spring Float Dog Raft, Large (65 lbs. and Up), Blue
PADDLE PAWS DOG RAFT: Designed especially for medium to large dogs so your furry friend can cool off with you in the...
REINFORCED FABRIC COVERING: Reinforced paw-and-claw-friendly fabric covering and puncture-resistant construction offer...
PATENTED INNER SPRING DESIGN: Inner spring around the outside edge provides greater comfort and stability in the water...
We will start with Spring Float Paddle Paws Pool and Raft Float from SwimWays. This item makes its way to being the top pick on our list. This is because it is deemed to have all you need to help a man's best friend stay afloat whenever it needs to.
All the characteristics you might need in a raft float for dogs are here. With its paw and claw-friendly fabric, you will not have to worry about your dog puncturing the dog float. This means it is the safest item on this list as well.
Comfort is another important consideration when it comes to canine raft floats. Thankfully, this item has as much comfort and stability as maneuverability can possibly afford. It is also worth mentioning that this raft float is recommended for dogs over 65 lbs and is designed to be the best in comfort, fun, and safety.
All in all, we find that this pool float emerges as a winner because it has all the vital features covered and does not leave much room for worry. It simply has it all. Safety, functionality, maneuverability, stability, and just plain fun are all things that your pooch can need in a pool float. SwimWays has done a great job of providing just that.
Pros
---
This spring float is available in small and large sizes, with the large option being able to carry doggies weighing 65 lbs and above.
The edges of the float have an in-built spring that offers stability while floating on water.
It has a claw-friendly plastic covering that will not be punctured by your pup while using it.
Its Jetvalve technology lets you quickly inflate and deflate the float.
It is easily foldable storage and comes with a reusable carry bag that lets you take this float with you on a trip.
Cons
---
It folds back up and starts to sink while in the water in some cases.
It is not fully puncture-proof, as some pups have damaged it in a short time.
#2 Kelsyus Floating Pool Lounger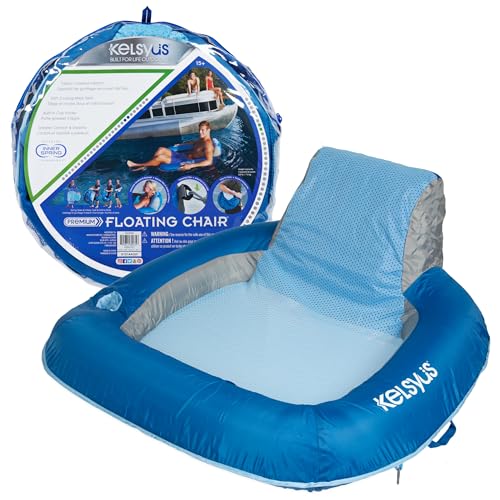 Kelsyus Spring Float Pool Chair, Light Blue
FLOATING POOL CHAIR: Features a soft mesh seat for a luxurious floating experience, suspending your body just below the...
INFLATABLE BACKREST: Fabric-covered backrest keeps you upright while the cares of everyday life drift away, and the...
PATENTED INNER SPRING DESIGN: Inner spring sewn around the outside edge of the float offers greater comfort and...
This floating hammock from Kelsyus makes the list of the best budget-conscious pool floats. For a price that is remarkably less expensive than other dog floats tend to be, it has a great set of characteristics that will leave your furry friend feeling comfortable and safe while having fun.
This lounger has not only a cushioned back support, a feature that many expensive pool floats have, but also is uniquely contoured to conform to a typical human body in a resting position, providing ultimate comfort.
Inflation and deflation make this float pretty easy to store, and it works great for keeping your canine companion as dry as possible when using it.
There are not many suitable pools floats out there for your pet pooch that comes at a less expensive price. This is exactly why we decided to put Kelsyus Floating Pool Lounger on the list. With its guaranteed comfort and suitability for keeping your furry friend dry, you do not have to worry about bad quality when it comes to choosing the budget-conscious item on our list.
Pros
---
This pool lounger is available in two designs, chair, and hammock options, that you can choose from, with the chair design being able to carry doggies weighing up to 250 lbs.
It comes with a puncture-proof plastic and mesh cover, which makes it durable.
The chair backrest is covered in fabric for comfort and even has a cup holder that can hold snacks, bottles, or cups while using it.
Its design employs an inner spring on the outer edge of the lounger to help keep it afloat.
It is fully foldable and can be stored in the provided carry bag for easy storage and portability.
Cons
---
The fabric starts to fall off after some time of use.
The air valve sometimes does not close, which makes the lounger hard to stay afloat.
#3 Intex Canopy Island
SALE ALERT!!
The next item on the list is the Canopy Island inflatable lounge from Intex. Here is a pool float that your pooch can use, and it comes with a sunshade to shield its coat from the sun while lounging away.
Because of its detachable sunshade, this float is pretty customizable and works in favor of comfort. Next, it comes with a comfortable lounge surface and two built-in cup holders. When inflated, it measures a massive 6 feet 6.5 inches long by 4 feet 11 inches wide, providing ample space to support any position you and your dog may like.
With its added air chambers, you can be sure that this float is safe as it is comfortable. Because of its large size, it will definitely be enough to keep your canine companion afloat with no problem at all.
When it comes to your dog lounging in the water and getting as comfortable as possible, this canopy island float from Intex does a great job. We like it because of all the comfort it adds to the experience. With all that it offers, your dog is bound to chill and relax in the water.
Pros
---
It comes in a unique canopy design measuring 78.5 x 59 inches and is available in a white/tan color combination.
It has a detachable fabric sun shade with a mesh back, and this lets you choose if you want to stay cool while in the water or sunbathe.
It has a wide lounging space made of puncture-proof material that offers comfort and stability.
It has a durable two-ply bottom cover that helps to keep the float waterproof and afloat.
It comes with two cup holders, two air chambers that add extra safety, and a repair patch that you can use to fix the float when needed.
Cons
---
It begins to inexplicably deflate even when it does not have a hole.
Due to its color and design, it is a painstaking task to keep it clean.
#4 Paws Aboard Doggy Lazy Raft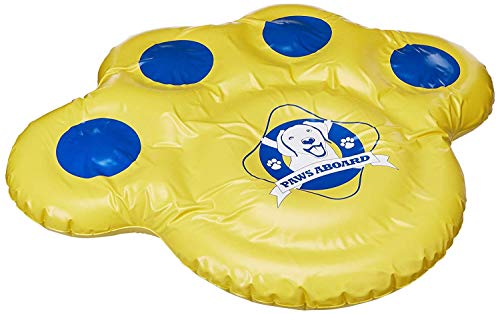 The Paws Aboard Doggy Lazy Raft is all about durability. You will not have to worry about your dog, or anything else for that matter, puncturing the super thick vinyl fabric. Because this canine raft float is made up of such durable material, another great aspect of this dog float is stability.
Moreover, the raft float measures 50 inches wide by 40 inches deep by 6 inches tall, providing ample space for large dogs weighing up to 90 lbs. Altogether, this product is large enough to support most dog breeds with no problem whatsoever.
The layers stay relatively flat such that comfort is not an issue you have to worry about when looking into this pool float. Besides supporting your pooch on water, it is easy to inflate and deflate for easy storage and portability.
Fortunately, we like this dog float from Paws Aboard so much because it excels in simple durability, making it a great and safe choice for your pooch in any case. If you are opting for a safe and stable float, this raft float is an excellent choice.
Pros
---
This is a paw-shaped lazy raft available in Small, Large, and Extra-Large sizes and is available in a blue/yellow color combination, with the large raft being able to carry larger dog breeds of up to 90 lbs.
It comes with a puncture-resistant UV-resistant durable vinyl top, which keeps it durable as well as stain and fade-free.
It is easy to inflate and deflate this raft, so you can also travel with it.
There is a small hole on the vinyl surface, and it helps to give the raft a flexible and comfortable feel.
It can be used in a lake, pool, river, or pond such that your pup will be able to enjoy the water at any time.
Cons
---
The smooth vinyl surface does not have any grip such that your pup will slide off easily.
Pups with claws can easily puncture this raft's surface, making it unusable.
#5 Intex River Run I Sport Lounge
SALE ALERT!!
The Intex River Run I Sport Lounge is all about fun. Specifically designed for maneuverability, your dog will have a blast using this pool float in the water. In addition, this pool float provides comfort in many ways to suit your dog's activity, be it lounging or playing. Either way, this item has you covered.
With an all-around grab rope, it is easy to use, along with a mesh bottom that helps keep your dog as cool as possible on those summer days. With its heavy-duty handles, you will not have any problem helping your dog move around.
Hailing from Intex, this item makes it to the list because this pool float does a great job of combining fun and safety to help you and your dog have the best experience possible. Your dog is sure to have fun while using it, and you do not have to worry about the risk of drowning.
Pros
---
This is an inflatable lounge that is 53 inches in size and weighs 5 lbs, which makes it large enough for use.
The surface is made of 18-gauge PVC vinyl, which is waterproof, puncture-proof, and easy to clean.
It has a grab rope all around the sport lounge, as well as two heavy-duty handles that offer more safety while using it.
It has a mesh bottom, which helps it to float easily as well as a built-in backrest for more comfort.
It comes with 2 cup holders for extra comfort so you can carry a drink or snacks.
Cons
---
Some users noted that it started to deflate a short time after starting to use it, making it unsafe.
You need patience and plenty of instructions to put together some of the parts, like the rope.
#6 Milliard Dog Pool Float
SALE ALERT!!
Milliard Dog Float for Pool, Inflatable Stay Dry Float for Large Dogs Up to 220 lb
Fun in the Sun: On hot summer days, let your pup cool off in style! Blue paw shaped float makes water activities more...
Durable and Long Lasting: This sturdy tube is crafted from heavy-duty UV and puncture resistant vinyl that will not...
Plenty of Space: This large floating raft pool toy is big enough even for large dogs (up to 220 pounds). Or, invite some...
The Milliard dog float is among the finest pool floats for dogs on the market. It has a wide surface area for sunbathing during those hot summer months. While the two of you enjoy your favorite swimming place, your pooch will be able to cool off in comfort on the surface.
The float is made of a high-quality vinyl material that is puncture-resistant. As a result, the chances of the tube being destroyed by your pup's paws are slim, and they will be comfortable and safe at all times.
The pool float has been engineered to avoid over-inflating in order to prevent risk. It's constructed to last, and you'll be able to use it for many seasons of pool fun.
This product has lots of room for your doggie to move around at the top. It can hold two little dogs or two big dogs weighing up to 110 lbs simultaneously. This float is also incredibly versatile because it can be turned over and used as a drink holder.
We loved that the main feature of this Milliard dog float is the well-constructed vinyl composition, which ensures that there will be no punctures or holes! So, regardless of how energetic your pooch is, this pool float will be able to keep up.
Pros
---
This is a paw-shaped pool float that measures 50 x 40 x 7.5 inches, which is enough to hold pups of up to 220 lbs, and it comes in an attractive blue color.
It is made of heavy-duty UV-resistant and puncture-resistant vinyl, which does not fade or stain, making it durable and ideal for your doggie's day in the water.
The float's design doubles up as a cup holder because when you flip it over, it can give you space to hold up to 5 drinks.
It has a hook and tether that lets you attach this float to a boat or any anchor point to prevent it from floating away.
It is easy to inflate and deflate for storage and travel.
Cons
---
The seam around the float can sometimes come apart, making the raft unusable.
Many users found that the raft started to deflate on its own after using it for a short time.
---
Dog Pool Float & Raft Buyer's Guide
---
When you think about pool dog floats, it might seem that things are as simple as they can get. However, this is not the case. With a wide range of types to choose from, you can end up buying the wrong dog pool float for your canine companion.
Fortunately, we have laid out here some rules and tips on how exactly you can choose the right dog pool float for your four-legged friend.
Reasons Why You Might Need A Pool & Raft Float
As the heat rises in the summer, one of the best things to do is cool off in the pool or in the water. This is true for canines and humans alike. Though dogs can be great swimmers, perhaps your pet has not yet learned to swim properly, so you need a pool float to assist them in the safest way possible. This is exactly why buying a dog pool float is so important for your canine.
Next, to the topic of safety, a dog pool float should have certain other characteristics. Things like comfort, durability, and just plain fun are all things you need to worry about when it comes to getting the right pool raft float for your pooch. With a wide range of floats to choose from, this can sometimes be pretty confusing.
This is exactly why we have put in this buyer's guide to help you choose the right fit for your pet pooch. After all, all dogs are different and require different things depending on their own characteristics.
Here are a few different tips on how to know if you need a dog pool raft float. You will also be able to choose the right one for your furry friend to be safe and have fun while avoiding the summer heat.
Should Buy A Dog Pool Float For Your Dog?
First things first, you might have certain doubts when it comes to buying a dog pool float for your dog. Below we have listed a number of reasons to take into consideration if you are wondering if you should buy a dog pool float.
Safety
If your dog likes to get into pools and the water for fun, it can run the risk of drowning if they are not a good enough swimmer. This is the main reason people consider buying a pool raft float for their dogs. All other aspects and characteristics of dog pool float for dogs come second to safety.
Relaxation
Your dog may be a great swimmer. But just in case they want to relax without getting out of the water, a dog pool float is a way to go. This will offer your pet dog a place to rest, relax and recuperate before getting in the water again to play.
Versatility
Even though dog pool floats were designed for the pool, they can actually work just as well in other bodies of water. Places like lakes, rivers, and beaches are all great when trying out your new raft pool float. Given you and your dog have enough space, there is no place you won't be able to use one.
Endless Fun
Keeping all other characteristics in mind, a raft pool float for your pooch is a great way to have as much fun as possible while staying safe. People like pool floats, and it seems that dogs are not any different.
When your dog gets hold of a new dog pool float, there is no doubt that it will have a blast while using it and playing in the water at the same time. If you want you and your dog to have a little extra fun while playing in the pool, a dog pool float is a great way to achieve just that.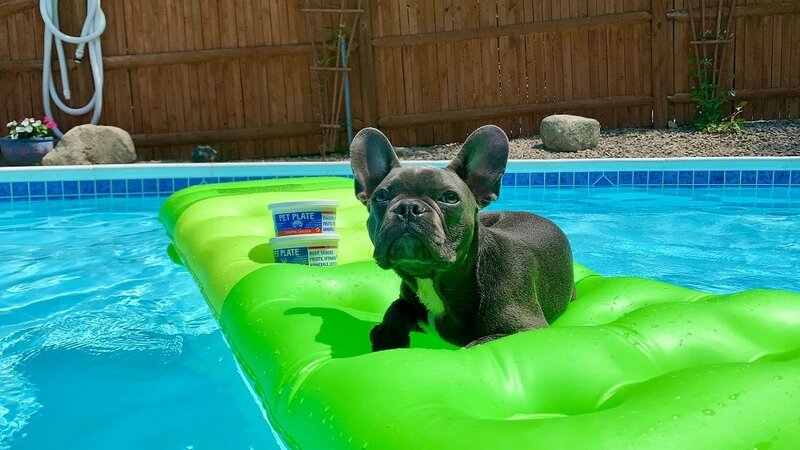 What Should You Look Out For In A Dog Pool Float?
There are many aspects and characteristics that are there to help you when it comes to choosing the right dog raft float. These are the things that you should look for while you are making your selection.
How Durable It Is?
The dog pool float needs to be able to withstand your dog's claws. Also, keep in mind that if your dog is playing on the pool raft float, the dog float needs to be made out of material that is tough enough in order not to deflate. Certain pool floats for dogs are made out of vinyl which is generally great when it comes to making sure your float will remain intact.
Comfort Is Crucial
You really should look into the design of the dog float because comfort is a big issue for you and your dog. Since your dog will probably be using it as a place to rest as much as to play, your raft float should be designed in a way that supports your canine's body in order to keep them comfortable while floating.
Get The Right Size
The size of the dog float and your dog both play a crucial role when it comes to choosing the right float. Keep in mind that some floats work only for larger dogs, while some will work best for smaller dogs. This is definitely another characteristic that you want to look into.
Look Out For Additional Safety Features
Some pool raft floats for dogs are designed to be especially safe. They come with extra chambers that help with inflation and resist deflation while using the dog float.
While other floats come with all-around grab ropes to give you something to hold on to in case you need to reach your dog. All in all, it is very important to look into just how safe the dog float is.
---
Final Thoughts
---
When taking everything into consideration, choosing the right pool raft float for your dog may not be as easy as you may have thought. This is exactly why we have provided you with our top-pick pool float for dogs.
Our top pick has checked all features that a float needs and those that are mentioned previously in the buyer's guide. These features include size, safety, durability, and comfort.
Buying the right pool float for your dog is bound to make your pet pooch as happy as possible while keeping them safe and comfortable all at the same time.