The best dog bike trailer is Burley Tail Wagon Dog Bike Trailer.
Dog bike trailers might seem like a strange concept to dog owners. After all, why not let your dog run along beside your bike?
Well, there are many reasons why a dog bike trailer could be a smarter, safer, and more practical option.
Low stamina dogs: They simply do not have the capacity to keep up with your biking.
Injured or sick dogs: Giving recuperating dogs an opportunity to get outdoors without overexerting themselves.
Easily distracted dogs: Having these dogs contained in a trailer safely, without worrying that they will tug and pull.
You don't need to worry as there is a wide range of dog bike trailers that come in handy to help you in such situations. Here are some of the best dog bike trailers that you can get for your canine friend.
#1 Burley Tail Wagon Dog Bike Trailers
Burley Design Tail Wagon Bike Trailer, Yellow/Black, 16-Inch
Tail Wagon by Burley features a removable floor for washing, optional securing tie downs
Side battens for stability; flip-down tailgate for loading and unloading.Spacious interior with 75 lb. carrying capacity
All-weather cover with waterproof zippers; heavy-duty mesh cover on four sides for maximum airflow
You can finally conclude your search for the best dog bike trailers by laying your hands on the Burley Tail Wagon.
It comes in a great design that features a removable floor for washing purposes as well as a canopy that will shelter your dog from external conditions such as rain or too much sunlight. It just weighs 23.5 lbs.
Pros
---
This dog bike trailer has a folding tailgate that can fold flat for easy storage and also make transportation from one place to another more convenient.
The trailer features a 2-in-1 rollup cover that works to protect pooches from weather elements, while also ensuring that the dog enjoys optimal airflow.
This product comes with rings on the side to which a leash can be attached to secure a pooch in place.
The suspended floor of this dog bike trailer is removable for easy cleaning and maintenance.
This product's flip-down tailgate makes it easy to load and unload pooches from the trailer.
Cons
---
This product doesn't come with a kickstand that can help to prop the bike trailer while loading or unloading a pooch.
The lack of zippers to protect the front and back of this product makes it easier for pooches trying to escape from this bike trailer.
#2 Aosom Elite II Dog Bike Trailers
SALE ALERT!!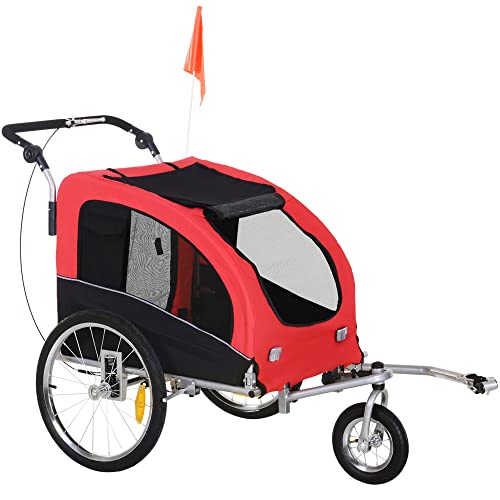 Aosom Dog Bike Trailer 2-in-1 Pet Stroller with Canopy and Storage Pockets, Red
2-In-1 Design: Can be used as a bike stroller that you push as you run, or it can be attached to your bike as a bike...
Keep Your Pet Comfortable: This bike cart is made with tough and durable oxford fabric and a strong steel frame.
Easy Entry and Ventilation: Let your pet enjoy the breeze with the roomy sunroof on the bike wagon! Your pet can easily...
Getting an excellent dog bike trailer may be discouraging to many, owing to the hefty price tag. However, with the Aosom elite pet bike carrier, you will have an awesome dog trailer at a great price. The dog bike trailer is lightweight and can handle the weight of 66 lbs.
An affordable price tag (around 60% cheaper as compared to other brands) makes the Aosom Elite II an irreversible pick. Super lightweight, weighting at around 37 lbs fully assembled.
Pros
---
The Aosom bike trailers feature quick-release wheels that can be removed for easy transportation and convenient storage.
Zippered mesh screens on all the sides of this trailer provide optimal airflow and also make it easy for pooches to observe their surroundings.
This dog bike trailer has a 2-in-1 design that makes it possible to use the product either as a stroller or jogger for pooches.
The Aosom bike trailer comes with a leash and D-ring to secure a pooch in place during a ride.
This dog bike trailer comes with a full suspension system to mitigate the destabilizing effects that riding on rough terrains would have on the pooch.
Cons
---
Several customers commented that this product's assembly instructions were too vague, thereby making it more difficult to put the dog bike trailer together.
Some customers claim that their trailers' tires and rims came in mismatched sizes, which made it impossible to center the tire on the rims.
#3 Lucky Dog Pull-Behind Dog Bicycle Trailer
SALE ALERT!!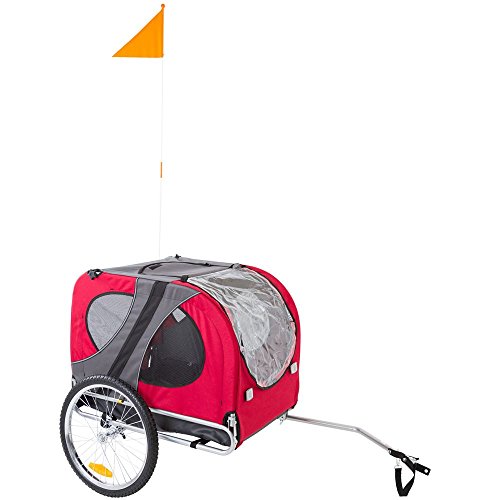 For a reliable and quality dog trailer, the Lucky Dog Pull-Behind Dog Cycle Trailer is an excellent pick. With its pneumatic wheels, this is a good partner for you and your poodle while on a stroll. This dog bike trailer is a good option when your dog is recovering from injuries or is physically disabled.
This dog bike trailer is very adaptable due to its simplicity, rust-resistant material, and also its 20-inch pneumatic wheels. These wheels allow for movement in pavements, grassy lawns, and even rough gravel terrain.
Pros
---
This Lucky Dog trailer features pneumatic rubber tires that make it possible for pooches to enjoy smooth rides, regardless of the road terrain.
This product comes with large front and back mesh doors that make it easy to place and remove pooches from the bicycle trailer while making it easy to monitor what a dog is doing.
Mesh windows located on the sides of this bicycle trailer and a top sunroof provide optimal airflow to ensure that pooches stay comfortable during rides.
This dog trailer can be folded down to a height of 11 inches, and it also has quick release pins for convenient storage.
Assembly of this dog bicycle trailer is easy and straightforward.
Cons
---
Customers claim that this bicycle trailer tends to tip over easily on uneven ground, with their pooches riding in it which, in turn, causes injuries to both the rider and the pooch.
#4 PetSafe Happy Ride Aluminum Dog Bike Trailer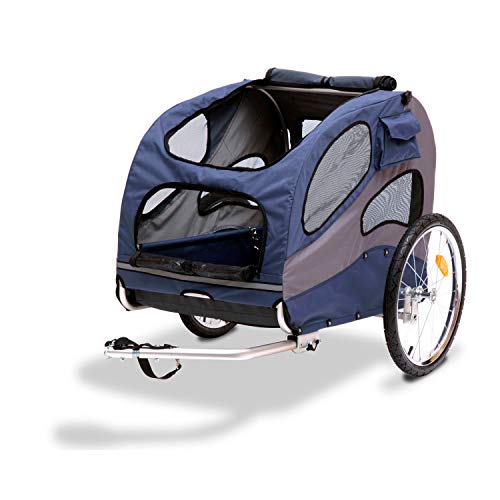 When talking about the comfort of your pet on a bicycle trailer, the Petsafe Happy Ride Steel Bike Trailer should be one of your first options. It is very strong and even supports the weight of large breeds (up to 110 lbs.) while providing them with utmost safety.
This dog bike trailer from Petsafe is definitely a great pick for large dogs. You cannot just ignore the comfort that the cushion and the mesh screen will provide for your canine companion.
Pros
---
This PetSafe trailer features a waterproof layer, mesh screen layer, mesh screen and sunroof on the front and back doors, as well as on the top, to protect pooches from sun and rain.
This bike trailer has three storage pouches on the outside that makes it convenient to bring dog treats, water and other accessories along on rides.
This trailer comes with hitches for ease of assembly, and the trailer can also be folded down for convenient storage.
The trailer's over-sized sunroof can be zippered open to provide quality airflow and provide an opportunity for pooches to look around.
The PetSafe trailer comes with a safety tether that can be attached to a pooch's harness to keep the dog secured and safe during rides.
Cons
---
Customers claim that the trailer's plastic flooring isn't strong enough to support their large-sized pooches.
Customer feedback also suggests that this trailer tends to tip around when in use, which can be quite dangerous to both rider and pooch.
#5 Sepnine Pet Dog Bike Trailer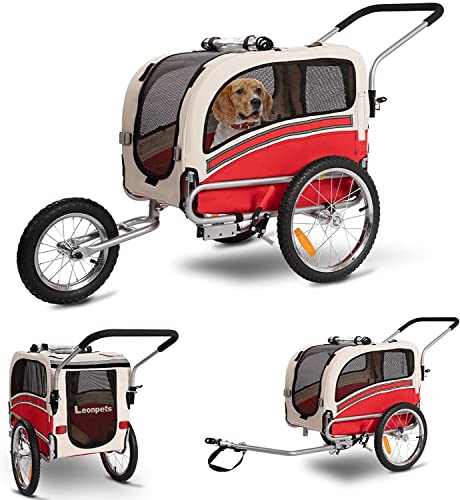 This dog bike trailer from Sepnine is among the safest dog trailer for every escapade. It is spacious and easy for your pooch to get in and out.
This product comes equipped with large 20-inch wheels and is great for all sorts of terrains. It weighs merely 37 lbs and isn't that tough to move around.
The Sepnine Pet Dog Bike Trailer has carved a niche for itself in the safety aspect of dog trailers. Its features, such as the leash, will secure your pet while in motion and ensure that it is safe.
Pros
---
This 2-in-1 dog trailer can be used either as a trailer or jogger, with no tools required for conversion.
This trailer comes with a removable clear plastic cover on the front door that serves the dual purpose of protecting pooches from weather and also providing a pooch with ample visibility.
Mesh windows located on the sides of this product make it easier for dogs to breathe while in this bike trailer.
The trailer comes with a two-point seat belt that helps secure dogs in place and ensures that they won't jump out while on a ride.
The inclusion of zippered front and back doors provides a convenient way to load and unload pooches from this back trailer.
Cons
---
This product doesn't come with an emergency brake system to keep the bike trailer from rolling away when not in use.
The front tire of this dog bike trailer is locked straight ahead, which provides poor flexibility and maneuverability on rides.
#6 Retrospec Rover Waggin' Pet Bike Trailer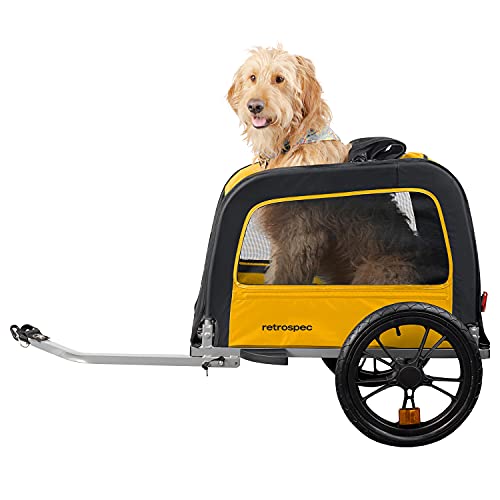 The Retrospec Rover Waggin' Pet Bike Trailer is a bicycle carrier that you can use for your small cat or dog. It has two one-piece molded 16-inch wheels at the sides. In terms of storage, you are covered because it has a foldable frame.
Weighing at about 50 lbs, the physical dimensions of this trailer are 32 inches long by 8 inches wide by 20 inches tall in size.
The trailer is made of weather and dirt-resistant material. It has a mesh and canopy shielding that keeps your pet firmly in place. Traveling with your dog is easy, owing to the built-in leash. They are also safe because of the non-slip floor material in the trailer.
There is a pooch pouch on the carrier, which you can use to carry their snacks, toys, and other items that you need. The carrier can be secured with zippers, and there is also a doggy door at the rear for easy entry and exit. This pet bike trailer is compatible with most bike sizes.
When you need to travel with your pet, the bike trailer from Retrospec is a more convenient option than the carrier bags. It fits any bike size, and your per will be comfortable with the secure zipper, the non-slip floor material, and the weather-resistant carrier material.
Pros
---
This bike trailer features a 2-in-1 canopy and mesh shield that works to protect pooches from critters and the weather while also ensuring that a dog has a clear view of its environment.
This product comes with an internal leash that is used to keep a pooch secured during rides.
The Rover Bike Trailer has a unique folding frame that makes it easy to pack up and store this product when not in use.
Several customers were impressed with how easy and straightforward it is to assemble this dog bike trailer.
The bike trailer has a rear door with a zipper for security that provides convenient access for loading and removing pooches from this product.
Cons
---
Installation of this bike trailer can be difficult at times as, according to reviews left by some users, the product tends to arrive with some parts manufactured with inaccurate specifications.
Some customers claim that opening this trailer's front mesh, which has to be done totally due to the zipper's location, provides an opening that is large enough for pooches to escape from.
#7 Schwinn Rascal Bike Pet Trailer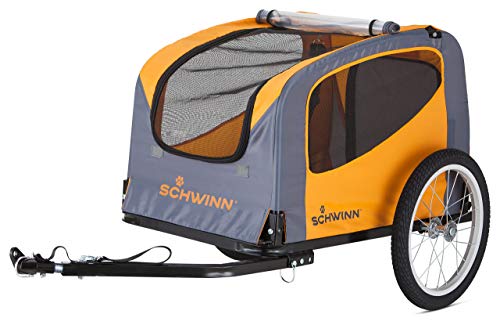 Schwinn Rascal Bike Pet Trailer, For Small and Large Dogs, Small, Orange
This a perfect and safer way to take your fuzzy friend with you for a bike ride
Unique folding frame and quick release wheels pack up neatly for compact storage and transport. Frame Material Steel
Coupler easily attaches to almost any bicycle for added versatility. Rim Material Aluminum, Air filled tires inflate...
The Schwinn Rascal Bike Pet Trailer is a pet carrier that can handle pets that weigh about 50 lbs. The 16-inch wheels are made of aluminum, and you can inflate the tires with a regular bicycle pump. It has a built-in adjustable leash to keep the pet from jumping out of the trailer. There is extra space on the trailer for other items of up to 12 lbs.
It is a stylish and easy-to-use pet trailer for a number of reasons. Firstly, it is easy to attach to your bike and take your furry friend wherever you go. It is foldable or collapsible, so you can pack it easily as you travel. It is very breathable and has an easy-to-use rear exit. There is also a safety flag to let other cyclists and drivers know you have your pet with you.
We love the extra space you get from this Schwinn trailer to carry your pet's toys and snacks. The stylish design is also an added bonus. You can store it in small spaces because it's foldable. The safety flag is also a win in my books.
Pros
---
This bike dog trailer features a unique folding frame and quick-release wheels that make it convenient to pack up for storage and transportation.
This product has side meshes that provide optimal airflow and ventilation for pooches housed in the trailer.
This trailer's Schwinn Universal Coupler is compatible with and can be attached to a wide variety of bicycle wheels.
The product comes with an internal leash that can be adjusted and shortened to prevent pooches from jumping out of the trailer.
This bike trailer also features a rear doggy door that can be zippered open and shut for quick and easy access to pooches.
Cons
---
Several customers claim that this bike trailer tips easily, thereby making it unsafe for pooches and the rider.
Some customers also claim that their trailers arrived with a pungent smell that wasn't easily gotten rid of.
#8 Booyah Small Dog Bike Trailers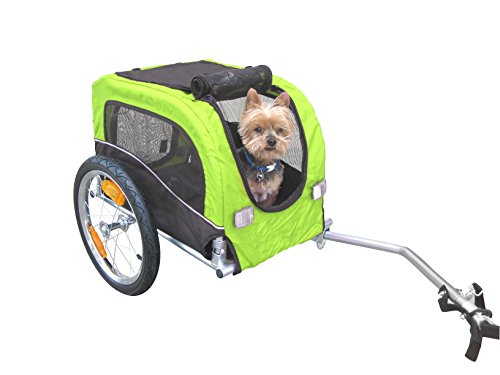 Booyah Small Dog Pet Bike Bicycle Trailer Pet Trailer Green
Trailer weight: 20lbs. Although it may handle the weight of your pet, please make sure that your pet will fit inside the...
NOTE: There are no stroller accessories for this model. No front tire or handlebar
3 layer sunroof. Closed/Mesh Screen/ Open
If you want to maximize storage space or if you have a small pooch, then this is the perfect trailer that will meet such needs. It comes in a small frame made out of durable material that ensures its longevity. This dog bike trailer can accommodate 40 lbs of weight at max.
Due to its small size, this dog bike trailer from Booyah consumes less space on storage in your house. It also can be hauled around easily as it is not that bulky.
Pros
---
This dog bike trailer comes with reflectors on the front, back, tire spooks, and side reflecting strips that provide extra visibility at night to reduce the chances of colliding accidents.
The trailer has a 3-layer sunroof designed to protect pooches from harsh weather conditions.
The Booyah trailer has meshes on all sides to provide dogs with optimal airflow.
The inside cushion of this dog bike trailer is removable for easy cleaning and maintenance.
This trailer is easy to detach from a bike with the push of a button.
Cons
---
This dog bike trailer is limited to use with small-sized pooches only.
The trailer doesn't include pockets for holding dog food and treats.
#9 Ibiyaya 2-In-1 Dog Bike Trailers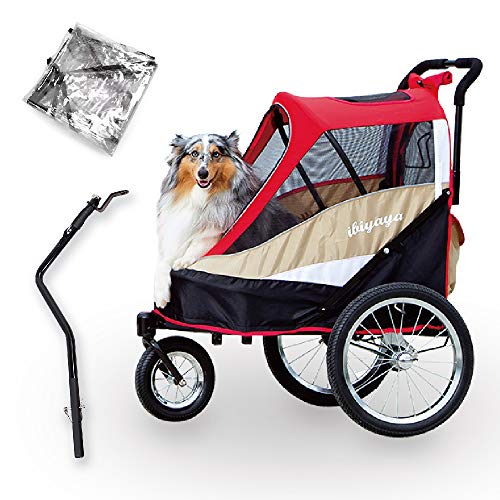 This is an awesome canine trailer that will allow you to either haul it from your bike or just push it while taking a stroll. It is very easy to set up and does not require much expertise. It is suitable for medium-sized to smaller dog breeds.
This 2-in-1 dog bike trailer can also double up as a stroller.
It is one of the most versatile trailers that you can get your hands on. It can be either pushed or towed depending on your preference and is also easy to set up. Its reliability is also seen in the quality of materials used to make it durable.
Pros
---
This dog bike trailer comes fitted with shock-absorbing rubber wheels and a built-in suspension system that ensures a pooch's comfort when riding on difficult terrains.
The trailer comes with four different entrance options that provide easy access to dogs.
Mesh windows located on all the sides of this dog bike trailer make it easier for pooches housed in the trailer to breathe.
The trailer has two safety tethers to keep pooches in place during rides and reflector plates for extra visibility during night walks or rides.
This dog stroller comes with a lockable swivel front tire for better maneuverability during rides.
Cons
---
This product tends to tip when pooches gravitate towards the back of the trailer, and this can result in a dangerous situation for both the dog and the owner.
---
Dog Bike Trailers Buyer's Guide
---
Having a bike trailer, it's an excellent option for your evening bicycle ride with your canine companion.
This is an excellent addition to your household, especially if you have an aging pet pooch that is unable to walk far distances on its own.
Before making a purchase, there are several factors to be considered, such as the need for a bike trailer, the best type of trailer, etc. This buying guide will answer all your arising questions before you make that decision.
Do You Really Need A Bike Trailer?
This is the first question that you need to ask yourself before stepping out to get a trailer. The first prerequisite is that you need to own a bicycle, as the bike trailer is attached directly to your bicycle.
If yes, then the following factors are essential to consider before making a purchase:
Your Dog's Temperament
Dogs have different temperaments, and it would be nice to check on yours to be sure if it can fit perfectly in an outside environment.
A mild-tempered canine will be calm on the outside and will seldom cause any disturbance. The contrary is true for a more active canine that can be hard to manage even in the presence of a handler. It may create a scene, and even with a bike trailer, it may be hard to handle it.
Do You Have The Time?
You also need to check on your schedule and ascertain that you can find ample time to use the doggie bike trailer by taking your pooch out.
If you are a very busy person with little time to spare, then purchasing a bike trailer might not be a priority for your pooch. However, if you have a lot of free time to hang with your furry friend, then a bicycle trailer can be a great option.
Are There Parks Nearby?
If you have a park or a relaxing area within your house, then having a bike trailer for your furry friend can be a nice addition.
This is because you need roads that are suitable for the dog bike trailer to be used. It is not recommended to bring your bicycle trailer on dirt paths as the wheels could be stuck.
Is Your Pooch Healthy?
Your dog's health should be put into consideration before deciding on getting a trailer. You need to ensure that your pooch has all its vaccinations in check and will not pose any health threat to people and other dogs.
Also, you need to ensure that your dog is not affected by any weather conditions such as the cold.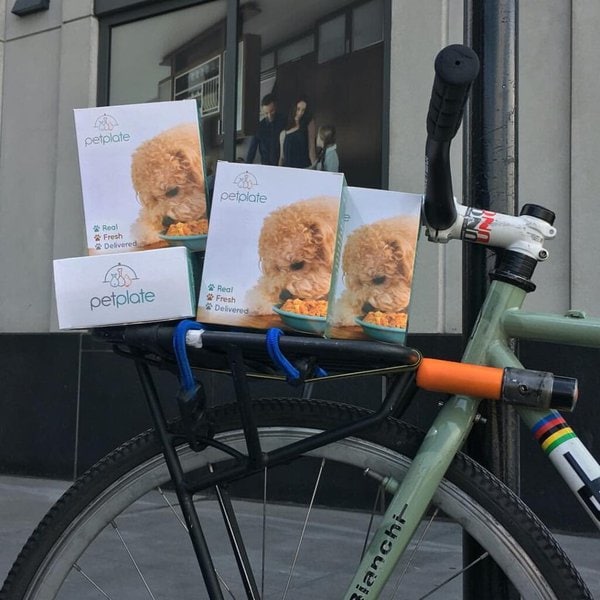 Other Factors To Consider
Once you have decided to buy a dog bike trailer, you need to consider some factors so that you will choose the right product. This will prevent you from wasting money on a trailer that isn't right nor fits your four-legged friend well. Here are some pointers to look out for:
Price
Price is one of the critical factors that you should consider before purchasing a dog bike trailer. You should go for one that matches your financial means and prevents you from going overboard with your spending.
In our guide, we have listed down a few pricier and some economical options that will help you to make that purchasing decision better. It is also advisable to check out your local retailer to see if they have any ongoing discounts or promotions on the bike trailers.
Research to combine the different features and choose the one that best suits your budget. If you are on a tight budget, you can opt for used dog bike trailers, which are way cheaper than their new versions.
Size Of Your Dog
This is an important factor that you should not ignore.
Dog bike trailers generally come in a variety of sizes to meet the requirements of various breeds. There are trailers meant for small dogs, medium dogs, and even large dogs. A small pooch may fit into a large trailer, but it will not be that comfortable for it.
As such, make sure that the dog bike trailer is big enough to fit the size of your canine companion.
For smaller dogs, you can consider a dog bike basket instead.
Weight Of Dog
You also need to check on the weight of your pooch as the dog bike trailers come in weight classes. A mismatch will affect the dog bike trailer.
For example, if you have an 80-lb dog on a 65-lb limit trailer, the dog's weight will lead to a broken trailer as a result of the strain exerted.
Accessories And Additional Features
Some trailers come equipped with additional features and accessories such as a leash or a cargo roof rack. Others may provide spare parts or repair kits. It is good to go for dog bike trailers with such additional features as they come in handy when you want to make repairs on your dog's bike trailer.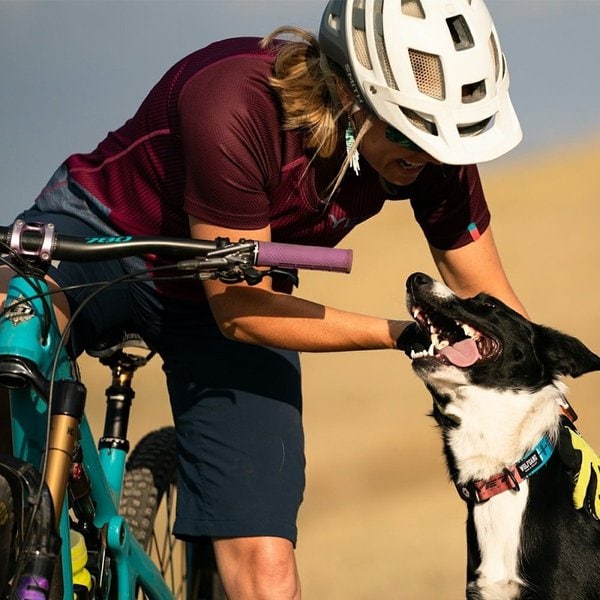 Terrain
The terrain in your area is also a huge factor in the type of trailer you will purchase. This factor mainly focuses on the type of wheels that the dog bike trailer should have. For a paved area, any types of wheel are suitable, and you have a vast range of trailers to choose from.
However, if you are in a region that has rough terrain, you will need to look for bike trailers with special wheels suitable for such terrains. You can go for the pneumatic or inflatable wheels, which will provide your dog with a comfortable ride even over a rough road.
You can also opt for trailers with suspensions if the road in your area is rough. These will help in providing a comfortable ride to your pooch. However, do bear in mind that these options will definitely be more expensive.
Storage Space
When not in use, the bike trailer should be kept away. For this reason, you need to consider the storage space available before making a purchase.
If you have little storage space in your house, you should opt for smaller options or go for the foldable ones that can be collapsed into smaller sizes for storing.
Quality
You need to examine the quality of the dog bike trailer in different aspects such as durability and resistance to forces such as impact and corrosion.
A durable bike trailer is the best as it will serve you and your pooch for ages with minimal chances of it wearing off. Most of the time, durable and strong trailers come at a hefty price tag which is worth it as you will spend relatively less on repairs.
Safety
Most dog owners really adore their pets and therefore want the best for their safety. For this reason, having a great trailer that will prove safe is the number one factor to consider. In this aspect, one will have to consider if the dog bike trailers meet the set safety standards.
A dog bike trailer with features and accessories such as a safety harness and shock absorbers for suspension on the rear wheel will be a plus. Safety from natural elements such as wind, sunlight, and rain is also considered, and trailers with a windscreen or a solar cover will top the preference list.
Related: Best Dog Sunglasses
Number Of Dogs
Once you own one dog, the urge to get another dog increases with each passing day, as you see how cute and friendly the pup is. If you have more dogs, then this factor needs to be a huge consideration before making the purchase.
There are special dog bike trailers meant for multiple dog sittings and accommodating up to four doggies at a time. This can be a good purchase if you want to take your whole puppy troop for a walk.
---
Final Thoughts
---
If you are a dog lover and like to bring your puppy out on a bike, the canine bicycle trailer should be on your shopping list as it is a great tool that will give you proper bonding time with your furry pal. Most are towed by bicycles when taking a stroll, while others may be pushed in the same manner as a baby stroller.
Rest assured that you will never go wrong with our top pick, as it features a spacious interior, removable floor, and an all-weather cover.
Get one today and have a great evening bike ride with your beloved pooch.